EXCLUSIVE: First Gen Z congressman demands action on LGBTQ rights, gun control
Rep. Frost calls on Biden to speak out against wave of legislative attacks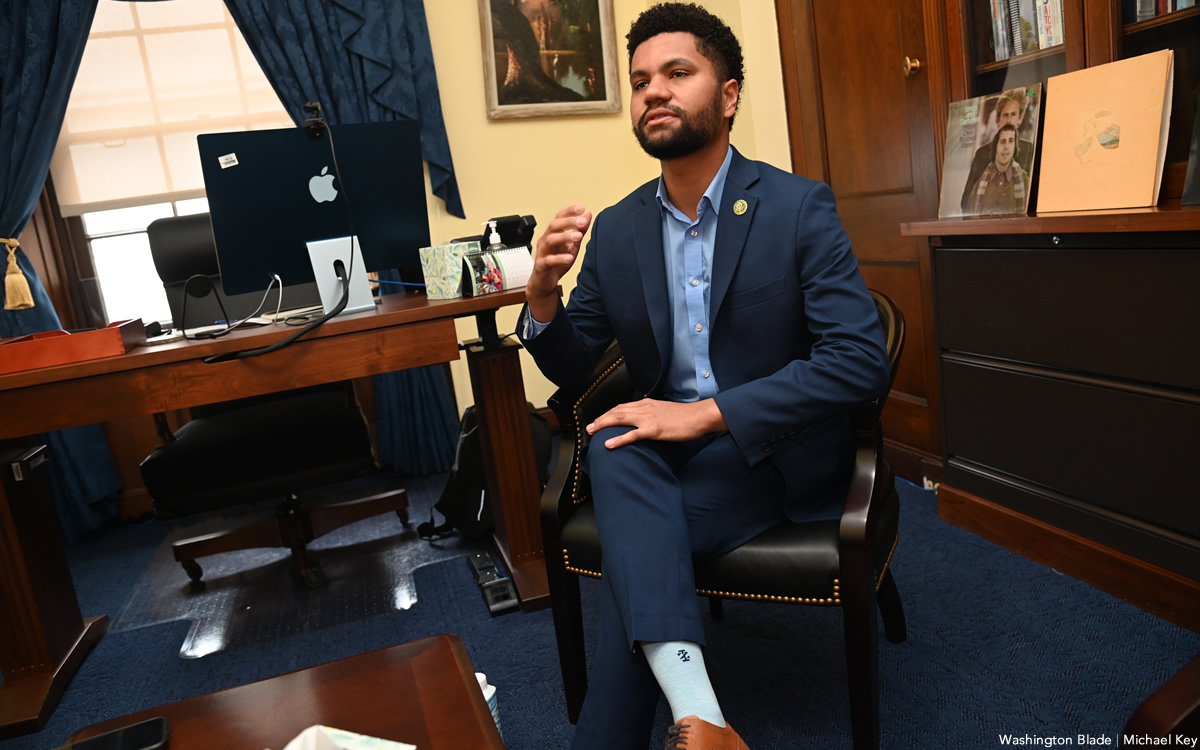 U.S. Rep. Maxwell Alejandro Frost (D-Fla.) during an exclusive interview with the Washington Blade on March 24 called for President Joe Biden to "speak out about" the wave of anti-LGBTQ legislation across the country.
The congressman said the U.S. Departments of Justice and Education "should be heavily involved in investigating what's going on in Florida and in all these states where these bills are being passed." Frost added that Biden is "the perfect person" to warn voters about the consequences of extreme anti-equality policies; noting the pro-worker, pro-union "Joe from Scranton" frequently promotes his working-class roots.
"That [message] coming out of his mouth, the story of these policies impact everyone, I think would have a really big impact," the congressman said.
Frost, 26, in 2022 became the first Gen Zer elected to Congress.
He represents Florida's 10th Congressional District that includes Pulse, a gay nightclub in which a gunman killed 49 people on June 12, 2016.
Frost co-organized the March for Our Lives, which took place in D.C. on March 24, 2018, less than two months after a gunman killed 17 people in Marjory Stoneman Douglas High School in Parkland, Fla. His gun control advocacy efforts began when he became a volunteer for the Newtown Action Alliance, a group that formed in the wake of the massacre at Sandy Hook Elementary School in Newtown, Conn., in 2012.
DeSantis 'a dictator'
Frost during the interview spoke out against Florida's Parental Rights in Education Act — more commonly known as the "Don't Say Gay" law — which he categorized as a "bigoted law made by bigoted people."
The law aims to regulate classroom discussions about gender identity and sexual orientation from kindergarten through third grade. It also prohibits public schools from using confidentiality forms in the case of a student disclosing sensitive information that includes their gender identity and sexual orientation and requires personnel to inform their parents if they were to ask for the information.
"They're starting to change our education system because they want to try to counteract the inherent progressive and, you know, decent values that young people have," explained Frost.
While Republican Florida Gov. Ron DeSantis focuses on preparing legislation that otherwise helps "take away" history, Frost notes the governor does not put forth measures that seek to improve his state.
"He's not focusing on raising wages, ensuring people have a livable planet, ensuring that we end gun violence, the rocketing housing prices," Frost said. "And these things impact everybody."
The congressman was weary of the overall repercussions that the "Don't Say Gay" law would have on the mental and physical health of LGBTQ people across Florida, and he went as far as saying it could result in deaths. Frost further pointed out the number of hate crimes in his state has increased since DeSantis took office.
"This is going to have real impacts to LGBTQ+ students, parents, etc. Just people in the district and across Florida, that can result — that will result and is resulting in — trauma and people being hurt and hate crimes, and we probably will see death from it," said Frost.
"This [governor] is a dictator," he concluded.
State lawmakers and other members of Congress have introduced Florida-style 'Don't Say Gay' laws.
Republican Louisiana Congresswoman Julia Letlow introduced a Parental Bill of Rights Act in March that looks "to ensure the rights of parents are honored and protected in the nation's public schools." Frost maintains, however, that these types of bills only serve to spread bigotry and hate "under the guise of parental rights."
Frost perceives what he contends is the extremist overhaul of the country's educational system as a "long-term plan" from Republican politicians. A plan that, in his view, goes back to the overturning of the landmark Roe v. Wade ruling.
White House spokesperson Robyn Patterson in a statement to the Blade said Biden "has been outspoken in his support of LGBTQI+ Americans and he'll continue to speak out against vicious political attacks against them."
Biden earlier this month during an interview with Kal Penn for "The Daily Show" described efforts to restrict the rights of transgender people in Florida and elsewhere as "close to sinful."
Four LGBTQ advocacy groups earlier this month filed a federal lawsuit on behalf of four families with trans children who are challenging the Florida Boards of Medicine and Osteopathic Medicine's ban on gender affirming healthcare for minors.
Patterson in her statement stressed Biden "is grateful for the leadership of Congressman Frost and other leaders who share his commitment to supporting LGBTQI+ Americans and speaking out against dangerous policies that seek to vilify our fellow Americans."
Frost survived gun violence in 2016
Frost spoke with the Blade a day after Capitol Police arrested Manuel Oliver, whose son, Joaquin "Guac" Oliver, was killed in Marjory Stoneman Douglas High School massacre.
Officers arrested Manuel Oliver after he and his wife, Patricia Oliver, challenged U.S. Reps. Pat Fallon (R-Texas) and Andy Biggs (R-Ariz.) during a joint House Oversight and Judiciary Committee hearing on gun control.
The two Republican congressmen asked officers to remove the Olivers from the hearing.
Frost, a vocal gun control supporter who survived a gun violence incident in 2016, told the Blade the hearing was full of "lies."
"Folks were in town and people came out [because of my recently introduced gun bill]; glad they came to the hearing. And they sat through all of those lies," Frost said. "And I think when you hear those lies, sometimes you just want to say something."
The Oliver family spoke out against Fallon's defense of guns, saying how guns were the very thing that took their son away. Fallon then insisted that they be taken out of the hearing.
Frost later said the "real story" was the fact that there were "two parents who lost their son who was in high school, because he was shot to death and died in a pool of his own blood."
Frost, who's vice chair of the House Gun Violence Prevention Task Force, recently introduced a gun control bill that, according to a press release, "would bring together those most impacted by gun violence with leaders across federal agencies to advance policy, collect and report data, expand state and local outreach, and maximize existing programs and services related to preventing gun violence."
Frost introduced the bill alongside U.S. Sen. Chris Murphy (D-Conn.)
Frost opposes oil drilling project
The congressman also spoke about Biden's controversial Willow Project, an oil drilling venture that will take place in Alaska. Climate activists are among those who strongly oppose the plan.
"A lot of times in life, but also a lot in politics, you have to hold multiple truths," Frost emphasized. "And there's a lot of truths to hold at the same time. The president approving this project is directly against, I believe his values, but also [the] campaign promises that he had made."
The Trump administration originally approved the Willow Project in 2020, and up to 600 million barrels of oil are located in the area in which the drilling will take place.
The Biden-Harris White House felt it could not do much since Houston-based ConocoPhillips has the existing and valid leases for the area.
Even so, Frost emphasized that although the current administration is in favor of drastically cutting emissions, it also recognizes the fact that "at least for the next decade or two we'll need a reliance on oil and fossil fuels as we transition, which is another truth." He did stress, nonetheless, that he does not "subscribe" to the idea that society needs "more capacity to scale back emissions over the next few decades."
"And we're also here to tell the administration that, you know, there's a lot more that can be done, there's more projects pending," Frost said. "We'd love to see them do the right thing on that. So, we're talking with the administration directly. We're working with organizations, especially like youth organizations, that are really thinking through the climate crisis."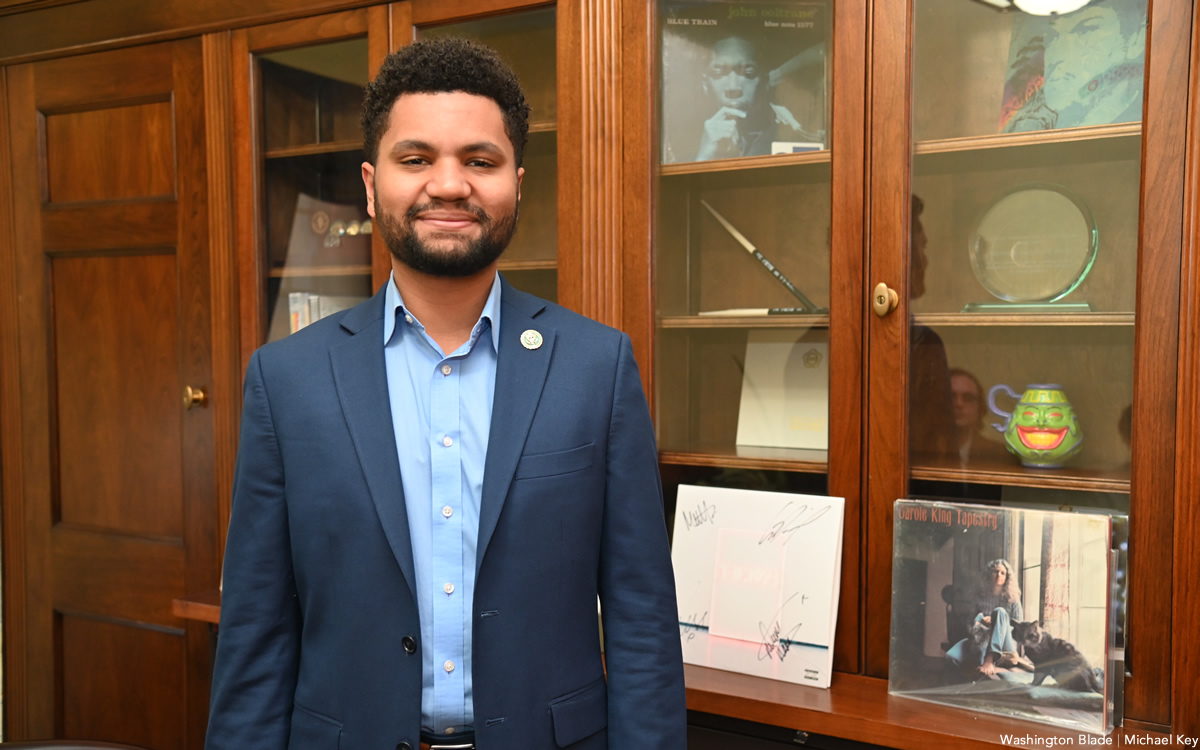 Christopher Kane and Michael K. Lavers contributed to this article.
Senate confirms federal judge who fought for marriage equality as a lawyer
Three Republicans voted for Rita Lin's nomination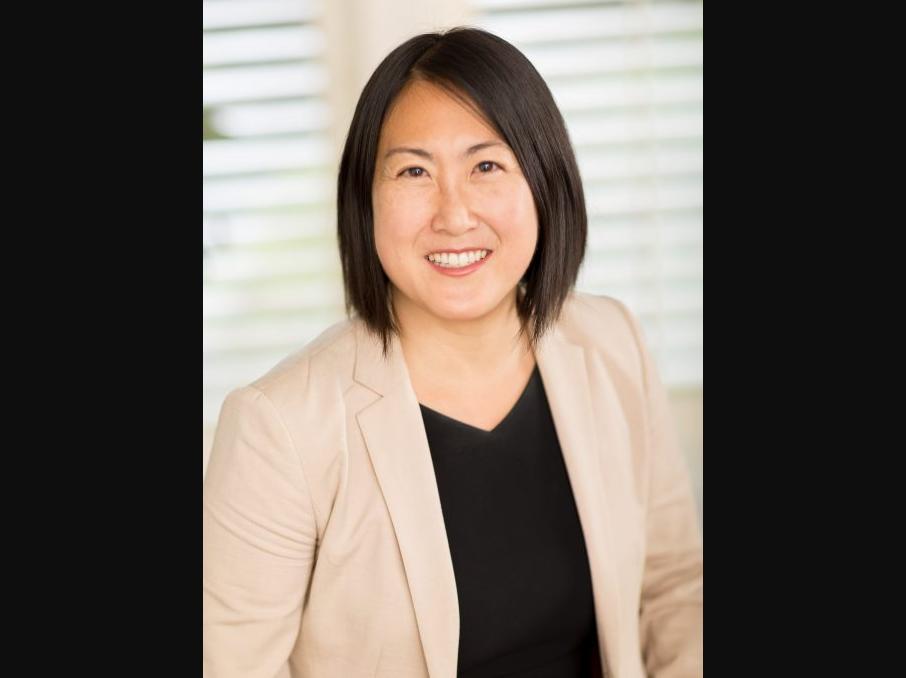 The U.S. Senate on Tuesday voted 52-45 to confirm Rita Lin's nomination by President Joe Biden to serve as a judge on the U.S. District Court for the Northern District of California.
The first Chinese American woman to serve in the role, Lin previously fought for marriage equality as an attorney in private practice with the multinational firm Morrison and Foerster.
As co-counsel in a 2012 case challenging the Defense of Marriage Act in federal court, she secured the first ruling striking down the law, which proscribed marriage as exclusively heterosexual unions, since President Obama announced his administration would no longer defend it.
The Senate's vote to confirm Lin was supported by all present Democratic members and three Republicans: U.S. Sens. Susan Collins (Maine), Lindsey Graham (S.C.) and Lisa Murkowski (Alaska).
Last year, during hearings for her nomination in the U.S. Senate Judiciary Committee, Sen. John Kennedy (R-La.) objected to an article she wrote in 1998 while a junior at Harvard University calling members of the Christian Coalition "bigots."
The Christian Coalition was founded by the late Christian media mogul Pat Robertson, who attracted controversy throughout his life and career for making sexist, homophobic and racist remarks.
Lin was appointed as a judge in the San Francisco Superior Court in 2018, and she currently presides over felony and misdemeanor criminal trials. She previously served as an Assistant United States Attorney in San Francisco.
Wexton, ardent LGBTQ ally, will not seek re-election
Congresswoman diagnosed with progressive supranuclear palsy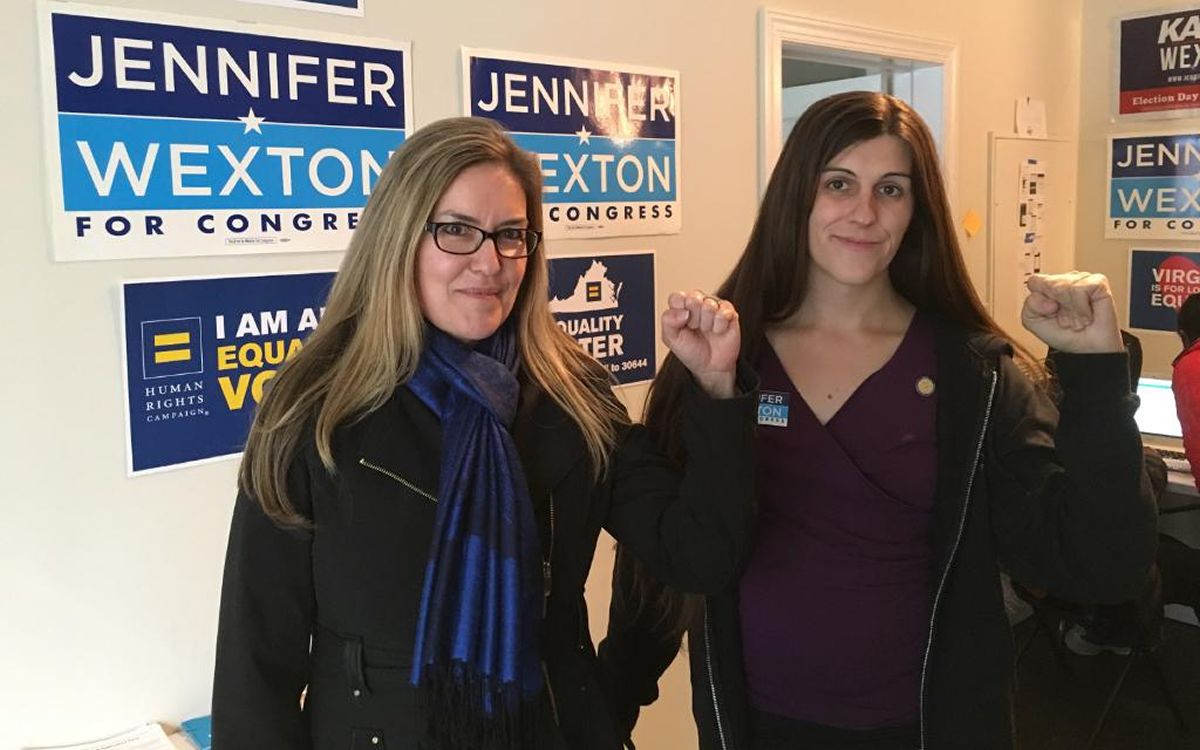 U.S. Rep. Jennifer Wexton (D-Va.) announced on Monday she will not seek reelection after receiving a diagnosis of progressive supranuclear palsy, a neurological disorder that the congresswoman described in a statement as "Parkinson's on steroids."
"I'm heartbroken to have to give up something I have loved after so many years of serving my community," she said. "But taking into consideration the prognosis for my health over the coming years, I have made the decision not to seek reelection once my term is complete and instead spend my valued time with Andrew, our boys, and my friends and loved ones."
A vice-chair of the Congressional Equality Caucus who was formerly a co-chair of its Transgender Equality Task Force, Wexton has been a staunch ally of the LGBTQ community since her first election to Congress in 2018 and during previous five-year tenure in the Virginia State Senate.
".@RepWexton is a strong ally to LGBTQI+ people," the Caucus posted on X. "We extend our support to her & her family during this time and thank her for championing LGBTQI+ equality."
"On my lowest days, she's quite literally been a shoulder to cry on, and on my best days, she was the second person I told about my engagement last year," Virginia Del. Danica Roem (D-13) told the Washington Blade on Monday.
The congresswoman is "a role model, mentor and genuine public servant whose friendship and advocacy means the world to me," said Roem, who is the first openly trans representative to serve in any state legislature and will be the first in Virginia's State Senate if she is elected to the newly drawn 30th district seat next year.
"I spent so many years closeted in part because of the fear and loathing perpetuated by elected officials toward LGBTQ people in Northern Virginia broadly and greater Prince William [County] specifically that made for a hostile, unwelcoming environment," she said.
"To go from that to having such outspoken, fearless representation from my member of Congress in Rep. Jennifer Wexton hasn't so much been a breath of fresh air as much as a completely new biosphere," Roem said.
She added, "I'm so grateful to her for everything she's done and the example of inclusivity she's set for her constituents."
Roem pointed the Blade to an article in the Washington Post entitled, "How Jennifer Wexton became the 'patron saint of the transgender community,'" which details the ways in which LGBTQ rights "with an emphasis on the transgender community" had become Wexton's "signature issue" just "six months into her first term."
In fact, on the day she took office, the congresswoman became only the second member to fly a transgender Pride flag outside her office.
Equality Virginia, the state's largest LGBTQ advocacy group, also noted Wexton's advocacy for the community in a post Monday on X: "Thank you @RepWexton for being a tireless advocate for LGBTQ+ people in the General Assembly and in Congress."
"You've made our commonwealth a better place," the group wrote, adding, "we're sending our love and strength to you, your family and your entire team."
"In 2018, this state senator I called my legislative role model and looked up to so much as a first-year delegate, came over for dinner crepes to share her wisdom, humor and guidance," Roem said on X. "Five years later, Rep. @JenniferWexton is still a mentor, friend and champion for NOVA."
The Washington Post reported Wexton's planned departure means her seat representing Virginia's 10th Congressional District could be vulnerable in next year's elections, as it was held by Republicans for 40 years prior to the congresswoman's defeat of GOP incumbent Barbara Comstock in 2018.
DeSantis pushing House Republicans toward shutdown
Anti-LGBTQ riders among extremist GOP demands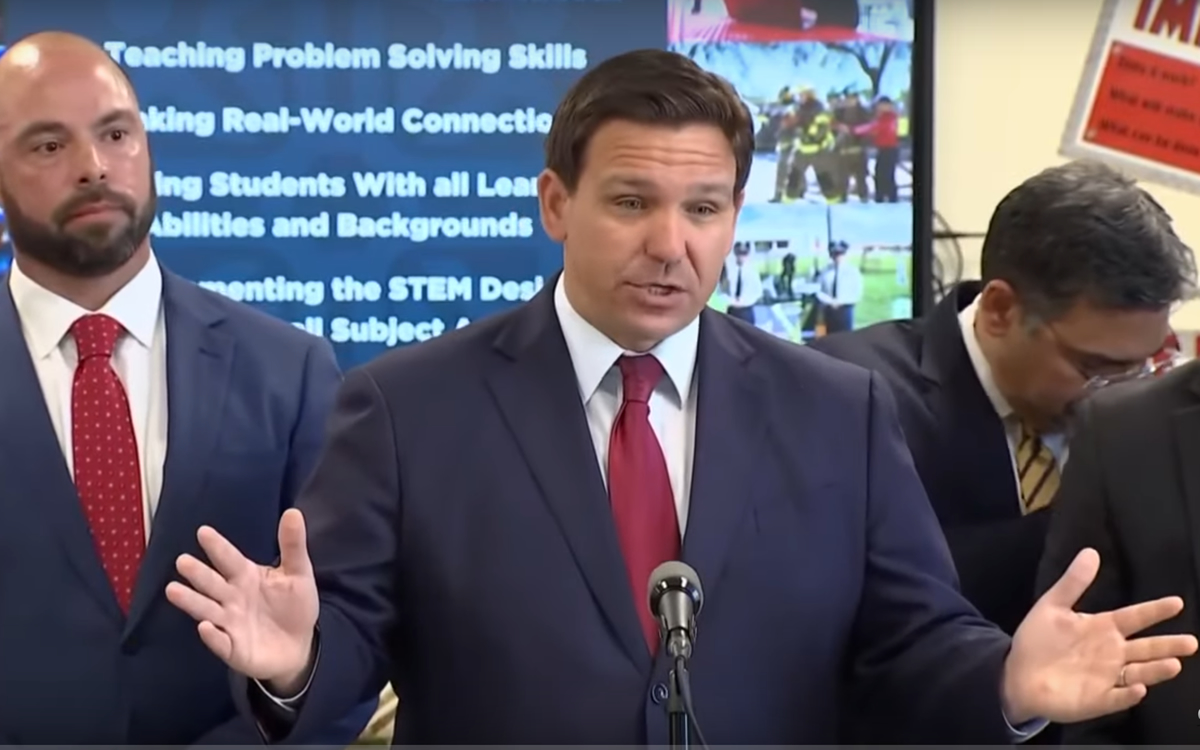 Florida Gov. Ron DeSantis is pushing House Republicans to not back down in negotiations with Speaker Kevin McCarthy (R-Calif.) over spending bills they have held up by demanding spending cuts and advancing far-right amendments, including riders attacking the LGBTQ community.
Should the Republican conference fail to reach an agreement before the end of September, or unless McCarthy brokers a deal with his Democratic colleagues that would likely lead his GOP colleagues to file a motion to vacate the chair, a government shutdown will be triggered.
News of DeSantis' involvement was first reported by Politico. The governor and candidate for the Republican nomination for president was a founding member of the ultra-conservative House Freedom Caucus when he served in the chamber.
All 12 of the appropriations bills under consideration in the House contain anti-LGBTQ amendments, most targeting the transgender community. They would almost certainly not pass through the U.S. Senate or earn President Joe Biden's signature.
"Ron DeSantis knows that both parties — including the current and previous administration — are to blame for Washington's reckless spending spree," DeSantis campaign spokesperson Andrew Romeo told Politico.
"He is urging congressional Republicans to hold the line in this current spending standoff and end days of rubber stamping multi-trillion dollar spending bills that harm the American people," Romeo said.