Latvia elects first openly gay president
Edgars Rinkēvičs has been country's foreign minister since 2011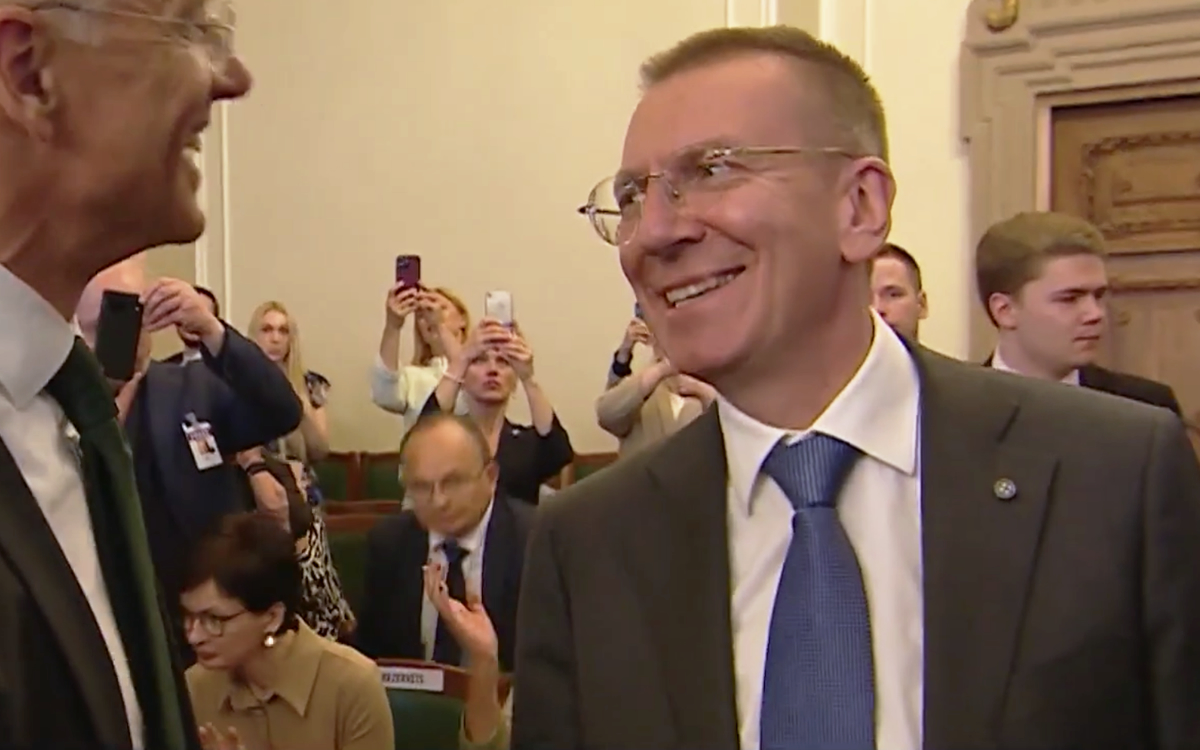 The Latvian Parliament elected Edgars Rinkēvičs as the country's next president in a vote held Wednesday. When he assumes office on July 8, he will be the country's first openly gay head of state, as well as the first openly gay head of state of an EU country or a former Soviet country.
Latvia's president is a largely ceremonial role that is elected by the national Parliament. He won a narrow majority of 52 out of 100 votes on the third ballot, held coincidentally during Pride week in the capital, Riga.
Rinkēvičs has served as Latvia's foreign minister since 2011, a post where he became popular for championing European integration.
In 2014, he became the first Latvian political figure to come out publicly, while the country debated a same-sex civil union law. To date, the Latvian Parliament has still been unable to pass any laws recognizing same-sex couples, despite multiple court decisions ordering it to do so.
Reached for comment after the election, the Latvian LGBTQ advocacy group Mozaika and Riga Pride released a joint statement saying they are thrilled with the election.
"We are thrilled about the fact that Edgars Rinkēvičs will be the next president of Latvia.  First and foremost, he is one of the most popular and professional politicians in Latvia, and with this election he broke the glass ceiling. He is an absolute inspiration to many young people and the LGBTQ community at large. 
We are hopeful that he will stand behind his promise to have human rights and democracy as one of his priorities and we believe he will play an instrumental role to strengthen Latvia's society and will make it safer not just for the LGBT community but for many vulnerable groups," the groups say.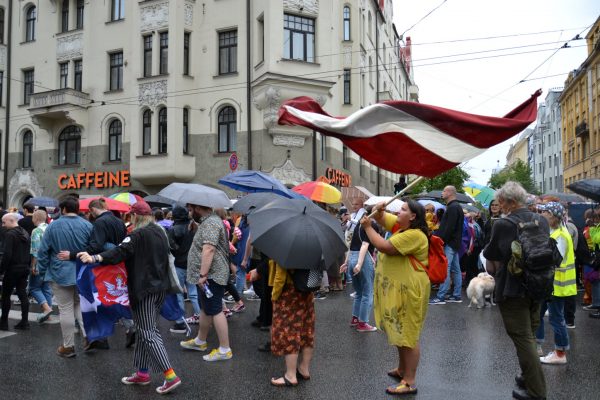 Not everyone has been so thrilled. Former Member of the European Parliament Andrejs Mamikins, tweeted that "God will no longer bless Latvia," in response to the election.
"Today, godlessness won the presidential election in Latvia. Disgrace and misery @edgarsrinkevics," he wrote.
Latvian TV reports that the State Police have opened an investigation into Mamikins' post for possible violations of the law banning incitement to hatred.
Latvia, a deeply conservative Baltic nation of about 1.8 million people about one-third of whom are Russian-speakers, regained its independence amid the breakup of the Soviet Union. Since that time, it has taken a stridently pro-Western political orientation, including joining NATO, the European Union and the Eurozone.
But the country's political elite has never warmly embraced LGBTQ rights. According to ILGA-Europe's Rainbow Index 2023, Latvia scored only 22 percent on a list of legislated rights for LGBT people, placing it 37th among 49 ranked countries.
Latvia's neighbors on the Baltic Sea have also been slow to advance LGBTQ rights, although Estonia's government is expected to advance a same-sex marriage bill in Parliament next week, and Lithuania's parliament passed a civil union bill through a second reading vote in May.
While openly gay and lesbian people have served as prime minister of several other EU countries — including Ireland's Leo Varadkar, Luxembourg's Xavier Bettel and Belgium's Elio Di Rupo — Rinkēvičs will be the first gay person to hold the role of head of state of an EU country. The only other openly gay head of state in modern history was Paolo Rondelli, who was one of the two Captains Regent of the microstate San Marino for six months in 2022.
********************************************************************************
Rob Salerno is a writer, journalist and actor based in Los Angeles, California, and Toronto, Canada.
Hungarian magazine places gay married couple with their baby on cover
Elle Hungary defended decision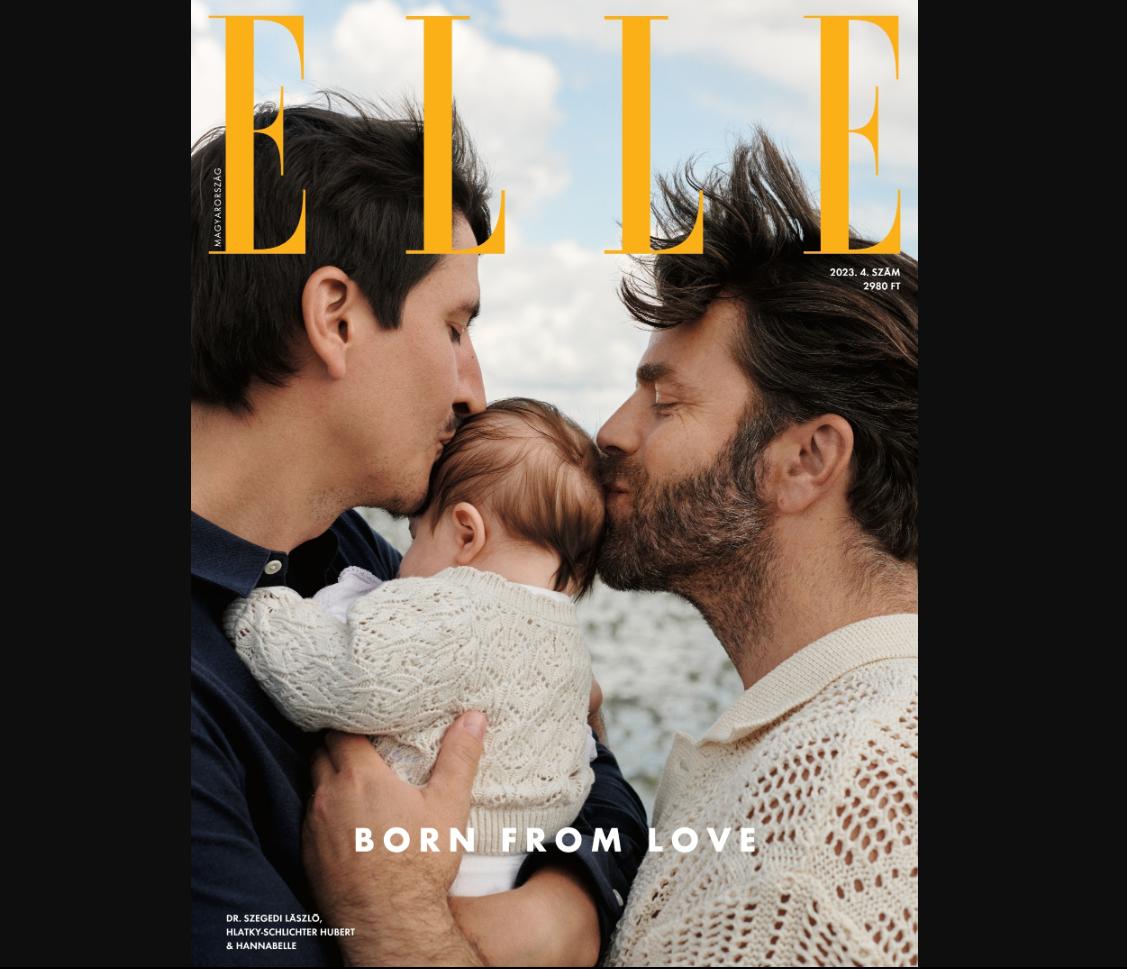 The September issue of fashion and culture magazine Elle Hungary features a prominent gay married couple with their infant child on the cover. 
While seemingly innocuous, the photograph of Hungarian restaurateur Hubert Hlatky Schlichter and his neurosurgeon husband Laszlo Szegedi kissing their daughter Hannabel is in open defiance of the homophobic government of Prime Minister Viktor Orbán.
On June 15, 2021, a Hungarian law purportedly aiming at taking stricter action against pedophile offenders and amending certain laws to protect children was adopted. Some of the new provisions target and limit the access of minors to content and advertisements that "promotes or portrays" the so-called "divergence from self-identity corresponding to sex at birth, sex change or homosexuality."
Orbán has been criticised by international human rights groups as discriminating against LGBTQ people with this law which European Commission President Ursula von der Leyen called a "disgrace."
Orbán, who has publicly proclaimed that he is a "defender of traditional family Catholic values," has been criticized by international human rights groups as discriminating against LGBTQ people.
Publishing the cover on its Instagram account Monday, Elle Hungary stated that the magazine's intention was to "contribute to the acceptance of rainbow families" and help the publication to "campaign all over the country for love and all forms of family."
(Translated from Hungarian):
Every child deserves to grow up in a safe, caring and supportive environment, and no one can prevent that because of their parents' gender identity or sexual orientation.
On the cover of our latest issue, we present a Hungarian rainbow family: we can get to know the story of their becoming a family, their honest and loving everyday life with their little girl, Hannabell. Hubert Hlatky-Schlichter and Dr. László Szegedi confess honestly about the difficulties and prejudices they had to face as a gay couple at home and how fate-changing the arrival of their daughter was for them. With their story, we want to send a message to everyone who has felt that they or their loved ones have been attacked more recently: You are not alone, and there is a positive scenario!
We hope that with our current issue, even if on a small scale, we contribute to the acceptance of rainbow families, and manage to give inspiration, encouragement and support to the many thousands of readers who share the same values with us. The slogan of our cover page sums up our message beautifully: Born From Love, because families, regardless of their structure, are rooted in deep, unconditional love. Join the conversation by using the hashtag #BornFromLove to campaign for all forms of love and family across the country!
In the featured article written by Elle Hungary Editor-in-Chief Vivien Mádai that accompanies the cover, the couple discussed the division of parental roles, and candidly about discrimination they've faced in Hungary, particularly as they welcomed their infant daughter into the world.
PinkNewsUK noted that while a same-sex couple featured on a British or U.S.-based magazine would seem innocuous, in Hungary, it marks a landmark step for positive queer representation in the media.
On Instagram, the magazine's comment section has been flooded with people celebrating the cover.
This past April, Hungarian President Katalin Novak vetoed a legislation that included a provision for citizens to anonymously report on same-sex couples who are raising children. In a rare departure from the policies of Orbán whom she generally supports, Novak returned the bill to Parliament telling lawmakers to strike that provision.
The country's constitution states that the institution of marriage is "between one man and one woman," and notes that "the mother is a woman, the father a man."
This law's passage and Novak's veto came after the country's Constitutional Court issued a ruling in February that will continue to block new applications from transgender people for legal gender recognition. The judgment effectively creates two categories of trans people in Hungary: those who applied early enough to pursue gender recognition and those who did not.
A spokesperson for the German government told the media earlier this year that Germany and France joined with other EU member states in the European Commission lawsuit over a Hungarian law which discriminates against people on the basis of their sexual orientation and gender identity.
The move by Elle to feature the gay couple on its cover follows a July incident where Hungary's second-largest bookstore chain was fined for violating the nation's 2021 law that limits the access of minors to books, media content and advertisements that "promotes or portrays" the so-called "divergence from self-identity corresponding to sex at birth, sex change or homosexuality."
The chain was fined for selling copies of British author Alice Oseman's LGBTQ graphic novel series "Heartstopper," a global phenomena due to the runaway hit Netflix show based on her books in the series.
The Budapest Metropolitan Government Office fined Lira Konyv bookstore chain for placing the book series in its youth literature section, and for failing to place it in wrapped plastic packaging as required by the 2021 law.
The bookstore chain was fined 12 million forints ($33171.59.)
The French daily afternoon newspaper Le Monde reported that as a result, bookshops have decided that books deemed "sensitive" must be wrapped in plastic or moved them to the adult section, if they have not decided to refrain from selling them altogether.
German Cabinet approves 'self-determination law' for transgender, nonbinary people
Process to legally change name and gender on official documents would be simplified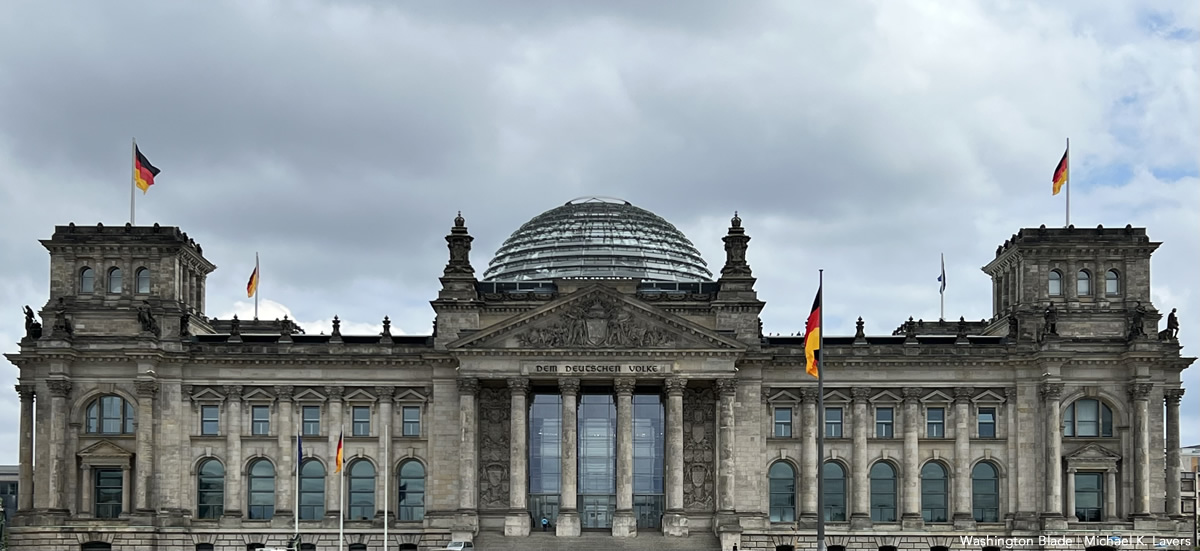 The German Cabinet on Wednesday approved a "self-determination law" that would simplify the process for transgender or nonbinary people to legally change their name and gender in official documents.
The Associated Press notes trans or nonbinary adults would only have to notify a registrar office that they plan to legally change their name and gender in official documents and wait three months before they do so. German law currently requires anyone who wants to change their gender on official documents to obtain testimony from two experts who are "sufficiently familiar with the particular problems of transsexualism" and a court ruling.
The AP reported the new law would allow children who are at least 14 to legally change their name and gender with parental or guardian approval. A teenager could ask a family court to overrule their parent or guardian if they deny their request. The AP notes a parent or guardian of anyone who is under 14 can go to a registry office and seek a legal name and gender change on their behalf.
German lawmakers need to approve the proposal before it takes effect.
"Imagine that you … simply want to live your life and you don't wish anyone anything bad, and then you're questioned about what your sexual fantasies are, what underwear you wear and similar things," Justice Minister Marco Buschmann told a German television, according to the AP. "Those affected have found this questioning very degrading. Now we simply want to make life a bit easier for a small group for which it has great significance."
The Lesbian and Gay Federation of Germany, a German LGBTQ and intersex rights group known by the acronym LSVD, in a statement urged lawmakers to approve the proposal.
"The Bundestag is now responsible for correcting the discriminatory regulations and exclusions," said LSVD. "Self-determination must be guaranteed without ifs ands or buts; this must also apply to young people. The Self-Determination Law must guarantee real sexual self-determination — without heteronomy or distrust."
Queer Commissioner Sven Lehmann in a tweet described Wednesday as "an important day for fundamental and human rights." Jenny Wilken of the German Society for Trans Identity and Intersexuality, an advocacy group known by the acronym DGTI, described the proposal as a "first step towards self-determination," but criticized the three month waiting period and several other provisions.
Memorial to LGBTQ Holocaust victims vandalized in Berlin
Anti-queer attacks on the rise in Germany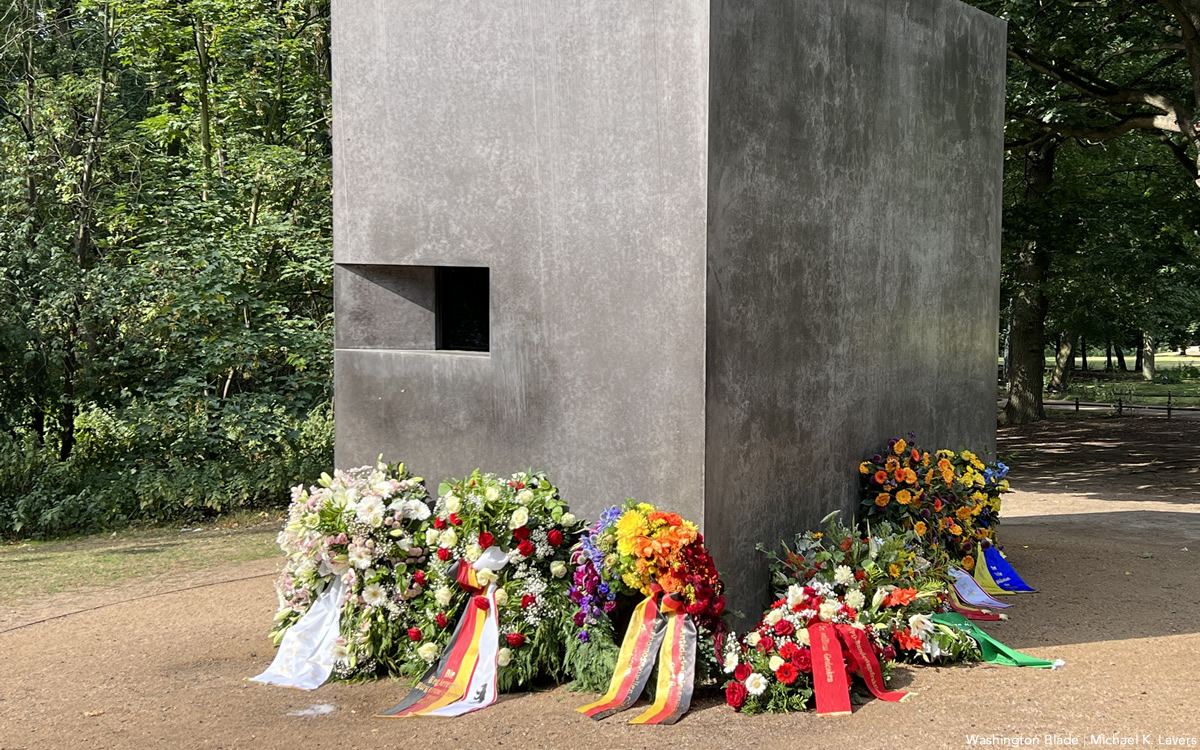 The Memorial to Persecuted Homosexuals under National Socialism located at the edge of the German capital city's famed Tiergarten Park was vandalized this past weekend, according to a Berlin Police spokesperson.
The Berlin Police said that a park security official observed a male suspect "papering" the monument with slips of paper later found to contain Biblical verses condemning homosexuality and then attempting to set the memorial ablaze by tossing a burning object at it. The suspect fled when confronted by the guard.
Berlin Police are investigating this incident and another attack against a memorial for victims of the Holocaust, the "Platform 17" memorial, inside the Berlin-Grünewald train station.
The Memorial to Persecuted Homosexuals under National Socialism, in the shape of a cube with a window insert where a video of a same-sex couple kissing can be seen, was first erected in 2008.
German public broadcaster Deutsche Welle reported that under the Nazi regime in Germany from 1933-1945, gay people were systematically repressed and persecuted, with some 50,000 being convicted on account of their sexuality.
Many thousands of them were deported to concentration camps and large numbers murdered there.
The second arson attack took place at the"Platform 17″ memorial, which honors the German Jewish people who were sent to their deaths during the Holocaust from the Grünewald train station.
In a statement issued Monday the Berlin-Brandenburg Lesbian and Gay Association decried both incidents:
"We are shocked by the inflammatory energy of both acts and hope that the person responsible in both cases will be caught quickly."
These past two weekend incidents are among a rising rate of anti-LGBTQ sentiments in Germany, Zweites Deutsches Fernsehen, a German television station, reported.
According to the Federal Ministry of the Interior, the number of attacks against queer people increased in 2022. Last year, 1,005 cases were counted, including 227 violent crimes and 341 insults. That is about 15 percent more cases than in the previous year. The gay anti-violence project "Maneo" in Berlin also reports a slightly higher number of cases. According to Maneo, they will be "at a high level" overall in 2022.
The queer commissioner of the federal government assumes that the vast majority wants queer people to be able to live without fear and have equal rights. However, the results of a study from 2023 showed "that this consent is not stable and self-evident."
Kerstin Thost, the spokesperson for Berlin-Brandenburg Lesbian and Gay Association told ZDF:
"We all have a responsibility now to work tirelessly to protect and treat everyone equally," said Thost. "In this situation, everyone should position themselves for human rights and democracy. Even those who are not affected by queer hostility themselves."