Celebrating the life of Lilli Vincenz
U.S. senator, activists reflect on legacy of pioneering LGBTQ rights advocate
A dozen people familiar with the accomplishments of LGBTQ rights advocate Lilli Vincenz, who died on June 27 at the age of 85, have elegantly expressed and captured the pioneering work and legacy of Vincenz as an LGBTQ rights advocate, psychotherapist, and documentary filmmaker.
Among the accomplishments of Vincenz considered most significant by those whose views are included here, including U.S. Sen. Tammy Baldwin (D-Wisc.) and two gay historians, is her role as a documentary filmmaker capturing 1960s-era gay protests.
Among the Vincenz films considered significant, which are now available for viewing through the Vincenz papers and film collection at the Library of Congress, include her 1968 film "The Second Largest Minority" and her 1970 film "Gay and Proud."
The 1968 film captures what activists say appears to be the first known documentary of a 1960s-era pre-Stonewall gay and lesbian protest outside Philadelphia's Independence Hall organized by the Mattachine Society gay rights organization with ties to D.C., Philly, and New York City.
The second film in 1970 captured the first Christopher Street Liberation Day Parade in New York City to commemorate the first anniversary of the Stonewall riots in New York's Greenwich Village.
The activists contributing to this tribute to Vincenz say these historic films were just one part of the enormous contributions that Vincenz has made to the LGBTQ rights movement beginning in the 1960s through the early 2000s.
U.S. Sen. Tammy Baldwin (D-Wisc.)
Discussing 1960s-era 'gay' documentary films made by Lilli; excerpt from interview in Mattachine Society Documentary 'Gay and Proud: Lilli's Legacy':
She recorded a history that without her work would remain untold in many respects. I prize, and cherish, and respect not only those participants in activism but those who recorded it so people like me decades later could learn about them and learn about our history. Lilli Vincenz is one of those prescient individuals, courageous individuals who made that possible.
I remember coming out when I was in college. I tried to read up on the history of the LGBTQ movement. I remember at the time seeing some documentaries. It gave me a deep appreciation of some of the pioneers who did courageous things when few others were, and also the fact that some of those things were documented allowed somebody like me many years later to find a family that I didn't know I had as a member of a larger community.
Not only did she have the foresight to come with a camera in order to record this immensely historic event, but she knew the importance of distributing it to people in other areas of the country who could perhaps gain some confidence and courage out of seeing what was happening in New York City and other cities. She made copies and sent it to gay bars and other groups who would then show the film, giving people a greater understanding of a movement that they were a part of and perhaps the courage to speak out and be more visible.
There was an understanding, particularly by Lilli, that when we were visible and vocal, we could make change. And through their courage, that began to happen.
The fact that we have a copy today and that institutions like the Library of Congress have found this to be a remarkable piece of history and is preserving it for generations to come is a real statement of their understanding and all of our understanding of how movements for change work and how much a part of our country's history this struggle is and was.
Daniel L. Hays, president, Equality NoVa
The LGBTQ+ community lost another trailblazer, an icon with the passing of Lilli Vincenz. From her work – multi-decades work – beginning in the early 60s, to her preservation of the movement's history in documentaries, her work was critical to us getting to where we are in the fight for equality. The heavens received an angel that surely is looking down on us all with rainbow wings.
Charles Francis, president, Mattachine Society of Washington, D.C.
The last time I saw Lilli was a special moment of personal triumph for her, an honoree invited by President Obama during PRIDE 2014 at the White House. There she stood in the East Room beside a velvet rope with one of the original, hand-lettered picket signs held high outside on the sidewalk 50 years before.
It read: End Official Persecution of Homosexuals. She was the first lesbian to join the original Mattachine Society of Washington, D.C., and picketed at the front gate along with the Mattachine led by Frank Kameny and the Daughters of Bilitis. All were scorned by the Johnson administration that viciously enforced the federal ban and investigation of homosexuals in the U.S. Civil Service Commission and the military. The Johnson folks claimed it was about the "revulsion" of fellow employees forced to work alongside "self-avowed" homosexuals.
She had already been kicked out of the Women's Army Corp because of her homosexuality in 1963 and had nothing to lose and everything to gain for her own dignity and LGBTQ generations to come. Lilli was so beautiful, graceful and dignified both in the day and in that moment with the old picket in the East Room. (The picket sign was donated by the Kameny Papers Project in 2006 to the Smithsonian National Museum of American History that loaned it to the White House in 2014.)

Lillian Faderman, historian, former California State University professor and acclaimed author of many books, including 'To Believe In Women: What Lesbians Have Done For America – A History.' (From the documentary film "Gay and Proud: Lilli's Legacy")
Lilli's story is one of such bravery. She was so ahead of her time…She was very bright, very gifted, and very beautiful too. She got kicked out of the army because she was a lesbian…She was remarkable in her willingness to step forward to be out there. It was, after all, still dangerous in the early 1960s to be known as a homosexual. And Lilli didn't seem to give a damn.
Anyone who saw [Vincenz's film] "Gay and Proud" realized that these huge marches were possible. It really got the ball rolling. And slowly other groups began to have marches in their cities. Until now, when millions of people march around the country.
Loraine Hutchins, longtime D.C. area Bi+ rights advocate
I'm grateful for Lilli's work in the world and went to her early groups at her house and then later to the events at Ethical Culture Society. Will miss her a lot. Always felt support as a young and aging bi woman by Lilli.
Kris McLaughlin, former president, Equality Northern Virginia
Lesbian activist Cheryl Spector introduced me to Lilli and Nancy in the early 2000s, when I was president of the Arlington Gay & Lesbian Alliance (now called Equality Northern Virginia). I was impressed by Lilli's disciplined approach to LGBT+ equality and understood that better after watching the film "Gay Pioneers" by Equality Forum.
She was fierce, courageous, and determined. I believe that she knew how grateful we are for her groundbreaking efforts and think it's fitting that she left us during Pride month.
Kevin Naff, editor, Washington Blade
As one of the founders of the Washington Blade back in 1969, Lilli Vincenz's passion and legacy live on in the work of today's Blade journalists. We are proud to honor her memory through our mission of telling the LGBTQ community's stories and history through our lens 54 years later.
Malcolm Lazin, founder and executive director, Equality Forum and LGBT History Month
After Barbara Gittings, the mother of the LGBTQ civil rights movement, and Del Martin and Phyllis Lyons, founders of the Daughter of Bilitis, Lilli Vincenz is arguably the most important lesbian in the founding of our civil rights movement. I had the honor of knowing her and her life partner Nancy Ruth Davis.
After receiving a master of English from Columbia University in 1960, Lilli served in the Women's Army Corp at Walter Reed National Military Medical Center. She was outed and thereafter discharged pursuant to federal policy. Not one to give in or give up, in 1963 Lilli joined the D.C. chapter of the Mattachine Society, an early gay organization. As a Mattachine member, Lilli attended the first meeting with the Civil Service Commission to challenge its discrimination policy against gays and lesbians.
In 1965, she was the only lesbian to participate in the rally in front of the White House against Fidel Castro rounding up and incarcerating Cuban gays. This was the first gay demonstration at the White House.
In 1965, Lilli was one of about 40 participants at the 1st Annual Reminder in front of Independence Hall on July 4th and thereafter at each of the five Annual Reminders. These Annual Reminders included activists from D.C., Philadelphia, and New York. Spearheaded by Frank Kameny and Barbara Gittings, they were the first time gays were out and called for overall equality. Their non-violent demands for democratic change laid the basis for the LGBTQ civil rights movement.
In 1970, the Annual Reminders were suspended. Lilli Vincenz joined Frank Kameny, Barbara Gittings, New York activist Craig Rodwell and others, who helped organize the Christopher Street Liberation Day parade to remember the Stonewall Uprising.
That activism is now known as the 1st New York Pride Parade. Vincenz filmed that parade as well as the 1968 Annual Reminder.
In 1971, Vincenz was active in Frank Kameny for Congress, the first time that an openly gay person ran in a federal election. From 1971 to 1979, Vincenz hosted a monthly Gay Women's Open House in D.C. In 1990, Lilli earned a Ph.D. in Human Development from the University of Maryland. She had an active therapy practice.
She and her partner Nancy Ruth Davis were unofficially married in Key West well before anyone believed that same-sex marriage would be recognized. Lilli appeared in Gay Pioneers, a documentary about the start of the gay civil rights movement. Co-produced by PBS and Equality Forum. I was the documentary's co-executive producer. At screenings, Lilli would bring her beloved fiddle and entertain audiences.
In 2005, Lilli participated at Independence Hall at the 40th Anniversary of the Annual Reminders. Lilli's contribution to LGBTQ civil rights and memory are our blessing.

Eric Cervini, American historian, author of acclaimed 2020 biography of gay rights pioneer Frank Kameny, 'Deviant's War: The Homosexual vs. The United States of America.' From Cervini's interview in the documentary film "Gay and Proud: Lilli's Legacy":
The first ever gay pride march took place on the first anniversary of Stonewall in 1970 and Lilli Vincenz decided that she wanted to capture it and make a film titled, 'Gay and Proud.'
Almost immediately after she was asked to leave the army, in the fall of 1963, she contacted Frank Kameny and the Mattachine Society of Washington…And only a couple of yeas after that, she became the first lesbian to march in front of the White House for gay equality.
Part of Lilli's activism was she made documentaries about her own activism and the activism of the Mattachine Society of Washington…Lilli organized a group of six people to help her film this 1970 film, 'Gay and Proud,' in New York. And it was capturing the first annual Christopher Street Liberation Day march…Lilli used a 16-millimeter black and white camera. It resulted in an 11-and-a-half-minute documentary that was really the first of its kind.
My first thought on watching it is how similar it is to our parades now. And a lot of people wonder, what is the use of pride and why do we have pride parades? And I think this film reminds you that pride, in every single pride march, is an act of resistance.
In 2013, the Mattachine Society of Washington, D.C. worked with Lilli to donate her materials to the Library of Congress, and so now anyone can view her films, look at her diaries, and see her history.
Nicholas F. Benton, owner/editor, Falls Church News-Press
I got to know Lilli when her partner, Nancy Davis, came to work for my newspaper in the early 2000s. Both were beyond charming and were frequent attendees at parties I held at my home, always invited to play the fiddle (Lilli) and read captivating short stories of days of Egypt or, then Yugoslavia (Nancy).
I had the honor of being host for their attendance, along with Frank Kameny, at the 2006 Human Rights Campaign National Dinner in Washington, D.C. Truly lovely, humble, and dedicated people.
Bob Witeck, president, Witeck Communications
Lilli Vincenz' contributions and impact as a civil rights pioneer cannot be underestimated. I am proud that Lilli and her lifelong partner, Nancy Davis, also were neighbors and friends. More significant are the vital chapters in the history of our movement she led and documented with giants like Frank Kameny and Jack Nichols. All are truly revered for their impatience and courage.
I cannot forget the visit we made with Lilli and Nancy to the White House in June 2014 to celebrate Pride during the Obama administration. Remarkably, in the East Room, the president's staff exhibited one of the original civil rights picket signs that Lilli and her fellow activists carried during their unprecedented 1960s protests outside the White House grounds.
We captured a precious image with Lilli in the East Room that day [in a photo], just moments before one of the staff quietly scolded us. It was a scolding worth savoring to honor a pioneer who taught us how crucial it is to break society's boundaries.
Vincent Slatt, director of archiving, D.C. Rainbow History Project
Lilli Vincenz had already been active in D.C. 15 years before I was born, and nearly 50 years before I became involved in the RHP archives. I had heard of her name in passing, and met her at an event or two, but, frankly, young gay city guys and suburban lesbian seniors don't often interact. As I've worked with our archives, however, I've gotten to know Lilli in a way that I wish other people could. Her name is threaded through so many of the great document collections, magazines and periodicals, photographs and recordings that we've amassed over 20 years. One doesn't have to scrape deeply to find her involvement in our community: she has left footprints in decades of records.
Lilli's name is not just in the collections we would expect — U.S. Gay Rights, Mattachine Society, Gay Women's Alternative, The Ladder, Barbara Gittings, Nancy Tucker, and Eva Freund collections. Her efforts are documented in GLAA, PFLAG, Gay Liberation Front, Gay Community Center and the Sodomy Law Repeal collections.
I've seen her name in materials from Lambda Rising, the NAMES Project AIDS Memorial Quilt, and countless other folders where I have stumbled on a letter or document and seen her name. In my earlier years I might not have noticed her or remembered seeing her; nowadays, however, I do and think, "Oh, look who it is again! I didn't know she was involved with this!"
With the majority of gay history and gay documentation ending up in the trash cans, looking at just the fraction we have saved, I can say this about Lilli Vincenz: her work was deep, and the ripples of her impact have gone wide and are continued to be felt today. When our children and our children's children crack open the archives and look at our history, they will be in awe of Lilli and what she accomplished. Hopefully, some of those kids will read enough of it to say "Oh, look who it is again!"
Bob Brown, Personal Home Services, Alexandria, Va.
I knew Lilli and her partner Nancy Davis later in life, as I became their housecleaner in 1998 after they answered my classified ad in the Washington Blade. Lilli had a home office as a therapist in Arlington where she helped her patients deal with the often harsh way the LGBTQ community was treated by government, military, police, religious society, and many families. She helped so many people over the years.
She and Nancy both enjoyed travel. Their house was filled with photos from trips they took on Olivia Travel Cruises around the world —18 cruises in total!
Lilli loved her violin and was quite talented. She would often practice in her dining room while I flitted about the house better than AirPods! She cobbled together a group of artists to play music in her airy space above her office/garage and The Ash Grove Players were formed. They played at The American Folk Life Festival, retirement homes and cafes. She loved all styles of music and attended Grammy Award-winner Mark O'Connor's fiddle camp each summer in Tennessee in the early 2000s. Nancy would recite her poetry and short stories at night around the campfire. They had lots of fun there!
They were a loving couple, Nancy referring to her as "My darling Lilli" and singing "You Are My Sunshine" to her often. This is just a part of the other side of Lilli's life beyond her heroic activism to push forward equality for us all. I feel quite honored to have known her and Nancy all these years.
Kevin McCarthy ousted as House speaker
Matt Gaetz led effort against Calif. Republican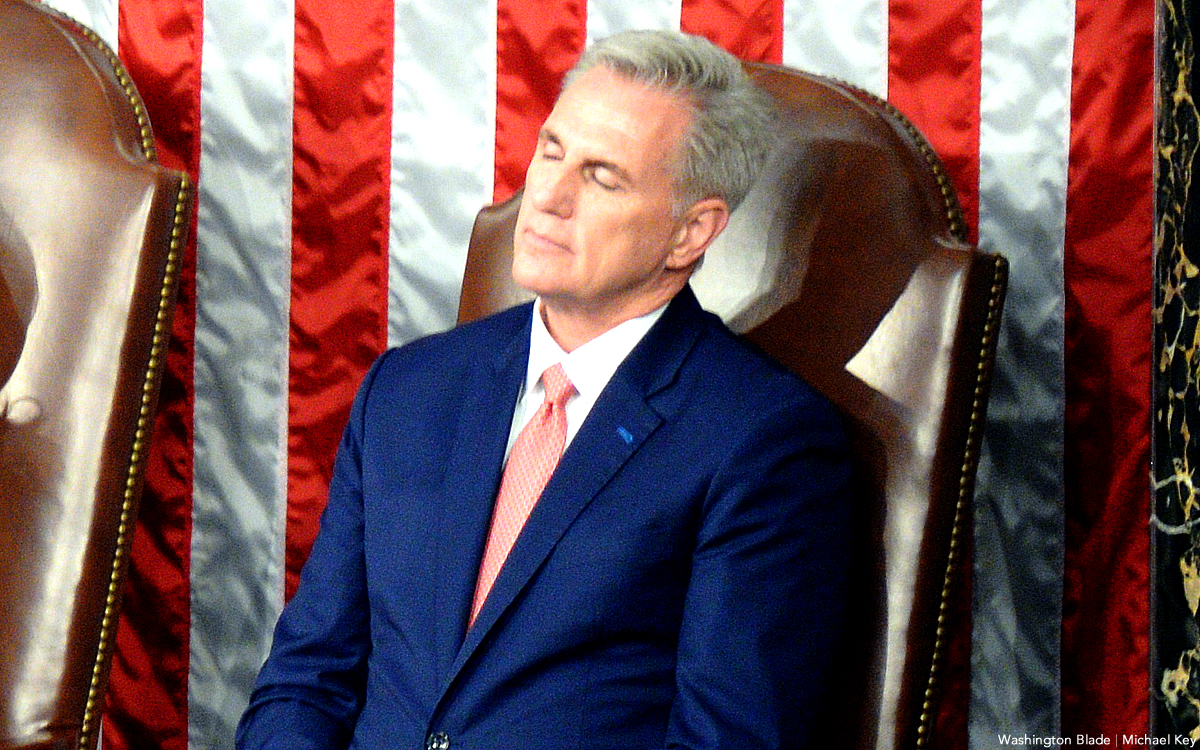 A motion to declare the chair vacant submitted by U.S. Rep. Matt Gaetz (R-Fla.) to oust House Speaker Kevin McCarthy (R-Calif.) succeeded on a 216-210 vote Tuesday after an at times contentious debate between House Republicans on the floor.
The last to vote in the full order of the roll call was McCarthy, who voted against the motion to remove him from his post. U.S. Rep. Steve Womack (R-Ark.), who chaired the proceedings, declared the speaker vacant after the House chamber went silent, after it had asked if anyone wishes to change their vote, then read off the tally submitted by the clerk.
U.S. Rep. Patrick McHenry (R-N.C.), a close McCarthy ally, will serve as speaker pro tem, or as temporary acting speaker.
With a sharp bang of the gavel, he declared the chamber in recess.
This is a historic action by the House as never before has a House speaker successfully been voted out of the chair. The last time the House had a vote to oust the speaker was in 1910.
The vote that year stemmed from angst among progressive Republicans that the speaker at the time, Joseph Cannon, a conservative known as "Uncle Joe," refused to bring progressive legislation to the floor for a vote.
The House Cannon Office Building, which was completed in 1908 and is the oldest congressional office building — a significant example of the Beaux Arts style of architecture is named for Cannon, who had served as House speaker. 
Earlier Tuesday afternoon the chamber voted 208-218 with Democrats supporting a motion to table Gaetz's resolution to oust McCarthy, setting the stage for a vote on whether McCarthy should remain in the top spot. Democratic leadership had told reporters earlier that their conference would be united in an effort to remove the House speaker.
Laphonza Butler sworn in as California's newest senator
Former vice president advisor will succeed Dianne Feinstein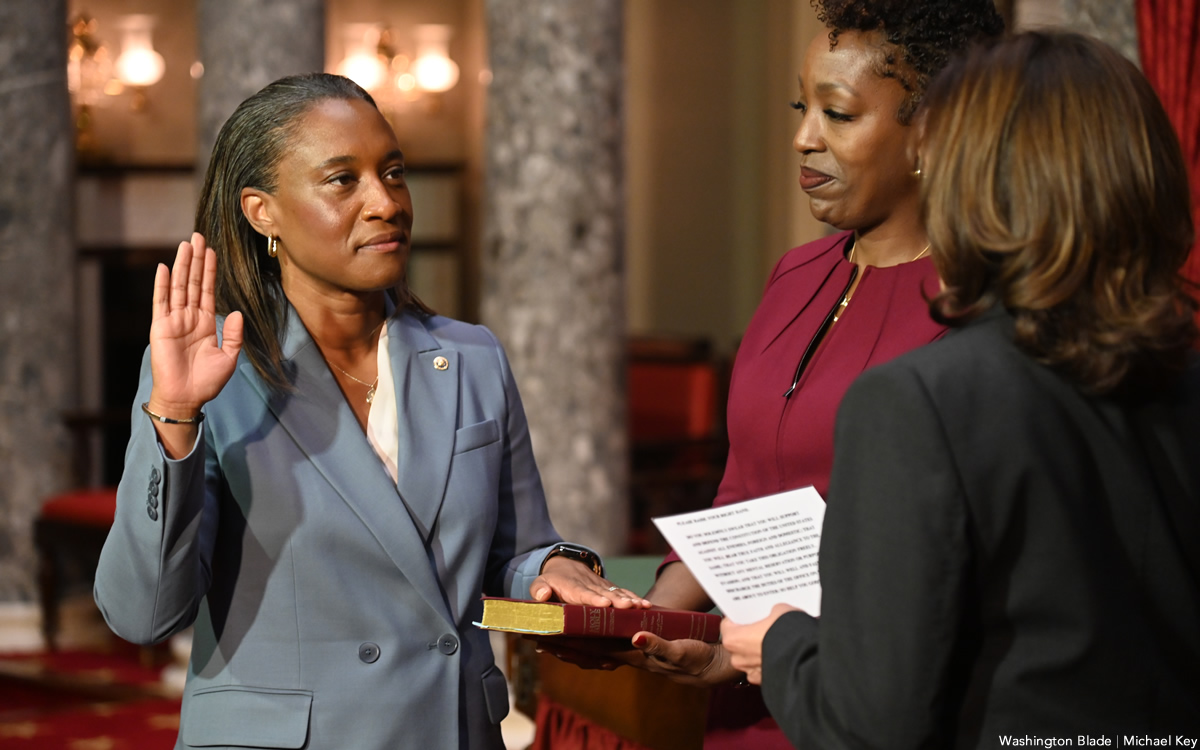 Vice President Kamala Harris on Tuesday swore in Democrat Laphonza Butler as California's newest U.S. senator during a ceremony at the U.S. Capitol.
The first Black lesbian to serve in the Senate, Butler was president of the nation's largest organization dedicated to electing women to public office, EMILY's List, and previously was a senior advisor to the vice president during her 2020 bid for the Oval Office.
Harris, the country's first woman vice president as well as the first Black and South Asian person to serve in that role, also made history with her tenure as attorney general and then senator for California.
Democratic California Gov. Gavin Newsom appointed Butler to fill the vacancy caused by the death, on Friday, of U.S. Sen. Dianne Feinstein, who had represented the state in the upper chamber since 1992.
Per the terms of her appointment, Butler will be eligible to run for the seat during next year's elections, in which case she would face competition from three high profile Democrats now representing California in the House: U.S. Reps. Barbara Lee, Katie Porter and Adam Schiff.
Newsom in 2021 pledged that he would appoint a Black woman to Feinstein's seat. Lee, so far the only Black woman among the declared candidates, congratulated Butler in a statement in which the congresswoman said she is "singularly focused on winning" her Senate campaign.
California "deserves an experienced senator who will deliver on progressive priorities," she said. "That's exactly what I'm running to do."
Consistent with her work in progressive politics, Butler was previously a labor leader with Service Employees International Union, SEIU, the powerful union where her wife, Neneki Lee, serves as director of the Public Services division.
Human Rights Campaign President Kelley Robinson and Claire Lucas and Judy Dlugacz were among those who attended the swearing in alongside Butler's wife.
Senate Majority Leader Chuck Schumer (D-N.Y.) and U.S. Sen. Alex Padilla (D-Calif.) escorted Butler into the chamber. Lee and Schiff were among those who attended the ceremony.
"It's a good day," Lucas told the Washington Blade as she left the chamber.
Michael K. Lavers contributed to this story.
Anacostia group honors LGBTQ advocate Pannell for 30 years of service
Oct. 5 celebration set for Ward 8 Sycamore & Oak retail village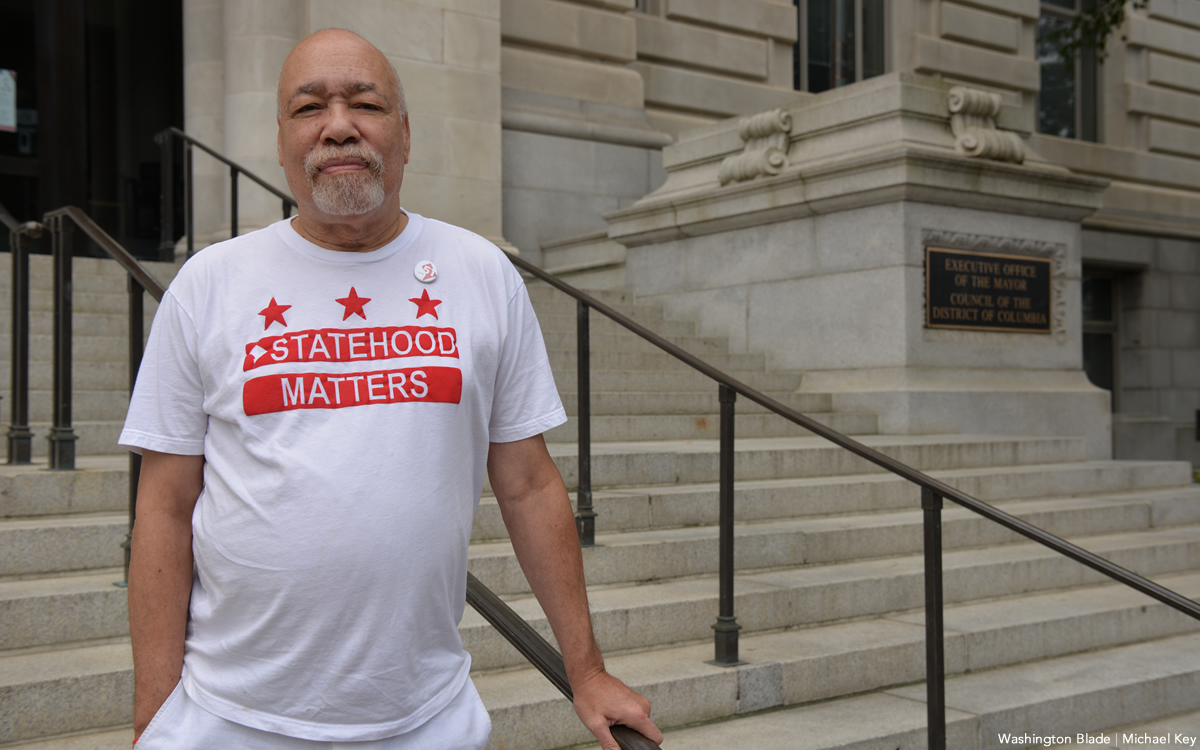 The Anacostia Coordinating Council (ACC), an advocacy organization for D.C.'s Anacostia neighborhood and surrounding areas east of the Anacostia River, is holding a celebration honoring LGBTQ rights and Anacostia community activist Phillip Pannell for his 30 years of service with the ACC.
The event was scheduled to take place from 6-8 p.m. on Thursday, Oct. 5, at the recently opened Sycamore & Oak retail village mall on the St. Elizabeth's East Campus in Southeast D.C.
Pannell, 73, serves as the ACC executive director, a position he has held since 1995. He has been a member of the Anacostia-based nonprofit organization's staff since 1993.
A longtime advocate for LGBTQ rights, Pannell has been credited with persuading many of D.C.'s LGBTQ organizations to reach out to LGBTQ residents who live in Wards 7 and 8 east of the Anacostia River.
He has also been credited with persuading African-American organizations, including organizers of the annual Martin Luther King Jr. memorial celebrations, to include and welcome LGBTQ people to their events.
"Join us for an evening of food, fun, and surprises," an announcement of the event released by the ACC says.
ACC spokesperson Lamont Mitchell told the Washington Blade several community leaders and public officials who have known Pannell during his many years of D.C. community involvement were expected to speak at the Oct. 5 celebration. Among the expected speakers, Mitchell said, was former D.C. Mayor Sharon Pratt.
According to the announcement, the event is free and open to the public, but organizers requested that people register in advance at tinyurl.com/Pannell35.
The ACC event honoring Pannell was to take place about a month after the D.C. newspaper Washington Informer published a detailed article profiling Pannell's career as a community activist and advocate for several important local causes and issues, including D.C. statehood.
"D.C. statehood is not just a political issue, it is also a civil and human rights issue because if D.C. were a state, we would be a state with the highest percentage of African Americans, basically a majority, minority state," the Informer quoted Pannell as saying. "That's one of the reasons a lot of right-wing Republicans don't want to see D.C. become a state because we are going to elect progressive, Black Democratic senators," Pannell told the Informer.
A statement on the ACC's website says Pannell has received more than 100 awards during his nearly four decades of work in D.C., including the 2011 U.S. President's Call to Service Award and the 2012 D.C. Federation of Civil Associations award for Outstanding President of a Member Association.