Rescuing the Sustainable Development Goals agenda: A call for a fair global financing architecture
The SDG Summit will take place during the U.N. General Assembly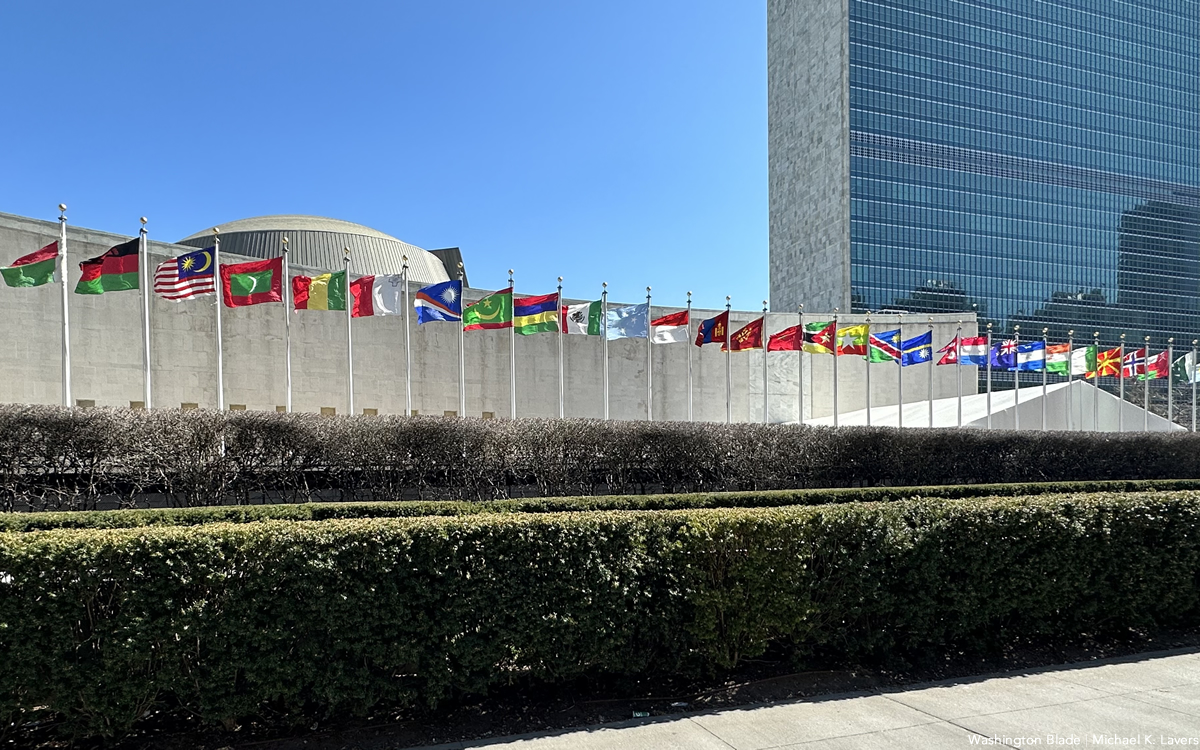 By DR. RICHARD AMENYAH | The Summit on Rescuing the Sustainable Development Goals (SDG), simply called the SDG Summit, will take place this month as part of the U.N. General Assembly (UNGA) in New York to mark the 78th anniversary of the UNGA and the midpoint of the 2030 Global Agenda for sustainable development.
The world must do more to bolster efforts and accelerate progress to achieve the SDGs and leave no one behind.
The urgency of the matter is underscored by stark realities facing our world today. Currently, more than half the world is sadly being left behind because only 12 percent of the SDGs are on track, progress on 50 percent is weak and insufficient. Shockingly, 30 percent of these critical goals are either stalled or regressing. Further, the SDG summit is happening at a time when faith in multilateralism is dwindling. Now more than ever, leaders must commit to an empowered United Nations — equipped to support members states in this decade of action to achieve the 2030 agenda.
U.N. Secretary General Antonio Guterres has asked all leaders to make concrete commitment on how to rescue the SDGs. His approach to the issues of the SDGs shows the seriousness with which he wants member states to review progress, invest catalytically, and prioritize evidence-centered, human-rights based approaches to accelerating SDG implementation.
Financially, the world is in an existential debt conundrum. The global public debt has ballooned to a staggering $92 trillion, a fivefold increase since 2000. What's more, nearly 30 percent of this crushing public debt is owed by developing countries. This pattern of debt can be attributed to the inequalities in the international financial architecture which exacerbates the negative impact of cascading crises on sustainable development. Developing countries have been undercut by such a flawed financial architecture such that for them to finance their development, they must access credit or borrow from more expensive sources such as private creditors, bondholders, banks and other lenders offer financing on commercial terms. This situation has exacerbated their vulnerabilities and made it even harder to resolve debt crises. Meanwhile, flows of official development assistance from the Global North are far below the long-standing commitment of 0.7 percent of Gross Domestic Product.
In the past 10 years, the portion of external public debt owed to private creditors has risen across all regions. This accounted for 62 percent of developing countries' total external public debt in 2021. Access to credit is unfair, unjust and depends on where you live. Consequently, developing nations pay exorbitantly higher interest rates when compared to economic powerhouses like Germany and the United States. The Caribbean, Latin America and Africa are particularly hard-hit, grappling with interest rates of 7.7 percent and 11.6 percent respectively, compared to Germany's 1.5 percent and the United States' 3.1 percent This means that on average, African countries pay four times more (as the Caribbean pays over two times more) for borrowing than the United States — and eight times more (as the Caribbean pays five times more) than the wealthiest European countries. How can this be said to be a fair and democratic global financial governance system?
Many of our countries are trapped in unsustainable debt. Currently, at least 19 developing countries are spending more on interest than on education and 45 are spending more on interest than on health. In total, 48 countries are home to 3.3 billion people, whose lives are directly affected by underinvestment in education or health due to large interest payment burdens. No doubt, many of these countries cannot sustainably finance their HIV programs, let alone adequately financing general health programs without support from The Global Fund, the President's Emergency Program for AIDS Relief (PEPFAR) or Global Vaccine Alliance for example. Furthermore, with limited health investments, these countries will continue to be ill-equipped to fight future global pandemics and will have to continue to rely on the Global North.
To course correct and enable financial justice, we must echo the secretary general's call for a reengineering of the global financial architecture, to one which is fair and just, regardless of whether you live in the Global North or the Global South. From the G7 summit in Tokyo, and the 15th BRICS summit in South Africa, Africa Climate Summit in Kenya, ASEAN-UN Summit in Indonesia, G20 meeting in India and the G77 in Cuba the message to world leaders is simple "in a fracturing world overwhelmed by crises, there is simply no alternative to cooperation." The secretary general will continue to advocate for development financing to address the climate emergencies, mitigate the growing inequalities compounded by conflicts and global pandemics resulting in worsening of the global cost-of-living crisis, the need to bridge the digital divide to make development sustainable, transformative and inclusive. Of note, Africa is underrepresented in the global financial architecture and requires a permanent seat on the Security Council.
The world needs a fairer system for development financing to accelerate the implementation of the SDGs. This SDG Summit is a test of the true commitment of our leaders to salvage the world from its current polycrises by working together to offer hope for humanity one more time, through collaboration and partnerships, within the multilateral systems of the U.N., to change the world for the better.
The commitments made on climate finance in 2020 must be honored. Funding for adaptation and mitigation remains critical, and the promises sealed in New York, Addis Ababa and Paris, by world leaders, to promote peace, prosperity and the well-being of people and planet must be upheld. It's time to dismantle and rebuild the current unjust and dysfunctional global financial system, urgently rescuing and energizing the implementation of the SDGs to ensure no one is left behind.
This is our moment of truth, and the U.N. must once again rise as the guarantor of world peace, security, and development, with member states working together as equals to shape a brighter, more equitable future for all of humanity. Africa and the Caribbean, including other Small Island Developing States, need a fairer system, including debt relief and debt restructuring mechanisms that support payment suspensions (especially during climate/natural disasters), longer lending terms and lower rates, to better adapt to and manage the impact of climate crisis and how they manage their own development tailored to their national vision.
The world is looking on with hope that this SDG Summit will go down in history as when our leaders, despite their geopolitical divide, secured the future of the world by uniting in solidarity to transform and course correct our path to sustainable development.
Dr. Richard Amenyah is a medical doctor from Ghana and public health specialist. He is the director for the UNAIDS multi-country office for the Caribbean. You can reach him on Twitter at @RichardAmenyah or @UNAIDSCaribbean.
Is anyone else sick of Cassidy Hutchinson?
Trump loyalist feted by mainstream media after belated change of heart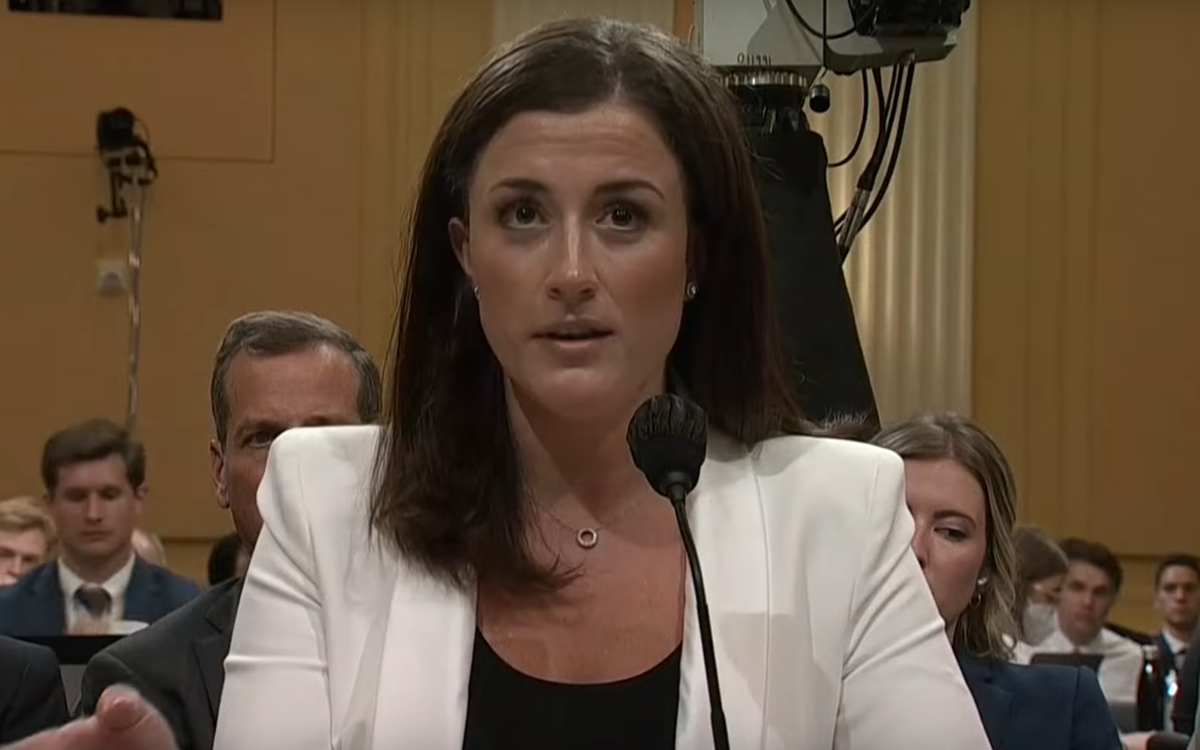 Cassidy Hutchinson, the former Trump loyalist who belatedly turned on her boss, the man she "adored," is this week's mainstream media obsession, turning up multiple times on CNN, MSNBC, NBC, "The View," and seemingly everywhere else. The only person getting more airtime this week is Taylor Swift, after urgent news broke that she's dating an NFL player. (The "Today" show led twice with that very important story this week.)
For sure, Hutchinson's testimony before the Jan. 6 committee in front of 13 million viewers took courage, given how many Trump supporters are inclined to violence against his critics.
But Hutchinson remained loyal to Trump even after the Jan. 6 insurrection and planned to move to Florida for a job with him after he left the White House on Jan. 20. She initially took the advice of Trump's attorneys to claim she didn't recall the events leading up to the attack on the Capitol.
Some of us saw Trump for what he is back in 2015: a racist criminal and pathological liar, an '80s has-been and washed-up reality show host in orange makeup and a bad wig.
Where's our party?
Easily duped people like Hutchinson helped elect Trump and then supported him throughout all the too-numerous-to-mention scandals — mocking the disabled, insulting a Gold Star family, ridiculing war heroes, siding with Neo Nazis in Charlottesville, and on and on. Not to mention a botched response to a pandemic that killed more than one million Americans. Trump refused to wear a mask (we recently learned because it smeared his extensive makeup) and poked fun at Joe Biden for wearing one.
Most of Trump's die hard supporters jumped ship after Jan. 6, but not Cassidy Hutchinson. She even told Mark Meadows that she would "take a bullet" for Trump. She told "The View" that it was a "difficult moment" to watch former White House staffers denounce Trump after Jan. 6, due to her blind loyalty to him. She resisted her own mother's pleas to abandon Trump and not move to Florida with him. She blamed Trump's advisers for his bad decisions.
It all smacks of brainwashing. Anyone who is so weak willed that they are easily manipulated by the "charms" of Donald Trump has no business anywhere near the White House. Hutchinson has demonstrated not just bad judgement, but disastrous judgement.
And now that she has a book to peddle, the mainstream media predictably line up to sing her praises and she spills all sorts of tea, from Rudy Giuliani allegedly sexually assaulting her to Mark Meadows burning White House documents in his office fireplace. She didn't follow the parade of staffers who quit after Jan. 6 and she didn't report Meadows for allegedly destroying government property. And now we're supposed to shell out $30 for her vapid book about finally seeing the light, long after the rest of the world had figured out Trump for the incorrigible threat to democracy that he represents.
Hutchinson deserves our gratitude for her Jan. 6 committee testimony. But nothing more. And the mainstream media have got to stop their practice of reckless revisionist history and praising the undeserving.
Speaker Kevin McUseless calls for Biden impeachment inquiry
Stunt will backfire on Republicans in 2024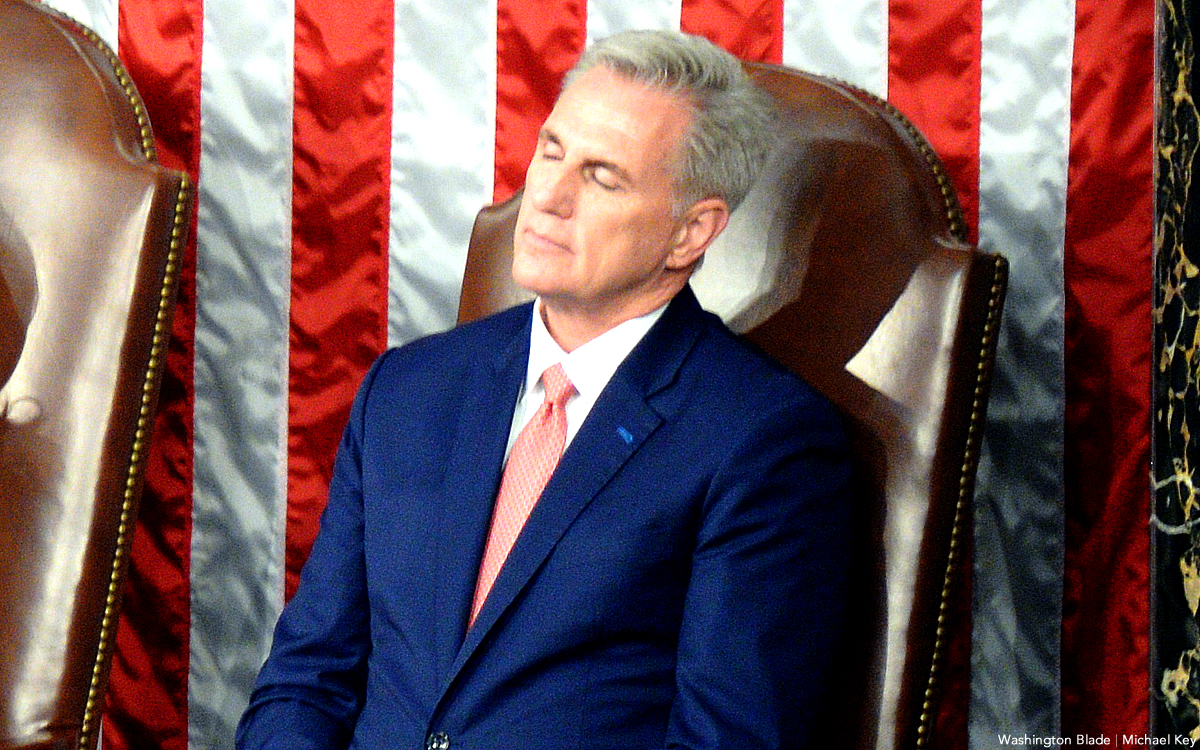 Congress has joined the world of the insane with Republicans calling to impeach any Democrat they disagree with. It is happening in Wisconsin to the new Supreme Court justice, and now lily-livered Kevin McUseless, facing threats from his MAGA members, announced an impeachment inquiry of President Biden.
He could name no reason, and in fact during the nine months of Republicans investigating Biden, they have found none. Two weeks ago, he said he wouldn't do this without a vote of the House, but moderate Republicans rightly figure this will all backfire on them, so wouldn't agree to vote for it. Meanwhile the country is waiting for House Republicans to do their job and pass a budget, which they are unable to do. The result could close the government again. That will also backfire on them, as it will hurt so many people.
So, what better time for Democrats, thinking independents, and any sane Republican left, those willing to put the country above their own party, and in the case of Liz Cheney (R-Wyo.) and Adam Kinzinger (R-Ill.), even their own reelections, to just vote all these Republican clowns out of office?
Oversight and Accountability Committee Chair James Comer (R-Ky.), who will lead the inquiry on Biden, has for the nine previous months come up with zilch — nothing meriting impeachment or even further investigation. The IRS whistleblowers' testimony he touted was contradicted by the FBI in sworn testimony. But then it isn't Comer asking for this impeachment inquiry, it is Marjorie Taylor Greene and Matt Gaetz, and the MAGAs holding McUseless hostage. Those two should be arrested for criminal behavior, charged with being an embarrassment to the country. They are joined by the likes of Lauren Boebert (R-Colo.), recently thrown out of a Denver theater for groping her boyfriend, vaping, taking pictures, and recording a show, Beetlejuice. This is today's Republican Party.
Clearly, most elected Republicans are not willing to stand up to these jokers; all afraid of the Trump cult, aka the Republican Party. They are being threatened with a primary by Trump if they do. They would lose the primary, part of the reason Sen. Mitt Romney (R-Utah) just announced he would not run again. The Trump cult controls roughly 35% of the party and you can't win without them. But Trump-supported primary winners have shown they lose general elections.
I am more confident than some in a Trump/Biden replay, Biden will win by 10 million votes this time, but not get one more electoral vote. It will again be about seven or eight states. If Republicans go ahead with this impeachment Democrats will win in 2024.
As to Hunter Biden, he should be punished for anything he did wrong, like any private citizen; whether it is not paying his taxes or lying on a gun permit application. President Biden should stop inviting Hunter to the White House, and curtail his public embrace of his son. It hasn't helped his son, and is clearly not helping his own campaign, or for that matter any other Democrat. What he does in private is his business. The president has two homes, one in Wilmington, and one in Rehoboth Beach, where he can meet with, and entertain his son. I think the president owes that to the people he is asking to support him. He owes it to the party to not put himself in positions his opponents can take advantage of. 
Joe Biden has been a public servant since he was 28 years old, starting on the New Castle County Council, in Delaware, in 1970. He ran and won his Senate seat in 1972. He has never been accused of any impropriety until the Republicans decided they could make unfounded accusations for political gain. He has shown himself a decent and honest man. A man with empathy for those less fortunate; and a president with one of the most successful administrations in modern times.
So McUseless, do your worst. Bend over for the MAGAs and get screwed. Hope it hurts. You have no balls as depicted in a recent funny meme where Barbie is shown on her knees in front of Ken, saying she finally understood; McUseless was the model for Ken.
The country will survive McUseless and the congressional Trump cult and be stronger for it. The decent people of the country will end up winning and McUseless, Marjorie Taylor Greene, Matt Gaetz, and their cronies, will be relegated to the dustbin of history with nary an asterisk to their names. If there is an asterisk it will read that they were useless, venal, and screwed up.
Peter Rosenstein is a longtime LGBTQ rights and Democratic Party activist. He writes regularly for the Blade.
Impact lingers 22 years after that bright September morning
Religious zealotry that led to 9/11 can be seen in far right politics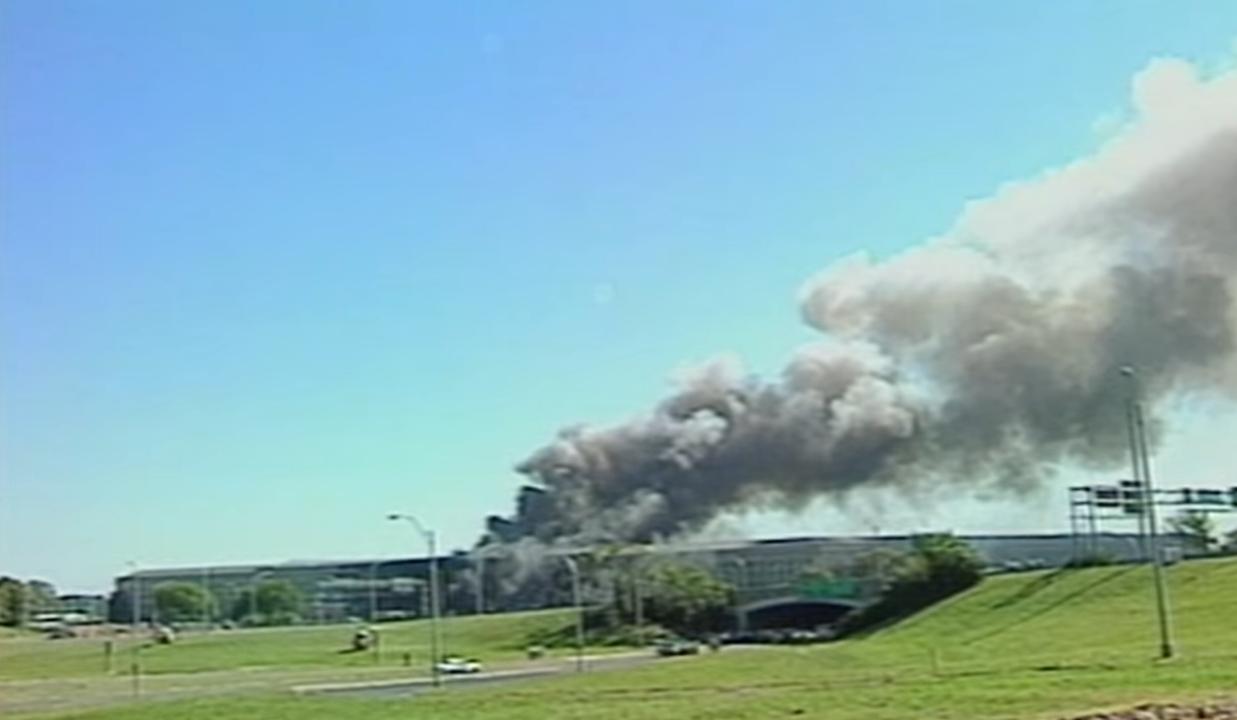 Tuesday, September 11, 2001, a point in time that forever altered the world in a series of events, terrorist attacks, that would linger on politically, spiritually, culturally, and leave an indelible mark on those alive at the time who experienced that day.
A human being born that day celebrates their twenty-second birthday this week, having grown up in a world where security measures — some draconian — dominate and where a certain sense of collective innocence has been lost.
Perhaps the ultimate irony is that lessons of peaceful diplomacy that could have possibly been gained from that day were instead lost to the sense of paranoia and nationalistic ideology and messaging as governments reacted, and in the case of the United States, commencement of a war that became the longest in American history.
The number of American service members who died fighting the wars in Iraq and Afghanistan had passed 7,000 at the end of 2021. The 'War on Terror' as it was known spanned 20 years, saw the expenditure of $6 trillion, 900,000 lives lost around the globe and at least 38 million people who have been displaced.
9:37:46 AM, The Pentagon in Arlington, Va., just across the Potomac River from Washington, D.C.: American Airlines Flight 77, which had taken off from Dulles International Airport, struck the southwest side of the building killing 184 people.
This reporter was in the Pentagon that fateful morning, having agreed to substitute for a sick colleague. I witnessed the utter disbelief on the faces of every one of my colleagues as we were clustered around a television set watching the events unfolding in New York City at the World Trade Center and then suddenly it was our turn as the entire building shook as Flight 77 crashed into the southwestern face of the Pentagon.
The next 16 hours are still a vignette of sounds, smells, and sights from that day that have never left me. The events of that day would later define my career and set me on a path of being far more cynical than I was previously as I viewed a changed world.
Here, two decades later, I reflect still on what could have been and yet still remain optimistic even in the face of greater turmoil, widespread authoritarianism, a global climate crisis exacerbated by war, and then too of war itself as evidenced by the illegal incursion into the sovereignty of Ukraine.
The rise of nationalism, especially of the white supremacist variety tied to religious fundamentalism, is the primary danger and the direct linear descendent of the terrorism that was seen on that Tuesday morning 22 years ago. It is not just an American issue, it is a global issue, one that needs to be exposed and then dealt with.
The religious zealotry that fed the extremist ideology that led to the acts of terrorism that bright September morning can be seen again manifesting in the extremist actions of the far right beyond politics. Book bans, the war on trans and queer people, stifling of free speech and ideas, promotion of anti-immigrant, anti-LGBTQ and racist ideas all contribute to a society that is rapidly becoming very unsafe and a petri dish for the next 9/11.
This is the lingering impact of that long ago day and must be mitigated, before history repeats itself.
Brody Levesque is editor of the Los Angeles Blade.