Acclaimed gay doctor to be honored at LGBT History Month event
Pediatric cardiologist moved from Louisiana to N.Y. in protest over anti-LGBTQ bills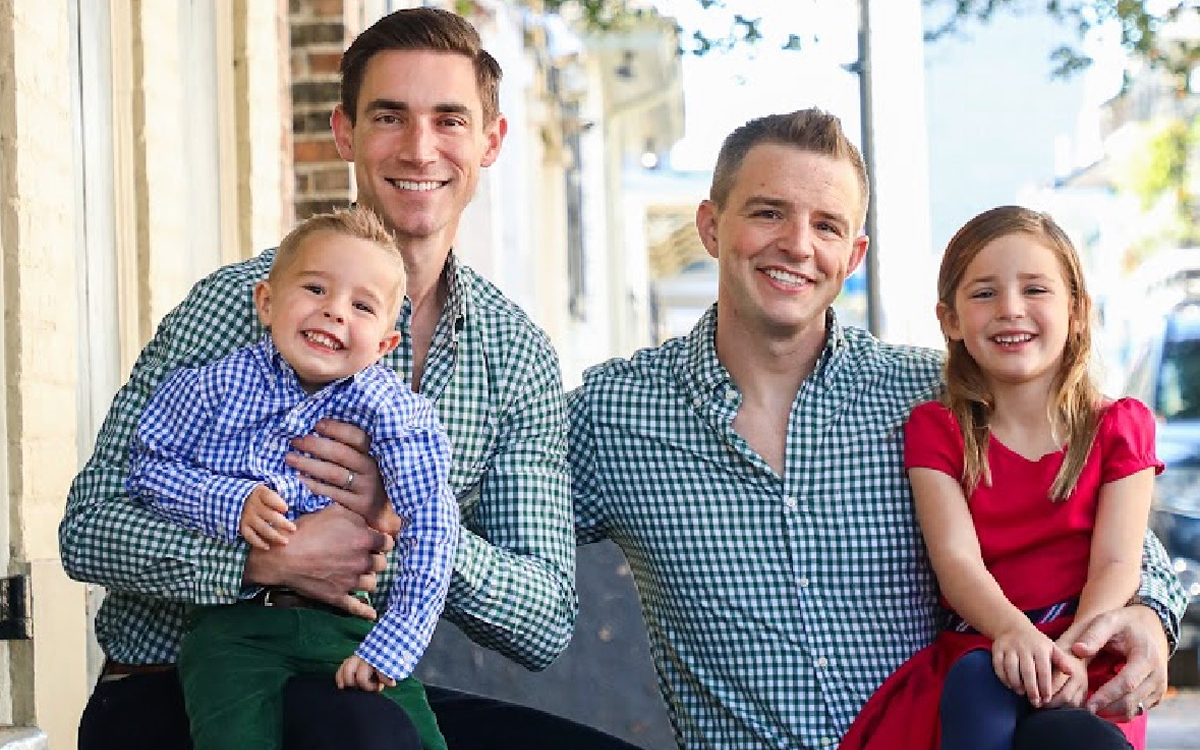 Dr. Jake Kleinmahon, a gay pediatric cardiologist and pediatric heart transplant specialist, is scheduled to be honored Oct. 1 by the Equality Forum at its annual LGBT History Month Kickoff and Awards Celebration in Philadelphia.
He has been named a recipient of the Equality Forum's 28th annual International Role Model Award.
Kleinmahon became the subject of national news media coverage in early August when he announced he was leaving the state of Louisiana with his husband and two children and ending his highly acclaimed medical practice in New Orleans after the state legislature passed bills targeting the LGBTQ community.
He had been working since 2018 as the medical director of pediatric heart transplant, heart failure, and ventricular assist device programs at Ochsner Hospital for Children in New Orleans.
Kleinmahon told the Washington Blade his and his family's decision to leave New Orleans was a difficult one to make. He said it came after the Republican-controlled Louisiana Legislature passed three anti-LGBTQ bills, including a so-called "Don't Say Gay" bill targeting public schools and a bill banning transition-related medical care for transgender youth.
The state's Democratic governor, John Bel Edwards, vetoed all three bills. But the legislature overturned his veto of the bill banning transition-related medical care for trans minors beginning Jan. 1, 2024.
Kleinmahon said he and his family moved at the end of August to Long Island, N.Y., after he accepted a new job as director of pediatric heart transplant, heart failure and ventricular assist devices at Cohen Children's Medical Center in the town of New Hyde Park, which is located along the border of the Borough of Queens in New York City and Nassau County, Long Island.
"The decision to leave is not one that we took lightly at all," Kleinmahon told the Blade. "And it was not one because I got a better job or other factors," he said. "The main driver for it was that as we realized where things were going, we were raising our children in a state that was actively trying to make laws against your family," he said in a phone interview. "And that's not the type of environment that we want to raise our kids in."
Kleinmahon said he and his husband Thomas timed their move to Long Island at the end of August so their daughter, who's seven, could begin school at the start of the school year and their son, who's four, could begin pre-kindergarten sessions.
"We have been open with our children about why we're moving because we think it's important that they carry on this message as well," said Kleinmahon, who noted that his daughter expressed support for the move.
"We were at the dinner table one night and we were explaining what happened," Kleinmahon said. "And she goes, you know daddy, we do have a choice, but there is only one good one. And she agreed with our moving to New York."
Kleinmahon acknowledges that some in New Orleans, which is considered an LGBTQ supportive city in general, questioned his decision to leave on grounds that the two bills that would directly impact him and his family did not become law because the governor's veto of the two bills were upheld.
"One of the things I've heard is that none of these really directly affect a family because the 'Don't Say Gay' bill didn't go into effect, and my children are not transgender, and I don't work in a transgender clinic," he told the Blade.
"But that's really not the point," he continued. "The way we think about it as a family, the people who are elected officials that are supposed to take care of the people in their state are casting votes against our families," he points out. "So, sure, while the laws may not be in effect this year, certainly there's a push to get them passed. And why would we want to remain in a state that is trying to push forward hateful laws?"
He said he will begin his new job at Cohen Children's Medical Center on Long Island on Nov. 1.
"They have been incredibly supportive," Kleinmahon said. "They have actually encouraged me to be open with why we left Louisiana," he said. "And they have a Pride resource group that's reached out to me to lend their support," he said, adding that the hospital and its parent company have been "exceptional in helping us make this transition."
During his medical practice at Ochsner Hospital for Children in New Orleans, Kleinmahon has been credited with helping to save the lives of many children suffering from heart-related ailments. He said his decision to leave behind his colleagues and patients was difficult.
"Unfortunately, it had ramifications for the kids in Louisiana, which was the hardest part for me," he said. "And the reason for that is I was one of three pediatric heart transplant cardiologists, and I was the director of the only pediatric heart transplant program in Louisiana."
He added, "While there are two other fantastic heart transplant cardiologists in Louisiana, the ability to keep a program running that serves an entire state needs a full army of people. And me leaving took 33 percent of that army away."
He said he was also one of just two pediatric pulmonary hypertension providers in the state, and he just learned that the other provider had also left Louisiana recently. Pulmonary hypertension doctors provide treatment for people with the condition of high blood pressure in their lungs.
Regarding his extensive experience in treating and caring for children with heart disease, Kleinmahon, in response to a question from the Blade, said about 400 children receive heart transplants in the U.S. each year.
While heart transplants for kids are not as frequent as those for adults, he said kids needing a heart transplant and their families "deal with a tremendous amount of stress and medical appointments that really change their life," including the need to take medication to prevent the body from rejecting a new heart for the rest of the children's lives.
"My hope as a transplant doctor is that I can get these kids to live as normal a life as possible," he said.
In addition to presenting its International Role Model Award to Kleinmahon, the Equality Forum was scheduled on Oct. 1 at its LGBT History Month event to present its Frank Kameny Award to Rue Landau, the first LGBTQ Philadelphia City Councilperson. It was also scheduled to present a Special Memorial Tribute to the late Lilli Vincenz, the longtime D.C.-area lesbian activist and filmmaker credited with being a pioneering LGBTQ rights activist beginning in the early 1960s.
"I am beyond humble to receive this award that is really not an award for me but is an award for my family and for families like ours and for people that are going to continue to fight discriminatory policies," Kleinmahon said.
Blade editor Kevin Naff will present Kleinmahon with the award on Oct. 1 in Philadelphia.
"Dr. Kleinmahon and his family took a brave stand in solidarity with the LGBTQ community and they deserve our gratitude," Naff said. "I'm excited and honored to present him with the International Role Model Award."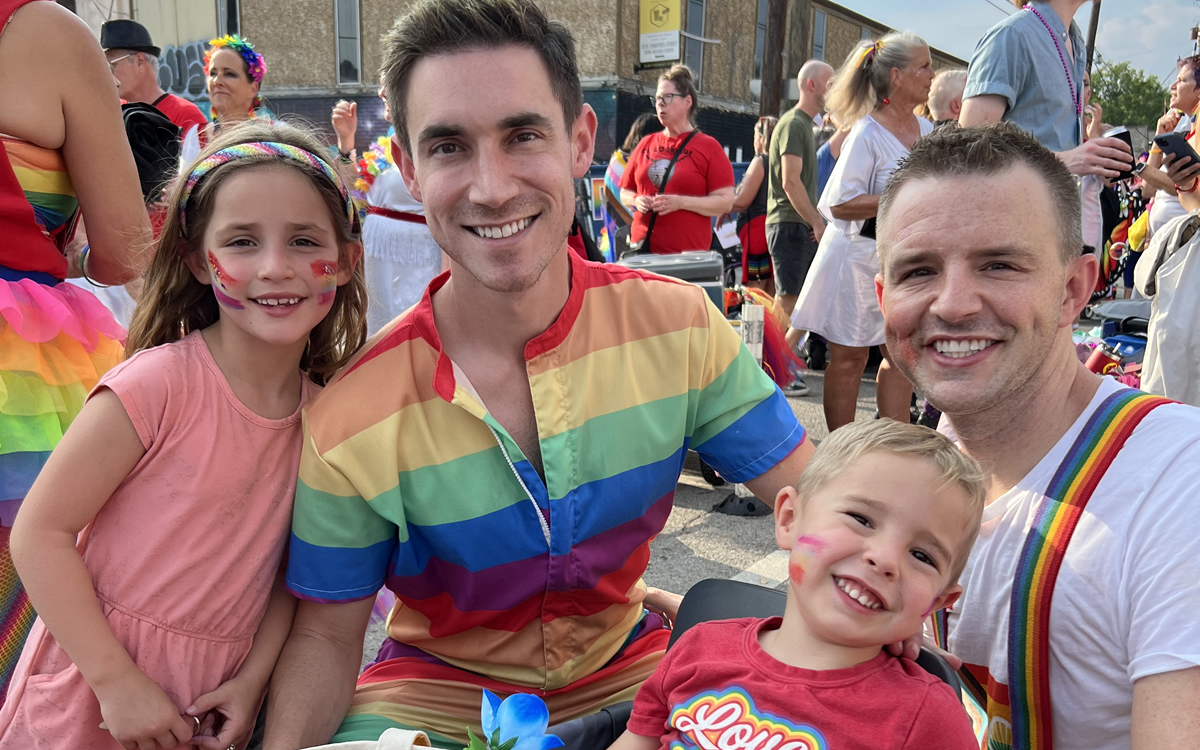 Supreme Court upholds conversion therapy ban in Washington State
Kavanaugh, Alito, Thomas wanted to consider challenge to ban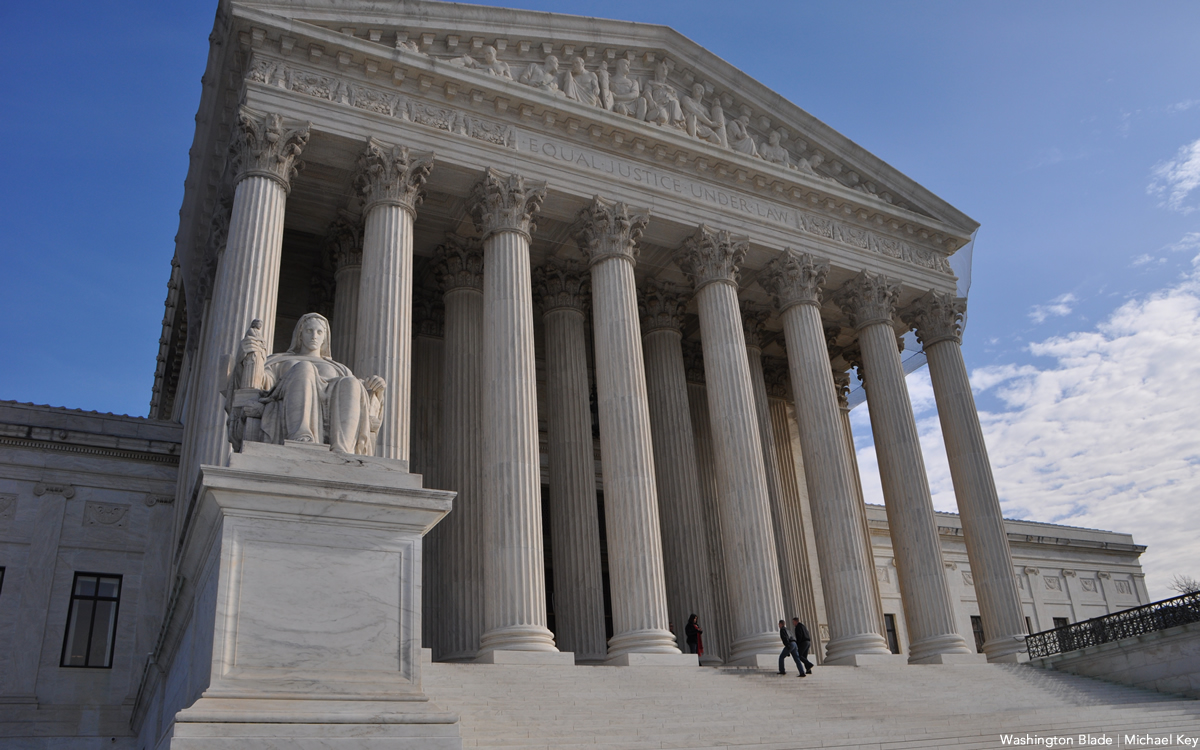 The U.S. Supreme Court on Monday allowed Washington State to continue enforcing its ban on conversion therapy for minors, another blow to the dangerous and discredited practice of endeavoring to change a patient's sexual orientation or gender identity.
With a 6-3 vote declining to hear a challenge brought by the anti-LGBTQ Alliance Defending Freedom, the Supreme Court allowed the U.S. Court of Appeals for the Ninth Circuit's decision protecting the law to remain in effect.
Conservative Justices Brett Kavanaugh, Samuel Alito, and Clarence Thomas voted to take up the case, with Thomas writing a five-page dissent in which he argued "licensed counselors cannot voice anything other than the state-approved opinion on minors with gender dysphoria without facing punishment."
"In recent years, 20 States and the District of Columbia have adopted laws prohibiting or restricting the practice of conversion therapy," Alito wrote in a brief dissent. "It is beyond dispute that these laws restrict speech, and all restrictions on speech merit careful scrutiny."
"This is a huge victory, albeit by the narrowest of margins given that three justices would have taken the case," Shannon Minter, legal director for the National Center for Lesbian Rights (NCLR), told the Blade in a statement reacting to Monday's decision.
"It is chilling that the dissents focused on transgender youth and appeared to endorse conversion therapy to prevent them from being who they are," he said, adding, "Now that we have been given this reprieve, we must do everything possible to educate the public about the terrible harms of conversion therapy for all LGBT youth, including those who are transgender."
NCLR represents one of the litigants in the case, Equal Rights Washington, which was involved in defending the law — which allows providers to discuss conversion therapy with patients younger than 18 or recommend that it be administered by a religious counselor, but prohibits licensed therapists from performing it.
Major scientific and medical groups as well as LGBTQ and other civil rights organizations support conversion therapy bans for minors, which have passed in 22 states and D.C. according to the Movement Advancement Project.
Judge Ronald M. Gould, writing for the three-judge panel of the 9th Circuit, argued in his decision on the case challenging Washington's ban that, "States do not lose the power to regulate the safety of medical treatments performed under the authority of a state license merely because those treatments are implemented through speech rather than through scalpel."
Gould noted that Brian Tingley, a family counselor and advocate for conversion therapy who challenged the law, was still able to communicate about conversion therapy, express his personal views on the subject to his patients, practice conversion therapy on adults, and refer minors to counselors not licensed by the state.
"For decades," wrote Washington state Attorney General Robert W. Ferguson in a brief, "this court has held that states can regulate conduct by licensed professionals, even if the regulations incidentally impact speech."
"Conversion therapy," he added, "puts minors at risk of serious, long-lasting harms, including increased risks of suicide and depression."
"The Supreme Court has allowed a lower court's ruling on Washington state's 'conversion therapy' ban to stand—a decision that should have been status-quo and not at all controversial," Cathryn Oakley, senior director of legal policy at the Human Rights Campaign, told the Blade in a statement.
"But given the recent decisions of this Court, today's ruling is an important victory as we fight to protect the rights and wellbeing of LGBTQ+ youth across the country," Oakley said. "Thank you to NCLR for fighting so tirelessly everyday to safeguard these hardfought rights."
Country's first nonbinary state lawmaker participates in Gaza ceasefire hunger strike
Oklahoma state Rep. Mauree Turner is Muslim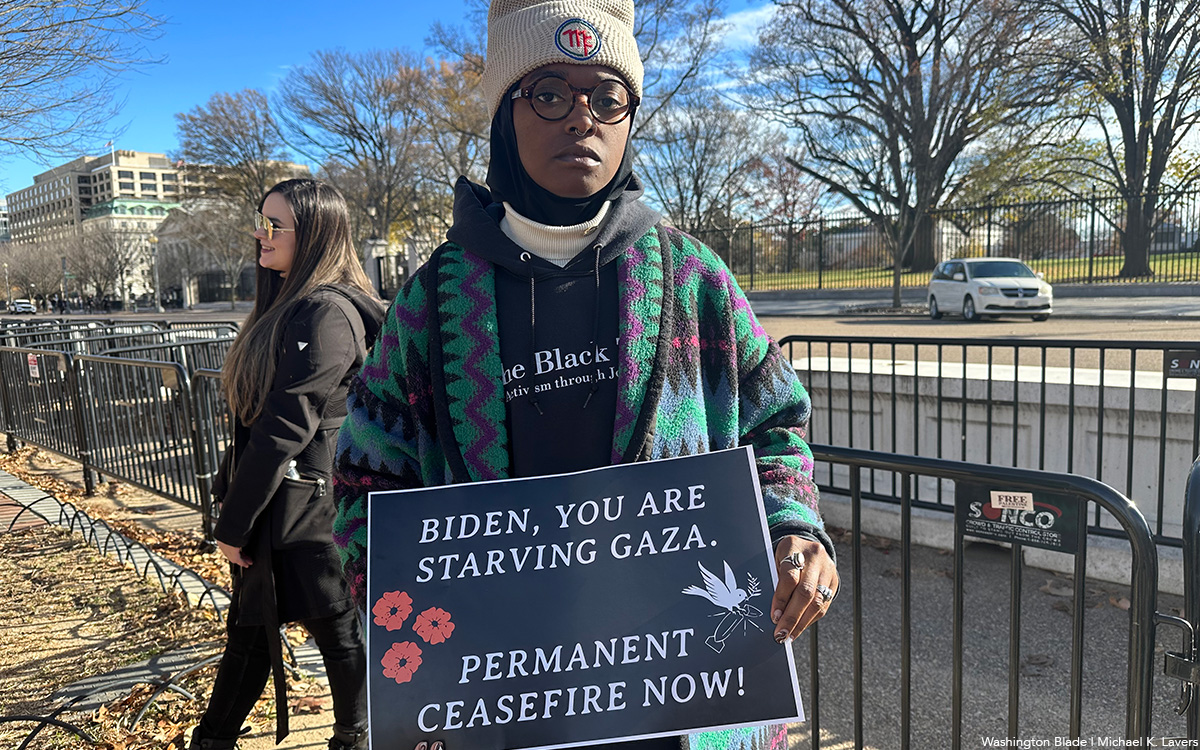 The country's first nonbinary state lawmaker last week participated in a hunger strike for a permanent ceasefire in the Gaza Strip that took place in front of the White House.
Oklahoma state Rep. Mauree Turner took part in the 5-day action alongside actress Cynthia Nixon, Virginia state Del. Sam Rasoul, Delaware state Rep. Madinah Wilson-Anton, New York State Assemblymember Zohran Mamdani, Michigan state Rep. Abraham Aiyash, former New York Congressional candidate Rana Abdelhamid, Muslim Girl.com Founder Amani Al-Khatahtbeh, Adalah Justice Project Director of Strategy and Communications Sumaya Awad and Linda Sarsour. The U.S. Campaign for Palestinian Rights, Jewish Voice for Peace, Democratic Socialists of America, IfNotNowMovement, Dream Defenders, the Institute for Middle East Understanding and the American-Arab Anti-Discrimination Committee are the organizations that either participated in the hunger strike or endorsed it.
"This is the place where you should be," Turner told the Washington Blade on Nov. 30 while they were standing in front of the White House.
Turner is from Ardmore, Okla., and has been a member of the Oklahoma House of Representatives since 2021. They are the first Muslim person elected to the Oklahoma Legislature.
"Oklahoma is no stranger to genocide, displacement, uprooting communities — beautiful, vibrant, vulnerable communities — just because they could," said Turner, referring to the treatment of Native Americans in what became Oklahoma during the 1800s and early 1900s. "Specifically as a Muslim and as an Oklahoman it is my duty to be here."
The hunger strike took place nearly two months after Hamas, which the U.S. has designated a terrorist organization, launched a surprise attack against communities in southern Israel from Gaza.
The Israeli government has said roughly 1,200 people have been killed, including at least 260 people who Hamas militants murdered at an all-night music festival in a kibbutz near the border between Israel and Gaza. The Israeli government also says more than 5,000 people have been injured in the country since the war began and Hamas militants kidnapped more than 200 others.
Yarden Roman-Gat, whose gay brother, Gili Roman, spoke with the Washington Blade on Oct. 30 in D.C., is one of the 105 people who Hamas released during a truce with Israel that began on Nov. 24 and ended on Dec. 1.
The Hamas-controlled Gaza Health Ministry says more than 15,000 people have died in the enclave since the war began. Israel after Oct. 7 cut electricity and water to Gaza and stopped most food and fuel shipments.
"It's absolutely wild to think about what is happening to the Palestinian people in Gaza and in the West Bank," said Turner.
Turner noted the war began two days before Indigenous Peoples' Day.
"By October the 10th, when the world was really seeing what was happening in Gaza," they said. "So many people who had celebrated specifically Indigenous Peoples' Day had also sided with the Israeli government over the indigenous people of the land."
'The death of civilians is absolutely horrible'
Turner in response to the Blade's question about the Israelis who militants killed on Oct. 7 emphatically said "the death of civilians is absolutely horrible." Turner added they "cannot stress enough that when we back people into a corner, we don't know what will happen."
"The truth of the matter is our governments, our governmental officials do not have to put people in a corner," said Turner.
Turner was particularly critical of the Israeli government's actions in Gaza after Oct. 7.
"I don't think there's any place where a government has the power to shut off right water, food, healthcare supplies, things like that," they said. "It's just in doing so against a population that has 2 million people … that's not anyone looking for equitability or justice. That is genocide against its people."
Turner noted Republican Oklahoma Gov. Kevin Stitt continues to publicly support Israeli Prime Minister Benjamin Netanyahu. Turner told the Blade "when we oppress people over decades and decades … we cannot, we don't get to cherry pick" or "we don't get to tone police or however they are fighting back to be heard, to be, to live for vibrant lives."
"We cannot tell oppressed people how to hurt out loud," they said, specifically referring to Palestinian people. "We can create governments that care for people from a community standpoint who are thinking creatively about how we provide aid and support and we can ask our elected officials (members Congress, President Joe Biden, state and local officials) to teach truth. We can ask them to continuously make sure that we are providing the best care and understanding of the situations at hand. We can ask them to do a ceasefire to stop sending aid to the Israeli government and emboldening their military forces."
Climate change threatens LGBTQ resort communities
Provincetown, Cape Cod, other destinations face 'existential' challenge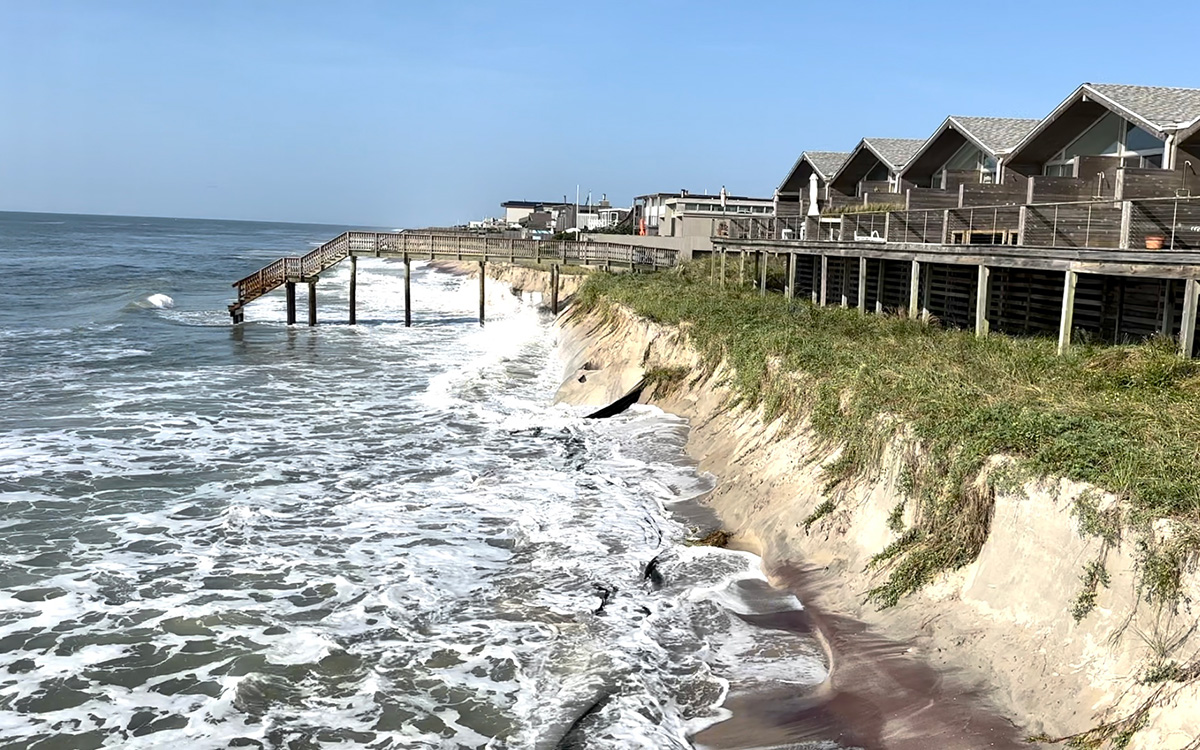 As the world reckons with worsening impacts of climate change, some LGBTQ communities and destinations are grappling with the "existential" threat posed by the crisis.
The United Nations' annual climate conference will take place in the United Arab Emirates through Dec. 12. LGBTQ climate activists, however, are concerned about representation at COP28 because the meeting is taking place in Dubai, which is in a country that criminalizes consensual same-sex sexual relations.
President Joe Biden on Nov. 14 delivered a statement on climate change policy during his administration. Biden spoke on the American Rescue Plan, the Fifth National Climate Assessment, new transparency about the state of the country's climate and more.
Biden emphasized "advancing environmental justice for disadvantaged communities, because they're the ones always left behind." Evidence of this trend can be found in LGBTQ destinations across the country.
Julian Cyr, a gay Massachusetts state senator who represents Provincetown and other towns on Cape Cod, recognizes the state's importance to the LGBTQ community, stating that "according to the Census, it may be the highest per capita density of LGBTQ+ people certainly in the United States, and perhaps internationally."
Provincetown, a popular gay destination located at the tip of Cape Cod, is facing worsening storms as climate change advances. These storms reshape the natural environment as well as damage the built environment. A series of Nor'easters in 2018 flooded Provincetown, damaging homes, businesses and the town hall.
"The climate crisis is … already forcing us to do a lot of planning and reevaluation of coastal resilience of our built environment," said Cyr.
All hope isn't lost yet for Massachusetts destinations.
Then-Gov. Charlie Baker, a Republican, in 2022 introduced the Climate Roadmap, which aims for zero carbon emissions by 2050. The state also is building the country's first offshore wind farm, Vineyard Wind.
Cyr said citizens can push for climate change legislation by making the urgency known to their local elected officials.
"This is truly existential for coastal, low-lying communities like those that I represent," said Cyr. "It's really important that constituents weigh in with their elected officials and make sure that they know that this issue is crucially important. I don't know how we not solve this issue."
Experts are seeing similar effects in nearby LGBTQ destinations, such as Cape Cod.
"One thing that we do see already is the effect of storms," said Mark Adams, a retired Cape Cod National Seashore cartographer. "Those storms are the signal of sea level rise."
Adams said that as a result of rising temperatures and new, intense storms, he is also starting to see damaged ecosystems, unnatural migration patterns of local wildlife, and planting-zones moving northward. Adams told the Washington Blade these changing ecological relationships may mean an uncertain future for life along the coast: the self-sustaining lifestyle and seafood could be at risk as ocean acidification puts shellfish in danger.
"If you can't get oysters and clams, that would really change life on Cape Cod," he said.
In addition to the damage caused by storms, Cape Cod's natural environment is also facing the threat of littering and plastic pollution. While the area's beaches keep tourism alive, fishing gear and marine debris washing up on the shore are growing concerns for the community.
Adams said this is where the choices individuals make to avoid plastics will make a huge difference in the future of these communities.
"There are little choices we can make to get off of the petroleum stream," he said.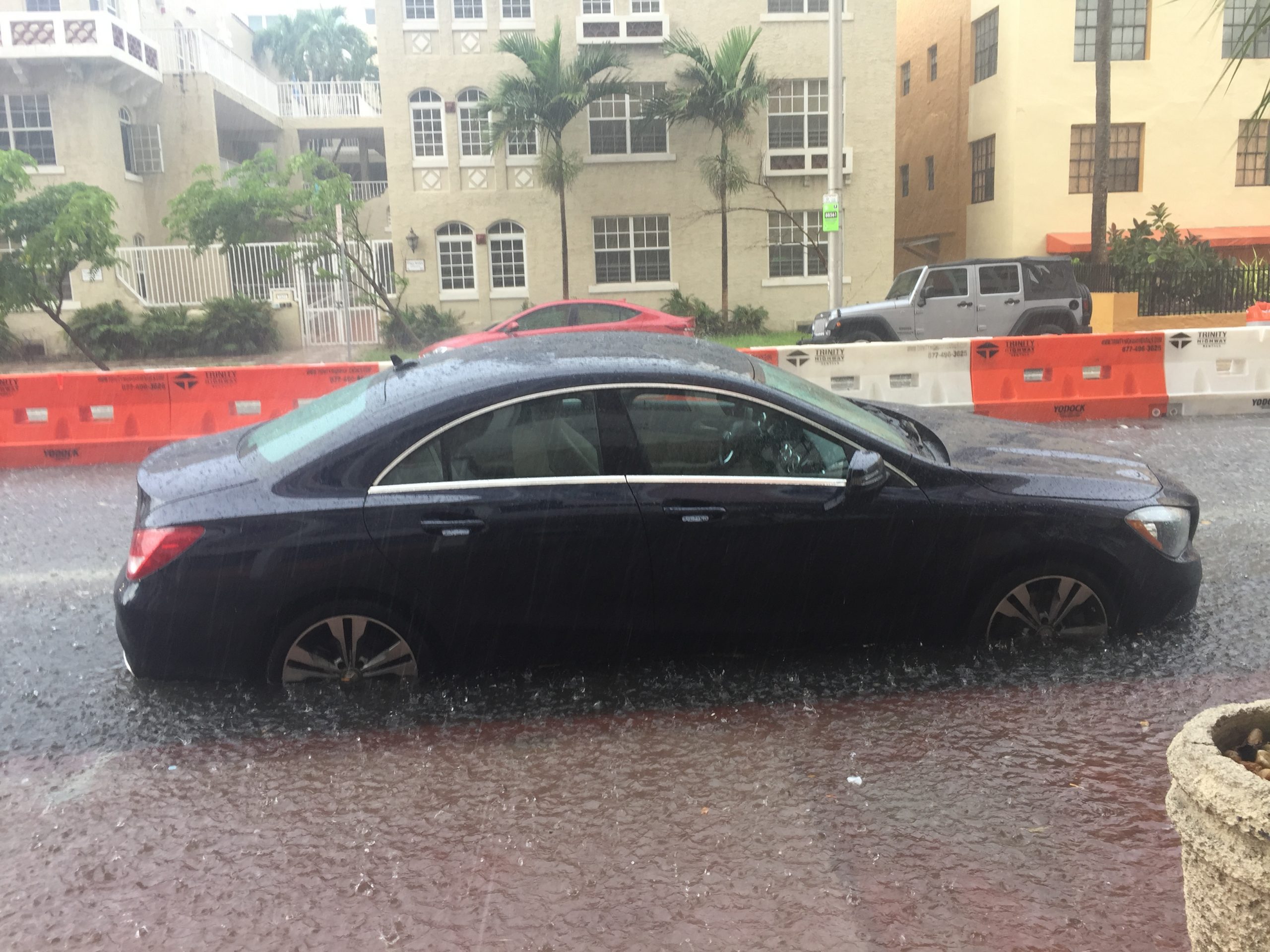 Aspen Gay Ski Week adapts to warmer winters
Aspen Gay Ski Week was the first gay ski week, and it is the largest such event in the world, and is the only non-profit gay ski week.
Rising temperatures and short winters are growing concerns for destinations like Aspen, Colo., that depend on snow, according to AspenOUT Executive Director Kevin McManamon.
"As our seasons get shorter … we have to plan for the future," McManamon said.
Colorado has also faced increased forest fires in recent years.
The Marshall Fire in 2021 devastated the state, destroying buildings and killing two people. Increasingly dry conditions feed into these fires, which will mean more impacts on humans, nature, and infrastructure.
McManamon nevertheless said he is optimistic about Aspen Gay Ski Week's future due to the organization's forward thinking. One such initiative is its involvement with Protect Our Winters, an organization that advocates for protecting the environment with the support of the outdoor sports community.
"The cool part about being here in Aspen and having a great relationship with Aspen Skiing Company is that they are … on the leading edge of climate change," said McManamon.
Stronger storms threaten Fire Island
Fire Island Pines on New York's Fire Island has been a safe haven for the LGBTQ community since the 1950s.
Fire Island Pines Property Owners' Association President Henry Robin notes natural disasters cause more damage in the community as opposed to those that are across the Great South Bay on Long Island because Fire Island is a "barrier island."
"When Superstorm Sandy hit, or when a Nor'easter hits, or a hurricane hits, the brunt of the storm is first taken by the Pines," said Robin.
Robin said "the Pines is thriving" just over 11 years since Sandy, but there is no climate change response. The federal government implemented a beach restoration project for Fire Island, and later, the U.S. Army Corps of Engineers created an engineered beach for the Pines.
Robin also formed three task forces — comprised of community members — to address local concerns, many of which were climate related, according to focus groups and a survey. Robin is also hoping to introduce recycling programs and solar energy to the Pines.