Friday, Feb. 12
Gay organist David Christopher plays a free recital today at 12:15 p.m. at National City Christian Church as part of its "Magical, Mystical, Musical Machine" organ recital series. Organists Stephen Harouff and NCCC's Charles Miller, who are both gay, play on the 19th and 26th respectively. The recitals are a half hour each. The church is at 5 Thomas Circle, N.W.
Apex has a Mardi Gras party tonight with a costume contest, balloon drop, prizes and "King of Apex" contest. Beads and masks will be given out. DJ Yainnis spins. Doors open at 9. Cover is $6. The club is located at 1415 22nd St., N.W. Visit www.apex-dc.com for more information.
Women in their Twenties meets at the D.C. Center tonight at 8. The group is a social discussion group for lesbian, bi and trans D.C.-area women. Discussions are followed by dinner at a nearby restaurant. The Center is located at 1810 14th St., N.W.
Saturday, Feb. 13
Metropolitan Community Church of Washington, the District's largest mostly gay church, has its annual Valentine's dance tonight at 7 p.m. at the church. Refreshments will be served. A $7 donation is suggested. Call 202-638-7373 or e-mail [email protected] for more information. The church is located at 474 Ridge St., N.W.
"Love," a concert by the Gay Men's Chorus of Washington, is today with shows at 5 and 8 p.m. at Church of the Epiphany located at 1317 G Street N.W. Tickets are $35 and can be purchased at www.gmcw.org/tickets, by phone at 202-293-1548 or at the HRC shop at 1633 Connecticut Ave., N.W. The concert will feature a chorus transcription of Brahm's "Liebeslieder Waltzes" by chorus member Robert T. Boaz and a performance by the Rock Creek Singers, a chamber ensemble of Chorus members.
The 38th annual Scarlet's Bake Sale is today at the Eagle, which is co-sponsoring the event with Green Lantern, another D.C. gay bar. Cake donations will be accepted from 2 to 4 p.m. They'll be auctioned off from 5 to 9 p.m. Awards will be given for various categories. Several gay non-profits will receive proceeds. The Eagle is at 639 New York Ave., N.W. For more information, call Stephen Decker at 202-210-7553 or Patrick Grady at 703-863-7295.
DJ Scotty Thompson is at Town tonight and a Universal Gear fashion show will be held. Doors open at 10. Drag show starts at 10:30. DJ Wess spins downstairs. Cover is $8 from 10 to 11 p.m. and $12 after 11. Town is at 2009 8th Street, N.W.
Burgundy Crescent, a gay volunteer group, volunteers from 9:30 a.m. to noon today for Books Plus at MLK Library and later in the week at D.C. Central Kitchen, Human Rights Campaign, National Gay & Lesbian Task Force and more. Visit www.burgundycrescent.org for a schedule of opportunities or to register to volunteer.
Sunday, Feb. 14
A gay alumni group of George Mason University, the Lambda Alumni Chapter, is participating in the school's homecoming festivities today and throughout the week. Contact Rob Pilaud at [email protected] or 202-258-5476 for more information.
Local drag queen Shi-Queeta Lee hosts drag brunch every Sunday at Nellie's Sports Bar, located at 900 U Street, N.W. Brunch buffet is $20. Miss Lee performs at 11 a.m. and 2 p.m. Visit www.nelliessportsbar.com for more information.
Monday, Feb. 15
A youth support group for gay, lesbian and bi teens meets today from 4:30 to 6 p.m. at the GW Center Clinic located at 1922 F St., N.W., suite 103. It's designed to be a safe space for young adults to discuss coming out, discrimination, identity and other issues. It meets every Monday and is facilitated by Sonia Khan, a psychology grad student. Fees for therapy and the group are on a sliding scale.
Metropolitan Community Church of Washington, the District's largest mostly gay church, has an HIV-positive support group for people of faith every Monday at the church. For more information, contact Matt Senger at 202-546-2159 or e-mail him at [email protected] MCC-DC is located at 474 Ridge Street, N.W. Visit www.mccdc.com for more information about the church.
Freddie's Beach Bar, located at 555 S. 23rd St. in Crystal City, Va., has disco trivia every Monday at 8 p.m.
Tuesday, Feb. 16
The United ENDA Coalition meets on Tuesdays and Wednesdays from 6 to 9 p.m. at the National Gay and Lesbian Task Force headquarters to encourage LGBT supporters to help pass the Employment Non-Discrimination Act. Training and pizza are provided. The Task Force is at 1325 Massachusetts Ave., N.W., sixth floor. For more information, contact Aaditi Dubale at [email protected]
D.C.'s HIV Working Group assembles safer sex kits with its "packing parties" every Tuesday at EFN Lounge. Those who volunteer their time get drink discounts. The events are held from 7 to 10:30 p.m. at Motley Bar, located above EFN, which is at 1318 9th St., N.W. Visit www.fighthivindc.org for more information.
Cobalt has "Flashback," a retro night, every Tuesday at 10 p.m. Rail vodka drinks are free from 10 to 11 p.m. Cobalt, a gay bar and dance club, is at the corner of 17th and R streets, N.W.
Wednesday, Feb. 17
Tegan and Sara, a band comprised of lesbian twins, play Warner Theatre tonight. Tickets are $33. Visit www.ticketmaster.com for tickets.
Metropolitan Community Church of Washington, the District's largest mostly gay church, has Ash Wednesday services today at noon and 7 p.m. at the church, which is located at 474 Ridge Street, N.W.
The D.C. Center has LGBT career development with Washington-specific information today from 3 to 4:30 p.m. at the Center's new location at 1810 14th St., N.W.
Ladies First night is tonight and every Wednesday at Fab Lounge, located at 1805 Connecticut Ave., N.W. For more information, visit www.myspace.com/ladiesfirst.
Thursday, Feb. 18
D.C. Lambda Squares, a local gay square dancing group, meets every Thursday for square dancing. Those who've taken the group's "Mainstream" and "Plus" classes dance on the first and third Thursdays. "Plus" and "Advanced" classes are on the second and fourth Thursdays. For more information about the group or to find out when beginner classes are available, visit www.dclambdasquares.org.
Friday, Feb. 19
Bet Mishpachah, a gay synagogue located at the D.C. JCC at 16th and Q streets, N.W., holds Ereve Shabbat services every Friday at 8:30 p.m. followed by an Oneg Shabbat social. Morning services are held on the second and fourth Saturdays of each month at 10 a.m. followed by Kiddush luncheon. Visit www.betmish.org for more information.
Gay District meets tonight. The group was formerly known as the Twenties Group but has expanded its age range for gay, bi, trans and questioning men from 18 to 35. The group meets for weekly discussion from 8:30 to 9:30 every Friday at St. Margaret's Church located at 1830 Connecticut Ave. Members dine afterwards then go dancing. The group is changing its contact information but for now, those interested can visit the group on Facebook under the name "GD: Gay District."
A new Friday night drag show at Ziegfeld's has started with a new hostess. The Ladies of Illusion hosted by Kristina Kelly has performances every Friday at 11 p.m. and 1 a.m. Ziegfeld's is celebrating its one-year anniversary this weekend.
Saturday, Feb. 20
A concert by members of D.C.'s Different Drummers, a gay ensemble, called "Intimate Winds" is today at 2 p.m. in the Adirondack Room at Hillwood Museum Estate. Fischer Tull's "Liturgical Symphony," Richard Strauss' "Serenade," and more will be performed. Tickets are $20 ($10 for seniors and students) and are available at the door. Visit www.dcdd.org for more information.
10 LGBTQ events this week
Catch upcoming drag shows, an ugly sweater party and Pamala Stanley live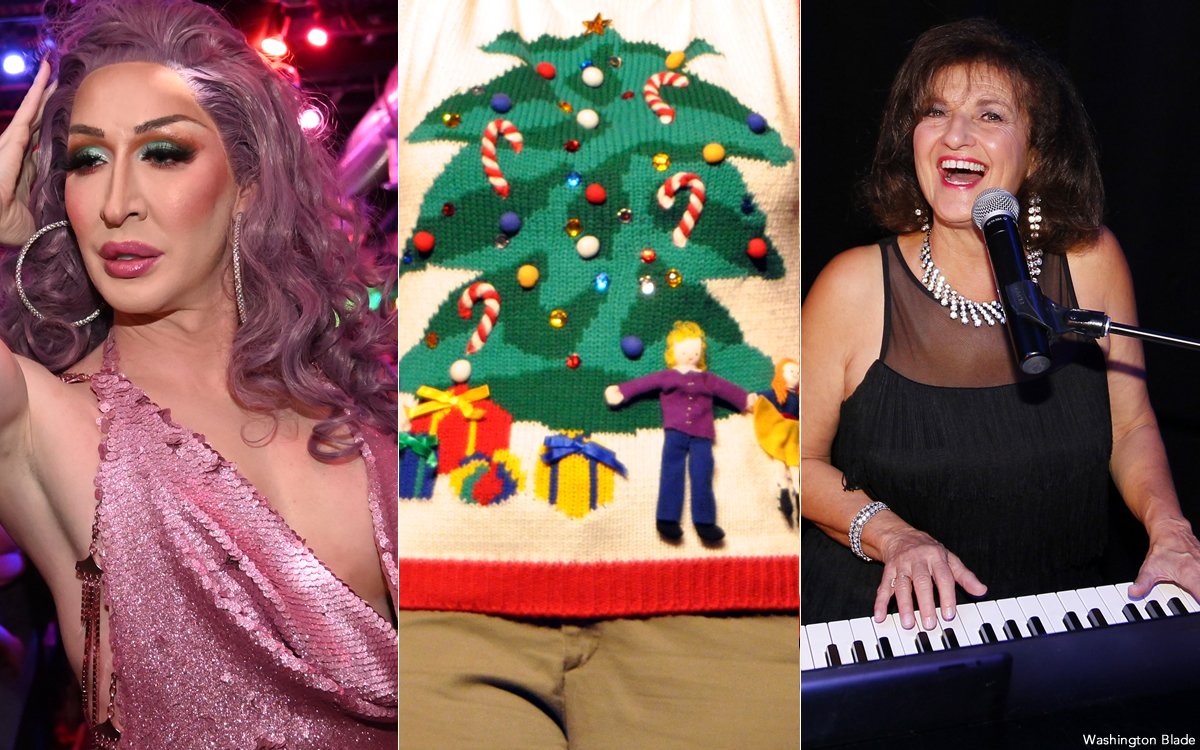 Below are our picks for some of the most fun and creative things to do this week in the DMV that are of special interest to the LGBTQ community.
---
Mocktail Night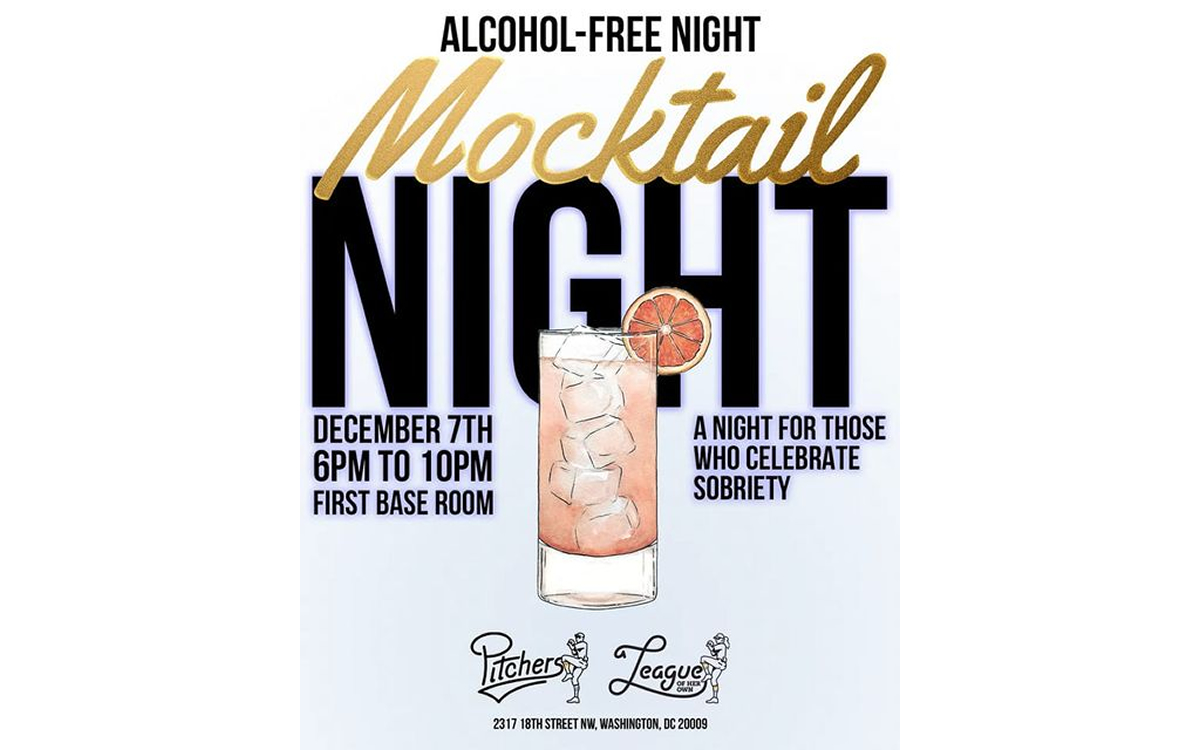 Wednesday, December 7
6-10 p.m.
Pitchers DC
2317 18th Street, N.W.
First Base Room
Facebook
Pitchers is hosting its first alcohol-free night for those celebrating sobriety with festive mocktails. No alcohol will be served, so go to Pitchers for a stress-free social event with other sober LGBTQ friends and allies.
---
"Flee" Movie Screening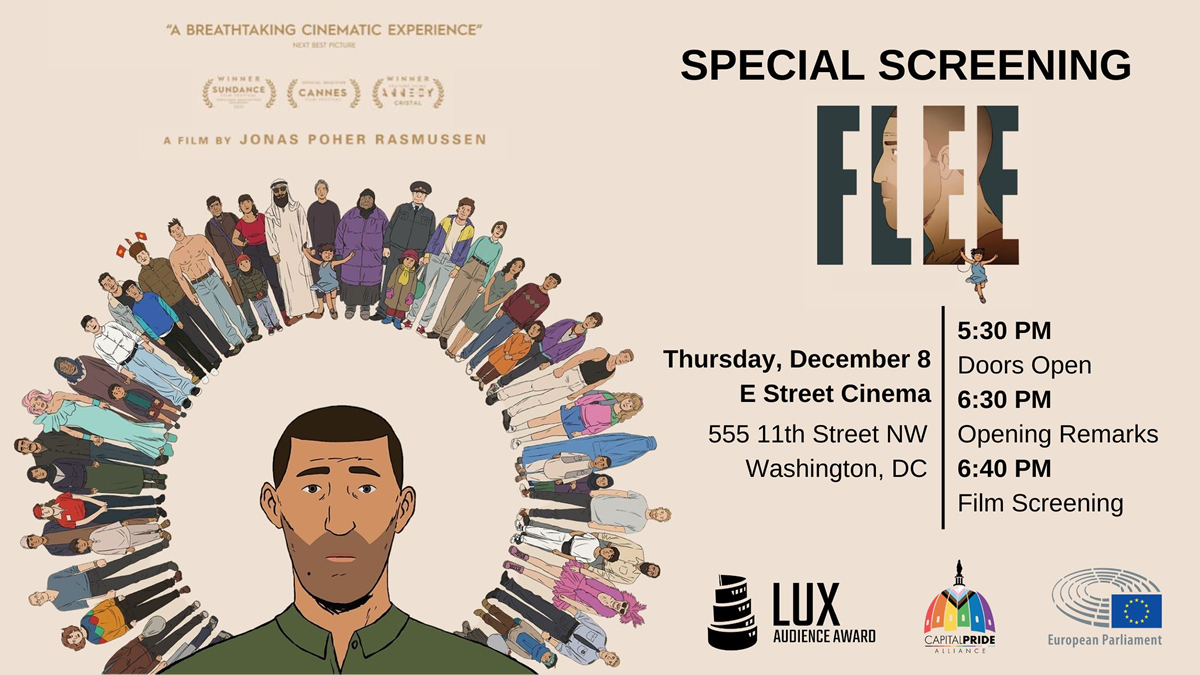 Thursday, December 8
Doors 5:30 p.m./Opening remarks 6:30 p.m.
Landmark's E Street Cinema
555 11th Street, N.W.
Free/registration required
Facebook | Register
The European Parliament Liaison Office and Capital Pride present a screening of European Parliament LUX Award 2022 finalist, "Flee."
"Flee" portrays the true story of a man who shares his hidden past of fleeing his home country of Afghanistan to Denmark.
---
Christmas Misfits: A Drag Holiday Extravaganza!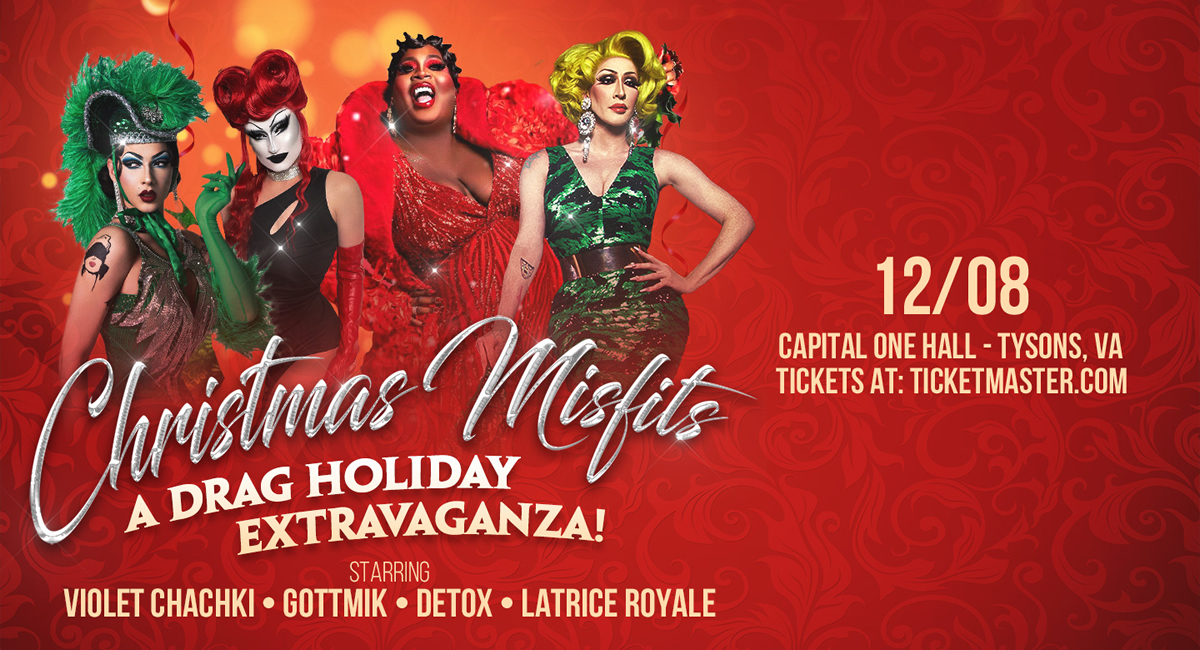 Thursday, December 8
6 p.m.
Capital One Hall
7750 Capital One Tower Road
McLean, Va.
$69.50-$252.50
Facebook | Tickets
"RuPaul's Drag Race" alumni Violet Chachki, Gottmik, Detox and Latrice Royale perform at a holiday show on Thursday.
---
Vernonza Extravaganza Lipsync Battle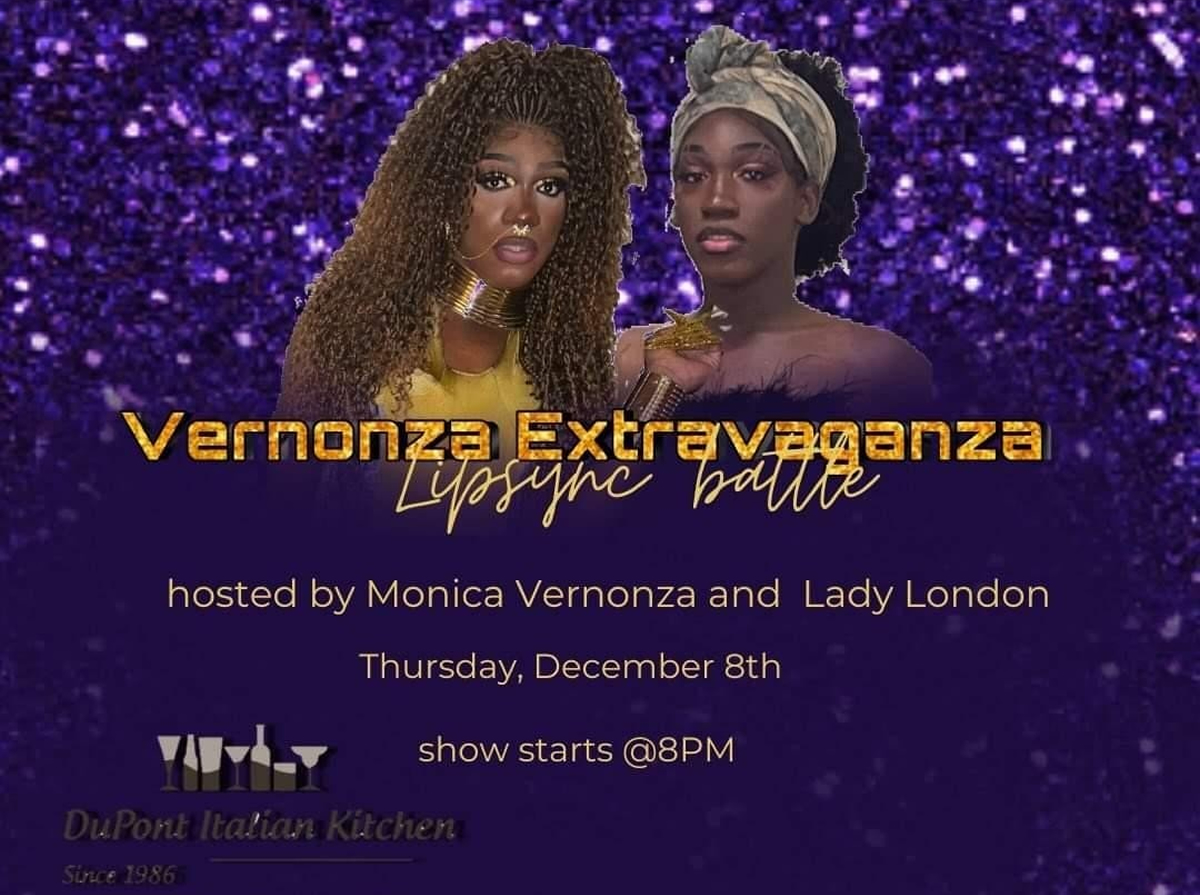 Thursday, December 8
8 p.m.
Dupont Italian Kitchen
1637 17th Street, N.W.
Facebook
Monica Vernonza and Lady London host a lip sync battle at Dupont Italian Kitchen on Thursday.
---
StartOut Baltimore-Washington Launch Reception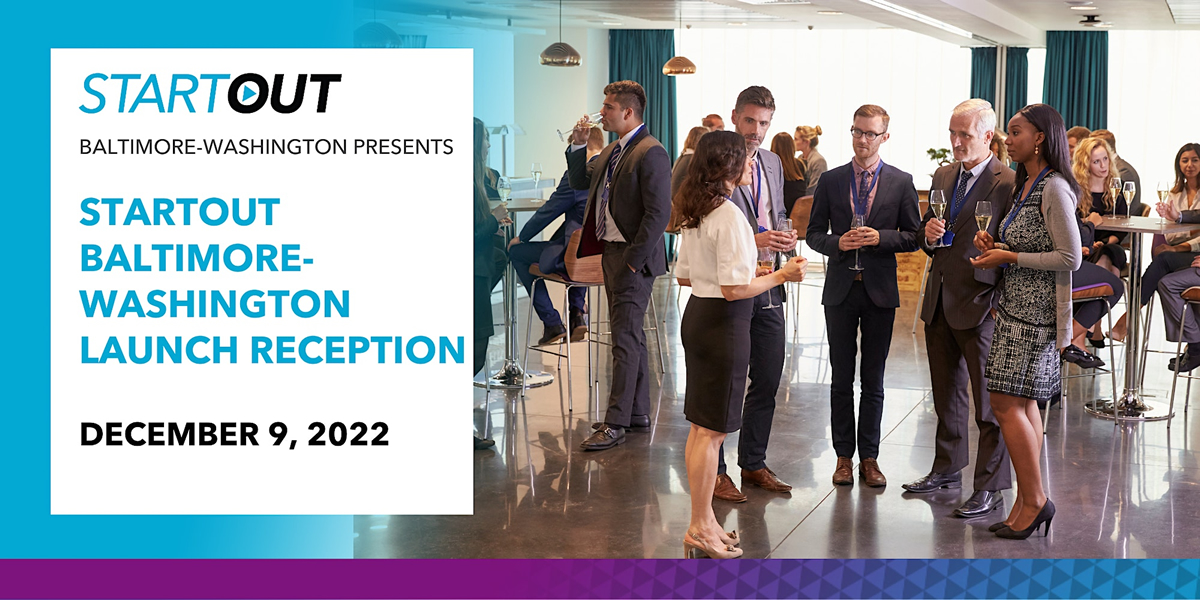 Friday, December 9
6 p.m.
Selina Union Market
411 New York Avenue, N.E.
Facebook | Eventbrite
StartOut Baltimore-Washington holds a launch party with cocktails, hors d'oeuvres, live entertainment and networking at the rooftop at Selina Union Market on Friday. The new organization looks to increase the number, diversity and impact of LGBTQ entrepreneurs.
---
Pretty Girl Rock Drag Brunch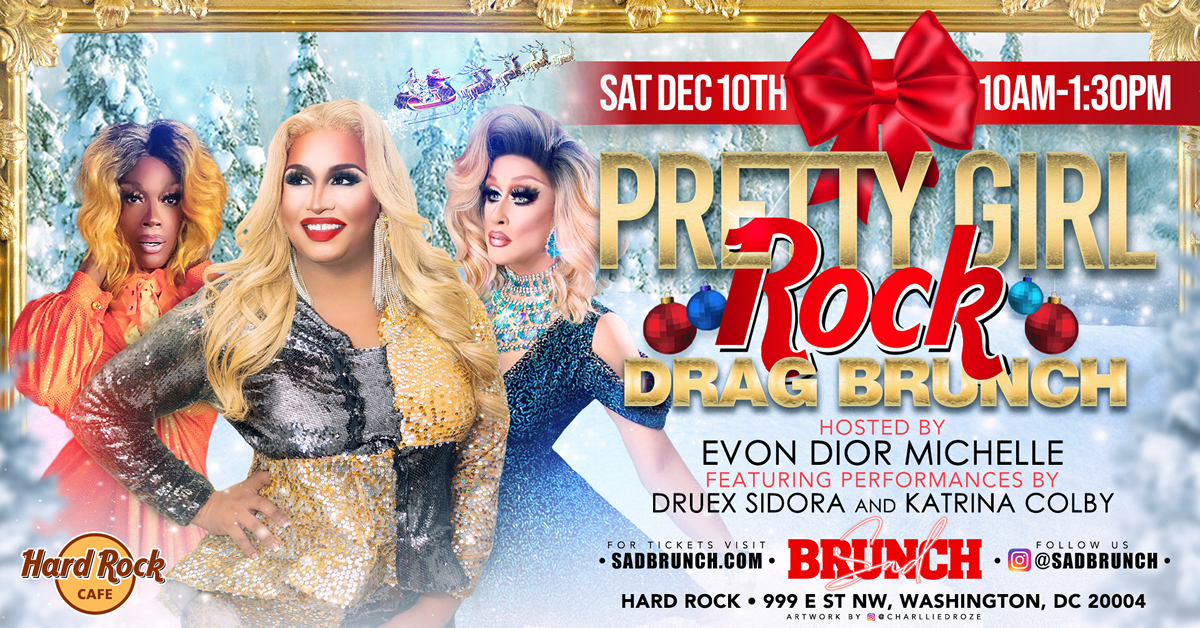 Saturday, December 10
10 a.m.-1:30 p.m.
Hard Rock Cafe
999 E Street, N.W.
$15+
Facebook | Tickets
Evon Dior Michelle hosts a drag brunch with Druex Sidora and Katrina Colby at Hard Rock Cafe on Saturday.
---
Ugly Sweater Party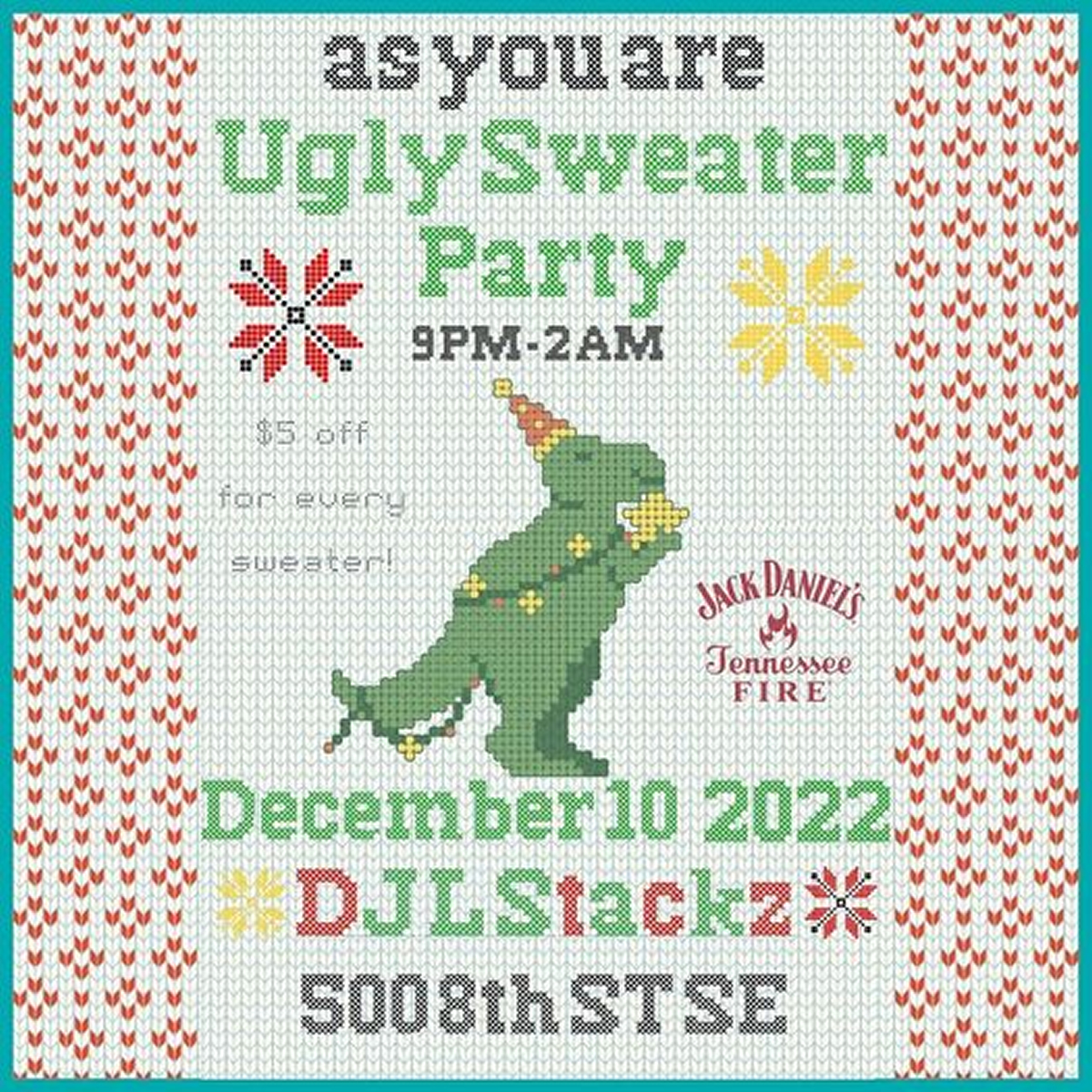 Saturday, December 10
9 p.m.
As You Are DC
500 8th Street, S.E.
Facebook
Wear your ugliest sweater and party all night with DJ L Stackz at As You Are on Saturday.
---
UNCUT: Jingle Balls with DJ Cindel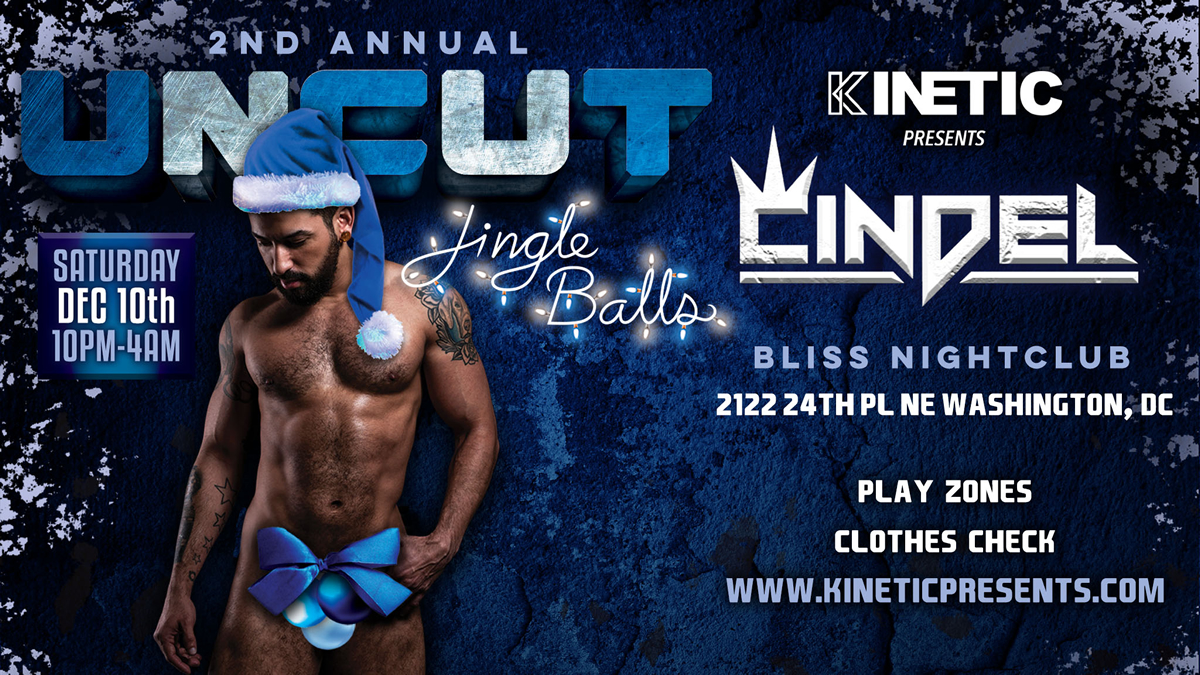 Saturday, December 10
10 p.m.
Bliss Nightclub
2122 24th Place, N.E.
$65+
Facebook
Kinetic presents the 2nd annual UNCUT Jingle Balls event at Bliss Nightclub on Saturday complete with a clothes check and play zones.
---
It's Britney, Brunch!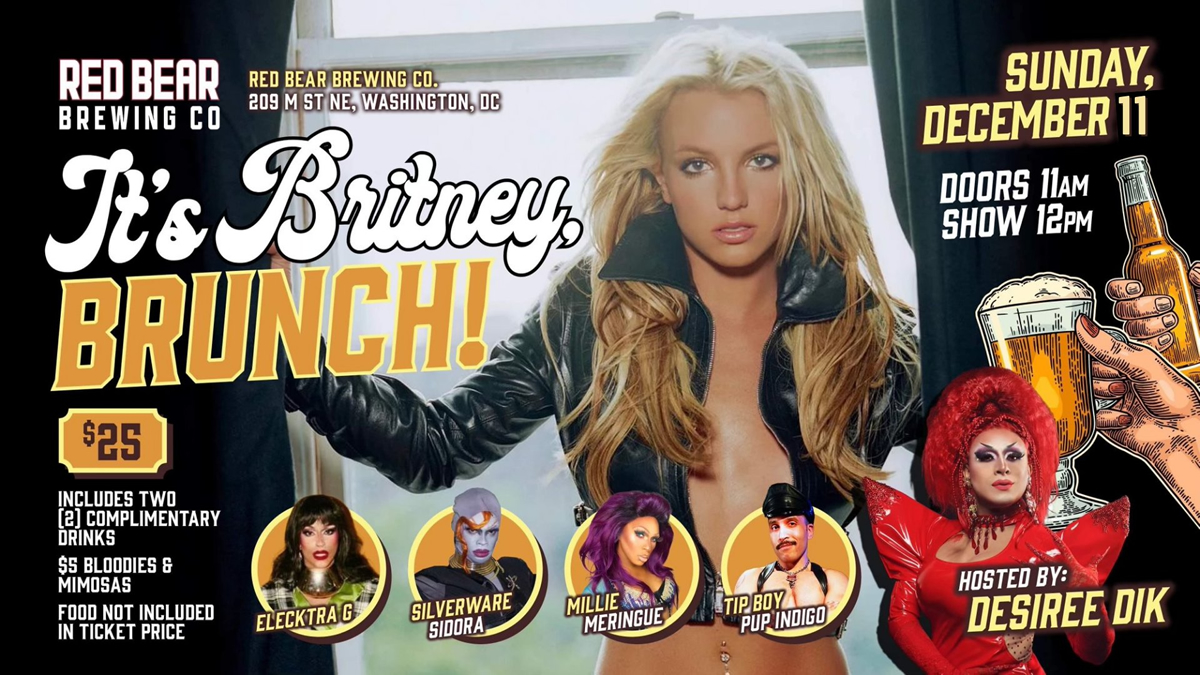 Sunday, December 11
Doors 11 a.m./show 12 p.m.
Red Bear Brewing Co.
209 M Street, N.E.
$25
Facebook
Desiree Dik leads the Britney Spears-themed drag brunch featuring Elecktra G, Silverware Sidora, Millie Meringue and Tip Boy Pup Indigo at Red Bear Brewing Company on Sunday.
---
Pamala Stanley LIVE at Freddie's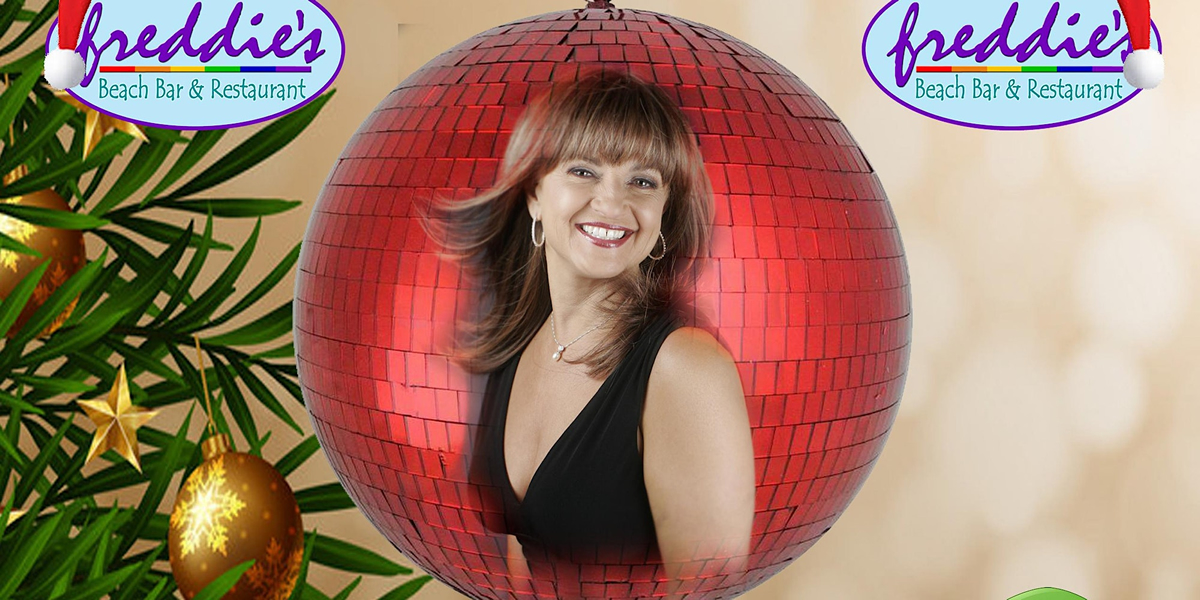 Sunday, December 11
7-9:30 p.m.
Freddie's Beach Bar
555 23rd Street S
Arlington, Va.
$15
Facebook
Pamala Stanley returns to Freddie's Beach Bar in Arlington for a holiday show on Sunday.
---
PHOTOS: Safe Space
New LGBTQ+ party held at Black Cat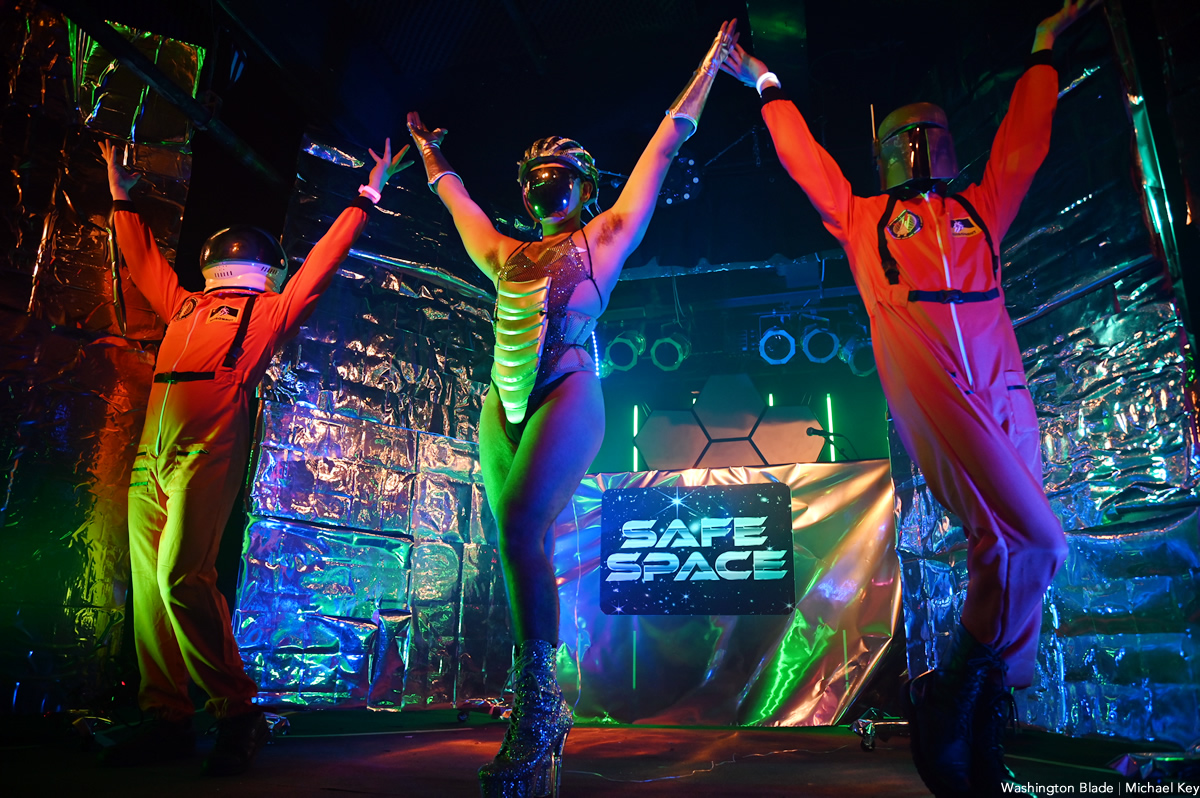 The Safe Space 2: A Safer Space party was held at the Black Cat on Saturday, Dec. 3.
(Washington Blade photos by Michael Key)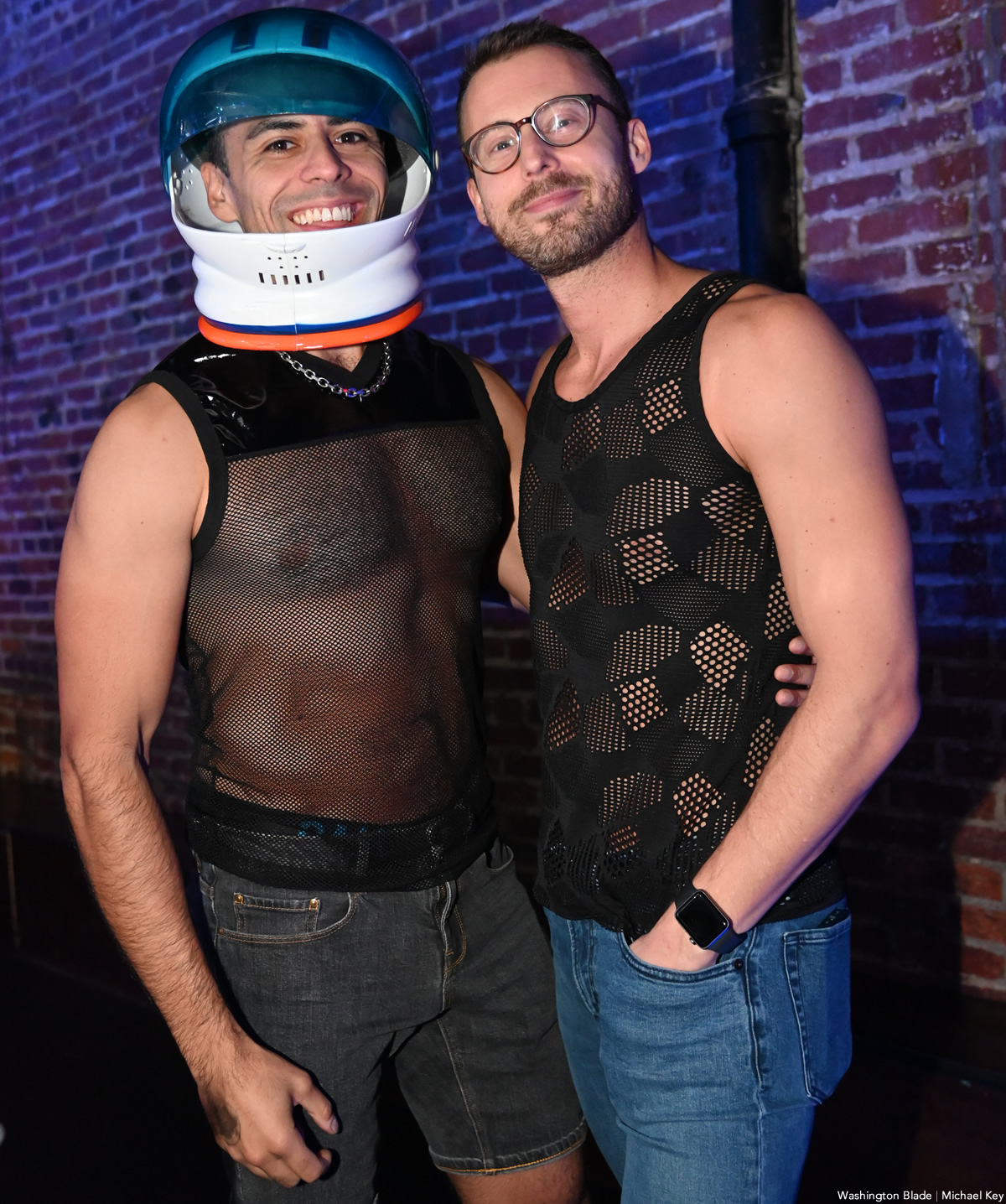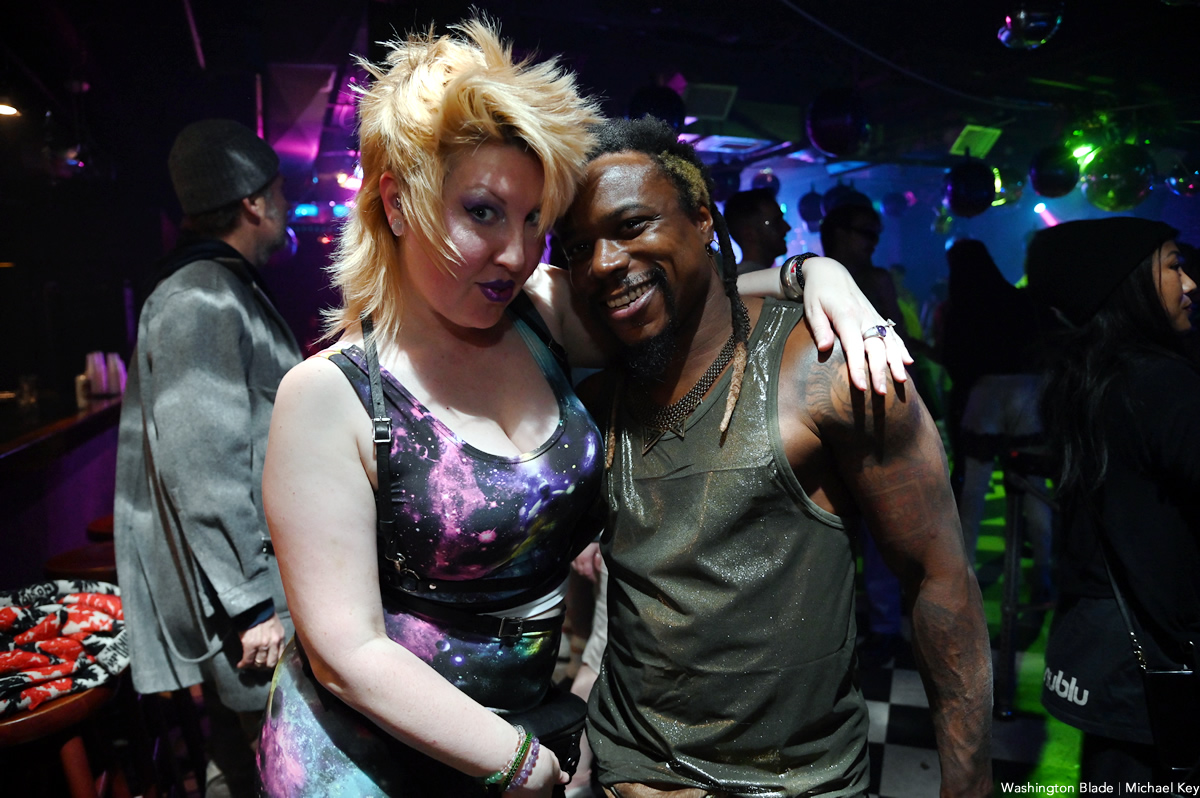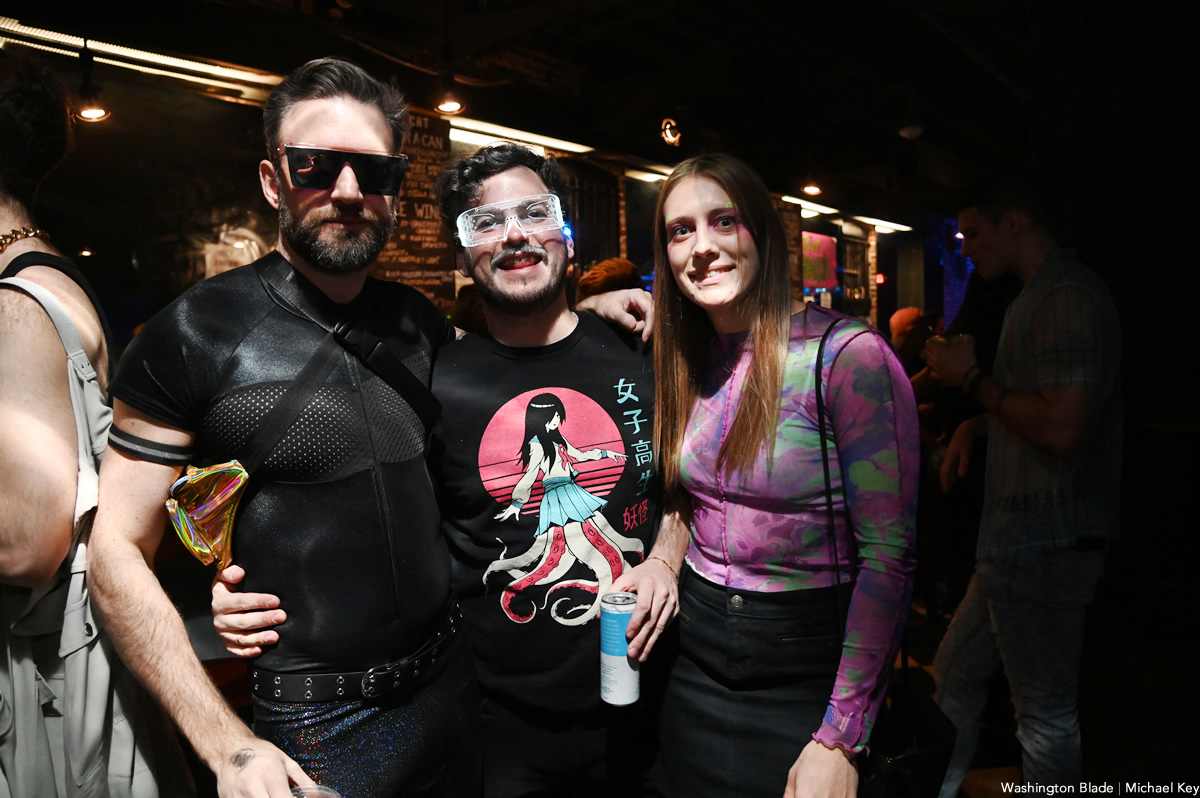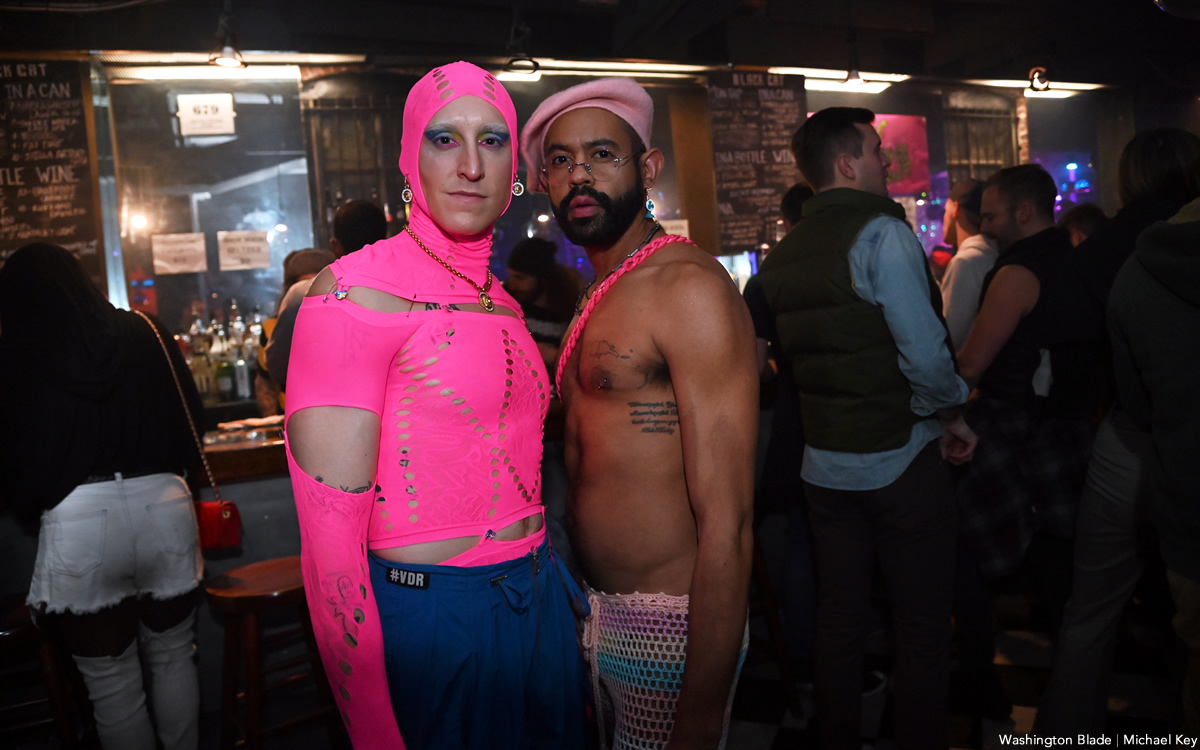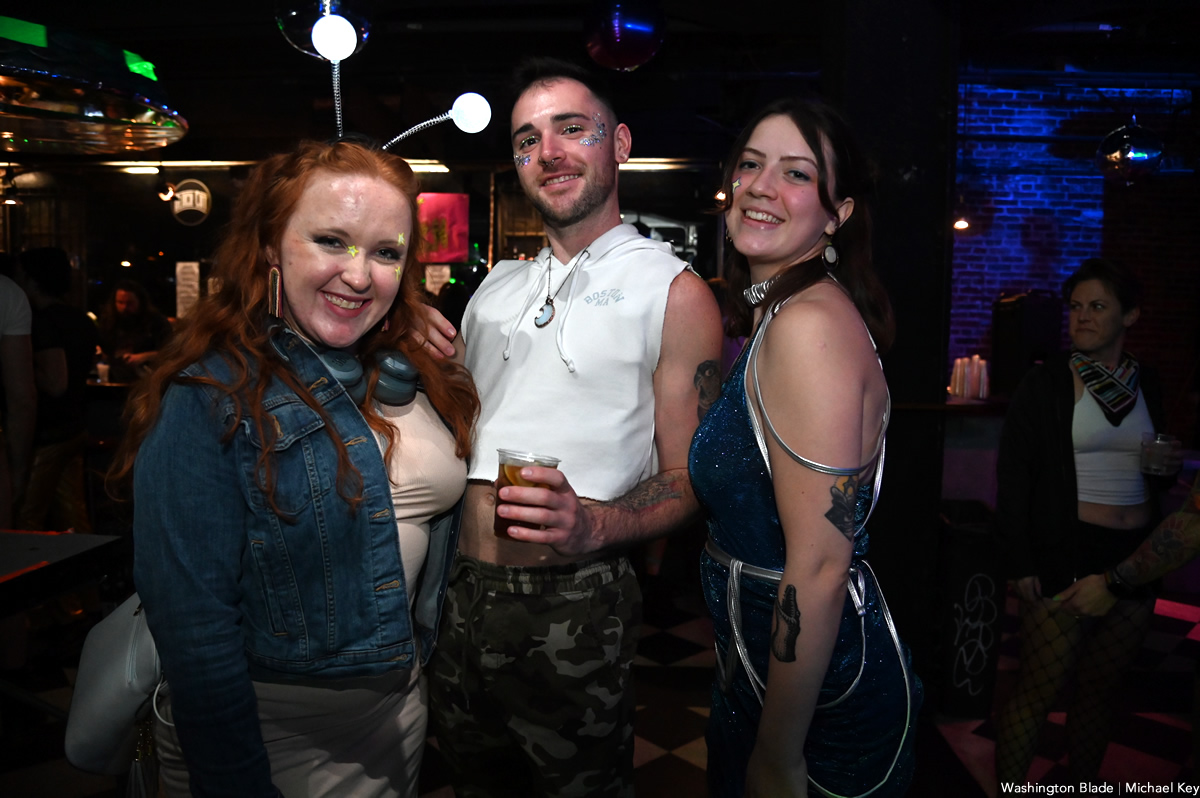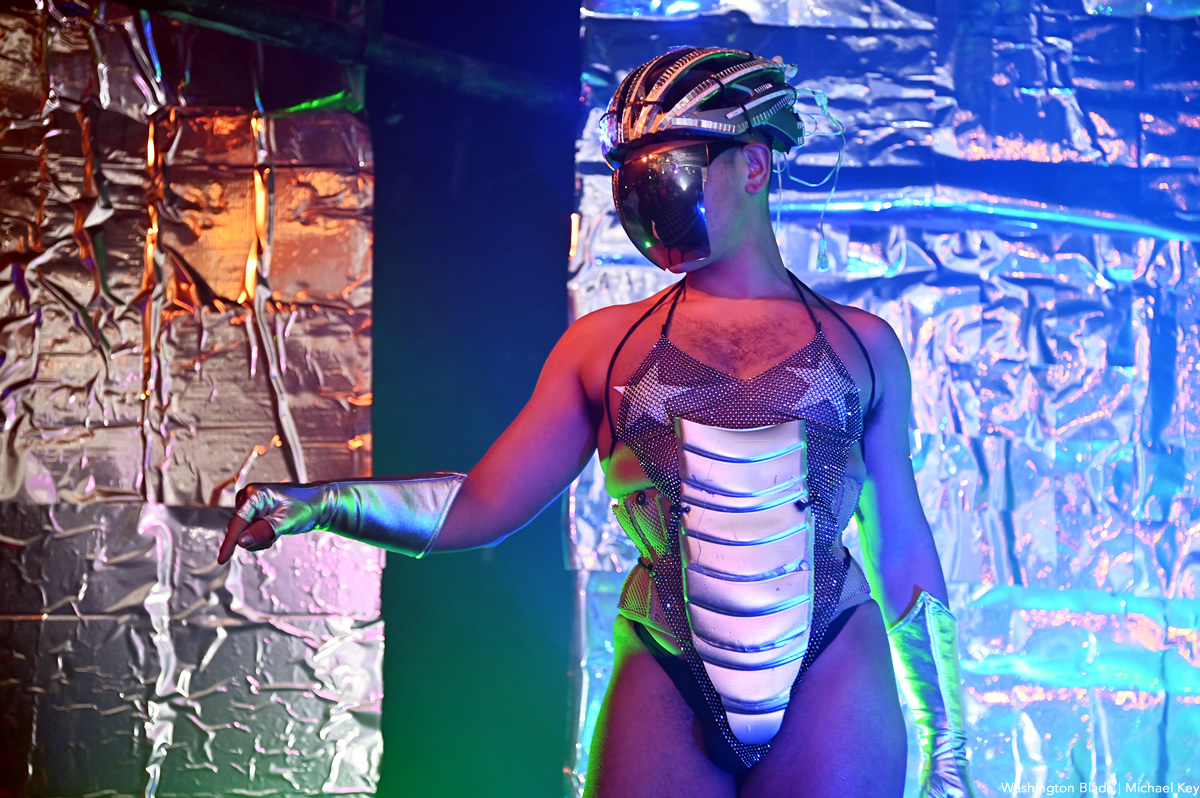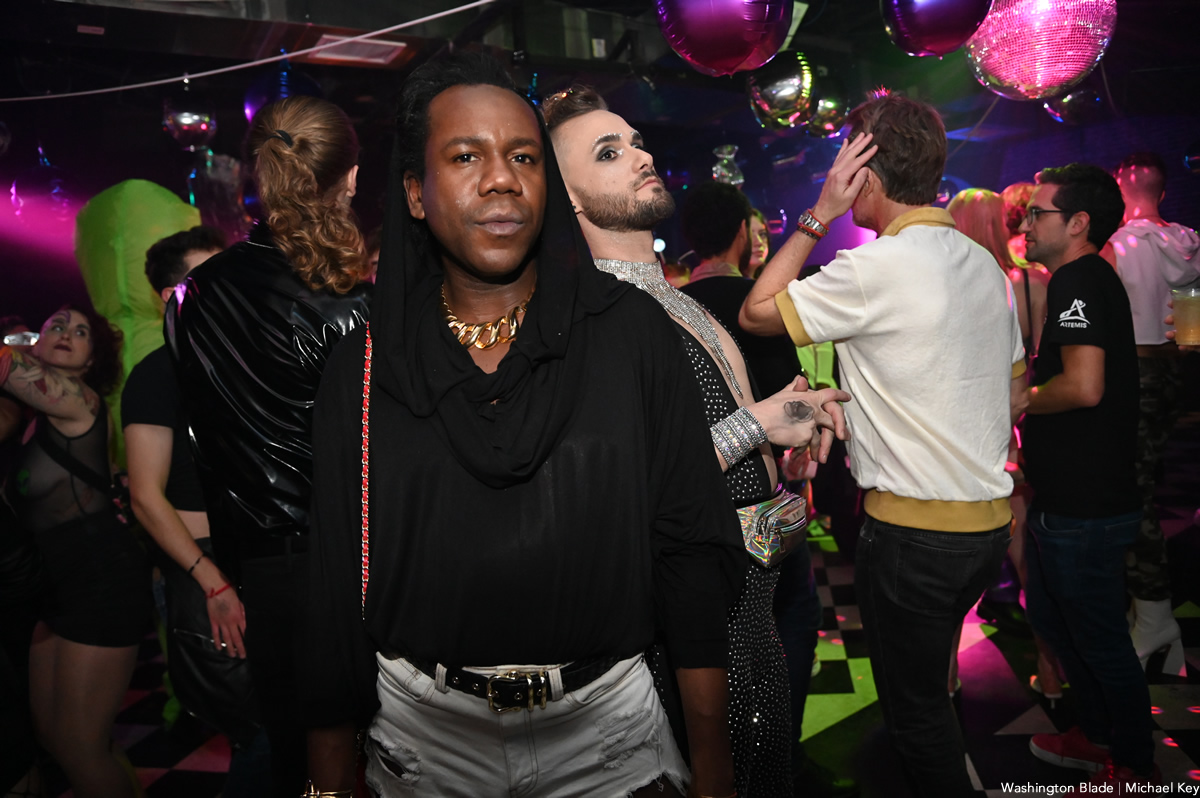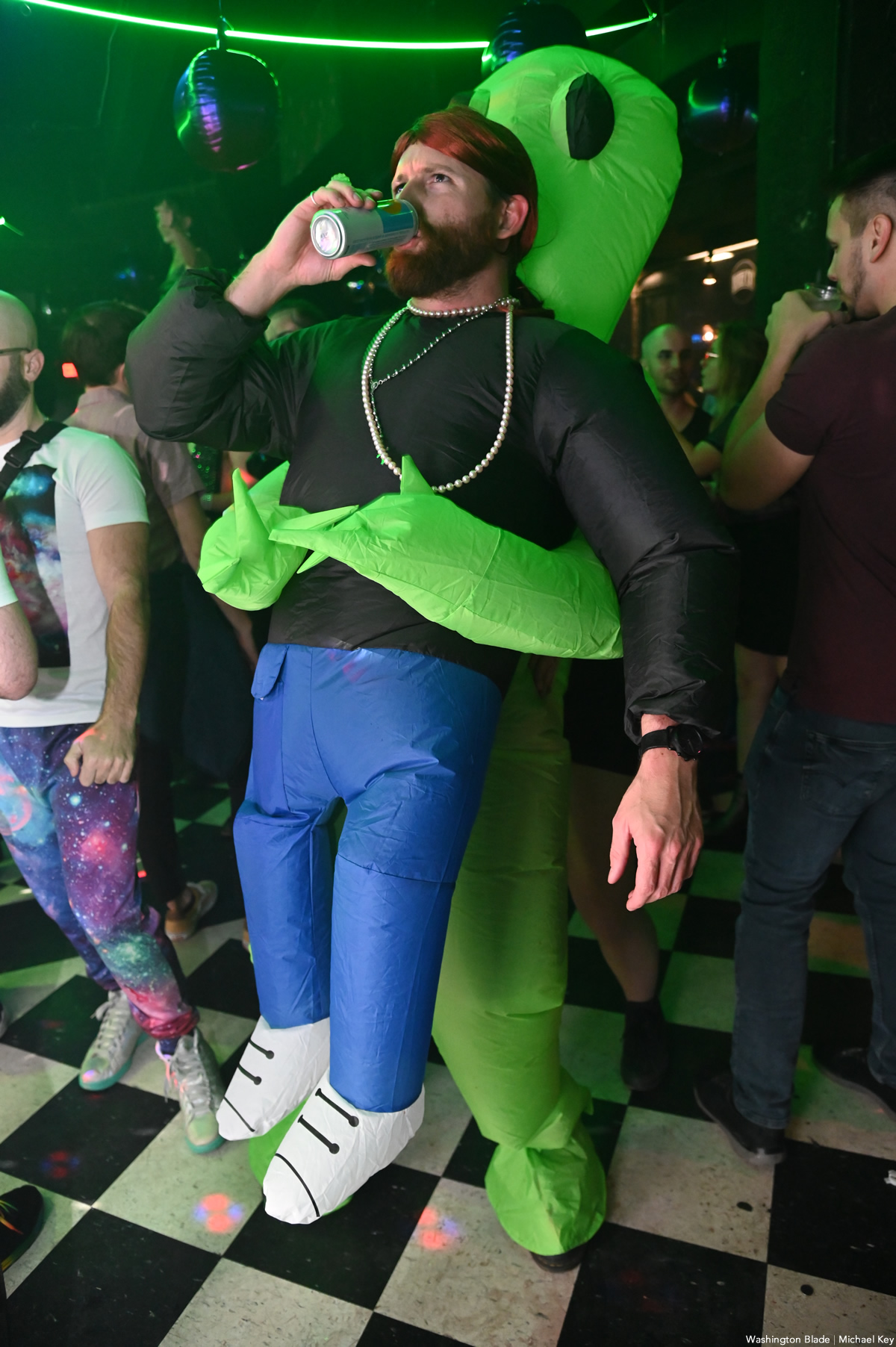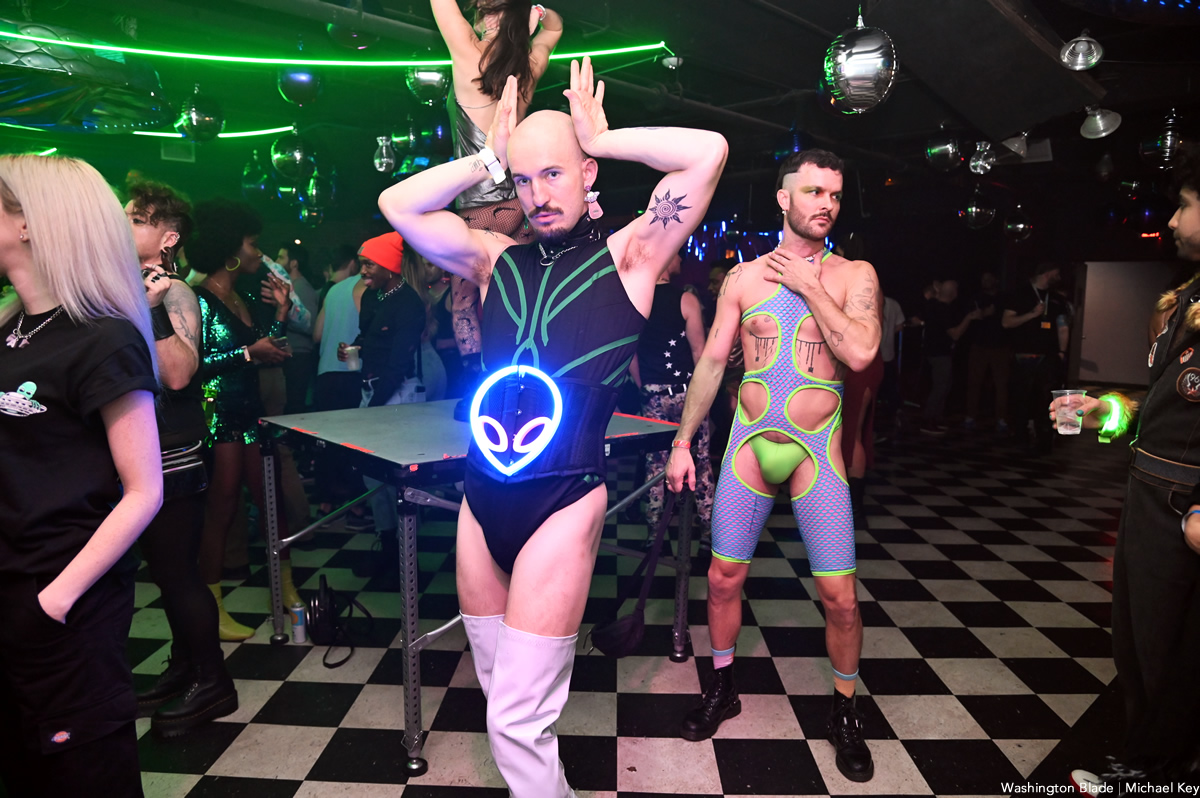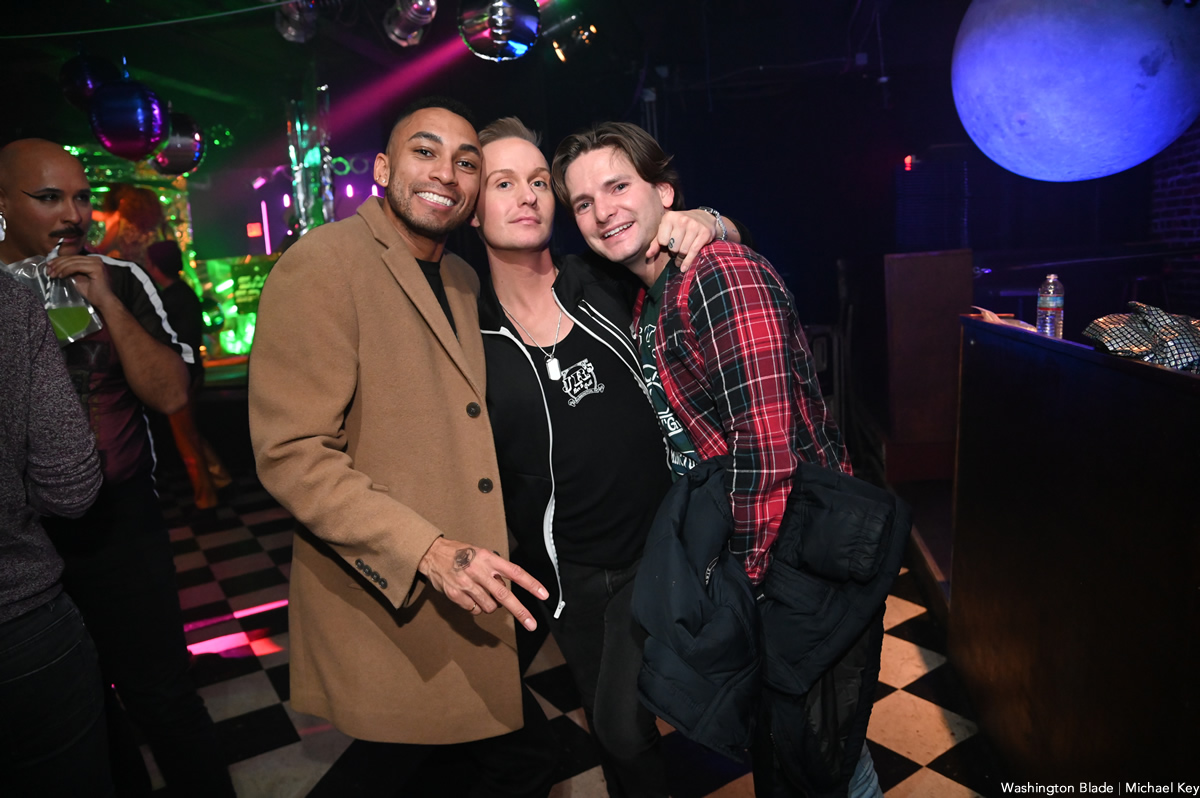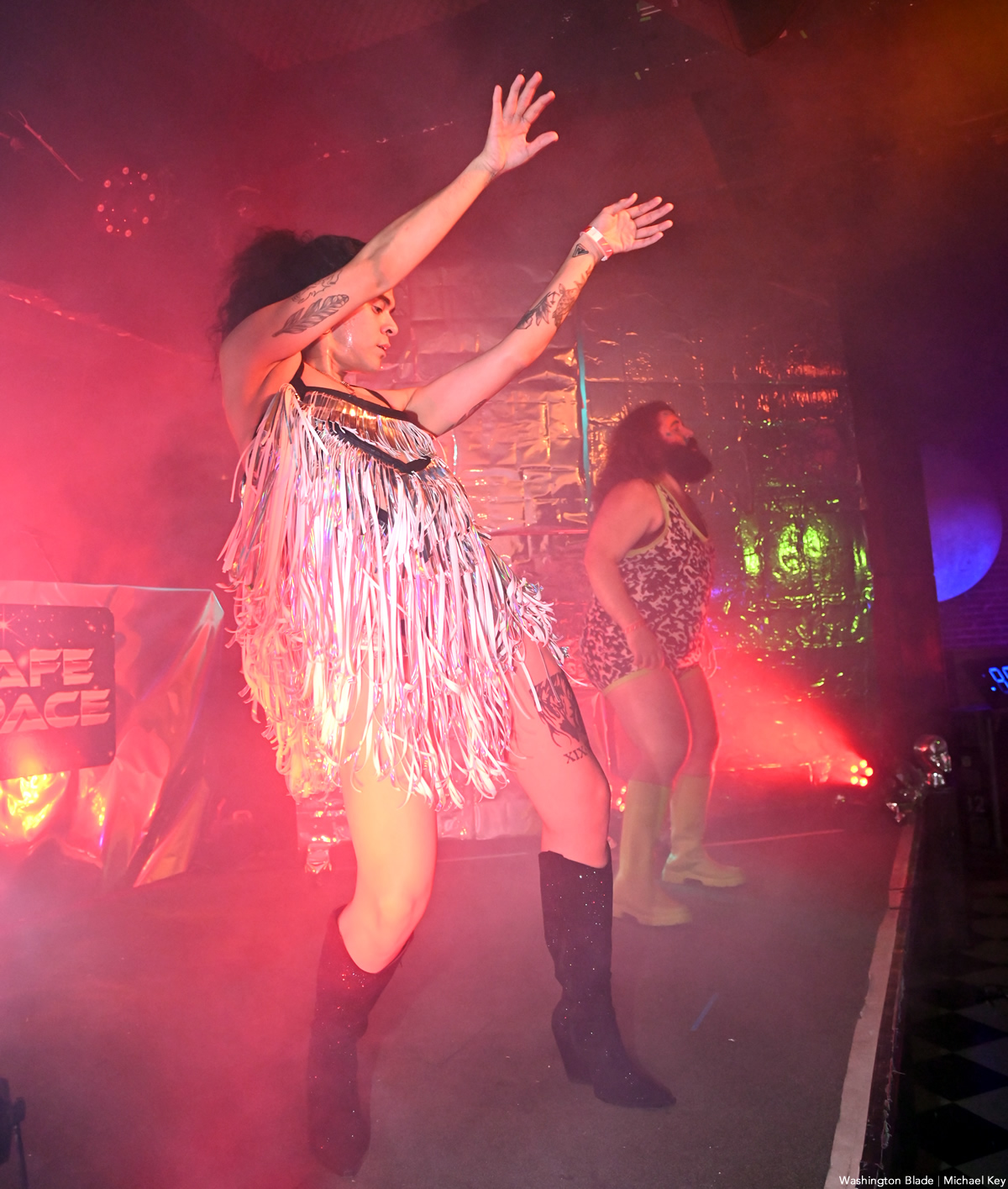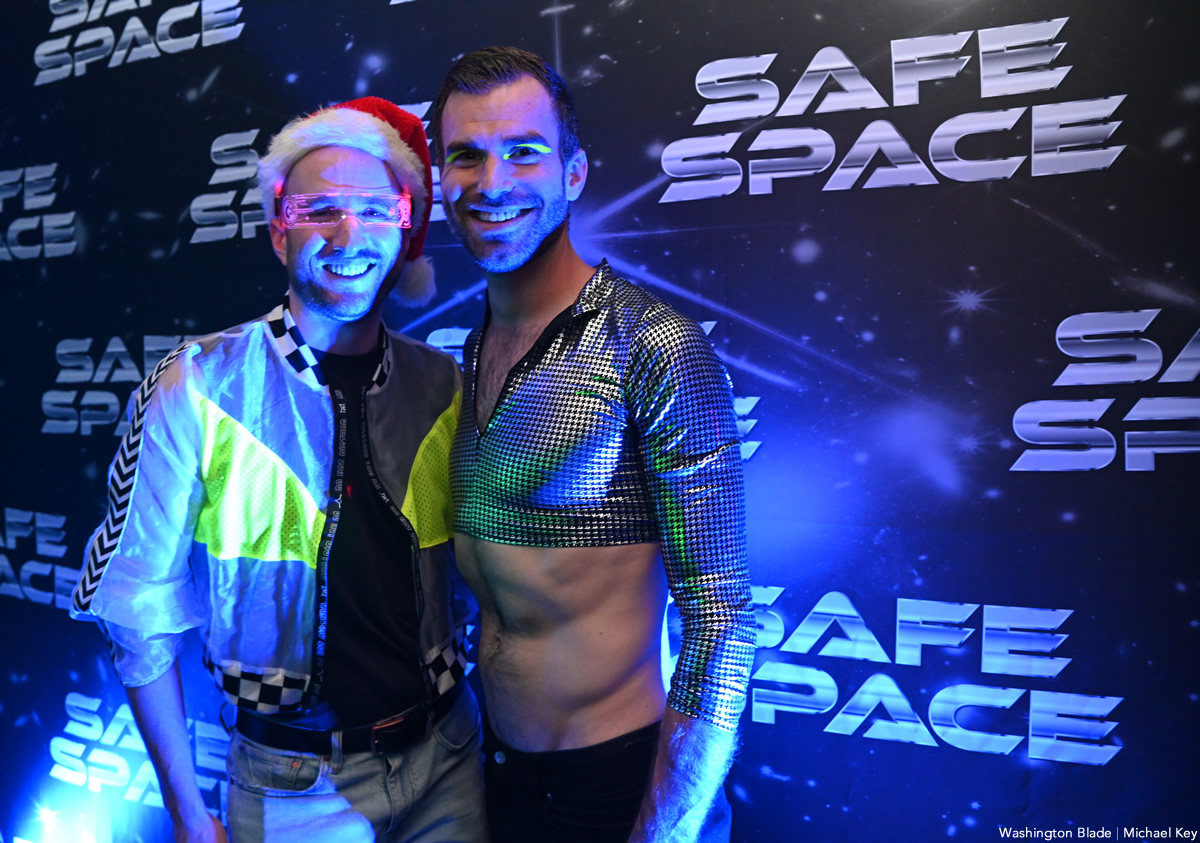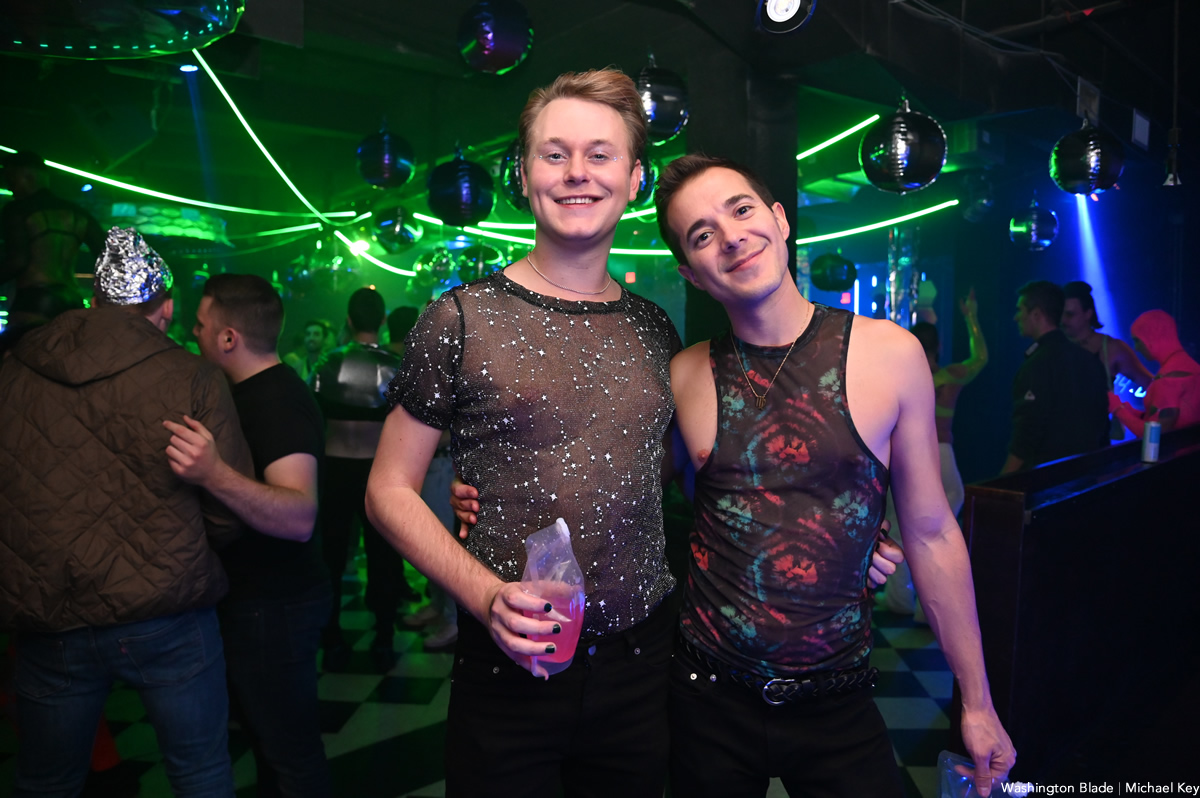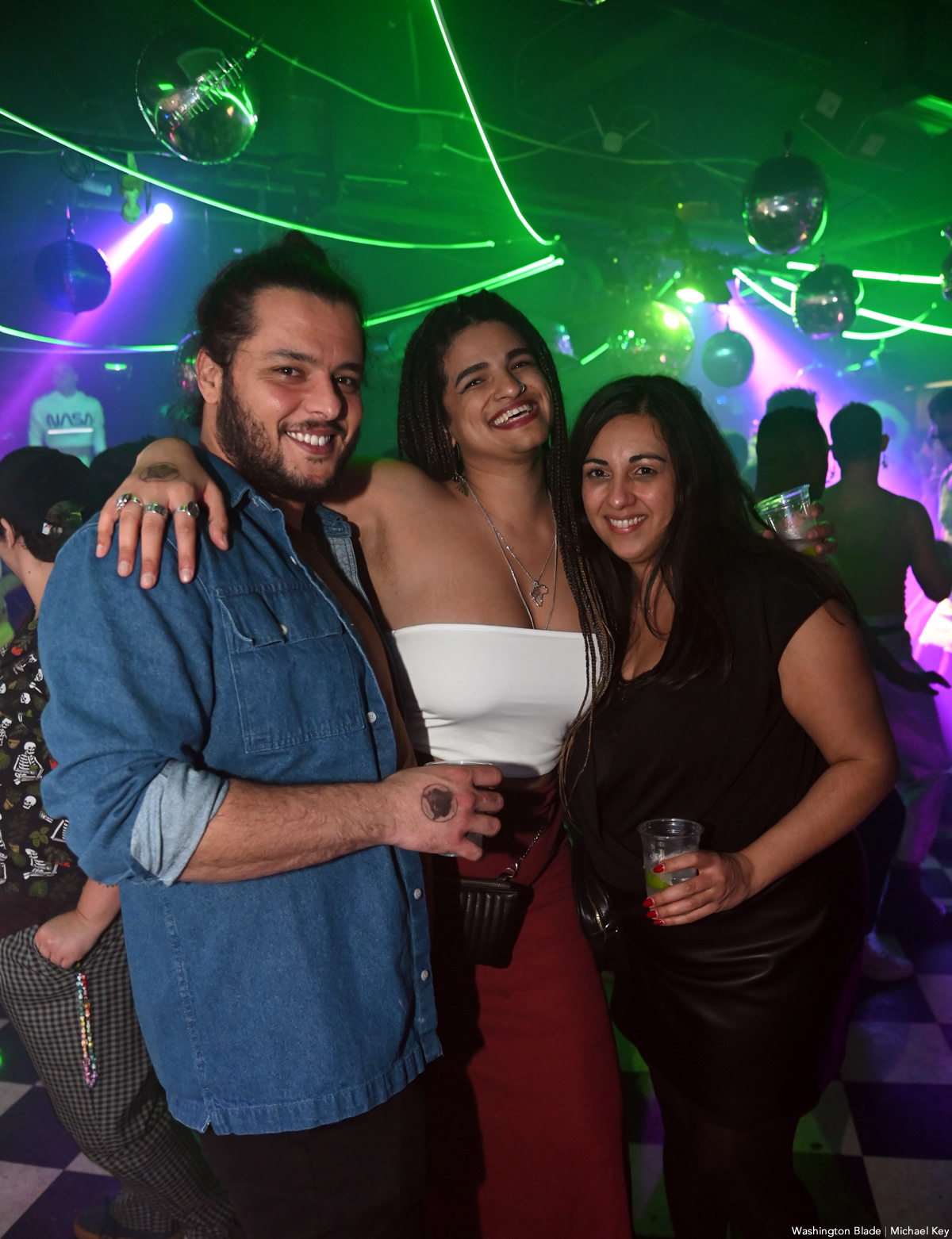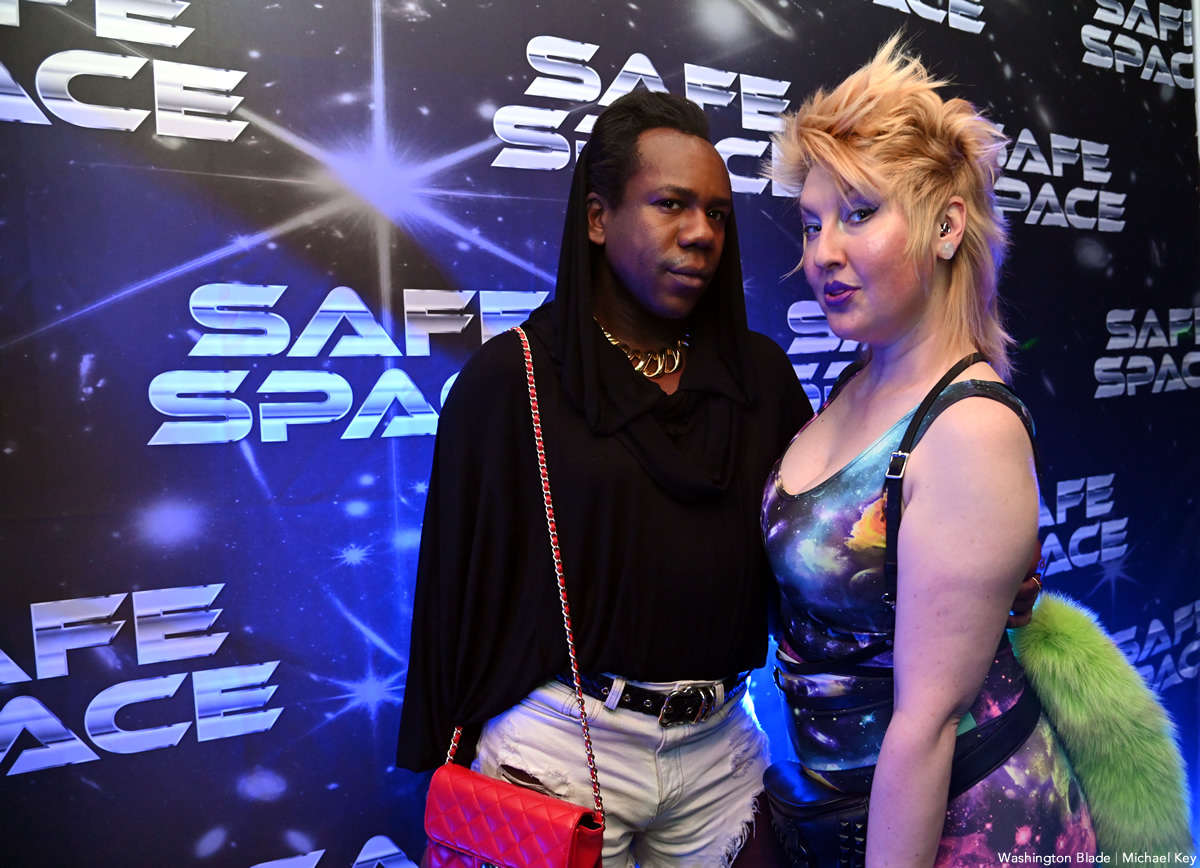 Covering the Safe Space party at @BlackCatDC for @WashBlade pic.twitter.com/uTVCvwve20

— Michael Patrick Key (@MichaelKeyWB) December 4, 2022
PHOTOS: Holiday Show
The Gay Men's Chorus of Washington perform annual concert at Lincoln Theatre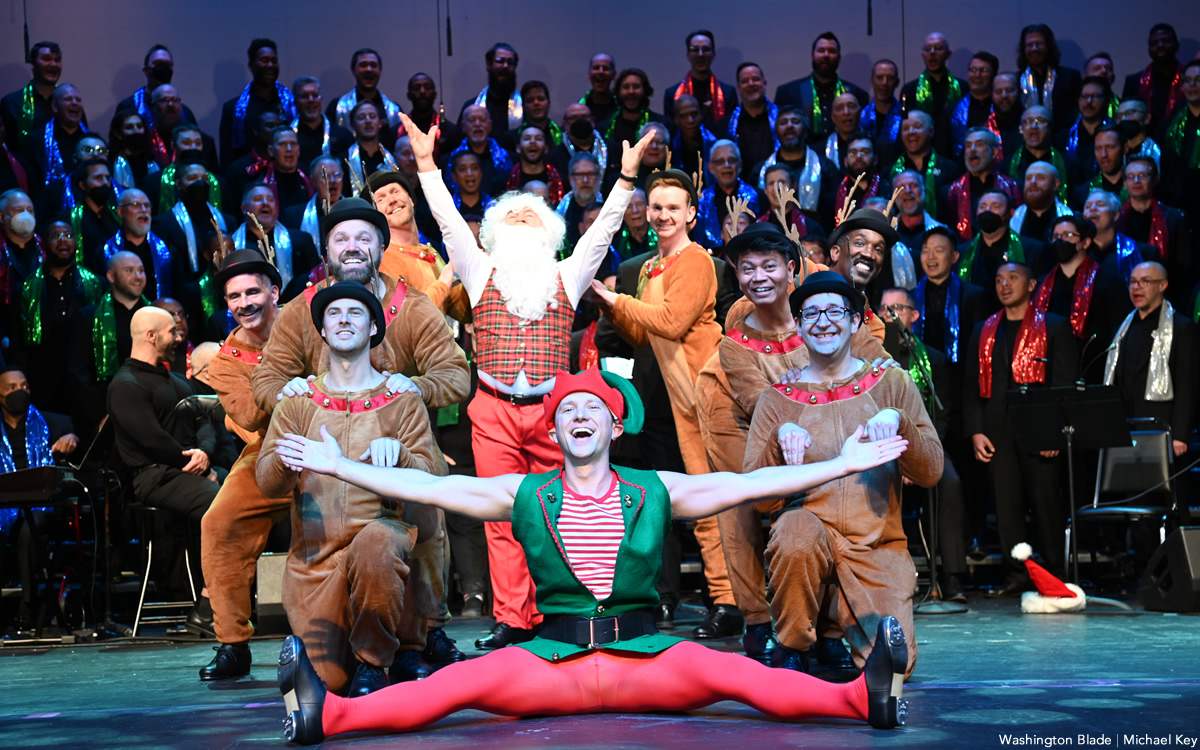 The Gay Men's Chorus of Washington and the GenOUT Youth Chorus performed "The Holiday Show" at a dress rehearsal on Friday, Dec. 2 at Lincoln Theatre. The Chorus has performances scheduled for Dec. 9 and 11. For tickets and showtimes, visit gmcw.org.
(Washington Blade photos by Michael Key)