Kagan's record, sexual orientation draw scrutiny
LGBT groups mixed on Supreme Court nominee
President Obama's nomination of Solicitor General Elena Kagan to the Supreme Court is inspiring varied reactions, ranging from excitement to caution, as questions linger about her record on LGBT issues.
Many LGBT advocacy groups are pleased that Kagan opposed military recruitment on Harvard's campus because "Don't Ask, Don't Tell" violates university non-discrimination policies, but others are waiting for her to clarify her positions on LGBT issues in congressional testimony before the Senate.
Meanwhile, questions about Kagan's sexual orientation distracted attention from her record this week, as some anti-gay conservatives — along with more than a few LGBT bloggers — speculated that she is a lesbian.
Obama nominated Kagan to fill the seat that will be vacated at the end of the term by retiring Associate Justice John Paul Stevens. If the Senate confirms her to the position, there would be three women sitting on the Supreme Court, the most women the bench has seen in its history.
Prior to her tenure as solicitor general, in which she defended federal law before the Supreme Court, Kagan was a clerk for former Associate Justice Thurgood Marshall, an associate White House counsel for former President Bill Clinton and dean of Harvard law school.
In a statement, Sen. Patrick Leahy (D-Vt.), chair of the Senate Judiciary Committee, said the Senate would consider Kagan's nomination this summer and should confirm her nomination before the August recess.
Joe Solmonese, president of the Human Rights Campaign, in a statement, praised Obama for selecting Kagan to serve on the bench.
"We applaud President Obama for choosing Elena Kagan to become our nation's next U.S. Supreme Court Justice," Solmonese said. "We are confident that Elena Kagan has a demonstrated understanding and commitment to protecting the liberty and equality of all Americans, including LGBT Americans."
Doug NeJaime, a gay associate law professor at Loyola Law School, expressed similar excitement over the nomination of Kagan, whom he called a "fantastic" choice to serve on the bench.
In 2008, NeJaime said he attended a Harvard gay and lesbian caucus conference where Kagan moderated a panel with sexual orientation law scholars. He noted that Kagan "was clearly really knowledgeable about these issues."
"I think she'll do a good job in dealing with them and hopefully having conversations with other justices — getting them more on board with what LGBT legal issues entail," NeJaime said.
But Hayley Gorenberg, deputy legal director for Lambda Legal, was more cautious about embracing Kagan's nomination and said she was awaiting the Senate confirmation process.
"She's just been nominated, and we are studying everything that we can on her," she said. "We're looking toward the confirmation hearings so that we can learn more about her positions on legal areas that are core to the right of LGBT people and people with HIV."
In particular, Gorenberg said she's looking to see whether Kagan will separate herself from the Justice Department's legal briefs defending challenges to the Defense of Marriage Act and "Don't Ask, Don't Tell," which occurred under her watch during the Obama administration.
"Those briefings give us concern, and we certainly voiced it with the Obama administration," Gorenberg said. "So, what we need to see now is her views apart from an institutional position, and that's what we're looking toward in confirmation hearings."
'Don't Ask' stance
could be obstacle
One potential obstacle that Kagan may encounter on her path to confirmation — despite the favor it may win her among LGBT supporters — is her opposition as dean of Harvard law school to military recruiting on campus because of "Don't Ask, Don't Tell."
In October 2003, Kagan wrote in an e-mail to students that military recruiting on campus caused her "deep distress" and that she "abhor[s] the military discriminatory recruitment policy," according to a recent report in the Washington Post.
She was quoted as calling the recruitment policy in the U.S. military "a profound wrong — a moral injustice of the first order."
In 2005, Kagan was also one of 40 Harvard professors who signed a friend-of-the-court brief in favor of an appellate court ruling overturning the Solomon Amendment, which would have allowed colleges to limit the military's presence at campus recruiting events. The Supreme Court unanimously disagreed with the lower court ruling.
Conservative senators could pounce on Kagan's views on military recruitment on campus as dean of Harvard law school as reason to vote against her confirmation.
Sen. Jeff Sessions (R-Ala.), ranking Republican on the Senate Judiciary Committee, said in a statement published shortly after her nomination that Kagan's position is "deserving review."
"This is a significant issue for me since I worked hard for the passage of the Solomon Amendment," Sessions said. "Her actions in this case, along with other issues, will need to be addressed, and Ms. Kagan will be given a fair opportunity to respond."
Sen. James Inhofe (R-Okla.) said Monday he plans to vote against Kagan's confirmation — making him the first senator to commit to a "no" vote — because of her position on campus military recruitment.
But NeJaime said he didn't think Kagan's position would be problematic because it's "very much in the mainstream of the legal academic community," and other law schools besides Harvard have challenged the constitutionality of the Solomon Amendment in court.
"It's not like she was even completely out in front on that issue," NeJaime said. "I also think public sentiment against 'Don't Ask, Don't Tell' is pretty high, and so it's not a non-mainstream position."
But Gorenberg said Senate opposition to Kagan's confirmation because of her position on military recruitment is already apparent.
"We can already see that the positions that she promoted as dean that were targeted against discrimination against LGBT people — that those positions are already the subject of potshots from anti-gay extremists," Gorenberg said. "We saw that instantly upon her nomination, if not before."
Kagan's views on military recruitment also raise the question of whether she would be asked to recuse herself in the event a "Don't Ask, Don't Tell" case came before the Supreme Court while she's on the bench.
Gorenberg said "it's not clear" that Kagan would need to seek recusal in such a situation based on her comments as dean of Harvard law.
The Servicemembers Legal Defense Network didn't immediately respond to the Blade's request to comment on Kagan's statements on military recruitment or whether she would have to recuse herself if a "Don't Ask, Don't Tell" case reached the high court.
Same-sex marriage
a potential issue
Another topic that may come up during Kagan's confirmation hearings is her position on same-sex marriage and whether she thinks the U.S. Constitution provides for marriage rights for same-sex couples. Such a position would be especially important for LGBT people because cases on same-sex marriage could be on their way to the Supreme Court.
Kagan previously denied that the U.S. Constitution grants a right to same-sex marriage in a questionnaire answer prior to her confirmation hearings to become solicitor general.
"There is no federal constitutional right to same-sex marriage," she wrote in a response to a question on the issue.
In response to a subsequent question, she added that she doesn't believe she expressed an opinion on the question before that time.
Kagan's response could be troubling for organizations behind federal lawsuits seeking to overturn the Defense of Marriage Act or bans on same-sex marriage within states.
The American Federation for Equal Rights, the organization behind the Perry v. Schwarzenegger case seeking to overturn California's Proposition 8, didn't respond to the Blade's request to comment on the Kagan nomination.
A spokesperson for the Gay & Lesbian Advocates & Defenders — which is behind Gill v. Office of Personnel Management, a case seeking to overturn part of DOMA that prohibits federal recognition same-sex marriage — said her organization isn't commenting on the Kagan nomination because the lawsuit could go to the Supreme Court.
On the Perry case, NeJaime said Kagan's comment on same-sex marriage could be relevant depending on whether the court takes up the case as a broad question about constitutional rights to same-sex marriage or, more simply, California's legitimate interest in passing Proposition 8.
"I also think we don't really know what her position will be on an issue like that until the issue is briefed and until it's actually at the court," he said. "I'm pretty confident that she is at least open-minded to LGBT claims under the federal Constitution."
Gorenberg said she's "not sure" whether Kagan's comments would be a predictor of how the nominee would rule if marriage cases came before the Supreme Court.
She said the remarks raise the question of what Kagan meant in her questionnaire answer, but noted that it's unknown whether Kagan's position would become more clear during confirmation hearings.
"We would always like to know what would happen in the future on a specific issue, but it's not surprising to us — for any nominee — that we don't get a specific forecast on a case because it's just not standard that the nominees ever give them to us," Gorenberg said.
Still another issue surrounding the nomination is whether Kagan, who's unmarried, is a lesbian.
In a deleted CBS News posting published prior to the announcement of Kagan's nomination, conservative blogger Ben Domenech wrote that confirmation of Kagan would make her the "first openly gay justice."
The White House disputed Domenech's characterization of Kagan as an out lesbian and said he was making false charges. After the posting was deleted, Domenech maintained that he heard discussion about her sexual orientation.
In a later posting on the Huffington Post, Domenech wrote that he "erroneously believed" Kagan was an out lesbian because "it had been mentioned casually on multiple occasions by friends and colleagues — including students at Harvard, Hill staffers, and in the sphere of legal academia — who know Kagan personally."
Sessions' office didn't respond to the Blade's request to comment on whether the matter was of concern to the senator or whether he would expect questions on the issue to come up during the confirmation hearings.
NeJaime said he didn't anticipate discussions of Kagan's sexual orientation to arise during her confirmation hearings, but said it would be "sad commentary" if the matter became a stumbling block for her.
"We don't know about her sexual orientation one way or the other, and I don't really anticipate it being an issue that anyone takes up," he said.
Gorenberg said she didn't have any information on Kagan's sexual orientation and didn't know how lawmakers would respond to speculation that she's a lesbian.
"There are a lot of senators out there and I don't know [who] may or may not be inclined to go after any nominee based on their sexual orientation," Gorenberg said.
She said one of Lambda's central tenets is that people shouldn't face discrimination based on sexual orientation and noted that principle could be applied in Senate confirmation hearings.
A friend of Kagan's told Politico this week that Kagan is not a lesbian.
"I've known her for most of her adult life and I know she's straight," Sarah Walzer, Kagan's law school roommate, told Politico. "She dated men when we were in law school, we talked about men … She definitely dated when she was in D.C. after law school … and she just didn't find the right person."
6 killed in shooting at Christian school in Nashville
The shooter was identified as Audrey Hale, 28, of Nashville, according to police who identifies as transgender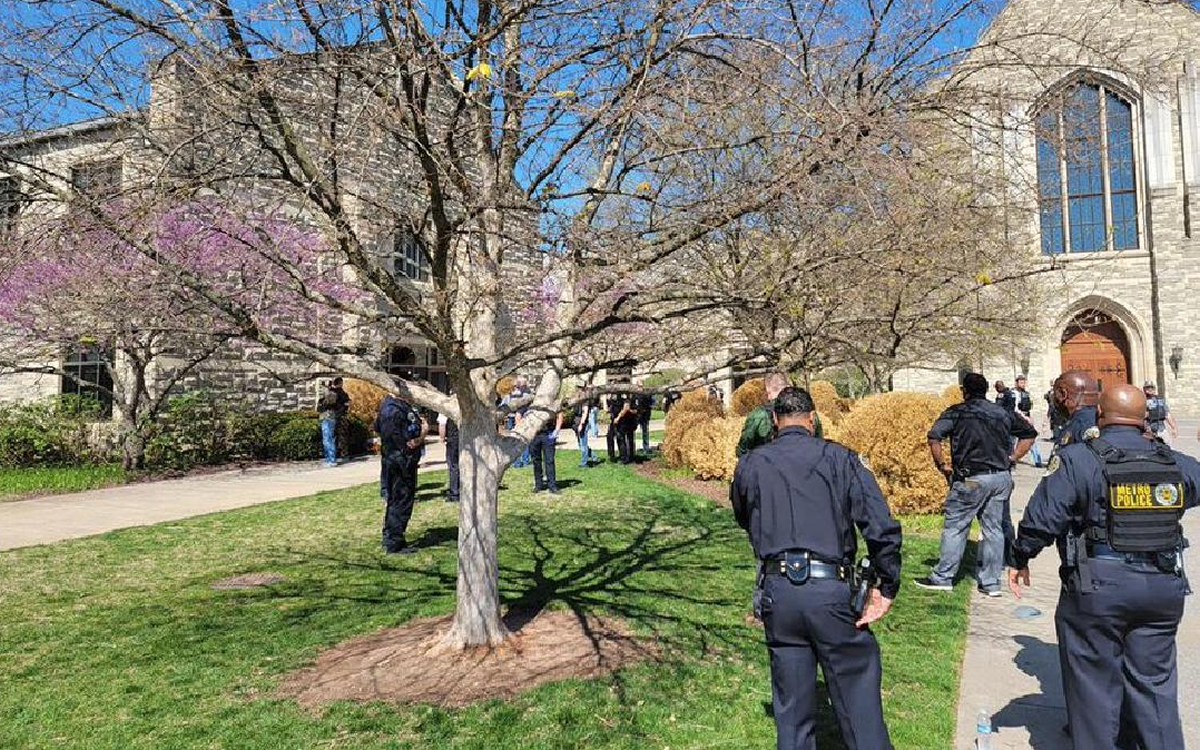 In a press conference Nashville Police Chief John Drake told reporters that earlier Monday morning a 28-year-old local female armed with two "assault-type rifles and a handgun," was killed by responding officers.
"At one point she was a student at that school," Chief Drake told reporters hours after the shooting at The Covenant School. "But unsure what year […] but that's what I've been told so far."
The shooter was identified as Audrey Hale, 28, of Nashville, according to the chief, who identifies as transgender.
According to Drake three children and three adults were killed in the shooting at The Covenant School on Burton Hills Boulevard, a private Christian school.
Children's Hospital Vanderbilt University Medical Center spokesperson John Howser told reporters "We can now confirm 3 children and 2 adults from the school shooting were transported to our Adult Emergency Department (The 2 adults) and (The 3 children) to the Pediatric Emergency Department at Monroe Carell Jr. Children's Hospital," Howser said adding "All 5 patients have been pronounced dead."
Police identified the three slain students as Evelyn Dieckhaus, Hallie Scruggs, and William Kinney, all age 9.
The three faculty members killed were Cynthia Peak and Mike Hill, both 61, and school head Katherine Koonce, 60.
At his only scheduled public event at the White House, President Joe Biden called the shooting "sick" and renewed his call for Congress to ban assault weapons.
Chief Drake noted that the shooter was killed on the school's second floor by his officers acknowledging that the victims were students and staff members of the school.
The school has students from preschool through sixth grade and on a normal day has about 200 students and 40 staff members on campus.
In a statement, Tennessee Gov. Bill Lee tweeted: "I am closely monitoring the tragic situation at Covenant. As we continue to respond, please join us in praying for the school, congregation & Nashville community."
I am closely monitoring the tragic situation at Covenant, & the @TNDeptofSafety & @TNHighwayPatrol are assisting local law enforcement & first responders at the scene.

As we continue to respond, please join us in praying for the school, congregation & Nashville community.

— Gov. Bill Lee (@GovBillLee) March 27, 2023
NBC News reported that just days ago, a 17-year-old suspect wounded two administrators at a Denver high school before he was found dead.
In February, three students were gunned down at Michigan State University. And in January, two students were fatally shot at a charter school in Des Moines, Iowa.
The Washington Post and other media outlets reporting that Rep. Andrew Ogles (R-Tenn.), who represents the Nashville district where the Covenant School is located, said Monday in a statement that he was "utterly heartbroken" by the mass shooting.
Gun reform activists including Fred Guttenberg, whose daughter Jamie was killed in the mass shooting at Marjory Stoneman Douglas High School in Parkland, Florida, on February 14, 2018, have called out Ogles for his hypocrisy posting tweets of Ogles posing with his children all carrying assault rifles in a 2021 family Christmas card photo:
The tragedy of the latest mass shooting is listening to Tennessee politicians who refuse to call it a shooting but who engaged in behavior that caused this to be more likely when they glorify guns. Tennessee Rep @AndyOgles, is this you with your family? pic.twitter.com/LJGnUKqJdA

— Fred Guttenberg (@fred_guttenberg) March 27, 2023
Vice president to visit three African countries that criminalize homosexuality
Ugandan lawmakers passed anti-homosexuality bill last week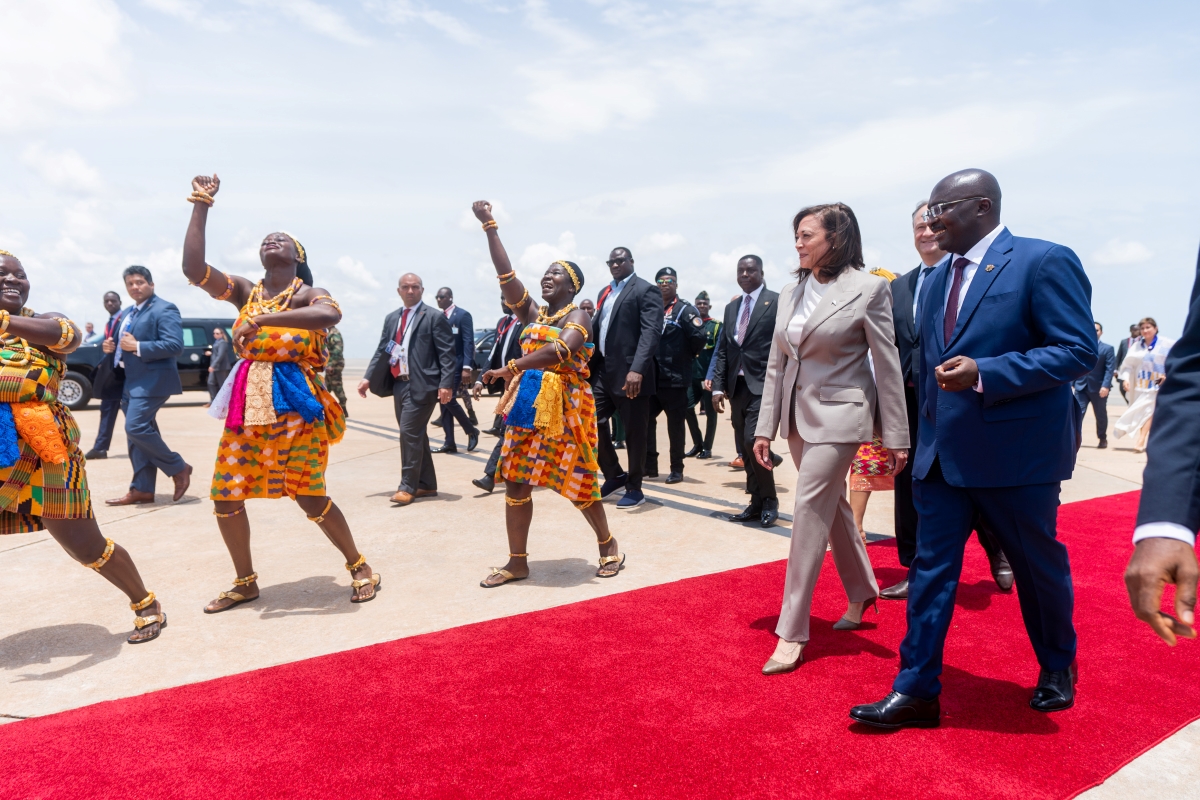 Vice President Kamala Harris this week will visit three countries in Africa that criminalize consensual same-sex sexual relations.
Harris and her husband, second gentleman Douglas Emhoff, arrived in Ghana on Sunday. They will travel to Tanzania and Zambia before returning to the U.S. on April 2.
Ghana, Tanzania and Zambia are among the dozens of countries in which consensual same-sex sexual relations remain criminalized.
The Washington Blade last week reported LGBTQ and intersex Ghanaians remain in limbo as lawmakers continue to debate the Promotion of Proper Human Sexual Rights and Ghanaian Family Values Bill that, would among other things, further criminalize LGBTQ and intersex people and make advocacy on their behalf and allyship illegal. A Ghanaian representative who spoke during a March 20 meeting that focused on the integration of LGBTQ and intersex rights into the U.N. Security Council's work said the body is not an appropriate venue to discuss them.
"You know that a great deal of work in my career has been to address human rights issues, equality issues across the board, including as it relates to the LGBT community," said Harris on Monday during a press conference with Ghanaian President Nana Afuko-Addo that took place in Accra, the Ghanaian capital. "I feel very strongly about the importance of supporting the freedom and supporting and fighting for equality among all people and that all people be treated equally. This is an issue that we consider and I consider to be a human rights issue and that will not change."
Tanzanian President Samia Suluhu, with whom Harris is scheduled to meet on Thursday, last month described LGBTQ rights as "imported cultures." The Tanzanian government has also banned children's books from schools because of their LGBTQ-specific content.
The State Department in 2019 recalled then-U.S. Ambassador to Zambia Daniel Foote after the Zambian government sharply criticized him for publicly defending a gay couple who had been convicted of violating the country's colonial-era sodomy law and sentenced to 15 years in prison.
Then-Zambian President Edgar Lungu later pardoned the couple. Current Zambian President Hakainde Hichilema, which whom Harris will meet on March 31, last September reiteated his government does not support LGBTQ and intersex rights.
Harris arrived in Africa less than a week after Ugandan lawmakers approved a bill that would further criminalize homosexuality and LGBTQ and intersex people. White House Press Secretary Karine Jean-Pierre said the measure if signed "would impinge upon universal human rights, jeopardize progress in the fight against HIV/AIDS, deter tourism and investment in Uganda, and damage Uganda's international reputation."
"The bill is one of the most extreme anti LGBTQI+ laws in the world," she said on March 22 during her daily press briefing. "Human rights are universal — no one should be attacked, imprisoned or killed simply because of who they are or who they love."
President Joe Biden in 2021 signed a memo that committed the U.S. to promoting LGBTQ and intersex rights abroad as part of the White House's overall foreign policy. Then-State Department spokesperson Ned Price later told the Blade the decriminalization of consensual same-sex sexual relations is one of the Biden-Harris administration's five priorities as it relates to LGBTQ and intersex rights overseas.
A senior administration official told reporters during a conference call that previewed Harris' trip that she "is very much focused on opportunities in Africa and a positive message and the great things we can do in partnership with African countries. And you're going to really see that as the theme of the trip, given Africa's role in the world and what we think can be done with Africans, for the sake of Africans in the United States and the rest of the world."

"But that doesn't mean that she would shy away from discussing difficult issues, and you know her track record on the LGBTQ issue," added the official. "She spent her whole career fighting for rights of overlooked and marginalized people, including LGBTQ people."
The official further stressed the Biden-Harris administration "is very clear about the right for all people to live free of harm and discrimination and to realize their full potential and to fully participate in society."
"The vice president has been clear about that throughout her engagements in the United States and elsewhere in the world, and it won't be any different when she is in Africa," added the official. "We have said, you know, including in recent days — expressed the concerns we have about certain developments that we've seen on the African continent, whether it's laws or practices that are anti-LGBTQ. And that's not consistent with what this administration stands for."
The official also said they "don't think that is a choice between taking a firm stand on that set of really important issues and the big positive opportunity that the vice president sees in Africa and she's going to emphasize on this trip."
The Blade will provide further updates of Harris' trip as they become available.
LGBTQ protections added to N.M. Human Rights Act
Governor Michelle Lujan Grisham signed House Bill 207 on Friday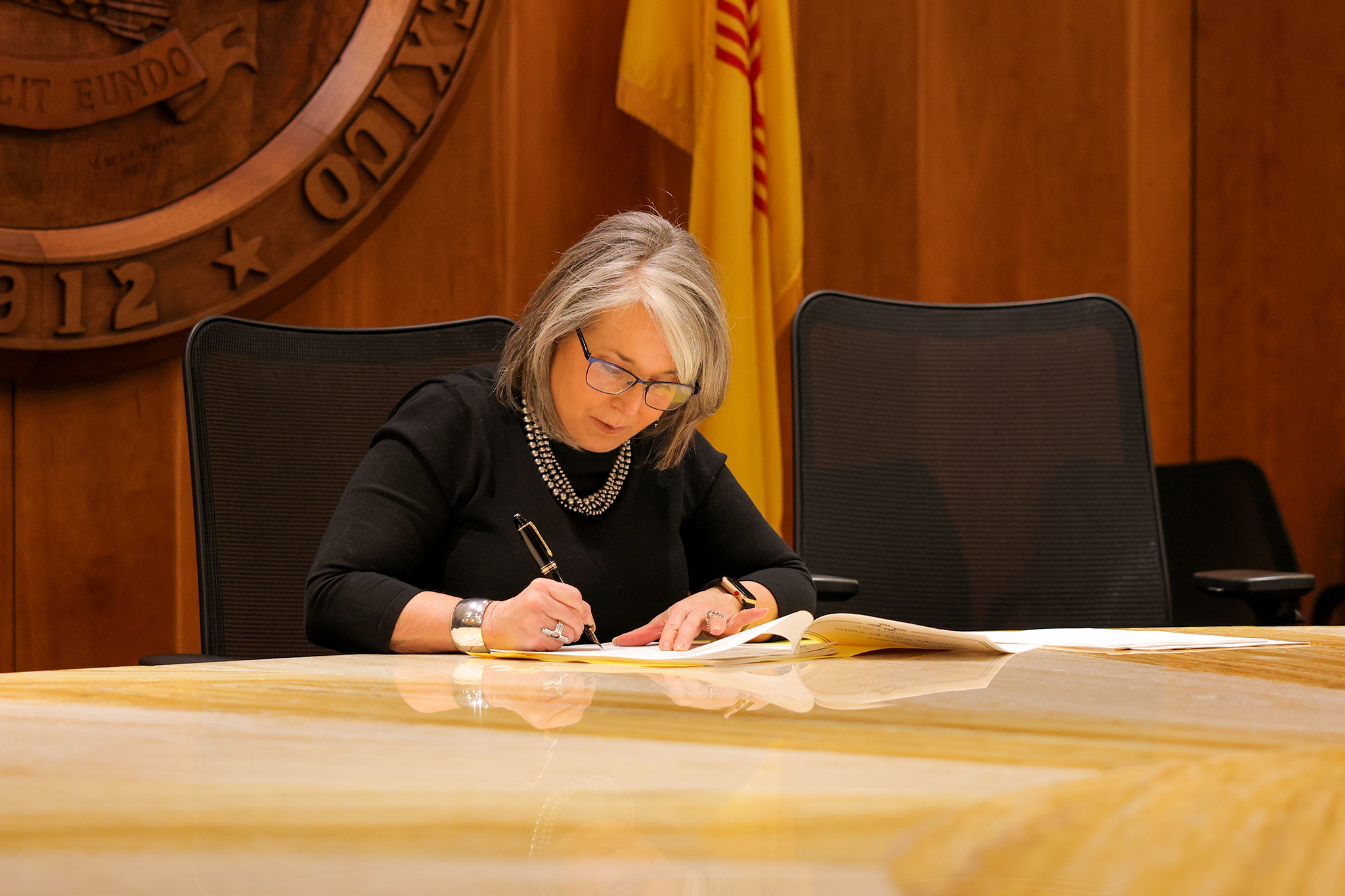 New Mexico Gov. Michelle Lujan Grisham signed House Bill 207 into law on Friday that expands protections for LGBTQ New Mexicans under the state's Human Rights Act. For transgender residents, Grisham also signed House Bill 31, a measure that removes the requirement that name changes be published in a newspaper.
The Santa Fe New Mexican newspaper reported that HB 31 also lets people 14 and older petition a district court for a name change and prohibits the court from requiring notice to the applicants' parents if it finds notice would jeopardize the applicant's safety.
"While hundreds of bills have been introduced across the country to restrict the rights of queer and trans people, New Mexico is committed to making our state a safer place for everyone by closing a loophole to ensure our taxpayer dollars cannot be used to discriminate against our LGBTQ+ friends and neighbors," state Rep. Kristina Ortez (D-Taos) said in a statement.
We're so glad to say that #HB31 and #HB207 -passed by #nmleg – is officially signed into law by @GovMLG! We will continue to love, affirm, and protect all #LGBTQ people here!#EQNM30th pic.twitter.com/3eUx5LLlvC

— Equality New Mexico (@equalitynm) March 25, 2023
State Rep. Christine Chandler (D-Los Alamos), the sponsor of HB 31, noted that the measure will benefit trans New Mexicans seeking to change their names as well as ensure safety for victims of domestic violence who may change their names to be more secure.
"Removing this antiquated publishing requirement protects New Mexicans' privacy and allows them to safely move on with their lives," Chandler said.
These measures are the latest in legislation passed this session to protect LGBTQ New Mexicans as well as women's rights.
On March 16, Grisham signed into law House Bill 7, the Reproductive and Gender-Affirming Health Care Act, which prohibits public bodies, including local municipalities, from denying, restricting, or discriminating against an individual's right to use or refuse reproductive health care or health care related to gender.
"New Mexicans in every corner of our state deserve protections for their bodily autonomy and right to health care," said Grisham as she signed HB 7. "I'm grateful for the hard work of the Legislature and community partners in getting this critical legislation across the finish line."
"Trans and nonbinary individuals deserve the support and care necessary to survive and thrive," said Ortez, who co-sponsored HB 7. "Protecting gender-affirming health care is a critical part of making sure trans and nonbinary New Mexicans can succeed in school, establish healthy relationships with their friends and family, and live authentically as themselves."
"In New Mexico we value the freedom and dignity of making your own personal decision about reproductive and gender-affirming health care," said Ellie Rushforth, the American Civil Liberties Union of New Mexico managing reproductive rights and gender equity attorney. "Now more than ever it is critical that New Mexicans and our neighbors have access to the full spectrum of health care in every corner of our state. We thank the governor for supporting and signing HB 7 into law. This is lifesaving legislation."