YEAR IN REVIEW: D.C. marriage law makes history
A look at the top 10 local stories of the year
#1 Same-sex couples marry in D.C.
A long line of same-sex couples snaked its way through a corridor at the D.C. Superior Court's Marriage Bureau on March 3, the first day the couples could apply for a marriage license under the city's Religious Freedom and Marriage Equality Amendment Act.
The Act was approved by the City Council and signed by Mayor Adrian Fenty in December 2009, making D.C. the sixth jurisdiction in the country to legalize same-sex marriage. The weddings began in March following the completion of a required congressional review of the law.
Under the watchful eye of nearly two-dozen television cameras and news photographers, two lesbian couples and a gay male couple were among the first same-sex couples to wed—in ceremonies held at the Human Rights Campaign headquarters.
"Today was like a dream for me," said Angelisa Young, 47, minutes after her wedding to Sinjhoyla Townsend, 41, her partner of 12 years.
"I always felt like it would come true. But it's here now, and it's really real," she said. "We want to thank everyone who made this possible."
Opponents of same-sex marriage, led by Maryland minister Harry Jackson, lost a series of court challenges seeking to force the city to hold a voter referendum on whether the law should be overturned. The U.S. Supreme Court is expected to decide in January whether accept or reject Jackson's final appeal on the question of whether the city should be forced to hold the referendum.
#2 Fenty loses to Gray
Mayor Adrian Fenty lost his re-election bid to City Council chair Vincent Gray in the city's Sept. 14 Democratic primary. Although the two candidates each have a strong record of support on LGBT issues, including support for the same-sex marriage law, Gray received the strong backing of most LGBT organizations and activists.
Like other constituency groups, a number of LGBT leaders said Fenty appeared to have lost touch with the needs and concerns of the LGBT community. They noted that he declined to speak out, for example, on the growing number of anti-LGBT hate crimes and rarely attended LGBT events or meetings.
But election returns showed that Fenty beat Gray in nearly all voter precincts where large numbers of gays live such as Dupont Circle, Adams Morgan, Logan Circle and Capitol Hill. Areas where high concentrations of black gays live voted overwhelmingly for Gray, highlighting the city-wide racial divide in the election, with blacks voting mostly for Gray and whites voting mostly for Fenty.
#3 Principal Brian Betts murdered
The murder in April of highly acclaimed D.C. middle school principal Brian Betts, who was gay, by a 19-year-old man he met though an Internet chat line for men interested in sex with men drew extensive media attention.
Three of the four youths charged in the case — three 19 and one 18 at the time of the incident — have pleaded guilty through plea bargain offers by prosecutors in Montgomery County, Md., where Betts was shot to death in his house on April 15. Nineteen-year-old Alante Saunders, who admitted he shot Betts accidentally during a robbery, was sentenced to 40 years in jail.
Saunders acknowledged to police that he hatched a plan to meet someone on the chat line for the purpose of robbing them, a disclosure that created alarm in the gay community over potential danger of meeting sex partners online.
Two attorneys representing Betts' family have called on the U.S. Justice Department to investigate whether Saunders should be charged under the Matthew Shepard federal hate crimes law.
"Brian was a gay man and we believe an investigation should be opened under that law to determine whether a hate crime has or has not been committed," said attorney Gloria Allred.
#4 Md. elects 7 out gays; Beyer loses race
Seven openly gay candidates – four incumbents and three newcomers – were elected to the Maryland Legislature in November, boosting chances that the legislature will pass a same-sex marriage law in 2011.
Meanwhile, Dana Beyer, a retired eye surgeon and political activist, lost her bid to become the first transgender person elected to the Maryland Legislature. Beyer ran for a seat in the House of Delegates from a district in Montgomery County.
Among the winners were gay incumbents Richard Madeleno, a member of the State Senate; and lesbian House of Delegates members Anne Kaiser, Heather Mizeur and Maggie McIntosh. Among the challengers to win was Mary Washington, who captured a seat in the House of Delegates from Baltimore, becoming the first black lesbian to be elected to the Maryland Legislature and just the second black lesbian to win a seat in a state legislature in the U.S.
Lesbian Bonnie Cullison and gay candidate Luke Clippinger each won seats in the House of Delegates. All seven are Democrats.
#5 Not guilty verdict in Wone case
Three gay men charged with obstruction of justice, conspiracy to obstruct justice, and evidence tampering in connection with the 2006 murder of D.C. attorney Robert Wone were found not guilty of the charges in June following a sensational trial.
In a development that stunned courtroom spectators and Wone's family members, D.C. Superior Court Judge Lynn Leibovitz said it was "very probable" that defendants Joseph Price, Victor Zaborsky and Dylan Ward engaged in a massive cover-up of the murder and know the identity of Wone's killer, as asserted by prosecutors.
But she said the government failed to prove beyond a reasonable doubt that the men committed the offenses with which they were charged, forcing her to issue a not-guilty verdict in the non-jury trial. The defendants waived their right to a jury trial.
They are now scheduled to for a second trial in a $20 million wrongful death lawsuit that Wone's wife and family members filed against them, which is expected to begin in the spring.
They have claimed an unknown intruder killed Wone after entering their upscale townhouse near Dupont Circle, where Wone was spending the night after working late in his nearby office. Wone, whose wife said he was straight, had been longtime friends with the three defendants.
Police and prosecutors argued there was no evidence of a break-in at the house and an autopsy showed Wone appeared to have been immobilized – possibly by a paralytic drug – before being stabbed three times in the chest.
#6 Md. recognizes out-of-state gay marriages
Maryland Attorney General Douglas Gansler issued a long-awaited legal opinion in February saying same-sex marriages performed in other states and countries most likely would have full legal standing in Maryland.
But in his 53-page opinion, Gansler said the Maryland Court of Appeals would have the final say in the matter if opponents of same-sex marriage decide to contest the legal standing of married same-sex couples living in or visiting the state.
Gansler's opinion was hailed by LGBT activists and gay couples, who said they planned to marry in D.C. beginning in March, when the District's same-sex marriage law took effect. But outraged opponents of same-sex marriage vowed to contest the Gansler opinion, and some called on the state legislature to impeach him over the issue.
Nearly a year after Gansler issued his opinion, it remained unclear whether same-sex married couples in the state have encountered problems with state agencies in receiving the same marriage-related benefits afforded opposite-sex married couples.
#7 GLOV calls for attention to hate crimes
The D.C. group Gays and Lesbians Opposing Violence (GLOV) says 2010 marked yet another year in which LGBT people were the victims in more than 70 percent of the total number of hate crimes reported in the District.
The LGBT community became alarmed earlier in the year when D.C. police issued an alert about nearly a half-dozen anti-gay assaults occurring near gay bars in the Dupont Circle and Logan Circle areas. In one case, a group of teenage males and females assaulted a gay man walking on P Street near Dupont Circle while shouting anti-gay names.
With teenagers and young adults emerging as the perpetrators in most of the anti-LGBT hate crimes, GLOV and other activists groups have called on the city's public school system to increase diversity awareness programs foster better understanding of LGBT people.
#8 Trans woman claims assault by D.C. cop
Transgender activists have said D.C. police may have violated policies for addressing the transgender community in a Dec. 1 incident in which a transgender woman said she was assaulted by an off-duty police officer.
Chloe Alexander Moore, 25, was arrested on a charge of assault for spraying a chemical repellent into the face of Officer Raphael Radon. Radon was dressed in civilian clothes and, according to Moore, assaulted her after calling her names, leading her to believe she was in imminent danger. She said she squirted Radon with pepper spray in self-defense and did not know he was a police officer.
Two police sources told the Blade that a detective and sergeant who responded to the scene and interviewed witnesses initially determined that Radon started the altercation and he rather than Moore appeared to have committed an assault.
But police and court records show the two were overruled by a captain, who was not on the scene but was consulted by phone.
#9 Washington Blade re-launches
The Washington Blade resumed publishing as a local, independently owned newspaper in April after a November 2009 bankruptcy filing by its parent company, Window Media, forced it to shut down after 40 years of service as an LGBT publication.
Blade staff members, with the help of local advertisers and community supporters, launched the D.C. Agenda newspaper to fill in for the Blade immediately after the Blade shutdown. Following months of preparation, publisher Lynne Brown, editor Kevin Naff, and sales executive Brian Pitts formed a new company that bought the Blade's name and remaining assets from the bankruptcy court.
The purchase enabled the new company to resume using the Blade's name. The company – Brown Naff Pitts Omnimedia — has since launched a non-profit foundation to raise money to digitize the Blade's print archives, making all back issues dating back to 1969 available to the public online.
The existing electronic archives, which covered back issues beginning in the late 1990s, were destroyed shortly before or after the bankruptcy filing when Window Media failed to pay a web hosting company the monthly fees required to maintain and store the archives on a rented computer server.
#10 MTV's 'Real World' showcases D.C.
D.C.'s gay community joined in the suspense and merriment in early 2010 when MTV's reality series "Real World" premiered its "Real World: D.C." episodes, which were filmed in the District in 2009.
Much of the filming took place in a Dupont Circle mansion, where the cast resided while they visited Washington's historic sites as well as many nightlife venues. Cast member Mike Manning, who is bisexual, was filmed in some of the city's gay bars and clubs and was followed by an MTV video crew when he attended the Oct. 2009 Human Rights Campaign dinner, in which President Obama was the keynote speaker.
MTV crews filmed another cast member at the Washington Blade's then offices in the National Press Building as she worked as a Blade photographer.
Va. bill would restrict transgender students access to school bathrooms
State Del. John Avioli (R-Stanton) introduced House Bill 1126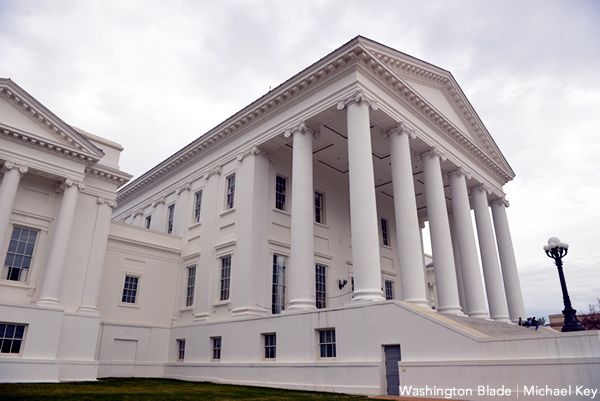 A Virginia lawmaker has introduced a bill that would restrict the ability of transgender students and school board employees to use bathrooms and other facilities in public schools that are consistent with their gender identity.
House Bill 1126, which state Del. John Avoli (R-Stanton) introduced, would require "each school board to adopt policies to require each student and school board employee to have access to restrooms, locker rooms and other changing facilities in public school buildings that are shared only by members of the same biological sex; lodging accommodations during school-sponsored trips that are shared only by members of the same biological sex; and a single-user restroom, locker room, or other changing facility in a public school building, upon request, if the school can reasonably accommodate such a request."
Avoli introduced HB 1126 on Jan. 12 on the same day the Virginia General Assembly's 2022 legislative session began with Republicans in control of the House of Delegates. Republican Gov. Glenn Youngkin took office on Jan. 15.
State Sen. Travis Hackworth (R-Tazewell County) last month introduced Senate Bill 20, which would eliminate the requirement that school districts must implement the Department of Education's trans and non-binary student guidelines. State Del. Danica Roem (D-Manassas), who in 2018 became the first openly trans person seated in any state legislature in the U.S., told the Washington Blade last week that she expects SB 20 "would be dead on arrival" in committee.
Equality Virginia, a statewide LGBTQ rights group, on its website notes HB 1126 is among the bills that it opposes.
Democrats still have a 21-19 majority in the state Senate, and they have signaled they will oppose any effort to curtail LGBTQ rights in Virginia. Outgoing Equality Virginia Executive Director Vee Lamneck last week said their organization "will work with the Senate's pro-equality majority to act as a crucial back stop against harmful legislation and efforts to roll back our hard-earned wins passed during the last two years."
Equality Virginia announces new executive director
Narissa Rahaman will succeed Vee Lamneck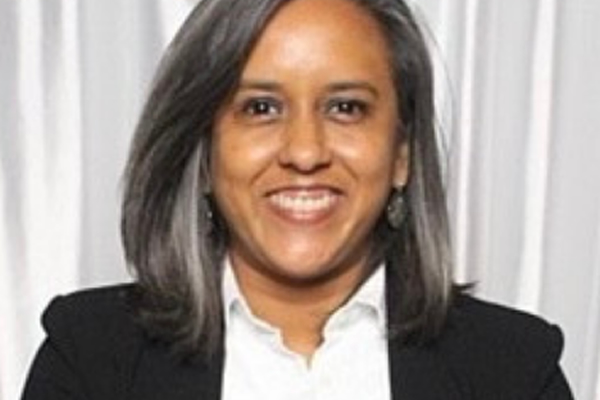 Equality Virginia on Saturday announced Narissa Rahaman will be the organization's new executive director.
Rahaman, who was previously the Human Rights Campaign's Associate Regional Campaign Director, will succeed outgoing Executive Director Vee Lamneck on Feb. 2. Rahaman was born in Barbados and raised in Florida.
"Narissa also has 10+ years of experience in long-term strategic planning, multi-state organizing efforts, coalition management, and staff development, which make her an exceptional individual for the role of executive director," said Equality Virginia in its announcement. "We are confident that under her leadership, the organization's success and impact will continue to flourish as will our commitment to racial justice."
Equality Virginia announced Rahaman will succeed Lamneck on the same day that Republican Gov. Glenn Youngkin took office amid concerns he will seek to curtail LGBTQ rights in Virginia.
Equality Virginia's annual lobby day will take place virtually on Jan. 25. The organization's annual Commonwealth Dinner is scheduled to take place in Richmond on March 26.
Glenn Youngkin sworn in as Va. governor
Republican backed teacher who opposed trans student guidelines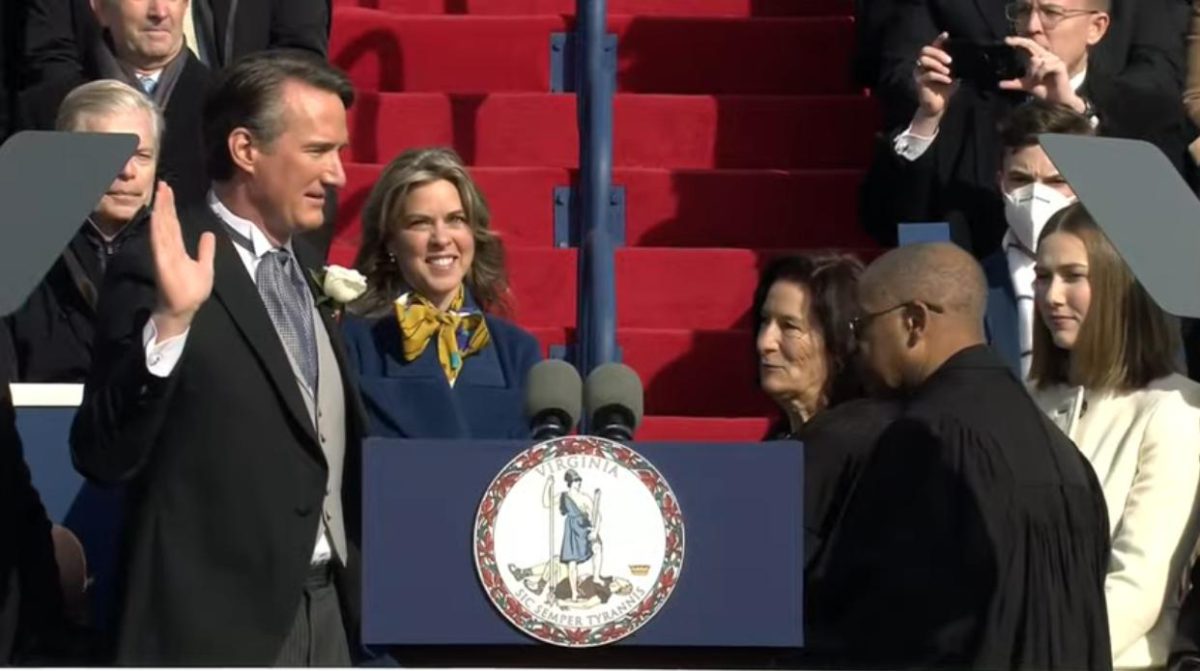 Republican Virginia Gov. Glenn Youngkin took office on Saturday amid concerns that he will seek to curtail LGBTQ rights in the state.
"Today we gather not as individuals, not as Republicans and Democrats," said Youngkin after his swearing in. "Today we gather as Virginians."
Former Gov. Ralph Northam and U.S. Sen. Tim Kaine (D-Va.) are among those who attended the ceremony that took place at the State Capitol. Terry McAuliffe, who Youngkin defeated in the general election, did not attend because of a COVID-19 scare.
Youngkin during his campaign against McAuliffe expressed support for Tanner Cross, a gym teacher at a Leesburg elementary school who was suspended from his job after he spoke out against Virginia Department of Education guidelines that are designed to protect transgender and non-binary students. Youngkin has also said he does not support allowing trans children to play on sports teams that are consistent with their gender identity.
Youngkin on Thursday named Elizabeth Schultz, an anti-LGBTQ former member of the Fairfax County School Board, to his administration.
"We will remove politics from the classroom and focus on the essentials," said Youngkin in his inaugural speech, without specifically mentioning LGBTQ students.
He added "parents should have a say in what is taught in schools."
Youngkin has also expressed his opposition to marriage equality, but stressed it is "legally acceptable" in Virginia and would "support that" as governor.
Lieutenant Gov. Winsome Sears and Attorney General Jason Miyares also took office on Saturday.
Winsome, a former member of the Virginia House of Delegates, is the first woman and first female of color elected lieutenant governor. Miyares, a former House member whose mother was born in Cuba, is Virginia's first Latino attorney general.
Youngkin in his inaugural speech noted "the people of Virginia just elected the most diverse leadership" in the state's history. Youngkin's first executive order ends "the use of" so-called "critical race theory" (which is not taught in Virginia schools) and other "divisive concepts" in Virginia's public schools.
The General Assembly's 2022 legislative session began on Wednesday.
Republicans control the House by a 52-48 margin. Democrats have a 21-19 edge in the Virginia Senate.