YEAR IN REVIEW: 'story of the year' countdown
Gay suicides capture national attention along with elections and Prop 8

The story of the year was repeal of "Don't Ask, Don't Tell," but there were many other big stories that kept us busy this year. Here are the rest of the top 10. Compiled by Blade staff writers Lou Chibbaro Jr. and Chris Johnson.
#2 Youth suicides lead to "It Gets Better" Campaign
A rash of suicides committed by gay youths throughout the country this year prompted the "It Gets Better" campaign in which prominent U.S. officials and LGBT leaders advise teens struggling with their sexual orientation that their lives will improve.
Four gay youths took their lives in September, reportedly after they had been bullied because of their sexual orientation. Among those who committed suicide was Tyler Clementi, an 18-year-old Rutgers University freshman who leaped off the George Washington Bridge connecting New York and New Jersey.
In response to the suicides, Dan Savage, a gay Seattle, Wash.-based activist, founded the "It Gets Better" project, an online video channel in which U.S. officials and LGBT leaders urge youth to look to a brighter future. President Obama was among the officials to appear in a video.
#3 Democrats get clobbered in midterms
Democrats this year sustained heavy losses in the mid-term elections and lost control of the U.S. House to Republicans, which will likely kill LGBT rights advances in Congress for at least two years.
Republicans claimed 63 seats in a result that will lead to the ascent of Rep. John Boehner (R-Ohio), who scored a "0" in the Human Rights Campaign's most recent congressional scorecard, as House speaker. Democrats retained control of the U.S. Senate, but will have a reduced majority of 53 seats.
Still, the LGBT community enjoyed one bright spot in the election through the win of David Cicilline, a gay mayor of Providence, R.I., to the House. Upon the start of the 112th Congress in January, Cicilline will become the fourth sitting openly gay member of Congress.
#4 Proposition 8 court battle
California's Proposition 8, the ballot measure that amended the state's constitution to halt gay marriage, has been a non-stop battle in the court of law — and the court of public opinion — since it passed in 2008.
A federal lawsuit seeking to overturn the ban, led by famed attorneys Ted Olson and David Boies, advanced in August, when U.S. District Court Judge Vaughn Walker ruled Prop 8 unconstitutional.
But rather than allowing gay couples to resume marrying in California, Walker issued a stay on his ruling pending the outcome of inevitable appeals. While California state leaders, including Gov. Arnold Schwarzenegger, refused to defend the law, the "Yes on 8" campaign challenged the ruling as expected.
A three-judge panel of the 9th Circuit U.S. Court of Appeals heard arguments in the appeal on Dec. 6, in which supporters of the ban argued that gay marriage "will make children prematurely preoccupied with issues of sexuality." The appeals panel is expected to issue its decision in 2011.
#5 CDC: 1 in 5 gay men has HIV in cities
Nineteen percent of men who have sex with men in a study of 21 U.S. cities was found to be infected with HIV and nearly half did not know they were infected, according to a report released this year by the U.S. Centers for Disease Control and Prevention.
"This study's message is clear: HIV exacts a devastating toll on men who have sex with men in America's major cities, and yet far too many of those who are infected don't know it," said Kevin Fenton, director of the CDC's National Center for HIV/AIDS, Viral Hepatitis, STD, and TB Prevention.
The report, published in September, shows that among the men who have sex with men, or MSM, participating in the 21-city study, young MSM and MSM of color were least likely to know their HIV status.
#6 Three more countries legalize same-sex marriage
Portugal, Iceland and Argentina became the latest three countries to legalize same-sex marriage in 2010, with Iceland becoming the world's first nation to do so with an openly gay head of state in office.
Lesbian Johanna Sigurdardottir, who became Iceland's prime minister in 2009, faced virtually no opposition when she and her Social Democratic Party introduced a same-sex marriage bill into the island nation's parliament. According to Reuters News Service, the legislation passed by a vote of 49-0.
The situation was far different in Argentina, where the Catholic Church raised strong objections to a same-sex marriage proposal backed by the majority-Catholic nation's president, Cristina Fernandez. But church opposition failed to sway public opinion and a majority of lawmakers.
The action by the three countries brought the total number of nations where same-sex marriage is legal to ten. The other nations are Canada, Netherlands, Belgium, Spain, South Africa, Norway, and Sweden.
#7 Lesbian mayor takes office in Houston
Lesbian Annise Parker was inaugurated as mayor of Houston in January, becoming the first openly gay person elected mayor of a U.S. city with a population greater than 1 million.
Parker became Houston's first out gay elected official in 1997 when she won election to the City Council. She held her Council post until she won election in 2003 as the city's controller. She came in first place in her November 2009 bid for mayor but didn't receive enough votes to avoid a run-off election, which she won in December 2009.
In one of her first actions as mayor, Parker issued an executive order extending non-discrimination protections for city government workers to cover transgender employees.
#8 'Kill the Gays' bill in Uganda draws attention
LGBT and human rights activists across the globe voiced opposition and outrage over a bill introduced into the Parliament of Uganda that calls for strengthening the country's criminal law against homosexuality to include the death penalty or life imprisonment.
The proposed law, introduced by Ugandan Parliament member David Bahati, who has ties to fundamentalist Christian groups in the U.S., drew opposition from the U.S. State Department and members of the U.S. Congress.
Bahati has said he would not seek a vote on his bill until after the country's February 2011 elections.
#9 Gay service member held in WikiLeaks scandal
A 22-year-old gay U.S. service member emerged in August as the prime suspect in the investigation of leaked classified documents and videos to WikiLeaks, the controversial whistle-blowing website that has rocked U.S. intelligence agencies.
Army Pfc. Bradley Manning has been held since August in solitary confinement at a brig in the U.S. Marine base in Quantico, Va., while military and civilian authorities continue their investigation into the leaks.
In an instant message conversation with a friend, Manning reportedly said he was responsible for leaking a classified video showing a U.S. Apache helicopter strike in Bagdad that resulted in civilian deaths. Manning, who had been stationed in Iraq as an intelligence analyst, also reportedly claimed to access to 240,000 classified U.S. diplomatic cables that would reveal the inner workings of U.S. embassies worldwide.
#10 Mass. judge rules DOMA unconstitutional
A U.S. District Court judge in Massachusetts ruled in July that the federal Defense of Marriage Act, or DOMA, is unconstitutional because it violates the right of same-sex married couples to equal protection under the law.
DOMA defines marriage under federal law as a union only between a man and a woman and bars same-sex unions from access to all federal marriage-related benefits such as Social Security pensions for married spouses.
Gay rights attorneys said the ruling by Judge Joseph Tauro was an important first step in the quest to either persuade Congress to repeal DOMA or to have it struck down by the courts. The Obama administration, to the disappointment of gay activists, announced it would appeal Tauro's decision to a federal appeals court.
Biden budget earmarks funds for HIV along with new programs for PrEP, hepatitis C
Budget seen as preview of Biden's reelection campaign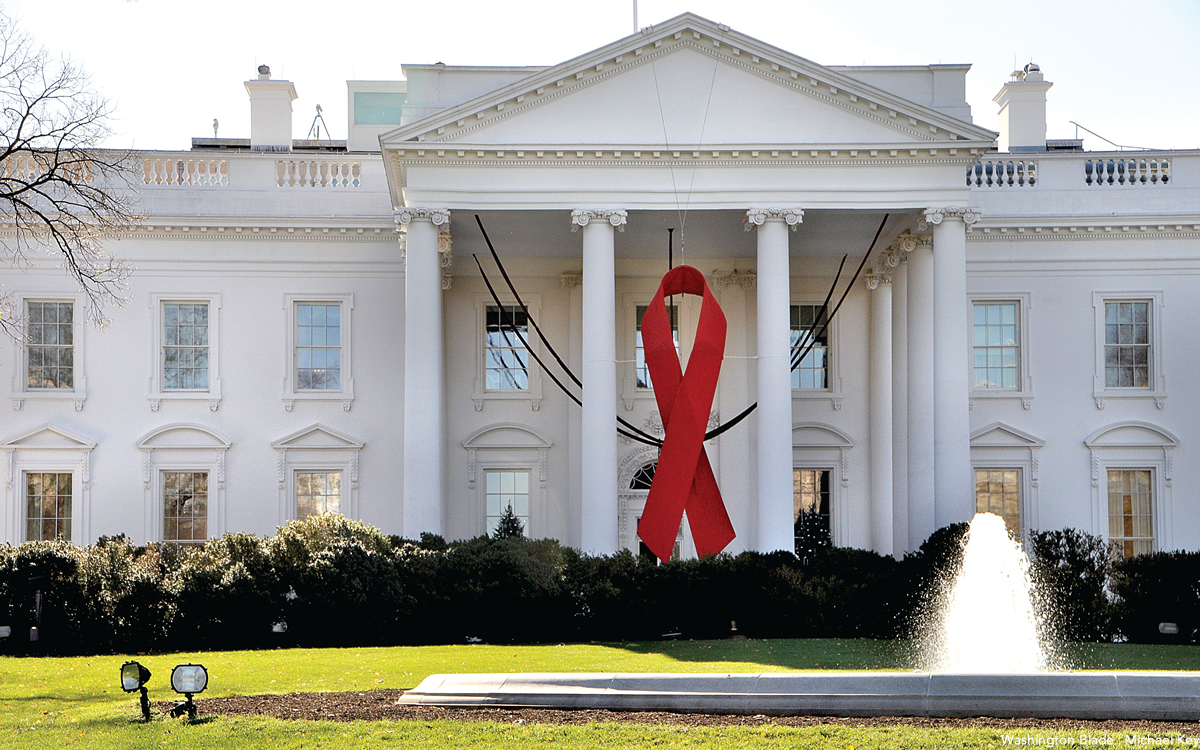 The $6.8 trillion budget unveiled by President Joe Biden on Thursday includes increased investment in existing programs to fight HIV/AIDS, along with new initiatives to expand access to HIV prevention medications and eliminate hepatitis C.
U.S. House Republicans are expected to kill the proposal, which is nevertheless seen as a possible blueprint for the major themes to come in Biden's expected reelection campaign.
Major focus areas of the plan include deficit reduction, increased taxes for the wealthy, and increased spending on the military and other endeavors to compete with China.
The HIV + Hepatitis Policy Institute praised the budget in a press release Thursday, writing that it will "significantly increase the federal resources necessary to end both HIV and hepatitis C."
The group's president, Carl Schmid, said Biden "recognizes the historic role the federal government must play, and the investments needed to end infectious diseases."
First, the plan would bolster funding for the Trump-era Ending the HIV Epidemic in the United States initiative by $313 million, bringing the total to $850 million. Second, it would debut a "ten-year $9.7 billion nationwide PrEP delivery program" and a "historic initiative to eliminate hepatitis C."
PrEP, or preexposure prophylaxis, is a medication regimen that reduces the risk of contracting HIV. According to the HIV + Hepatitis Policy Institute, only 30 percent of patients who could benefit from the drug are taking it.
The new hepatitis C program "seeks to provide outreach, testing, and curative medications to the estimated 2.4 million people living with hepatitis C, many of whom are unaware of their infection."
Gov. Newsom: Calif. will not do business with Walgreens after decision to not distribute abortion pill
20 Republican state attorneys general threatened to sue Walgreens for offering mifepristone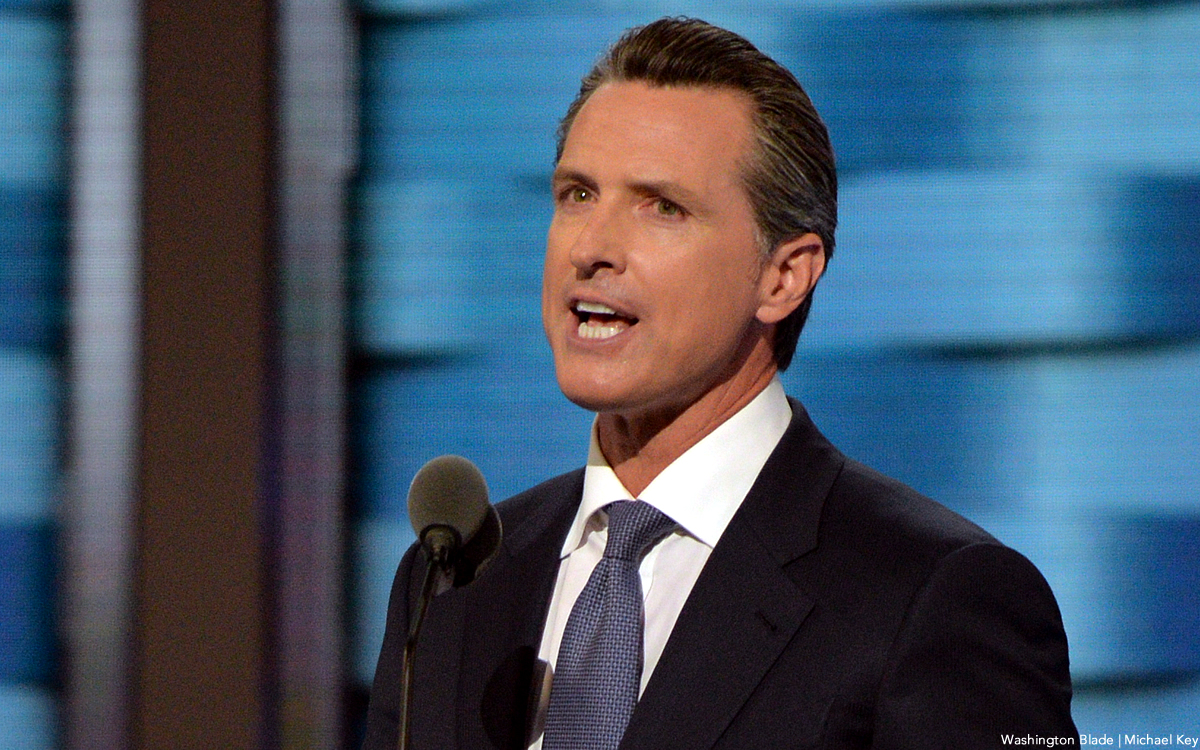 Gov. Gavin Newsom (D-Calif.) announced on Monday that California will not do business with Walgreens following the company's announcement of its decision on Friday to not distribute the abortion pill mifepristone in 20 states.
The move comes amid pressure from conservative lawmakers and threats of legal action against Walgreens and CVS from 20 Republican state attorneys general, who claimed in a Feb. 1 press release that selling mifepristone is "unsafe and illegal."
Mifepristone is still legal in several of the states where Walgreens has decided to stop providing it in response to the specter of lawsuits from state attorneys general: Alaska, Iowa, Kansas and Montana.
Newsom's office told NPR that California will review "all relationships between Walgreens and the state," but declined to provide more specifics.
"California won't be doing business with @walgreens – or any company that cowers to the extremists and puts women's lives at risk," Newsom wrote in the tweet. "We're done."
California won't be doing business with @walgreens — or any company that cowers to the extremists and puts women's lives at risk.

We're done.https://t.co/OB10cYfm8H

— Gavin Newsom (@GavinNewsom) March 6, 2023
"Elected officials targeting pharmacies and their ability to provide women with access to safe, effective, and FDA-approved medication is dangerous and just unacceptable," White House Press Secretary Karine Jean-Pierre said during a briefing on March 3.
"The administration will continue to stand by the FDA's expert judgment in approving and regulating medications. And in the face of barriers to access and concerns about safety of patients, healthcare providers, and pharmacists, we will continue to support access to this critical medication within the limits of the law," Jean-Pierre said.
Meanwhile, Judge Matthew Kacsmaryk of the U.S. District Court for the Northern District of Texas is expected to soon rule on a case challenging the safety of mifepristone that advocates for reproductive justice fear could lead to a nationwide injunction prohibiting the sale and distribution of the abortion drug.
Medical experts have slammed the Texas plaintiffs' lawsuit, arguing that mifepristone's safety and efficacy have been well demonstrated for years. Kacsmaryk, who was appointed by former President Donald Trump, is nevertheless expected to rule in their favor.
"The plaintiffs who have no legitimate standing have hand-picked him to hear this case that has no merit because they know what they're getting with Judge Kacsmaryk," Sen. Ron Wyden (D-Ore.) said last month.
Jean-Pierre addressed the case during a press briefing on March 1: "The decision would be unprecedented, as you know, and devastating to women's health. And we may find ourselves in uncharted territory," she said.
"And so, we're closely — closely working with the Justice Department and DHS — HHS on this, on how to be prepared for any range of outcome or potential outcomes," Jean-Pierre added.
Nasty Pig co-founder: White House 'walking the walk' on LGBTQ public health
David Lauterstein, husband met with mpox response coordinator on Jan. 12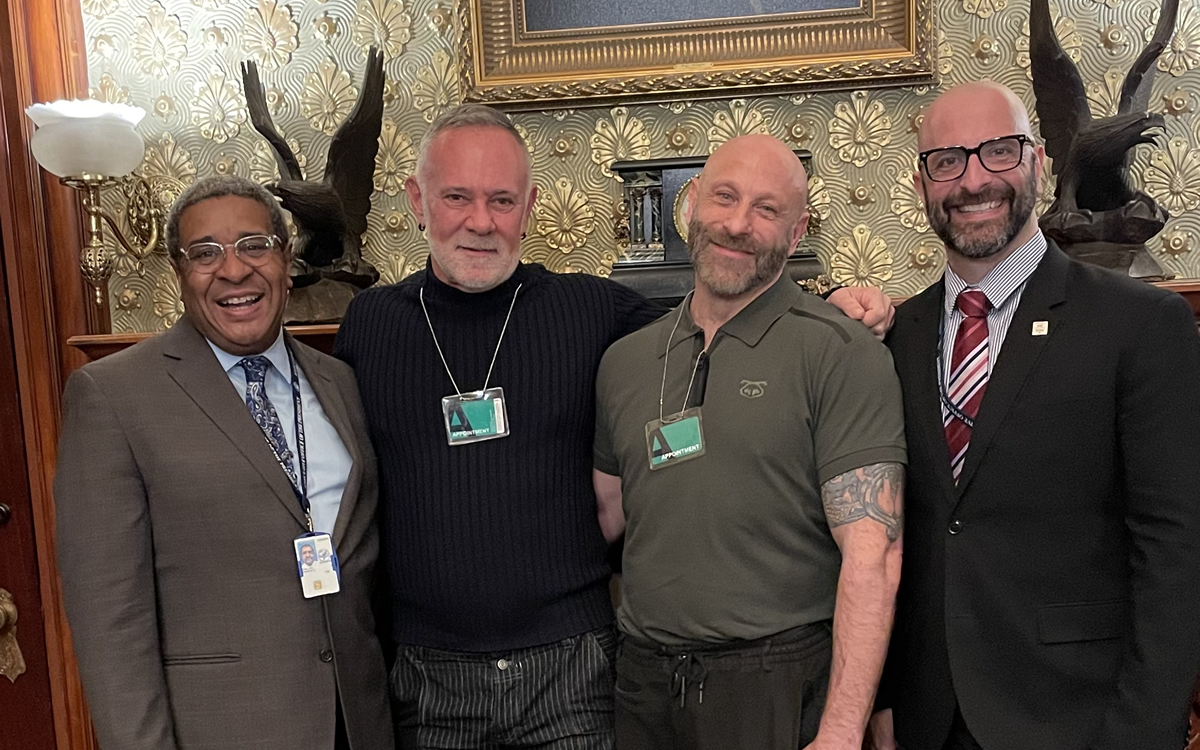 David Lauterstein, co-founder of the popular clothing brand Nasty Pig with his husband, Frederick Kearne, spoke with the Washington Blade by phone on Thursday about his company's work with the Biden administration on public health initiatives targeting the LGBTQ community.
The Nasty Pig team received an invitation to the White House on Jan. 12, ahead of the company's planned participation in Mid Atlantic Leather, the fetish event held annually in D.C. over Martin Luther King Jr. weekend.
After meeting with officials, including White House National Mpox Response Deputy Coordinator Demetre Daskalakis and Harold Phillips, policy director of the White House Office of National AIDS Policy, Lauterstein and Kearne decided to scrap their Nasty Pig booth at MAL in favor of administering a popup mpox and sexual health clinic in partnership with federal and D.C. public health teams.
During those conversations at the White House, "We found out that there was a big need for second shots," Lauterstein told the Blade on Thursday.
"We learned we have queer siblings in smaller towns and cities where asking for a vaccine is outing yourself — there are queer people who have to put their health at risk because they can't go to Walgreens and ask for an mpox vaccine," he said.
Lauterstein told himself, "I don't give a fuck if we help [just] one person" with the popup clinic, which turned out to be a resounding success. "After day one, the D.C. Department of Health had to call for backup" to meet the demand, Lauterstein said.
From the time he founded Nasty Pig in 1994 amid the AIDS crisis, "we wanted to be a voice of sexual positivity at a time when our community had adopted so much of the stigma placed unfairly upon us, when back then the prevailing wisdom was to blend in and be heteronormative because we were seen as the spreaders of death," Lauterstein said.
At the White House, a visit that was "one of the most humbling and profound experiences of my life," Lauterstein said he was stuck by the diversity of the teams working on behalf of the mpox response and other public health initiatives.
"Talk about 'walking the walk,'" he said.
The administration's decision to partner with Nasty Pig and hire health officials like Daskalakis who have experience administering programs that are tailored to the needs of LGBTQ people and grounded in, for example, a realistic and judgment-free understanding of the sexual behaviors of gay and bisexual men, is revelatory, Lauterstein said.
"It's such an evolution of public health and the magnitude of it isn't lost on me due to our history," he said, adding that "if we could have had these conversations in 1981 [as the AIDS crisis emerged], the amount of suffering and pain that could have been spared our community would have been tremendous."
"The fact that we have an administration that understands we don't need to be lectured to but rather spoken with about how we solve these problems together is a huge shift," Lauterstein said [emphasis added.]
Lauterstein and Daskalakis developed a friendship during the early days of the COVID-19 pandemic, during which time Daskalakis was a decorated public health official in New York.
They discussed the unmet need for recommendations tailored to the LGBTQ community, and Daskalakis's guidelines for how to have safe sex during the pandemic reached a broad audience thanks to Lauterstein's network of devoted Nasty Pig fans and large social media following.
"I recognized the power of our relationship when [Daskalakis] was promoted to the [Centers for Disease Control and Prevention] and then quickly snapped up by the White House to lead the mpox coordinated response," Lauterstein said. "They couldn't have asked for a better guy."
Following months of aggressive public outreach and vaccination campaigns coordinated by the federal government with state, local and community partners, the U.S. Department of Health and Human Services allowed the mpox public health emergency to expire on Tuesday.