Obama rolls back Bush's 'conscience clause'
Sanity returns to health care policy

The past two weeks have not been kind to the LGBT community. True, there have been a few wins — advances on marriage equality in Maryland and the passage of civil unions in Hawaii, the most obvious ones — but recent weeks have seen a relentless social conservative assault on gays, especially on non-discrimination protections and health care.
Take, for example, the Pence Amendment, with House Republican leadership announcing they would strip millions from HIV/AIDS funding. And a flurry of activity in state legislatures that have laid the foundation for constitutional marriage bans in Indiana, Iowa and Wyoming. Marriage equality appears safe in Iowa—for now. Not so much in Indiana and Wyoming, where same-sex marriage is already illegal and the amendments serve as "double secret" anti-gay marriage decoder rings.
And, of course, the hateful legislation moving forward in Montana that would nullify Missoula's gay rights ordinance. So much for the GOP promise to "focus" on jobs and the economy.
But a major win for our community happened quietly and without fanfare last week. The Obama administration announced it was finally rescinding most of the Bush-era health care provider "conscience clause" regulations that have been used to discriminate against gay men and lesbians, transgender people, patients with HIV/AIDS, and, of course, women seeking contraception or abortions.
The regulation was approved in 2008 during the sunset of the Bush administration supposedly to allow health care workers to opt out of treating patients based on personal and/or religious beliefs. But like George W. and Dick Cheney's supposedly benign brand of "compassionate conservatism," the results were much more insidious to our community, the Washington Post reported.
"[The] rule was widely interpreted as shielding workers who refuse to participate in a range of medical services, such as providing birth control pills, caring for gay men with AIDS and performing in-vitro fertilization for lesbians or single women. Friday's move was seen as an important step in countering that trend, which in recent years had led pharmacists to refuse to fill prescriptions for the emergency contraceptive Plan B, doctors in California to reject a lesbian's request for infertility treatment…"
The often-abused regulation was described as one of Bush's "most controversial legacies."  That says a helluva lot about the Texas oilman who presided over the Iraq war. It allowed the federal bureaucracy to become a Petri dish of movement conservatism — complete with quasi-theocratic legal precedents and state-sponsored bigotry that bred contempt and prosecution for gay men, lesbians and the trans community.
The policy was a cruel joke coming from the same anti-choice, anti-science and anti-gay right-wing cultural Neanderthals that promoted "abstinence" to teens in this country — hello Bristol Palin — and to men and women in AIDS-ravaged Africa.
In the past two years, the rule has been exercised with alarming randomness. CVS locations in Washington, D.C., have been accused of limiting access to condoms. Gay activists in Chicago also cited several Walgreens locations for allowing clerks to refuse to sell condoms to men whom they believed were gay.
That may help an evangelical sales clerk sleep better at night, but it can cost lives. The District's HIV/AIDS rate is the highest in the country. The HIV/AIDS rate among black gay and bisexual men is much, much higher and those men were more likely to be affected in those cases above.
Only weeks after taking office, the Obama administration announced its intent to repeal the conscience clause. When the new regulations were finally announced last week, almost two years later, there wasn't too much coverage in gay media, but the right wing went into a virtual meltdown.
"It's the day pro-life activists have been waiting for, " CBN bemoaned. "Very disappointing," said the U.S. Conference of Catholic Bishops, which has been busy in the past few weeks fighting marriage rights in Maryland.
A virtual high-five to the Obama administration for returning some sanity to health care policy, especially when LGBT lives are at stake. Let's hope over the next two years we will see more regulatory changes that will benefit the LGBT community. And if Pat Robertson is unhappy about something, then we're probably on the right track.
National Gay & Lesbian Chamber of Commerce Certifies Brown, Naff, Pitts Omnimedia, Inc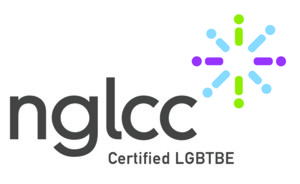 Washington, D.C. — Brown, Naff, Pitts Omnimedia, Inc, the parent company of the Washington Blade and Azer Creative, announced today it has been certified by the National Gay and Lesbian Chamber of Commerce (NGLCC) as an LGBT Business Enterprise. The NGLCC supports and advocates for diversity and inclusion for LGBT-owned businesses. With this certification the Blade's parent company joins more than 510 business and 134 corporate partners of the NGLCC.
Brown, Naff, Pitts Omnimedia, Inc. owns and operates the Washington Blade, the oldest and most acclaimed LGBT newspaper in the country. In 2012, the company launched Azer Creative, a full-service design firm. The company employs more than a dozen full-time LGBT staff.
"We are excited to become one of the 500 LGBT businesses across the country certified by NGLCC," said Lynne Brown, the Blade's publisher and a co-owner of the company. "The LGBT community has been part of our company from the beginning and we look forward to continue that for many years to come."
The Washington Blade was founded in 1969 and is known as the "newspaper of record" for the LGBT community both locally and nationally. Visit washingtonblade.com for more information. Azer Creative is a full-service graphic design firm based in Washington, D.C. Visit azercreative.com for more information. 
Vote now for the 2013 Best of Gay DC!
Choose in dozens of categories among hundreds of nominees, and make your voice heard!
Nominate the 'Best of Gay D.C.' now!
Dozens of categories cover all the best for LGBT Washington. Who deserves the prize this year?