Tongues wagging over gay Cabinet member
Will Obama name nation's first gay commerce secretary?
An upcoming vacancy in the White House cabinet has tongues wagging in the LGBT community over whether President Obama will make history by appointing an openly gay commerce secretary.
Last week, Obama announced his nomination of current Commerce Secretary Gary Locke to become U.S. ambassador to China. Provided he meets the 60-vote threshold to receive Senate confirmation, the vacancy created by Locke's departure would create the opportunity for the appointment of an openly LGBT person to his former role.
The nomination of an openly LGBT person to the position of commerce secretary would be historic because no openly LGBT person has ever been nominated for a cabinet-level position.
Justin Nelson, president of the National Gay & Lesbian Chamber of Commerce, said the appointment of an openly LGBT commerce secretary would be fantastic and bolster the relationship that already exists between the Commerce Department and LGBT people.
"I think it would only seek to strengthen that relationship and mean a lot for not only LGBT-owned businesses, but businesses in general," Nelson said.
Nelson noted that Locke signed a memorandum of understanding with NGLCC to collaborate on key department initiatives, which will remain in effect for five years. Among other things, the partnership helps promote contracting opportunities for LGBT-owned small businesses with the U.S. government.
Richard Socarides, president of Equality Matters, also said the nomination of an openly LGBT person to the role of commerce secretary would be significant for the Obama administration.
"I think it would be an important first for there to be an openly gay cabinet member, and I think President Obama, while he's president, should definitely try to make that happen," Socarides said.
But Socarides added the LGBT community is "a little bit beyond the politics of appointments" and said nominating an openly LGBT commerce secretary would be less significant than other actions Obama could take.
The LGBT community would be better served, Socarides said, by the appointment of an LGBT person within the president's circle of close advisers, where he or she could have an important impact on LGBT issues.
"I would love to see a gay cabinet member, but I think it's more important that President Obama put somebody at the White House with seniority in charge of LGBT policy issues," Socarides said.
The Presidential Appointments Project, a Gay & Lesbian Victory Fund-led initiative, has been pushing for the appointment of openly LGBT officials within the Obama administration. The Victory Fund declined to comment for this article.
Fred Hochberg, who's gay and director of the Export-Import Bank of the United States, has emerged at the top of the list of LGBT business experts who could fill the role of commerce secretary.
Hochberg, who has a background in business management and once served as deputy administrator of the Small Business Administration, was cited in 2009 as a contender for the position of commerce secretary when it was first open in the Obama administration.
Socarides said Hochberg is a solid contender for the position because he's close to the president and "extremely well qualified."
"Fred is perpetually on the list of people who would be a good commerce secretary because he's part of the Democratic establishment, he's served and been confirmed before and he has a stellar business background," Socarides said. "He certainly, I'm sure, would be on anybody's short list."
Nelson also said Hochberg would be a fantastic choice for the position of commerce secretary because of his previous work in the administration.
"The work that he's done at the Export-Import Bank and his commitment to helping build exports for the next five years has been a huge help to the president and the administration," Nelson said. "Certainly, his understanding of business and commerce would serve the president well."
Phil Cogan, an Export-Import Bank spokesperson, said Hochberg would be happy to engage in any position the president asks him to fill during the course of the Obama administration.
"He's honored to have the job he has now, but he would serve the administration in any way that he's asked to," Cogan said.
Another openly gay contender for the position of commerce secretary could be Jim Kolbe, a former Republican congressman from Arizona. An expert on trade, Kolbe left Congress and now works as a fellow at the German-Marshall Fund, where he has specialized in trans-Atlantic trade issues.
Nelson counted Kolbe as among those who could fit the bill for commerce secretary.
"He has a firm understanding of policy," Nelson said. "Certainly having served on the board of Export-Import Bank, having served in Congress and his work on behalf of the business and the LGBT community would make him another excellent choice."
Kolbe endorsed Republican presidential nominee John McCain during the 2008 election, which could work against him in winning a position within the Obama administration.
Kolbe told the Blade it is highly unlikely he is under consideration for the post.
Potential openly gay nominees would have to compete with a handful of other high-profile contenders for the position. According to Bloomberg News, those who are under consideration are former Pfizer CEO Jeffrey Kindler, Google CEO Eric Schmidt and Ron Kirk, a U.S. trade representative who has undertaken a leading role in pressing the Obama administration's trade agenda.
Shin Inouye, a White House spokesperson, wouldn't rule out that the president would nominate an openly LGBT person as commerce secretary.
"The president will consider a range of qualified candidates, but we are at a very early stage in the process and no decisions have been made," Inouye said.
Whatever the sexual orientation of the next commerce secretary, LGBT rights supporters maintain the new official could take action that would benefit LGBT Americans as a whole.
Socarides said an important role for the commerce secretary would be to bolster efforts for passage of the Employment Non-Discrimination Act to protect LGBT Americans in the workplace.
"The commerce secretary should be a strong advocate for ENDA," Socarides said. "ENDA is about basic fairness in American business and the only way we're going to get that bill through the Congress is if business advocates for it, especially this Congress, which seems very focused on doing what's right by and for business."
Socarides said the commerce secretary ought to point out that an increasing number of companies on the Fortune 500 list have non-discrimination policies based on sexual orientation because it makes them more competitive in the marketplace.
Similarly, Nelson said the next commerce secretary should promote legislation in Congress that would eliminate the federal tax paid on employer-provided health coverage extended to LGBT workers with same-sex partners. In the previous Congress, the bill was known as the Tax Equity for Health Plan Beneficiaries Act.
"That's something that should be common sense whether you're a Democrat or Republican, whether you're gay or straight," Nelson said. "The fact of the matter is, for small businesses in particular, it's a real burden to have that additional tax to offer domestic health care benefits."
But Nelson said the next commerce secretary should fit the mold of Locke and understand generally the importance of business to the economy.
For example, Nelson said the official should support tax credits to allow small businesses to invest in infrastructure and promote international trade opportunities.
"It doesn't matter what your ethnic background is, what your sexual orientation or gender identity is, when it comes to business, it means we're here to help the American economy and help folks like many LGBT businesses that are a part of this small-business engine that's getting our economy back on track," Nelson said.
Far-right site says Satan's overseeing Target's holiday offerings
"When shoppers enter the seasonal aisles, they are greeted by pride flag waving Santa's and transgender-themed nutcrackers"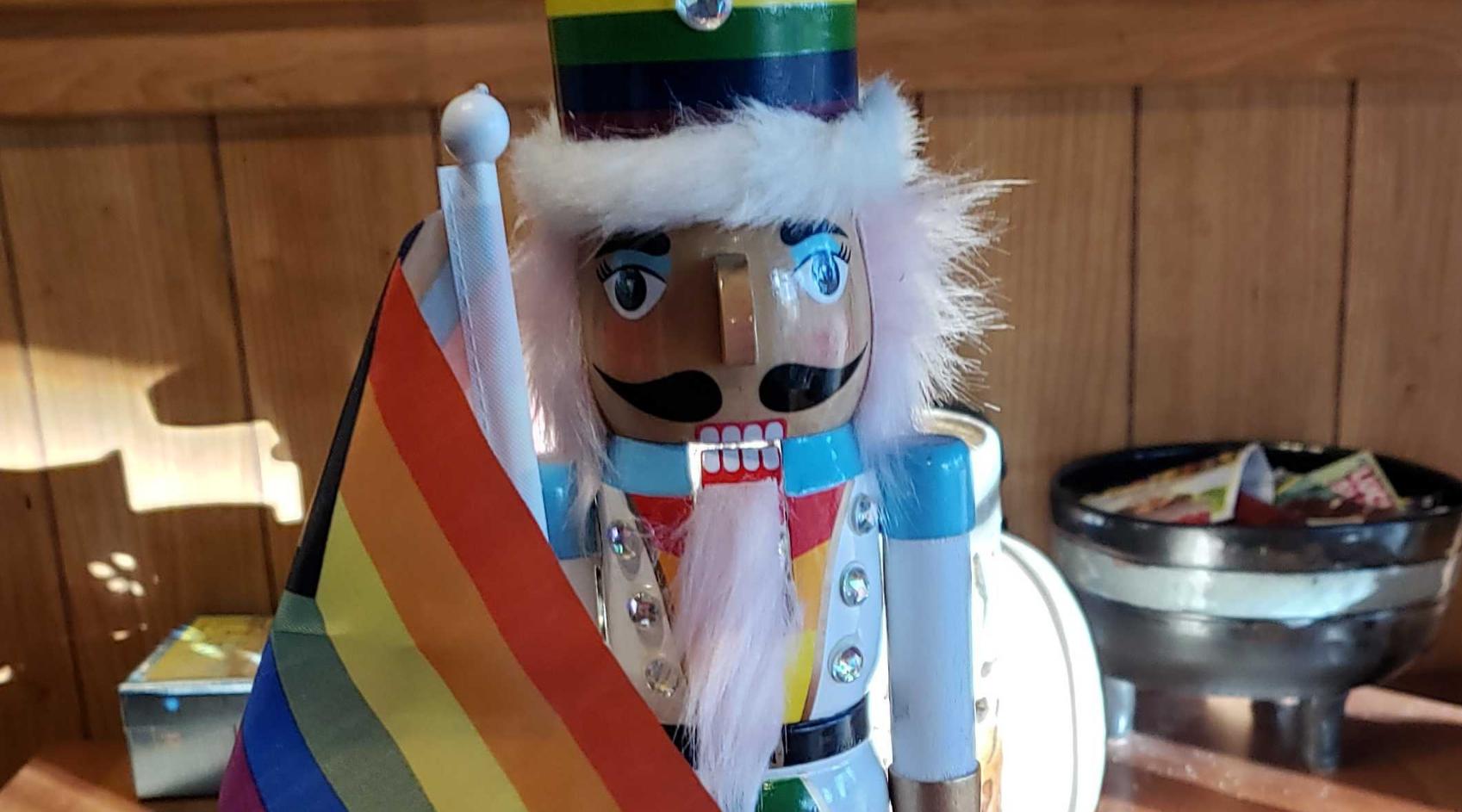 A staff writer for Florida-based far-right anti-LGBTQ+ Charisma Media's blog Charisma News, alleges that Satan aka The Devil, Lucifer, or the Prince of Darkness, Beelzebub, Mephistopheles, Baphomet, Lord of the Flies, the Antichrist, Old Scratch, Father of Lies and Moloch is in charge of Minneapolis-based Target Corporation's Christmas offerings.
According to James Lasher, Satan and Target teamed up to offer shoppers LGBTQ+ themed Christmas decorations. One in particular, an LGBTQ+ affirming nutcracker drew scrutiny. Lasher writes: "The year is not over yet, and the retail giant thought it would be a good idea to ring in the Christmas season with another 'Pride' campaign where they deck the halls in transgender flag colors." He then goes on to note:
"When shoppers enter the seasonal aisles, they are greeted by pride flag waving Santa's and transgender-themed nutcrackers who come in white and black and feature purple bears and a pride flag, the higher tier model costing $63.00 and comes with a staff with a heart on it saying "Love is Love.""
Lasher summarizes the Target Christmas holiday shopping experience as: "The goal of Satan is to move our ever-increasingly secular society away from any references of Jesus Christ. And he has succeeded mightily in accomplishing that goal in America. This entire charade of dedicating the month of June to pride is merely cover for the real goal of saturating American culture in this pagan ideology 24/7, and what more proof do you need than the attempt at making Christmas 'Pride' now?"
The Christian extremist writer then cites biblical references as to why Target is marketing-in-sin and then writes: "The Christian church is battling this takeover itself, with apostate congregations taking down crosses and replacing them with pride flags. No longer do they pray to Jesus and read the Bible, but instead they pray to drag queens and read the works of radical activists."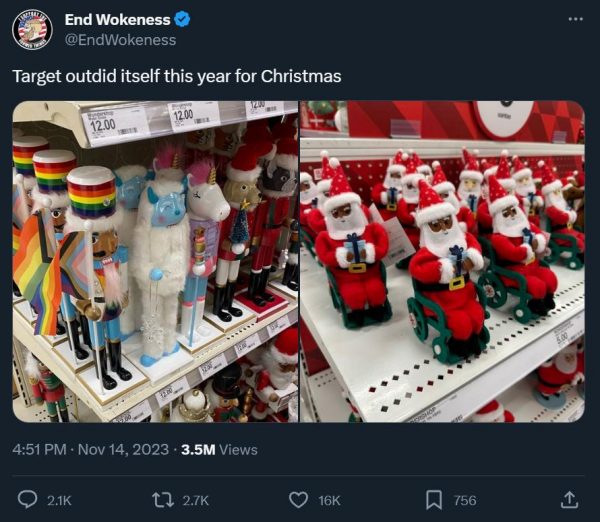 In May of this year, outrage over LGBTQ+ Pride related merchandise being sold, especially in the company's southern regional stores, by far-right activists caused Target Corporation to confirm that in some of its locations in semi-rural areas of rural Georgia, South Carolina, and Arkansas have moved Pride merchandise from the front of the stores to backroom areas or deeper into the stores after confrontations and backlash from shoppers.
Target's Pride Collection, which was displayed for sale starting on May 1, is comprised of more than 2,000 products, including clothing, books, music and home furnishings. Items include "gender fluid" mugs, "queer all year" calendars and books for children aged 2-8 titled "Bye Bye, Binary," "Pride 1,2,3" and "I'm not a girl."
Speaking for the Minneapolis-based retail giant, spokesperson Kayla Castaneda noted: "Since introducing this year's collection, we've experienced threats impacting our team members' sense of safety and wellbeing while at work. Given these volatile circumstances, we are making adjustments to our plans, including removing items that have been at the center of the most significant confrontational behavior."
Castaneda related that the company has been celebrating LGBTQ Pride Month for over ten years, but this year the increased opposition and hostility gave the company pause and led to a decision to pull some of the Pride merchandise.
In an email to the Blade in June, Castaneda said, "Our focus now is on moving forward with our continuing commitment to the LGBTQIA community and standing with them as we celebrate Pride month and throughout the year."
Newly introduced Florida bill could destroy LGBTQ nonprofits
It would establish "biological" pronouns as official state policy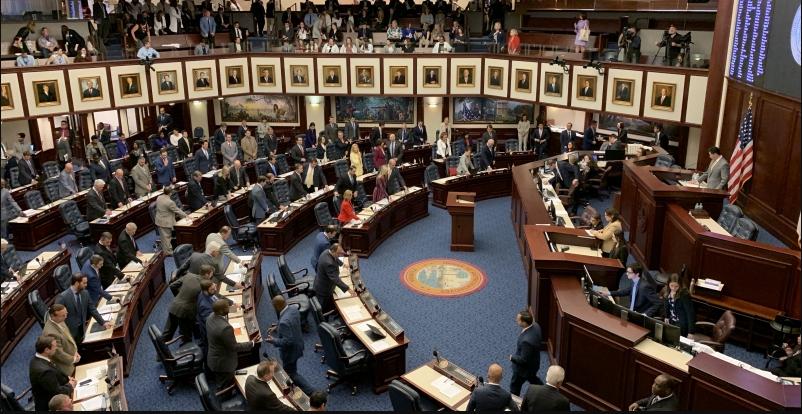 By Erin Reed | A new bill just introduced in Florida aims to expand "Don't Say Gay Or Trans" provisions to a broad range of workplaces. Targeting government employees, contractors, and nonprofits, the bill sets forth restrictions and bans on policies relating to pronouns, gender identity, and sexuality.
Specifically, it would prohibit state and local government employees as well as any contractors engaged with the government from changing their pronouns or honorifics if they do not match their assigned sex at birth. It would also bar them from instructing on gender identity or sexuality, similar to "Don't Say Gay Or Trans" laws already active in the state education system. The legislation would establish "biological" pronouns as official state policy.
The bill also would establish protections for what it calls "deeply held biology-based beliefs." It may even prevent all nonprofits in the state from mandating any "training, instruction, or other activity on sexual orientation, gender identity, or gender expression," a clause that could destroy LGBTQ+ nonprofits across Florida.
The bill, HB599, was introduced by Representative Ryan Chamberlin, a Republican. The bill is split into two sections, with the first section applying to government employees and contractors, which it defines as "an individual, partnership, corporation, or business entity" that "enters or attempts to enter into a contract for services" with any state, county, municipality, or special district of Florida.
These definitions encompass a huge number of businesses, such as stadiums, convention centers, major hospitals, insurance agencies, and more. For these businesses, as well as for all government workers, the bill would declare that it is the state's policy that "a person's sex is an immutable biological trait and that it is false to ascribe to a person a pronoun that does not correspond to such person's sex." It then would bar covered employees from sharing pronouns that "do not correspond to that person's sex," effectively banning social transition at work for these employees.
See the provisions barring pronouns, honorifics, and more here: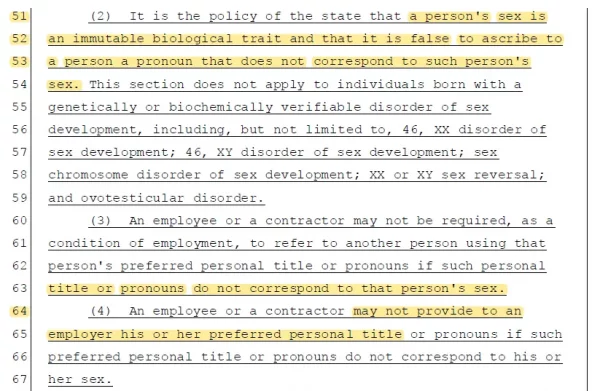 The bill also would enshrine a new phrase into law: protections for employees "deeply held religious or biology-based beliefs." The phrase "deeply held religious beliefs" has longstanding precedent in constitutional law and is used to overturn laws judged to be violating someone's freedom of religion.
Deeply held "biology-based" beliefs, however, are not something that has ever been a part of any law. It would appear that this line is meant to provide religious-based protections to people who assert that their misgendering of transgender people and using transgender people's old names is part of their "biology-based" rights.
The bill is not limited in its application to government employees and contractors, however. A separate section of the bill would apply to "nonprofit organizations or an employer who receives funding from the state." In the most broad reading of this section, separating "nonprofit organizations" from "employers who receive funding from the state," it would bar all such organizations from mandating "training, instruction, or other activity on sexual orientation, gender identity, or gender expression."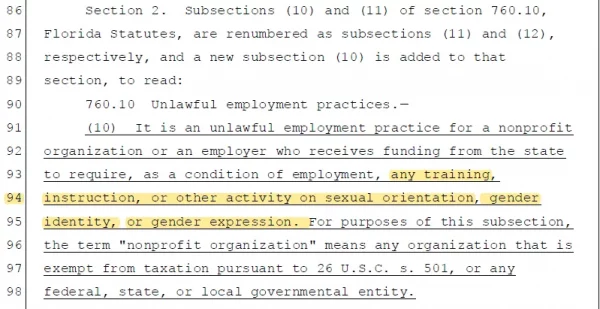 Provisions in HB 599
This provision is severe in its potential impact. Virtually every LGBTQ+ organization would be radically affected by it and would likely have to shut down. It would be nearly impossible for an LGBTQ+ organization to run without providing instruction, training, and "other activity" around gender identity or sexuality. It would be a blatant power grab by the state targeting organizations critical to the government and would further drive LGBTQ+ activism and organizing underground in the state. If enforced broadly, this section could have a similar impact to laws in Russia designed to shut down LGBTQ+ organizations there.
This section would have impacts far beyond LGBTQ+ organizations as well. The provisions would apply to "any organization that is exempt from taxation" including "s. 501" organizations. This would include, for instance, 501c4s, which are crucial during election cycles and could be used to target left-leaning organizations running election ads. Many of these organizations have LGBTQ+ employees and provide instruction and accommodations for their employees, which would be barred by the state if this gets passed into law.
It could also have impacts on medical organizations that do business with state and local governments. Planned Parenthood, a 501c3, heavily provides care for LGBTQ+ people, and such a law could be used to target the organization statewide. Likewise, many state hospital systems that do business with the government often must educate employees and patients on HIV and AIDs, which is impossible to divorce from LGBTQ+ issues. Community health clinics would, similarly, have to contend with these provisions.
'Don't say gay' for nonprofits: @RyanDChamberlin files bill that would restrict LGBTQ nonprofits receiving state funding

Reporting by @JacobOgleshttps://t.co/oaAfC0gTuz#FlaPol

— Florida Politics (@Fla_Pol) November 21, 2023
Brandon J. Wolf, the National Press Secretary for the Human Rights Campaign said to the Blade in a statement Tuesday: "This Florida bill is a hateful, anti-LGBTQ+ monstrosity. It is dangerous, unconstitutional, and we know it's just the start of politicians' attacks on our community this legislative session. We're prepared to fight back."
This legislation represents an early move in what promises to be a challenging year for anti-LGBTQ+ legislation in 2024. Historically, Florida has often been the breeding ground for new laws aimed at the LGBTQ+ community. This bill might well serve as a precursor to the next "model policy" that could be replicated in multiple states, and bears close watching.
****************************************************************************
Erin Reed is a transgender woman (she/her pronouns) and researcher who tracks anti-LGBTQ+ legislation around the world and helps people become better advocates for their queer family, friends, colleagues, and community. Reed also is a social media consultant and public speaker.
Follow her on Twitter (Link)
Website here: https://www.erininthemorning.com/
******************************************************************************************
The preceding article was first published at Erin In The Morning and is republished with permission.
Two men charged with attacking trans Puerto Rican woman sentenced to 33 months in prison
Alexa Negrón Luciano attacked with paintball gun before 2020 murder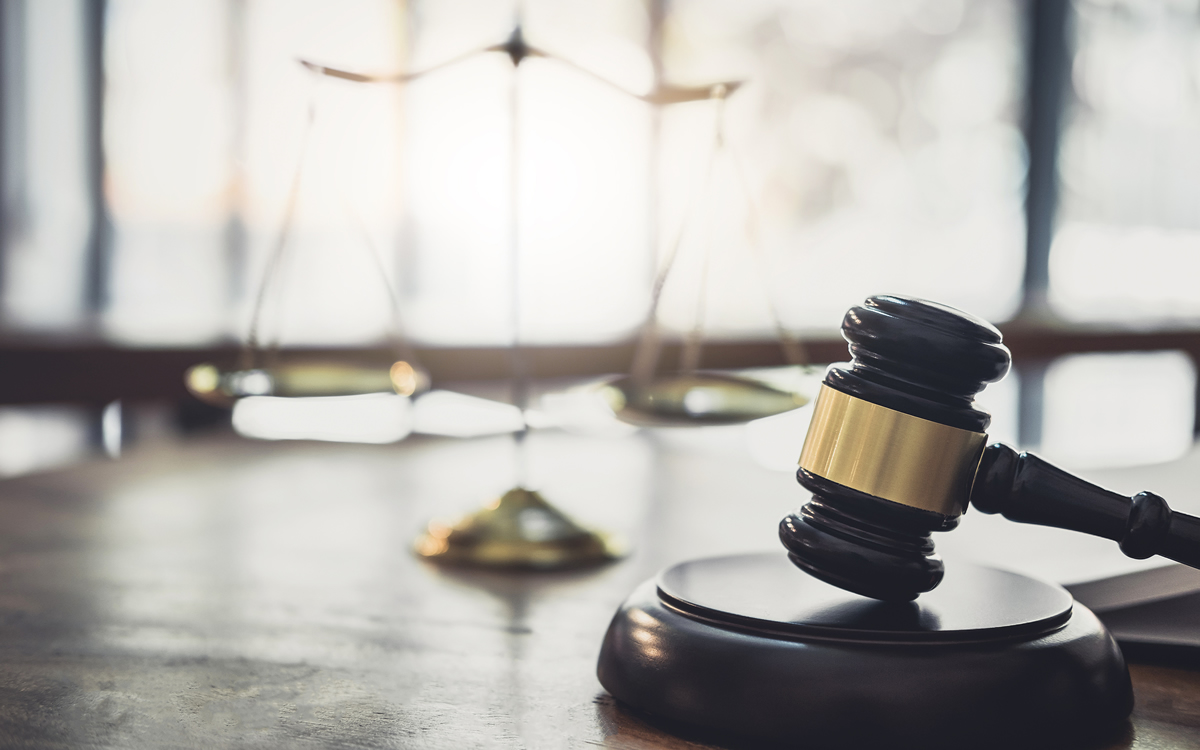 Two men who pleaded guilty to federal hate crimes charges in connection with attacking a transgender woman in Puerto Rico in 2020 have been sentenced to 33 months in prison.
The Justice Department in a Nov. 15 press release notes Jordany Laboy Garcia and Christian Rivera Otero will also have three years of supervised release upon their release from prison. The two men in September pleaded guilty to charges of conspiracy to commit a hate crime and obstruction of justice "out of an assault with a dangerous weapon against a transgender woman because of her gender identity."
The Justice Department in a press release that announced the men's guilty plea notes they, along with Anthony Lobos Ruiz "were out driving together" in Toa Baja, a municipality that is about 15 miles west of San Juan, early on Feb. 24, 2020, "when they saw" Alexa Negrón Luciano "standing under a tent near the side of the road."
"The defendants recognized A.N.L. from social media posts concerning an incident that had occurred the day prior at a McDonald's in Toa Baja," reads the press release. "During that incident, A.N.L. had used a stall in the McDonald's women's restroom."
Lobos, according to the Justice Department, and others used his iPhone to record themselves yelling at Negrón from inside a car. Lobos, Rivera and Laboy then recorded themselves shooting Negrón with a paintball gun and shared the video with other people.
Negrón was later killed in Toa Baja.
A federal judge last November sentenced Lobos to two years and nine months in prison after he pleaded guilty to hate crimes charges. Lobos, Rivera and Laboy have not been charged with Negrón's murder.
"The defendants have been held accountable for assaulting a Latina transgender woman because of her gender identity and then trying to obstruct an investigation into that assault," said Assistant Attorney General Kristen Clarke of the Justice Department's Civil Rights Division in the press release.
U.S. Attorney for the District of Puerto Rico Stephen Muldrow said the "defendants' attack endangered and terrified their victim, and such actions have no place in our community."
"Bias-motivated violence not only runs contrary to our values but violates federal civil rights laws," he said. "We recognize the very real threats and acts of violence faced by the LGBTQI+ community and are determined to use every tool available to preserve the life, safety, and dignity of this community."