Standouts from the stage
Gay-fueled creativity abounds on local theater scene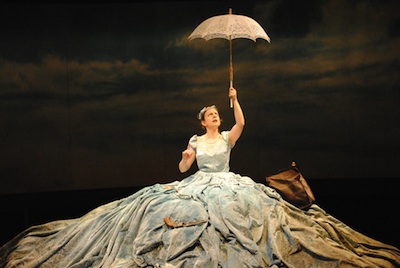 The fall theater season is here. With that comes a deluge of new productions and for one longstanding local company, a new name. What was the Washington Shakespeare Company is now WSC Avant Bard, a clever adjustment better fitting the troupe's mission to boldly interpret the classics.
WSC's season opens with Samuel Beckett's "Happy Days" (through Sept. 25). Mostly a monologue, the 1961 absurdist work spotlights Winnie, an upbeat, chirpy woman who passes her days chatting endlessly while becoming increasingly immobilized in the hot sun in the middle of nowhere. And yet she remains cheery, unfazed by her situation. As Winnie, Delia Taylor, who's gay, brings intelligence, sensitivity and a lot of humor to the tough role.
Beckett calls for his heroine to be stuck in a mound and most productions comply with some sort of sandy or rocky pile, but not here. Set designer Tony Cisek, also gay, takes another tack ingeniously locking Winnie into endless yards of fabric. Trapped in her dress like a little doll in a giant doll cake, she sits atop her sartorial prison talking, arranging her cocktail hat and rummaging through a capacious satchel in search of necessities ranging from a toothbrush to a long barreled pistol. Her confined world is backed by an endless curve of beautiful blue sky.
Splendidly staged by director Jose Carrasquillo (gay too), the surprisingly poignant production comments on optimism and the fleeting nature of life. Carrasquillo also displays terrific timing as Winnie's uncommunicative, slug-like husband Willie who makes his home in a hole behind his wife's skirts. (wscavantbard.org)
Up-and-coming No Rules Theatre Company kicks off its season with Diane Son's "Stop Kiss" (through Oct. 2) at the H Street Playhouse. It's the story of two young women who are brutally assaulted after kissing in public. Acclaimed local actor Holly Twyford (who's gay) makes her directorial debut. (norulestheatre.org)
Shakespeare Theatre Company's gay artistic director Michael Kahn begins his season with a world premiere production of Jean-François Regnard's 1708 farce  "The Heir Apparent" (through Oct. 23) adapted by the brilliant David Ives. (shakespearetheatre.org)
Venus Theatre opens with the world premiere of "The Stenographer" (through Sept. 25) by Greek playwright Zoe Mavroudi. The two-hander featuring local bi actor Frank Britton and Amy Rhodes is essentially a tale about writing and what happens when writing implicates the writer. Housed in an intimate storefront venue in Laurel, Md., Venus' mission is to foster the voices of women and children in the theater. (venustheatre.org)
Ganymede Arts may have closed its doors, but the LGBT-centric company's former artistic director Jeffrey Johnson remains active. In October, Johnson and singer/songwriter Tom Goss (both gay) are joining forces for two nights of music titled "Under the Covers" (Oct. 21-22) at the Black Fox Lounge. The show offers a rare chance to see Johnson perform as himself and not his pink-haired alter ego. (pinkhairedone.com).
The Studio Theatre starts off with "The Habit of Art" (through Oct. 16) by Alan Bennett, the gay playwright who wrote "The History Boys." Based on a fictional meeting between poet W.H. Auden and composer Benjamin Britten (both Brits, both gay), the 2009 work is described as "wistful and filthily funny." The strong cast includes a talented trio: Ted van Griethuysen, Patxon Whitehead and gay actor Cameron Folmar.
In November, Studio's gay artistic producing director Serge Seiden stages German playwright Roland Schimmelpfennig's "The Golden Dragon" (Nov. 2- Dec. 11), a comic look at people whose lives are interconnected by a Chinese restaurant. The five- person cast (including the terrific Sarah Marshall, who's — you guessed it — gay) cross age, race, and gender to play 15 characters. (studiotheatre.org)
At Gala Hispanic Theatre, Spain-based gay director José Luis Arellano-García is staging "¡Ay, Carmela!" (Sept. 15-Oct. 9), the story of a vaudeville team forced to perform for Franco's fascist troops during the Spanish Civil War. According to Gala's associate producing director Abel Lopez, "The playwright [José Sanchis Sinisterra] pays homage to gay Spanish poet and playwright Federico García Lorca by referring to him in a scene when Carmela speaks about meeting Lorca in the afterlife. The similarities surrounding Lorca's assassination by the fascists and Carmela's execution are striking. Both stood up for their beliefs and paid dearly for it." (galatheatre.org)
The green-eyed monster is poised to stride the boards at Folger Theatre. Staged by Robert Richmond, the company's "Othello" (Oct. 16–Nov. 27) features Owiso Odera in the title role, and reunites members of the creative team behind last season's "Henry VIII" including celebrated gay designers William Ivey Long (costumes) and busy Tony Cisek (sets). Zehra Fazal who's best known for her one woman tour de force "Headscarf and the Angry Bitch" plays Bianca. (folger.edu)
Signature Theatre's fall season begins with two musical premieres: "The Boy Detective Fails" (through Oct. 16), the story of a kid sleuth who grows up to investigate the mystery surrounding his own sister's death. It's staged by Joe Calarco and composed by Adam Gwon (both gay). "The Hollow" — based on Washington Irving's classic tale — is staged by Matthew Gardiner and composed by Matt Conner (also both gay).
Next up at Signature, E. Patrick Johnson performs his one-man play "Sweet Tea: Black Gay Men of the South" (Sept. 13-Oct .9). In this new work based on his acclaimed book, Johnson, chair of the Department of Performance Studies at Northwestern University, relays his own story and those of a dozen other men he's interviewed and come to know.
And later in the season, Signature's gay artistic director Eric Schaeffer stages the musical "Hairspray" (Nov. 21-Jan. 29) adapted from John Waters' 1988 Baltimore-set flick about big girls, big hair and racial segregation. In what might prove a stroke of casting genius, Schaeffer has tapped radio personality Robert Aubry Davis to play Edna, everyone's favorite plus size house frau. We'll just have to wait and see. (signature-theatre.org)
DC Center to host estate planning seminar series
Three sessions presented by Murray Scheel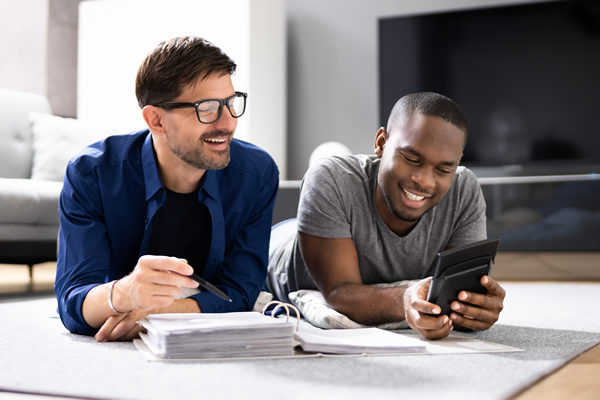 The DC Center for the LGBT Community and the DC Department on Aging and Community Living will host "Estate Planning Tools with Murray Scheel" via Zoom. 
Scheel will walk guests through the process of taking care of the end-of-life planning business that needs to be addressed during the golden years. Scheel is Senior Staff Attorney at Whitman-Walker Health's Legal Services.
This event series will consist of three 1.5-hour sessions:
Jan. 19, 3 p.m. – "Tools for while you're living" (overview, general power of attorney, healthcare power of attorney, disposition of remains, etc.)
Jan. 26, 3 p.m. – "Tools for after you're gone" (living wills, last wills, assets, etc.)
Feb. 2, 3 p.m. – "Healthcare insurance & long term care" (Medicare, Medicaid, correcting misinformation, skilled nursing, hospice care, etc.)
To register for this event, visit the DC Center website.
DC Center to host legal seminar for trans people
Attorney Richard Tappan and paralegal Miranda Shipman to give legal advice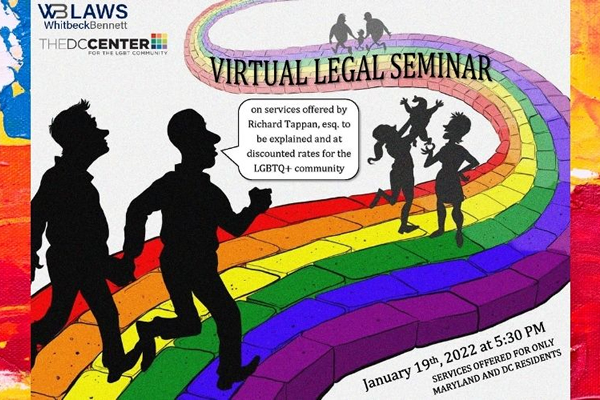 The DC Center for the LGBT Community will host a "Gender and Name Change Legal Seminar" on Wednesday, Jan. 19 at 5:30 p.m. online.
Attorney Richard Tappan and paralegal Miranda Shipman will give legal advice and speak on the importance of the legal community within the LGBTQ community, the difficulties of the LGBTQ community in the legal field and name and gender changes.
Guests can find the link at the DC Center website.
Seeking love and community in Nicaragua
'High-Risk Homosexual' explores author's youth, coming out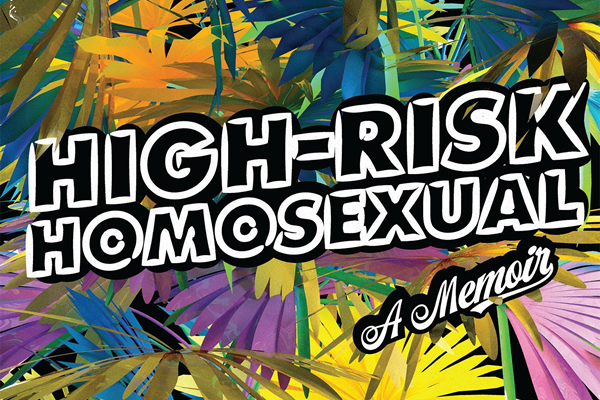 'High-Risk Homosexual: A Memoir'
By Edgar Gomez
c.2022, Soft Skull Press
$16.95/304 pages
Here. Try this.
It fits you, but the color isn't flattering. It's too long, too short, too tight, too loose. That's not your style, so try something else until you find the thing that looks like you. The perfect thing is out there. As in the new book "High-Risk Homosexual" by Edgar Gomez, when something's right, it's right.
He was 13 when he figured out that he was a problem to be solved.
Edgar Gomez' mother had left him in her native Nicaragua with his tíos, just for a while because she had to return to Florida to work. He wasn't there without her for long, but it took years for him to understand that his time with his uncles was meant to make him more masculine.
In retrospect, he says, nobody wanted him to be a man more than he did. He wanted to be liked by other kids and so he told lies in school to make himself stand out. He wanted his mother to see his love of pretty things and say that it was OK. He wanted his brother to acknowledge that Gomez was gay, and to tell him that he loved him.
Instead, after his brother left for college, Gomez got his first boyfriend, a boy he came out to but who couldn't come out to himself. He was called names in school. He came out to his mother, who freaked out about it. He befriended a drag queen, but "Princess" used him.
Things he wanted: a real boyfriend. Love. A ban on the stereotype of a macho Latinx man.
Things he still had, while in college: his mother and older brother. A tormentor-turned-mentor. A part-time job. His weirdness. His virginity.
Things he wanted to lose, while in college: his room at his mother's house. His virginity, but that wouldn't happen until later, during a painful one-afternoon-stand with a hot man who said he had a girlfriend. That hurt, both physically and emotionally but like so many things at so many times, Gomez tried not to think about it.
If he never considered what he didn't have, he says, "I wouldn't miss it."
In a way, you could say that "High-Risk Homosexual" is a book in search of a point. It's really quite random and told (mostly) linearly, but not quite. It has its peaks, but also low valleys. And you won't care about any of this, because you'll be enjoying every bit of it.
Yeah, this memoir is good: author Edgar Gomez's literary wandering makes it feel much like an honest conversation with readers. There are wince-worthy moments that allow empathy here, and experiences that are unique but oddly ubiquitous, that leave space for a sense of sympatico. There are passages that are so wistfully uncomfortable that you might squirm, or start "snort-laughing," or want to stop a moment and just think.
And there's room for that, too, so take your time. "High-Risk Homosexual" is an affable book with just enough seriousness to make it worth a try.