Mattachine founded 50 years ago
D.C. 'homophile' group remembered as first civil rights organization for gays

Records kept by the late gay rights pioneer Frank Kameny show that Kameny and fellow activist and native Washingtonian Jack Nichols co-founded the Mattachine Society of Washington, D.C., on Nov. 15, 1961 as the city's — and nation's — first homosexual civil rights organization.
Kameny, then 36, and Nichols, 23, were joined by at least three others on that day at the group's first official meeting, held in the Harvard Street, N.W., apartment of Earl Aiken, one of the group's first members, according to information obtained by D.C.'s Rainbow History Project.
LGBT activists and Kameny's friends and colleagues in D.C. and across the nation are scheduled to gather in Washington at the Cannon House Office Building on Capitol Hill next Tuesday, Nov. 15, for a memorial service celebrating Kameny's life and legacy. The gay rights leader died at his home in Washington on Oct. 11. Organizers say the gathering will also commemorate the 50th anniversary of Kameny and his gay rights colleagues' founding of the Mattachine Society of Washington.
The Rainbow History Project reports that an example of the hostile climate the fledgling group was to face in its first few years of existence in the early 1960s surfaced three months before its official launch, when Kameny organized a preliminary meeting to discuss the need for forming a homosexual rights group.
When Kameny and others sat down at the start of that meeting, held at the Hay Adams Hotel on Aug. 1, 1961, Kameny quickly discovered the gathering had been infiltrated by Louis Fouchette, the head of the Perversion Section of the D.C. Police Department's Morals Division.
"Fouchette was identified, exposed, and left the meeting," Rainbow History Project reports in one of its papers on the Mattachine Society of Washington.
Kameny told the Blade years later that he and others attending the August 1961 meeting viewed Fouchette's visit, and the fact that he learned of plans to form a gay group before it even held its first meeting, as a chilling reminder of the work that lay ahead for the group.
In part because Mattachine's organizers knew that discovery by authorities, including police, of someone's status as a gay person would almost certainly lead to the loss of their job, the group adopted a bylaw making it mandatory that all members except Kameny use a pseudonym to identify themselves publicly. The pseudonyms would also be used on Mattachine's membership list.
Among those complying with this requirement were Mattachine members Nichols, who later went on to become an accomplished author, journalist and out gay activist; Robert King, Lilli Vincenz, Paul Kuntzler, Eva Freund; Ron Balin; and Jon Swanson, according to Rainbow History's reports on the group.
Each of them played a key role in Mattachine Society of Washington's groundbreaking work, including the group's first-ever homosexual rights protest demonstrations in the 1960s at the White House, Pentagon, Civil Service Commission and other government buildings.
Kuntzler later co-founded the D.C. Gay Activist Alliance, which later became the Gay and Lesbian Activists Alliance, and the Gertrude Stein Democratic Club, two of D.C.'s leading LGBT advocacy organizations that continue to operate today.
Back in 1961, Kameny chose to use his real name in connection with the Mattachine Society of Washington because he already suffered what he believed to be the irreversible consequences surrounding his firing in 1958 from his job as a civilian astronomer at the U.S. Army Map Service after authorities discovered he was gay.
"He knew he was essentially blacklisted for life in his profession as an astronomer, where, at the time, everybody knew each other in that profession," said author and Kameny biographer David Carter. "So he had nothing to lose."
Carter, who interviewed Kameny extensively during the past several years, said Kameny told him he chose to be one of the few "out" gays at the time following his unsuccessful but highly acclaimed appeal of his firing to the U.S. Supreme Court.
Kameny wrote his own brief to the high court as a document known as a Petition for a Writ of Certiorari, which asked the court to take on his case. In 1961, the Supreme Court denied his petition and upheld a lower court decision that refused to back a Kameny lawsuit seeking to force the U.S. Civil Service Commission to overturn his firing.
The lawsuit and his petition to the Supreme Court marked the first known time a gay person had challenged the U.S. government policy of refusing to hire and automatically firing gay people from federal government employment in any capacity or position.
Kameny's 61-page Supreme Court petition, which is now part of the Kameny Papers collection at the Library of Congress, is viewed today by historians as the first comprehensive gay rights manifesto in the United States.
Carter, who is writing Kameny's biography, said the Supreme Court petition became the founding principles used by Mattachine Society of Washington to carry out its work calling for equality and non-discrimination for homosexuals in employment and a wide range of other areas.
Origin of 'Mattachine' name
There were other Mattachine Society groups created by gays in other cities beginning in Los Angeles in 1950. But nearly all of them acted as clandestine groups seeking to promote a better understanding of homosexuals, with most agreeing with the then prevailing view by psychiatric professionals that homosexuality was a mental disorder.
The Mattachine name was first adopted in 1950 by pioneering gay rights activist Harry Hay, the lead founder that year in Los Angeles of the first such group. Hay said he took the name from a French medieval and renaissance group known as Société Mattachine, which operated within the royal court as court-jester type figures wearing masks to conceal their identity. In some cases the Mattachines were believed to have been given liberty to speak frankly to the ruling monarch on matters that others were forbidden to discuss.
Carter said Kameny favored using another name for the Washington group that boldly used the word homosexual in its title. He said Kameny told him he was outvoted by the other members, who thought "Mattachine" was a name widely recognized within the nation's homophile movement.
While insisting on adopting Mattachine Society as its name, Carter and others familiar with the group said the members agreed to Kameny's request that it remain independent of other Mattachine Society groups, with whose philosophy and tactics Kameny disagreed.
None of the other Mattachine Society groups, including those located in L.A., San Francisco, and New York, took on the role of a civil rights and civil liberties organization like the Mattachine Society of Washington did.
"They certainly were the first to take that position," said Carter, in discussing Mattachine Society of Washington's activist, civil rights stance. "And the second unique thing about them is their attitude or strategy. They took a militant approach toward achieving that goal, an unapologetic approach," he said.
"It is time that a strong initiative be taken to obtain for the homosexual minority – a minority in no way different, as such, from other of our national minority groups – the same rights, provided in the Constitution and the Declaration of Independence, as are guaranteed to all other citizens," the Mattachine Society of Washington said in an August 1962 statement.
"These include the rights to the pursuit of happiness and to equality of opportunity; the right, as human beings, to develop and achieve their full potential and dignity; and the right, as citizens, to be allowed to make their maximum contribution to the society in which they live – rights which Federal policy and practice now deny," the statement says.
In what Carter and others following the LGBT rights movement say was a first of its kind development, the group launched a four-point campaign in 1962 calling for repeal of the U.S. Civil Service Commission's policy barring gay employees, which it called unconstitutional; an end to the U.S. military ban on gay service members; an end to the federal government policy of denying security clearances for gays; and the repeal of state sodomy laws that made it illegal for consenting adults of the same sex to engage in private sexual relations.
Kuntzler said the group went one step further by taking what others in the homophile movement at the time considered a radical action. Following a heated debate among its members at an April 1965 meeting, Mattachine Society of Washington adopted a formal resolution declaring that homosexuality was not a mental disorder.
The resolution, introduced by Kameny, opened the way for the group to begin a national campaign to pressure the American Psychiatric Association to remove homosexuality from its diagnostic manual as a disorder.
Kuntzler said he recalls members voted 27 to 5 to approve the resolution, with the group's then president, Bob Belanger among those who voted against it.
"The Mattachine Society of Washington takes the position that in the absence of valid evidence to the contrary, homosexuality is not a sickness, disturbance or other pathology in any sense but is merely a preference, orientation, or propensity on par with and not different in kind from heterosexuality," the resolution states.
Kuntzler also recalled that the group got an unexpected flurry of publicity in the summer of 1963 when then U.S. Rep. John Dowdy (D-Texas), who chaired the House committee overseeing D.C. affairs, called a public hearing on a bill he introduced to curtail the activities of the Mattachine Society of Washington.
The Washington Post reported in an Aug. 10, 1963 story that Dowdy became outraged when he learned that a D.C. government agency had granted Mattachine a license to solicit charitable contributions in the city as a fundraising tool. The Post story said Dowdy's bill called for overturning the city's approval of the group's charitable solicitation license and called for barring the city from approving any future license to any organization whose existence threatened to harm "the health, welfare and morals" of the city.
Kameny drew widespread media coverage when he testified at the hearing in opposition to the bill and challenged Dowdy's assumptions that homosexuality was a "perversion" harmful to society. A representative of the D.C. chapter of the American Civil Liberties Union also testified against the bill, saying it was unconstitutional because it would infringe on Mattachine's First Amendment right of freedom of expression.
Kuntzler said that much to Dowdy's horror, the testimony by Kameny and the ACLU official resonated with the public and media, prompting a Post editorial opposing the bill and calling Dowdy a "moralist."
The bill eventually died in committee. The brouhaha surrounding its introduction and the hearing helped to boost the Mattachine Society's message of equality and non-discrimination for gay people, Kameny and other members of the group concluded at the time.
The Mattachine Society of Washington became less active following the Stonewall riots in New York in 1969, which was considered a momentous development in the gay rights movement that led to the creation of a plethora of other gay groups, including D.C.'s short-lived Gay Liberation Front.
According to Kuntzler, nearly all of Mattachine's small corps of remaining members devoted their time and energy in 1971 to Kameny's historic run as the nation's first known openly gay candidate for Congress. Kameny became one of five candidates competing for the newly created non-voting delegate seat in the House of Representatives to represent D.C. in Congress.
Mattachine members, among other things, organized a first-of-its-kind "gay" questionnaire for each of the candidates running in the race, asking them to state their views on gay-related issues, including whether they would support legislation to ban discrimination against homosexuals in employment.
All but Kameny ignored the questionnaire, Kuntzler said. But he said the questionnaire and the election-related work performed by Mattachine members laid the groundwork for the type of gay rights work assumed by the Gay Activists Alliance, which formed as the recognized successor to Mattachine Society of Washington immediately following Kameny's run for Congress.
Kameny finished fourth in the election, receiving 1,888 votes or 11 percent of the total, Kuntzler recalls. In a development that surprised many and delighted LGBT activists, Kameny finished ahead of the Rev. Douglas Moore, the fifth place candidate who denounced homosexuality and gays as being "immoral" and a threat to the community.
"It was a very nice place to be," said lesbian activist Lilli Vincenz, who said she joined Mattachine Society of Washington in 1962 after being discharged from the Women's Army Corps, or WACs, on grounds of homosexuality. "I was glad to be a part of it."
Vincenz was among many of the group's early members who went on to successful professional careers in the D.C. area while they continued to participate in the LGBT rights movement. All of them switched to using their real names.
Eva Freund, who, like Vincenz and Mattachine member Nancy Tucker, became among the group's first female members, continued to participate in LGBT-related causes. She currently serves as president of a D.C.-area information technology services company.
Vincenz received a doctorate degree in psychology and operated a therapist practice specializing in helping lesbian and gay clients. Kuntzler became an advertising executive for a non-profit association and his longtime domestic partner, Steven Miller, who also participated in Mattachine activities, became the owner of a successful court reporting business.
Tucker and Vincenz also became coordinators of a Mattachine newsletter project that led them to found an independent gay newspaper in the city in October of 1969 called the Gay Blade, which later evolved into the Washington Blade.
Anti-LGBTQ group claims Va. marriage amendment repeal will legalize polygamy
State Sen. Adam Ebbin rejected claim during committee hearing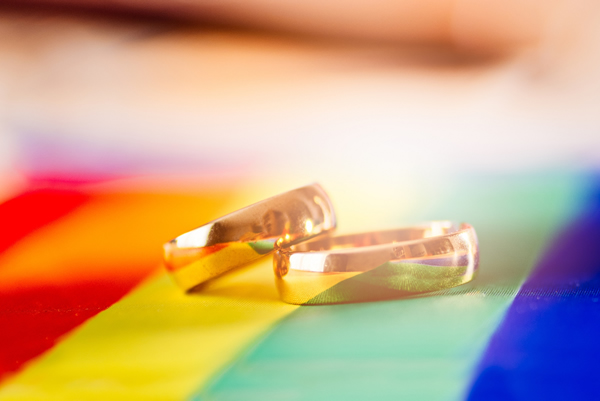 A representative of an anti-LGBTQ group on Tuesday said the repeal of Virginia's constitutional amendment that defines marriage as between a man and a woman would pave the way for the legalization of polygamy in the state.
"There are some, at least, very legitimate concerns about whether this would actually legalize polygamy, among other forms of marriage," said Family Foundation of Virginia Legal Counsel Josh Hetzler.
Hetzler made the comment during a Virginia Senate Privileges and Elections Committee hearing on state Sen. Adam Ebbin (D-Alexandria)'s resolution to repeal the Marshall-Newman Amendment. Ebbin, who is the only openly gay member of the Virginia Senate, in response to the claim noted polygamy is a crime under Virginia and federal law.
"I take offense to the Family Foundation's characterization that this would allow polygamy," said Ebbin. "This has nothing to do with polygamy, what this has to do with is equality."
Carol Schall, who, along with her wife, Mary Townley, joined a federal lawsuit that paved the way for marriage equality in Virginia, and outgoing Equality Virginia Executive Director Vee Lamneck are among those who testified in support of the resolution. The committee approved it by a 10-5 vote margin.
Virginia voters approved the Marshall-Newman Amendment in 2006.
Same-sex couples have been able to legally marry in Virginia since 2014.
The General Assembly last year approved a resolution that seeks to repeal the Marshall-Newman Amendment. It must pass in two successive legislatures before it can go to the ballot.
Ebbin earlier this month told the Washington Blade he remains "hopeful" the resolution will pass in the Democratic-controlled state Senate. Prospects that the resolution will pass in the Republican-controlled state House of Delegates are far less certain.
Republican Gov. Glenn Youngkin before his election reiterated his opposition to marriage equality. Youngkin, however, stressed it is "legally acceptable" in Virginia and he would "support that" as governor.
Loudoun County removes LGBTQ book from school libraries
Superintendent overrules committee that called for retaining 'Gender Queer: A Memoir'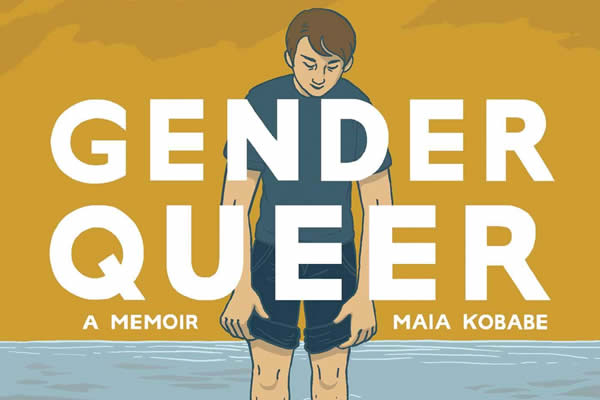 A Loudoun County, Va., School Board committee on Jan. 13 voted to uphold a decision by Loudoun County Public Schools Superintendent Scott A. Ziegler to remove from the school system's high school libraries a controversial LGBTQ-themed book called "Gender Queer: A Memoir."
The book is an illustrated autobiography by non-binary author Maia Kobabe that contains descriptions and comic book style drawings of sexual acts that e uses to tell the story of eir journey and struggle in discovering eir gender identity.
Although the book has received an American Library Association award for its relevance to young adults, critics in school systems throughout the country have said its sexually explicit content is not suitable for school libraries.  
The action by the School Board committee came after Ziegler asked a separate school system committee to review the book to determine if its content was appropriate for school libraries. Loudoun Public Schools spokesperson Wayde Byard told the Washington Post the committee, in a split vote, recommended that the book be retained in high school libraries.
According to Byard, Ziegler overruled the committee's recommendation and ordered that the book be removed from the libraries. Byard said that decision was then appealed to a School Board appeals committee, which voted 3-0 to uphold Ziegler's decision.
The decision by Ziegler to remove the book from school libraries took place about two months after Fairfax County, Va., Public Schools officials decided to return "Gender Queer" and another LGBTQ-themed book called "Lawn Boy" to their high school libraries after temporarily pulling the two books in response to complaints by some parents and conservative activists.
Two committees appointed by Fairfax school officials to review the two books that consisted of educators, school officials, parents, and students concluded that, while the books contained sexually explicit content, it did not cross the line as pornography or depictions of pedophilia as some opponents claimed.
"The decision reaffirms Fairfax County Public Schools' ongoing commitment to provide diverse reading materials that reflect our student population, allowing every child an opportunity to see themselves reflected in literary characters," a statement released by Fairfax school officials explaining their decision to retain the two books in their libraries said.
"Both reviews concluded that the books were valuable in their potential to reach marginalized youth who may struggle to find relatable literary characters that reflect their personal journey," the statement says.
Va. bill would restrict transgender students access to school bathrooms
State Del. John Avioli (R-Stanton) introduced House Bill 1126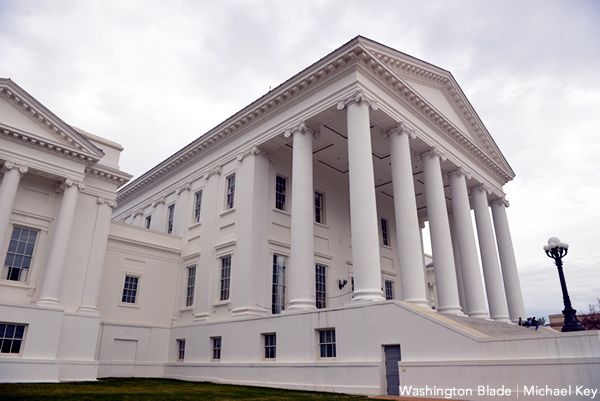 A Virginia lawmaker has introduced a bill that would restrict the ability of transgender students and school board employees to use bathrooms and other facilities in public schools that are consistent with their gender identity.
House Bill 1126, which state Del. John Avoli (R-Stanton) introduced, would require "each school board to adopt policies to require each student and school board employee to have access to restrooms, locker rooms and other changing facilities in public school buildings that are shared only by members of the same biological sex; lodging accommodations during school-sponsored trips that are shared only by members of the same biological sex; and a single-user restroom, locker room, or other changing facility in a public school building, upon request, if the school can reasonably accommodate such a request."
Avoli introduced HB 1126 on Jan. 12 on the same day the Virginia General Assembly's 2022 legislative session began with Republicans in control of the House of Delegates. Republican Gov. Glenn Youngkin took office on Jan. 15.
State Sen. Travis Hackworth (R-Tazewell County) last month introduced Senate Bill 20, which would eliminate the requirement that school districts must implement the Department of Education's trans and non-binary student guidelines. State Del. Danica Roem (D-Manassas), who in 2018 became the first openly trans person seated in any state legislature in the U.S., told the Washington Blade last week that she expects SB 20 "would be dead on arrival" in committee.
Equality Virginia, a statewide LGBTQ rights group, on its website notes HB 1126 is among the bills that it opposes.
Democrats still have a 21-19 majority in the state Senate, and they have signaled they will oppose any effort to curtail LGBTQ rights in Virginia. Outgoing Equality Virginia Executive Director Vee Lamneck last week said their organization "will work with the Senate's pro-equality majority to act as a crucial back stop against harmful legislation and efforts to roll back our hard-earned wins passed during the last two years."