National news in brief: November 11
Annise Parker will return as Houston's mayor, nation's first out gay Republican African American mayor elected, and more on election night

Parker wins re-election as Houston mayor
HOUSTON — The lesbian mayor of Houston will not face a run-off after receiving 51 percent of the vote on Tuesday.
Houston became America's largest city with an openly gay mayor in 2009 with the election of Annise Parker, the former city controller. In Tuesday's race, Parker faced five opponents, making her one-round majority victory a notable achievement. Parker will be eligible to campaign for one more two-year term after this term is up in 2013.
Houston also elected to a brand new city council district openly gay attorney Mike Laster, the first openly gay man elected to city council, following Parker who became the first openly lesbian Houston City Council member in 1997. However, transgender Houston City Council candidate Jenifer Rene Pool did not join Parker and Laster in celebrating wins on Tuesday.
Holyoke elects nation's youngest gay mayor
HOLYOKE, Mass. — A Springfield suburb of nearly 40,000 people elected the nation's youngest openly gay mayor Tuesday.
ALSO FROM THE BLADE: GAY HERO AT GIFFORDS SHOOTING ELECTED TO ARIZ. SCHOOL BOARD
Alex Morse, 22, is a graduate of Brown University with a degree in urban studies, and — according to his campaign site — is the first college graduate in his family. According to the Gay & Lesbian Victory Fund, Morse founded 'Holyoke for All,' the city's first LGBT non-profit organization, and was a member of the Massachusetts Governor's LGBT Commission. Morse was also mentored by former Providence, R.I. Mayor and current Congressman David Cicilline.
Also Tuesday night, Chatham Borough, N.J. elected Bruce Harris mayor. He is likely the nation's first openly gay, African-American Republican mayor, according to the Victory Fund.
Lesbian prevails in Charlotte Council race
CHARLOTTE — LaWana Mayfield made history Tuesday night, becoming the first openly LGBT city council member in Charlotte history.
According to North Carolina LGBT newspaper, QNotes, Democrat Mayfield defeated Republican Ed Toney 78-22 percent. She defeated controversial incumbent Democrat Warren Turner, who had been accused of sexual harassment last year by several female city employees.
In addition to Mayfield's election, LGBT blog Pam's House Blend is reporting anti-gay Durham N.C. mayoral candidate, Pastor Sylvester Williams was soundly defeated by incumbent Bill Bell. Williams is a major backer of an expected 2012 ballot initiative amending the N.C. Constitution to ban marriage for same-sex couples, and campaigned on a strong anti-gay platform.
ALSO FROM THE BLADE: VICTORY IN IOWA BLOW TO OPPONENTS OF SAME-SEX MARRIAGE RIGHTS
Traverse City to retain LGBT non-bias ordinance
TRAVERSE CITY, Mich. — Residents of the northwest Michigan resort town of Traverse City voted by a 2-to-1 margin to retain a nondiscrimination ordinance containing explicit protections for LGBT citizens.
"The people of Traverse City have sent a clear message that they value their LGBT friends, neighbors, co-workers and family members and don't want to see them left vulnerable to discrimination," National Gay and Lesbian Task Force executive director, Rea Carey, said in a statement. "This victory creates a stronger and more welcoming city not only for LGBT people and their families, but for everyone."
Gay candidates win big in local elections
WASHINGTON — A slew of LGBT election night wins swept the nation Tuesday night, with key city council wins in a handful of states.
Bilerico.com, an LGBT blog, announced late Tuesday Zach Adamson's win in the at-large Indianapolis city council election, becoming the city's first openly gay city council members. Adamson — a board member with Indiana Stonewall Democrats — was one of three openly gay candidates on the Indianapolis city council ballot, but appears to be the only candidate to cross the finish line.
LGBT activists are calling Michael Smith's defeat of Largo, Fla., incumbent city commissioner Mary Gray Black a double sweet victory. Black led an effort to fire transgender former city manager Susan Stanton, who had been city manager for more than 14 years until her 2007 termination after announcing she was transitioning.
The Gay and Lesbian Victory Fund also announced the election of Fund-endorsed candidate and out lesbian, Caitlin Copple to the Missoula, Mont. City Council, defeating an incumbent who voted against an LGBT non-discrimination ordinance. Also winning city council elections Tuesday night were openly gay candidates Chris Seelbach in Cincinnati and Ryan Mello in Tacoma, Wash.
READ MORE FOR LOCAL LGBT ELECTION NIGHT VICTORIES
Texas to resume abuse investigations into families with trans children
"To be clear the Supreme Court has not directed Commissioner Masters & DFPS to continue investigating parents of trans youth for child abuse"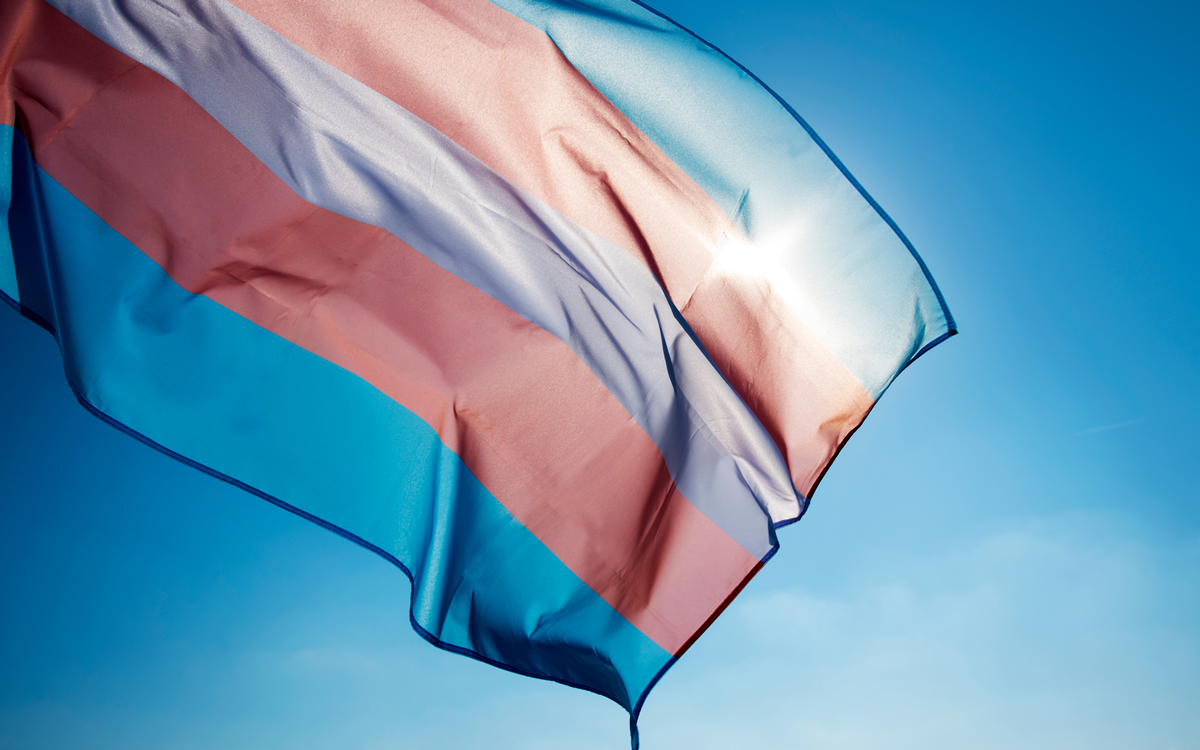 In a statement issued Thursday, the Texas Department of Family and Protective Services (DFPS) agency announced that it will resume abuse investigations into families with transgender kids.
"DFPS treats all reports of abuse, neglect, and exploitation seriously and will continue to investigate each to the full extent of the law," the statement read.
The Dallas Morning News reported that the DFPS statement, while not addressing the investigations into medical treatments for trans youth, indirectly indicated that these probes will now continue.
Current state law does not explicitly define gender affirming medical treatments, such as puberty blockers and hormone therapy as child abuse. A DFPS spokesman did not comment when asked if the agency plans to continue investigating such treatments as child abuse, the Dallas Morning News noted.
The Texas Supreme Court ruled last week that DFPS can continue to investigate families in the state who provide medically necessary care for their Trans children, excluding the parties in the litigation that brought the matter forward in a lawsuit filed in March.
In its decision, the court emphasized that neither Attorney General Paxton nor Governor Abbott has the power or authority to direct DFPS to investigate the provision of medically necessary lifesaving health care for transgender youth as child abuse. But the court limited the order blocking all investigations to the specific plaintiffs who filed suit.
Trans activist Landon Richie who has been deeply involved in the efforts to mitigate the anti-trans actions by Texas lawmakers and has led protests against the transphobic actions by Texas Governor Greg Abbott and Attorney General Ken Paxton told the Blade:
"To be clear, the Texas Supreme Court has not directed Commissioner Masters and DFPS to continue investigating parents of trans youth for child abuse. While the decision means now only the named plaintiffs in the lawsuit have protection, it reiterates that Attorney General Paxton's opinion and Governor Abbott's letter are not binding and not enforceable, meaning DFPS's actions moving forward are at the discretion of Commissioner Masters only and not the state leadership's directives. The Texas Supreme Court allowing for the district court to provide a temporary injunction is a good sign for people's protection.
It bears reminding families in Texas and around the country that today's decision (and yesterday's regarding gender-affirming care at UT Southwestern and Texas Children's) reaffirms what we already know: opinions are only opinions and the people in power cannot abuse that power to abuse trans people. We know decisions can change at a moment's notice and that this fight will take years, but to our families and communities under attack, please remain strong and take a moment to breathe. We're in this together. "
An employee of DFPS who was a litigant in the lawsuit is represented by the ACLU of Texas.
Brian Klosterboer, an attorney with the ACLU of Texas who is on the team representing that unnamed employee, said the state's decision to reopen the cases is unfortunate and unlawful. He said his team believes that the high court's decision removes any responsibility for Texans to report trans youth getting treatments, the Dallas Morning News reported.
"We are going to be closely monitoring what the agency does. We would encourage families that have any reason to believe that they have an investigation to seek legal help," Klosterboer said.
"Abbott's letter and Paxton's opinion did not change Texas law," he added. "Gender affirming health care is still legal in all 50 states."
"Don't Say Gay" student leader says school stopping run for student leadership
Jack Petocz organized a state-wide student protest against Florida's "Don't Say Gay" bill & annoyed administrators suspended him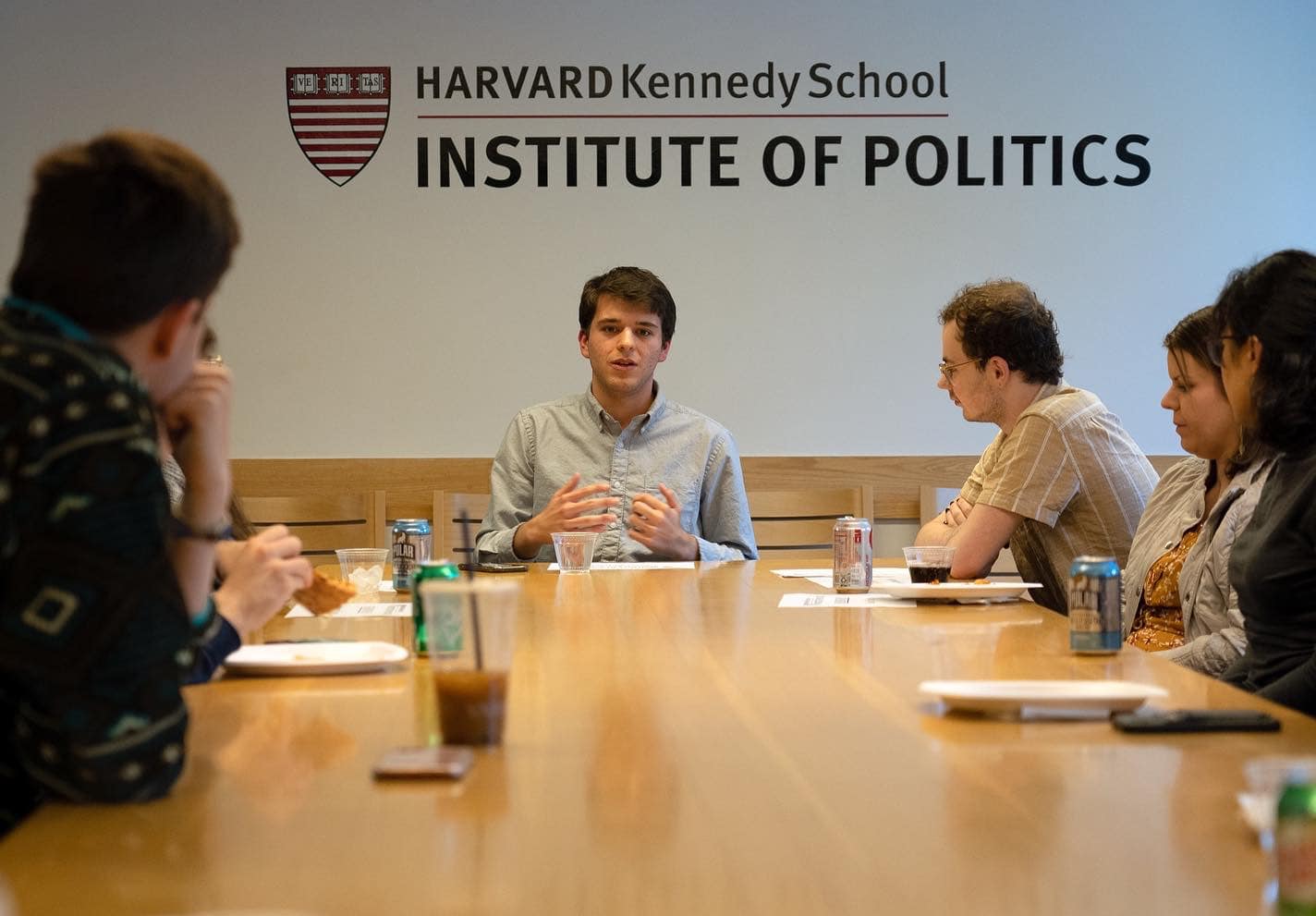 Jack Petocz, a Flagler Palm Coast High School junior, organized a state-wide student protest against Florida's "Don't Say Gay" bill this past March, and at his school, annoyed administrators suspended him.
On Tuesday, Petocz said that the school's disciplinary action is now preventing him from running for senior class president.
"When I returned, the administration assured me that no further disciplinary action would be taken. A month later, they broke this verbal agreement and placed a level 3 referral on my record. Now, due to this high level of discipline, I am being prevented from running for senior class president. I am continuing to be punished for standing up for my identity and against widespread hatred."
The suspension over the student walkout became a viral moment that propelled the 17-year-old into the national spotlight and into the national discourse over a spate of harsh laws targeting the LGBTQ+ community.
17-year-old Cameron Driggers, a student LGBTQ+ activist-organizer of the group Recall Flagler County School Board and co-leader of the walk-out, his friend's suspension inspired him to create a petition on Change.org to pressure Flagler Palm Coast High School Principal Greg Schwartz to rescind his seemingly arbitrary decision to suspend Petocz.
One protest at the school over its suspension of Petocz brought together a grizzled and proud Out gay U.S. Marine Corps veteran accompanied by his fellow vets, who alongside with Driggers and the other young adolescent activists protested in a rally in front of the school at the same time Petocz and his father were inside meeting with Flagler Palm Coast High School Principal Greg Schwartz, hoping to get him to rescind his seemingly arbitrary decision to suspend Petocz.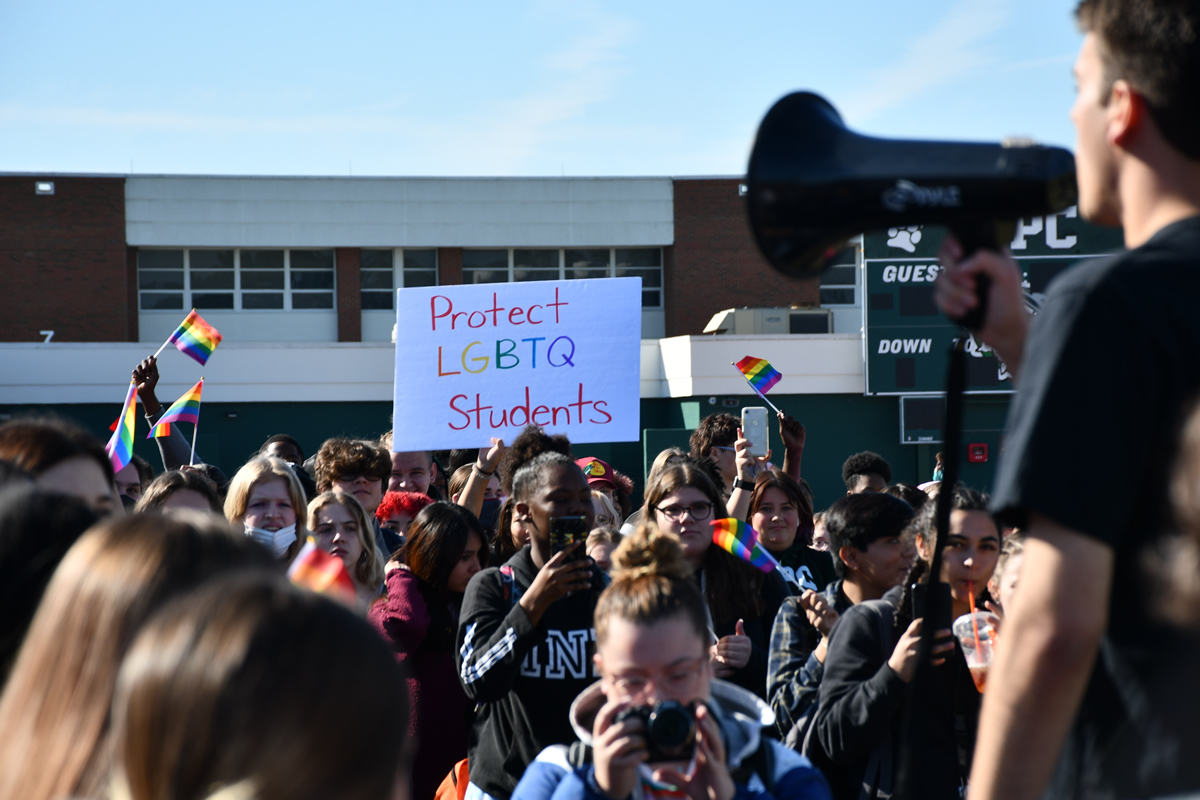 Later on during the day Driggers posted to the Change.org petition the news that Principal Schwartz had backed off.
"Recall FCSB is pleased to announce that Jack's suspension has ended and he is back on-campus. We are grateful for the thousands of people around the globe that shared, tweeted and protested in support of Jack, the organizer behind the state-wide Don't Say Gay Walkout. Over 7500 signatures were collected on a condemnation of Principal Greg Schwartz' conduct last Thursday. With Jack back on campus, Recall FCSB will continue to empower student leaders in and out of school," Driggers wrote.
Principal Schwartz also committed to removing the 'disciplinary action' from Petocz's school record.
On Tuesday, Petocz announced that Principal Schwartz and other school officials are barring him from running for an elected student office.
My name is Jack Petocz. I am the high school junior who led walkouts in opposition to the "Don't Say Gay" bill and was suspended for passing out pride flags. Now, I'm being prevented from running for senior class president. No matter what, I won't stop fighting for my community. pic.twitter.com/5lG6EYIXo2

— Jack Petocz (@Jack_Petocz) May 17, 2022
In response to the news, PEN America issued the following statement from Jonathan Friedman, director of the Free Expression and Education program:
"By going back on their word and imposing a red mark on Jack Petocz's disciplinary record, the Flagler Palm Coast High School administration appears bent on retaliating against him for organizing the walkout against the 'Don't Say Gay' bill. This is unconscionable. Jack exercised his right to protest as a citizen, and he led the walkout with the school's approval. No student ought to be intimidated or punished by school authorities for their political speech, and the school already told him he would not be disciplined. This is especially troubling alongside news of other efforts to censor or intimidate students raising their voices for LGBTQ+ rights across Florida. The leaders of Flagler Palm Coast High School should remove this infraction from his record so that he can run for class president just like any other student."
On Twitter, Petocz urged people to contact his school to get officials to reverse this latest decision.
If you want to help me fight, click the link below to send an email to administrators and the superintendent of my district. It's ridiculous queer kids have to be punished while fighting for our rights. https://t.co/oBOKZDLavb

— Jack Petocz (@Jack_Petocz) May 17, 2022
History making win- Out Lesbian could be Oregon's next governor
"This will be a three-way race for the highest office in our state, and this will be an election unlike anything any of us have ever seen"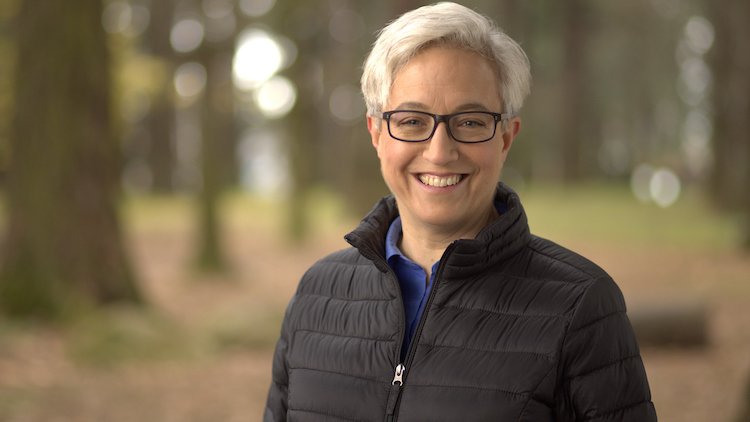 The Democratic gubernatorial primary Tuesday win by Oregon Speaker of the House Tina Kotek, who had announced her run for the governor's seat to replace incumbent Democratic Governor Kate Brown, who is term limited last September 1st, 2021, positions her to become the first Out Lesbian governor in the nation should she win the general election in November.
Kotek's win comes during an uptick in the elections nationwide as more candidates running for office identify as LGBTQ". More than 600 LGBTQ candidates are on ballots this year, according to the LGBTQ Victory Fund.
According to the Victory Fund, at least 101 people ran or are running for the U.S. Senate or U.S. House – with 96 still actively running as of February 21, 2022. That marks a 16.1 percent increase in LGBTQ Congressional candidates compared to the 2020 election cycle, when 87 people ran.
Speaking to her supporters after it became clear she had won over Oregon Treasurer Tobias Read, who was polling second among Oregonian progressives, "This will be a three-way race for the highest office in our state, and this will be an election unlike anything any of us have ever seen," Kotek said.
Republican state legislator Christine Drazan along with an independent candidate, Betsy Johnson are slated to be on the November ballot.
Last Fall when she announced her candidacy, she said, "I am running for Governor because I know that, together, we can reckon with the legacies of injustice and inequality to build a great future for Oregon." She also noted, "Oregonians are living through a devastating pandemic, the intensifying impacts of climate change, and the economic disruptions that leave too many behind. We must get past the politics of division and focus on making real, meaningful progress for families across our state."
"A victory for Tina would shatter a lavender ceiling and be a milestone moment in LGBTQ political history, yet she is running not to make history, but because there are few people as prepared and qualified to serve as Oregon's governor," said Mayor Annise Parker, President & CEO of LGBTQ Victory Fund. "Under Tina's leadership, Oregon has led in passing legislation to improve roads and education, raise the minimum wage and ensure all residents are treated fairly and equally. As governor, Tina will make Oregon a role model for the nation."