Conferees omit anti-gay provisions from defense bill
Repeal of military's sodomy ban also dropped from legislation

Lawmakers on Capitol Hill unveiled on Monday an agreement on major defense budget legislation that omits anti-gay provisions found in the House version of the legislation — including language that would have prohibited military chaplains and facilities from being involved in same-sex marriage ceremonies.
The conference report on the fiscal year 2012 defense authorization bill hammers out the differences in the House and Senate versions of the legislation while allocating $662 billion in funds for military programs and troop compensation.
Absent from the final bill is language found in the House version that prohibits both military chaplains and bases from being involved in same-sex wedding ceremonies. Rep. W. Todd Akin (R-Mo.) inserted the language during the markup of the bill.
Additionally, conferees dropped language in the House bill that was added by Rep. Vicky Hartzler (R-Mo.) reiterating the Defense Department must comply with the Defense of Marriage Act.
LGBT advocates had railed against the Akin amendment as an extension of DOMA beyond the restrictions that are already imposed by the anti-gay law. Its adoption would have rolled back Pentagon guidance issued on Sept. 30 saying military chaplains could officiate at same-sex weddings if they so chose and military facilities could be involved in such events. The Hartzler amendment was seen as simply redundant to existing restrictions under DOMA.
Instead of these provisions, conferees settled on a provision found in the Senate version of the bill that Sen. Roger Wicker (R-Miss.) added by amendment on the floor. The language allows chaplains who don't wish to perform same-sex weddings to opt out of doing so.
"A military chaplain, who, as a matter of conscience or moral principle, does not wish to perform a marriage may not be required to do so," the language reads.
The Senate language was seen as simply reiterating the principles of the Pentagon guidance — but with different wording — because its passage would impose no restrictions on a military chaplain's ability to marry a same-sex couple.
Aubrey Sarvis, executive director of the Servicemembers Legal Defense Network, commended conferees for omitting the anti-gay language in the House bill in favor of the Senate provision.
"We congratulate the House and Senate conference committee for having struck the correct balance on the chaplains provisions," Sarvis said. "Clearly, there was no place for the restrictive Akin language as the Defense Department continues to move forward on effective implementation of open service in our military."
However, the conference report also leaves out language from the Senate bill that would have repealed Article 125 of the Uniform Code of Military Justice, the long-standing military law classifying consensual sodomy for both gay and straight service members as a crime.
The Pentagon had asked for repeal of the sodomy ban as part of the Comprehensive Review Working Group report on "Don't Ask, Don't Tell" that was issued late last year. The Commission on the 50th Anniversary of the Uniform Code of Military Justice, informally known as the Cox Commission, had also called for an end to the sodomy ban.
LGBT advocates had also been calling for a repeal of the provision. Sarvis expressed disappointment that conferees didn't include the Senate language in the conference bill.
"Dropping Article 125 has been recommended for more than a decade by SLDN and several groups, including the Cox Commission that includes distinguished legal scholars from the military and academia, as well as the Comprehensive Review Working Group," Sarvis said. "The Senate was right to take this action, and it is unfortunate that their attempt to end Article 125 did not prevail."
The final bill also omits language found in the House bill — added by Rep. Duncan Hunter (R-Calif.) — that would have expanded the certification requirement for "Don't Ask, Don't Tell" repeal to include the four military service chiefs. Certification happened over the summer, so the language was moot.
But these provisions were small portions of massive defense legislation on which House and Senate lawmakers had to come to an agreement. The major question was whether lawmakers could come to an agreement on the issue of military detainees that would be acceptable to the White House.
The White House had issued a veto threat over the Senate version of the defense bill that would have required military custody of terrorist suspects and allowed indefinite detention of some without trial.
In a statement, Senate Armed Services Committee Chair Carl Levin (D-Mich.) said the bill includes the Senate provision, but also "provides a number of additional assurances that there will be no interference with civilian interrogations or other law enforcement activities."
A White House spokesperson didn't respond to a request for comment on whether President Obama would sign the bill with this modified language. It wasn't clear whether the language would be acceptable.
According to the Associated Press, floor votes in both the House and Senate are expected on Wednesday, after which the bill would head to Obama's desk.
Pride Franklin County welcomes rural LGBTQ community
Pennsylvania organization planning October celebration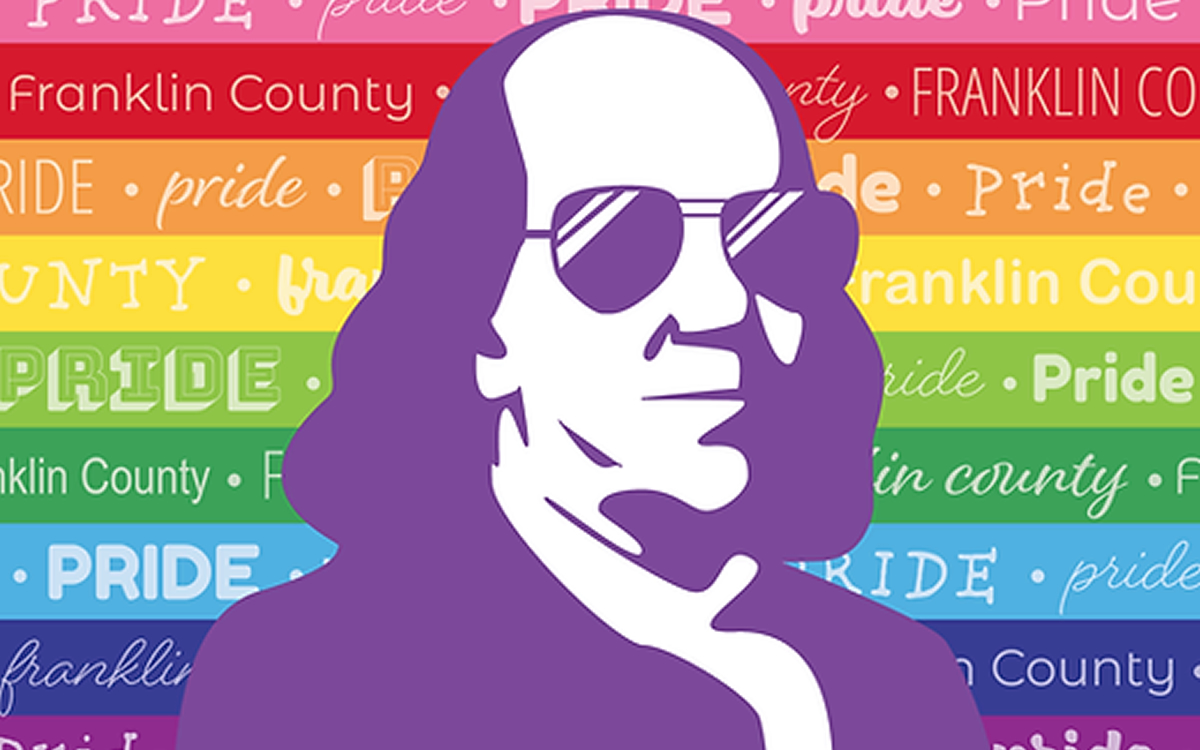 When Pride Franklin County held its first Pride celebration in 2018, it sought to address a lack of LGBTQ programming in rural southern Pennsylvania. Greeted by more than 1,000 attendees at its inaugural event, Pride Franklin County's leadership was reassured the event was something the area not only wanted, but needed. Since the onset of the COVID-19 pandemic, the local organization has once again sought to address community needs — in new and broadened ways.
Pride Franklin County operates under the Franklin County Coalition for Progress, a local social justice nonprofit that formed in the wake of the 2016 presidential election. "We live in a very rural, conservative area, but that election was a turning point all across the country," explained Noel Purdy, a founder of Pride Franklin County and founder and president of FCCP.
"People came out of the woodwork who were worried about the LGBTQ community … and other populations that had experienced different forms of oppression in our community," Purdy explained. This interest in supporting the local LGBTQ community led to a group of LGBTQ community members and allies leading the 2018 Pride celebration.
"We just really wanted to create a space where people know that they're accepted, no matter who they are," said Nathan Strayer, vice president of FCCP and a founder of Pride Franklin County. "We want people to know that you fit in. There are a lot of people here that are going to love you."
But in 2020, at the peak of the event's popularity — Strayer noted that upwards of 3,000 people attended Pride the year prior — Pride Franklin County had to cancel its programming in light of public health concerns.
With the "momentum" it has going, Strayer explained that the organization did not want the pandemic to limit its ability to serve the Franklin County community: " That's when we really decided to make the entire initiative something bigger," he said. "We're not just here to throw a party."
In 2021, the organization began advocating for a local non-discrimination ordinance codifying inclusivity for all community members, regardless of their identity. The Borough of Chambersburg Council, which represents the largest borough in the county, adopted the ordinance that fall — a major win for LGBTQ activists and allies in a rural Pennsylvania county that leans conservative socially and politically.
Yet, just months after the organization celebrated its achievement, new council members were elected in the borough in January 2022, and soon thereafter a majority of the council decided to repeal the non-discrimination ordinance.
While the ordinance's revocation greatly disappointed Pride Franklin County, it also reminded its leaders and activists how much work was left to be done.
"From the growth of Pride to the pushback we've gotten from some of our elected officials here locally, it's definitely lit a fire in us to continue pushing ahead so that we can truly make Franklin County an inclusive place for everyone," Strayer emphasized.
This year, the organization launched its Franklin County Welcoming Project, which spearheads public displays of support to the LGBTQ community. In June, the organization received a media grant to create billboard and radio advertisements throughout the county advocating for inclusivity within the Franklin County community.
The organization also reached out to local businesses, providing them with custom decals to put in their windows after signing a pledge stating that they are a "diverse, inclusive, accepting, welcoming, safe space for all," Strayer said, adding that, despite some initial hesitation, more than 100 local businesses signed the pledge and displayed the logo in their storefronts.
Pride Franklin County has also looked to meet the local demand for LGBTQ programming throughout the year while maintaining public health precautions. More recent projects have included mental health LGBTQ programming, community picnics, drag shows and a Taste of Pride food event. Strayer added that there has been significant demand from the community for more programming centering LGBTQ youth.
Purdy added that voting rights advocacy has become a center point of current efforts from the organization, as it hopes to educate the local community on the importance of their political involvement. "Hopefully, we're inspiring more people to learn to pay attention more to what's going on, and trying to understand the connection between policy and voting," Purdy explained
While the process of founding a grassroots organization has come with obstacles, Purdy and Strayer both noted that the community response has been rewarding.
"One thing that I've been surprised about is how you have this cultural context of being in a conservative area, thinking that that's going to be a barrier to doing an event that supports the LGBTQ community, and that it's going to be super controversial," but ultimately receiving a positive reception from many community members and resources needed to keep the organization running, Purdy explained.
Getting Pride Franklin County up and running has "definitely been very emotional," Strayer noted. When Strayer decided to come out in 1999, he turned to leaders in his school — a guidance counselor and principal — for advice, but he recalled them "both sitting down and looking at (him) like, 'We don't really know what to do,'" making him feel alone in a particularly important part of his life. But with Pride Franklin County, Strayer is "seeing how things are growing and changing."
"There's help out there for youth that are struggling with the same things I was struggling with," Strayer said. "When I look back at when I was coming out, I thought, 'This is never going to happen here.' Seeing now that it is happening here, it's just such an amazing feeling and it just gives me so much pride in my community."
Pride Franklin County will host its Pride Festival 2022 on Oct. 9 from 11 a.m. to 5 p.m. More information can be found on the organization's website at pridefranklincounty.org. 
Over 100 LGBTQ-themed books in a Florida school district labeled with advisory warning
They warn: "this book has been identified by some community members as unsuitable for students."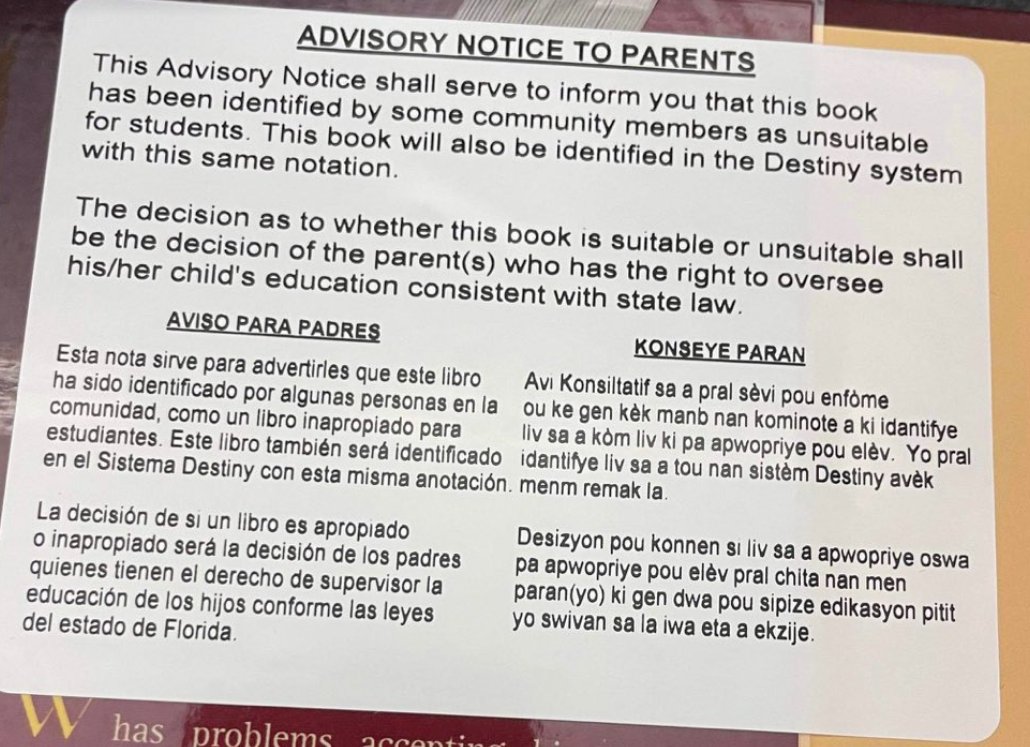 A southwest Florida district put parental "advisory notice" on over 100 books, many of which are race or LGBTQ-themed. 
A great number of books in Collier County Public Schools, either digital or physical, now have warning labels writing "Advisory notice to parents," according to an NBC report,
The label, tweeted by nonprofit free-speech-promoting group PEN American, states, "This Advisory Notice shall serve to inform you that this book has been identified by some community members as unsuitable for students. This book will also be identified in the Destiny system with the same notation. The decision as to whether this book is suitable or unsuitable shall be the decision of the parent(s) who has the right to oversee his/her child's education consistent with state law." 
The labels appear digitally in the library records & physically on the books. They warn: "this book has been identified by some community members as unsuitable for students." Apparently, a lot is 'unsuitable'. Even Everywhere Babies by Susan Meyers & illustrated by @MarlaFrazee. pic.twitter.com/wA5fT5fjLr

— PEN America (@PENamerica) August 5, 2022
Stephana Ferrell, co-founder of the Florida Freedom to Read Project, which means to fight book banning, told NBC that she had a call from Elizabeth Alves, the associate superintendent of teaching and learning for Collier County Public Schools. In the call, Alves told her that the district added the labels starting in February. 
These measures, which Alves described as a "compromise," happened after the district's legal representative talked with the Florida Citizens Alliance, a conservative group which initiated a "Porn in Schools Report" project last year. The report included a list of books that "promote gender self-identification and same-sex marriage" as well as titles that include "indecent and offensive material," as the group explained.
Chad Oliver, the Collier County Public Schools spokesperson, on the other hand offered a different story.
Oliver sent an email to NBC News and said, "Based upon advice from the General Counsel, we placed advisory notices on books about which parents and community members had expressed concern and in accordance with the recently passed Parents' Bill of Rights Law (HB 241)."
The law referred by Oliver is also known as the "Don't Say Gay" law.
According to PEN America, there are 110 labeled books in total, and the list greatly overlaps with the one Florida Citizens Alliance inquired about with Collier County Public Schools. 
Rep. Sean Patrick Maloney introduces bill to make monkeypox testing free
Health insurers would be required to cover costs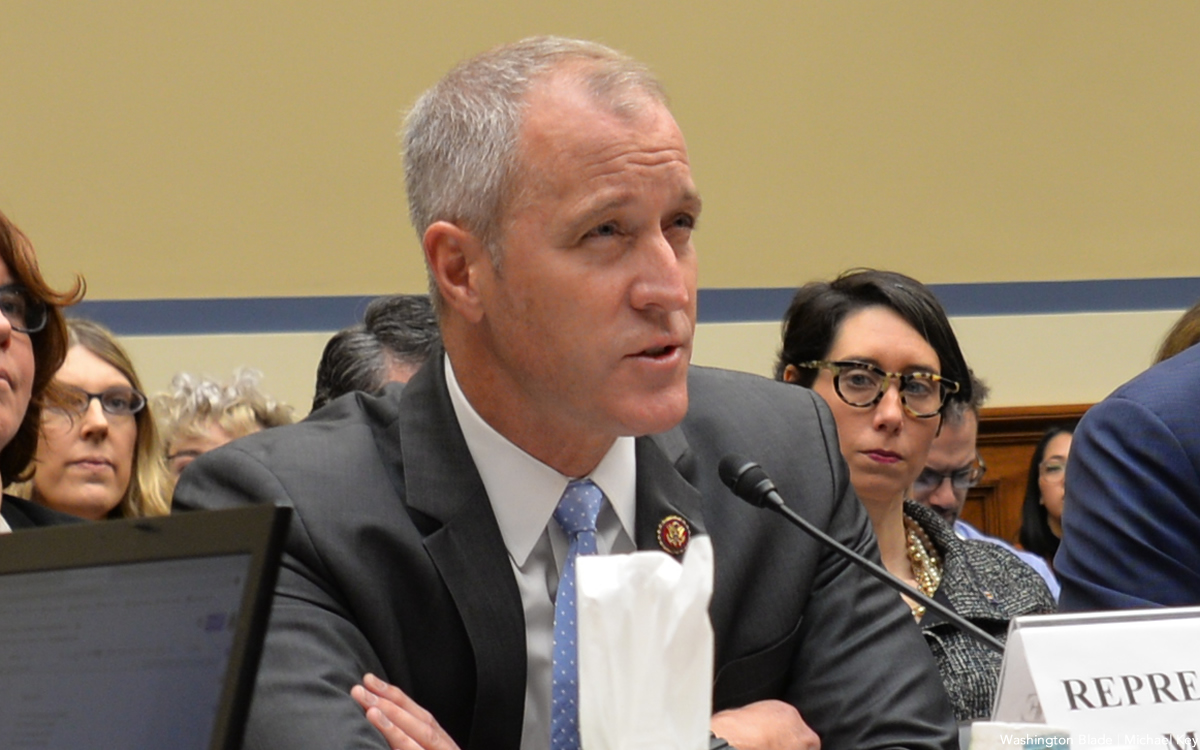 Rep. Sean Patrick Maloney (D-N.Y.), amid the ongoing monkeypox affecting gay and bisexual men, has introduced legislation in the U.S. House seeking to make testing for disease free to the public.
Maloney, one of seven openly gay members of Congress and chair of the Democratic Congressional Campaign Committee, said in a statement the measure, called the No Cost for Monkeypox Testing Act, would testing amid the monkeypox outbreak would be accessible to all.
"It is critical that we eliminate cost as a barrier to testing for monkeypox to ensure we can identify cases and prevent further spread," Maloney said. "This legislation takes the lessons we learned from past public health emergencies and protects those at risk of contracting monkeypox by making tests accessible to everyone."
The legislation would require private health insurers as well as Medicare and Medicaid to cover the costs of monkeypox testing at no expense to the patients, either through deductibles, co-payments, and co-insurance.
The bill introduction comes the week after the Biden administration declared the monkeypox outbreak a public health emergency and the same it has issued new guidance to enhance to the accessing of existing vaccines doses amid criticism federal officials were too slow in distributing shots.
The Washington Blade has placed a request in with the Centers for Disease Control seeking comment on the legislation. Secretary of Health & Human Services Xavier Becerra said Tuesday the federal government has the capacity to conduct an estimated 80,000 tests each week.
Maloney has been representing New York's 18th congressional district, but after redistricting is now seeking re-election in the 17th district. Amid controversy over a potential showdown between Maloney and Rep. Mondaire Jones (D-N.Y.), who's Black, another openly gay member of Congress and the current representative of that district, Jones has since opted to run for re-election in the New York's 10th congressional district. Maloney is now running unopposed in the 17th.