2011: A year of milestones, tragedies, courtroom fights
From N.Y. marriage to Frank's retirement, another year to remember in LGBT news

The story of the year was the end of "Don't Ask, Don't Tell." Here are our picks for the rest of 2011's top LGBT news stories.
#2 N.Y. approves marriage
The Empire State became the sixth and most populous state in the country to legalize same-sex marriage in June when the legislature passed and Gov. Andrew Cuomo (D) signed into law a bill legalizing marriage rights for gay couples.
Upon passage of the legislation, Cuomo said New York has "finally torn down the barrier that has prevented same-sex couples from exercising the freedom to marry and from receiving the fundamental protections that so many couples and families take for granted."
The achievement marks the first time that a Republican-controlled legislative chamber — in this case, the New York State Senate — passed legislation in this country legalizing same-sex marriage.
The law went into effect in the state on July 24. Kitty Lambert and Cheryle Rudd, a lesbian couple from Buffalo, N.Y., wed in Niagara Falls at midnight and became the first couple in the state to benefit from the law.
#3 Rep. Barney Frank retires
The longest-serving openly gay member of Congress announced in November that he wouldn't seek a 17th term in the U.S. House.
Rep. Barney Frank (D-Mass.), 71, was first elected to Congress in 1980. The lawmaker made his sexual orientation known in 1987 — becoming the second to do so after Rep. Gerry Studds (D-Mass.).
Frank said redistricting in Massachusetts and his desire to retire before reaching age 75 prompted his decision not to run.
"I have enjoyed — indeed been enormously honored — by the chance to represent others in Congress and the State Legislature, but there are other things I hope to do before my career ends," Frank said.
The lawmaker is credited with helping shepherd through the passage of hate crimes protections legislation and "Don't Ask, Don't Tell" repeal in the 111th Congress. But Frank was criticized by transgender activists in 2007 for dropping gender identity protections from the Employment Non-Discrimination Act. The gay-only bill ultimately died in the Senate.
His most enduring legacy will likely be the passage of Wall Street reform legislation commonly known as Dodd-Frank, which he pushed through as chair of the House Financial Services Committee.
#4 Obama won't defend DOMA; Boehner hires counsel
The Obama administration made a significant reversal in policy in February when it announced it would no longer defend the Defense of Marriage Act in court.
In a Feb. 22 letter, the U.S. Attorney General Eric Holder notified Congress that laws related to sexual orientation, such as DOMA, which prohibits federal recognition of same-sex marriage, should be subjected to heightened scrutiny.
"The president has also concluded that Section 3 of DOMA, as applied to legally married same-sex couples, fails to meet that standard and is therefore unconstitutional," Holder said.
Obama's decision riled House Speaker John Boehner (R-Ohio), who accused the president of abandoning his constitutional duties. In March, Boehner convened the Bipartisan Legal Advisory Group, which on a 3-2 party-line basis voted to defend the law in court in the administration's stead.
To assist the House general counsel in defending the law, Boehner hired private attorney Paul Clement, a U.S. solicitor general under former President George W. Bush. The cost of the private attorney was initially announced at a blended rate of $520 an hour and total cost cap of $150,000, but Boehner later bumped up the cost cap to $1.5 million.
#5 Giffords shot; gay intern hailed as hero
The nation recoiled in horror in January after pro-LGBT Rep. Gabrielle Giffords (D-Ariz.) became one of 20 people shot people by a gunman during a town hall event in her district.
Daniel Hernandez Jr., a gay 20-year-old who had worked as an intern for Giffords for just five days at the time of the shooting, was credited with providing the first aid that saved her life.
"The attitude that I had," Hernandez said, "was trying to make sure that those who had been injured were going to be OK, so to try to provide whatever first aid I could until someone else could come in and take over."
Medics arrived on the scene to take Giffords and others to the University Medical Center in Arizona. Giffords slowly recovered and made her first appearance on the House floor in August to vote in favor of the agreement to raise the debt ceiling limit.
At a memorial service, President Obama called Hernandez a "hero" during his eulogy. The White House invited Hernandez — along with his father, Danny Hernandez Sr., — to sit alongside first lady Michelle Obama during the State of the Union address in January.
#6. Clinton, Obama endorse int'l LGBT rights
Secretary of State Hillary Clinton in December gave a high-profile speech in Geneva, Switzerland in which she spoke out against human rights abuses committed against LGBT people overseas.
During the speech, Clinton reiterated her previously held belief that human rights are gay rights and gay rights are human rights and said LGBT people overseas "have an ally in the United States of America."
"It is a violation of human rights when people are beaten or killed because of their sexual orientation, or because they do not conform to cultural norms about how men and women should look or behave," Clinton said.
Clinton gave the speech on Dec. 6 in observance of Human Rights Day, which recognizes the adoption of the Universal Declaration of Human Rights on Dec. 10, 1948 by the U.N. General Assembly. More than 1,000 diplomats and experts were in attendance.
On the same day, President Obama issued a memorandum to government agencies urging them to step up efforts against anti-LGBT human rights abuses abroad. Among other things, the memo calls on agencies to work against the criminalization of homosexual acts overseas and directs the State Department to lead a "standing group" to respond swiftly to serious incidents threatening LGBT human rights abroad.
#7 Jamey Rodemeyer commits suicide
A 14-year-old from Williamsville, N.Y. took his own life in September after his parents said he was subjected to bullying in school over his sexual orientation.
Jamey Rodemeyer, who attended Williamsville North High School, took his life in an apparent hanging. Prior to his death, he sent his last message in the form of a tweet to Lady Gaga, which read, "Bye Mother Monster. Thank you for all you have done. Paws up forever."
Rodemeyer made a video for the "It Gets Better" project, a website dedicated to preventing teen suicide, in which he identified as bisexual and described the harassment he endured from other students.
"I just want to tell you that it does get better [be]cause when I came out for being bi I got so much support from my friends and it made me feel so secure," Rodemeyer says in the video.
Rodemeyer's death inspired outrage across the nation. Lady Gaga told her fans via Twitter she spent the days after his suicide "reflecting, crying and yelling." She later met with President Obama over the issue of bullying.
#8 GOP hopefuls tout anti-gay views
Presidential election season officially kicked off this year as Republican candidates seeking to oust President Obama from the White House touted their anti-gay views.
Former U.S. Sen. Rick Santorum likely took the prize for emphasizing anti-gay positions most often in his campaign. In addition to pledging to reinstate "Don't Ask, Don't Tell," Santorum said, "our country will fail" as a result of same-sex marriage. He also raised eyebrows in August when he said same-sex marriage is like "saying this glass of water is a glass of beer."
Activists with Truth Wins Out revealed the therapy clinic that Rep. Michele Bachmann (R-Minn.) co-owns with her husband, Marcus Bachmann, engages in widely discredited "ex-gay" conversion therapy aimed at turning gay people straight. The candidate has refused to answer questions about the clinic.
A total of five contenders — former Massachusetts Gov. Mitt Romney, former House Speaker Newt Gingrich, Santorum, Texas Gov. Rick Perry and Bachmann — each penned their name to an anti-gay pledge from the National Organization for Marriage. Signing the document commits them to backing a U.S. constitutional amendment against same-sex marriage and to defending the Defense of Marriage of Act in court.
#9 Prop 8 fight continues in California
Litigation seeking to overturn Proposition 8 progressed through the courts this year amid questions over whether proponents have standing to defend the law and whether the sexual orientation of the judge who ruled against the marriage ban should have disqualified him.
In the case of Perry v. Brown, the U.S. Ninth Circuit Court of Appeals in January sent the question of whether Prop 8 proponents had standing to defend the amendment in court to the California Supreme Court. The question emerged after state officials declined to litigate on behalf of the same-sex marriage ban.
In November, the California high court issued a unanimous decision that Protect Marriage and other groups who worked to pass the anti-gay initiative in 2008 indeed could continue the case.
Another challenge to U.S. District Judge Vaughn Walker's decision emerged in April after the retired magistrate told reporters he's gay and has been living with a same-sex partner for 10 years. Proponents of Prop 8 said Walker should have recused himself from the case.
But in June, U.S. District Judge James Ware ruled that Walker's sexual orientation wasn't a factor in the judge's decision to rule against Prop 8 and upheld the previous decision. The anti-gay activists appealed the ruling to the Ninth Circuit.
The Ninth Circuit heard oral arguments on whether Walker's sexual orientation should have disqualified him as well as whether the tapes of the trial should be made public. The appellate court has yet to make a decision on any of these issues.
#10 Solmonese steps down from HRC
The head of the Human Rights Campaign announced in August that after six years he would be stepping down as president of the nation's largest LGBT organization.
The co-chairs of the board of directors of HRC and its sister organization, the HRC Foundation, said Joe Solmonese will remain as head of both organizations until the completion of his contract in March to ensure a smooth leadership transition.
Solmonese oversaw the defeat of the Federal Marriage Amendment in 2006 as well as passage of hate crimes protections legislation and repeal of "Don't Ask, Don't Tell." But he alienated many transgender activists in 2007 when he declined to oppose a decision by House Democratic leaders to remove protections for transgender people from the Employment Non-Discrimination Act.
The search committee seeking Solmonese's replacement is being co-chaired by board members Joni Madison of North Carolina and Dana Perlman of Los Angeles. The replacement has yet to be announced.
Mixed views among U.S. adults on trans issues: Pew
Most back non-discrimination, but divided on other issues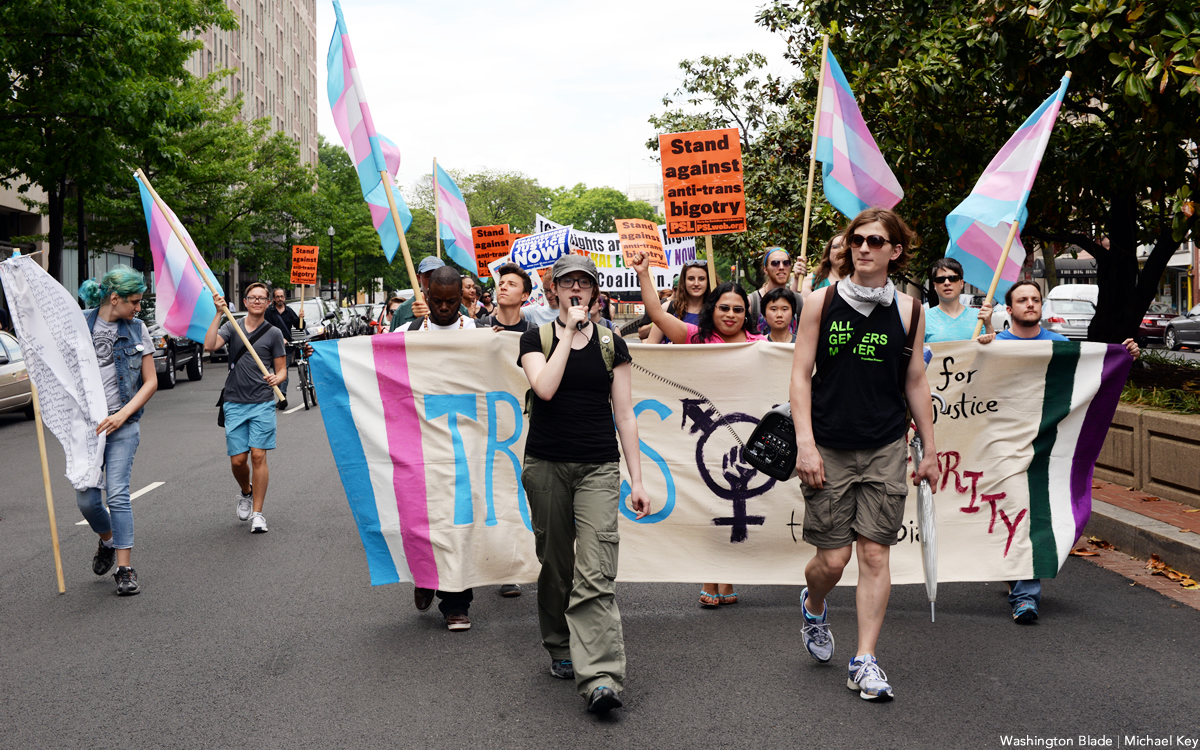 A new survey from a leading non-partisan research center reveals Americans have mixed views on transgender issues at a time when states are moving forward with measures against transgender youth, with strong majorities favoring non-discrimination protections but weaker support for access to transition-related care among minors and participation in school sports.
The Pew Research Center issued the findings on Tuesday as part of the results of its ongoing study to better understand Americans' views about gender identity and people who are transgender or non-binary. The findings are based on a survey of 10,188 U.S. adults from data collected as part of a larger survey conducted May 16-22.
A majority of respondents by wide margins favor non-discrimination protections for transgender people. A full 64 percent back laws or policies that would protect transgender people from discrimination in jobs, housing, and public spaces, while roughly 8-in-10 acknowledge transgender people face at least some discrimination in our society.
Additionally, nearly one half of Americans say it's extremely important to use a transgender person's new name after they undergo a transition, while an additional 22 percent say that is somewhat important. A smaller percentage, 34 percent, say using a transgender person's pronouns is extremely important, and 21 percent say it is somewhat important.
But other findings were less supportive:
60 percent say a person's gender is determined by sex assigned at birth, reflecting an increase from 56 percent in 2021 and 54 percent in 2017, compared to 38 percent who say gender can be different from sex assigned at birth.
54 percent say society has either gone too far or been about right in terms of acceptance, underscoring an ambivalence around transgender issues even among those who see at least some discrimination against transgender people.
About six-in-ten adults, or 58 precent, favor proposals that would require transgender athletes to compete on teams that match the sex they were assigned at birth as opposed to teams consistent with their gender identity, compared to 17 percent who oppose that and 24 percent neither favor nor oppose it.
46 percent favor making it illegal for health care professionals to provide transition-related care, such as hormones or gender reassignment surgery, to someone younger than 18, compared to 31 percent who oppose it.
Americans are more evenly split when it comes to making it illegal for public school districts to teach about gender identity in elementary schools (which is favored by 41 percent, and opposed by 38 percent) and investigating parents for child abuse if they help someone younger than 18 obtain transition-related care (37 percent are in favor and 36 percent oppose it).
Young adults took the lead in terms of supporting change and acceptance. Half of adults ages 18 to 29 say someone can be a man or a woman even if that differs from the sex they were assigned at birth, compared to about four-in-10 of those ages 30 to 49 and about one-third of respondents 50 and older.
Predictably, stark differences could be found along party lines. Democrats by 59 precent say society hasn't gone far enough in accepting people who are transgender, while 15 percent say it has gone too far and 24 percent say it's been about right. For Republicans, 10 percent say society hasn't gone far enough, while 66 percent say it's gone too far and 22 percent say it's been about right.
Read the full report here.
House passes resolution that calls for Brittney Griner's immediate release
Detained WNBA star's trial to begin on July 1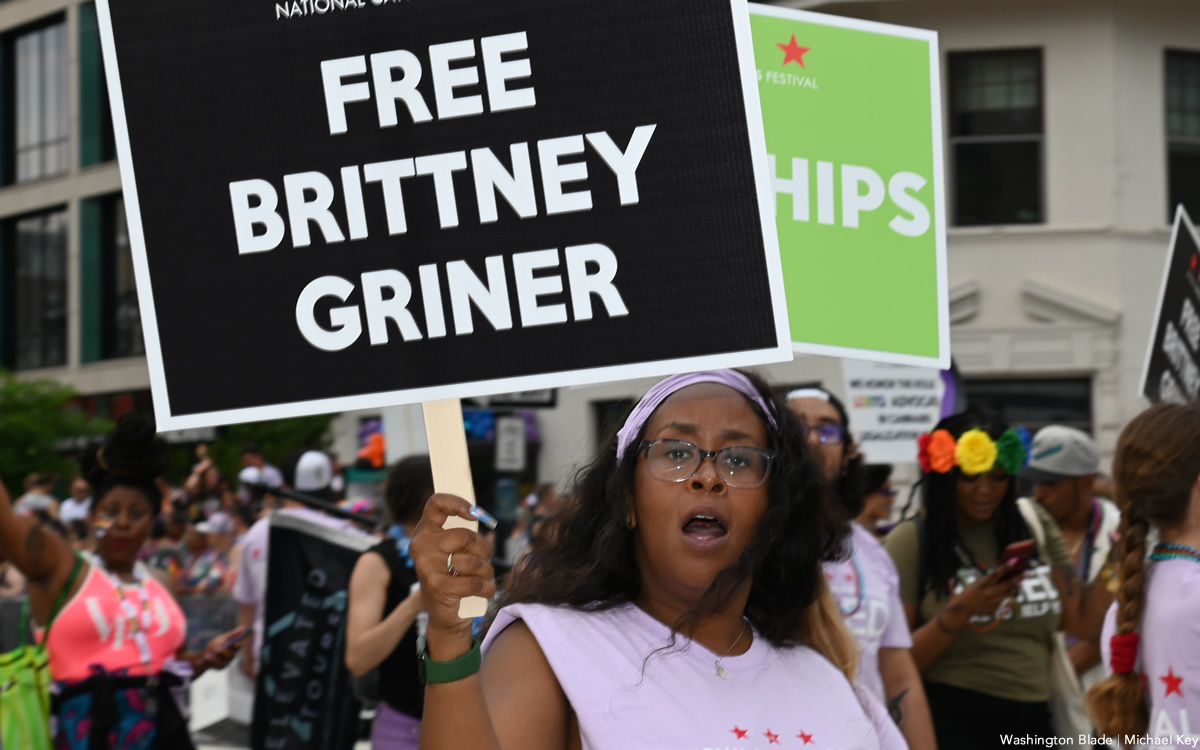 In a resolution passed on June 24 by the U.S. House of Representatives, lawmakers called on Russia to immediately release detained WNBA star Brittney Griner. 
Griner was first arrested in Russia in the days leading up to its invasion in Ukraine. Authorities have charged her with drug trafficking after claiming that she attempted to pass through Moscow's Sheremetyevo Airport while in possession of cannabis oil.
The House's resolution, introduced in May by U.S. Reps. Greg Stanton (D-Ariz.), Sheila Jackson Lee (D-Tex.) and Colin Allred (D-Texas), made multiple demands of Russia, including that the country "immediately release Brittney Griner," provide her with consular access and humane treatment and that the U.S. "raise the case of Brittney Griner and to press for her release" in all its dealings with the Russian government.
"This legislation insists on our embassy personnel having access to Ms. Griner and restates our commitment to freeing her now," Lee said in a statement after introducing the resolution. "We continue to pray for her family and we will continue to work together as three members of Congress, along with others, to spread the message that she is held wrongfully and must be freed now."
The resolution also expressed support for both Griner's family and for "all prisoners unjustly imprisoned in the Russian Federation."
Allred, a member of the House Foreign Affairs Committee, took to Twitter following the passage of the resolution.
"I'm proud the House has spoken in passing our resolution and calling for Brittney Griner's swift release," Allred wrote. "Every day an American is held abroad is a lifetime, and I will keep working with @POTUS to do all we can to bring home every American detained abroad."
Griner's WNBA team, the Phoenix Mercury, welcomed the House's passage of the resolution this past weekend.
"[Rep.] Stanton and many others are continuing to work with the White House, State Department and Brittney's family to secure her safe return home," the team wrote on Twitter.
The resolution comes after reporting revealed missteps on the part of the U.S. government in handling communication related to Griner's detention.
According to past reporting, the U.S. Embassy in Moscow failed to connect Griner with outside phone calls permitted by the Russian government when Griner's wife, Cherelle Griner, attempted to call her. Cherelle Griner reportedly called 11 times on June 18 on the couple's fourth anniversary but was unable to reach her wife due to what the State Department claimed to be a "logistical error."
While the resolution is being heralded by its supporters, it contains no provisions intended to enforce the House's demands for the release and humane treatment of Griner and others held by Russia. With less than one percent of criminal defendants in Russia being acquitted, it is unclear whether the resolution will do anything to persuade the country's courts to permit Griner's release.
Griner appeared in Russian court on Monday for a preliminary hearing prior to her trial that has now been scheduled to begin on July 1. It was also confirmed by Griner's attorney on Monday that her detention had been extended for six months pending her trial. 
If convicted, she could face up to 10 years in prison.
"We must keep Brittney's case on the forefront and make clear to the White House that her release should be one of the highest priorities for our government," Cherelle Griner said in May.
Protests, revelry mark NYC Pride
Tens of thousands protested Roe ruling on Friday night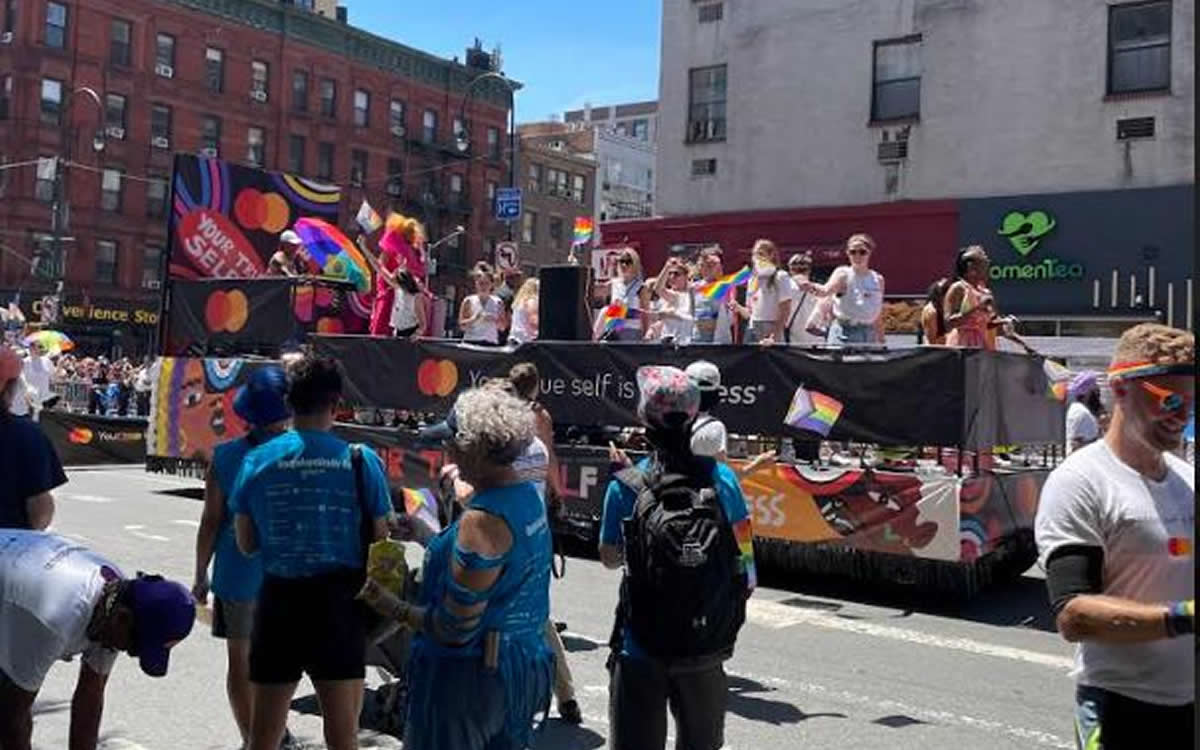 New York City Pride, one of the largest Pride celebrations in the world, rang in the weekend with equal parts celebration and protest.
Although the annual Pride march was on Sunday, the entire weekend was filled with an outpouring of public anger in the wake of the U.S. Supreme Court's decision to overturn Roe v. Wade. 
Protesters took to the streets of Manhattan on Friday with an estimated 17,000 people gathering to protest the ruling, which made abortion imminently illegal in roughly half of states. At least 25 people were arrested at the Friday night protests, which spread from Washington Square Park through Midtown to Bryant Park. 
In light of the Supreme Court's landmark decision — which advocates say will harm members of the LGBTQ community — NYC Pride announced that Planned Parenthood would kick off Sunday's Pride march as the first group to walk. In their statement, NYC Pride said that "[The Supreme Court's] dangerous decision puts millions in harm's way, gives government control over our individual freedom to choose, and sets a disturbing precedent that puts many other constitutional rights and freedoms in jeopardy." 
"As millions gather for LGBTQIA+ Pride this weekend in New York City and cities across the country, our voices will be heard — for the LGBTQ people impacted and the millions with whom we stand in solidarity," read the statement. "Pride was born of protest and will always be a space to fight injustice and discrimination. Join us as we advocate for bodily autonomy at this year's NYC Pride March."
In addition to the march; NYC Pride had a full slate of Pride programming during the week leading up to it, including Pride Island at Governor's Island, Youth Pride and a human rights conference. Queer clubs and bars throughout the city hosted various Pride-themed events throughout the weekend.
NYC Pride was not the only organization mobilizing this weekend.
Reclaim Pride NYC hosted a "Queer Liberation March for Trans and BIPOC Freedom, Reproductive Justice, and Bodily Autonomy," in partnership with pro-choice groups and community organizations.
"The [Queer Liberation March] is the annual people's protest march without corporate funding; corporate floats; politicians' grandstanding; or police control or involvement," said the Reclaim Pride Coalition.
Although Pride originated from a moment of violent tension between police and LGBTQ people at the Stonewall Inn, officers on Sunday carefully patrolled the entire NYC Pride march route. When the apparent sound of gunshots nearly sparked a stampede in Washington Square Park during the parade, the New York Police Department said there were "no shots fired," later confirming that the sounds were due to fireworks being set off at the park. 
The Washington Post noted fears of violence against the queer community circulated at Pride celebrations across the country.
Police also responded to reports of a shooting at San Francisco Pride, although no suspects or witnesses were found. In light of the epidemic of gun violence — from last month's elementary school shooting in Uvalde, Texas, to the massacre at the Pulse nightclub in Orlando, Fla., in 2016 that left 49 people dead — a fear of active shooters and widespread public anger at the prospect of less rights characterized Pride's usually jubilant atmosphere.