The rest of the year's top local stories
Md. marriage fight, trans shootings dominate headlines

Frank Kameny's death is our pick for the top local news story of 2011. Here are the rest of the top 10 local news stories of the year.
#2 Md. marriage bill killed, resurrected
A bill to legalize same-sex marriage in Maryland died in the state legislature in March following a controversial behind-the-scenes decision by supportive lawmakers and leaders of LGBT rights groups to cancel a final vote on the bill on grounds that they lacked enough votes to pass it.
The action to pull the bill took place March 11 when the Maryland House of Delegates approved a motion by voice vote to recommit the bill to committee following an emotional two-and-a-half-hour debate over the measure on the House floor. The withdrawal of the bill came less than a month after the Maryland Senate passed the measure, the Civil Marriage Protection Act, by a vote of 25-21.
A little over a month after the bill's demise, the board of directors of Equality Maryland, the state LGBT advocacy group that led lobbying efforts for the bill, fired its executive director Morgan Meneses-Sheets. The firing prompted the group's development director, Matthew Thorn, to resign in protest, worsening the group's existing financial problems and leading to a major shakeup of the board and staff.
Meanwhile, Maryland Gov. Martin O'Malley, who backed the bill but didn't aggressively lobby for it, promised later in the year to take a lead role in pushing the measure in the legislature's 2012 session, which convenes in January. Supporters are hopeful the bill will pass this time around but are uncertain whether it could survive an expected voter referendum.
#3 Rash of anti-trans violence in D.C.
More than a dozen reported violent attacks against transgender women in D.C. in 2011, including two murders, prompted transgender activist Ruby Corado to declare that the transgender community of D.C. was in crisis.
D.C. police, who made arrests in some of the assaults but not for the two murders, said they have no evidence to indicate a single perpetrator is responsible for the attacks.
In August, an unidentified male suspect shot 23-year-old transgender woman Lashai Mclean to death on Dix St., N.E., near the D.C.-Maryland line. Eleven days later a male suspect fired a gun at another transgender woman just a block from where Mclean was killed. The woman was not hit, but police expressed concern that trans women might have been targeted in that area, which is known as a location where transgender prostitutes congregate.
In September, aerospace engineer Gaurav "Gigi" Gopalan, 35, was found dead on a sidewalk in a residential section of the city's Columbia Heights neighborhood. Most of his friends said he identified as a gay man, but he was dressed in women's clothes when found unconscious by police, who said the cause of death was blunt force trauma to the head. No suspects have been identified in the case.
The string of attacks and two murders of victims believed to be targeted because of their gender identity prompted at least two protests by trans activists, who called on police to devote more resources to investigate the mostly unsolved cases of anti-trans violence.
#4 Beating of Md. trans woman caught on video
The beating of 23-year-old transgender woman Chrissy Lee Polis at a McDonald's restaurant outside Baltimore in April created a national sensation when a video of the attack went viral over the Internet.
The video, made by a McDonald's employee, showed two teenage girls punching and kicking Polis as she was sprawled on the floor covering her face and head with her arms. At one point, the video showed one of the female attackers dragging Polis across the floor by her hair.
Polis, who suffered non-life threatening injuries, became a human face for what transgender activists say is the longstanding prejudice, misunderstanding and hate-related violence experienced by the transgender community. Public officials, including Maryland Gov. Martin O'Malley, promised in the wake of the Polis attack to redouble efforts to pass a transgender non-discrimination bill in the Maryland Legislature in 2012.
The two women who attacked Polis, a 19-year-old and a 14-year-old, pleaded guilty to assault and hate crime charges. The 19-year-old was sentenced to five years in prison. Authorities said the 14-year-old was given an undisclosed sentence in the state's juvenile justice system.
PHOTO: Adam Ebbin
CAPTION: Notoriously anti-gay Virginia elected its first openly gay state senator, Adam Ebbin, who has served in the House of Delegates since 2004.
#5 Adam Ebbin elected first gay Va. state senator
Gay Democrat Adam Ebbin, who has served in the Virginia House of Delegates since 2004, won election in November to the Virginia Senate, becoming the state's first openly gay senator.
Ebbin defeated Republican challenger and political newcomer Timothy McGhee by a margin of 64 percent to 35 percent. He ran in a district in Northern Virginia with a solid Democratic majority that includes parts of the City of Alexandria and Arlington and Fairfax Counties.
He emerged as an outspoken advocate for LGBT equality during his tenure as the state's only out gay member of the House of Delegates. He said one of his top priorities in the Senate will be to push legislation to ban job discrimination against state government employees based on their sexual orientation or gender identity.
"I am honored by the trust the voters have shown in me," Ebbin said following his election to the Senate. "During the campaign I listened to the voters' concerns and will work on behalf of the values we all share: improving our public schools, expanding our transit system and cleaning up Virginia's environment."
#6 Ganymede, D.C. Cowboys, Apex say goodbye
Two popular gay arts and entertainment groups announced plans in 2011 to disband and a third venue, the Dupont Circle gay nightclub Apex, closed its doors for good in July.
Ganymede Arts, D.C.'s only gay-specific theater and arts company, announced in April it was closing after a four-year run that included Broadway-style productions of shows such as "Naked Boys Singing" and "Falsettos."
Members of the company's board, including director Jeffrey Johnson, cited financial difficulties as the main reason for their decision to close the company.
"Artistically it's always been very successful," Johnson said. "But there's never been anything left over after each production."
The D.C. Cowboys, a local dance troupe for gay men, also announced its closing, in this case in 2012, after 18 years of performances at clubs, gay rodeos, and the city's annual LGBT Pride parade and festival.
The group, which some considered a gay Chippendale troupe geared to country-western music, has been praised for the dance talent of its members who sometimes perform bare-chested.
Apex surprised many of its loyal customers when it closed in July without advance notice. Owner Glen Thompson, who also owns the nearby gay bar Omega, sold Apex to Alan Carroll, the owner of the D.C. gay clubs Ziegfelds-Secrets and the lesbian club Phase One. Carroll said he plans to open a new club in the Apex building at 22nd and P St., N.W., that will cater to a mostly lesbian clientele.
#7 New Md. trans group forms after bill dies
A transgender non-discrimination bill died in the Maryland Legislature in April after the State Senate startled supporters by voting 27 to 20 to send the Gender Identity Non-Discrimination Act back to committee.
LGBT advocates lobbying for the bill, including officials with the state LGBT group Equality Maryland, said at least seven Democratic senators who promised to vote for the bill changed their positions and indicated they would vote no if the measure came up for a vote.
The Senate action came one month after the House of Delegates voted 86 to 52 to approve a compromise version of the bill that included protections against discrimination in employment and housing but did not include a prohibition against public accommodations discrimination. Supporters of the bill in the House, including its lead sponsor, said they didn't have the votes needed to pass the bill if it included a public accommodations provision, which would cover public bathrooms and locker rooms in facilities such as health clubs and gyms.
The bill's demise prompted transgender activists in the state to launch Gender Rights Maryland, the state's first statewide transgender advocacy organization. Transgender activist Dana Beyer of Montgomery County, one of the group's co-founders, said Gender Rights Maryland would coordinate efforts to pass a transgender rights bill in the legislature's 2012 session.
#8 Delaware approves civil unions
The Delaware Legislature in April approved a civil unions bill that provides same-sex couples with all of the rights and benefits of marriage under Delaware law.
The measure cleared the Delaware House of Representatives by a vote of 26-15 and cleared the State Senate by a vote of 13-6. Gov. Jack Markell, a Democrat, signed the bill.
Lisa Goodman, president of the board of Equality Delaware, a statewide LGBT group coordinating lobbying efforts for the bill, said the group and other LGBT organizations and advocates determined they didn't have the political support in the state to pass a same-sex marriage bill.
Goodman, an attorney, said the civil unions law would provide same-sex couples and their families, including children, with crucial legal protections that they would not have without the civil unions measure.
#9 Local groups celebrate milestones
The D.C. Gay and Lesbian Activists Alliance, the city's oldest continuously operating LGBT rights group, celebrated its 40th anniversary in 2011.
And Whitman-Walker Health, the city's largest private clinic treating people with HIV and AIDS, organized its 25th annual Washington AIDS Walk, the group's main fundraising event.
Nov. 15 marked the 50th anniversary of the founding by the Mattachine Society of Washington, the city's first gay rights advocacy organization. That milestone became less of a celebration than had been expected due to the death a few weeks earlier of Frank Kameny, the group's co-founder and leader.
Mattachine Society of Washington ceased operating as an organization in the early 1970s, when Kameny and other leaders of the group shifted their efforts to the then newly formed Gay Activists Alliance, which later became the Gay and Lesbian Activists Alliance. But activists familiar with the city's gay movement history say Mattachine Society of Washington left an important legacy as a groundbreaking gay advocacy group.
#10 Wone case settlement
Three gay men named as defendants in a $20 million wrongful death lawsuit over the 2006 murder of attorney Robert Wone inside their Dupont Circle area townhouse agreed in August to an out-of-court settlement in the case with Wone's widow, who filed the lawsuit.
A statement released Aug. 3 by attorneys representing Kathy Wone said defendants Joseph Price, Victor Zaborsky, and Dylan Ward "have agreed to a monetary settlement, including payments to the Robert E. Wone Memorial Trust."
The statement didn't disclose the amount of money the defendants agreed to pay Mrs. Wone. It said she would use some of the money to advance the causes her husband believed in, including college scholarships and free legal services to people in need.
The three gay defendants were found not-guilty at a criminal trial in which they were charged with obstruction of justice, conspiracy to obstruct justice and evidence tampering in connection with Wone's murder. Authorities haven't charged anyone with the murder. D.C. police and the U.S. Attorney's office say the case remains open and they continue to seek more evidence to charge someone with Wone's murder.
Price, Zaborsky, and Ward and their attorneys didn't respond to requests for comment.
AIDS Healthcare Foundation celebrates opening of new D.C. healthcare center
Ribbon-cutting marks launch of state-of-the-art facility on Capitol Hill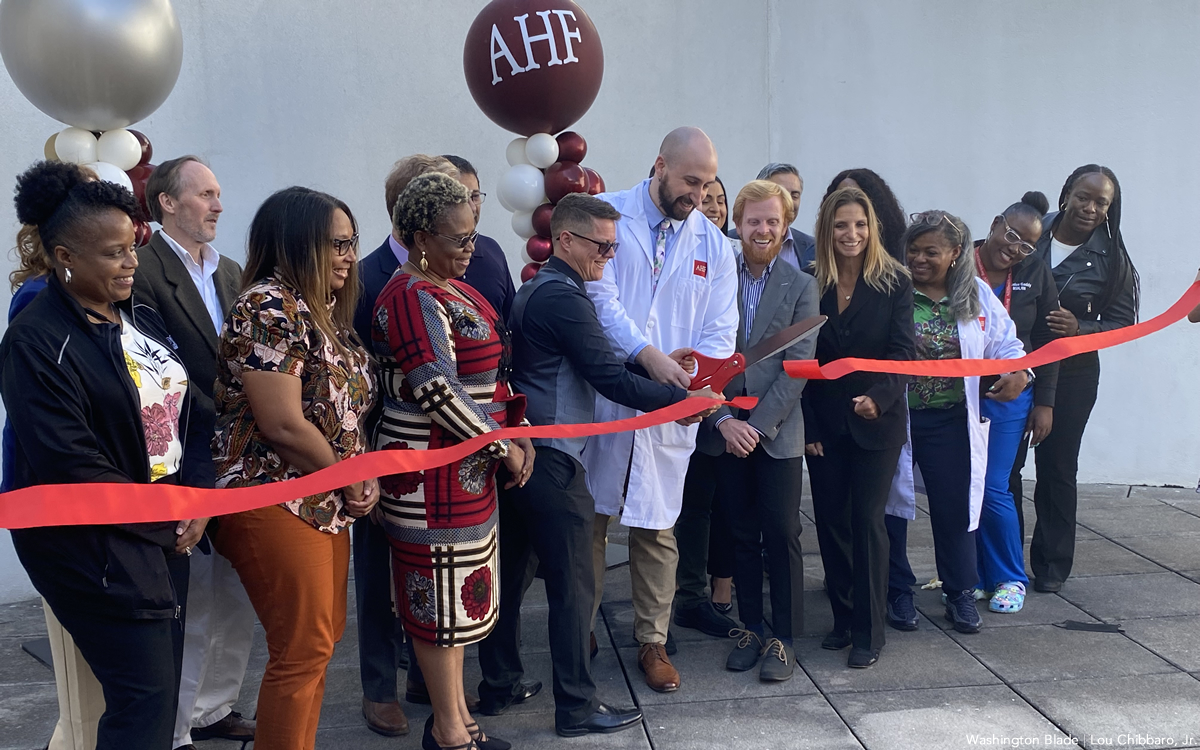 The AIDS Healthcare Foundation, the world's largest HIV/AIDS healthcare organization with its headquarters in Los Angeles, held a ribbon-cutting ceremony on Sept. 27 to mark the official opening of its Capitol Hill Healthcare Center.
The new center, which AHF describes as a state-of-the-art facility for the holistic care and treatment of people with HIV as well as a site for HIV prevention and primary care services, is located at 650 Pennsylvania Ave., S.E. a half block away from the Eastern Market Metro station.
A statement released by AHF says the Capitol Hill Healthcare Center will continue AHF's ongoing delivery of "cutting-edge medical care and services to patients regardless of insurance status or ability to pay." The statement adds, "The site also features a full-service AHF Pharmacy and will host Wellness Center services on Saturdays to offer STI testing and treatment."
The statement was referring to the testing and treatment for sexually transmitted infections. The D.C. Department of Health has said the highest number of STIs in the city have been reported for men who have sex with men.
Mike McVicker, AHF's Regional Director for its D.C., Maryland, and Virginia facilities, said the Capitol Hill center began taking patients in October of 2021 as AHF transferred its operations from its facility on Benning Road, N.E. about two miles from the Capitol Hill site. McVicker said the Benning Road site has now been closed.
AHF's second D.C. medical center is located downtown at 2141 K St., N.W. AHF operates three other extended D.C.-area health care centers in Falls Church, Va., Temple Hills, Md. and Baltimore.
"Our Capitol Hill Healthcare Center has no waiting room, so patients immediately are escorted to treatment rooms and serviced from a centrally located provider workstation," McVicker said. "The goal is to maximize efficiency using this patient-centered model to improve health outcomes and increase retention in care."
McVicker told the Blade the AHF Capitol Hill center is currently serving 585 patients and has a staff of 10, including Dr. Conor Grey, who serves as medical director. He said a separate team of five staffers operates the Saturday walk-in center that provides STI services as well as services related to the HIV prevention medication known as PrEP.
"I'm very excited to be a part of this team," Dr. Grey said at the ribbon-cutting ceremony, which was held in a courtyard outside the Capitol Hill office building where the AHF center is located. About 50 people, including D.C. government officials, attended the event.
"This is a beautiful thing to celebrate," Grey said. "So, I'm very happy to enjoy the day with all of you, and looking forward to a bright, productive future working together and fighting a common enemy that has unfortunately been with us."
Others who spoke at the event included Tom Myers, AHF's Chief of Public Affairs and General Counsel; Toni Flemming, Supervisory Public Health Analyst and Field Operations Manager for the D.C. Department of Health's HIV/AIDS, Hepatitis, STD, and Tuberculosis Administration (HAHSTA), and Dr. Christie Olejeme, Public Health Analyst for HAHSTA's Care and Treatment Division.
Also speaking at the event was Japer Bowles, director of D.C. Mayor Muriel Bowser's Office of LGBTQ Affairs.
Bowles called the AHF Capitol Hill center "another pivotal resource" for the LGBTQ community as well as for the city.
"We know, as has been previously stated, a low-barrier HIV prevention support is pivotal to the mayor's mission of eliminating HIV infections in the District of Columbia and the region," Bowles told the gathering.
"So, I'm very excited to see more services specifically provided to those in the Southeast and Northeast quadrants of our District," he said, referring to the AHF Capitol Hill center. "This is a great moment for our community, but also for D.C. as a whole."
In its statement released this week announcing the official opening of the Capitol Hill Center AHF notes that currently, 11,904 D.C. residents, or 1.8 percent of the population, are living with HIV. It points out that HIV disproportionately impacts Black residents, who make up about 44 percent of the population but comprise nearly three-quarters of the city's HIV cases.
AHF official Myers said the Capitol Hill center will join its other D.C.-area facilities in addressing the issue of racial disparities related to HIV.
"Our treatment model helps eliminate barriers for those already in care, those who may not know their HIV status, and those living with HIV who may not currently be in care," he said.
AHF says in its statement that it currently operates more than 900 healthcare centers around the world in 45 countries including 17 U.S. states. It has more than 1.7 million people in care, according to the statement. Founded in 1987, the organization has also taken on the role of public advocacy for federal and local government programs in the U.S. to address the HIV/AIDS epidemic, including efforts to lower the costs of HIV drugs.
During its work in the late 1980s and early 1990s AHF emerged as a strong advocate for addressing the special needs of gay and bisexual men who were hit hardest by HIV/AIDS at the start of the epidemic.
Georgetown University hosts panel on transgender, nonbinary issues
Lawmakers from Mont., Okla. among panelists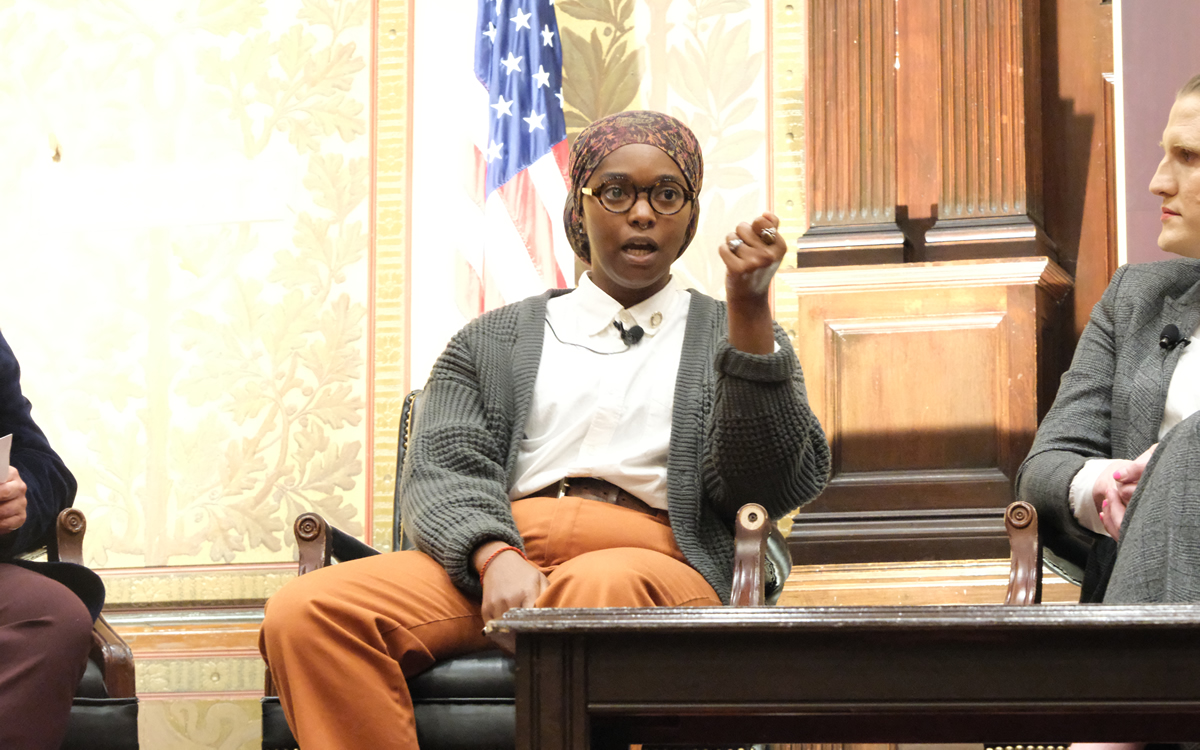 A panel on transgender and nonbinary issues took place at Georgetown University on Tuesday.
The panel included Montana state Rep. Zooey Zephyr and her fiancée, journalist Erin Reed, who are both trans, and nonbinary Oklahoma state Rep. Mauree Turner. Charlotte Clymer was also on the panel that Amanda Phillips, a nonbinary Georgetown professor, moderated.
The panel began with a discussion about anti-trans laws that have been enacted across the country.
Reed said the Alliance Defending Freedom and the American Principles Project developed a strategy in response to North Carolina's now repealed law that banned trans people from using public restrooms consistent with their gender identity.
They focused on states that are more "business-friendly and therefore harder to boycott, and started with sports. Reed said bans on gender-segregated sports put an "asterisk on [trans] identity" that made further attacks possible.
Clymer spoke on attitudes towards trans policies.
She referenced a survey that asked Americans if they supported nondiscrimination protections for LGBTQ individuals. Around 75 percent of respondents, including almost half of Republicans, said yes. Clymer said the next question that asked if such protections exist concerns her.
Roughly half of respondents said yes.
While there are two U.S. Supreme Court rulings — Obergefell and Bostock — that extended marriage rights to same-sex couples and employment protections to LGBTQ people respectively, Clymer noted there are no federal protections based on sexual orientation and gender identity.
Turner and Zephyr spoke about being censured for defending trans rights.
Oklahoma lawmakers in March censured Turner after they refused to turn into the authorities a trans person who had allegedly assaulted a state trooper.
Turner said in Oklahoma, where there is no public debate, and politicians are openly anti-trans, residents are fighting against an "apathetic" and "heinous" legislature. On the topic of activism, they said being a "truth teller," and saying "absolutely not" is "what got [them] censured."
Zephyr's censure was in April after she criticized a bill to restrict gender-affirming health care in Montana. The protests that followed stemmed from trans issues, but Zepher said they were about much more.
"The protests […] were about recognizing that when you silence a legislator, you take away representation from their constituents," she said. "That fight became a larger fight about democracy."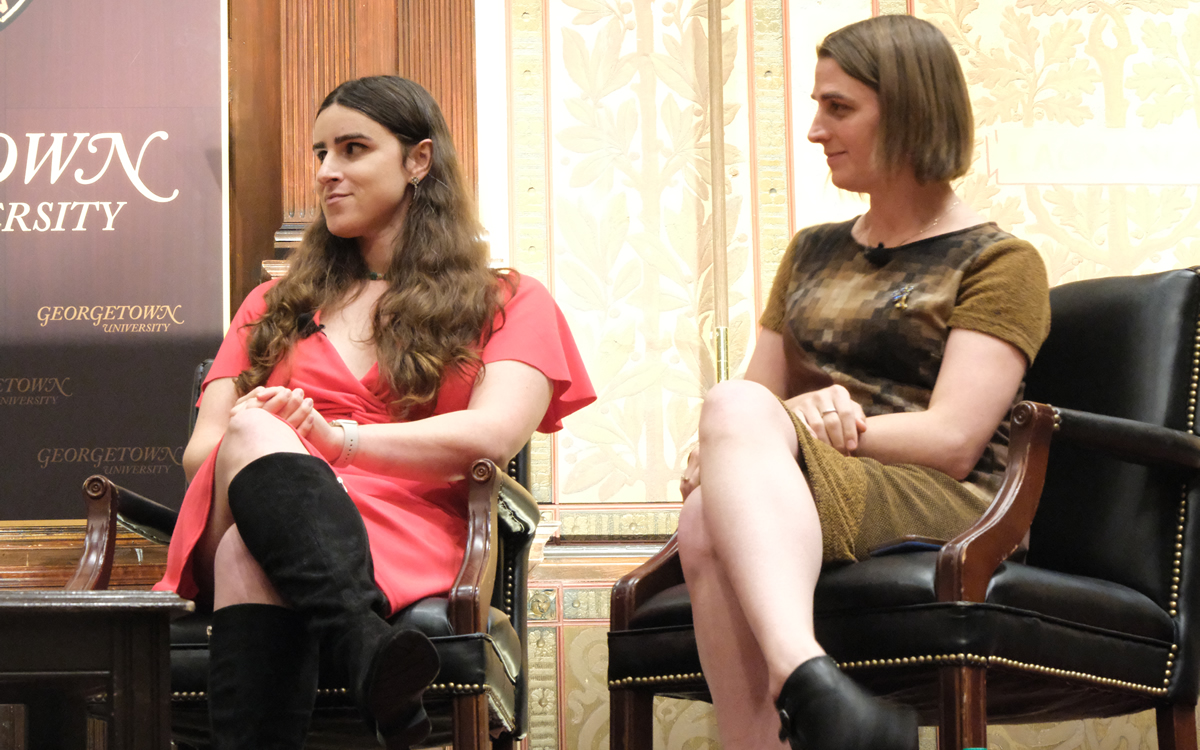 The panelists talked about mental health and addressing it.
Turner said that being the representation they needed keeps them going.
"I didn't think I was going to make it through middle school," they said. "Representation matters for so many people […] if you can aid in being that representation, being that force that helps somebody else keep going, that is one of the most powerful experiences."
The panel agreed that finding community is important to mental health.
"Sometimes our best activism is finding our community," Reed said.
The panel also spoke about queer joy and strength.
"Queer joy is the thing they can't take away," Zephyr said.
Reed talked about photos of activists who were organizing before the Stonewall riots in 1969; they were smiling and enjoying their community.
"The queer story is a story of not just surviving in the margins but thriving in the margins," Reed said.
Turner added "trans lives aren't just lives worth fighting for, they are lives worth living."
A self-described "journalist" who didn't identify himself or his outlet asked the panel, "What is a woman?" Clymer turned the question back to him, and he said it "comes down to genetics."
Clymer began to explain that chromosomes don't always define sex. The audience member began to argue and ignored an event organizer who was asking him to leave. Security promptly escorted him out.
Reed continued Clymer's point that even biological sex is difficult to define.
"Last year, 15 different state legislators tried to define sex, did you know that none of them managed to do so in a way that was scientifically correct?"
The panelists also offered advice to allies.
Clymer said treading about trans issues and being informed about them is a great start.
"You've got to step up," she said.
Turner said allyship goes beyond relationships, and into the realm of being uncomfortable.
"Allyship is synonymous with action and moving forward," they said.
Rehoboth Beach theater announces new managing director
Clear Space hires Joe Gfaller after national search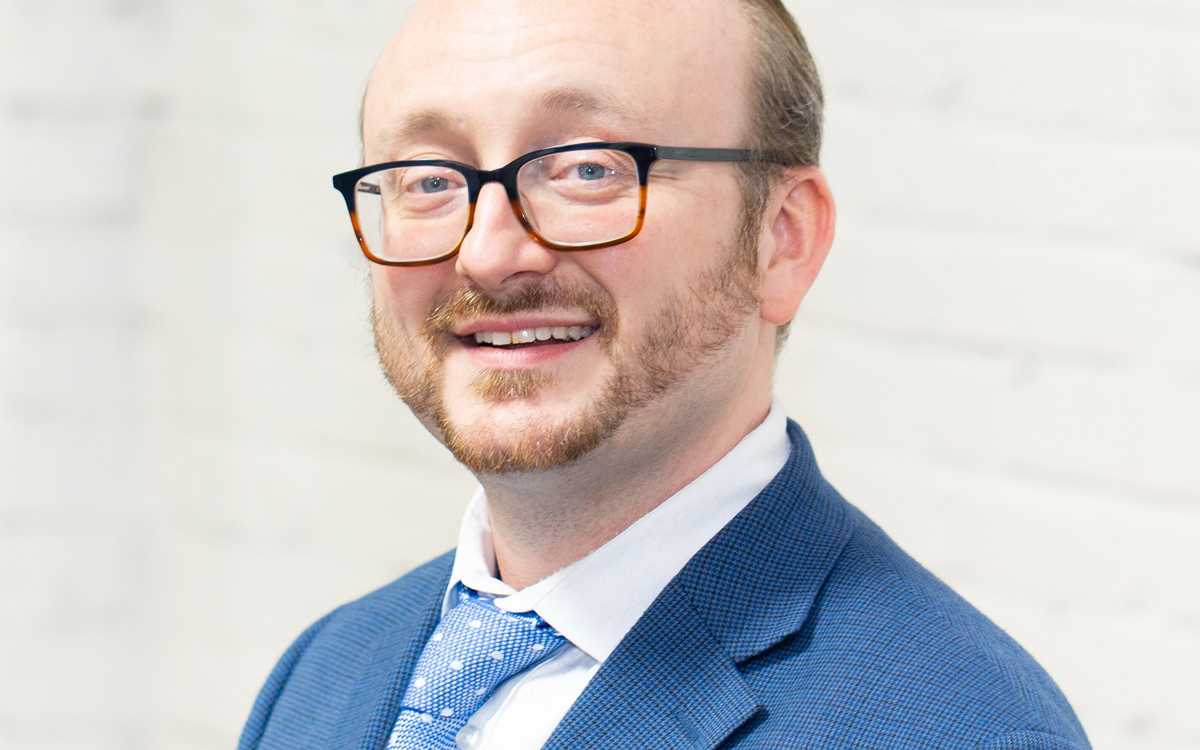 Rehoboth Beach's Clear Space Theatre Company announced Tuesday that its board of directors has unanimously selected Joe Gfaller to join the company as managing director after a national search.
Gfaller, who currently serves as managing director for Metro Theater Company in St. Louis, will join Artistic Director David Button as co-leader at CSTC, which marks its 20th anniversary in 2024.
"I am thrilled at the opportunity to help Clear Space Theatre Company grow its civic and philanthropic footprint as it begins a third decade of serving the community in coastal Delaware," Gfaller said.
"Rehoboth is a special place to all who call it home, both year-round and seasonally. It is an extraordinary honor to work with such a creative and dynamic team as the CSTC staff and board to help the company grow to represent and reflect the fullness of this community."
At Metro Theater Company, which is St. Louis's primary professional theater for youth and families, Gfaller guided campaigns that helped grow the company's revenues by 40% over four years, according to a release from Clear Space.
"Joe brings a wide range of theater experiences to the position and is sure to make an immediate impact on the company," said Clear Space Board chair Laura Lee Mason. "His impressive track record and visionary leadership will undoubtedly elevate Clear Space to new heights. Joe shares our dedication to providing the community with outstanding education and theatrical experiences, and we look forward to collaborating with him to achieve those artistic aspirations."
CSTC Artistic Director David Button added, "I look forward to Clear Space Theatre Company's growth alongside Joe Gfaller. Not only will Clear Space benefit from his talent, but so will the community and state arts industry as a whole."
Gfaller will begin full time in Rehoboth Beach in mid-November. During an October visit for the opening of "Young Frankenstein" at CSTC on Oct. 13, there will be opportunities for the public to meet him during the CAMP Rehoboth Street Festival on Oct. 15. He will be joined by his husband Kraig and their two dogs, Sprout and Emmit.