Marylanders celebrate as House OKs marriage bill
Intense floor debate leads to dramatic victory; referendum on horizon

ANNAPOLIS, Md. — A jubilant crowd erupted into cheers outside the House of Delegates chambers Friday night, as news broke that lawmakers had approved the Civil Marriage Protection Act in a close 72-67 vote.
The dramatic outcome — the bill passed by two votes, triggering a raucous cheer in the chambers — followed an emotional debate over the measure that would extend marriage rights to same-sex couples in the Free State. The bill now goes to the Senate, which passed a similar measure last year, and is expected to vote on the bill in the coming weeks.
MORE PHOTOS AND COVERAGE OF THE DEBATE LEADING UP TO THE WIN FROM THE BLADE.
Gov. Martin O'Malley has made the bill a priority and testified in favor of it at a House committee hearing. Assuming the Senate passes it as expected and O'Malley signs as promised, opponents would have until May 31 to collect 55,736 valid signatures to qualify a measure for the November ballot that would strike down the law.
"I didn't do anything, we all did it," Del. Luke Clippinger (D-Baltimore) said after the historic vote. "And now we're sending this bill to Sen. Madaleno in the Senate, and we believe we'll get this bill passed, and get it to the governor's desk, and he'll sign it right away."
"As a big baseball fan, I'm guessing this is what it feels like to win the World Series," Del. Heather Mizeur (D-Takoma Park), a lesbian, told the Blade.
Clippinger became emotional as he rose to encourage his colleagues to support extending marriage rights to himself, the six other openly gay and lesbian delegates in the Maryland House, their colleague Sen. Richard Madaleno, and thousands of same-sex couples throughout Maryland.
"I ask you to vote 'yes' because the joy felt by two parents raising children shouldn't be overshadowed by fear that the other parent might not be able to care for that child in a time of crisis," Clippinger proclaimed to his fellow legislators. "But more, I'm here tonight to ask you to vote 'yes,' as I have before. Because I am here as a child of God, perfect in my imperfections. Because I am here — not less than any other person — but a full beneficiary to all of God's infinite love, just as each and every person is. Because I am here as a Marylander."
The final floor speech before the close vote was delivered by Del. Tiffany Alston, who angered many LGBT advocates in 2011 when she pulled her support for the bill. Alston spoke to the delegates about the difficulty she had coming to her decision to once again support gender neutral marriage in Maryland.
"I can say that my religion still tells me that marriage is between a man and a woman," Alston said in a shaking voice, clearly emotional. "And I can tell you I still believe it's OK for people of the same sex to get married. But what I know, is that as a state it's time for us to move beyond this issue."
"Today, I'm going to cast a green vote in support of the bill." Alston adding, noting that she supports a referendum on the issue.
Upon her proclamation, many of the gay and lesbian lawmakers — including Clippinger, who had been a driving force behind the bill — became visibly emotional.
Alston offered one of two amendments that was accepted by the legislature earlier in the afternoon, which would ensure that the law could not take effect until all legal challenges to the law and any possible referendum were settled. However, according to the Maryland Constitution, a law cannot take effect until any referendum challenge has been settled in any case, meaning the Alston amendment merely restated existing state law.
Supporters of same-sex marriage were happy to back Alston's amendment if it meant comfort to those lawmakers hesitant to support the bill before them because they feared a referendum would be blocked.
"It was something that could add a level of comfort for some people," Del. Mary Washington (D-Baltimore), a lesbian, told the Blade, after the amendment was accepted 81-52. "This is something that we could negotiate on."
Mizeur told the Blade that the fate of Alston's vote on the bill itself was in the balance up to the afternoon of the vote. Throughout the proceedings, Alston seemed emotional, often resting her head in her hands as she sat at her desk, and looking around the room at her colleagues as they delivered their speeches for and against the bill.
"We talked about it as a possibility yesterday, and we were putting things in play to see if it would work," Mizeur said. "By this morning, I was told 50/50, and we didn't exactly know for sure when we were heading into the floor. It was that close."
The bill's supporters were grateful for Alston's vote, as her change of heart in March 2011 elicited a backlash from many in the LGBT community.
Another amendment that the delegates passed was a measure that would have changed the date that the law went into effect from October to January.
A rejected amendment would have changed "civil marriage" to "civil unions," in the law, a change that at least four of those who eventually voted against the bill said would have helped persuade them to support the measure, including former National Football League quarterback, Del. Jay Walker, who cited his fellow former NFL player, gay defensive tackle Esera Tuaolo in his remarks.
Another rejected amendment would have changed the legal age of consent for same-sex marriage to 18, and a fourth would have allowed parents to opt their children out of same-sex marriage related curriculum that they found offensive, which lesbian Del. Anne Kaiser argued the law already allows.
During the floor speeches Friday night, Del. Maggie McIntosh (D-Baltimore) gave a moving speech about making history in 2001 when she came out as a lesbian to her fellow lawmakers the same year that the House voted to enact a non-discrimination law covering gays and lesbians in employment.
"In 2001, I became legal," McIntosh said of the vote, calling it a great moment in history.
Throughout the floor speeches, many of the opponents of the same-sex marriage bill began to move on from discussing the impending vote, to instead rallying for the expected ballot referendum, indicating that at least some of the opponents were expecting the bill to pass.
"It ain't over 'til it's over," Del. Emmett Burns told the legislature, referring to the referendum, and insisting the voters must have their say. "The battle is not over. Same-sex marriage no!"
Many of the opponents referred to a legal fight over an immigration-related referendum that opponents attempted to block in Maryland. A judge has recently allowed that referendum to move forward. Referendum supporters wanted to be assured that there would be no impediments to giving Maryland voters an opportunity to overturn marriage, should it pass the Senate.
In contrast to the opposition, many LGBT allies in the legislature stood up to encourage their colleagues to do what they believed was right, with Baltimore Del. Keiffer Mitchell, Jr. calling LGBT rights "the civil rights issue of our generation."
"I will not vote to deny individuals access to the same legal rights and responsibilities that are given to me and my wife by the state," said Del. John A. Olszewski, Jr., who said he supported religious provisions that allow faith communities to make their own decisions about which marriages to peform. "As I think about one day when my wife and I look back on our time with our kids when they're reaching [the marrying age], I know that they'll be thankful, and I'll be thankful for what I've done today."
Feelings of relief
Bill co-sponsor Del. Nathaniel Oaks described a feeling of relief after the bill's passage, and that sentiment was echoed by almost every other supporter.
"It's like a big giant weight that's been lifted, and now we move on," Del. Mitchell told the Blade, calling the close vote "courageous." "It's great to be a part of this history."
"Tonight can never be taken from us," Del. Washington told the Blade after the vote.
Voting against the bill was Del. Sam Arora (D-Mont. Co.) who co-sponsored the failed bill of two years ago, and had in 2010 campaigned on a platform that he would support same-sex marriage.
"We feel betrayed," said progressive activist Karl Frisch, who said that he supported his friend Sam Arora during his election, and said he speaks for many of Arora's former friends. "This is about family and doing what's right."
Frisch told the Blade that a large group of national and local progressive leaders met via conference call Friday night to discuss replacing Del. Arora in his district with another Democrat.
"But it's nothing personal, in the same way that Sam would claim it's nothing personal, it's just his faith," Frisch said, telling the Blade that Arora took money from those he promised to support marriage equality. "It's not personal, it's just our lives. At the end of the day, I wonder how Sam squares his faith with lying and fraud."
"I have a friend who bought a house in Maryland — not far from his district — and they regret not buying the house in his district so they would be able to vote against him in the next election," Frisch said. "I hope he has trouble sleeping at night with the shame on his conscience."
Another damper on last night's celebrations was the looming prospect of referendum.
"We know there's people probably out there right now with their petitions gathering signatures," said Lisa Polyak, chair of the Equality Maryland board of directors. "We have a strategy that we've already been working on for months now about how we're going to 50 plus 1, but we'll worry about that tomorrow. Tonight we're going to celebrate."
Supporters jubilant, eyes on referendum
On the subject of a referendum threat, Clippinger said he is confident that same-sex couples in Maryland will see victory there too.
"We are going to win. The only people that are going to keep us from winning are those who doubt that we can."
"Today, the House of Delegates voted for human dignity," Gov. Martin O'Malley said in a statement. "Speaker Busch and his fellow delegates deserve a lot of credit for their hard work. At its heart, their vote was a vote for Maryland's children."
He continued, "There is still work to be done and marriage equality has not yet been achieved in Maryland. Wherever we happen to stand on the marriage equality issue, we can agree that all our children deserve the opportunity to live in a loving, caring, committed, and stable home, protected equally under the law."
"We could not be more grateful to the delegates who today voted to make all Maryland families stronger," said Joe Solmonese, president of the Human Rights Campaign. "Today, we took a giant step toward marriage equality becoming law – and we are in this position due to the unwavering leadership and resolve of Governor O'Malley, Speaker Busch and our legislative allies."
Dana Beyer, Gender Rights Maryland executive director, cheered the victory for gay and lesbian Marylanders, telling the Blade she felt "joy."
"It changes the culture," Beyer told the Blade. "That's probably the most important thing. Now we have to do the heavy lifting and deal with the referendum, and that's why I'm here to do that, and hopefully to get the gender identity bill through, now that this is off the table, so that we can have a duopoly this year."
HME Consulting and Advocacy stands on frontline of LGBTQ policy
Heidi Ellis is a consultant who doesn't take clients 'not aligned with my mission'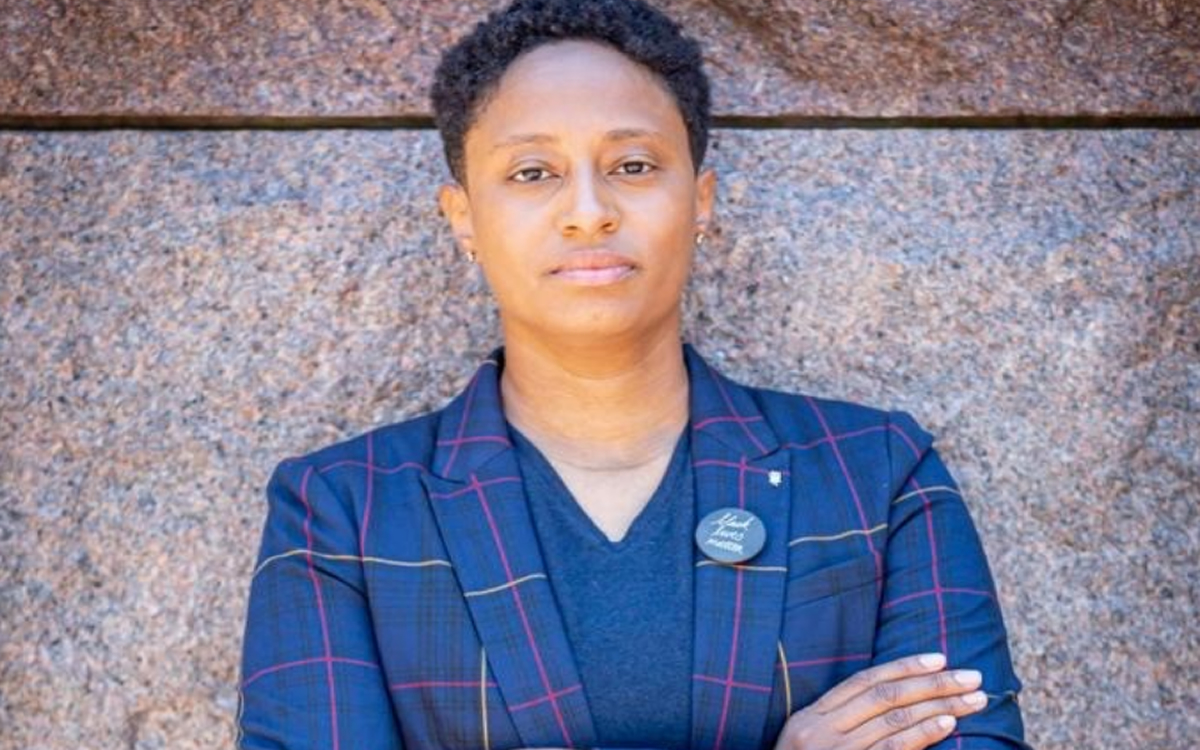 September is here, which means Congress and the D.C. Council return from their August recess and life for consultant Heidi Ellis quickly gets busy.
Her days are filled with negotiating with Council members, phone calls with clients, and policy planning for advocacy groups. The organizations she represents are looking to her to help them push policy and she hopes to guide them to victory.
Ellis's company, HME Consulting and Advocacy, came after years of working in the public and private sectors as a consultant. In 2019, Ellis decided to shift her focus to work that stood at the center of the intersections in which she lives. She sought to figure out how she could better serve her community as a Black queer Latino woman. Ellis recognized that there was a niche for mission-driven consulting in the District.
"I was sought out and recruited by a lot of organizations that wanted me and I took a beat, because I was like 'Do I want to go back into a machine where even if I do effect change, I have to answer to someone?'"she said, in reference to consulting agencies that were in pursuit of her talent. Ultimately, she decided against continuing her work under another company. "By doing what I do, I have much more flexibility for one to say 'Yes' but also to say 'No'."
Although Ellis has considered going back to working in the corporate space, she still loves the flexibility of being able to be nimble as a private consultant.
Although Ellis doesn't work entirely in the advocacy space, her consulting clients still align with her personal values. She joked that she differs strongly from the stereotypical money-driven D.C. consultant who sports Brooks Brothers suits on K Street.
"Even though I am a private consultant … my work is very much mission driven," she said. "I don't take any clients that are not aligned with my mission."
Her mission is simple, Ellis is "committed to elevating issues that sit at the nexus of education, mental health, LGBTQ+ individuals, and people of color."
"The more marginalized you are, the more you suffer from the failures of policy and the gaps of service," she said.
As a consultant in the advocacy space, Ellis does the behind-the-scenes work for organizations to help correct these policy failures and close the gaps. Whether she is facilitating training for companies to better understand how to serve their LGBTQ communities, or she is on the frontline of education policy changes –– Ellis aims to only do work that she is passionate about.
She said that the balance of her combined passion and level-headedness help her to build trusting relationships with her clients and in the end, "Get stuff done."
Since starting her organization, some of her proudest work has been done with the DC LGBTQ+ Budget Coalition. The coalition is made up of more than 30 organizations that aim to advocate for investments and policy changes that affect LGBTQ lives. As a leader of this coalition, her services include policy support, facilitation, training, initiative development and organizational redesign. Since she began leading the coalition, they have raised more than $5 million of investments in LGBTQ programs.
Later this fall, she will work with the DC LGBTQ+ Budget Coalition along with the ANC Rainbow Caucus to convene the first LGBTQ+ Housing Summit from Nov. 29-30.
"The one thing we all recognize is that housing is the common denominator of every other social affliction facing LGBTQ communities," she said.
At the summit they will focus on the barriers within the current housing system and explore revitalized approaches to dealing with the current housing market. To pre-register for the event, visit the LGBTQ+ Housing Summit website.
Comings & Goings
Former D.C. resident opens art gallery in San Francisco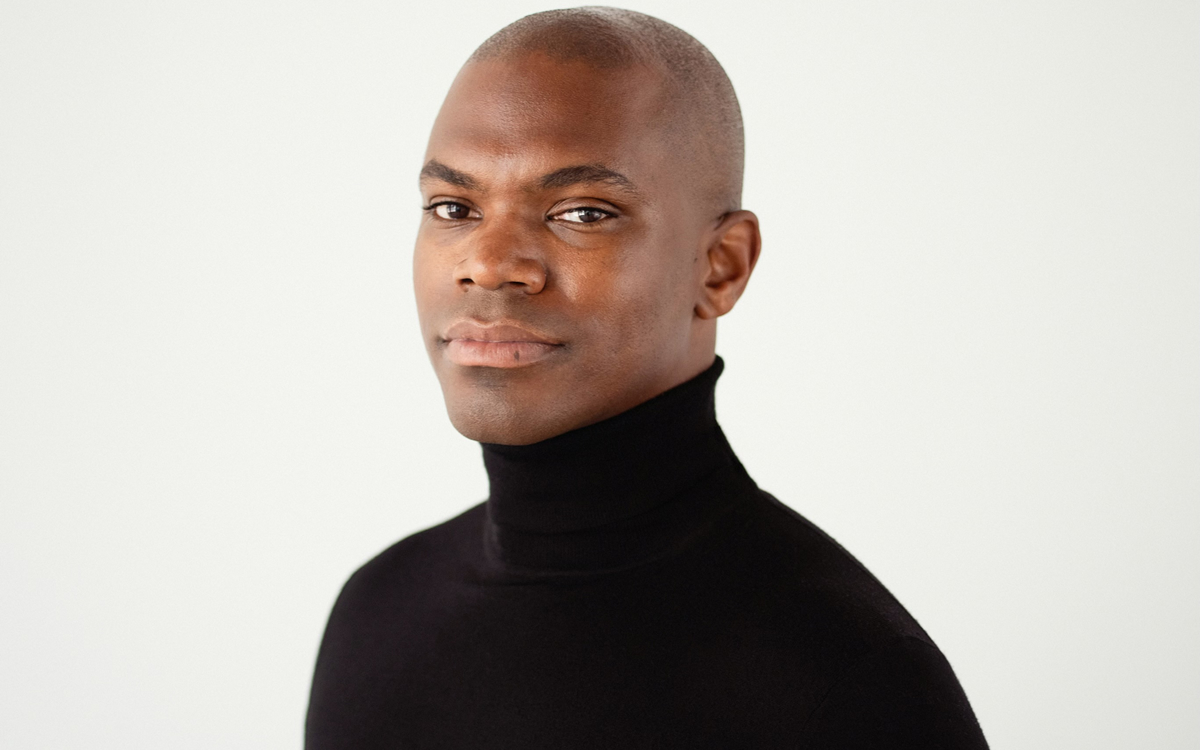 The Comings & Goings column is about sharing the professional successes of our community. We want to recognize those landing new jobs, new clients for their business, joining boards of organizations and other achievements. Please share your successes with us at: [email protected].
The Comings & Goings column also invites LGBTQ+ college students to share their successes with us. If you have been elected to a student government position, gotten an exciting internship, or are graduating and beginning your career with a great job, let us know so we can share your success.
Congratulations to Jonathan Carver Moore on opening his contemporary art gallery in San Francisco. The gallery specializes in working with emerging and established artists who are BIPOC, LGBTQ+ and women. As the only openly gay Black male-owned gallery in San Francisco, Moore is committed to amplifying the voices of the often-underrepresented artists through a Black queer lens. He said, "I want the gallery to be a place where the LGBTQ+ community and people of color walk inside and see themselves knowing that they belong. I want us to be able to collect work from and support underrepresented artists who are often overlooked, but add some much value to our culture."
Moore is also the founder of ARTUCATED, a digital journal that helps share, spotlight, and educate people about marginalized artists. Previously he was director of Donor Relations, Partnerships & Programming Director with the Institute of Contemporary Art San Francisco. He was Communications Manager, Rosenberg Foundation; and Associate Director of Public Relations, Out & Equal, San Francisco Bay Area.
Moore earned his bachelor's in Sociology, Women's Studies, from George Washington University in D.C.; and his master's in Public Relations, Advertising and Applied Communications, also from George Washington University.
Congratulations also to Jim Bobick on having his paintings included in a permanent collection by Saks Fifth Avenue. He said, "I am thrilled Saks Fifth Avenue chose my art for its permanent collection. I have long been a customer of the store and an admirer of the fashion designers represented there. I am especially pleased to know my work is on public view in the Chevy Chase, Maryland store. Not only did I grow up in the area, for part of my education I attended art school nearby, where I had the good fortune of studying under the notable painter Allen Dester Carter of Washington, D.C., whose work is in the Smithsonian collection. My ties to the Washington area art scene and my love of Saks makes this professional moment especially important to me. I am grateful and honored the store chose my paintings for their collection."
He has had numerous exhibitions of his work, including: Gallery 101 Fort Lauderdale, Fla. (solo); Coral Springs Museum of Art, Coral Springs, Fla. (group); Studio B "Delicacies" Washington, D.C. (group); Columbia Art Center "Abstract Paintings" (solo); and Gallery 50 "Freestyle" (solo) Rehoboth Beach, Del. He has been written about in several publications including Michael Mills, Jim Bobick Creates Landscapes of the Mind at Gallery 101, New Times; Arterpillar South Florida Arts Blog; Stefan Braham, Eclectic Expressions, Coastal Style Magazine; Artist Looks Beyond the Temporal Beauty, Coast Press.
He earned his bachelor's in Visual Arts, University of Maryland, College Park, Fine Art; and attended the Maryland College of Art and Design.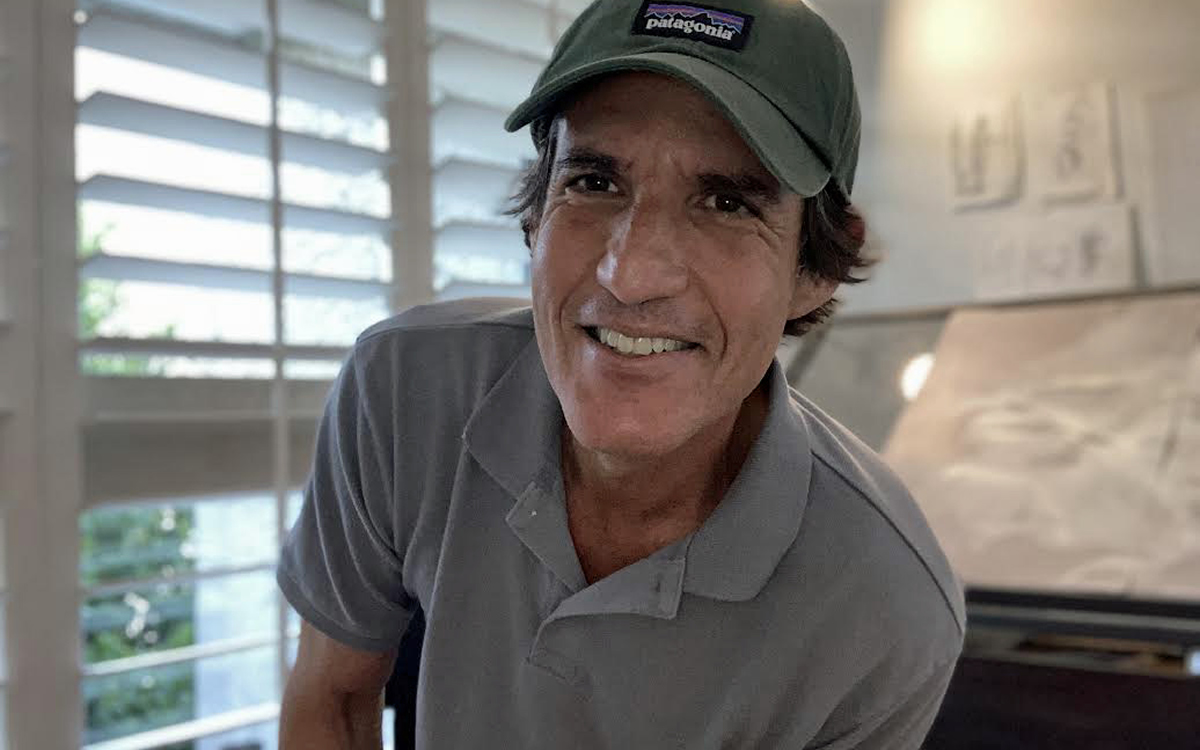 2023 Best of LGBTQ DC Readers' Choice Award Finalist Voting
Vote for your favorite finalists through October 2nd!