Marylanders celebrate as House OKs marriage bill
Intense floor debate leads to dramatic victory; referendum on horizon

ANNAPOLIS, Md. — A jubilant crowd erupted into cheers outside the House of Delegates chambers Friday night, as news broke that lawmakers had approved the Civil Marriage Protection Act in a close 72-67 vote.
The dramatic outcome — the bill passed by two votes, triggering a raucous cheer in the chambers — followed an emotional debate over the measure that would extend marriage rights to same-sex couples in the Free State. The bill now goes to the Senate, which passed a similar measure last year, and is expected to vote on the bill in the coming weeks.
MORE PHOTOS AND COVERAGE OF THE DEBATE LEADING UP TO THE WIN FROM THE BLADE.
Gov. Martin O'Malley has made the bill a priority and testified in favor of it at a House committee hearing. Assuming the Senate passes it as expected and O'Malley signs as promised, opponents would have until May 31 to collect 55,736 valid signatures to qualify a measure for the November ballot that would strike down the law.
"I didn't do anything, we all did it," Del. Luke Clippinger (D-Baltimore) said after the historic vote. "And now we're sending this bill to Sen. Madaleno in the Senate, and we believe we'll get this bill passed, and get it to the governor's desk, and he'll sign it right away."
"As a big baseball fan, I'm guessing this is what it feels like to win the World Series," Del. Heather Mizeur (D-Takoma Park), a lesbian, told the Blade.
Clippinger became emotional as he rose to encourage his colleagues to support extending marriage rights to himself, the six other openly gay and lesbian delegates in the Maryland House, their colleague Sen. Richard Madaleno, and thousands of same-sex couples throughout Maryland.
"I ask you to vote 'yes' because the joy felt by two parents raising children shouldn't be overshadowed by fear that the other parent might not be able to care for that child in a time of crisis," Clippinger proclaimed to his fellow legislators. "But more, I'm here tonight to ask you to vote 'yes,' as I have before. Because I am here as a child of God, perfect in my imperfections. Because I am here — not less than any other person — but a full beneficiary to all of God's infinite love, just as each and every person is. Because I am here as a Marylander."
The final floor speech before the close vote was delivered by Del. Tiffany Alston, who angered many LGBT advocates in 2011 when she pulled her support for the bill. Alston spoke to the delegates about the difficulty she had coming to her decision to once again support gender neutral marriage in Maryland.
"I can say that my religion still tells me that marriage is between a man and a woman," Alston said in a shaking voice, clearly emotional. "And I can tell you I still believe it's OK for people of the same sex to get married. But what I know, is that as a state it's time for us to move beyond this issue."
"Today, I'm going to cast a green vote in support of the bill." Alston adding, noting that she supports a referendum on the issue.
Upon her proclamation, many of the gay and lesbian lawmakers — including Clippinger, who had been a driving force behind the bill — became visibly emotional.
Alston offered one of two amendments that was accepted by the legislature earlier in the afternoon, which would ensure that the law could not take effect until all legal challenges to the law and any possible referendum were settled. However, according to the Maryland Constitution, a law cannot take effect until any referendum challenge has been settled in any case, meaning the Alston amendment merely restated existing state law.
Supporters of same-sex marriage were happy to back Alston's amendment if it meant comfort to those lawmakers hesitant to support the bill before them because they feared a referendum would be blocked.
"It was something that could add a level of comfort for some people," Del. Mary Washington (D-Baltimore), a lesbian, told the Blade, after the amendment was accepted 81-52. "This is something that we could negotiate on."
Mizeur told the Blade that the fate of Alston's vote on the bill itself was in the balance up to the afternoon of the vote. Throughout the proceedings, Alston seemed emotional, often resting her head in her hands as she sat at her desk, and looking around the room at her colleagues as they delivered their speeches for and against the bill.
"We talked about it as a possibility yesterday, and we were putting things in play to see if it would work," Mizeur said. "By this morning, I was told 50/50, and we didn't exactly know for sure when we were heading into the floor. It was that close."
The bill's supporters were grateful for Alston's vote, as her change of heart in March 2011 elicited a backlash from many in the LGBT community.
Another amendment that the delegates passed was a measure that would have changed the date that the law went into effect from October to January.
A rejected amendment would have changed "civil marriage" to "civil unions," in the law, a change that at least four of those who eventually voted against the bill said would have helped persuade them to support the measure, including former National Football League quarterback, Del. Jay Walker, who cited his fellow former NFL player, gay defensive tackle Esera Tuaolo in his remarks.
Another rejected amendment would have changed the legal age of consent for same-sex marriage to 18, and a fourth would have allowed parents to opt their children out of same-sex marriage related curriculum that they found offensive, which lesbian Del. Anne Kaiser argued the law already allows.
During the floor speeches Friday night, Del. Maggie McIntosh (D-Baltimore) gave a moving speech about making history in 2001 when she came out as a lesbian to her fellow lawmakers the same year that the House voted to enact a non-discrimination law covering gays and lesbians in employment.
"In 2001, I became legal," McIntosh said of the vote, calling it a great moment in history.
Throughout the floor speeches, many of the opponents of the same-sex marriage bill began to move on from discussing the impending vote, to instead rallying for the expected ballot referendum, indicating that at least some of the opponents were expecting the bill to pass.
"It ain't over 'til it's over," Del. Emmett Burns told the legislature, referring to the referendum, and insisting the voters must have their say. "The battle is not over. Same-sex marriage no!"
Many of the opponents referred to a legal fight over an immigration-related referendum that opponents attempted to block in Maryland. A judge has recently allowed that referendum to move forward. Referendum supporters wanted to be assured that there would be no impediments to giving Maryland voters an opportunity to overturn marriage, should it pass the Senate.
In contrast to the opposition, many LGBT allies in the legislature stood up to encourage their colleagues to do what they believed was right, with Baltimore Del. Keiffer Mitchell, Jr. calling LGBT rights "the civil rights issue of our generation."
"I will not vote to deny individuals access to the same legal rights and responsibilities that are given to me and my wife by the state," said Del. John A. Olszewski, Jr., who said he supported religious provisions that allow faith communities to make their own decisions about which marriages to peform. "As I think about one day when my wife and I look back on our time with our kids when they're reaching [the marrying age], I know that they'll be thankful, and I'll be thankful for what I've done today."
Feelings of relief
Bill co-sponsor Del. Nathaniel Oaks described a feeling of relief after the bill's passage, and that sentiment was echoed by almost every other supporter.
"It's like a big giant weight that's been lifted, and now we move on," Del. Mitchell told the Blade, calling the close vote "courageous." "It's great to be a part of this history."
"Tonight can never be taken from us," Del. Washington told the Blade after the vote.
Voting against the bill was Del. Sam Arora (D-Mont. Co.) who co-sponsored the failed bill of two years ago, and had in 2010 campaigned on a platform that he would support same-sex marriage.
"We feel betrayed," said progressive activist Karl Frisch, who said that he supported his friend Sam Arora during his election, and said he speaks for many of Arora's former friends. "This is about family and doing what's right."
Frisch told the Blade that a large group of national and local progressive leaders met via conference call Friday night to discuss replacing Del. Arora in his district with another Democrat.
"But it's nothing personal, in the same way that Sam would claim it's nothing personal, it's just his faith," Frisch said, telling the Blade that Arora took money from those he promised to support marriage equality. "It's not personal, it's just our lives. At the end of the day, I wonder how Sam squares his faith with lying and fraud."
"I have a friend who bought a house in Maryland — not far from his district — and they regret not buying the house in his district so they would be able to vote against him in the next election," Frisch said. "I hope he has trouble sleeping at night with the shame on his conscience."
Another damper on last night's celebrations was the looming prospect of referendum.
"We know there's people probably out there right now with their petitions gathering signatures," said Lisa Polyak, chair of the Equality Maryland board of directors. "We have a strategy that we've already been working on for months now about how we're going to 50 plus 1, but we'll worry about that tomorrow. Tonight we're going to celebrate."
Supporters jubilant, eyes on referendum
On the subject of a referendum threat, Clippinger said he is confident that same-sex couples in Maryland will see victory there too.
"We are going to win. The only people that are going to keep us from winning are those who doubt that we can."
"Today, the House of Delegates voted for human dignity," Gov. Martin O'Malley said in a statement. "Speaker Busch and his fellow delegates deserve a lot of credit for their hard work. At its heart, their vote was a vote for Maryland's children."
He continued, "There is still work to be done and marriage equality has not yet been achieved in Maryland. Wherever we happen to stand on the marriage equality issue, we can agree that all our children deserve the opportunity to live in a loving, caring, committed, and stable home, protected equally under the law."
"We could not be more grateful to the delegates who today voted to make all Maryland families stronger," said Joe Solmonese, president of the Human Rights Campaign. "Today, we took a giant step toward marriage equality becoming law – and we are in this position due to the unwavering leadership and resolve of Governor O'Malley, Speaker Busch and our legislative allies."
Dana Beyer, Gender Rights Maryland executive director, cheered the victory for gay and lesbian Marylanders, telling the Blade she felt "joy."
"It changes the culture," Beyer told the Blade. "That's probably the most important thing. Now we have to do the heavy lifting and deal with the referendum, and that's why I'm here to do that, and hopefully to get the gender identity bill through, now that this is off the table, so that we can have a duopoly this year."
Youngkin reiterates opposition to marriage equality
Va. gubernatorial candidate says issue 'legally acceptable' in state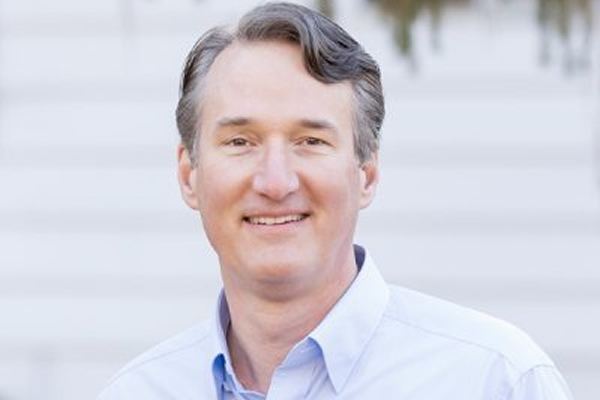 Glenn Youngkin in an interview with the Associated Press has reiterated his opposition to marriage rights for same-sex couples.
Youngkin—a Republican who is running against Democrat Terry McAuliffe to succeed Virginia Gov. Ralph Northam—said in an interview published on Friday that he feels "called to love everyone." Youngkin then reiterated his opposition to marriage equality before he added it is "legally acceptable" in the state.
"I, as governor, will support that," Youngkin told the AP.
McAuliffe was Virginia's governor from 2014-2018.
Same-sex couples began to legally marry in Virginia a few months after McAuliffe took office.
McAuliffe in 2014 became the first governor of a Southern state to officiate a same-sex wedding. The lesbian couple who McAuliffe married recently appeared in one of his campaign ads.
McAuliffe on Friday criticized Youngkin. "As governor, I worked my heart out to keep Virginia open and welcoming to all," said McAuliffe in a tweet. "This type of bigotry and intolerance has no place in our commonwealth."
As governor, I worked my heart out to keep Virginia open and welcoming to all. This type of bigotry and intolerance has NO place in our Commonwealth. https://t.co/T8olFwkszP

— Terry McAuliffe (@TerryMcAuliffe) October 22, 2021
The anti-LGBTQ Family Research Council, which the Southern Poverty Law Center has categorized as an extremist group, earlier this month endorsed Youngkin, but Log Cabin Republicans are among the groups that have backed his campaign. The Human Rights Campaign in 2019 named Youngkin's former company, the Carlyle Group, as a "Best Place to Work for LGBTQ Equality" in its annual Corporate Equality Index.
D.C. school board calls for LGBTQ-inclusive teaching standards
Sweeping resolution proposing content in curricula approved unanimously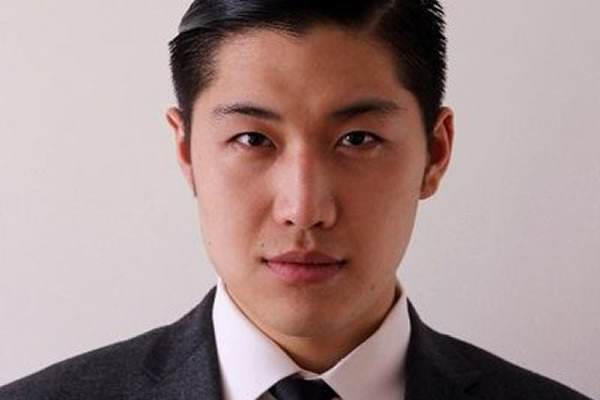 The D.C. State Board of Education voted unanimously on Oct. 20 to approve a resolution calling for LGBTQ+ Inclusive Education Standards for the city's public schools that "reflect on the political, economic, social, cultural, and scientific contributions and experiences of lesbian, gay, bisexual, and transgender people."
The two-page resolution, which was introduced by gay State Board of Education member Allister Chang, who represents Ward 2, cites national research showing that students who have access to LGBTQ+ curricula in their schools "are more likely to report lower frequency of bullying, lower levels of depression, more accepting peers, and greater feelings of safety in school."
The resolution states that research also shows that multicultural education, including the teaching of LGBTQ topics, "helps prevent the formation of bias and prejudice and creates more democratic communities."
LGBTQ rights advocates have long considered the local D.C. government through its mayor and City Council to be highly supportive of the LGBTQ community. But Chang and other supporters of the resolution approved by the board Wednesday night say their research shows that D.C. public schools, while supportive of LGBTQ students, are far behind the school systems in several other states in the inclusion of LGBTQ topics in school curricula.
As an example, supporters of the resolution point out that curriculum standards for social studies classes in the D.C. school system include only one mention of LGBTQ people in a teaching section related to victims of the Holocaust.
Unlike most other cities and states, under current D.C. law, the school system is controlled by the mayor through the D.C. Department of Education, which is headed by a Deputy Mayor for Education and who, in turn and in consultation with the mayor, appoints a State Superintendent of Education who oversees the day-to-day operations of the schools.
Under a change in the education statute approved by the D.C. Council and signed by then-Mayor Adrian Fenty in 2007, the school board, which was renamed the State Board of Education, became a mostly advisory body on education matters with some statutory authority to approve education standards on which school curricula are based.
Thus, the resolution approved by the board on Wednesday "advises" and "recommends" that the State Superintendent of Education develop school curricula, guidance for teachers, and school-based leaders and staff "in providing LGBTQ+ inclusive lessons and practices in their classrooms."
The resolution concludes by recommending that the State Superintendent of Education conduct a survey of students within two years after the Oct. 20 adoption of the resolution "to establish baseline data and to gain an understanding of the current experiences of LGBTQ+ students across the district and what all students know and understand about the contributions and experiences of LGBTQ+ people in the relevant subject areas."
Chang and other members of the State Board of Education noted at the Oct. 20 meeting, which was virtual, that Will Beckerman, who graduated this year from D.C.'s School Without Walls High School, played an important role in conducting the research used to prepare the LGBTQ standards resolution and helped in the drafting of the resolution.
Chang noted that much of the background information used to draft the resolution came from Beckerman's senior year school research paper and advocacy project that focuses on the topic of LGBTQ-inclusive education.
In comments supporting the resolution, Chang also spoke about how the very limited LGBTQ content he encountered during his high school days helped him accept himself as a gay youth.
"As a student myself, I don't remember a single mention of any LGBTQ people in any of my classwork until I read Thomas Mann in my senior year in high school," Chang said. "And in Death in Venice, this Nobel Prize winner touches upon his struggles with homosexuality but never actually names it explicitly," Chang told fellow board members.
"And I remember holding on to this novella despite the self-hatred that's woven throughout this story because it was the first time that I saw this aspect of my identity reflected in my class work," he said. "My hope – and I think this hope comes true with this resolution tonight – is that future generations of LGBTQ students have more opportunities to see themselves reflected in their class work and to feel less isolated by their class work than I did growing up."
It couldn't immediately be determined whether D.C. Mayor Muriel Bowser will endorse the school system changes proposed by the resolution approved by the State Board of Education.
The full text of the resolution follows:
State Board of Education Resolution
On LGBTQ+ Inclusive Education Standards
SR21-7
WHEREAS, the 2019 District of Columbia Youth Risk Behavior Survey found that lesbian, gay, and bisexual students make up 15.9 percent of high school students in the District and transgender students make up1.9 percent of District high school students;
WHEREAS, in the District, these students, in comparison to their heterosexual peers, experience double the rate of bullying on school property, report higher rates of being removed from class for disciplinary reasons, and are more than twice as likely to experience suicidal ideation;
WHEREAS, national data shows that lesbian, gay, and bisexual students are significantly more likely to receive grades of D or F than their heterosexual peers and were more likely to be truant;
WHEREAS, consistent research suggests that students with LGBTQ+ inclusive curricula in their schools are more likely to report lower frequency of bullying, lower levels of depression, more accepting peers, and greater feelings of safety in school—and this safety leads students to report higher attendance, higher GPAs, a greater sense of belonging in the school community, and higher educational aspirations;
WHEREAS, research shows that multicultural education helps prevent the formation of bias and prejudice and creates more democratic communities ;
WHEREAS, the State Board of Education recognizes the need to have revised social studies standards that create "windows and mirrors" so students see themselves and people like them reflected in the content of standards and curriculum, as well as having the opportunity to learn about diverse people, cultures, places, and experiences unlike themselves—explicitly noting that the current standards emphasize the lives of presidents and other figures who held/hold power and under-represent or lack representation of people and groups like those identifying as LGBTQ+, and their respective histories;
WHEREAS, in the State Board of Education's review and revision of the social studies standards, the State Board called upon the Office of the State Superintendent of Education (OSSE) to "seek standards writers who reflect the demographics and experiences of District students and of the communities they are writing about" sharing a list of examples that included writers identifying as LGBTQ+;
WHEREAS, the State Board of Education is committed to ensuring students acquire the knowledge and skills necessary to be engaged global citizens in a diverse democratic society; and,
WHEREAS, the State Board of Education has a commitment to promote equity, introduce policies to reduce disparities between students, and create safe school environments for all students.
NOW, THEREFORE, BE IT RESOLVED THAT, upon the next revision of any District of Columbia state education standards, the State Board of Education should adapt standards, when appropriate, that reflect on the political, economic, social, cultural, and scientific contributions and experiences of lesbian, gay, bisexual, and transgender people;
BE IT FURTHER RESOLVED THAT, the State Board of Education advises the Office of the State Superintendent of Education (OSSE) to provide guidance to teachers and school-based leaders and staff on creating inclusive lessons in science and English language arts (ELA) classes that align with Next Generation Science Standards (NGSS) and Common Core ELA standards, respectively;
BE IT FURTHER RESOLVED THAT, the State Board of Education recommends that the Office of the State Superintendent of Education (OSSE) implement professional development for teachers and school-based leaders and staff to aid them in providing LGBTQ+ inclusive lessons and practices in their classrooms, such that that the professional development includes: workshops for local education agencies (LEAs) and teachers to draft curriculum related to LGBTQ+ topics in their subject areas, lessons on use of inclusive language in the classroom, lessons on ensuring LGBTQ+ students' safety and confidentiality while maintaining respect for their name and pronouns, and mandatory diversity training related to the LGBTQ+ community; and,
BE IT FINALLY RESOLVED THAT, the State Board of Education recommends that the Office of the State Superintendent of Education (OSSE) survey students within two (2) years of adoption of this resolution to establish baseline date and to gain an understanding of the current experiences of LGBTQ+ students across the district and what all students know and understand about the contributions and experiences of LGBTQ+ people in the relevant subject areas.
https://osse.dc.gov/sites/default/files/dc/sites/osse/publication/attachments/2019%20DC%20YRBS%20Report.pdf
Brikett, Michelle et al. "Sexual-orientation disparities in school: the meditational role of indicators of victimization in achievement and truancy because of feeling unsafe." American Journal of Public Health vol. 104, 6 (2014): 1124-8. doi: 10.2105/AJHP.2013.301785
Kosciw, Joseph G., et al. "The 2019 National School Climate Survey: The Experiences of Lesbian, Gay, Bisexual, Transgender, and Queer Youth in Our Nation's Schools." GLSEN, GLSEN, 2020, glsen.org.
Camicia, Steven P. Critical Democratic Education and LGBTQ-Inclusive Curriculum: Opportunities and Constraints. Routledge Focus, 2016.
Camicia, Steven P. "Prejudice Reduction through Multicultural Education: Connecting Multiple Literatures." Social Studies Research and Practice, vol. 2, no. 2, 2007, pp. 219–227.
socstrpr.org/files/Vol%25202/Issue%25202%2520-%2520Summer%25202007/Action%2520Research/2.2.6.pdf
Nellie's agrees to $5,000 fine, 7-day license suspension over brawl
Penalty prompted by security guard dragging Black woman down stairs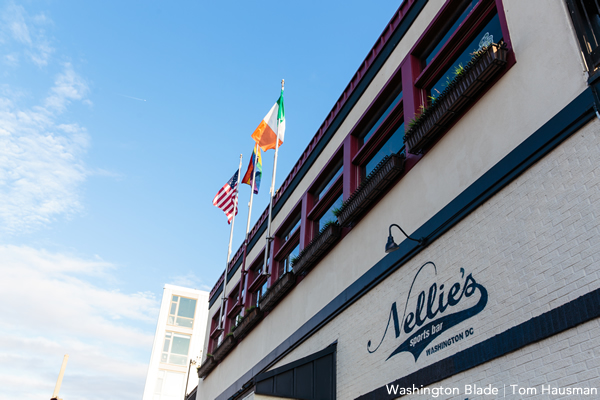 The D.C. Alcoholic Beverage Control Board on Wednesday, Oct 20, approved a compromise agreement it reached with Nellie's Sports Bar that calls for the U Street, N.W. gay bar to pay a $5,000 fine and serve a seven-day license suspension over a June 13 incident in which a Black woman was dragged down a flight of stars by a Nellie's security guard during a brawl between Nellie's customers.
The agreement calls for a license suspension of 24 days with 17 days to be suspended and seven days to be served "so long as the Respondent does not commit any violations within (1) year from the date of this Order," the ABC Board declared in a three-page order confirming the agreement.
The order states that the license suspension will be served from Dec. 20-26 of this year. It also states that Nellie's must pay the fine within 120 days from the date of the order. If the fine is not paid during that time "its license shall be immediately suspended until all amounts owed are paid."
As a final stipulation of the agreement, the ABC Board states that Nellie's must file a "legally compliant security plan" within 10 calendar days of the Oct. 20 order.
The security plan requirement stems from an earlier finding by the city's Alcoholic Beverage Regulation Administration related to the June 13 incident that Nellie's was in violation of several provisions of the city's liquor law, including a provision that a security plan that meets the standards of the city's liquor regulations is in place.
An ABRA investigation of the June 13 incident found, among other things, that "multiple assaults occurred inside the establishment while the licensee was engaged in a method of operation conducive to unlawful conduct."
The action by the Nellie's security guard, which took place during the city's LGBTQ Pride weekend, was captured on video taken by one of the customers on their phone. The video went viral on social media, prompting a series of protests against the bar by LGBTQ activists and Black Lives Matter advocates.
Nellie's issued an apology for the incident the following day and announced it had fired the private security company whose employee, who is Black, dragged Keisha Young, 22, down the stairs. Nellie's also announced it would temporarily close for business to assess what had happened and develop plans for reopening as a safe space for all members of the community. It reopened 35 days later, with protesters continuing to assemble outside the bar for several more weeks.
When the five-member ABC Board on Oct. 20 held a roll call vote to approve what is officially called an Offer-In-Compromise or OIC agreement with Nellie's that includes the fine, license suspension, and other provisions, gay ABC Board member Edward Grandis voted against the agreement, becoming the only member to do so.
A video recording of the virtual ABC Board meeting available through YouTube shows that Grandis expressed general support for the decision by both the board and Nellie's to reach a compromise agreement. But he said he objects to the license suspension requirement.
"In this particular regard, when the facts and the testimony indicate that the licensee on its own initiative without any knowledge, at least in the testimony, of prompting from the government or MPD or any party, to itself close for 35 days during – generally – the pandemic when so many companies lost their companies and their employees lost their jobs and the neighborhoods lost their establishments, I really believe that this particular situation shows that the licensee took this event seriously and accordingly in a manner that hopefully will prevent it from happening again or have better security measures to avoid this type of situation in the future," Grandis told his fellow board members.
"And I just wanted the record to show I'm supportive of the OIC generally, but I don't believe it was constructed in a way that indicates what this licensee has done since that incident," Grandis said.
Nellie's owner, Douglas Schantz, and Nellie's attorney, Andrew Klein, couldn't immediately be reached for comment.
Klein, who spoke at the ABC Board hearing on Wednesday, said in response to a question by Grandis that Nellie's reluctantly agreed to the fine and license suspension, which he called "excessive," among other things, because Schantz wants to put the matter behind him and to "heal" and "move on" with the community.
The ABC Board's action came one day after the Washington City Paper announced that Nellie's Sports Bar finished in second place among its readers in its annual Best of D.C. contest for the category of "Best Gay Bar/Club/Lounge."