From Broadway to Hollywood
'Double Life' memoir recounts 50-year love story of artist and TV mogul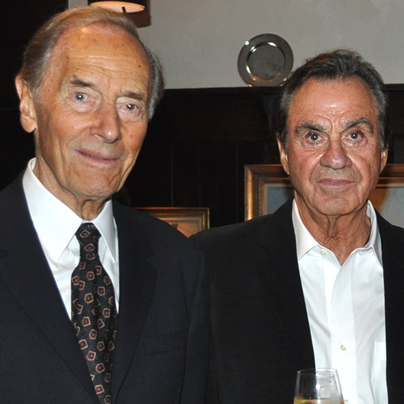 Careers in the arts are never easy, but for every Sinatra, Hepburn or Garland there are hundreds, perhaps thousands, of actors, singers and behind-the-scenes moguls and designers who manage long, successful careers in New York or Hollywood without becoming household names.
Alan Shayne and Norman Sunshine are two such figures. Shayne is a former actor-turned-casting agent-turned TV mogul who nurtured hit '70s shows like "Dukes of Hazzard" and "Alice" to the airwaves during his 10 years as president of Warner Brothers Television. Sunshine, his partner of 50 years, is a painter and sculptor who made ads for Blackglama Minks ("What becomes a legend most?") and Danskins ("Danskins are not just for dancing") famous between stints of having his own exhibitions and commercial projects. After decades of navigating the thick jungles and uphill battles of the art world and entertainment industry, one wonders their thoughts on the ways of those worlds: with tenacity, does the cream inevitably rise or have we missed geniuses along the way?
They say it's gotten tougher to "make it" over time.
"I think the thing I've observed in the fine arts is the phenomenon of money coming into play more and more in which careers are measured by the amount of money that can be made off of it," Sunshine says. "All these art fairs are really about money, the dealers and collectors being able to make money off of it. It's different. I don't know how one quite survives that … there's a horrendous fickleness now on a scale we've not seen before."
Shayne, who gave up acting because casting seemed more stable and practical, agrees.
"It's a really tough road to hoe," he says. "In my day, I could go to New York and live and rent a room for $5 a week and make it work. Now you can't possibly do that. I don't know how the young actors and young artists do it today. Yes, the Meryl Streeps and the Dustin Hoffmans and the Robert De Niros are going to succeed but I worry about some of the little people who are also very talented."
In November, the two had their joint autobiography published by Magnus Books — "Double Life: a Love Story from Broadway to Hollywood." They'll be in Washington Monday for a private reception for the book.
And even though the book is drawing raves — Joan Rivers called it "beautifully written" and "filled with humor" and legendary critic Rex Reed called it a "riveting" book by "two extraordinary men" — Shayne and Sunshine, who worked on it for about three years, say getting it published was not easy.
"We got the most glowing rejection letters you could imagine from the leading publishing houses," Shayne says.
He says it was worth the effort to get the book in print to show that long-term gay relationships are possible.
"We'd been terribly disturbed by the suicides," Shayne says. "Time magazine did a story where they talked to young gays in their 20s who didn't believe any [gay] relationship could last past 10 years. People have told us we're a rather inspirational couple so we decided to tell our story."
"There had always been this thinking that, 'Oh God, it's a terrible life,'" Sunshine says. "We wanted to kind of deal with that issue and let people know we're not always in feathers or this and that. We're like you. We have the same loves, desires and careers. We felt we had a responsibility to tell that story."
And it is quite a story. With fun anecdotes of the famous paths with whom they've crossed — Lena Horne, Laurence Olivier, Marlon Brando, David Susskind, Helen Hayes, George Cukor, Katharine Hepburn, Norman Lear, Bette Davis, Rock Hudson and more make memorable appearances — the book is delightfully shameless in its name dropping.
Just as vivid, though, are lengthy passages where the two write evocatively of what it was like to be gay in the '50s and '60s, to what degree they were able to be out (if at all) and how their relationship evolved over the decades. Shorn of any Jackson-Paris-type false idealism — they make it clear it wasn't always a bed of roses — their experiences come vividly to life.
"We felt we had to be totally honest for the book to work," Shayne says. "We found out things about each other we didn't know but we felt if we weren't totally honest about it, what would be the point? Otherwise it would be so goody-goody you couldn't stand it. But we got through it and that's really the story of our relationship. We ended up supporting each other."
"A lot of people have identified very strongly with the book," Sunshine says. "It gives them insight into the time period and the history of the gay situation vis-à-vis us."
During a lengthy phone chat from their home in Palm Beach, Fla., the two — on a joint call — happily elaborate on topics touched on in the book.
Though they still drink, it's mostly just wine these days —they've traded in the Rob Roys they drank copiously for years for California chardonnay.
They attribute their long careers to their mutual abilities to adapt. Some opportunities came out of nowhere — like the Tiffany display that helped launch Sunshine's impressive art career — while others were built piece by piece through painstaking work like the cards Shayne kept on each actor he saw so he'd have a bounty of suggestions to directors casting various projects.
Their various country houses — in Pennsylvania, Connecticut and more — have helped them grow together, they say.
"In the '50s, when you couldn't really be openly gay, our homes became terribly important to us and we were happiest when we were there by ourselves," Shayne says.
He also says the popular notion that CBS didn't care about "Alice" spin-off "Flo," an eponymous sitcom for Polly Holliday's sassy character, isn't true. It was not a victim, he says, of the network carelessly changing the show's time slot repeatedly in those pre-VCR or TiVo days. Shayne says he worked hard to make "Flo" fly just as he'd done with "Alice" in its rocky first season but ultimately the audience wasn't buying the character in a world outside Mel's Diner.
But how did "Alice" succeed another five seasons without its most popular character while "Flo" failed?
"I love Polly and at the time, it seemed like a good idea to bring Diane (Ladd — who'd played Flo in the film) back (to 'Alice')," Shayne says. "We really had hoped 'Flo' would be a big success and believe me, we did everything. We changed writers, changed producers, nothing seemed to work, but God knows we tried. … the public kind of wanted her there saying, 'Kiss my grits' in the diner and she became really a different character when she had her own show. She wanted to be different … CBS was actually very cooperative."
Ironically perhaps, Shayne and Sunshine say though they socialized several times with Cukor, the legendary "old Hollywood" director who was gay and famous for his parties, they never discussed their relationship or homosexuality with him.
"He knew we were a couple, he would invite us both to dinner, but it was always a mixed group. Sometimes Kate (Hepburn, who lived in Cukor's guest house when she was on the West Coast) would stop by and say hello, but it was all very proper … I don't think he ever mentioned the word gay to us," Shayne says.
As for the changing times, they say it's only in the last eight or 10 years that they've felt comfortable being fully out in all aspects of their lives. They wed in Massachusetts eight years ago initially for practical reasons. They were pleasantly shocked at how welcomed they were by the hotel staff where they stayed.
"AIDS really exploded the conversation on gay issues," Sunshine says. "It was the instrument by which the whole gay thing came out as a national discussion."
And what about the irony of Sunshine being the Emmy winner in the family despite Shayne's long career in television (Sunshine won for titles he designed for a special in the mid-'70s)?
"Can you hear me gnashing my teeth," Shayne says.
Put this out gay trailblazer's supportive coach in your bracket
'Coach Willard's awesome,' says Derrick Gordon of Maryland's Kevin Willard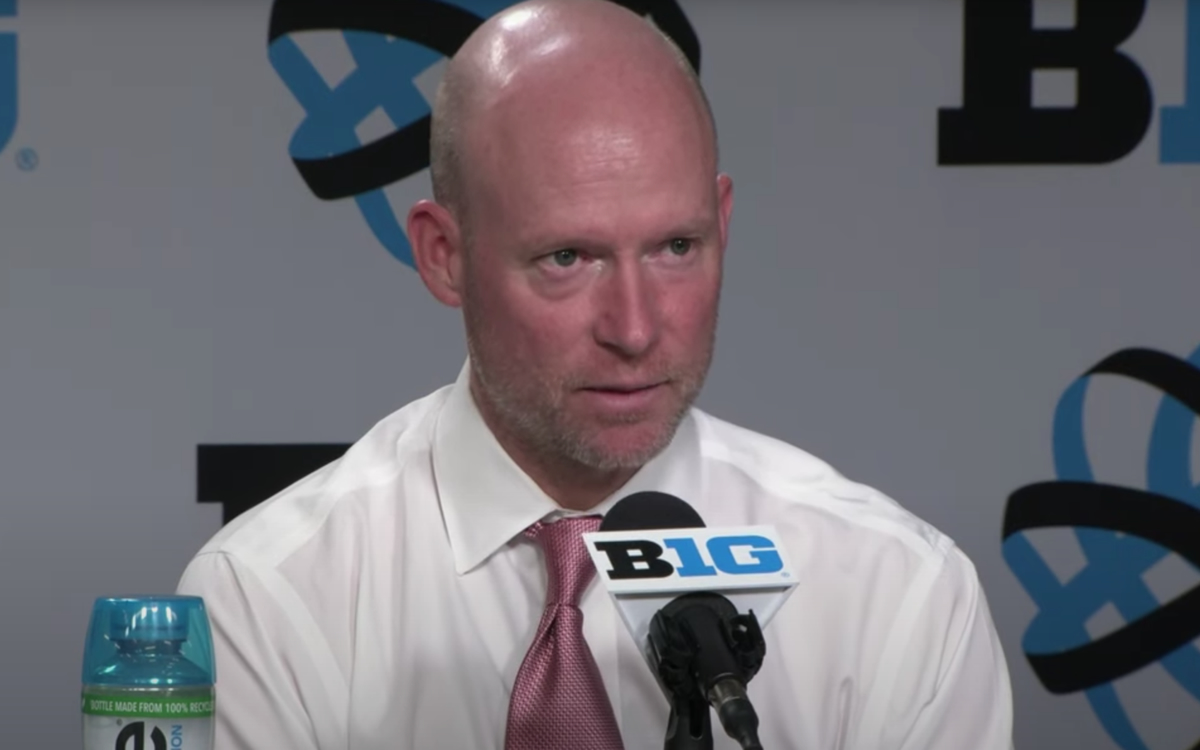 When the 8th seeded Maryland Terrapins faced off against No. 1 Alabama in the second round of the NCAA Men's Basketball Championships last weekend, it wasn't just the players on the hardwood who were working hard for the win. Nate Oats coached the Crimson Tide to a 73-51 victory less than an hour from their home court. And on the other side was Kevin Willard, who is not just a seasoned coach, but a strong LGBTQ ally.
Willard was Derrick Gordon's coach at Seton Hall when he transferred from UMass in 2015, a year after he came out as the first out gay Division I Men's basketball player in the NCAA.
Gordon has credited Willard with creating a comfortable environment, after he "bumped heads" with former UMass coach Derek Kellogg during his two seasons with the Minutemen. In contrast, he said he instantly connected with Willard, and told his teammates and Willard following his final season at Seton Hall that he wished he had another year of eligibility remaining. He's said he considered Willard the best coach he'd ever played for.
"He just made it comfortable for me," Gordon told Glenn Clark Radio in an interview broadcast on March 22, 2022. "He said, 'You know what, we're more focused on who you are as a person and a basketball player and what you bring to the team.' He voiced that over and over again. When I went on my visit, I just felt even more comfortable, met a couple of the guys. They made me feel right at home as well, so it was kind of like an easy decision. Coach Willard's awesome. He's an amazing guy."
If you don't believe Gordon, ask the West Virginia Mountaineers, who lost to the Terrapins in the first round 67-65. Maryland's win "took the paint off the floor at Legacy Arena" in Birmingham, Ala., as Brendan Quinn wrote in The Athletic. He described Willard's style of coaching this way:
"Willard paced the sideline, as he does. The man is intense. Doesn't suffer fools. Serious stuff. No BS. Black eyes screwed deep in a bald head, no pupils. He regards things sideways, incredulous toward anyone who doesn't come correct. It's his whole thing. If Guy Ritchie cast a college basketball coach, it'd be Willard."
Gordon told Glenn Clark Radio that he particularly recalled the kind of support Willard gave him in one practice early in his Seton Hall career, according to Press Box Online.
"I remember a particular situation that happened in practice — came down the court and I was wide open and I didn't shoot it," Gordon said in the 2022 interview. "[Willard] stopped practice and he said, 'You're not at [UMass] anymore. I trust you. I believe in you. Shoot the ball.' Ever since then, my confidence was through the roof, especially dealing with I had to deal with when I was at UMass with that coach to playing under Coach Willard and him telling me that specifically, he just let me play my game."
Last July, Gordon posted on Instagram that after playing a few seasons in Europe for Cyprus and Germany, "I decided to end my career as a professional athlete."
Gordon is now 31, and he told his followers he is working on a book about his life "on and off the court," in hopes he might "help gay young people, student athletes in particular and others who are struggling to pursue careers in professional sports or any career paths they chose without fear or shame."
Since Christmas, he's been sharing posts that include photos with his boyfriend, actor Scott Backman of Los Angeles, including one from last week, captioned: "Every time we're together, it's like falling in love all over again."
10 LGBTQ events this week
Drag, dancing and kite flying among highlights
Below are our picks for some of the most fun and creative things to do this week in the DMV that are of special interest to the LGBTQ community.
---
Drag Queen Trivia Tuesday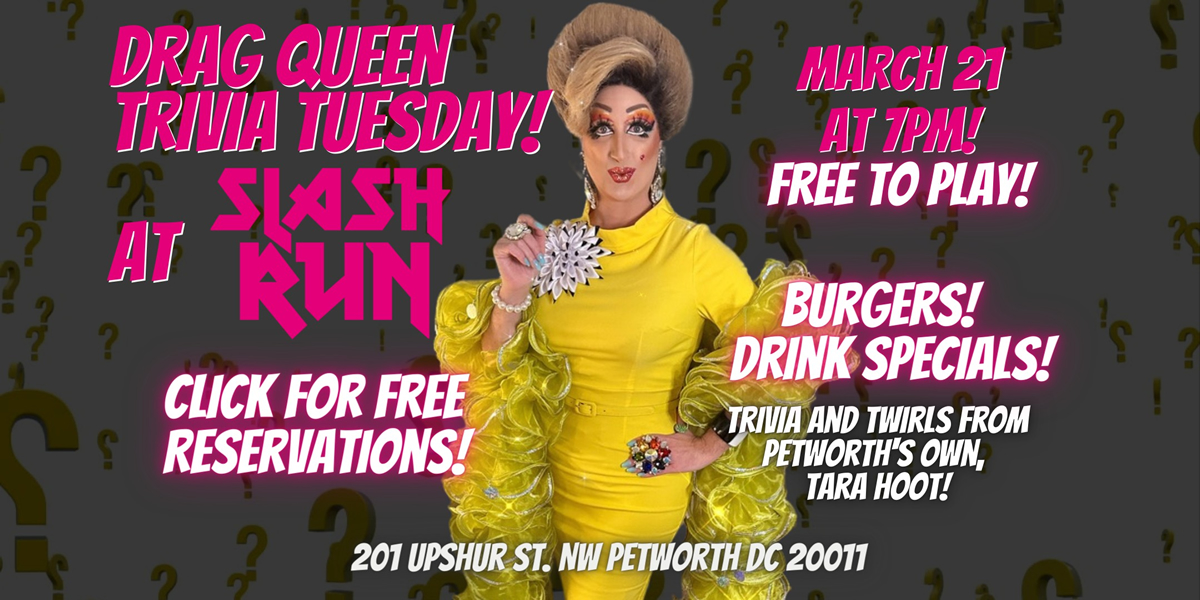 Tuesday, March 21
7 p.m.
Slash Run
201 Upshur Street, N.W.
Facebook | Reservations
Tara Hoot leads a game of trivia at Slash Run on Tuesday.
---
Daddy Issues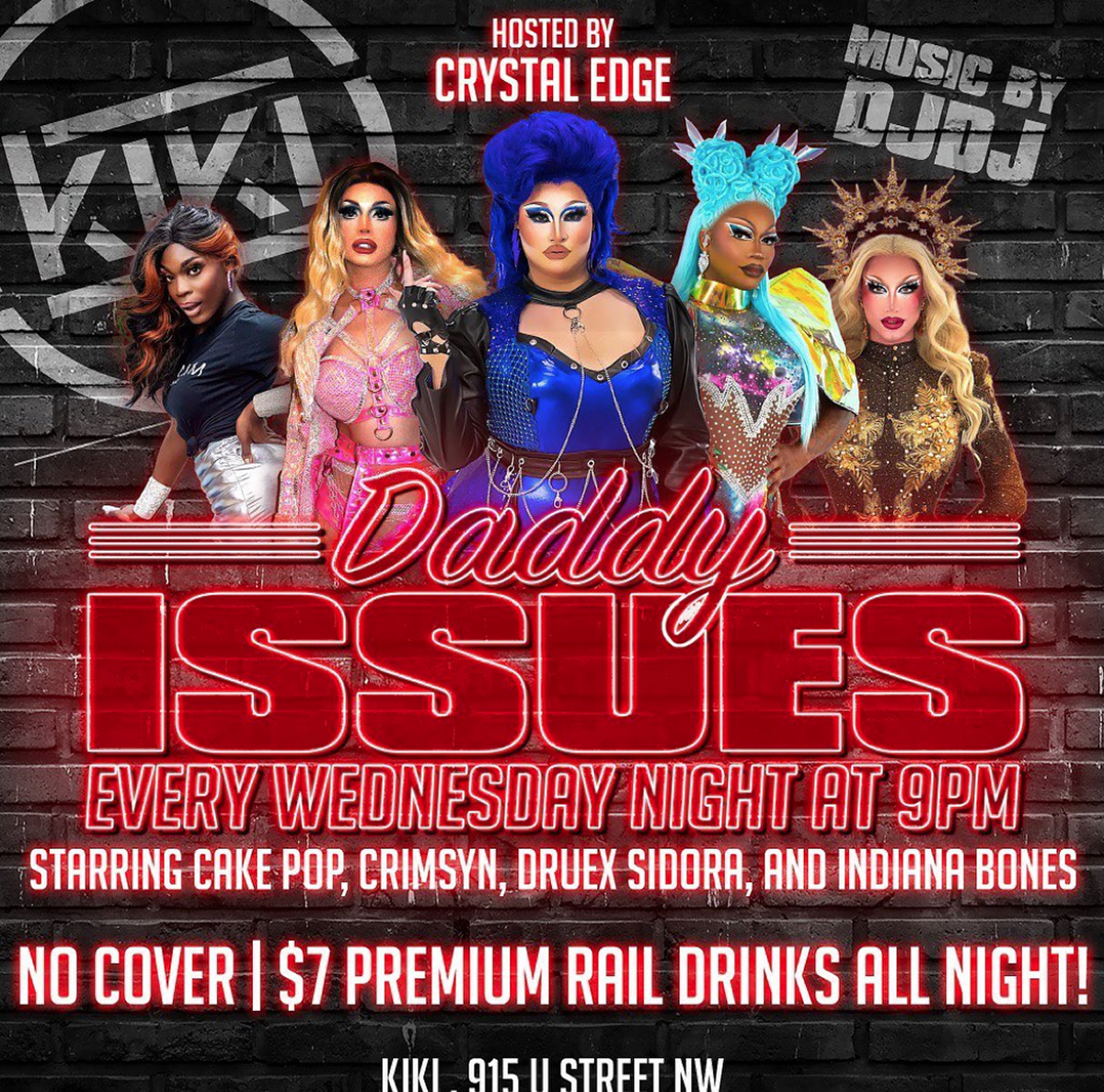 Wednesday, March 22
9 p.m.
Kiki
915 U Street, N.W.
Instagram | Website
Crystal Edge leads the weekly drag show at Kiki on Wednesday.
---
DC Boys of Leather – March Happy Hour

Thursday, March 23
6-9 p.m.
Trade
1410 14th Street, N.W.
Facebook
Grab your gear and make your way to Trade for the March Happy Hour of the DC Boys of Leather.
---
RuPaul's Drag Race Viewing Party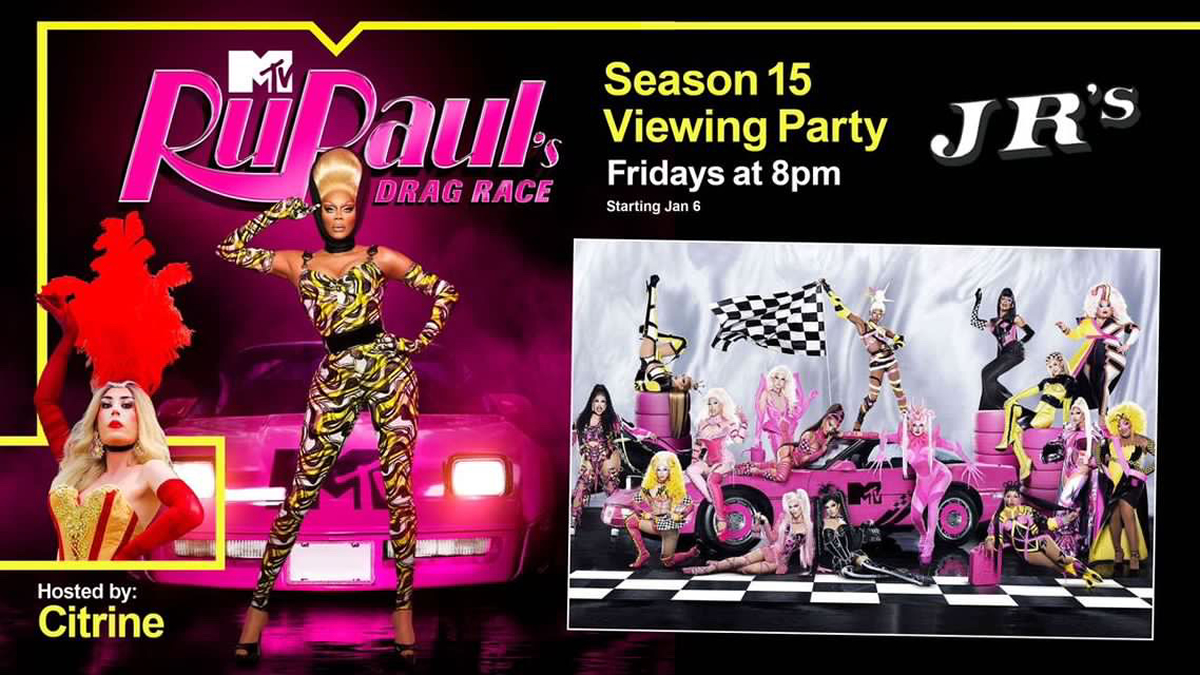 Friday, March 24
8 p.m.
JR.'s Bar
1519 17th Street, N.W.
Facebook
Citrine leads the RuPaul's Drag Race Season 15 Viewing Party at JR.'s Bar on Friday.
---
Kicks & Giggles Glow Crazy! Blacklight-Glow Paint Party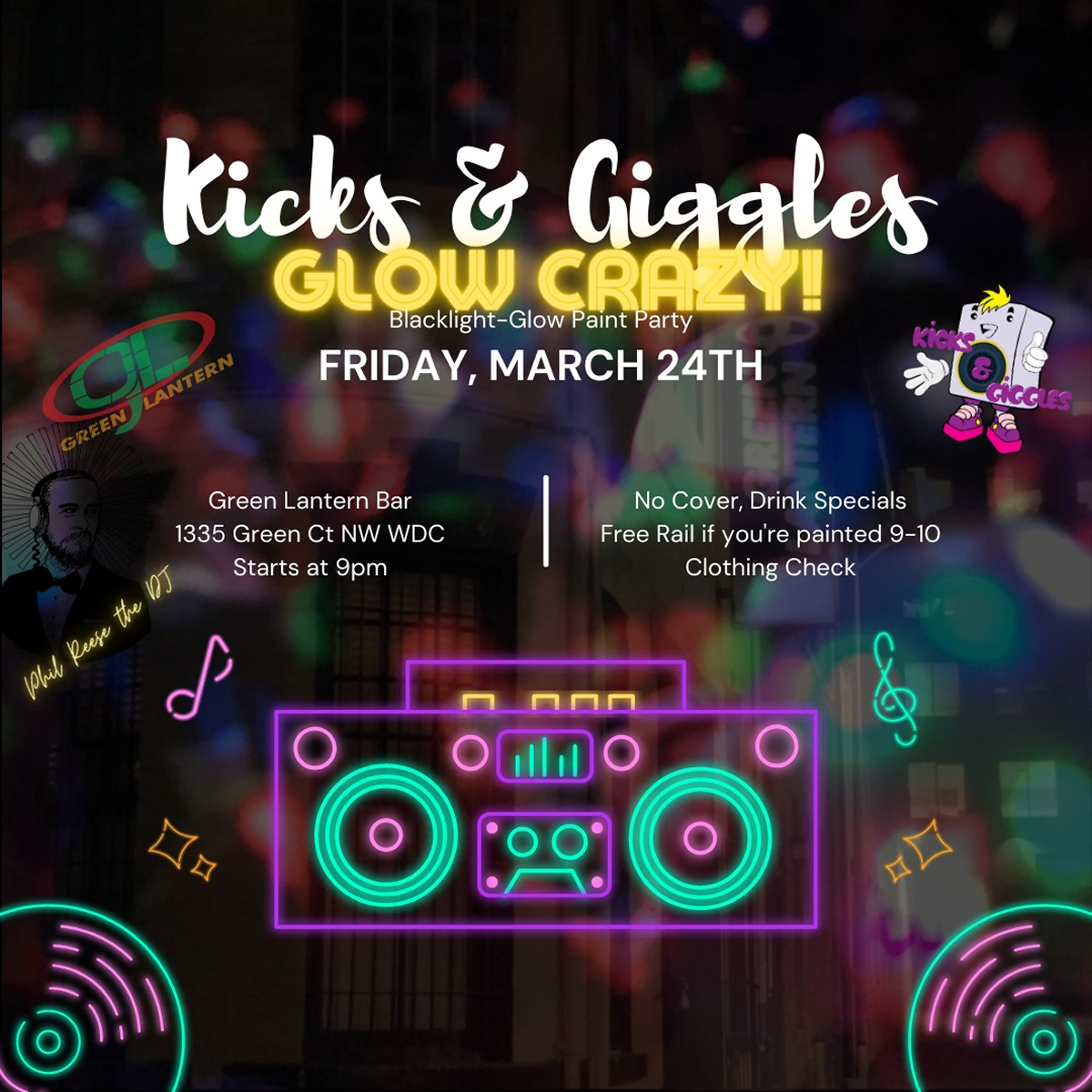 Friday, March 24
9 p.m.
Green Lantern
1335 Green Court, N.W.
No cover
Facebook
Kicks & Giggles bring you a glow-tastic time on Friday with a blacklight-glow paint party at the Green Lantern. There is a clothes check and there are free rail drinks if you are painted with glow paint between 9 and 10 p.m.
---
Good Times (Disco House Party)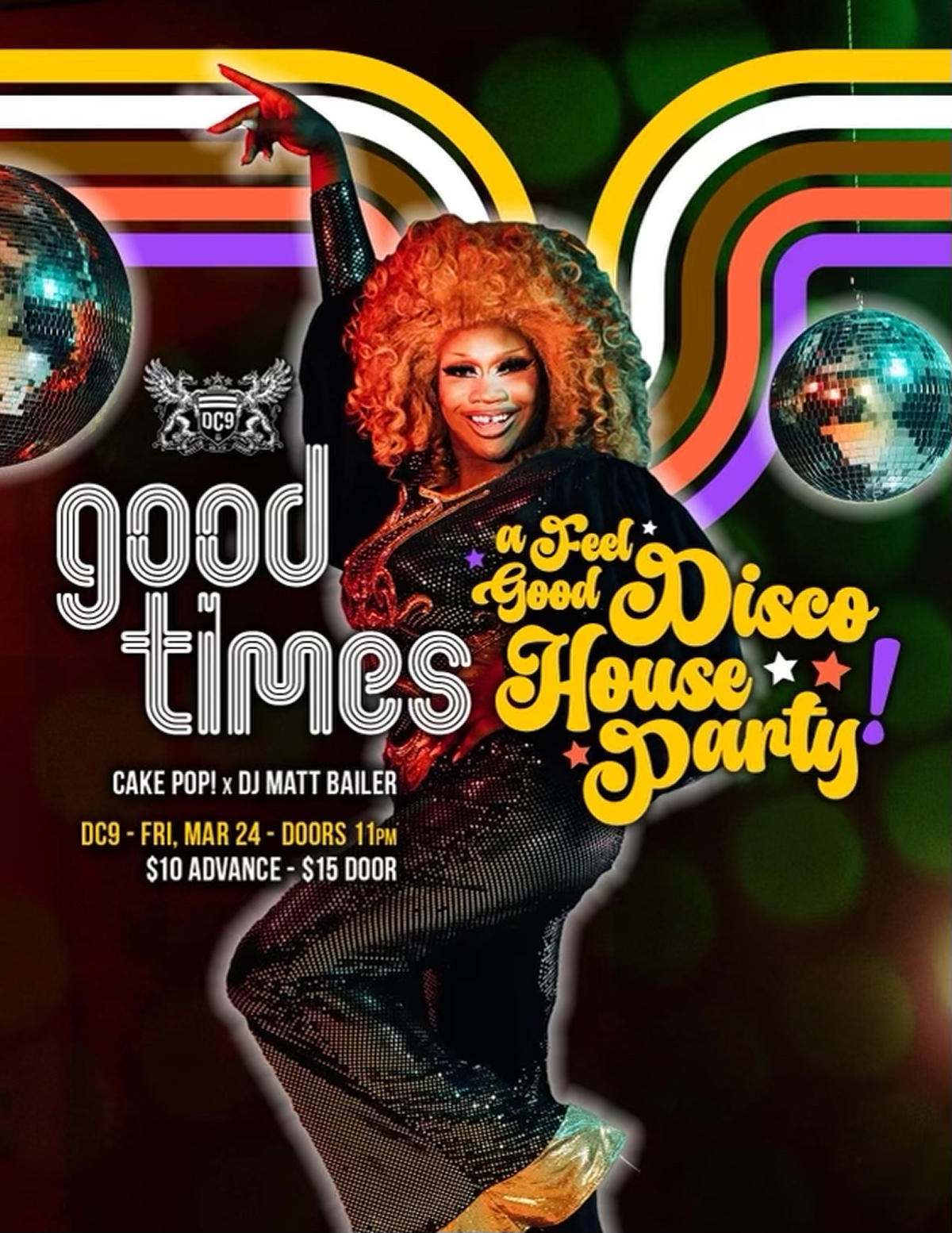 Friday, March 24
11 p.m.
DC9 Nightclub
1940 9th Street, N.W.
$10 advance / $15 door
Facebook | Eventbrite
Cake Pop! and DJ Matt Bailer entertain on Friday with a feel good Disco House Party at DC9 Nightclub.
---
Candela! UPROAR's Latinx Party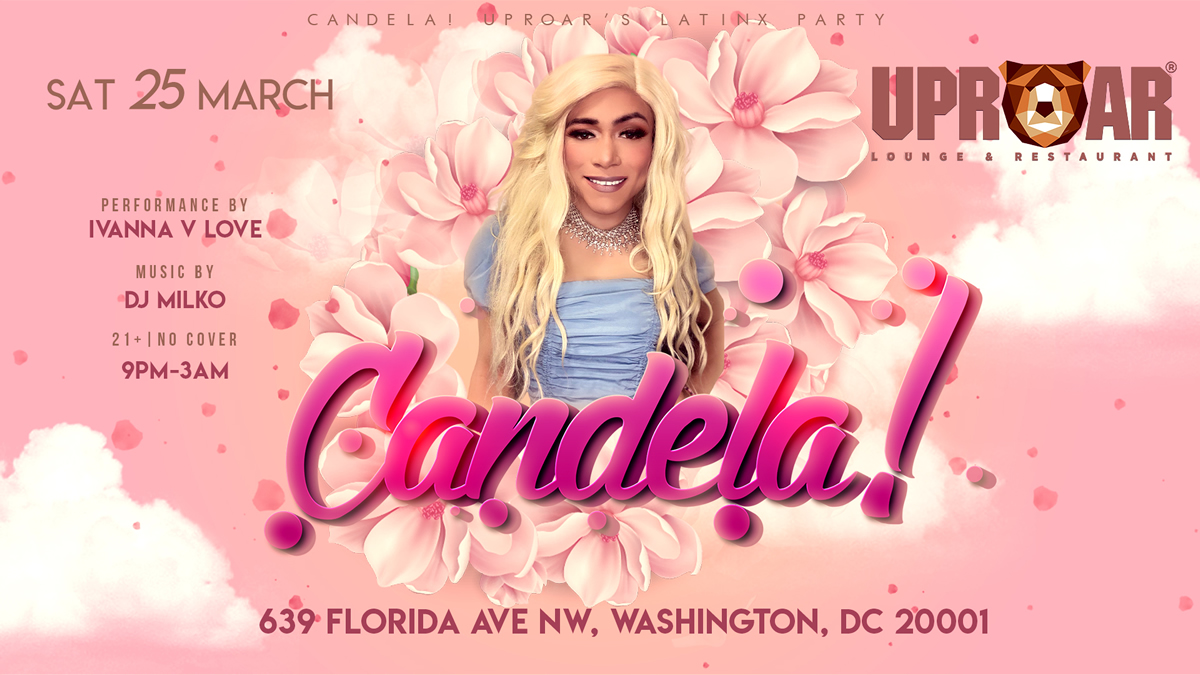 Saturday, March 25
9 p.m.
UPROAR Lounge & Restaurant
639 Florida Avenue, N.W.
Facebook
UPROAR Lounge & Restaurant hold a Latinx party on Saturday with a performance by Ivanna V Love.
---
Cherry Blossom Kite Festival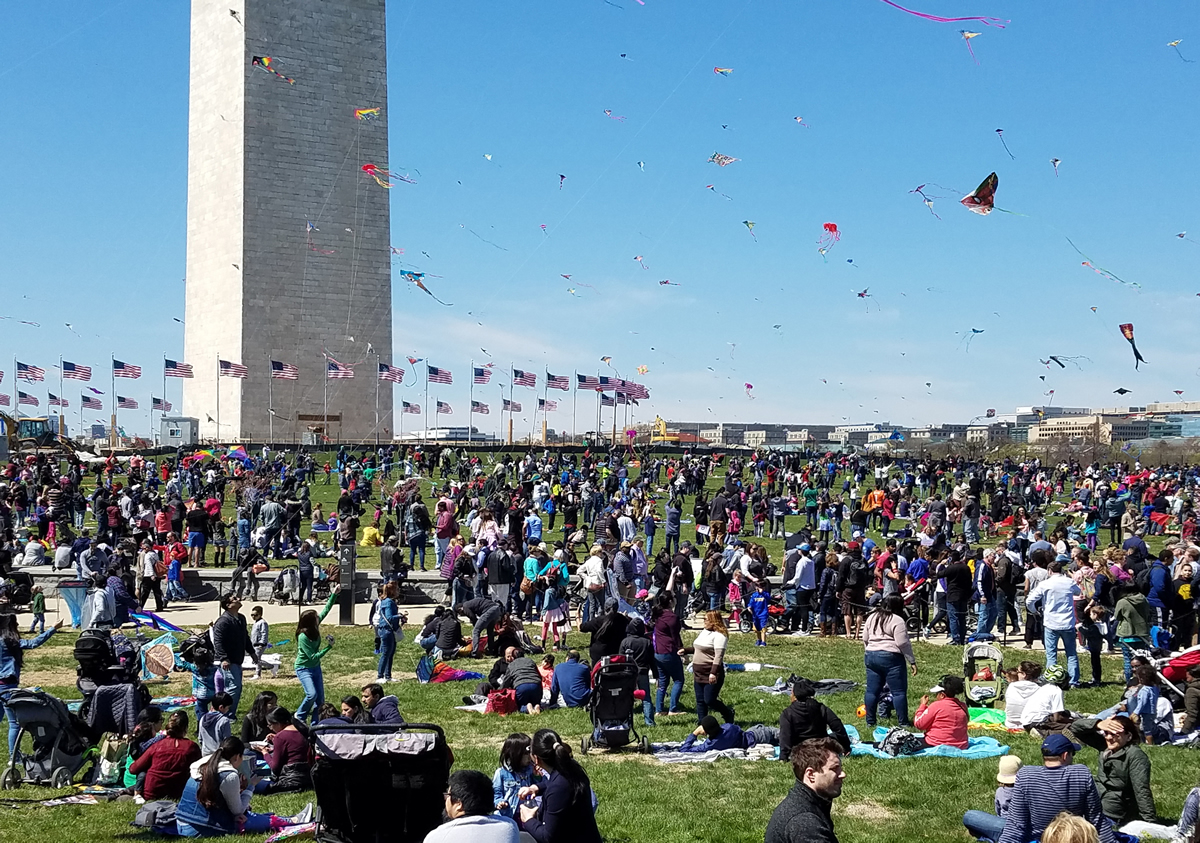 Saturday, March 25
10 a.m.-4:30 p.m.
Washington Monument
Facebook | Website
The annual kite festival is back on Saturday by the Washington Monument.
---
Cambria Drag Brunch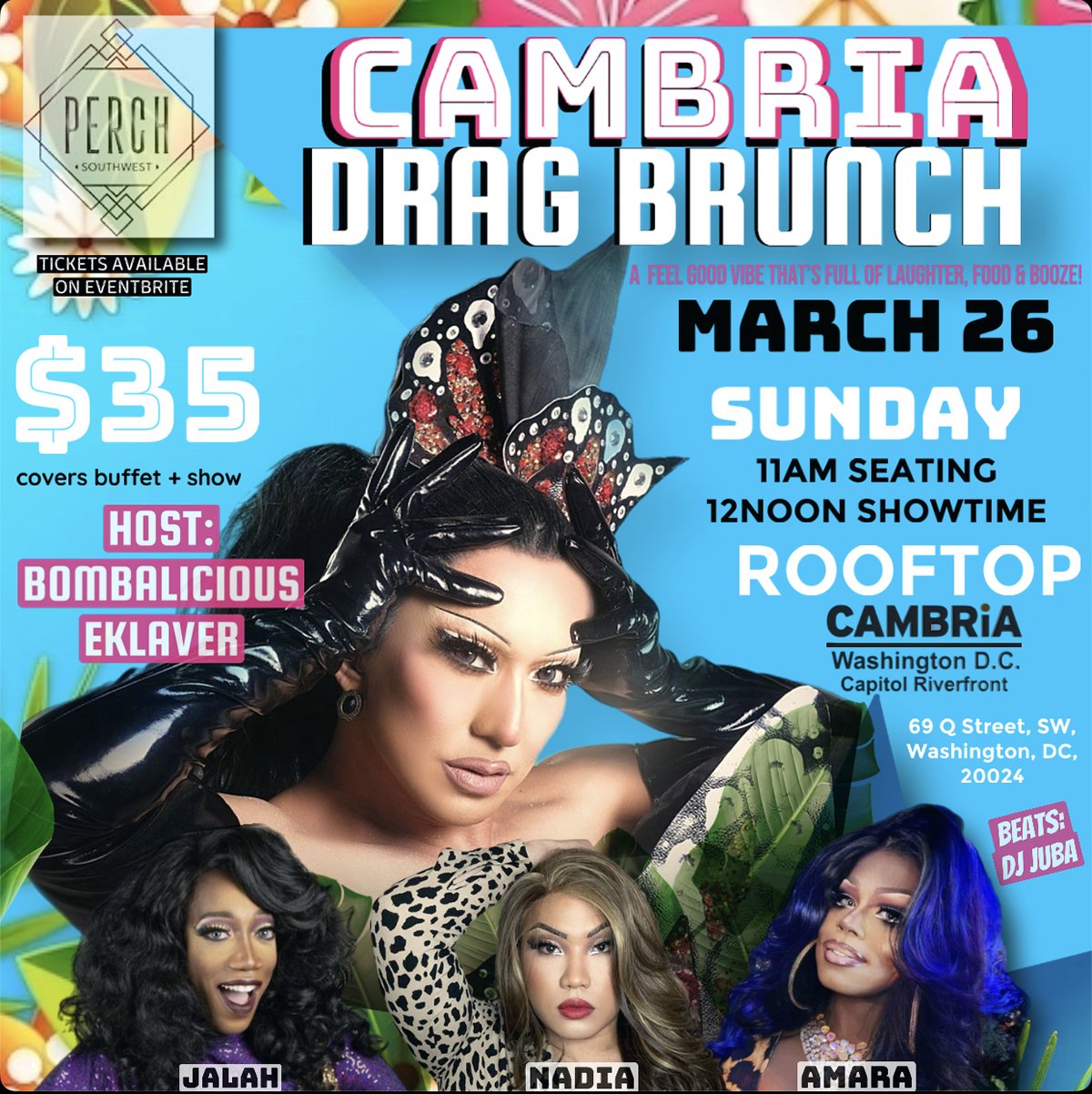 Sunday, March 26
11 a.m.
Rooftop Cambria Capital Riverfront
69 Q Street, S.W.
$35
Eventbrite
Bombalicious Eklaver leads a fun drag brunch on Sunday with performers Jalah, Nadia and Amara. $35 covers the buffet and show, but bring your dollar bills to show your support to the performers.
---
Drag Show for Charity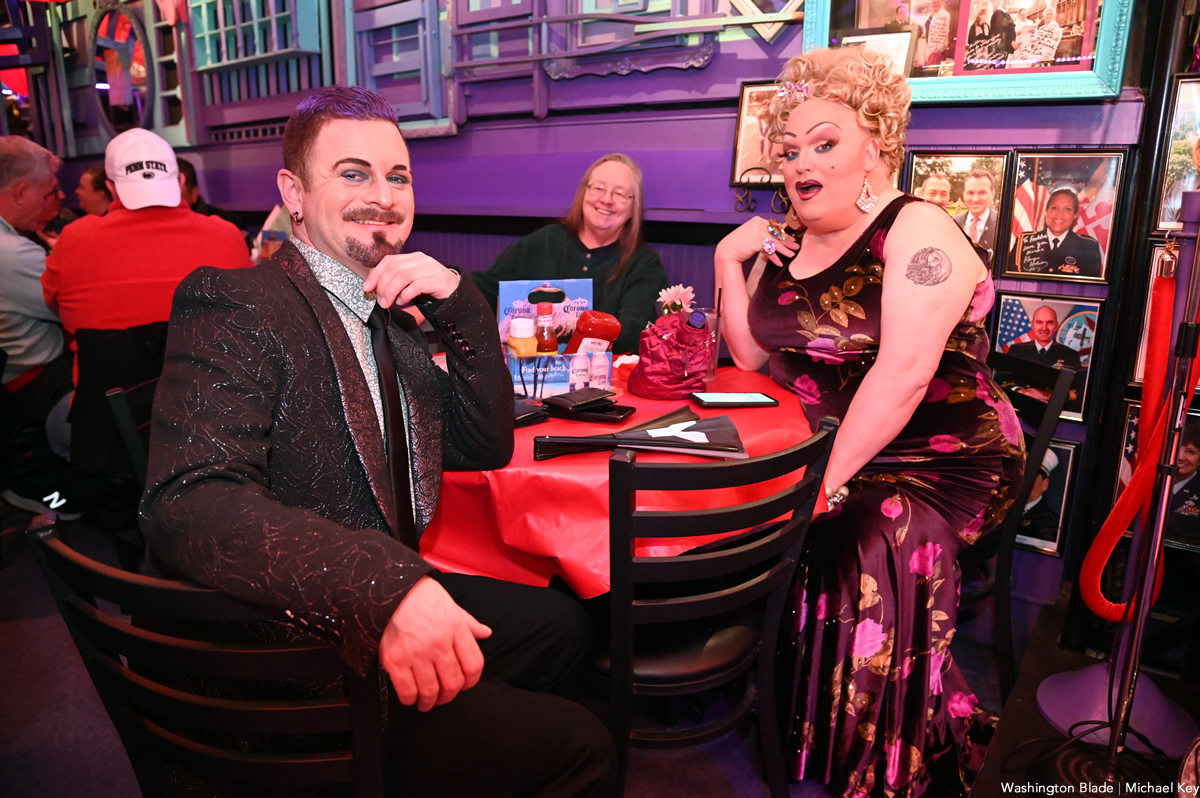 Sunday, March 26
8-10 p.m.
Freddie's Beach Bar
555 23rd Street S
Arlington, Va.
Facebook
AGLA and Go Gay DC present a drag show for charity at Freddie's Beach Bar on Sunday.
PHOTOS: Freddie's Follies 20th
Arlington drag show celebrates milestone
Freddie's Follies had a 20th anniversary show at Freddie's Beach Bar in Arlington, Va. on Saturday, March 18. Performers included Destiny B. Childs, Monet Dupree, Patti Lovelace, Sasha Adams Sanchez and Ophelia Bottoms.
(Washington Blade photo by Michael Key)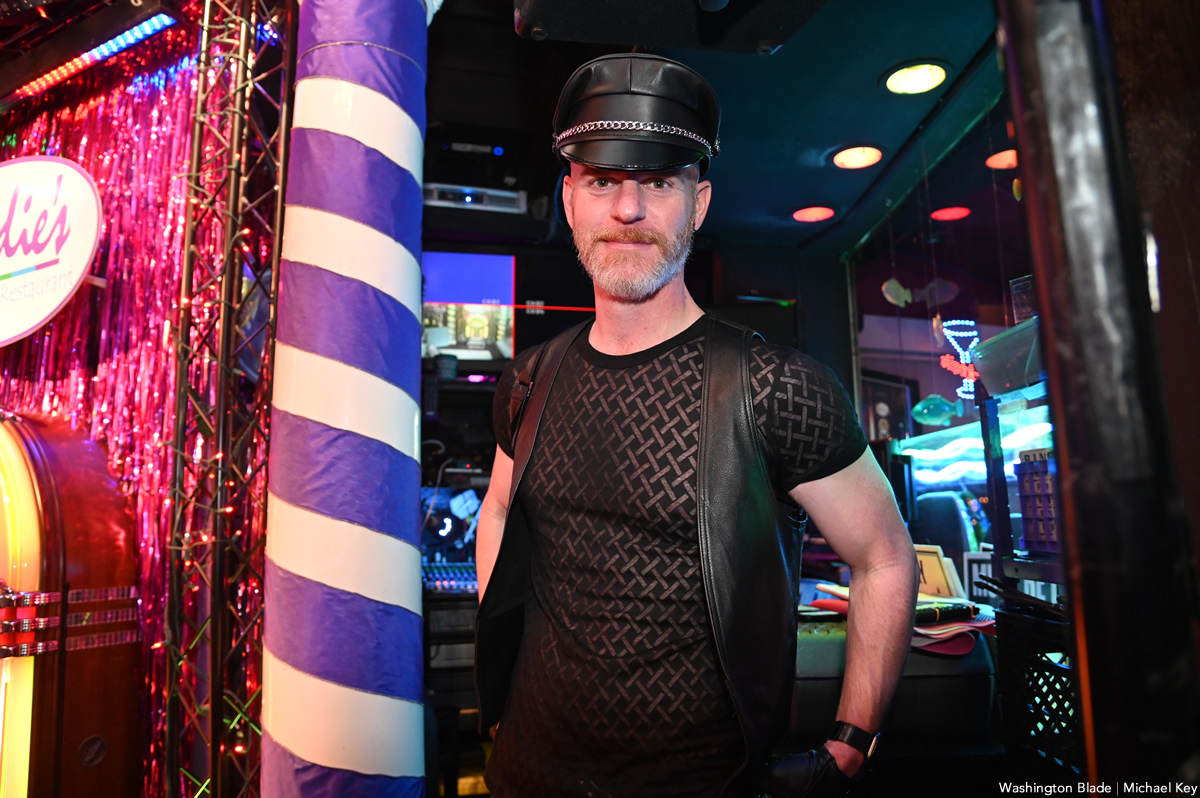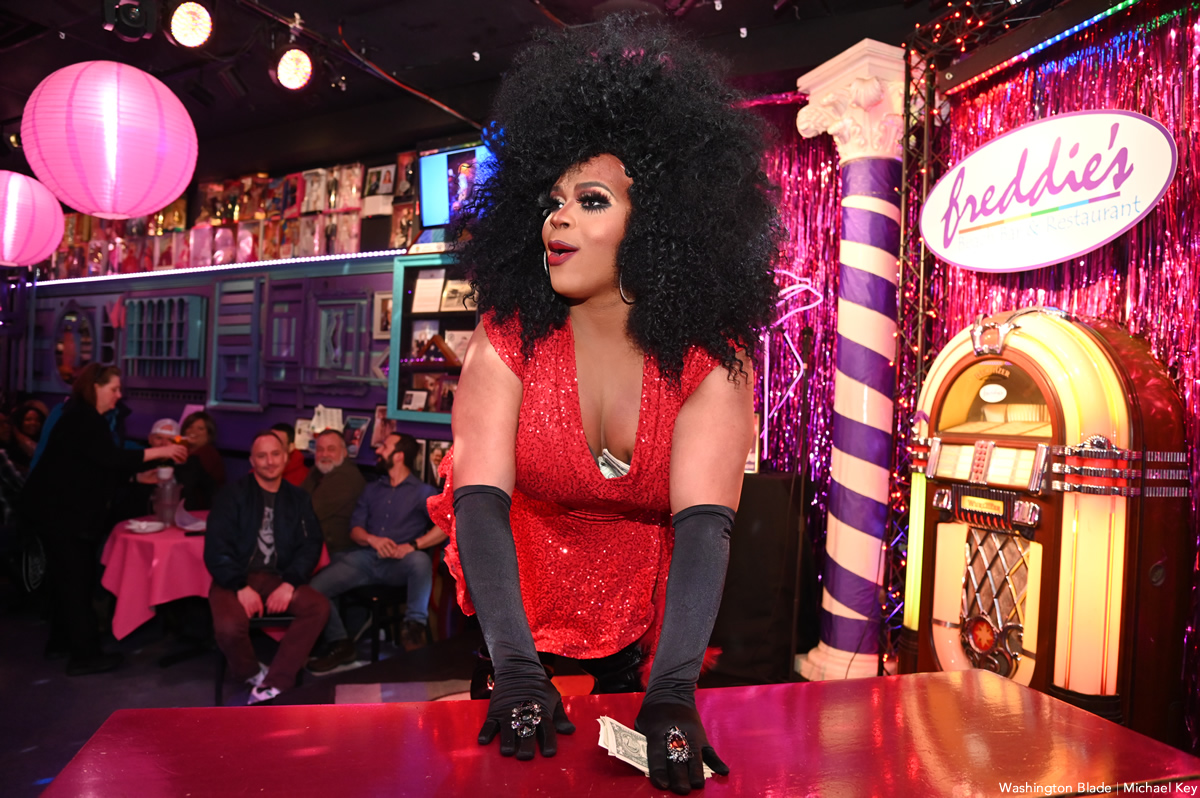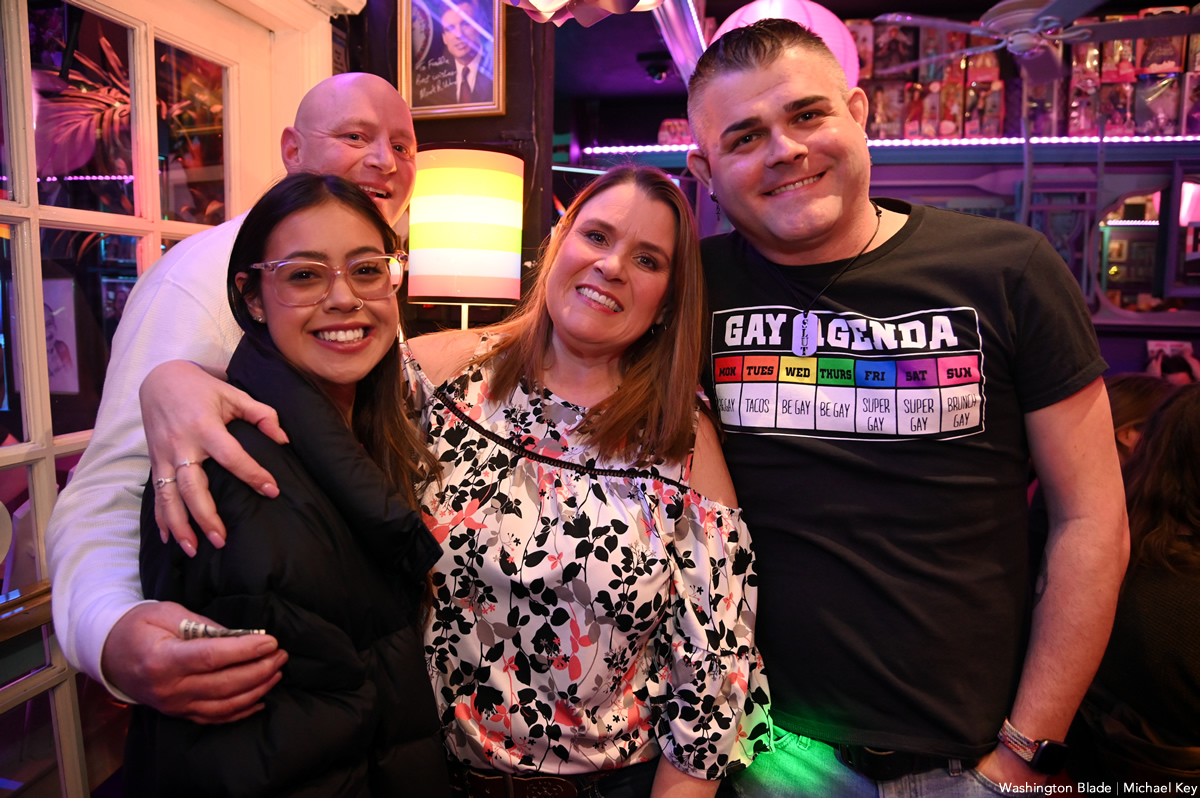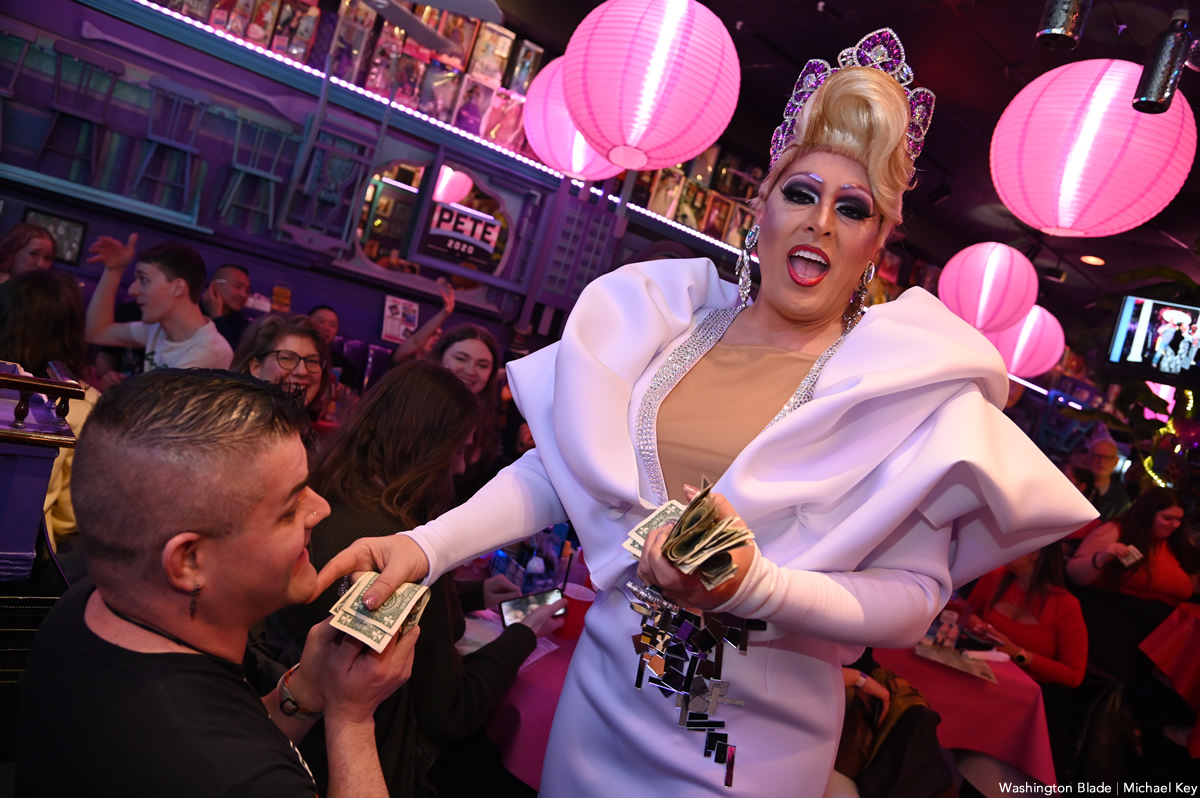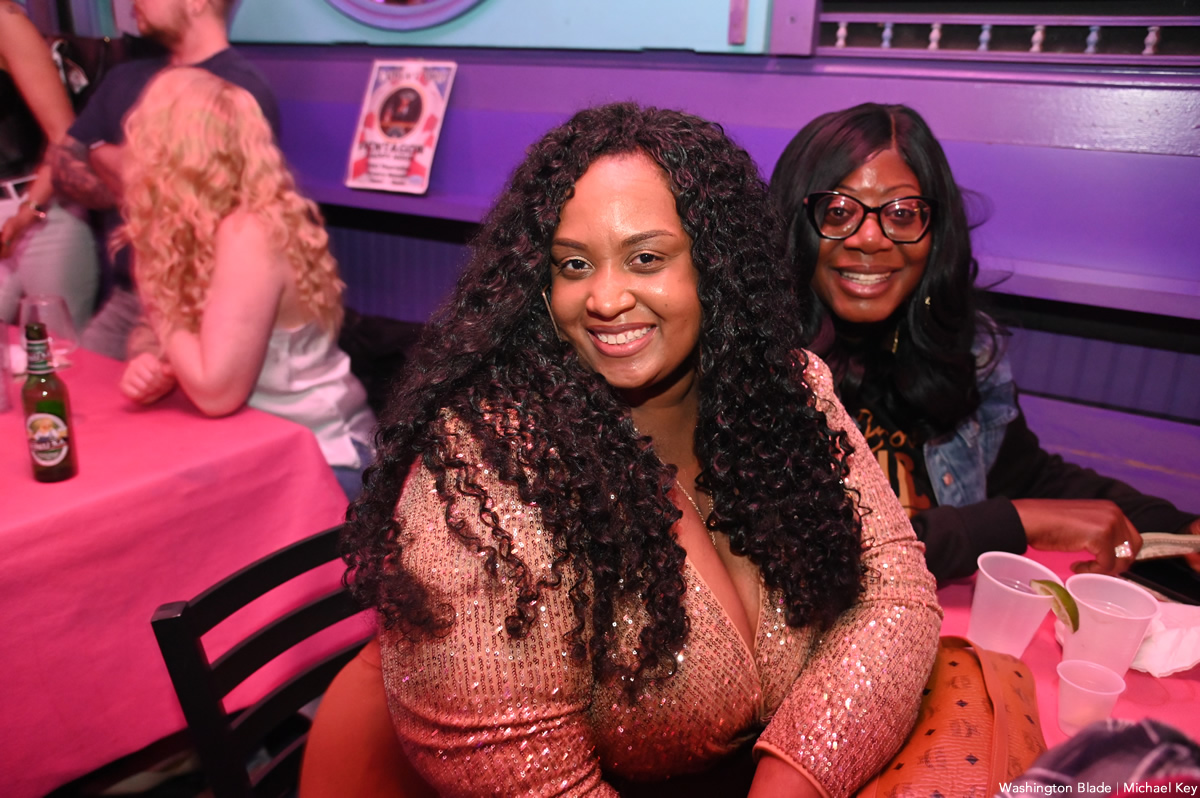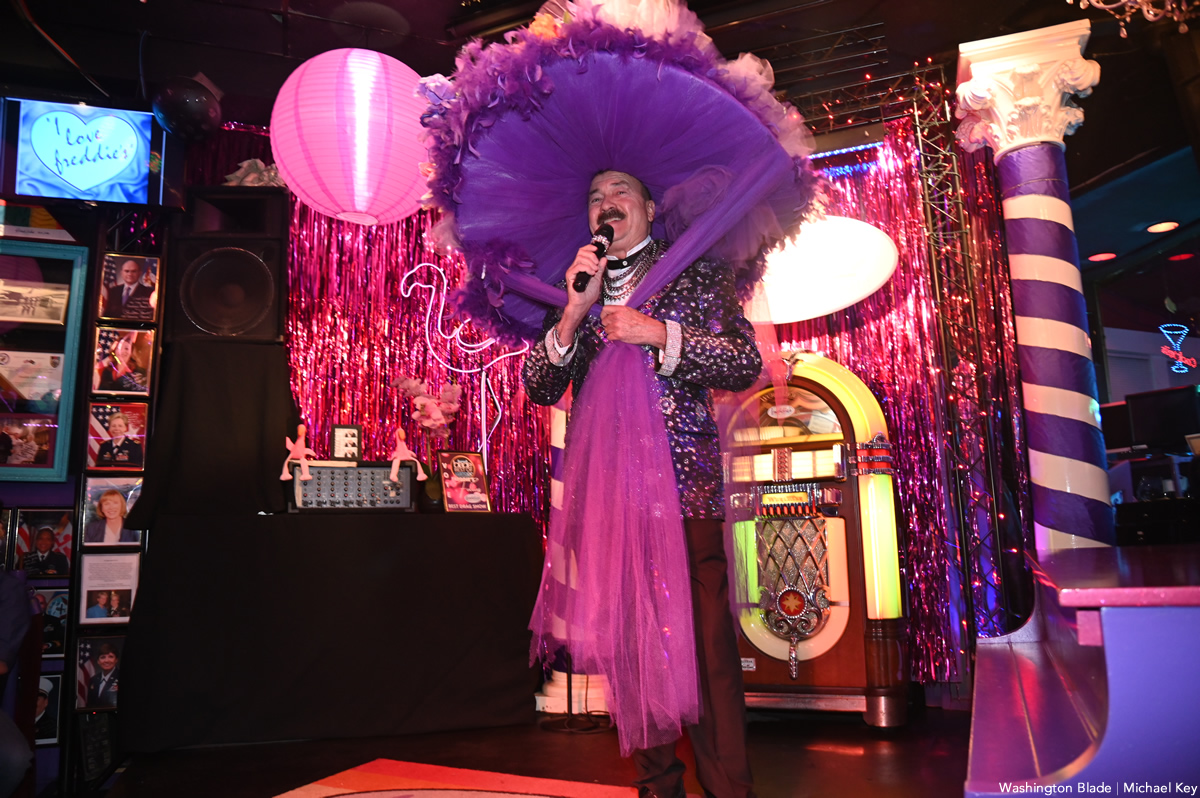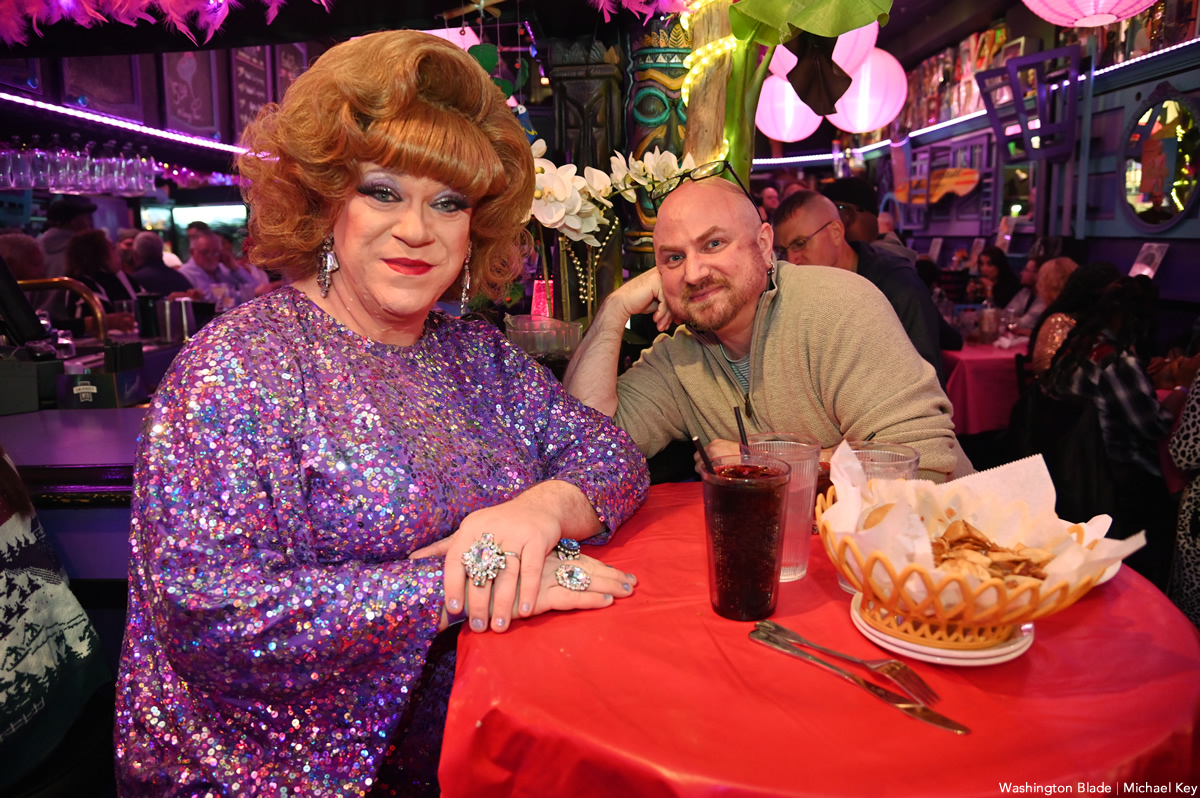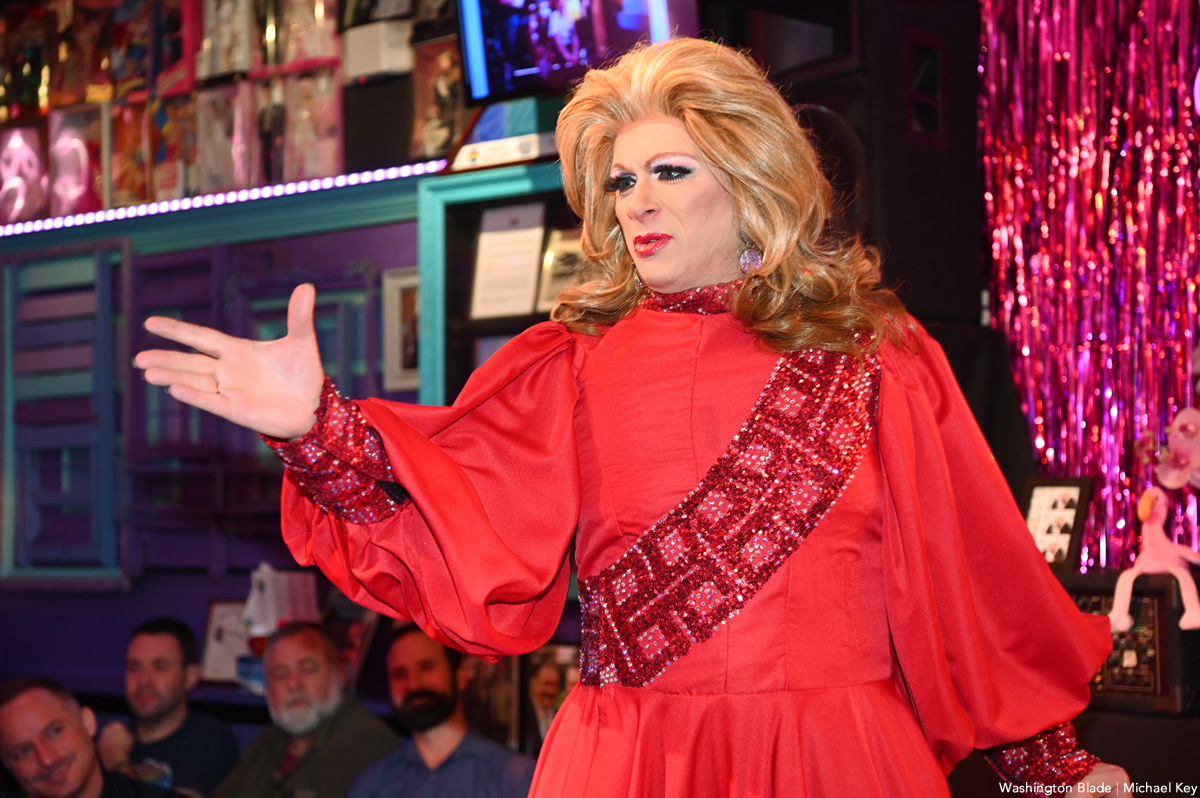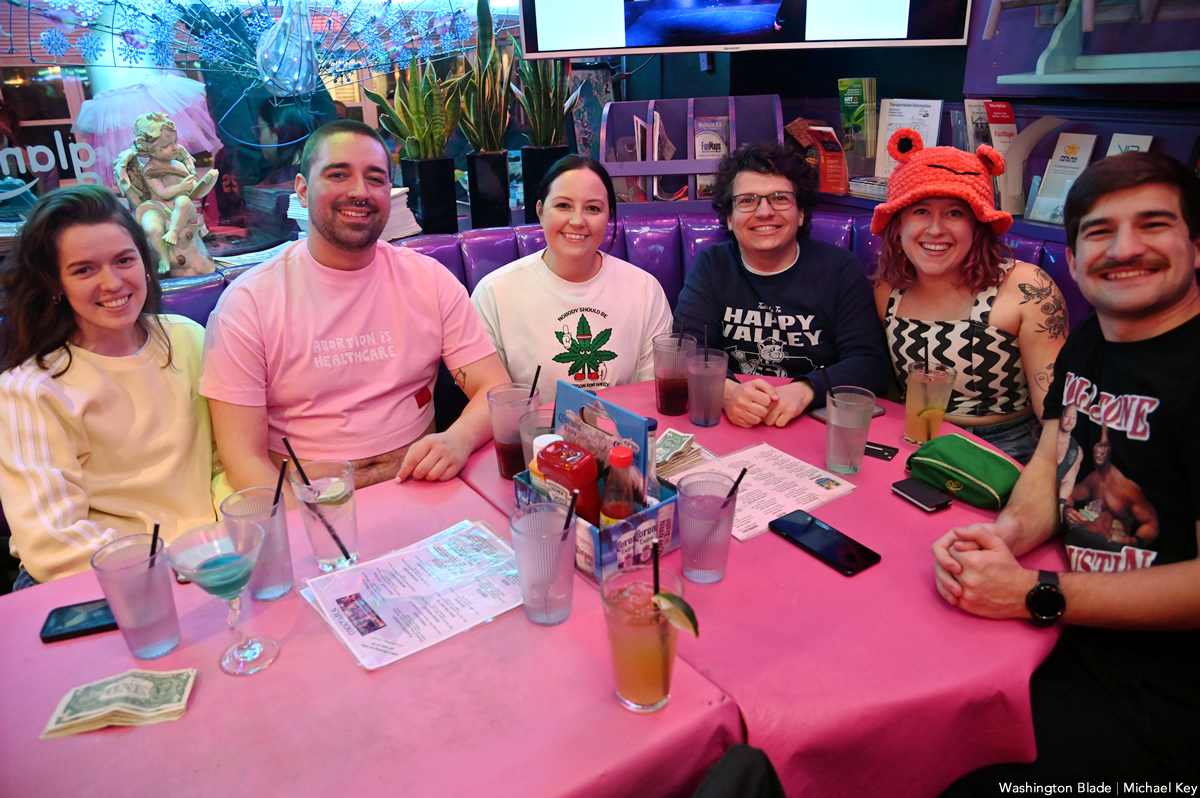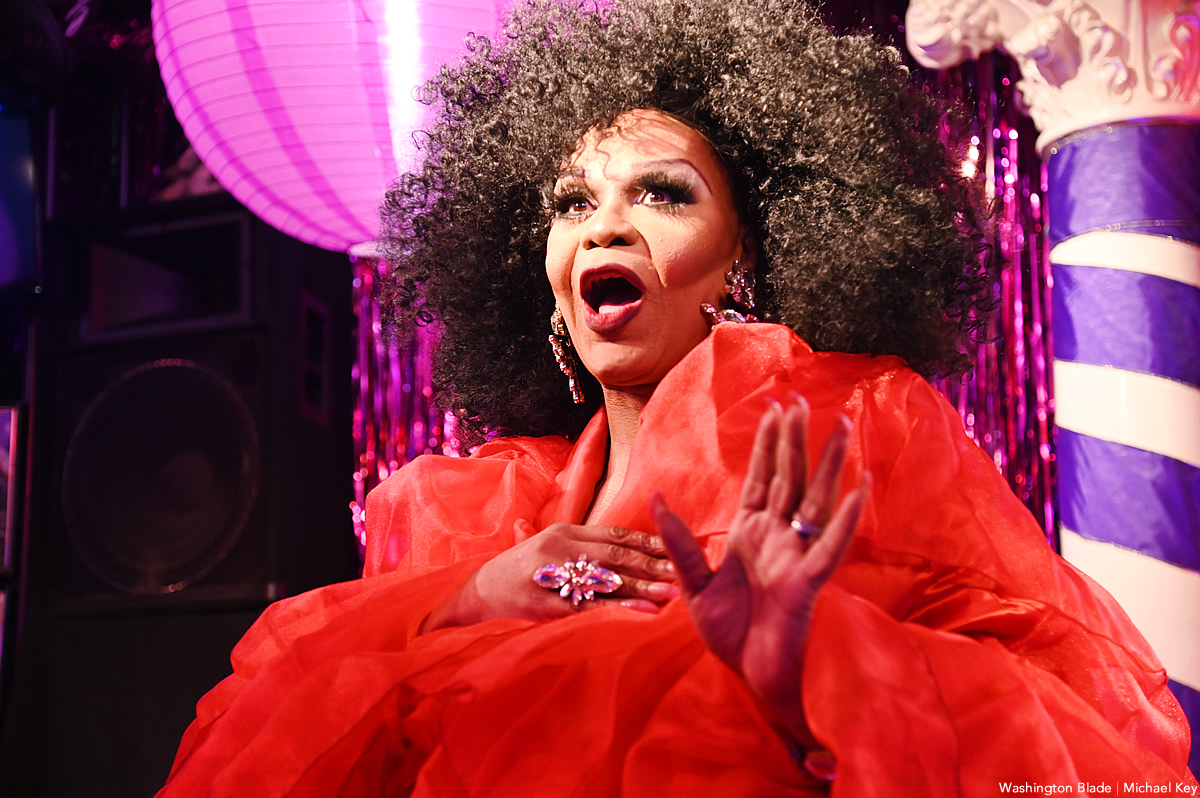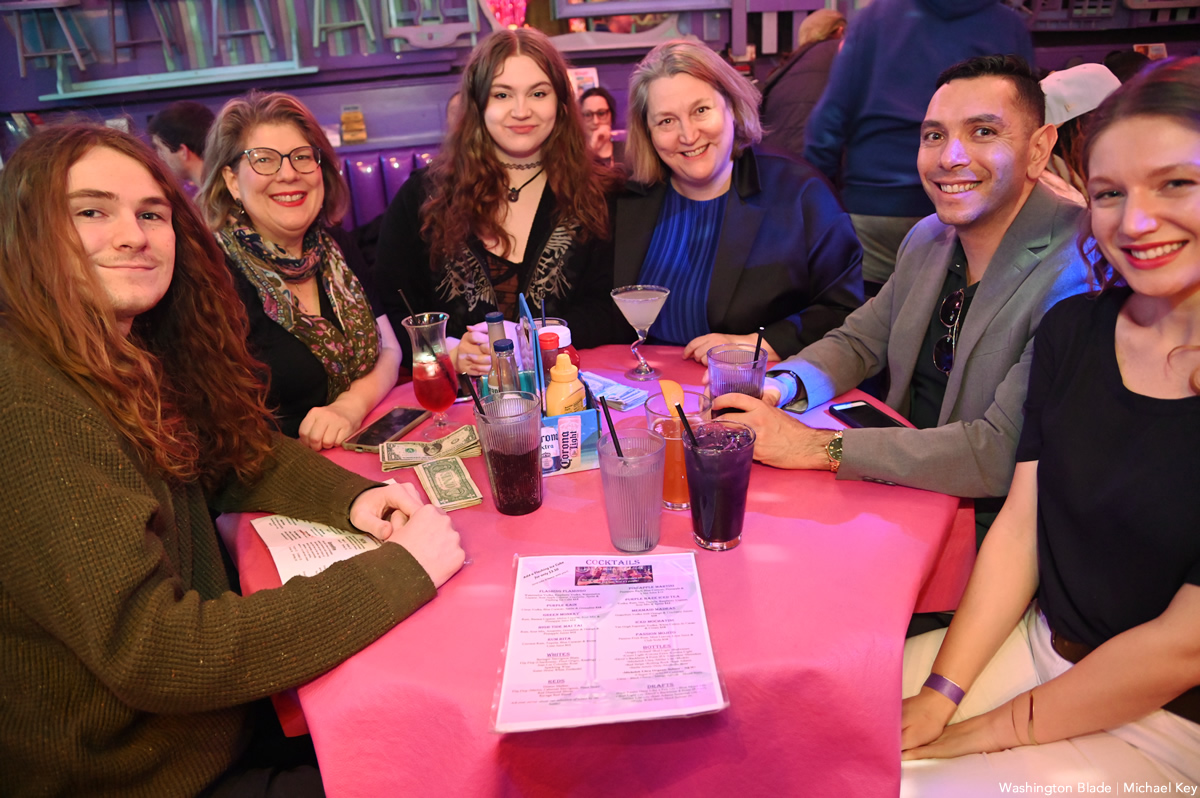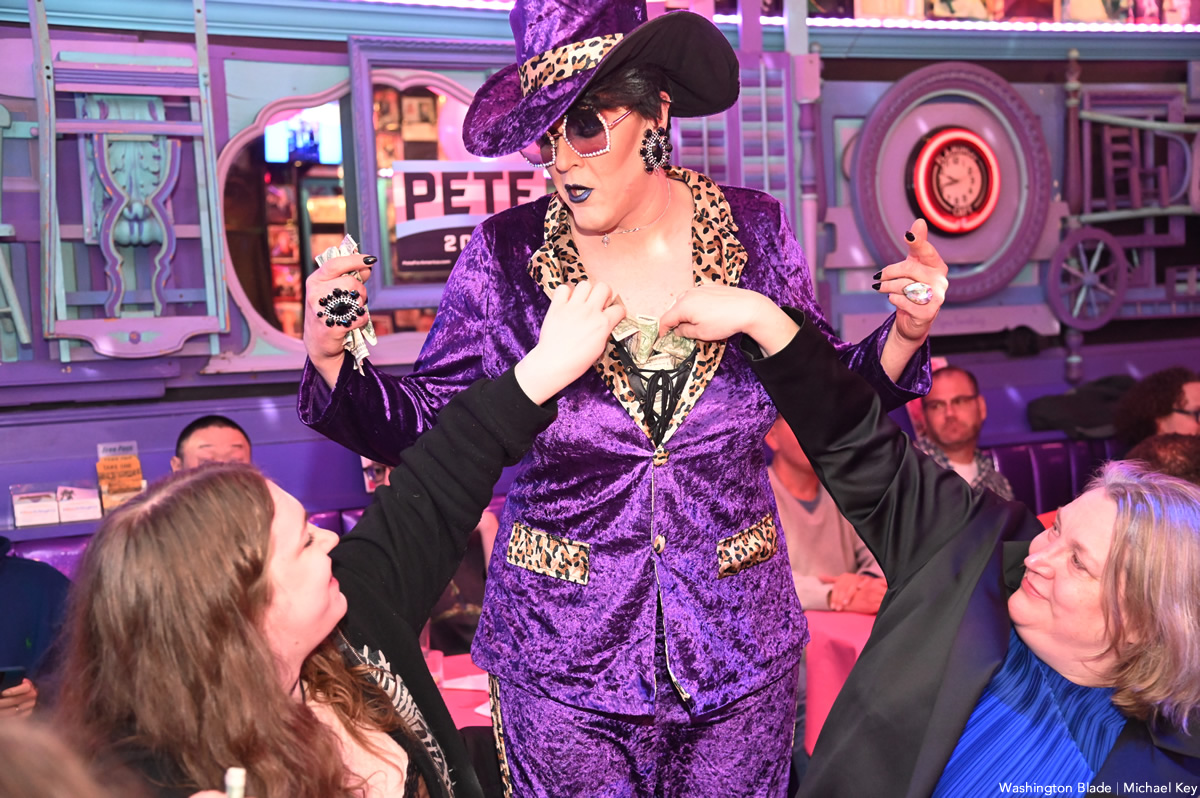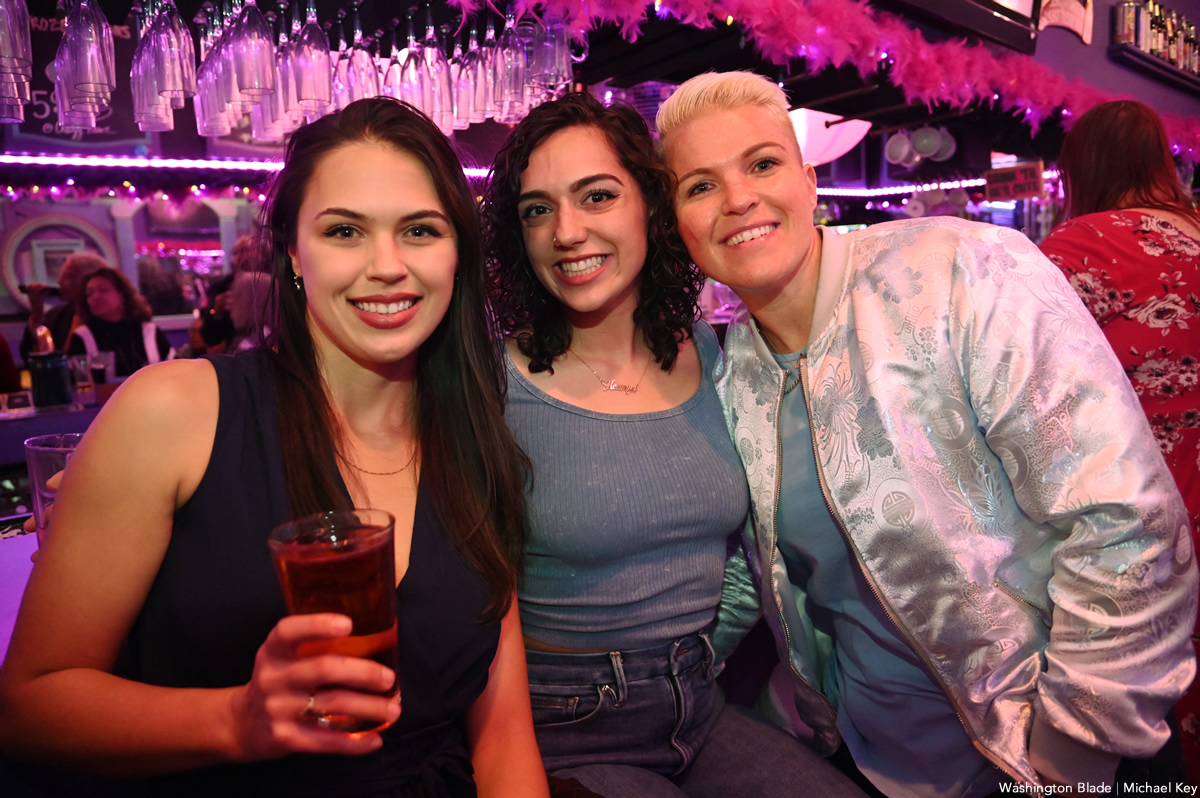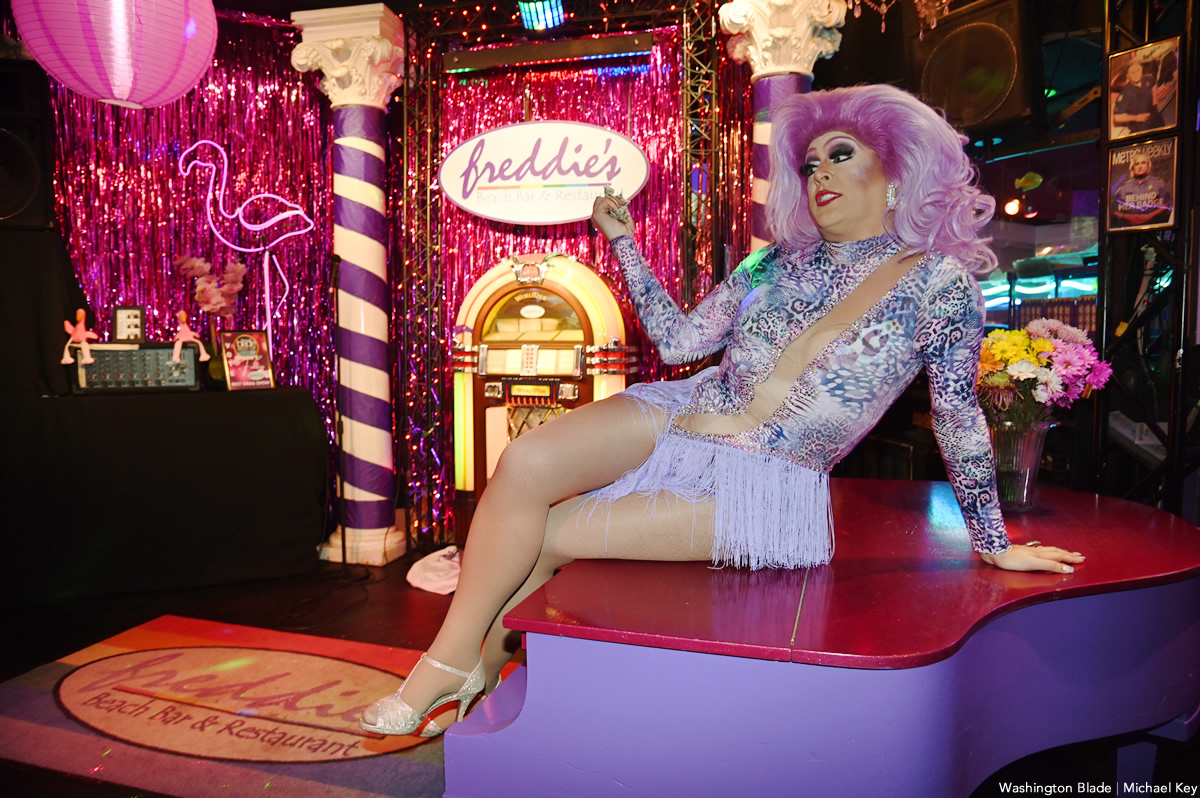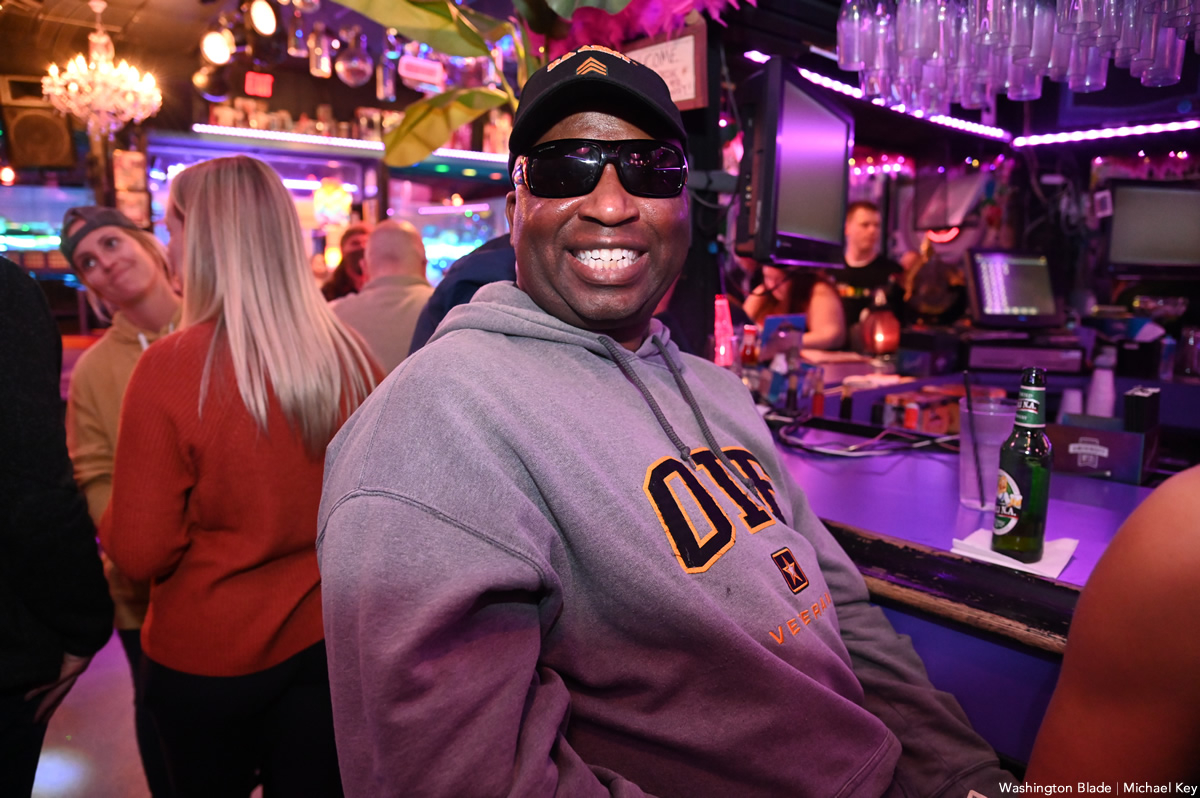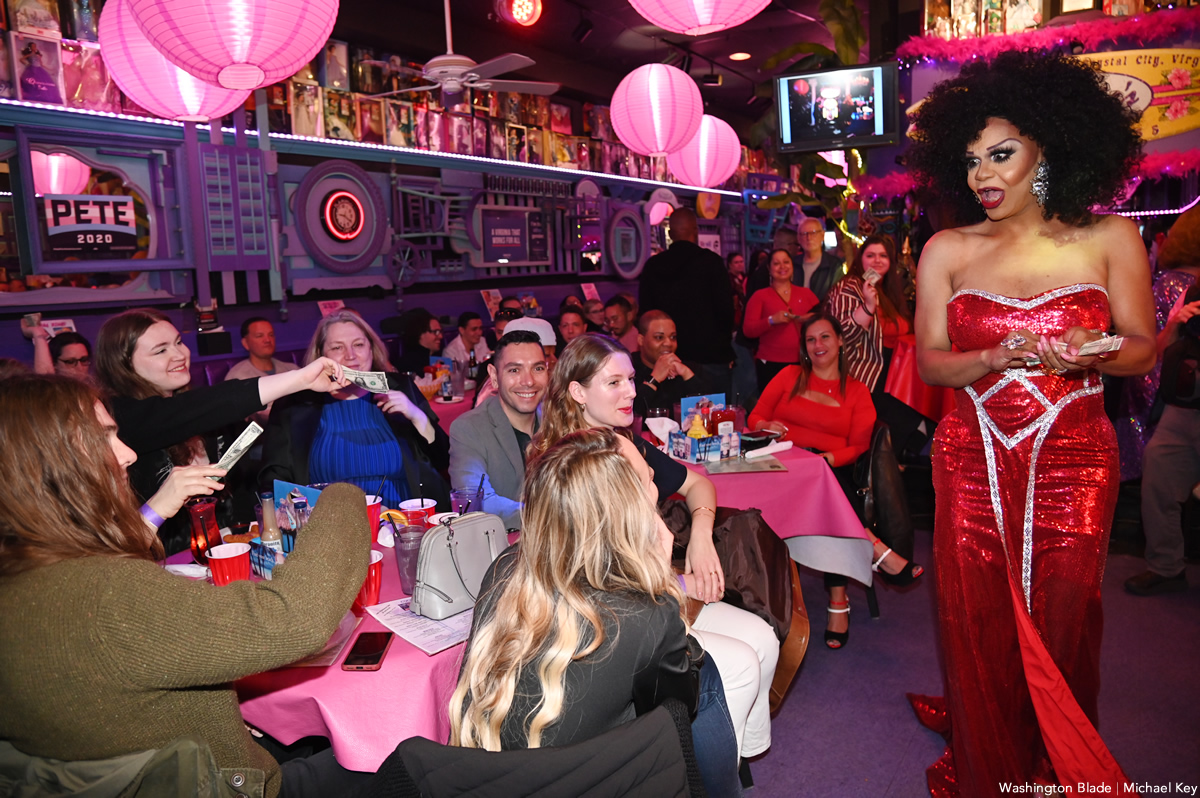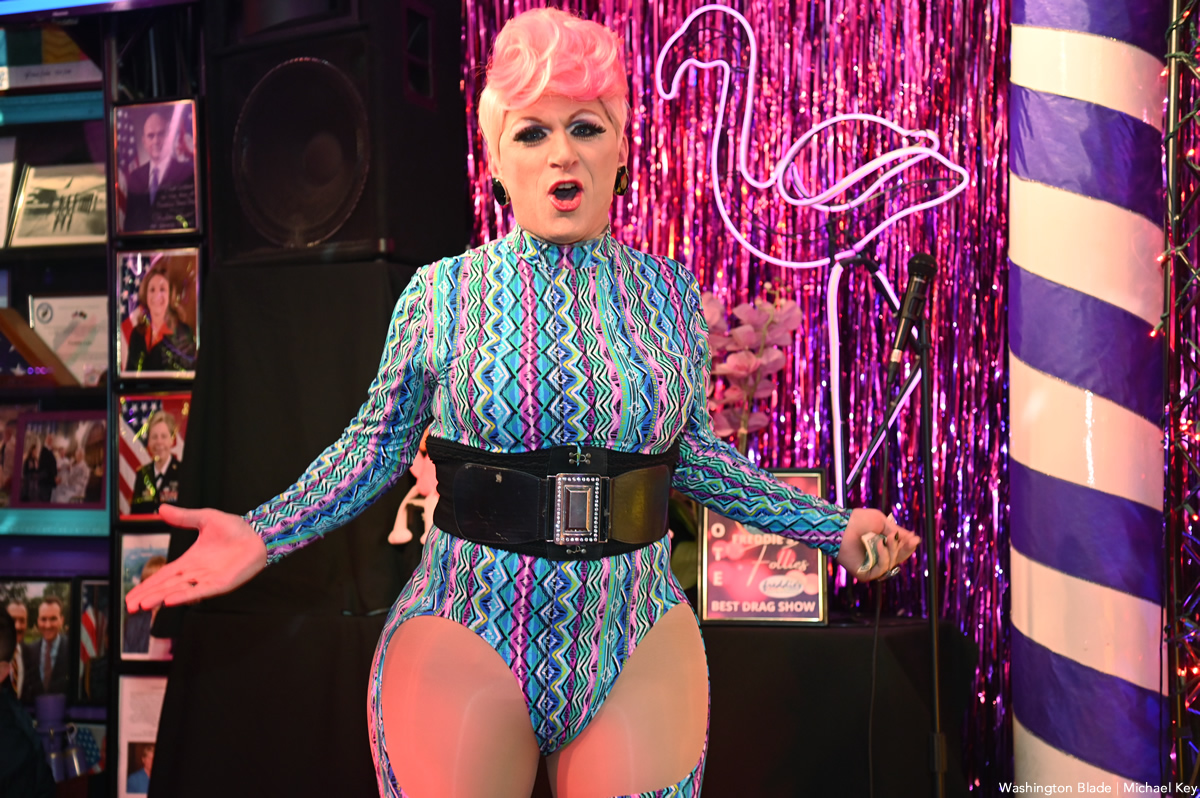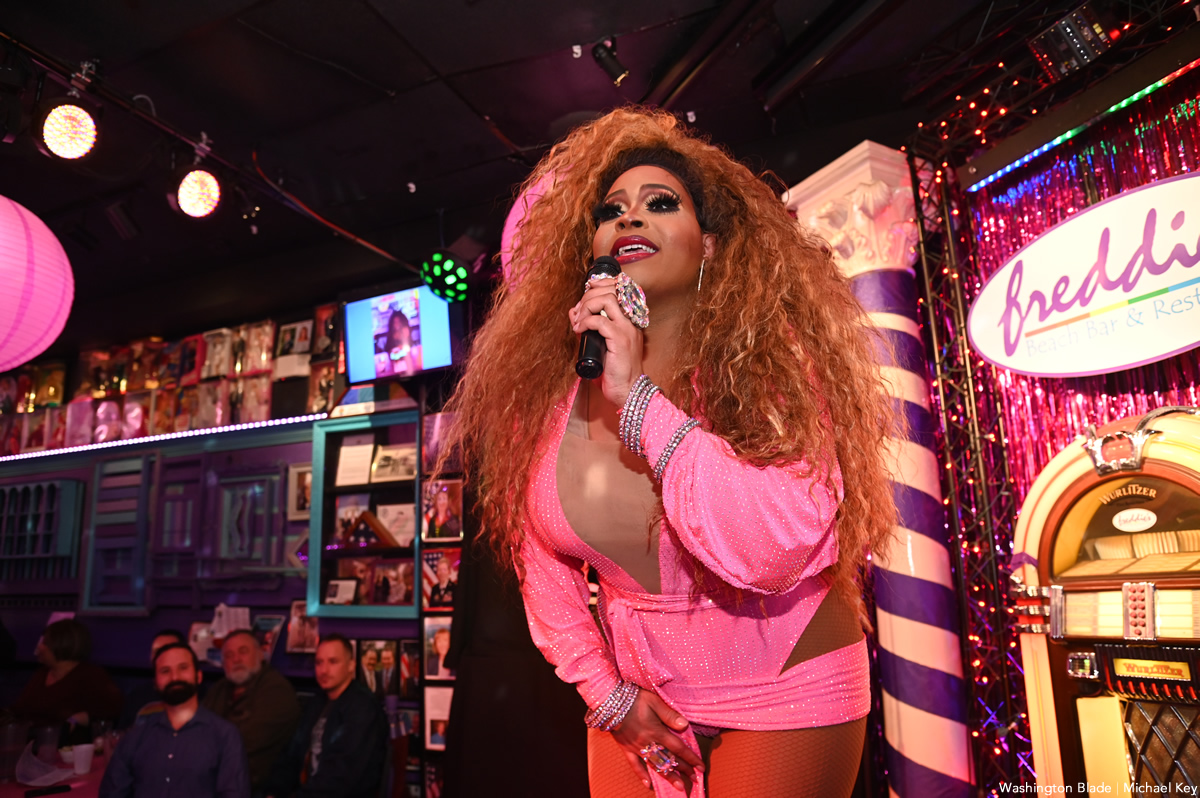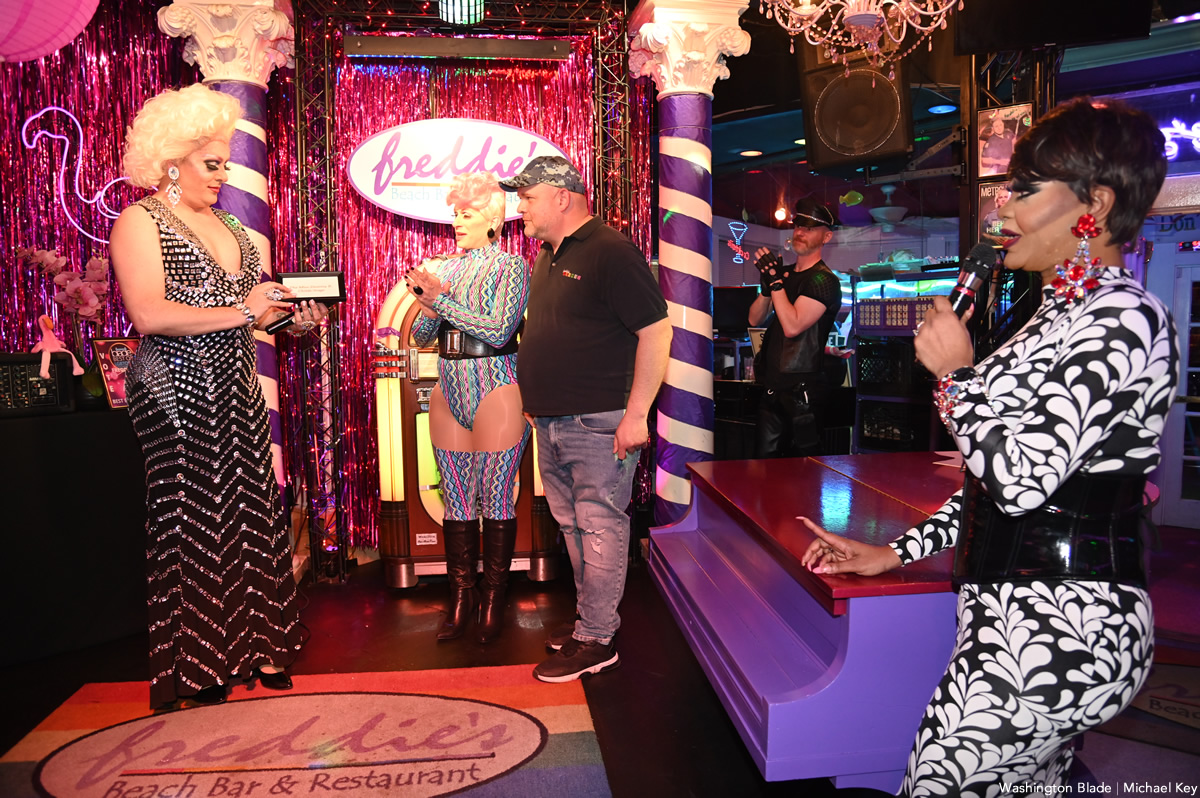 Covering Freddie's Follies 20th Anniversary for @WashBlade . @DestinyBChilds performing: pic.twitter.com/urpHgiMZ05

— Michael Patrick Key (@MichaelKeyWB) March 19, 2023