'Worldwide' LGBT marches fizzle
Only 14 demonstrators turn out in D.C.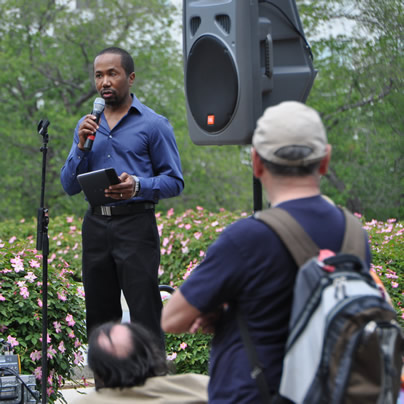 Saying they were unwavering in their commitment to LGBT equality, a contingent of 14 LGBT activists and their straight supporters held a rally across the street from the U.S. Capitol early Saturday afternoon as part of a series of Worldwide LGBT Civil Rights marches in the U.S. and abroad.
The event was promoted mostly on Facebook without the involvement of established local and national LGBT organizations. It was the brainchild of Oklahoma City gay activist Joe Knudson, who called for a series of simultaneous LGBT marches and rallies in cities throughout the world on April 21.
With less than 20 participants present at the conclusion of the rally, organizers chose to forego the march.
"These marches are occurring in over thirty cities around the globe," said Curtis Sledge, a Richmond, Va., gay activist who organized the D.C. event and was among three speakers at the rally held at Upper Senate Park.
"Regardless of the size of the crowd…we're here to say it's our time right now," Sledge said after the rally. "We are seeking equality not just for us but for everyone."
The organization Let's Reach One Million People Campaign, through which Knudson and others worked to organize the marches and rallies, listed 18 U.S. cities and 12 cities in countries in Europe, Asia and Africa where marches were scheduled to take place. It could not be determined at press time whether all of them took place, especially those in Africa.
According to reports in the gay and straight media, marches or rallies in most of the U.S. cities where they took place drew fewer than 100 people. The LGBT newspaper George Voice reported about 50 turned out for a rally and march on the state capital in Atlanta.
The Athens, Ga., Banner-Herald reported that about 75 people turned out for a march in that Georgia city, which was covered by the straight press. In Chicago, about 15 people participated in a March and rally and about 30 turned out for the march and rally in Portland, Ore., according to a report by the LGBT blog Bilerico Project.
In a statement released to organizers and supporters of the events, Knudson said between 6,000 and 8,000 people participated in the events in the U.S. and overseas. He said the enthusiasm and impact the events would have in the U.S. and abroad would be far more significant than the number of people attending them.
Jonathan Wolfman, a writer, former teacher and chief editor of an online travel site called CastleGayGuide.com, gave the keynote speech at the D.C. rally. Describing himself as a straight ally to the LGBT movement, Wolfman called LGBT rights "the essential civil rights mandate of our era."
He noted that in addition to rallies and marches in the U.S., many of the LGBT events were scheduled to take place overseas, including such countries as Uganda, Nigeria, and Pakistan.
"That some are marching today in several of those nations takes guts and a belief in ultimate justice," he said. "I salute all marchers today but especially those who risk arrest and beatings and worse for their commitment."
Lamel Clark, 21, a Richmond resident, told the rally the 1960s era black civil rights movement was his inspiration for becoming involved in the LGBT movement as an African American gay man.
"Many years ago a great man stood on the steps of the Lincoln Memorial and spoke of a dream. He dreamed of a day when people could be treated equally and not judged by the color of their skin," said Clark, speaking on a stage next to a fountain and facing the Capitol Building.
"I'm proud to stand not too far from where he was and know that his dream was a reality," he said. "But today I stand before you with a dream of my own. I dream of a day when I can have the option to marry whoever I please and not have to worry about their sex but to be able to marry just on the basis of love."
Clark added, "I stand here because I have found the person who I want to spend the rest of my life with. So many people have told me, oh, it's o.k. You don't have to be married to spend the rest of your life with someone. My response is that's not enough…I want to say loud and proud this is my husband."
Among those standing nearby listening to Clark and the other two speakers were two U.S. Capitol police officers. The two likely were assigned to patrol a rally and parade that organizers stated in their application for a parade permit was expected to attract between 1,500 and 2,500 people.
Sledge said he was at a loss to say why so few people attended. He said he contacted a number of local organizations as well as several D.C. area universities about the planned march and rally. According Sledge, a Facebook page promoting all of the planned U.S. Worldwide March events had more than 20,000 members.
He said a number of people who told him they planned to attend D.C. rally didn't show, including D.C. gay activist Brian Watson, who was listed as a scheduled speaker.
Watson did not return calls seeking to confirm whether he agreed to speak at the event.
When asked why he thought most of the established U.S. national and local LGBT organizations chose not to participate in the marches, Knudson said sources familiar with various groups told him the groups don't like to get involved in events that they don't control.
"I was point blank told by some that it is not proper for a new and young grassroots organization such as the Let's Reach 1 Million People Campaign, to initiate such action as we did without first getting the approval of some of the older more established organizations," Knudson told the Blade.
"[I]n doing so we stepped on a lot of egos and I was told egos of LGBT organizations do not heal very well or very fast," he said.
Veteran D.C. gay activists Bob Summersgill, former president of the Gay and Lesbian Activists Alliance, and Rick Rosendall, the group's current vice president, disagreed with Knudson's assessment of the established LGBT groups.
"Speaking for myself and GLAA, if we were so egotistical and controlling as Mr. Knudson says in his laughable generalization, we wouldn't have the record of accomplishment that we do," Rosendall said. "LGBT advocates in D.C. have a long history of coalition work, which is not about getting permission but about consultation."
Summersgill said organizers of the worldwide marches didn't adequately communicate what they wanted people to do to advance their goals of equality "other than to walk around while members of Congress were out of town."
In addition to granting permission to hold the rally on U.S. Capitol grounds, the permit called for a march from the Capitol along Constitution Avenue to 15th Street, N.W., where it was to travel north and turn right on Pennsylvania Avenue and head back towards the Capitol. The march was scheduled to end at 3rd Street and Pennsylvania Avenue, N.W.
Wolfman, a Maryland resident, gave a ringing defense of same-sex marriage and needled opponents who say same-sex nuptials are a threat to the institution of marriage.
"This may be the most ludicrous idea going," he said. "Encouraging marriage simply encourages marriage. It is impossible to see how the gay marriage next door threatens my straight marriage. It is equally impossible to understand how the legalization of gay marriage could possibly convince straight people not to marry or encourage them to split up."
Sledge said in his speech that the LGBT rights movement has picked up considerable momentum over the past few years. Among the work still to be done in the U.S., he said, was the eradication of bullying and other forms of discrimination against LGBT youth.
"Never for a moment those of you in the gay community – never for a moment look on yourself as being inferior or less than human but stand tall with your heads held high as a person with a heart, with talent and significance in this world," he said.
"And for all this we should be accepted for being what God created. Equality is our birthright. We are equal."
DC Front Runners Pride 5K to take place as scheduled
Air quality improved overnight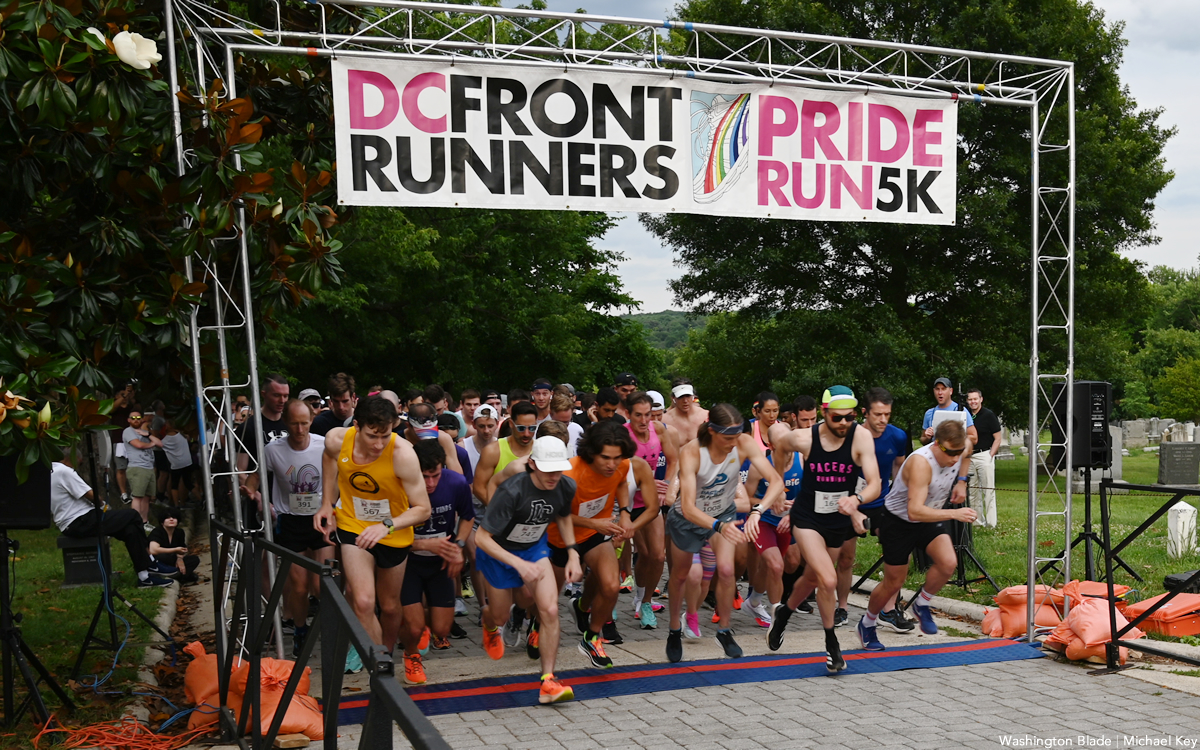 The D.C. Front Runners' annual Pride Run 5K will take place as scheduled at Congressional Cemetery on Friday.
The Blade Foundation, SMYAL, the Wanda Alston Foundation, Team DC, Teens Run DC, Pride 365 and Ainsley's Angels of America are among the race's beneficiaries. Wegmans, Shake Shack, Knead Hospitality and Design, Choice Hotels and Capital One Café are among the sponsors.
Rooftop Pool Party postponed
Capital Pride Alliance moves official event to June 22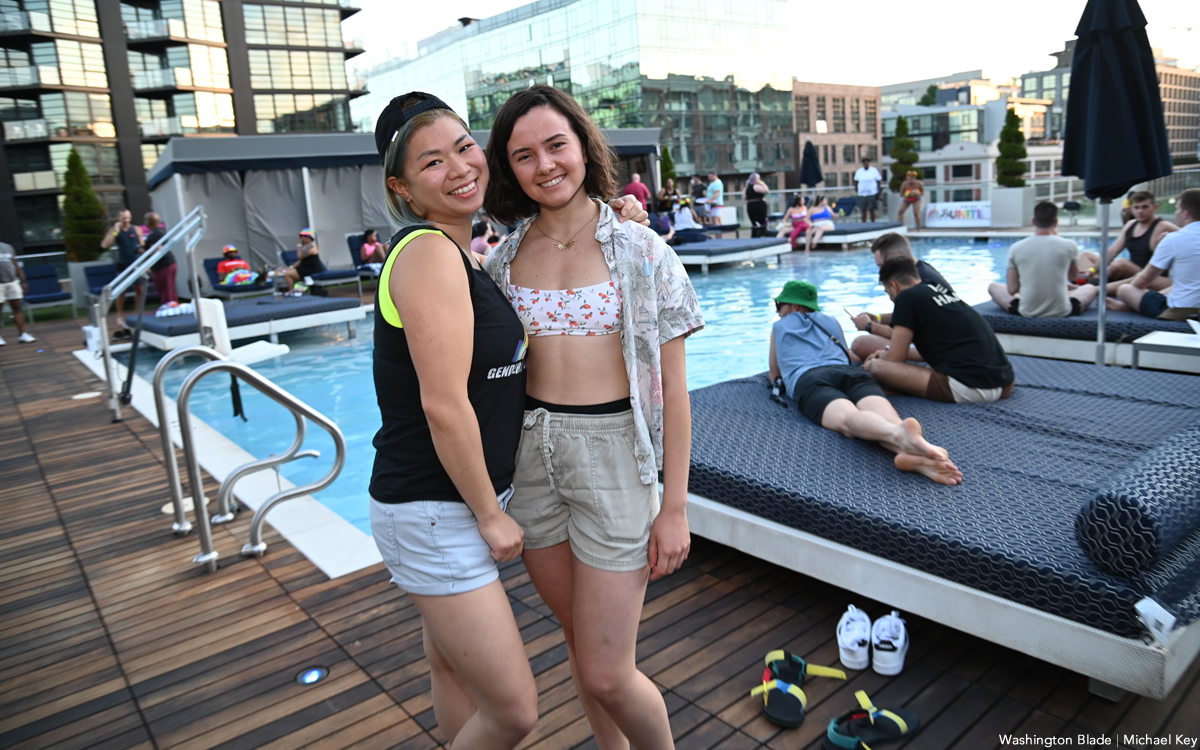 The Capital Pride Rooftop Pool Party, originally scheduled to begin at 8 p.m. tonight, has been postponed until Thursday, June 22, according to a statement released by the Capital Pride Alliance on Instagram. This action comes amid an international climate event created by the Canadian wildfire that has resulted locally in poor air quality and a haze around the region.
The Capital Pride Alliance Instagram account posted, "As with all concerns regarding health and safety issues, the Capital Pride Alliance will closely monitor the air quality situation resulting from Canadian wildfire smoke and take necessary precautions in consultation with our partners in the DC government."
"What does this mean for the pool party?" a question one private Instagram account user posed in the comment section.
"Important Update:" A representative of the Capital Pride Alliance responded through the group's official Instagram account. "Tonight's Capital Pride RoofTop Pool Party at VIDA The Yards is being postponed until Thursday, June 22 at 8:00 pm, due to the current air-quality situation resulting from the Canadian wildfires smoke. Please note that this postponement only applies to today's event."
The Capital Pride Alliance has yet to cancel or postpone any further events.
The White House earlier today rescheduled a large outdoor Pride reception planned for this evening to Saturday.
White House postpones Pride event due to wildfire smoke
Thousands expected for celebration bumped to Saturday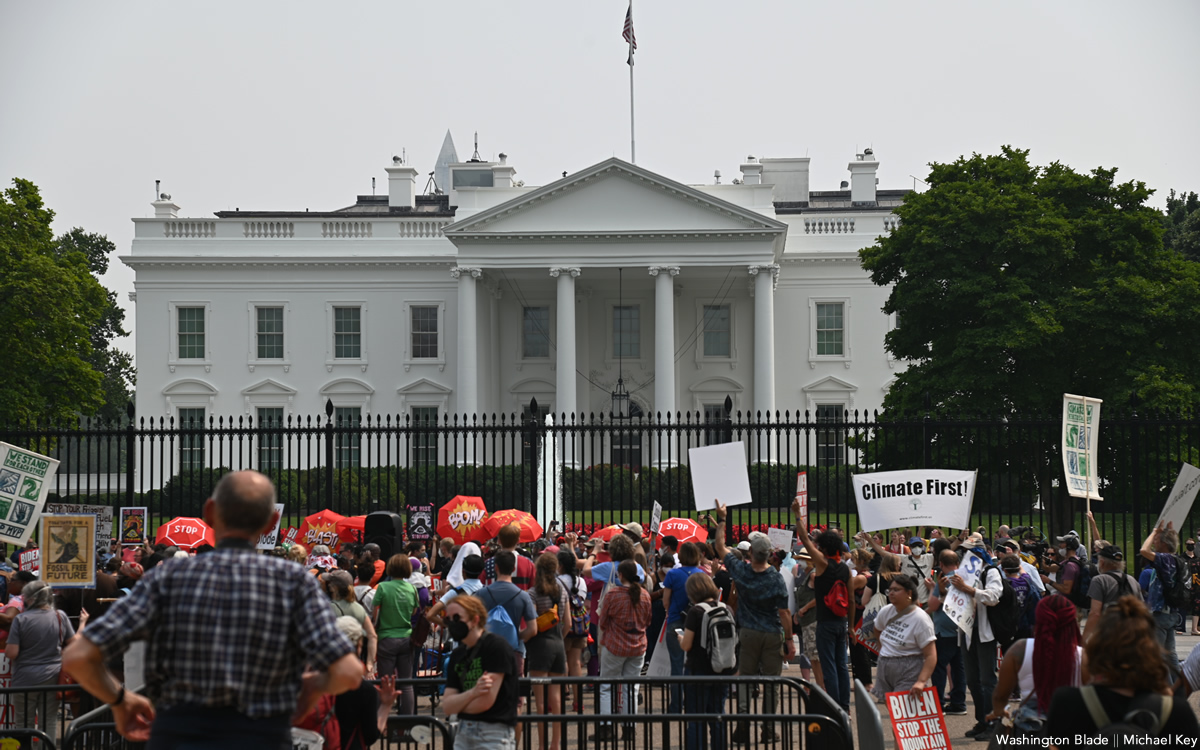 The White House announced Thursday that a Pride event scheduled for this evening has been postponed to Saturday due to the lingering Canadian wildfire smoke.
The smoke has enveloped D.C. in a dangerous haze that triggered a "purple alert" on Thursday, considered worse than a "red alert."
The event, expected to draw thousands of invited LGBTQ advocates and supporters to D.C., has been rescheduled for 1 p.m. on Saturday on the South Lawn of the White House, the same day as D.C.'s Capital Pride Parade, which kicks off at 3 p.m., and Pride on the Pier celebration, which starts at 2 p.m.