May 3, 2012 at 9:39 am EDT | by Phil Reese
Fast Five Fix: May 3
Is the big gay sports schism finally coming to an end? Gay Games and Outgames will meet to discuss combining for one unified event in 2018, according to Out Sports. We reported on this months ago as well. Looks like its finally coming to fruition! Here's the news:
SHOCKING: the wife of the author of North Carolina's anti-gay constitutional amendment says he wrote it to 'protect the Caucasian race' according to Pam's House Blend.
Dharun Ravi's Defense team wants the wants hate crimes convictions dismissed, says Towleroad.
Missouri Republican state representative Zach Wyatt reads a statement, advocates for anti-bullying bill, comes out, and promptly retires. Watch.
Think Progress says Rhode Island will consider marriage equality and divorce equality bills again this year.
Queen Latifah will headline Long Beach Pride, and Queerty asks if the hip-hop royal will finally come out?
Finally, the David Pakman show gives a call to Sean Harris who tells parents at his N.C. church to "punch" kids who they think are too effeminate, and force "butch" daughters to dress, look and "smell pretty."
(h/t Pam's House Blend)
On tap tonight in DC: You get to choose between Log Cabin Republican Happy Hour at Nellie's or Jock U at Phase 1 of Dupont… somehow hosted by Secrets? Anyway, …choose wisely!
Thanks for sticking around for your daily dose of news links from around the web. What do you think of the Fast Five? How can we make it better? Or worse… or whatever, we just want to hear from you.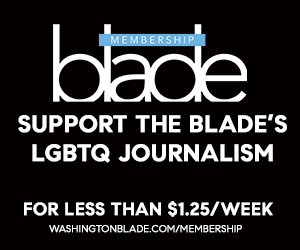 Sign Up for Blade eBlasts