TV ad wars begin over Md. marriage referendum
Spots feature two prominent black Maryland clergy who support Question 6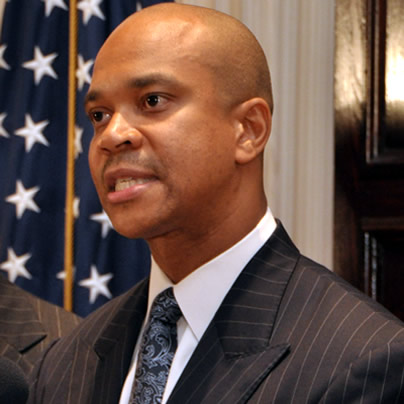 Ads in support of Maryland's same-sex marriage law began airing on a Baltimore television station on Tuesday.
The two 30-second Marylanders for Marriage Equality ads on WBAL feature Rev. Donté Hickman of Southern Baptist Church in Baltimore and Rev. Delman Coates of Mount Ennon Baptist Church in Clinton in Prince George's County and highlight that Question 6 would not force religious institutions to perform nuptials for gays and lesbians.
"As a pastor, my support for Question Six is rooted in my belief that the government should treat everyone equally," says Hickman. "I wouldn't want someone denying my rights based upon their religious views, so I shouldn't deny others based upon mine. It's about fairness. I support this law because it does not force any church to perform a same-sex marriage if it's against their beliefs. And that's what this is about: Protecting religious freedom and all Marylanders equally under the law. Join me in voting for Question 6."
Coates, who spoke at a D.C. press conference last month with Rev. Al Sharpton and other black clergy who publicly back Question 6, had a similar message.
As a pastor, my support for Question 6 is rooted in my belief that the government should treat everyone equally," says Coates in the ad. "I would not want someone denying my rights based upon their religious views, therefore I should not deny others based upon mine. It's about fairness. This law does not force any church to perform a same-sex marriage if it's against their beliefs. And that's what this is about. Protecting religious freedom and protecting all Marylanders equally under the law. Join me in voting for Question 6."
Federal Communications Commission records indicate that Marylanders for Marriage Equality has purchased more than $500,000 worth of airtime on Baltimore and D.C. television stations through Election Day. Pro-Question 6 radio ads featuring Julian Bond, chair emeritus of the National Association for Advancement of Colored People, began airing in both the Baltimore and Washington media markets on Tuesday.
The Maryland Marriage Alliance, the group opposed to Question 6, has also bought more than $90,000 of airtime on local television stations through Nov. 5. The group's first ad aired on Monday.
"Marriage, the union of a man and a woman, has served society well for thousands of years," says the Maryland Marriage Alliance ad. "Marriage is more than what adults want for themselves. It's also about the next generation. Marriage provides children the best chance of being raised by a mother and father. While death and divorce too often prevent it, children do best when raised by their married mom and dad. Everyone is entitled to love and respect, but nobody is entitled to redefine marriage. Vote against Question 6."
Ayanbadejo, O'Malley thank supporters
In related news, Maryland Gov. Martin O'Malley and Baltimore Ravens linebacker Brendon Ayanbadejo came together Monday night at a Baltimore bar to meet and thank supporters of the state's marriage equality law.
Ten winners were chosen in a raffle for the opportunity to meet O'Malley and Ayanbadejo in a small group setting at Mother's bar in Federal Hill. Some of the winners seemed surprised by the crush of photographers and TV crews that awaited Ayanbadejo, who arrived with his family, including two small children.
Ayanbadejo, who has made headlines for several years as an outspoken supporter of marriage equality, told reporters that he views the fight as the next chapter in the advancement of civil rights in America. His teammate, center Matt Birk, caused a stir last week when he announced his opposition to marriage rights for gay couples in two videos produced in conjunction with the referenda battles in Maryland and Minnesota, Birk's home state.
"I haven't talked to Matt about it," Ayanbadejo said, noting that his kids play tennis and participate in gymnastics with Birk's kids.
O'Malley, dressed casually in a fleece and sipping a beer on a chilly and wet Baltimore night with the Orioles playing the New York Yankees in a playoff game just blocks away, greeted Ayanbadejo as he arrived. Ayanbadejo told the governor that he follows him on Twitter, to which O'Malley replied that he's been following the Raven on the gridiron.
Ayanbadejo, who has garnered national attention for his marriage support — a relative rarity among active NFL players — later told the Blade that he is tentatively headed to California during the Ravens bye week later this month to appear on Ellen DeGeneres's talk show. He said the lesbian host has mentioned him a couple of times on her show and invited him to appear as a guest.
O'Malley spoke briefly to reporters, reiterating his support for marriage equality. He signed the marriage bill into law in March; it was later petitioned to the November ballot. Recent polls show growing support for the law, though the opposition's TV ad campaign just began this week and a Baltimore Sun poll showed that 10 percent of voters remain undecided.
In remarks to the Blade, O'Malley said he wasn't concerned about the impact of another referendum — a measure to expand the state's gaming law — on the marriage fight. Some advocates have expressed concern that casino companies spending tens of millions of dollars to turn out conservative voters who object to gambling on religious grounds could have a negative impact on the marriage referendum.
"I don't see that," O'Malley told the Blade. "I see the airwaves being more crowded but I don't see one impacting the other." He added that West Virginia gaming interests are working to "keep Maryland from being competitive" by opposing the gaming expansion, something O'Malley aggressively pushed for.
O'Malley also applauded Ayanbadejo's support for the marriage law.
"It's great to see him stand up for equality," he said.
Gallagher speaks out
The co-founder of the National Organization for Marriage stressed on Tuesday that marriage for same-sex couples is not a civil right.
"I'm here today to urge you to join with your friends and neighbors and your fellow citizens to vote no on Question 6 precisely because I do not believe that gay marriage is a civil rights issue," said Maggie Gallagher, who lives in Montgomery County, during a League of Women Voters' panel on the Nov. 6 referendum on Maryland's same-sex marriage law at Morgan State University. "Marriage has existed not just in the state of Maryland but all over the globe for thousands of years as a union of male and female for a simple reason: These are the only unions that can make new life and connect children in love to their mother and their father. Marital unions have that capacity."
The debate took place at the historically black university shortly after Marylanders for Marriage Equality, the group supporting Question 6, unveiled its first television ads.
"The question is whether or not we as a state are going to continue to treat all people in the state of Maryland — citizens of Maryland — equally and fairly under the law. And that's what Question 6 or ballot Question 6 is all about," said state Del. Keiffer Mitchell (D-Baltimore City) who spoke on behalf of Marylanders for Marriage Equality. "It's about treating all our citizens fairly and equally under the law. What Question 6 does is simply allow gay couples to go to a court house to file to receive a civil marriage license in order to be married."
A Baltimore Sun poll released late last month shows 49 percent of likely Maryland voters support the state's same-sex marriage law, compared to 39 percent who oppose it with 10 percent undecided. A Gonzalez Research poll released earlier in September indicates 51 percent of Marylanders would vote for Question 6, compared to 43 percent who would oppose it.
The same survey noted that 44 percent of black Marylanders back nuptials for gays and lesbians, compared to 52 percent who oppose same-sex marriage.
Mitchell noted that the National Association for the Advancement of Colored People's Board of Directors passed a resolution in support of same-sex marriage after President Obama publicly backed the issue during an interview with ABC News' Robin Roberts in May. The NAACP of Maryland and the civil rights organization's Baltimore City and Prince George's County chapters have also urged their members to support Question 6.
Kevin Naff contributed to this report.
Dupont Circle 'gayborhood' preserved in Council redistricting bill
All of neighborhood remains in Ward 2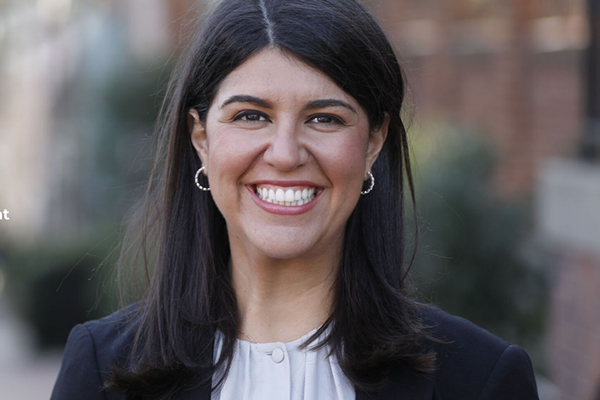 A bill approved by the D.C. Council in a first-reading vote on Tuesday to redraw the boundaries of the city's eight wards keeps all of the Dupont Circle neighborhood, which LGBTQ activists have referred to as the city's preeminent "gayborhood," in Ward 2.
The redistricting plan approved by the Council included a change from an earlier proposal by a special redistricting subcommittee that called for transferring part of the North Dupont Circle neighborhood into Ward 1.
Councilmember Brooke Pinto, who represents Ward 2, joined many of her ward's LGBTQ residents in raising strong objections to dividing the Dupont Circle neighborhood into two different wards.
A number of LGBTQ residents, including Mike Silverstein, one of five openly gay members of the nine-member Dupont Circle Advisory Neighborhood Commission, said the initial subcommittee proposal would unnecessarily split Dupont Circle's historic "gayborhood," which he said has served as a safe space for LGBTQ D.C. residents for decades.
"Excising this part of Ward 2 would arbitrarily cut off the LGBTQIA+ community that has such a rich and pronounced presence in North Dupont," Pinto said in a statement her office released last month. "I will be working with my colleagues to ensure that this community remains in Ward 2," Pinto said.
A spokesperson for D.C. Council Chair Phil Mendelson (D-At-Large) said Mendelson worked with the three members of the redistricting subcommittee and other Council members to make some changes to the subcommittee's initial release of three proposed maps with redrawn ward boundary lines. All three of the maps included plans to move the north part of Dupont Circle to Ward 1, each of which was dropped in the final proposal approved by the Council.
The Council is scheduled to hold a second and final vote on the redistricting measure later this month.
City officials have noted that a redrawing of the city's ward boundary lines is needed to bring the city into legal conformance with the 2020 U.S. Census count for D.C., which shows shifts in population within the city.
U.S. Attorney's Office declines to prosecute anti-gay assault case
D.C. police report says man beaten by neighbors in Northeast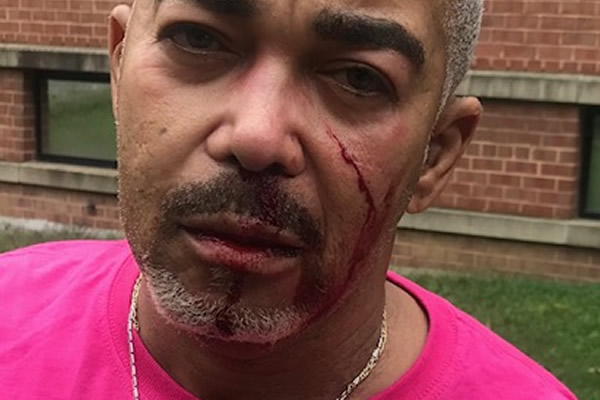 The U.S. Attorney's Office has declined to prosecute two women and a man who, according to a D.C. police report, assaulted a gay man after one of the women called him a "Jewish faggot" during an Oct. 13 incident on the grounds of a Northeast Washington apartment building where the victim and the two women live.
The victim, Antonio Zephir, 51, said one of the women, her daughter, and a man he believes to be the daughter's father repeatedly punched him in the face after he shouted back at the mother in response to the anti-gay and anti-Jewish slur he says she hurled at him.
The incident took place outside the Northwood Gardens Apartments at 4870 Fort Totten Dr., N.E. at about 12:40 p.m. the police report says.
Zephir told the Blade this week that an official with the U.S. Attorney's Office, which prosecutes crimes committed by adults in D.C., informed him in a phone call that the office decided not to prosecute the case after police and prosecutors viewed a surveillance camera video that reportedly captured the entire incident.
He said the official, Crystal Flournoy, Deputy Chief of the U.S. Attorney's Office's Early Case Assessment Section, told him the video showed that he was the "aggressor" in the incident.
Zephir says he strongly disputes that characterization and believes the camera angle from the video may not have captured the full altercation in which he was assaulted first before attempting to defend himself.
A D.C. police spokesperson said police opened an investigation into the incident after Zephir called police immediately after the altercation. A police report lists the incident as a suspected anti-gay hate crime and lists the offense as a misdemeanor simple assault.
Zephir, who was treated and released from the Washington Hospital Center the day after the incident, suffered a fractured nose, a fractured bone surrounding one of his eyes, and other facial injuries, according to a hospital report he provided to the Blade. He said his doctor told him he may need facial surgery to treat ongoing effects from the injuries.
In a Dec. 7 email, a copy of which Zephir sent to the Blade, D.C. Police Lt. Scott Dowling informed Zephir that the U.S Attorney's Office declined to process an affidavit submitted by police requesting the case be prosecuted.
"[T]he affidavit submitted to the United States Attorney's Office was declined, meaning that their office is not willing to move forward with criminal charges," Dowling told Zephir in his email message. "As a result, there will be no arrests relating to the offense you reported," Dowling said. "As the Affidavit was declined, our investigation is closed," Dowling wrote in the message.
"The U.S. Attorney's Office declined to prosecute this matter after reviewing the evidence," William Miller, a spokesperson for the office, told the Blade in a statement on Wednesday. "Beyond that, we typically do not comment on charging decisions and have no further comment," Miller said.
Zephir said he doesn't think the video, which he hasn't seen, shows that one of the two women involved in the altercation was the first to assault him. He identified her in court papers he filed seeking a stay away protection order as Aurlora Ellis.
Court records show that a D.C. Superior Court judge on Nov. 30 issued a "Consent Stay Away Order" requiring Ellis and her daughter, identified as Latera Cox, and a woman who Zephir says lives at Ellis's apartment, to "stay at least 100 feet away from Plaintiffs Zephir or Johnson."
Steve Johnson, who is cited in the stay away order, is Zephir's roommate who the police report says attempted to stop the Oct. 13 altercation in which Zephir says he was assaulted.
The court order further states that the three women "shall not contact Plaintiffs Zephir or Johnson in any manner, including but not limited to by telephone, in writing, and in any manner directly or indirectly through another person, including social media," and that the order will remain in effect for one year.
"Ms. Ellis was the person who made those threats and slurs against me," Zephir said. "I responded with not-so-kind words. She ran towards me and assaulted me with hard punches toward my face," Zephir recounted. "I punched back in an attempt to defend myself," he said.
According to Zephir, during the altercation Ellis told him, "Call the police, you bitch faggot. They're not going to do anything. This isn't over yet." He said he continues to worry that Ellis's comment that the matter "isn't over yet" was a threat and that she may try to harm him again.
Ellis couldn't immediately be reached for comment.
Zephir said the October altercation wasn't the first time Ellis has acted in a hostile way toward him.
"For several months, every time Ms. Ellis sees me, she shouts homophobic slurs and I continued to ignore her," he told the Blade in October after contacting the Blade about the incident.
On Tuesday, Zephir told the Blade that Ellis later apologized for the altercation and asked him to drop the charges he filed against her with D.C. police. He said he declined her request, but said he's now dismayed that the U.S. Attorney's Office has refused to prosecute what he calls a "serious hate crime" against him.
Dignity Washington opens new center in Dupont Circle
Proceeds from sale of old building used to expand programming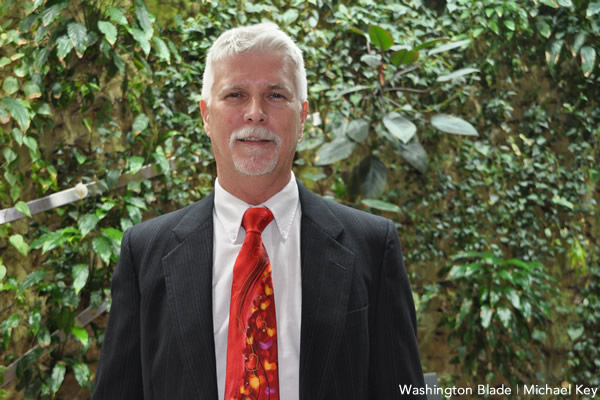 The local LGBTQ Catholic organization Dignity Washington recently opened its new Dignity Center office and community meeting space at a Dupont Circle condominium building that includes first-floor offices for small businesses and community organizations.
Dignity Washington President Tom Yates said the new space at the Imperial House condominium building at 1601 18th Street, N.W., is currently being used as Dignity's office headquarters and for meetings of the group's board and committees. He said as COVID-related restrictions are relaxed the space will be used for various events and possible use by other LGBTQ community organizations.
Yates said the group purchased the 1,700-square-foot office space in March of this year, eight months after selling its former Dignity Center building at 721 8th St., S.E., in the Barracks Row section of Capitol Hill. Dignity officials have said the Capitol Hill building was larger than the space the group needed and the proceeds from its sale would provide funds to expand its programs.
"Dignity Washington, making use of the fiscal support made possible by the change of properties, hopes to become more active speaking truth to power of the Catholic Church," Yates told the Blade. "The new facility is only a handful of blocks from the Cathedral of St. Matthew," he said, referring to one of the city's largest Catholic churches.
Noting the Catholic Church's historic lack of support for the LGBTQ community, Yates said the proximity of the new Dignity Center would help the group's mission of showing "the local same-sex community that one can be both Catholic and same-sex loving."
Yates said Dignity Washington, founded in 1972, is the largest chapter of the national LGBTQ Catholic organization Dignity USA.
Dignity Washington, among other things, organizes a weekly 6 p.m. Sunday Mass for LGBTQ Catholics and their friends and families at St. Margaret's Episcopal Church at 1830 Connecticut Ave., N.W.