Probation for D.C. cop in trans shooting case
Judge rejects prosecutor's request for five-year jail term
An off-duty D.C. police officer accused in August 2011 of firing his service revolver into a car occupied by three transgender women and two male friends was sentenced on Thursday to three years of supervised probation, a $150 fine, and 100 hours of community service.
D.C. Superior Court Judge Russell Canan also sentenced Officer Kenneth Furr, 48, to five years in prison but suspended all but 14 months of the prison term and credited Furr with the 14 months he already served between the time of his arrest and his trial last October.
Canan released Furr October 26 while awaiting sentencing after a Superior Court jury convicted him of assault with a deadly weapon and solicitation for prostitution but acquitted him on six other charges, including the most serious charge of assault with intent to kill while armed.
The latter charge was linked to his firing of five shots into the car where the transgender women and their friends were sitting.
Police and prosecutors have said the shooting occurred following a confrontation that started when Furr solicited one of the transgender women for sex for money at 5th and K Streets, N.W., and followed the woman after she rejected his offer. Furr then argued with one or more of her friends who asked Furr leave her alone.
At the time of his arrest, police said Furr's blood alcohol level was twice that of the legal limit for drivers.
Canan rejected a request by Assistant U.S. Attorney Laura Worm, the lead prosecutor, that Furr be given the maximum sentence of 5 years in prison for the assault with a deadly weapon charge. He also denied her request for an additional three months incarceration for the solicitation conviction.
News of the shooting outraged LGBT activists as well as Mayor Vincent Gray and members of the D.C. City Council, who called for stepped up efforts to curtail violence against the city's transgender community.
The D.C. Trans Coalition issued a statement late Thursday calling the sentence of no additional jail time for Furr "outrageous" and said it would heighten longstanding fears by the transgender community of mistreatment and abuse by police officers.
"This result is the product of a legal system that constantly devalues trans lives, particularly trans people of color," said D.C. Trans Coalition member Jason Terry. "Officer Furr's defense team actively sought to portray the victims as somehow deserving of this violence, and apparently they succeeded," he said.
"If roles had been reversed and a black trans woman had gotten drunk and shot a gun at a police officer, the results would be drastically different," Terry said.
Court observers said the jury's decision to find Furr not guilty on the assault with intent to kill while armed charge most likely resulted from a successful effort by Furr's attorneys to portray the shooting as an act of self-defense.
Canan said his suspension of 46 months of the 60 month (five year) prison term was contingent upon Furr's successful completion of his three year probation period and other restrictions, including a requirement that he stay away from the five complainants.
Court records show Canan also ordered Furr to stay away from "the area bounded by: New York Avenue, Massachusetts Avenue, 7th Street, N.W. and North Capitol Street, N.W.," which is widely known as one of the city's transgender prostitution zones.
In addition, Canan set as a condition for the parole that Furr enter an alcohol treatment program and enroll in anger management classes.
In the sentencing memorandum on behalf of the U.S. Attorney's office, Worm said one reason why Furr was not a good candidate for a sentence involving parole and no prison time was that he failed to immediately comply with his pre-sentencing release conditions. She noted that although he was instructed to report immediately after his release on Oct. 26 for regular alcohol testing and other conditions, he did not report for the testing until a full month after his release.
The charge of assault with a deadly weapon, on which he was convicted, stemmed from allegations by prosecutors that Furr pointed his gun at one of the transgender women's friends outside a CVS store on the 400 block of Massachusetts Ave., N.W. at about 5 a.m. on Aug 26, 2011.
According to testimony by the victims, Furr solicited one of the trans women propositioning sex for money minutes earlier on the street at 5th and K Streets, N.W. The woman rebuffed his request and walked away, but Furr followed her to the CVS store, where one of her male friends called on Furr to leave her alone, witnesses reported.
Furr then started an argument that continued outside the store, where Furr pulled out his gun and pointed it at the women's friend.
Although Furr did not fire the gun, prosecutors argued his action constituted an assault with a deadly weapon and persuaded the jury to convict him on that count.
During the trial the defense presented evidence, which prosecutors acknowledged was factually correct, that the trans women and their male friends responded by following Furr in their car after Furr drove away from the CVS store.
Trial testimony showed that the group followed Furr to the area of 3rd and K Street, N.W., where they observed Furr attempting to solicit another transgender woman for sex. At that point, two of the people in the car got out and confronted Furr and one or both of them assaulted Furr, witnesses testified during the trial.
Furr then returned to his car and drove away, with the trans women and their male friends following him again, witnesses testified. This prompted Furr to stop his car at First and Pierce Streets, N.W., and fire his gun at the other car, which Furr's lawyer said was in pursuit of his, according to testimony at the trial.
One of the male friends driving the vehicle ducked to avoid being shot and unintentionally rammed the car into Furr's car, witnesses testified.
Furr responded by climbing on the hood of the car occupied by the transgender women and their friends and fired five times through the front windshield, causing three of the occupants to suffer non-fatal gunshot wounds.
Within minutes D.C. police rushed to the scene and arrested Furr, who was found to have a blood alcohol level twice the legal limit under D.C. law.
David Knight, Furr's lead defense attorney, appeared to have persuaded the jury that the people he shot at were the aggressors and Furr acted in self-defense, court observers said.
"He was alone, outnumbered and under attack," the Washington Post quoted Knight saying to the jury. "He was threatened, assaulted and pursued by a car full of people who wanted to harm him."
In her sentencing memorandum, Worm said that at no point did Furr identify himself as a police officer to the complainants nor did he call for police help if he believed he was in danger.
"To be sure, some of the complainants involved in this incident engaged in risky behavior and bad judgment," she said in the memo.
"The government does not minimize the fact that both parties had opportunities to withdraw from this conflict, but the government's view, as exhibited in its charging decisions, is that the defendant bore criminal responsibility for provoking and escalating the conflict, and introducing a deadly weapon into a situation that could have otherwise been resolved," Worm wrote in the memo.
"Many of the witnesses who testified at trial were associated, in some way, with Washington, D.C.'s transgender community," Worm said in the memo. "That community has historically suffered discrimination from a variety of sources. Moreover, the members of the transgender community bear a heightened risk that they will be victims of violent crime," she wrote.
"This defendant was a police officer charged with protecting and serving the citizens of the District of Columbia," she said. "Defendant Furr's actions on the night of this offense increased the transgender community's already significant safety concerns and their distrust of the Metropolitan Police Department."
D.C. police spokesperson Gwendolyn Crump said Furr has been suspended without pay and that the department will follow its standard procedure for dealing with an officer convicted of a felony. Police observers have said a felony conviction, especially one associated with violence, usually results in the firing of a police officer.
Comings & Goings
Lane named senior counsel at Brady United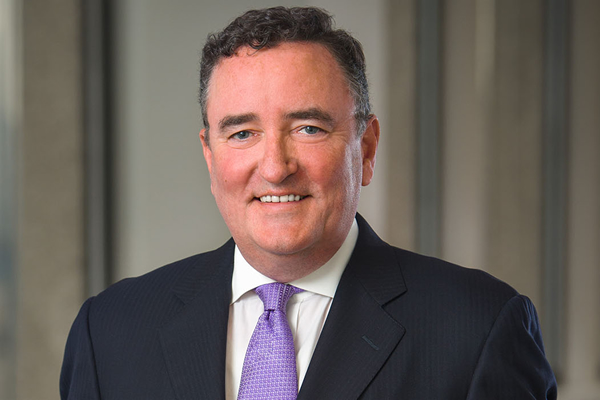 The Comings & Goings column is about sharing the professional successes of our community. We want to recognize those landing new jobs, new clients for their business, joining boards of organizations and other achievements. Please share your successes with us at [email protected].
Congratulations to Thomas Patrick Lane the new Senior Litigation Counsel and Director of Affirmative Litigation with Brady United. According to its website, Brady's mission is, "To unite all Americans against gun violence. We work across Congress, the courts, and our communities with over 90 grassroots chapters, bringing together young and old, red and blue, and every shade of color to find common ground in common sense. In the spirit of our namesakes Jim and Sarah Brady, we have fought for over 45 years to take action, not sides, and we will not stop until this epidemic ends. It's in our hands."
Jonathan Lowy, chief counsel and vice president of legal at Brady said, "The whole Brady team is thrilled to welcome Tom's skills as a trial lawyer and his leadership as a champion for justice and a voice for inclusivity and equal rights. Tom is one of the top litigators in the country, and has been a fighter his whole life who has proven himself undaunted by any challenge, including taking on the gun industry for its role in causing gun violence in America. Tom's expertise and insights into complex litigation involving emerging technologies, such as 3-D printed guns, "smart" technology, and online commerce, will bolster our fight for industry-wide change by holding companies accountable and forcing reforms that will make all Americans safer."
Upon accepting the position Lane said, "From my time as a prosecutor to private practice, I have seen the effects of gun violence and the importance of defending victims and survivors and upholding common-sense laws that keep our families and communities safe. I am excited to bring that background to Brady and to continue this important work nationwide."
Prior to joining Brady, Lane was a partner in the New York office of Winston & Strawn, LLP. Before that he was a partner in Thelen Reid Brown Raysman & Steiner LLP. He is recognized as one of the country's top intellectual property and new media lawyers. He tried the first Internet music case and the first Digital Millennium Copyright Act safe harbor case before juries. He has also served as a senior trial attorney in the office of the New York Kings County District Attorney.
Lane represented the City of New York in litigation against major gun manufacturers in the early 2000s. LawDragon named him as one of the 500 Leading Lawyers in America.
Lane earned his undergraduate degree from Hamilton College, Clinton, N.Y.; and his J.D. from Tulane University School of Law in New Orleans. He has created an endowed scholarship there for LGBTQ students to help law firms realize the importance of hiring diverse rosters of attorneys, and to honor the courage of his uncles Bernard Lane (an Army Ranger decorated with two Bronze Stars) and Richard Morrison (a recovered alcoholic who devoted his life to counseling others).
Both men were known for their toughness tendered by humor and both lived openly in loving relationships with same-sex partners in the 1970s. Lane is a former board member of the National LGBT Bar Association. He directs all external legal matters for the Tyler Clementi Foundation, whose mission is to end bullying in schools, workplaces, and faith communities.
100th anniversary celebration of Dupont Circle fountain set for May 17
GWU student creates tribute video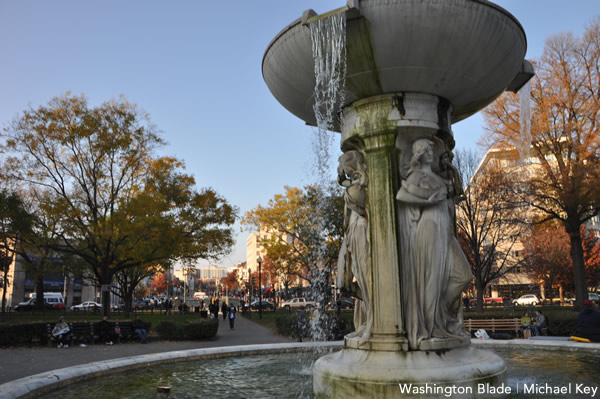 LGBTQ residents and longtime visitors to D.C.'s Dupont Circle neighborhood are expected to be among the participants in the 100th anniversary celebration of the installation of the Dupont Circle fountain scheduled to be held at the circle on Monday, May 17.
Aaron DeNu, president of Dupont Festival, a nonprofit arts and cultural programming group that's organizing the celebration, says it will take place from noon to at least sunset inside Dupont Circle.
The celebration will take place one week after the May 10 release of a YouTube video, "How Dupont Circle Evolved as a Hub for LGBTQ+ Life in the District," produced by George Washington University student Dante Schulz. Schulz is the video editor for the G.W. student newspaper The Hatchet.
Among those appearing in the documentary video are veteran LGBTQ rights activists Deacon Maccubbin and his husband Jim Bennett, who owned and operated the Dupont Circle LGBTQ bookstore Lambda Rising beginning in the 1970s, which is credited with contributing to Dupont Circle's reputation as the epicenter of D.C.'s LGBTQ community for many years.
Also appearing in the video is longtime D.C. gay activist and Dupont Circle area resident Craig Howell, a former president of the Gay and Lesbian Activists Alliance.
"At this point in time due to COVID restrictions we're not going to be doing any particular formal gathering of folks," DeNu told the Washington Blade in describing the May 17 celebration. "But we'll have a soundtrack that's playing throughout the day from that original ceremony – the same songs they used in the original dedication a hundred years ago," he said.
DeNu said the event will also feature "historic imagery" related to Dupont Circle and the people who have gathered there over the years.
"So, we're really just inviting people to come and have lunch, stop by the park after work, and just stop and reflect on 100 years of Dupont Circle fountain, take a look at the imagery and see some old friends and hopefully stop by and see the Dupont businesses that are around the area," DeNu said.
The LGBTQ video produced by Dante Schultz can be accessed here.
Va. GOP governor nominee opposes transgender-inclusive youth sports
Glenn Youngkin made comment to Arlington voters in March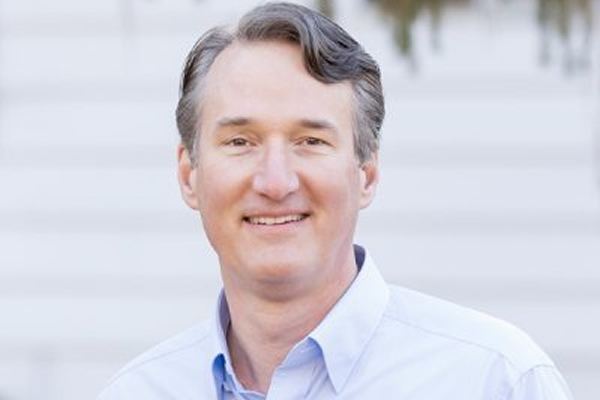 The Republican gubernatorial candidate to succeed Virginia Gov. Ralph Northam has said he does not support allowing transgender children to play on sports teams that are consistent with their gender identity.
"Biological males should not be allowed to play sports in girls sports," Glenn Youngkin said during a meeting with a group of voters in Arlington on March 25, according to the Washington Examiner. "It's just not fair."
The Washington Blade has reached out to Youngkin's campaign for comment.
Youngkin, the former co-CEO of the Carlyle Group, on Saturday defeated Pete Snyder, former House of Delegates Speaker Kirk Cox (R-Colonial Heights), state Sen. Amanda Chase (R-Chesterfield County), Peter Doran, Sergio de la Peña and Octavia Johnson in the Republican Party of Virginia's nominating convention. Virginia Republicans nominated Winsome Sears and Jason Miyares as their candidates for lieutenant governor and attorney general respectively.
The Democratic Party of Virginia will hold its primary on June 8. Former Gov. Terry McAuliffe is widely expected to win the vote, and run against Youngkin in the general election.