Probation for D.C. cop in trans shooting case
Judge rejects prosecutor's request for five-year jail term
An off-duty D.C. police officer accused in August 2011 of firing his service revolver into a car occupied by three transgender women and two male friends was sentenced on Thursday to three years of supervised probation, a $150 fine, and 100 hours of community service.
D.C. Superior Court Judge Russell Canan also sentenced Officer Kenneth Furr, 48, to five years in prison but suspended all but 14 months of the prison term and credited Furr with the 14 months he already served between the time of his arrest and his trial last October.
Canan released Furr October 26 while awaiting sentencing after a Superior Court jury convicted him of assault with a deadly weapon and solicitation for prostitution but acquitted him on six other charges, including the most serious charge of assault with intent to kill while armed.
The latter charge was linked to his firing of five shots into the car where the transgender women and their friends were sitting.
Police and prosecutors have said the shooting occurred following a confrontation that started when Furr solicited one of the transgender women for sex for money at 5th and K Streets, N.W., and followed the woman after she rejected his offer. Furr then argued with one or more of her friends who asked Furr leave her alone.
At the time of his arrest, police said Furr's blood alcohol level was twice that of the legal limit for drivers.
Canan rejected a request by Assistant U.S. Attorney Laura Worm, the lead prosecutor, that Furr be given the maximum sentence of 5 years in prison for the assault with a deadly weapon charge. He also denied her request for an additional three months incarceration for the solicitation conviction.
News of the shooting outraged LGBT activists as well as Mayor Vincent Gray and members of the D.C. City Council, who called for stepped up efforts to curtail violence against the city's transgender community.
The D.C. Trans Coalition issued a statement late Thursday calling the sentence of no additional jail time for Furr "outrageous" and said it would heighten longstanding fears by the transgender community of mistreatment and abuse by police officers.
"This result is the product of a legal system that constantly devalues trans lives, particularly trans people of color," said D.C. Trans Coalition member Jason Terry. "Officer Furr's defense team actively sought to portray the victims as somehow deserving of this violence, and apparently they succeeded," he said.
"If roles had been reversed and a black trans woman had gotten drunk and shot a gun at a police officer, the results would be drastically different," Terry said.
Court observers said the jury's decision to find Furr not guilty on the assault with intent to kill while armed charge most likely resulted from a successful effort by Furr's attorneys to portray the shooting as an act of self-defense.
Canan said his suspension of 46 months of the 60 month (five year) prison term was contingent upon Furr's successful completion of his three year probation period and other restrictions, including a requirement that he stay away from the five complainants.
Court records show Canan also ordered Furr to stay away from "the area bounded by: New York Avenue, Massachusetts Avenue, 7th Street, N.W. and North Capitol Street, N.W.," which is widely known as one of the city's transgender prostitution zones.
In addition, Canan set as a condition for the parole that Furr enter an alcohol treatment program and enroll in anger management classes.
In the sentencing memorandum on behalf of the U.S. Attorney's office, Worm said one reason why Furr was not a good candidate for a sentence involving parole and no prison time was that he failed to immediately comply with his pre-sentencing release conditions. She noted that although he was instructed to report immediately after his release on Oct. 26 for regular alcohol testing and other conditions, he did not report for the testing until a full month after his release.
The charge of assault with a deadly weapon, on which he was convicted, stemmed from allegations by prosecutors that Furr pointed his gun at one of the transgender women's friends outside a CVS store on the 400 block of Massachusetts Ave., N.W. at about 5 a.m. on Aug 26, 2011.
According to testimony by the victims, Furr solicited one of the trans women propositioning sex for money minutes earlier on the street at 5th and K Streets, N.W. The woman rebuffed his request and walked away, but Furr followed her to the CVS store, where one of her male friends called on Furr to leave her alone, witnesses reported.
Furr then started an argument that continued outside the store, where Furr pulled out his gun and pointed it at the women's friend.
Although Furr did not fire the gun, prosecutors argued his action constituted an assault with a deadly weapon and persuaded the jury to convict him on that count.
During the trial the defense presented evidence, which prosecutors acknowledged was factually correct, that the trans women and their male friends responded by following Furr in their car after Furr drove away from the CVS store.
Trial testimony showed that the group followed Furr to the area of 3rd and K Street, N.W., where they observed Furr attempting to solicit another transgender woman for sex. At that point, two of the people in the car got out and confronted Furr and one or both of them assaulted Furr, witnesses testified during the trial.
Furr then returned to his car and drove away, with the trans women and their male friends following him again, witnesses testified. This prompted Furr to stop his car at First and Pierce Streets, N.W., and fire his gun at the other car, which Furr's lawyer said was in pursuit of his, according to testimony at the trial.
One of the male friends driving the vehicle ducked to avoid being shot and unintentionally rammed the car into Furr's car, witnesses testified.
Furr responded by climbing on the hood of the car occupied by the transgender women and their friends and fired five times through the front windshield, causing three of the occupants to suffer non-fatal gunshot wounds.
Within minutes D.C. police rushed to the scene and arrested Furr, who was found to have a blood alcohol level twice the legal limit under D.C. law.
David Knight, Furr's lead defense attorney, appeared to have persuaded the jury that the people he shot at were the aggressors and Furr acted in self-defense, court observers said.
"He was alone, outnumbered and under attack," the Washington Post quoted Knight saying to the jury. "He was threatened, assaulted and pursued by a car full of people who wanted to harm him."
In her sentencing memorandum, Worm said that at no point did Furr identify himself as a police officer to the complainants nor did he call for police help if he believed he was in danger.
"To be sure, some of the complainants involved in this incident engaged in risky behavior and bad judgment," she said in the memo.
"The government does not minimize the fact that both parties had opportunities to withdraw from this conflict, but the government's view, as exhibited in its charging decisions, is that the defendant bore criminal responsibility for provoking and escalating the conflict, and introducing a deadly weapon into a situation that could have otherwise been resolved," Worm wrote in the memo.
"Many of the witnesses who testified at trial were associated, in some way, with Washington, D.C.'s transgender community," Worm said in the memo. "That community has historically suffered discrimination from a variety of sources. Moreover, the members of the transgender community bear a heightened risk that they will be victims of violent crime," she wrote.
"This defendant was a police officer charged with protecting and serving the citizens of the District of Columbia," she said. "Defendant Furr's actions on the night of this offense increased the transgender community's already significant safety concerns and their distrust of the Metropolitan Police Department."
D.C. police spokesperson Gwendolyn Crump said Furr has been suspended without pay and that the department will follow its standard procedure for dealing with an officer convicted of a felony. Police observers have said a felony conviction, especially one associated with violence, usually results in the firing of a police officer.
Delaware governor vetoes legalization of marijuana possession
Carney cites impact on youth, public health, law enforcement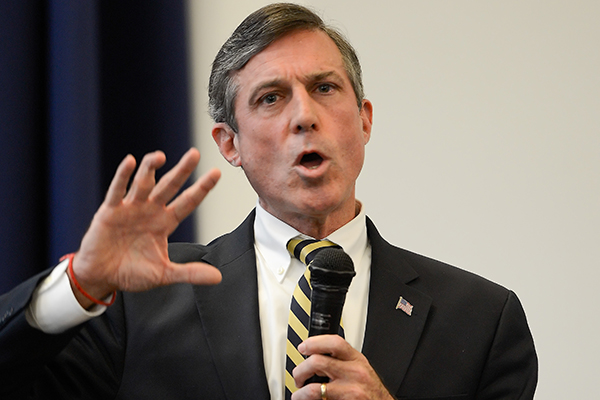 Delaware Gov. John Carney on Tuesday vetoed a bill that would have legalized the possession of marijuana in the First State. House Bill 371, which passed the House on May 5 and the Senate May 12, would legalize the possession of up to one ounce of marijuana and remove criminal and civil penalties associated with the non-remunerative transfer of marijuana for individuals ages 21 or older.
"I do not believe that promoting or expanding the use of recreational marijuana is in the best interests of the state of Delaware, especially our young people," Carney said in his veto statement Tuesday. "Questions about the long-term health and economic impacts of recreational marijuana use, as well as serious law enforcement concerns, remain unresolved."
Current state laws deem the possession of one ounce of marijuana or less a civil offense resulting in a financial penalty. Still, the possession of more than one ounce of marijuana remains a misdemeanor — a designation that would remain unchanged with the passage of the bill.
In the statement, Carney acknowledged that marijuana can help individuals with certain health conditions, and said that possession and private consumption of the substance should not lead to imprisonment. But he also noted that these beliefs are already reflected in state legislation, following his passage of marijuana decriminalization in 2019.
"I have been clear about my position since before I took office, and I have articulated my concerns many times," he added.
The Delaware Center for Justice called upon the General Assembly to override the veto in a Tuesday press release, emphasizing that legalizing marijuana is of particular importance to low-income communities and communities of color across the state.
These communities "experience police harassment and arrest for marijuana at disproportionate rates than those of white affluent communities, despite usage rates being almost the same," DCJ Director of Policy Kailyn Richards noted in the press release. She added that DCJ believes state legislators should further "pass a companion bill that sets up a safe and legal marketplace."
The American Civil Liberties Union of Delaware also emphasized that the General Assembly should override the veto.
Carney's veto of the bill "is an affront to the lawmakers, advocates, and residents of Delaware who have shown consistent and overwhelming support for this measure," Mike Bichner, ACLU of Delaware executive director, said in a statement Tuesday. "The criminalization of cannabis has been a tool of the failed, racist War on Drugs, which has caused irrevocable harm to our Black communities."
Vandals target 2 Rehoboth Beach LGBTQ-owned businesses
Staff discovers graffiti on walls, doors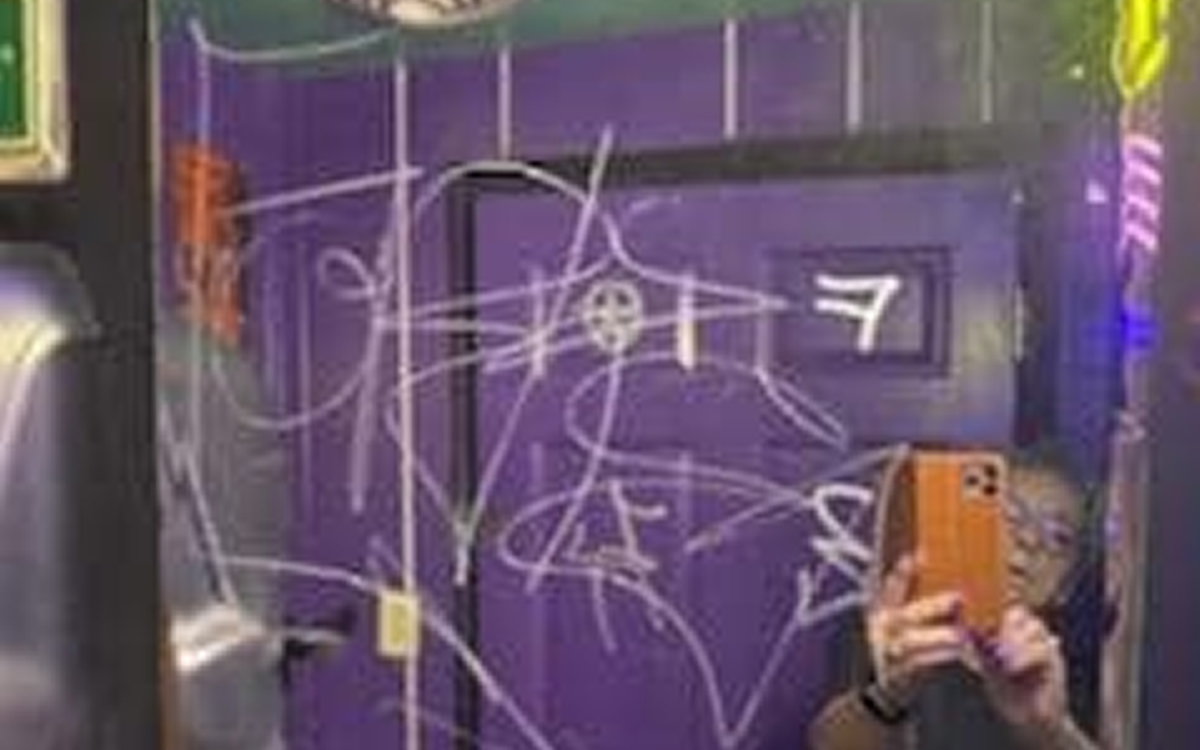 Freddie's Beach Bar and the Purple Parrot — two LGBTQ+ bars and restaurants in Rehoboth Beach — discovered that their establishments had been vandalized on Monday, according to a series of posts to the Purple Parrot's Facebook page made by Hugh Fuller, the restaurant's owner.
The vandal, whose identity remains unknown, painted on the walls and carved graffiti into the mirrors of the Purple Parrot's bathroom, and painted graffiti on the front door of Freddie's Beach Bar, the posts recounted. The establishments have since filed police reports with the Rehoboth Police Department.
Tony Rivenbark, a manager at Freddie's, said that a staff member first noticed the vandalism around 10:30 a.m. on Monday, and that it was dry to the touch, leading restaurant management to believe it was painted early in the day. Upon discovering the graffiti, restaurant staff reported it to local police and were told that other nearby locations had similarly been vandalized, he said.
Between its Rehoboth and Arlington, Va. locations, Rivenbark has worked at the establishment for almost two decades, and added that this was the first instance of vandalism at the Rehoboth venue, which has been open for less than one year. He noted that Freddie's management is currently reviewing security footage for further information, and is likely to soon install additional security cameras.
At the establishment's Arlington, Va., location, "we've had some minor spray painting done, we've had some rocks thrown at windows," he recounted. "Mostly I have attributed it to drunken antics, not so much hate. Hopefully that's the case here as well."
Rivenbark added that Freddie's staff remains positive despite the circumstances. "It doesn't seem like a huge issue. It's something we'll probably just paint over tomorrow," Rivenbark said. "I'd much rather it be some kid that's got a new little airbrush … than it being somebody that's targeting LGBT businesses."
The Rehoboth Beach Police Department declined to comment or to confirm details of the reports filed.
Pride Run returns after two-year hiatus
1,500 participants to join 10th annual event on June 10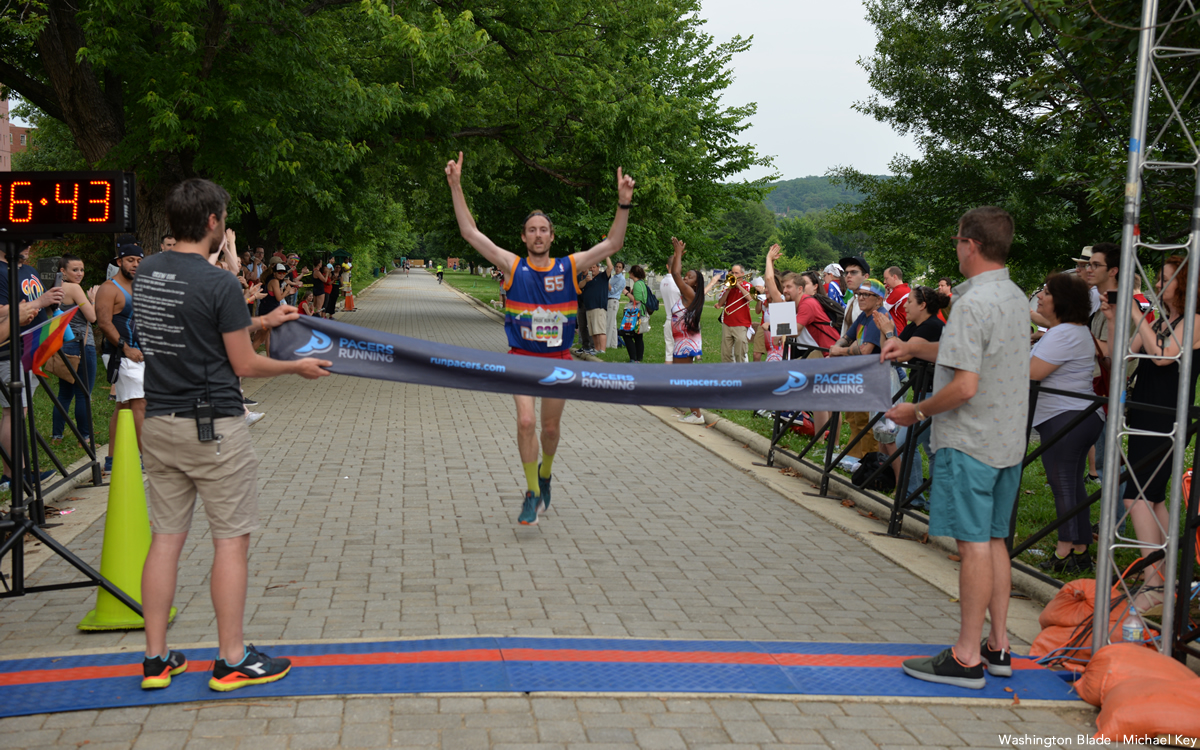 After a two-year pandemic hiatus that saw the Pride Run go mostly virtual, the DC Front Runners Pride Run 5K is elated to once again welcome nearly 1,500 runners, walkers, volunteers, and spectators back to the Historic Congressional Cemetery for their Tenth Anniversary Race on Friday, June 10.
As an official Capital Pride Partner Event, the Pride Run 5K kicks off Capital Pride weekend with a bang. Well perhaps more of a "On your mark, get set, GO!"
Join us as we run, walk, skip, shantay, and sashay on a course that starts near the cemetery's "Gay Corner" where many LGBTQ rights activists, such as Leonard Matlovich, are interred. The race then winds along the Anacostia Riverwalk Trail to finish where you started.
Gates open at 5 p.m. for packet pickup with the race beginning at 7 p.m. The post-race party includes beer and hard seltzer provided by DC Brau along with a DJ playing music until 9 p.m. Be sure to check out the return of the DCFR dance troupe performing to a hyped-up crowd.
Race proceeds benefit the following local LGBTQ and youth-supporting organizations via the Pride Run Foundation: Ainsley's Angels (National Capital Region), Casa Ruby, Team DC Student-Athlete Scholarship, SMYAL, The Wanda Alston Foundation, The Blade Foundation, and Teens Run DC. You can help support these amazing charities by registering for the race or donate directly at DCPrideRun.com.
A special thanks to the presenting sponsors, Capital One Café, Choice Hotels, KNEAD Hospitality + Design, Shake Shack, and Wegmans Food Market to the premier sponsors DC Brau, Pacers Running, and Wilkinson Barker Knauer, LLP, and our elite sponsors, AHF Healthcare Centers, Avalon Bay Communities, Casey Trees, Endorphin Fitness, and Starbucks, and of course our special partner the Historic Congressional Cemetery. Last, but not least, a big thank you to all individual donors who contribute via the race website directly to our incredible charity partners. Together, we proudly celebrate who we are in a festive, safe, and inclusive event.