Probation for D.C. cop in trans shooting case
Judge rejects prosecutor's request for five-year jail term
An off-duty D.C. police officer accused in August 2011 of firing his service revolver into a car occupied by three transgender women and two male friends was sentenced on Thursday to three years of supervised probation, a $150 fine, and 100 hours of community service.
D.C. Superior Court Judge Russell Canan also sentenced Officer Kenneth Furr, 48, to five years in prison but suspended all but 14 months of the prison term and credited Furr with the 14 months he already served between the time of his arrest and his trial last October.
Canan released Furr October 26 while awaiting sentencing after a Superior Court jury convicted him of assault with a deadly weapon and solicitation for prostitution but acquitted him on six other charges, including the most serious charge of assault with intent to kill while armed.
The latter charge was linked to his firing of five shots into the car where the transgender women and their friends were sitting.
Police and prosecutors have said the shooting occurred following a confrontation that started when Furr solicited one of the transgender women for sex for money at 5th and K Streets, N.W., and followed the woman after she rejected his offer. Furr then argued with one or more of her friends who asked Furr leave her alone.
At the time of his arrest, police said Furr's blood alcohol level was twice that of the legal limit for drivers.
Canan rejected a request by Assistant U.S. Attorney Laura Worm, the lead prosecutor, that Furr be given the maximum sentence of 5 years in prison for the assault with a deadly weapon charge. He also denied her request for an additional three months incarceration for the solicitation conviction.
News of the shooting outraged LGBT activists as well as Mayor Vincent Gray and members of the D.C. City Council, who called for stepped up efforts to curtail violence against the city's transgender community.
The D.C. Trans Coalition issued a statement late Thursday calling the sentence of no additional jail time for Furr "outrageous" and said it would heighten longstanding fears by the transgender community of mistreatment and abuse by police officers.
"This result is the product of a legal system that constantly devalues trans lives, particularly trans people of color," said D.C. Trans Coalition member Jason Terry. "Officer Furr's defense team actively sought to portray the victims as somehow deserving of this violence, and apparently they succeeded," he said.
"If roles had been reversed and a black trans woman had gotten drunk and shot a gun at a police officer, the results would be drastically different," Terry said.
Court observers said the jury's decision to find Furr not guilty on the assault with intent to kill while armed charge most likely resulted from a successful effort by Furr's attorneys to portray the shooting as an act of self-defense.
Canan said his suspension of 46 months of the 60 month (five year) prison term was contingent upon Furr's successful completion of his three year probation period and other restrictions, including a requirement that he stay away from the five complainants.
Court records show Canan also ordered Furr to stay away from "the area bounded by: New York Avenue, Massachusetts Avenue, 7th Street, N.W. and North Capitol Street, N.W.," which is widely known as one of the city's transgender prostitution zones.
In addition, Canan set as a condition for the parole that Furr enter an alcohol treatment program and enroll in anger management classes.
In the sentencing memorandum on behalf of the U.S. Attorney's office, Worm said one reason why Furr was not a good candidate for a sentence involving parole and no prison time was that he failed to immediately comply with his pre-sentencing release conditions. She noted that although he was instructed to report immediately after his release on Oct. 26 for regular alcohol testing and other conditions, he did not report for the testing until a full month after his release.
The charge of assault with a deadly weapon, on which he was convicted, stemmed from allegations by prosecutors that Furr pointed his gun at one of the transgender women's friends outside a CVS store on the 400 block of Massachusetts Ave., N.W. at about 5 a.m. on Aug 26, 2011.
According to testimony by the victims, Furr solicited one of the trans women propositioning sex for money minutes earlier on the street at 5th and K Streets, N.W. The woman rebuffed his request and walked away, but Furr followed her to the CVS store, where one of her male friends called on Furr to leave her alone, witnesses reported.
Furr then started an argument that continued outside the store, where Furr pulled out his gun and pointed it at the women's friend.
Although Furr did not fire the gun, prosecutors argued his action constituted an assault with a deadly weapon and persuaded the jury to convict him on that count.
During the trial the defense presented evidence, which prosecutors acknowledged was factually correct, that the trans women and their male friends responded by following Furr in their car after Furr drove away from the CVS store.
Trial testimony showed that the group followed Furr to the area of 3rd and K Street, N.W., where they observed Furr attempting to solicit another transgender woman for sex. At that point, two of the people in the car got out and confronted Furr and one or both of them assaulted Furr, witnesses testified during the trial.
Furr then returned to his car and drove away, with the trans women and their male friends following him again, witnesses testified. This prompted Furr to stop his car at First and Pierce Streets, N.W., and fire his gun at the other car, which Furr's lawyer said was in pursuit of his, according to testimony at the trial.
One of the male friends driving the vehicle ducked to avoid being shot and unintentionally rammed the car into Furr's car, witnesses testified.
Furr responded by climbing on the hood of the car occupied by the transgender women and their friends and fired five times through the front windshield, causing three of the occupants to suffer non-fatal gunshot wounds.
Within minutes D.C. police rushed to the scene and arrested Furr, who was found to have a blood alcohol level twice the legal limit under D.C. law.
David Knight, Furr's lead defense attorney, appeared to have persuaded the jury that the people he shot at were the aggressors and Furr acted in self-defense, court observers said.
"He was alone, outnumbered and under attack," the Washington Post quoted Knight saying to the jury. "He was threatened, assaulted and pursued by a car full of people who wanted to harm him."
In her sentencing memorandum, Worm said that at no point did Furr identify himself as a police officer to the complainants nor did he call for police help if he believed he was in danger.
"To be sure, some of the complainants involved in this incident engaged in risky behavior and bad judgment," she said in the memo.
"The government does not minimize the fact that both parties had opportunities to withdraw from this conflict, but the government's view, as exhibited in its charging decisions, is that the defendant bore criminal responsibility for provoking and escalating the conflict, and introducing a deadly weapon into a situation that could have otherwise been resolved," Worm wrote in the memo.
"Many of the witnesses who testified at trial were associated, in some way, with Washington, D.C.'s transgender community," Worm said in the memo. "That community has historically suffered discrimination from a variety of sources. Moreover, the members of the transgender community bear a heightened risk that they will be victims of violent crime," she wrote.
"This defendant was a police officer charged with protecting and serving the citizens of the District of Columbia," she said. "Defendant Furr's actions on the night of this offense increased the transgender community's already significant safety concerns and their distrust of the Metropolitan Police Department."
D.C. police spokesperson Gwendolyn Crump said Furr has been suspended without pay and that the department will follow its standard procedure for dealing with an officer convicted of a felony. Police observers have said a felony conviction, especially one associated with violence, usually results in the firing of a police officer.
Ruby Corado withdrew $400,000 of Casa Ruby funds: D.C. att'y gen'l
Complaint says she transferred money to banks in El Salvador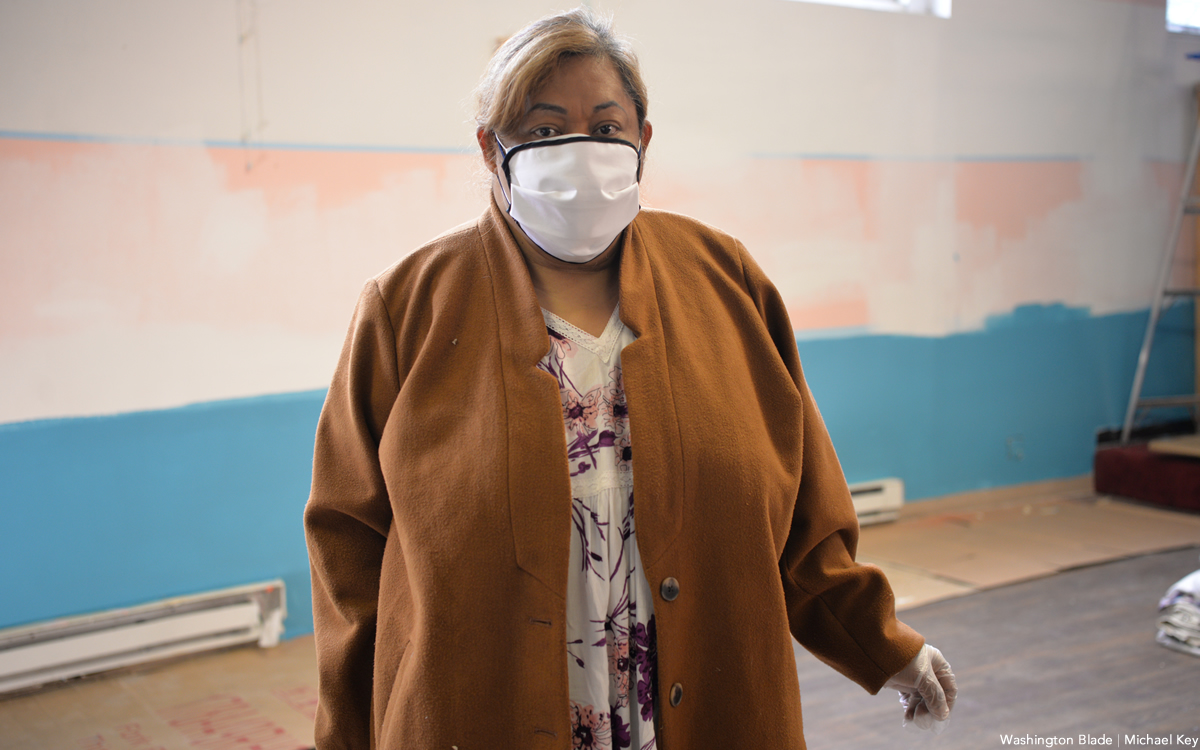 The Office of the D.C. Attorney General on Monday filed an amended civil complaint in D.C. Superior Court against Casa Ruby and its founder and former executive director Ruby Corado that includes new allegations, including claims that Corado withdrew more than $400,000 of Casa Ruby funds for unauthorized use in El Salvador.
The 25-page amended complaint adds multiple new allegations to the Attorney General office's original complaint against Casa Ruby filed on July 29. That complaint, among other things, charged the nonprofit LGBTQ community services organization and Corado with violating the D.C. Nonprofit Corporations Act in connection with its financial dealings.
The amended complaint also follows the approval by D.C. Superior Court Judge Danya Dayson of a request in August by the Attorney General's office to place Casa Ruby under receivership and to appoint the Wanda Alston Foundation as the receiver. The D.C.-based Alston Foundation provides housing services for homeless LGBTQ youth.
On Oct. 28, the Alston Foundation released its Receiver's Second Interim Report on its findings related to Casa Ruby's finances. The report points to some of the same unexplained and unauthorized expenditures and transfers of Casa Ruby's funds by Corado that are included in the AG office's amended complaint.
The Alston Foundation had been scheduled to release its Receiver's Third Interim Report also on Monday, Nov. 28. But Alston Foundation Executive Director June Crenshaw told the Washington Blade the foundation requested an extension of that deadline to give it a chance to review the new allegations in the AG office's amended complaint.
Among other things, the AG office's amended complaint adds three new defendants to what legal observers say is the equivalent of a lawsuit by the D.C. government against Corado and Casa Ruby. The new defendants named in the complaint are limited liability companies created and controlled by Corado to purportedly perform services in support of Casa Ruby.
They include a new version of Casa Ruby called Casa Ruby LLC doing business as Moxie Health; Pneuma Behavioral Health LLC; and Tigloballogistics LLC doing business as Casa Ruby Pharmacy.
The amended complaint notes that Corado, who claimed the new companies, especially the pharmacy, were part of Casa Ruby's mission, never received approval to create the companies from the Casa Ruby board of directors, which the AG's office has said rarely met and failed to provide any oversight of Corado's actions.
According to the amended complaint, Corado transferred large sums of money from the original Casa Ruby to these companies and at some point, transferred funds from the new companies to her own personal bank account.
Both the earlier complaint filed in July and the amended complaint allege that Corado transferred as much as $500,000 of Casa Ruby's funds to create what she said was a new Casa Ruby in El Salvador approved by the Casa Ruby board. But the earlier and amended complaints allege that the board never authorized the El Salvador operation.
Between April 2021 and September 2022, the amended complaint says, Corado transferred over $400,000 from two Casa Ruby related accounts "to accounts she held under her birth name in two El Salvador banks." It says the Casa Ruby board "never authorized any of these transfers."
In addition to the financial related allegations, the amended complaint charges Casa Ruby and Corado with violating D.C.'s Wage Payment and Collection Law and the D.C. Minimum Wage Revision Act by failing to pay Casa Ruby employees all the wages they earned for their work several months before Casa Ruby closed its operations in July 2022.
"At various times between July 2021 and July 2022, while Corado was freely supplementing her $260,000 salary with additional funds drawn from Casa Ruby's bank accounts, many of Casa Ruby's employees were paid only $15.00 per hour, less than the minimum wage in the District of Columbia as of July 1, 2021," the amended complaint says. "None of these employees received the full wages they earned," it says.
One of the former employees told the Washington Blade most of the remaining employees during Casa Ruby's final months before its shutdown were paid late or not paid at all. Under the two labor related laws the amended complaint has charged Casa Ruby and Corado with violating, an employer could be required to pay the employees any lost or missing wages.
But the Receiver's Second Interim Report filed in October by the Alston Foundation says among other improper financial dealings, Casa Ruby failed to pay the U.S. Internal Revenue Service payroll taxes withheld from its employees. The AG office's amended complaint says that as of June of this year, Casa Ruby owed the IRS $127,435 in employment taxes, not including interest and penalties.
The receiver's report points out that under federal law, employers that owe back taxes to the IRS must pay those claims first. "Thus, after all outstanding payroll taxes have been paid off, there is little chance that there will be anything left for any other debts or obligations like past rent or wages," the report says.
The amended complaint filed by the AG's office says a copy of the amended complaint was sent to Corado through an email address, which has been the only known way of reaching Corado. Former Casa Ruby employees have said she had been spending most of her time over the past year or longer in El Salvador. The complaint says that as of October, Corado still had not retained an attorney to represent her and was representing herself in a process known as pro se representation.
The Blade couldn't immediately reach Corado for comment on the amended complaint through the same email address.
During a virtual court hearing in September, Corado denied any improper or illegal financial practices and blamed the D.C. government for Casa Ruby's collapse, saying city agencies cut off funding for Casa Ruby without a legitimate reason. However, the D.C. Department of Human Services, which provided much of Casa Ruby's funding through grants, has said the funding was stopped after Casa Ruby failed to submit financial reports required for all grant recipients that account for how the grant money is spent.
Film 'Wonderfully Made LGBTQ+R(eligion)' set for D.C. premiere
Documentary explores challenges faced by queer Catholics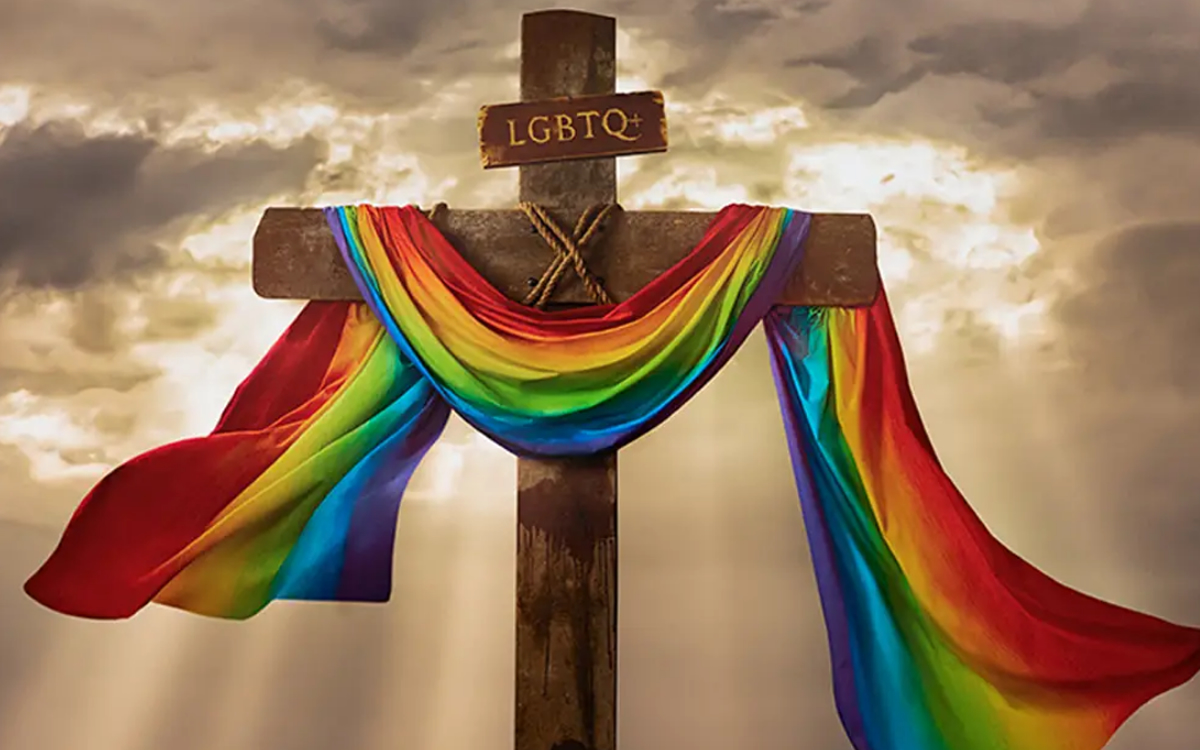 A feature-length documentary film called "Wonderfully Made LGBTQ+R(eligion)," which explores how religion has played a leading role in perpetuating anti-LGBTQ attitudes and highlights the challenges and aspirations of LGBTQ Catholics, is scheduled for a special D.C. screening on Dec. 12 at the E Street Cinema.
The film's director is gay filmmaker, actor, and LGBTQ rights advocate Yuval David. It was jointly produced by David and his husband, attorney and LGBTQ Catholic advocate Mark McDermott. The premiere D.C. showing of the film is being hosted by Real Affirmations, D.C.'s LGBTQ film festival.
"The film focuses on the Catholic Church because it is one of the largest religious organizations in the world, and because its anti-LGBTQ+ stance is known and growing more hardline, at least in some circles," a statement announcing the D.C. showing of the film says.
"The narrative of the film is shaped by the process of a fine art project creating unprecedented, photographic iconography depicting Jesus as a member/ally of the LGBTQ+ community, represented by multiple LGBTQ+ models," the statement says.
David and McDermott told the Washington Blade in a Nov. 21 interview that production of the film was completed at the end of August of this year, and it has since been shown at film festivals across the U.S. and overseas. It was honored as the Best Feature Film at the LGBTQ Toronto Film Festival.
"One of the things we discuss in our film and the way this makes it contemporary, and even pertaining to this horrible shooting [at the LGBTQ nightclub in Colorado] and the various other attacks on the LGBTQ community, is the fact that the vast majority of anti-LGBTQ and homophobic beliefs, including laws and legislation, are on the basis of religion," David said.
"Ninety something percent of homophobia and anti-LGBTQ beliefs are on the basis of religion," David said he and McDermott saw in research findings.
David and McDermott said one of their objectives for the film, which includes interviews with leading LGBTQ Catholic activists and supportive Catholic priests, was to show how images of the church and Jesus through art and iconography going back several centuries has impacted the religious views of Catholics, including LGBTQ Catholics.
Among the LGBTQ supportive people interviewed in the film include Sister Jeannine Gramick, a Catholic nun who co-founded New Ways Ministry, the LGBTQ Catholic advocacy organization; Marianne Duddy-Burke, president of Dignity USA, the national LGBTQ Catholic group; and Father James Martin, a Jesuit priest, author, and outspoken advocate for LGBTQ supportive policies in the Catholic Church.
The film also discusses the fact that the top leader of the Catholic Church, Pope Francis, has issued statements in support of LGBTQ Catholics while at the same time some if not many Catholic cardinals and bishops have continued to promote traditional church doctrine condemning homosexuality.
David and McDermott point to their film's groundbreaking use of a form of iconography that they and their creative team, including photographers, created as part of an art project to make the church's imagery more welcoming to LGBTQ people.
"The idea behind this is in Christianity and Catholicism, Jesus has always been portrayed one way for the last 1,700 years," McDermott told the Blade. "That he has been portrayed as a white man of Northern European descent with blond hair and blue eyes. And as we set up the film, we wanted to challenge that history of art, change it," he said, to show that "the divine is in all of us," including LGBTQ people.
McDermott and David told how they conducted a casting call for actors and models to portray Jesus as LGBTQ people who were highly diverse by way of ethnicity, gender, and gender expression. To their amazement, about 500 people responded to the casting call.
"And out of that enormous group we selected nine models," David said. "And the people we cast are truly a diverse array of LGBTQIA+ people representing different ethnicities, different races, different genders, different body types," he said. "We wanted to cast people who not only were models but actors and people who truly identify with this topic," David said.
Several of the actor-models are interviewed in the film, with some describing their own experiences as a person of faith in a church that is sometimes not accepting of them.
David said several thousand still photos were taken of the nine model-actors selected to portray Jesus. He said about 160 of the photo images were selected to be shown in the film in which the actor-models portray Jesus in various stages of his life as described in the scriptures, including scenes of the crucifixion.
The still photos are shown in a dramatic presentation at the conclusion of the film, with each of the model-actors exhibiting highly emotional facial expressions, especially as they are shown tied to a cross with a crown of thorns.
McDermott said he and David came up with the film's "Wonderfully Made" title from a biblical passage known as the Book of Psalms in which the biblical figure David says while praying to God, "I praise you because I am fearfully and wonderfully made."
Biblical scholars have said the word "fearfully" as used in that biblical passage by David was intended to mean with great reverence, heart-felt interest and with respect.
Mark McDermott and Yuval David told the Blade that while their film shows the hardship faced by LGBTQ Catholics and people of faith, many people of faith, including the religious experts they interview in the film, believe Catholicism and religion in general can be interpreted to be supportive of all people, including LGBTQ people.
But the two say a positive perspective on how religion has and continues to impact LGBTQ people, such as the story told in their film, is needed.
"Forty percent of our homeless kids are LGBTQ – 40 percent," McDermott said. "And we know why they ended up homeless. They got thrown out of their houses by their own family," he said. "And it's almost always because of their family's religious views."
Added McDermott, "One in three LGBTQ kids in the last year contemplate or seriously think about suicide."
According to he and David, stress or conflict with their family's religious beliefs is very often the root cause of stress and depression among LGBTQ people. They are hopeful, they said, that their film will be seen by many facing these problems and who may be helped by the film's strong message that it's ok to be a person of faith and LGBTQ.
"We created this for those who must see this, so they don't feel that way," said David.
Tickets for the Dec. 12, 7 p.m. screening of "Wonderfully Made LGBTQ+R(eligion)," which is open to the public, can be purchased online or at the E Street Cinema at the time of the showing if tickets are still available.
A trailer preview of the film can be viewed here: wonderfullymadefilm.com; you can follow news of the film on social media, instagram.com/WonderfullyMadeMovie. Tickets can be purchased from the Reel Affirmations website and more information can be found on the Facebook event page here.
Man charged with assaulting lesbian activist pleads guilty, gets 14 months in jail
Aiyi'nah Ford hit in head with barstool at Congress Heights restaurant in August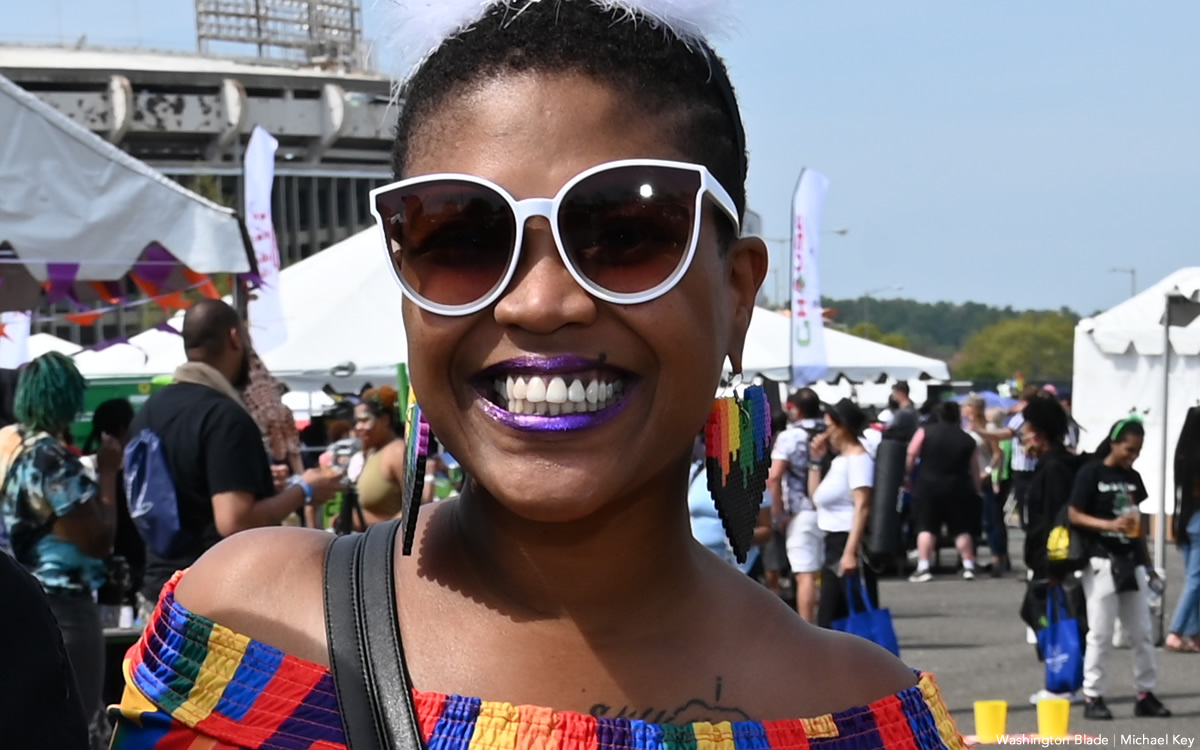 A D.C. Superior Court judge on Nov. 17 sentenced a 46-year-old D.C. man to 14 months in jail after he pleaded guilty in September to an assault charge for an incident in which he attacked lesbian activist Aiyi'nah Ford at a restaurant on Aug. 3
An arrest affidavit filed by D.C. police on Aug. 12 states that Donnell Anthony Peterson allegedly knocked Ford to the floor at the Player's Lounge restaurant and bar in the city's Congress Heights neighborhood before hitting her in the head twice with the metal legs of a barstool.
Ford told the Washington Blade that Peterson, who was a regular customer at Player's Lounge as was she, assaulted her while repeatedly calling her a "dyke bitch" after the two got into a verbal argument over, among other things, the city's violence interruption program. Ford said she told Peterson and others who were having a discussion that she considers the program to be ineffective and a "joke."
According to court records, witnesses reported seeing Ford bleeding profusely from the head before an ambulance took her to George Washington University Hospital, where she received multiple stitches to treat a serious head wound.
Court records show that D.C. police, who were called to the scene at the time of the assault, initially charged Peterson with Assault With a Dangerous Weapon. The records show that Peterson through his attorney agreed in September to accept a plea bargain offer by prosecutors with the Office of the U.S. Attorney for D.C.
The offer called for lowering the charge to Assault With Significant Bodily Injury in exchange for pleading guilty with a promise by prosecutors to seek a sentence of no more than 14 month in jail.
The court records show that Superior Court Judge James A. Cromwell sentenced Peterson to 32 months of incarceration but suspended 18 months, requiring that he serve 14 months after which he would be released on probation. Court records show the probation was to last 18 months. Under court rules, if someone violates the terms of their probation, which almost always prohibits them from breaking the law or threatening a person they were charged with assaulting, the released person is ordered back to jail to serve the remaining time that had been suspended.
At the time Peterson was arrested in August a spokesperson for the U.S. Attorney's office, in response to a question from the Blade, declined to disclose why prosecutors chose not to classify Peterson's assault against Ford as a hate crime based on her sexual orientation.
Ford told the Blade this week that the lead prosecutor, Assistant U.S. Attorney Alec Levi, was supportive of her throughout the case and told her a hate crime designation sometimes makes it more difficult to obtain a conviction if a case goes to trial. Ford said Levi told her prosecutors wanted to do all they could to bring Peterson to justice for his attack against her.