Calendar through Feb. 7
Art exhibition openings, parties, group gatherings and more this week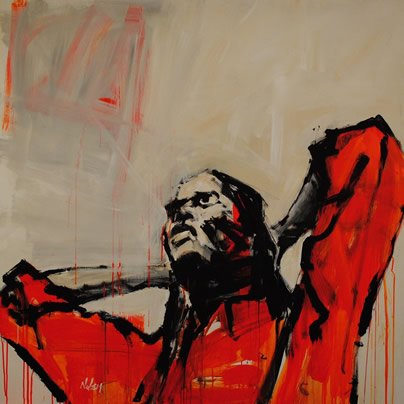 TODAY (Feb. 1)
Studio Gallery (2108 R St., NW) has its first Friday reception for "Shadows" by Peter Karp today, featuring photographic images in juxtaposition to found objects, cutouts and geometric shapes, and "Rough/Smooth/Evolving" by Trish Palasik, a play on rough and smooth textures on the surface of figures. For more information, visit studiogallerydc.com.
Touchstone Gallery (901 New York Ave., NW) is hosting the opening reception for the exhibition "Unfiltered," paintings by Leslie Nolan, this evening at 6 p.m. Nolan's portraits take a glimpse into people's raw and vulnerable lives. The evening will include wine and music by Tom Rohde playing classical, Brazilian and Spanish guitar. For more information, visit touchstonegallery.com.
Town (2009 8th St., N.W.) hosts Bear Happy Hour tonight from 6-11 p.m. This event is for people 21 and older. There is no cover charge. Later in the evening, the club will be hosting "So, you think you're a drag queen?" to find the newest drag talent in the area. Contestants will be judged on performance ability, outfits, attitude and the ability to navigate a contest that requires them to do "ridiculous feats of drag-agility!" This will be a monthly contest. In order to participate, sign up during the drag show a month before the contest. The club will take the first six contestants who sign up. Winners will receive $200 and the title of the month's winner. All winners are eligible for a final competition at the end of the year. For attendants of the show, the cover is $5 before 11 p.m. and $10 after for anyone 21 and older. For 18-20 year olds, cover is $10. For details, visit towndc.com.
Saturday, Feb. 2
The La-Ti-Do anniversary party takes place tonight starting at 6 p.m. at Black Fox Lounge (1723 Connecticut Ave, NW). La-Ti-Do is Washington's only weekly musical theater and spoken word cabaret series. Attendees are asked to RSVP on Facebook and to give $5 at the door. For more information, visit blackfoxlounge.com.
A memorial for Deoni Jones, a transgender woman who was murdered last year while waiting for the bus, is being held early this morning from 2-4 a.m. The family of Jones will be holding a candlelight vigil. This will be one year since her death and it will be held at the exact place where she was murdered, the intersection of Sycamore and East Capital St., NE. Everyone is welcome to come out to show their support for the family and to continue to raise awareness on the issue of violence against the transgender community. Those with questions or wanting to volunteer, contact Amy Loudermilk at [email protected]. For more information, visit thedccenter.org.
Burgundy Crescent volunteers this morning at Food and Friends (219 Riggs Rd., NE) at 8 a.m. and again at 9:45 a.m. Volunteers will help with food preparation and packing groceries. The shifts are limited to 10 per shift. For more information, visit burgundycrescent.org.
Burgundy Crescent, a gay volunteer organization, volunteers today for the Lost Dog & Cat Rescue Foundation at Falls Church PetSmart (6100 Arlington Blvd., Falls Church, Va.) starting at 11:45 a.m. For more information, visit burgundycrescent.org.
CODE's "Uniform Night" is tonight from 9 p.m.-3 a.m. at Green Lantern (1335 Green Court, NW). Those in head-to-toe uniform (Army, Air Force, Navy, etc.) get in half off. Gear, rubber, uniform and leather dress code is strictly enforced. Doors open at 9 with open bar from 9 to 10 p.m. Cover is $10. Join CODE on Facebook for full details.
Sunday, Feb. 3
Metropolitan Community Church (474 Ridge St., NW) holds its weekly 9 and 11 a.m. worship services today. The church is mostly LGBT and communion is open to everyone. For more information, visit mccdc.com.
Monday, Feb. 4
The D.C. Lambda Squares holds its new dance series starting tonight at 7:30 p.m. at National City Christian Church (5 Thomas Circle, NW). The only square dance club located in Washington, the group invites everyone to learn square dancing in just 16 Mondays. No special outfits, partner or prior dance experience is needed. The cost is $100. For more information or to register, visit dclambdasquares.org.
Tuesday, Feb. 5
The Washington, D.C. International Food and Wine Festival starts tonight at the Ronald Reagan Building and International Trade Center (1300 Pennsylvania Ave., NW). The Wine Tasting Room is free and open to the public from 4 to 8 p.m. every day of the event, which ends Feb. 9. The festival also holds signature events everyday as well as seminar series events. The festival offers individual tickets to the events as well as a combination of packages. Tickets vary from $35-$200. The signature event for this evening is the Regional Food and Wine Celebration beginning at 6:30 p.m., featuring several regional wine and food pairings that have evolved over centuries. The cost of this particular event is $95. For more information, visit wineandfooddc.com.
Green Lantern (1335 Green Court, N.W.) hosts its Safer Sex Kit-packing program tonight from 7-10:30. The packing program is looking for more volunteers to help produce the kits because they say they are barely keeping up with demand. Admission is free and volunteers can just show up. For more information, visit thedccenter.org.
Wednesday, Feb. 6
Gallery B (7700 Wisconsin Ave., Suite E, Bethesda) opens a February exhibition featuring photographers Howard Clark, Martin Evans, Stephen Hoff and Dave Montgomery today at noon. The opening reception is on Feb. 8 from 6-9 p.m. in conjunction with the Bethesda Art Walk. For details, visit Bethesda.org.
Foundry Gallery (1314 18th St., NW) features "Paintings After Hitler" by Jay Peterzell today at noon. Peterzell's pastels observe the watercolors by Adolph Hitler and become an examination of Hitler's political and sexual psychology. This exhibition is part of the gallery's annual show of new members, including Ana Elisa Benavent, Maruka Carvajal, Meg Mackenzie and Naomi Taitz Duffy. For more information, visit foundrygallery.org.
Bookmen D.C., a men's gay literature group, meets at Tenleytown Library (4450 Wisconsin Ave, NW) tonight at 7:30 p.m. to discuss "February House: The Story of W.H. Auden, Carson McCullers, Jane and Paul Bowles, Benjamin Britten and Gypsy Rose Lee, Under One Roof in Brooklyn" by Sherill Tippins. For more information, visit bookmendc.blogspot.com.
The Tom Davoren Social Bridge Club meets at the Dignity Center (721 8th St., SE) tonight at 7:30 p.m. No partner is needed. For more information, visit lambdabridge.com and click "Social Bridge in Washington, D.C."
Thursday, Feb. 7
Howard University hosts "Birthday Suit: Were You Born Like That" tonight at 7 p.m. in the Blackburn Center (2400 6th St., NW). Birthday Suit is a series of events that highlights the way "people are born." The first two parts of this series discussed the "History and Ideas Surrounding Natural Hair and Beauty in the Black Community" and how "All Shades are Beautiful." Part three will be discussing whether homosexuality a choice and the LGBT community in the black population. For more information, visit thedccenter.org.
IOC: 'Trans Women Are Women' Laurel Hubbard set to make sports history
Laurel Hubbard is set to make sports history on Monday and the International Olympic Committee clearly has her back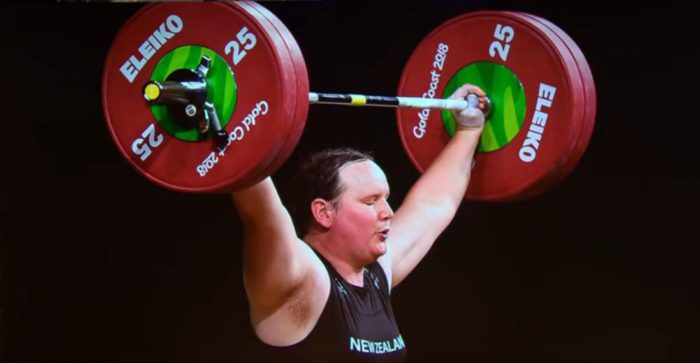 TOKYO – The director of medicine and science for the International Olympic Committee praised weightlifter Laurel Hubbard's "courage and tenacity" as she prepares for her upcoming competition as the world's first out transgender woman Olympian.
In speaking to reporters in Tokyo Thursday, Dr. Richard Budgett directly addressed those who have attacked and mocked the 43-year-old New Zealander and claimed she shouldn't be competing with cisgender women, saying "everyone agrees that trans women are women."
"To put it in a nutshell," he said, "the IOC had a scientific consensus back in 2015. There are no IOC rules or regulations around transgender participation. That depends on each international federation. So Laurel Hubbard is a woman, is competing under the rules of her federation and we have to pay tribute to her courage and tenacity in actually competing and qualifying for the Games."
Hubbard herself has not made any public comments except for a statement following her qualifying for the Summer Games, saying she was "humbled" by the support which had helped her "through the darkness" following a near career-ending injury in Australia in 2018.
Reports around the world have claimed Hubbard is the first trans Olympic athlete, which is actually not the case. As the Los Angeles Blade has reported, Quinn, a trans nonbinary soccer midfielder for Team Canada, last Wednesday became the first out trans athlete ever to complete in the Olympic Games. They posted about it on Instagram, saying, "I feel proud seeing 'Quinn' up on the lineup and on my accreditation. I feel sad knowing there were Olympians before me unable to live their truth because of the world."
The IOC is expected to review and likely revise its policies on transgender participation following Tokyo. Trans athlete and researcher Joanna Harper, who has advised the organization and other sports policy groups, told the Los Angeles Blade her recommendation will be for the IOC to continue to regulate trans athletes sport-by-sport. "There shouldn't be a one-size fits all policy," said Harper.
She also noted how the mainstream cisgender media is consumed with coverage of Hubbard and missing out on the bigger picture, and what it will mean for the next generation watching on TV and online.
"The lack of attention paid to Quinn and to Chelsea Wolfe has been interesting," said Harper.
"A few news outlets have commented on their presence in Tokyo and in Quinn's case the comments have been mostly favorable. On the other hand, the storm of mostly negative press heaped on Laurel Hubbard has been disappointing, although predictable. I hope that the negative press that Laurel has gotten won't dissuade young trans athletes from following their dreams. I think that the next trans woman to compete in the games will get less negative press, and eventually (although probably not in my life) there will come a time when trans women in sport generate little or no controversy."
Hubbard issued a statement Friday via the New Zealand Olympic Committee in which she said: "The Olympic Games are a global celebration of our hopes, our ideals and our values. I commend the IOC for its commitment to making sport inclusive and accessible."
According to a French news outlet, NZOC spokesperson Ashley Abbott told reporters the committee had seen a "particularly high level of interest" in Hubbard's Olympic debut, and much of it has been negative.
"Certainly we have seen a groundswell of comment about it and a lot of it is inappropriate," Abbott said. "Our view is that we've got a culture of manaaki (inclusion) and it's our role to support all eligible athletes on our team. In terms of social media, we won't be engaging in any kind of negative debate."
Abbott reminded the media that the NZOC's job was to support its athletes, including Hubbard. "We all need to remember that there's a person behind all these technical questions," she said. "As an organization we would look to shield our athlete, or any athlete, from anything negative in the social media space. We don't condone cyberbullying in any way."
RELATED: CBS This Morning from 22 Jun 2021
LGBTQ+ ally Jamie Lee Curtis reveals her 25-year-old child is Trans
Curtis and her husband Christopher Guest, British screenwriter, composer, musician, director, and actor have two daughters.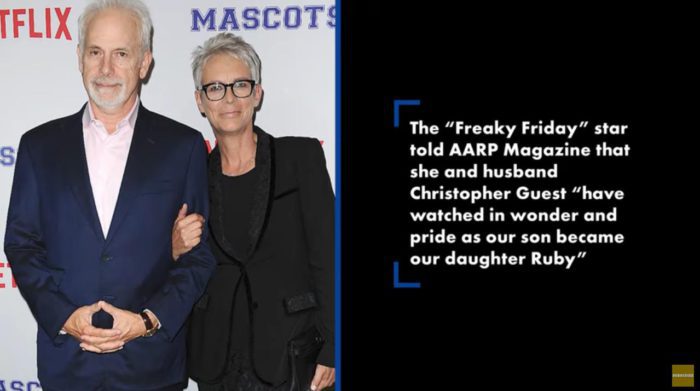 LOS ANGELES – In a new interview with the American Association of Retired Persons' magazine, Golden Globe and BAFTA winning actress Jamie Lee Curtis disclosed that her youngest child is transgender. In the interview Curtis reflected that she has "watched in wonder and pride as our son became our daughter Ruby."
Curtis and her husband Christopher Guest, British screenwriter, composer, musician, director, and actor have two daughters. Ruby, 25, works as a computer gaming editor while Curtis and Guest's 34-year-old daughter, Annie, is married and works as a dance instructor. Curtis also noted that Ruby and her fiancé are getting married next year in a wedding that Curtis will officiate.
The longtime Hollywood couple have been married for more than 36 years but have no grandchildren, "but I do hope to," she told the magazine.
Non-binary Olympian leaves games without a medal but still a winner
For the first time in my entire life, I'm proud of the person I've worked to become. I chose my happiness over medaling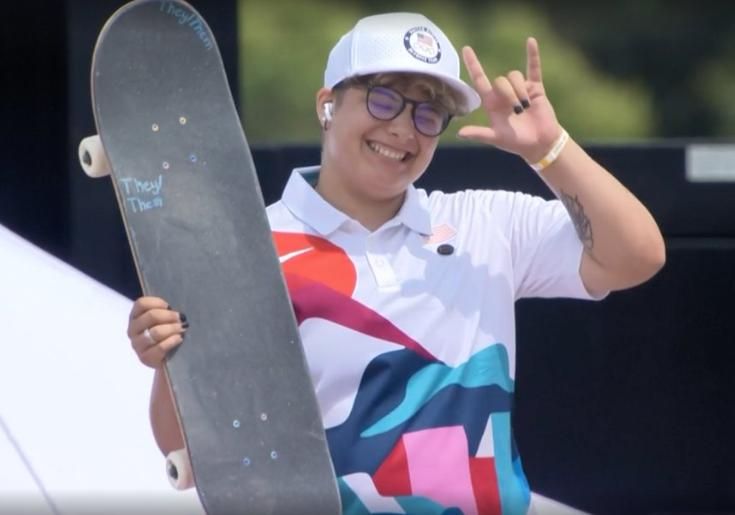 TOKYO – In a series of firsts for the Summer Olympic Games, Alana Smith left the Tokyo games with a sense of accomplishment and a couple of firsts. The 20-year-old non-binary skateboarder competing in the debut of their sport noted on their Instagram account, "My goal coming into this was to be happy and be a visual representation for humans like me."
Smith wrote: 'What a wild f***ing ride…My goal coming into this was to be happy and be a visual representation for humans like me. For the first time in my entire life, Im proud of the person I've worked to become. I chose my happiness over medaling. Out of everything I've done, I wanted to walk out of this knowing I UNAPOLOGETICALLY was myself and was genuinely smiling.
The feeling in my heart says I did that. Last night I had a moment on the balcony, I'm not religious or have anyone/anything I talk to. Last night I thanked whoever it was out there that gave me the chance to not leave this world the night I laid in the middle of the road. I feel happy to be alive and feel like I'm meant to be here for possibly the first time in a extremely long time. On or off day, I walked out of this happy and alive… Thats all I have ever asked for.
Thank you to all the incredible humans that have supported me through so many waves of life. I can't wait to skate for the love of it again, not only for a contest. Which is wild considering a contest helped me find my love for it again. 💛🤍💜🖤"
Smith's Olympic debut was slightly marred by their being misgendered during news coverage of their events by BBC commentators misgendering Smith discussing their performance, which led to protests from LGBTQ+ groups and allies including British LGBTQ+ advocacy group Stonewall UK.
Alana Smith (they/them), American pro-skater in the #Tokyo2020 Olympics has been repeatedly misgendered by journalists. We hope there will be swift corrections. All athletes deserve to be respected & celebrated as part of the games.#OlympicsForAll https://t.co/EO1JiHZOgT 💛🤍💜🖤

— Stonewall (@stonewalluk) July 27, 2021
During the competition, Smith proudly held up their skateboard, which featured their pronouns they/them written across the top. The misgendering was addressed by NBC Sports which issued an apology Tuesday for streaming coverage that misgendered Smith.
"NBC Sports is committed to—and understands the importance of—using correct pronouns for everyone across our platforms," the network said. "While our commentators used the correct pronouns in our coverage, we streamed an international feed that was not produced by NBCUniversal which misgendered Olympian Alana Smith. We regret this error and apologize to Alana and our viewers."
Alana Smith slaps, and I gotta say it was so incredibly cool to see someone so much like me thriving and expressing so much joy at the Olympics. pic.twitter.com/tA9bWWDcj4

— Mel Woods 🌾🌈 (@intothemelwoods) July 26, 2021
NBC also reported that this is the first Olympics in history that has featured skateboarding, with 16 athletes traveling to Tokyo to represent the United States. Smith qualified for the third Olympic spot in the women's street category after competing at the World Skate World Championships in 2019, according to Dew Tour, which hosts international skateboarding competitions.
According to Outsports, the online LGBTQ+ Sports magazine and NBC Sports, Smith is one of more than 160 openly LGBTQ athletes competing at this year's Tokyo Olympics and one of at least three openly nonbinary or Trans athletes.
Quinn, a midfielder for the Canadian women's soccer team who goes by only their first name, is the first openly Trans athlete and nonbinary athlete to compete in the games. Laurel Hubbard, a Trans woman from New Zealand will compete in the super heavyweight 87 kilogram-plus (192 pound-plus) weightlifting category on August 2.