Gay Jamaican man challenges country's anti-sodomy law
Jamaica Supreme Court to hear Javed Jaghai's case on June 25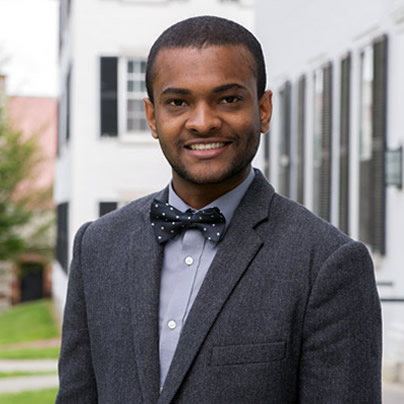 A Jamaican gay rights activist last week filed the Caribbean island's first domestic challenge to its anti-sodomy law.
AIDS-Free World on Feb. 7 filed the complaint with the Jamaica Supreme Court on behalf of Javed Jaghai, who said his landlord kicked him out of his home because of his sexual orientation. The Dartmouth College graduate talked about his case in a Facebook post on Tuesday.
"It is a reminder that there is much more work to be done to achieve equality for gay Jamaicans," Jaghai wrote. "We can sit patiently while our humanity is denied and wait for the paradigm to shift in a generation or two, or we can aggressively agitate for change now. I choose to do the latter."
Those convicted under Jamaica's anti-sodomy law, which dates back to 1864, face up to 10 years in prison with hard labor. Trinidad and Tobago, Barbados and St. Kitts and Nevis are among the 11 English-speaking Caribbean countries that continue to criminalize homosexual acts.
The U.S. State Department, Amnesty International and Human Rights Watch have all criticized the Jamaican government for not doing enough to curb anti-LGBT violence in the country.
Jamaican lawmakers in 2011 unanimously approved a new constitution that explicitly guaranteed the right to privacy for the first time. Although the anti-sodomy law remains in place, Jaghai's lawyers maintain it's now impossible to enforce it.
Maurice Tomlinson, a Jamaican lawyer with AIDS-Free World who fled his homeland last February after he received death threats following local media reports about his marriage to a Canadian man, told the Washington Blade the eventual outcome of Jaghai's case could reverberate throughout the region.
The Dutch island of Saba remains the only jurisdiction in the Caribbean that allows gays and lesbians to tie the knot. Aruba, Bonaire, Curaçao, St. Eustatius and St. Maarten do not allow same-sex marriage, but the Netherlands requires them to recognize those performed within the country.
Tomlinson said Jaghai's case could potentially have an impact on relationship recognition of same-sex couples in the Caribbean.
"That would be a long-term effect we expect," he said. "Right now it's to get the courts to acknowledge that at least in private same-gender loving individuals have the rights of everyone else."
The court is expected to hear Jaghai's case on June 25.
US urges Central America governments to protect LGBTQ rights
Effort part of strategy to address migration 'root causes'
Editor's note: International News Editor Michael K. Lavers was on assignment for the Washington Blade in El Salvador, Honduras and Mexico from July 11-25.
A State Department spokesperson says the U.S. will continue to urge the governments of Guatemala, El Salvador and Honduras to protect LGBTQ rights as part of its efforts to address the "root causes" of migration from the three countries.
"Human rights, including those of LGBTQI+ persons, is one of the central pillars of our engagement with leaders from Guatemala, Honduras and El Salvador," said the spokesperson in response to a series of written questions from the Washington Blade.
"The United States raises concerns about violence, discrimination, abuse, harassment and stigma targeting LGBTQI+ (people) across northern Central America with various stakeholders," added the spokesperson. "We work to engage on these issues across multilateral fora, such as the United Nations, the Equal Rights Coalition and the Organization of American States."
Guatemala, El Salvador and Honduras form what is known as Central America's Northern Triangle.
Vice President Kamala Harris, who met with Guatemalan President Alejandro Giammattei last month during her trip to Guatemala City, has said on numerous occasions that violence based on sexual orientation and gender identity is one of the factors behind migration from the region. Harris and other administration officials have also told migrants not to travel to the U.S.-Mexico border because it remains closed to them due to the pandemic.
LGBTQ Hondurans with whom the Blade recently spoke acknowledged violence has forced them to flee their homes.
Leonela Barralaga and Jerlín Martel are a same-sex couple who are raising an 11-year-old daughter in La Ceiba, Honduras.
They told the Blade on July 20 during an interview at the offices of Organización Pro Unión Ceibeña, a local human rights group, that they have fled Honduras twice. Barralaga and Martel said they returned to the country once because they did not want their daughter to further endure the squalid conditions in which they were living in Tapachula, Mexico, a city in the country's Chiapas state that borders Guatemala.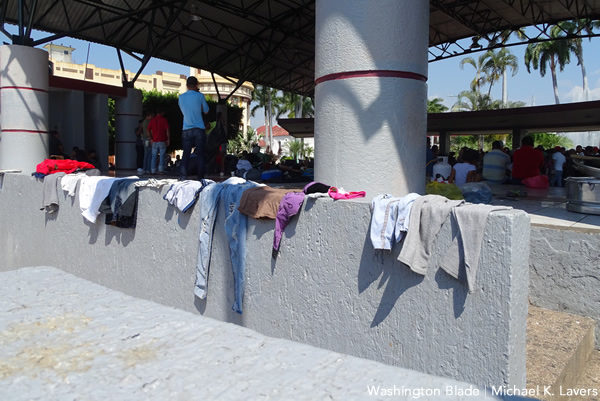 Marvin Obdulio, a gay man from Honduras who plans to ask for asylum in the U.S., currently lives at Jardín de las Mariposas, a shelter for LGBTQ asylum seekers in the Mexican border city of Tijuana.
Obdulio during a July 12 interview with the Blade at Jardín de las Mariposas spoke about his brother, who was murdered earlier this year in Honduras. Obdulio was sobbing when Jaime Marín, who runs the shelter with his mother, Yolanda Rocha, showed this reporter a picture of his brother's mutilated body in the morgue in San Pedro Sula, Honduras' second-largest city.
A court in the Salvadoran capital of San Salvador last August sentenced three police officers to 20 years in prison for the 2017 murder of Camila Díaz Córdova, a trans woman who the U.S. deported. The Inter-American Court of Human Rights last month found Honduras responsible for the murder of Vicky Hernández, a trans woman who was killed hours after the 2009 coup that ousted then-President Manuel Zelaya.
Alexa Euceda, a trans woman who receives services at Organización Pro Unión Ceibeña, told the Blade during an emotional interview that she was raped in prison while serving a sentence for a stabbing she claims was an act of self-defense. Eucada also said guards forcibly cut her hair.
The Blade the day before witnessed a man stop his car on a street in San Pedro Sula, which is about three hours west of La Ceiba, and solicit for sex work two trans women with Colectivo Unidad Color Rosa, a local LGBTQ rights group. The U.S. granted asylum to Claudia Spellman, a trans woman who co-founded Colectivo Unidad Color Rosa, after death threats forced her to flee Honduras.
"The United States is committed to fighting for the human rights of LGBTQI+ persons at home and abroad," the State Department spokesperson told the Blade. "LGBTQI+ persons are among the most vulnerable to forced displacement in and from El Salvador, Guatemala and Honduras."
"Promoting and advancing these human rights is a foreign policy priority," added the spokesperson. "As such, we endeavor to combat the violence and abuse, criminalization, discrimination and stigma targeting LGBTQI+ persons around the world, including in these three countries."
Two members of Guatemalan civil society who work with LGBTQ people and people with HIV/AIDS — Visibles Executive Director Daniel Villatoro and Ingrid Gamboa of the Association of Garifuna Women Living with HIV/AIDS — are among those who participated in a round table with Harris in Guatemala City.
Samantha Power, administrator of the U.S. Agency for International Development, and U.S. Ambassador to Guatemala William Popp on June 17 visited the Guatemala City headquarters of Organización Trans Reina de las Noche, a trans advocacy group. The visit took place less than a week after Andrea González, the organization's executive director who previously participated in the State Department's International Visitors Leadership Program, was murdered near her Guatemala City home.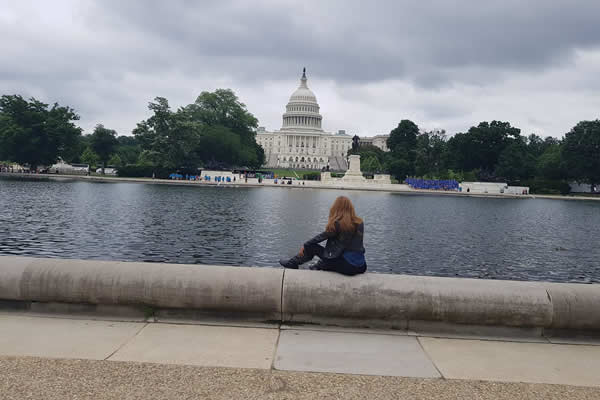 Sasha Rodríguez, a trans woman who works for Organización Pro Unión Ceibeña, is also an IVLP alum.
Bianka Rodríguez, executive director of COMCAVIS TRANS, a trans Salvadoran rights group, is among those who participated in what a USAID spokesperson described to the Blade as a "youth leaders lunch roundtable that we organized" with Power in San Salvador last month. The USAID spokesperson noted "they exchanged important points of view regarding USAID support (past and present) and the challenges of the LGBTIQ+ community in the country."
"USAID human rights projects based in El Salvador support anti-discrimination efforts against the LGBTQI+ community," said the State Department spokesperson. "They also support a regional effort that engages private sector companies in inclusive strategies to open labor opportunities for the LGBTQI+ community."
"Projects also do research on hate crimes against the LGTBQI+ community and provides to the justice sector to investigate such crimes," they added. "The majority of activities are led by local or regional LGBTQI+ groups."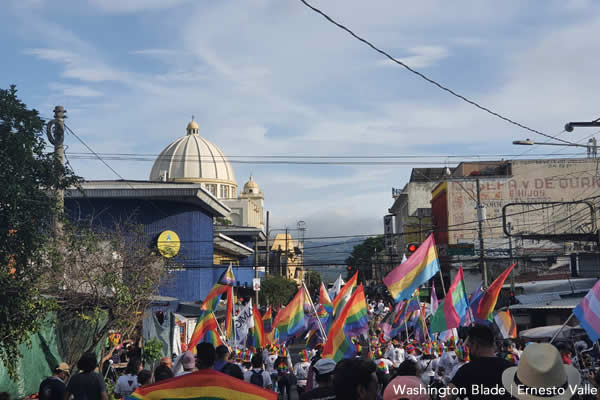 The State Department spokesperson noted "discussions between civil society leaders" and the U.S. Embassy in Honduras, "as well as USAID-led forums on LGBTQI+ migration push factors, help us learn more about the root causes and ways we can better support this community." They also pointed out that USAID's Unidos por la Justicia project "has supported the LGBTQI+ community to develop an anti-discrimination law and the law of gender identity" in the country.
USAID and Unidos por la Justicia in 2019 officially recognized Unidad Colectivo Color Rosa for its work. The Blade on July 19 saw a plaque with the two organizations' logos on it hanging inside their San Pedro Sula office.
"USAID in Honduras has done extensive work with the LGBTQI+ population who lack access to formal education and workforce development services by supporting training that included self-esteem and human rights to prevent stigma and discrimination, and promote respect for diversity," said the State Department spokesperson. "Through private sector engagement, businesses have agreed to interview members of the LGBTQI+ community, which is the foundation to valuing diversity in the workplace."
USAID also works with Asociación PASMO, an organization that conducts HIV testing in San Pedro Sula.
The State Department spokesperson told the Blade that Honduran LGBTQ activists have attended workshops that focused on their participation in the country's political process. They said USAID for the project's next phase "will work with local higher education institutions to certify community members to participate as candidates in elections."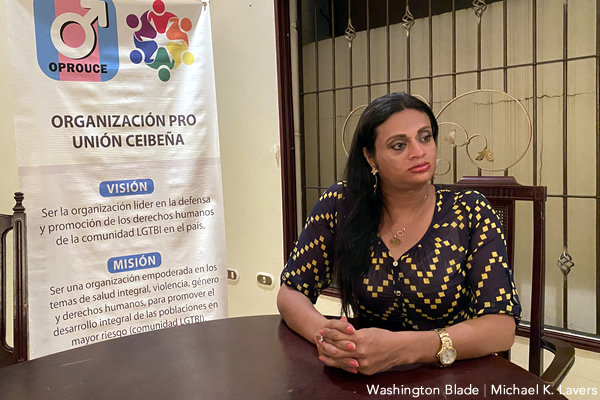 Honduras' national elections are scheduled to take place on Nov. 28.
A federal judge in New York in March sentenced Honduran President Juan Orlando Hernández's brother, former Honduran Congressman Juan Antonio "Tony" Hernández, to life in prison after a jury convicted him of trafficking tons of cocaine into the U.S.
The Biden administration on July 20 banned former Honduran President Porfirio "Pepe" Lobo Sosa, his wife and their children from traveling to the U.S. because of "their involvement in significant corruption." Salvadoran prosecutors last week charged former President Salvador Sánchez Cerén and nine other members of former President Mauricio Funes' administration with the misuse of more than $300 million in government funds.
Juan Francisco Sandoval, a leading anti-corruption prosecutor in Guatemala, fled to El Salvador on July 24 after Guatemalan Attorney General Consuelo Porras fired him. The Biden administration this week announced it has stopped working with Porras' office.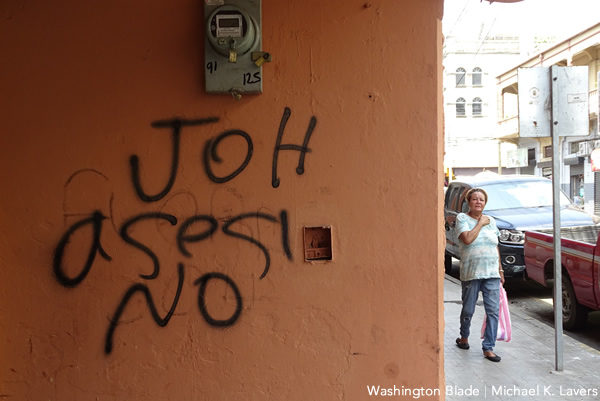 Corruption is one of the myriad issues that activists in the region have raised with the Blade. They also remain highly critical of their respective governments over the lack of LGBTQ rights.
"The United States is concerned with the protection governments extend to LGBTQI+ persons throughout the region," said the State Department spokesperson. "While we have seen some positive developments; we will continue to raise the importance of protections for LGBTQI+ persons whenever appropriate, as well as the importance of holding accountable perpetrators of discrimination and violence."
The State Department spokesperson also responded to the Blade's question about what the Biden administration can do to ensure the Guatemalan, Honduran and Salvadoran governments adequately address anti-LGBTQ discrimination and violence in their respective countries.
"The U.S. government monitors and reports on the state of human rights across the world, including protections for the LGBTQI+ community," said the State Department spokesperson. "Our efforts to draw attention to abuses of the human rights of LGBTQI+ persons create transparency and promote accountability for such abuses. The U.S. government also has sanctions and visa restriction authorities it can apply to perpetrators to promote accountability for human rights violations and abuses."
Abdiel Echevarría-Caban and Dunia Orellana of Reportar sin Miedo contributed to this story.
Draft of draconian anti-LGBTQ bill in Ghana leaked
Activists and allies could face up to 10 years in prison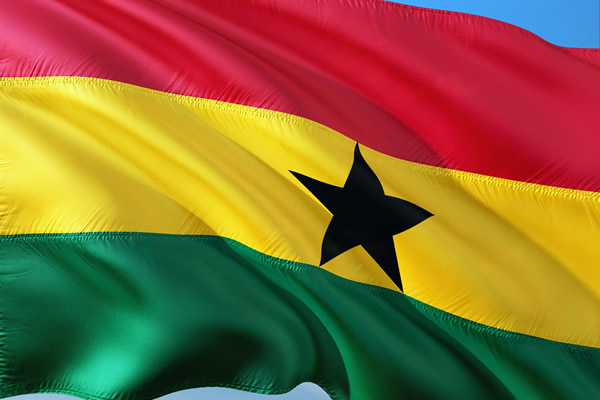 A draft of a draconian anti-LGBTQ bill in Ghana has surfaced online.
The "Proper Human Sexual Rights and Ghanaian Family Values Bill" draft is 36-pages long and contains clauses under which LGBTQ people and allies could be sentenced to up to 10 years in prison for supporting and advocating for LGBTQ rights in Ghana. The Guardian newspaper described the proposed measure as "one of the most draconian and sweeping anti-gay laws proposed around the world."
The draft, which has yet to be introduced in the Ghanaian Parliament, details a plethora of behaviors between LGBTQ individuals that would be banned. They include "gross indecency," which is defined as "the public show of amorous relations between or among persons of the same sex." This act, labeled a misdemeanor, can result in "a term of imprisonment no less than six months and not more than one year."
The bill in its current form would additionally propose strict media censorship that would ban media entities and creative individuals from producing content that promotes LGBTQ advocacy. Failure to comply with this provision would result in "not less than five years and not more than 10 years" of imprisonment.
The draft's release follows the May arrest of 21 activists and paralegals who attended a conference on how to advocate for LGBTQ rights.
Rightify Ghana, one of Ghana's most prominent LGBTQ rights groups, released portions of the bill on its Twitter page.
"This bill is a homophobe's dream law," Rightify Ghana's Danny Bediako told Reuters. "The community is shocked at how wide-ranging it is. People are even scared to go out now and some members say they will leave the country if the bill is passed into law. Even those who want to help us will be afraid."
A State Department spokesperson also commented on the situation.
"In Ghana, we are concerned by the increasing anti-LGBTQI+ rhetoric and actions that undermine the human rights of members of that community. We are monitoring the situation closely," the spokesperson told the Washington Blade on Monday in a statement. "In his video address to the [African Union], President Biden affirmed the United States policy to promote the human rights of all individuals, including women and girls, LGBTQI+ individuals, persons with disabilities, and persons of every ethnic background, faith and heritage."
The World Congress of Families, a queerphobic organization, hosted an anti-LGBTQ conference in Ghana in 2019.
"It is clear that this [is] an imported bill with a signature of [the] World Congress of Families (WCF). It is a combination of bills from Russia, Uganda, Nigeria and other places where the WCF [has] been. It's the worst anti-LGBTQ bill ever," says Rightify Ghana on Twitter.
The Human Rights Campaign notes the World Conference of Families during their 2019 conference advocated for the adoption of public policies supporting so-called conversion therapy and attacked sex education and women's rights in Ghana.
The World Conference of Families is an anti-LGBTQ organization based in the U.S. that the Southern Poverty Law Center has designated as a hate group. The World Conference of Families has supported efforts that have further criminalized LGBTQ identity and activity in Russia, Lithuania, Nigeria and Uganda.
"[The WCF] has a long history of exporting its anti-LGBTQ narrative to many parts of Africa, often by framing LGBTQ people and the protection of their human rights as somehow foreign and un-African, a fundamentally inaccurate characterization," says HRC in its report.
The proposed Ghana bill is not unlike other measures on the African continent.
The Nigerian Senate in 2014 passed the "Same-Sex Marriage Prohibition Bill," under which anyone convicted of entering into a same-sex marriage or relationship faced up to 14 years in jail. The measure also criminalized witnessing or supporting LGBTQ-related activities and public displays of same-sex relationships. 
Gay Nigerian priest makes religion serve LGBTQ people
Rev. Jide Macaulay founded House of Rainbow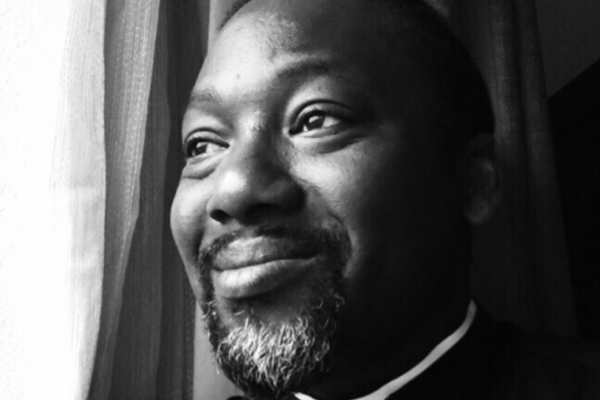 It is impossible to speak of queer identity and culture without acknowledging the important role religion has played in shaping it throughout history. Whether it's Pope Francis praising the work an American priest has done to affirm LGBTQ identity, or a Republican legislator rebuking the existence of transgender people by invoking scripture from the Bible, religion and spirituality unquestionably influence conversations about sexual identity in the U.S. and how American society would like for people to manifest their sexuality. 
A significant portion of LGBTQ people in the U.S. are religious.
A study the UCLA School of Law's Williams Institute conducted in 2020 found that 5.3 million LGBTQ adults are religious with almost half of this metric identifying as "highly religious." Forty percent of those between ages 18 and 35 are religious, and 65 percent percent of those over 65 identify as religious as well. In addition, 71 percent of Black LGBTQ adults in the U.S. are religious.
The Washington Blade recently spoke with Rev. Jide Macaulay, founder and CEO of the London-based House of Rainbow CIC, to talk about his work as a gay Black African Christian priest.
Macaulay was born in London and grew up in Ikeja, the boisterous capital of Nigeria's Lagos State. He was born into a religious family to parents who he described to the Blade during a 2017 interview as "very dedicated Christians." His father was one of Nigeria's leading theologians, so Macaulay's upbringing was naturally Christian-centric, with him being involved in the church from a young age.
As a budding adult, Macaulay pursued theology as a profession and became an ordained minister in 1998 after training with his father. After a two-year hiatus from the church, he joined the Metropolitan Community Church in London to study theology and later joined its congregation as a minister in 2003. Macaulay says it was there that he became confident in his understanding that "God loves gay people regardless of all these messages of it being a taboo or abomination."
Sheathed with this conviction, Macaulay moved back to Nigeria to create an environment that mimics that which he had experienced at the Metropolitan Community Church.
"It became important to me to go to Nigeria to create the same space and tell LGBTQ people that 'God loves you just the way you are,'" says Macaulay. "I embodied a lot of the spirit of the human rights church that came out of the origin of the Metropolitan Community Church."
Macaulay started House of Rainbow under this ideology on Sept. 2, 2006. This weekly gathering of LGBTQ Christians initially began with 34 congregants, but the congregation grew rapidly to a point where Macaulay "didn't know what to do with all the people." He says the growth "perplexed" him as he didn't realize that House of Rainbow was so popular.
House of Rainbow encountered problems that emanated from operating in a country with virulent homophobic laws, despite its popularity. Many congregants were physically attacked for identifying as queer, and Macaulay recalls individuals emerging to church with broken noses and arms. The media also caught wind of House of Rainbow's weekly gatherings and chaos ensued. 
The culmination of these events forced Macaulay to leave Nigeria after two years. House of Rainbow remained steadfast with its mission to create a community for LGBTQ Christians and soldiered on for a couple of more years before it eventually dissolved.
"It's unfortunate, now, that as I speak to you we do not have a House of Rainbow community in Nigeria," says Macaulay. "We still have people connected [to the community], but we don't have a physical presence or anyone leading it."
House of Rainbow's reach has nevertheless now become global, with communities established in 22 countries. The majority of them are in Africa.
'Homosexuality is not a sin; it is who we are'
The crux of Macaulay's ideology centers on inclusion and acceptance. He creates a space at House of Rainbow where LGBTQ individuals can not only gather in community, but can also feel seen and recognized as meaningful members and contributors to Christianity
"The important thing [that people need to understand] is that as a minister of the gospel of Christ, I want every LGBTQ person to make [it to] heaven," says Macaulay. "I want them to be on a path towards salvation and redemption."
"This whole language that if you are gay, you are destined for hell and eternal damnation is so wrong. That is even abusive in itself," adds Macaulay.
He further invokes a popular scripture that loosely states, "For all have sinned and fallen short of the glory of God."
This scripture is a part of what homophobic Christians use to denounce queerness. Macaulay, nevertheless emphasizes that there is a lack of complete understanding of what the scripture truly communicates.
"[The scripture] didn't say that anyone is going to hell. It said that we have all sinned and fallen short of the glory of God," says Macaulay. "Having said that, it is important to understand that homosexuality is not a sin; it is who we are."
Macaulay's work is therefore enmeshed in the need to fight for social justice causes. He aims to use the church as a platform to bring awareness to and fight for all iterations of LGBTQ rights. Whether it be racism, sexism, or classism, Macaulay aims to "be like Jesus" and emulate his unwavering passion to uplift those at the bottom of society's hierarchy.
"It's inconceivable to think that any religious space wouldn't be a platform for social justice. Jesus Christ was about social justice," says Macaulay. "Even the Civil Rights Movement in America had the church fighting injustices relating to racism."
Macaulay stresses that the church needs to "do what is right" and stand up for the rights of LGBTQ people.
"In the Bible in Micah 6:18, it says, 'What does the Lord require of you but to do justice? To love kindness and work in humility with your God," says Macaulay. "Therefore, Christian leaders need to have a strong understanding of justice."
When reflecting on the current state of religion, its diversion from and/or weak approach towards social justice, and also its complicity in oppressing minority groups, Macaulay says, "Jesus Christ would definitely be mad."
Can you be a gay African and Christian?
Prior to being colonized by European countries, many African cultures had relaxed attitudes towards sexuality and gender. The Shona in Zimbabwe, Pangwe in Cameroon, Igbo in Nigeria and other African tribes all permitted queer existence without any negative repercussions.
The expansion of European global influence brought with it homophobic laws, which were largely enacted under the pretense of "Christian values," that forced African countries to institutionalize queerphobia, which has now become an undeniable legacy of colonialism on the continent.
That colonialism introduced African populations to Christianity is not an uncommon sentiment among queer Africans and Africans in general. Hence, it is not uncommon to find LGBTQ Africans who denounce Christianity not only because of its association with the racism that fueled European occupation of the continent, but also its functioning as a tool that erased what many of them nostalgically view as a queer-affirming past tainted by the arrival of the white man.
Macaulay both believes and shuns this. He acknowledges that colonialism did participate in the erasure of queer acceptance in African cultures, however, the concept of Christianity being "unAfrican" is fallacious.
He asserts that African and Black African Christians existed before colonialism, and thus, the notion that Christianity is the "white man's religion" is a false notion.
"Christianity was present in pre-colonial Africa," says Macaulay. "In the Bible there are numerous references to Africa, including Egypt and Ethiopia where important biblical events happened, [for example], the story of the Israelites leaving Egypt in search of the promised land."
Macaulay, because of this, spotlights the need for religion to be decolonized.
By reframing how Christians conceive of religion, from unlearning the notion that Jesus is white to acknowledging the existence of Black people in the Bible, one can have a more wholesome and truthful interaction with Christianity.
Also, this will allow for queer African Christians to exist in their queer communities comfortably as Macaulay states that there's a need for them to occupy space in the community as proudly religious people without bearing the shame that is cast on them by what seems to be an agnostic-leaning landscape.
Lil Nas X and 'going to hell'
Lil Nas X on March 26 released a single titled "Call Me By Your Name" which garnered massive attention for both its musical mastery through a catchy hook and its depiction of Black queerness. The accompanying video further dramatized the story by drawing from Christian visual imagery of heaven and hell, and God and the Devil.
The song's video features scenes of Lil Nas X in sensual form, including him giving a caricature of Satan a lap dance. This particularly angered many religious groups, including Christian allies of the LGBTQ community who USA Today reported criticized the video for "going too far to prove a point.'"
Macaulay is a fan of Lil Nas X, who he dubs as his "favorite artist of all time right now, after Michael Jackson," and for him, Lil Nas X's discography extends beyond simple displays of queer identity.
Macaulay has one thought at the forefront of his mind when he looks at "Call Me By Your Name": The concept of hell is abusive and a form of scaremongering.
"The concept of hell is propaganda. It is almost fictional," says Macaulay. "The idea that if you do something wrong you will go to hell, is wrong in and of itself. Homosexuality was never wrong. Homophobia is wrong."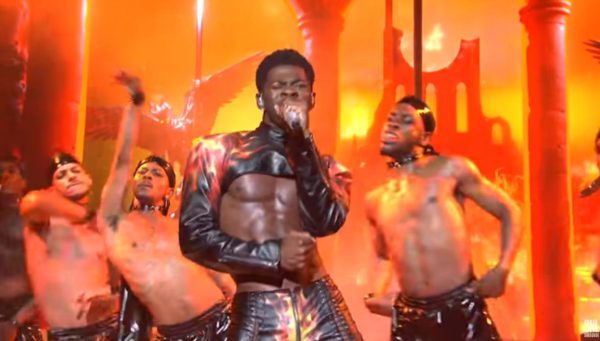 He further underlines that God made gay people, and supports this with a scripture from the book of Philippians which loosely points to God's omnipotent knowledge before, during, and after one's life on earth.
Macaulay says that people should listen to Lil Nas X's pain, and not rebuke him, because he speaks for millions of gay people.
"The reality is that when you tell people that they are going to hell, you are excommunicating them from living their own lives appropriately," says Macaulay.
Macaulay nonetheless has a deep admiration for today's younger generations, especially because they refuse to align themselves with the bigotry that ravages societal discourse about identity.
"I'm really glad for the young people that have stepped out. They are fighting back. They are the warriors and heroes saying, 'Enough is enough. I'm proud, queer and African,'" says Macaulay. "I think that the sad reality for the Christian community is that they're missing out on the gift and talents of the queer community [by being exclusive]."
Macaulay and House of Rainbow have created "GAYMoment," a weekly online service that centers queer worship. Each Sunday, queer people from around the world gather online for prayer, sermon, and testimonies, all provided by queer people.
Macaulay champions sex positivity
Discussing sex and sexual identity is a topic from which Macaulay does not shy away. In fact, it is one that although he is a religious leader, he also approaches as a person of faith.
Macaulay, who lives with HIV, is a proponent of sex positivity.
"I think it's important for every adult human being to experience a sexual relationship that is appropriate, suitable, and consensual," says Macaulay. "It is important that everyone in their lifetime engages positively with sex, particularly adults. I don't recommend it for minors though."
Macaulay is also a vocal advocate for having honest and open conversations about sex and sexuality. He gives credence to the fact that society needs to address the lack of comprehensive sex education.
"Countries that have [addressed sex education] are doing better. They have less cases of STIs and teenage pregnancies," says Macaulay. "Also, students get more opportunities to know more about various sexulities."
Sex education should be age-appropriate and geared towards protecting children, minors, and vulnerable adults, says Macaulay. He believes that children should know about their bodies and be armed with the confidence to talk to adults when their boundaries are violated.
Thus, by keeping advocacy as the focal point, Macaulay, who is affectionately known as "Mama Jide" functions in a quintessential role in the queer community, one similar to that of house mothers in ballroom culture who outstretch themselves to the limits to ensure that their children not only have their basic needs, but also reach a point of complete self-actualization and realization of their purpose in life.