Honduran gay leader appeals to U.S. for help
Palacios on U.S. tour raising awareness of 89 anti-LGBT murders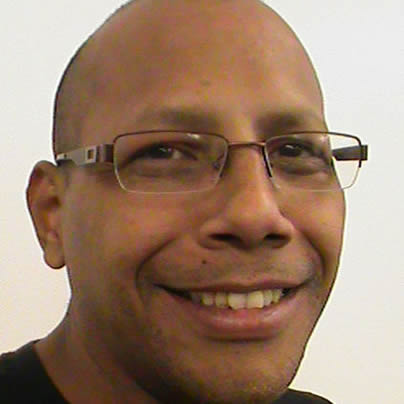 Jose Pepe Palacios says his mission is to inform the U.S. government and LGBT Americans that at least 89 LGBT people in Honduras, including gay rights advocates, have been murdered since military leaders ousted his country's elected president in a 2009 coup.
Palacios, a resident of the capital city of Tegucigalpa, began a seven-city U.S. tour in Chicago on Jan. 30. He was scheduled to arrive in Washington, D.C. on Wednesday, where, among other appearances, he was to speak on Friday at noon at a public gathering at the offices of the National Council of Churches at 110 Maryland Ave., N.E., on Capitol Hill.
He told the Washington Blade that he hopes to build support in the U.S. for a coalition of LGBT and progressive groups in his country that seek to peacefully challenge anti-democratic forces they believe are responsible for many of the murders.
"The Obama administration has said they will promote human rights and LGBT rights," Palacios said. "And Hillary Clinton said that human rights are gay rights. So one of the reasons I'm doing this is to ask for support to pressure the Honduran government to investigate these cases and also to create awareness of the number of these cases."
Palacios was scheduled to meet this week with members of the staff of U.S. Sen. Tammy Baldwin (D-Wisc.) and U.S. Rep. Jared Polis (D-Colo.).
Andy Thayer, co-founder of the Chicago-based Gay Liberation Network, which is one of the sponsors of Palacios' U.S. tour, said human rights activists in Honduras believe many if not most of the LGBT murders following the 2009 coup were motivated by political retribution. According to Thayer, a majority of the LGBT community in Honduras has been supportive of a resistance movement that has opposed the post-coup government and participates in demonstrations against government leaders.
Palacios said that among the LGBT people murdered since the coup were gay activist Walter Torchez and gay candidate for the Honduran Congress, Eric Martinez Alvia, an organizer for the Liberty and Refoundation Party, or LIBRE, which represents many of the resistance groups protesting against the current government.
Palacios is a founding member of Diversity Movement in Resistance (MDR), an LGBT advocacy organization. He is also a member of the National Steering Committee of the Honduras National Front of Popular Resistance (NRP), which has staged protest demonstrations against the government.
Thayer called the LGBT murders "a systematic campaign of targeted hate crimes and political assassination." He said that as the country gears up for its first contested election since the coup, set to take place in November, "many fear that the violence will get even worse."
The LGBT murders come at a time when Honduras has the distinction of having the highest murder rate of any country in the world. The U.S. State Department's country report on Honduras says many of the murders are related to warring drug cartels and abject poverty that forces desperate people to commit armed robberies often resulting in killings.
The report acknowledges that some of the murders are due to political rivalries. Human rights observers have said corrupt police officers or law enforcement officials allied with entrenched political factions are also believed to be responsible for some of the murders, including the slayings of LGBT activists.
Palacios said that of the 89 LGBT murders since 2009, 52 of the victims were transgender women.
"The United States is focused on helping the Honduran government combat impunity, resolve murder cases, reform the Honduran police, and strengthen human rights institutions," said Evan Owen, press officer for the State Department's Bureau of Democracy, Human Rights and Labor.
The 2009 coup, which resulted in the ouster of President Manuel Zelaya, took place amid a constitutional dispute over whether Zelaya had authority to call a non-binding referendum to determine whether public support existed to hold a constitutional convention and make significant changes in the nation's political system.
As an ally of Venezuelan President Hugo Chavez, Zelaya's move toward constitutional changes alarmed the conservative factions in the country, who feared he would put in place a Chavez-style socialist government. Supporters, including many LGBT activists, believed Zelaya was seeking to make needed reforms to lift the majority of the country's population from conditions of poverty and despair.
The Obama administration denounced the coup and called for an immediate restoration of the country's democratic institutions. But activists in the U.S. and Honduras have said the U.S. appeared to have been privately supportive of the coup. Palacios said it is widely known in the country that Honduran military leaders, who took Zelaya into custody, flew him to a U.S. military base in Honduras before flying him to Costa Rica, where he remained in exile for several years.
Further suspicions of U.S. motives surfaced a few months later, when the U.S. gave its backing to elections called and arranged by coup leaders under supervision of international observers. The country's current president, Porfirio Lobo of the conservative National Party, won that election.
Owen of the State Department declined to comment on allegations by activists that the U.S. support for the current government was giving tacit support for violence against gays and others by corrupt elements, including police, associated with the government.
"We strongly support the rule of law and respect for the constitutional separation of powers as well as a fair and transparent democratic process," Owen said of the U.S. policy toward Honduras. He said the U.S., among other things, is providing assistance to the Honduran government to "strengthen its investigative capacity" to combat possible human rights abuses.
With that as a backdrop, the left-leaning LIBRE Party last year nominated through a primary election Zelaya's wife, Xiomara Castro, as its candidate for president in the November 2013 election. In a development that has thrilled LGBT activists, including Palacios, the LGBT supportive Castro (who's not related to Cuba's Fidel Castro) has emerged as the leading candidate in a Gallup Poll conducted in January.
Her husband, who can't run for president under the constitution's term limit provision, is running for a seat in the Congress.
In what LGBT advocates consider a historic development, a transgender woman and an openly gay man ran in last year's primary for congressional seats as LIBRE candidates. Both lost their races, but Palacios called their candidacies and the LIBRE party's support for LGBT equality a major advance for his country.
With the candidates from the two longstanding "establishment" parties — the right-wing National Party and the center-right Liberal Party — trailing Castro in the polls, Palacios said he fears conservative forces will manufacture a "crisis" in an attempt to postpone or cancel the election. None of the other candidates have expressed support for LGBT rights, Palacios said.
"That's why we are asking a number of organizations from the international community to go in delegations in November to observe the electoral process and make sure it's a just process."
U.S. official meets with Brittney Griner
Consular visit took place on May 19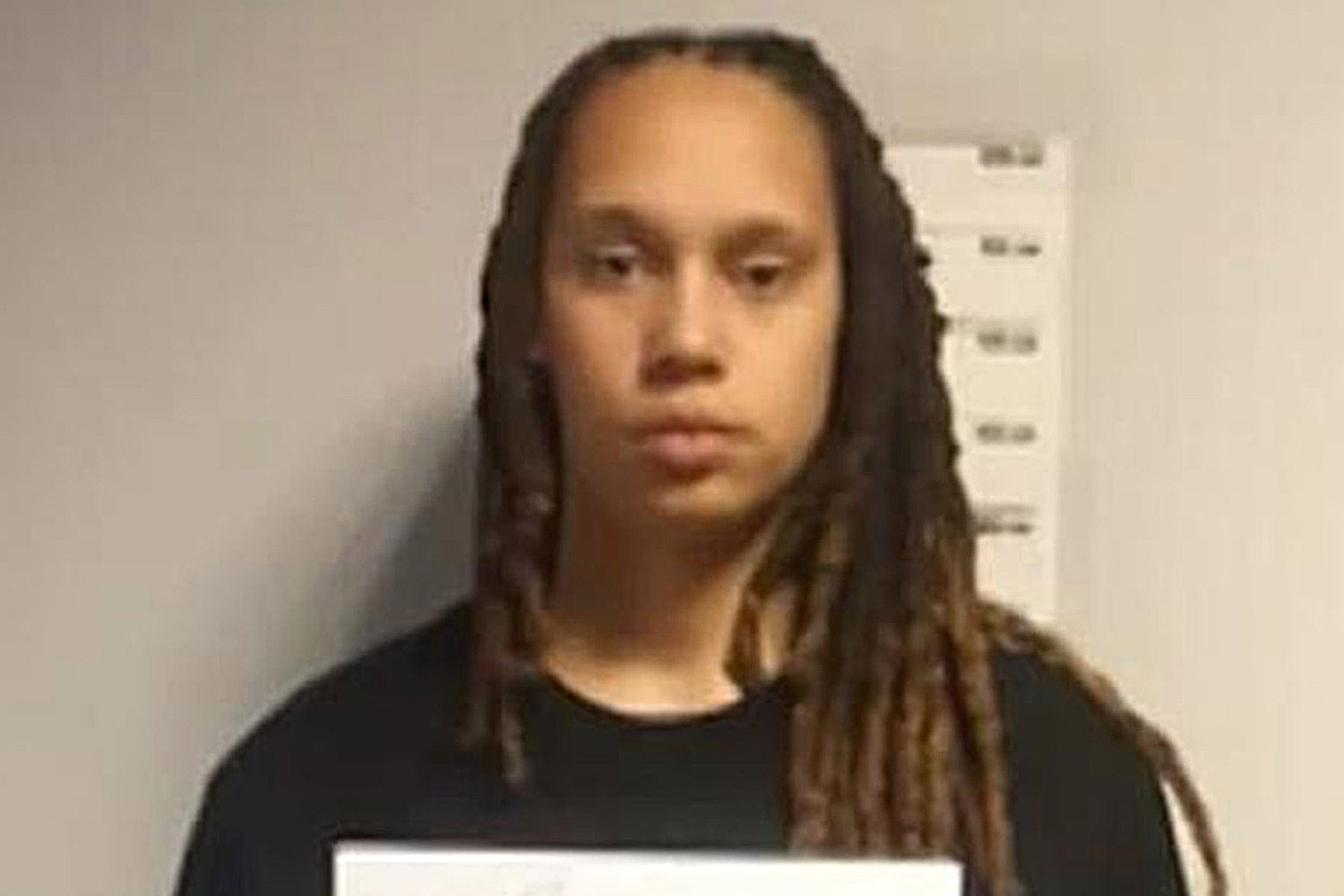 A U.S. consular official on May 19 visited detained WNBA star Brittney Griner in Russia.
State Department spokesperson Ned Price on Friday told reporters during a virtual briefing the officer "found her continuing to do as well as could be expected under these exceedingly challenging circumstances." The officer met with Griner two days after U.S. Ambassador to Russia John Sullivan said Russian officials had denied consular visits with her three times this month.
"Our message is a clear and simple one," said Price. "We continue to insist that Russia allow consistent and timely consular access to all U.S. citizen detainees. One-off visits are not sufficient, and we will continue to call on Moscow to uphold its commitments under the Vienna Convention for consistent and timely access as well."
Griner — a center for the Phoenix Mercury and a two-time Olympic gold medalist who is a lesbian and married to her wife — was taken into custody at Moscow's Sheremetyevo Airport in February. Russian officials said customs inspectors found hashish oil in her luggage.
The State Department has determined Russia "wrongfully detained" Griner.
A Russian court on May 13 extended her detention for another month. The Women's National Basketball Players Association, a union that represents WNBA players, has endorsed a petition that urges the Biden administration to "prioritize" Griner's release.
Secretary of State Antony Blinken spoke with Griner's wife, Cherelle Griner, on May 14.
U.S. announces more funding to fight HIV/AIDS in Latin America
Jill Biden made announcement on Saturday in Panama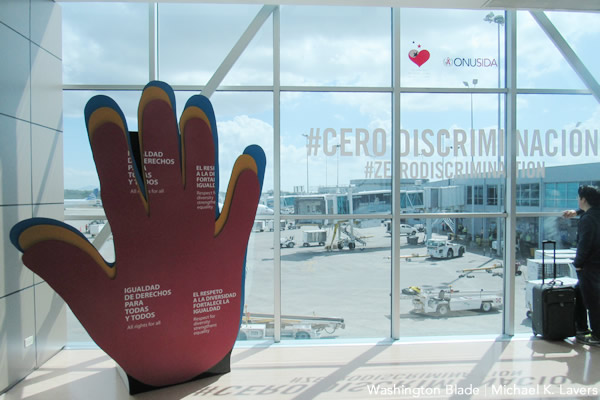 First lady Jill Biden on Saturday announced the U.S. will provide an additional $80.9 million to the fight against HIV/AIDS in Latin America.
Biden during a visit to Casa Hogar el Buen Samaritano, a shelter for people with HIV/AIDS in Panama City, said the State Department will earmark an additional $80.9 million for President's Emergency Plan for AIDS Relief-funded work in Latin America. A Panamanian activist with whom the Washington Blade spoke said LGBTQ people were among those who met with the first lady during her visit.
Pope Francis visited the shelter in 2019.
"I'm glad we have the opportunity to talk about how the United States and Panama can work together to combat HIV," said the first lady.
Michael LaRosa, the first lady's spokesperson, noted Panama will receive $12.2 million of the $80.9 million in PEPFAR funding.
"This funding, pending Congressional notification, will support expanded HIV/AIDS services and treatment," said LaRosa.
UNAIDS statistics indicate an estimated 31,000 Panamanians were living with HIV/AIDS in 2020. The first lady's office notes the country in 2020 had the highest number of "newly notificated cases of HIV/AIDS" in Central America.
The first lady visited Panama as part of a trip that included stops in Ecuador and Costa Rica.
The Summit of the Americas will take place next month in Los Angeles. The U.S. Agency for International Development and PEPFAR in April announced they delivered more than 18 million doses of antiretroviral drugs for Ukrainians with HIV/AIDS.
Republican Pa. governor nominee opposes LGBTQ rights
Former President Trump backed state Sen. Doug Mastriano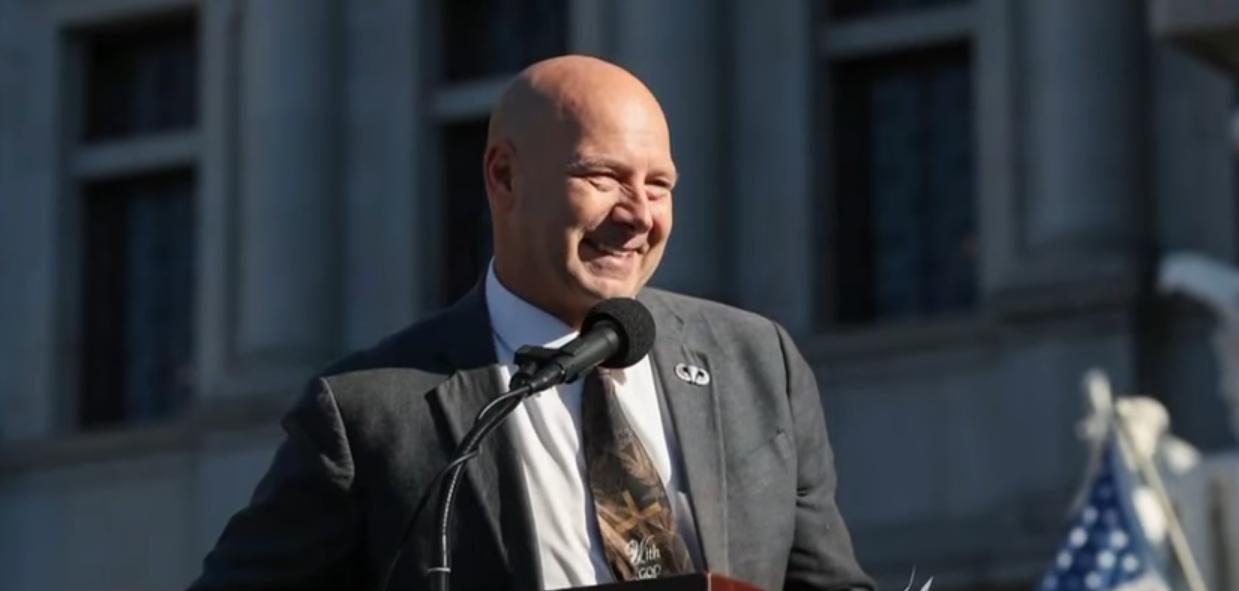 Republican leadership in the Keystone State are expressing quiet alarm over the emergence of radical-right state senator who secured his place as the party's nominee in the race against Democratic nominee for governor, Josh Shapiro, who is himself currently serving as the commonwealth's attorney general.
State Sen. Doug Mastriano, who represents Cumberland, Adams, Franklin and York Counties in the South Central Pennsylvania area bordering Maryland, was not seen as a truly viable candidate in the primary race to be the party standard-bearer until he was endorsed by former President Trump.
Pennsylvania's gubernatorial race has serious implications for the outcome of the 2024 presidential election cycle as well. The commonwealth is a strategic swing state and the occupant of the governor's chair in Harrisburg will lend considerable influence to a final vote count.
Mastriano is a polarizing figure within the state's Republican Party.
The retired U.S. Army colonel has campaigned at political events that included QAnon adherents, he espoused a political agenda that embraced Trump's Big Lie about the 2020 election, rejected measures taken to protect Pennsylvanians including masks in the coronavirus pandemic, holding an anti-vaccine "Medical Freedom Rally" rally on the state Capitol steps days after declaring his candidacy for the GOP governor's primary race, and also mixing in messaging of Christian nationalism.
He also supports expanding gun rights in Pennsylvania and in the state Senate sponsored a bill to ban abortion once a heartbeat is detected.
NBC News noted that Mastriano pledged in his election night address that on the first day of his administration he would crack down on "critical race theory," a catchall term Republicans have used to target school equity programs and new ways of teaching about race, transgender rights and any remaining COVID-19 vaccine requirements.
"CRT is over," Mastriano declared. "Only biological females can play on biological females' teams," he added, and "you can only use the bathroom that your biology and anatomy says."
His anti-LGBTQ views have long been part of his personal portfolio. The Washington Post reported that 21 years ago while attending the Air Force's Air Command and Staff College in 2001, then-Maj. Mastriano wrote his master's thesis on a hypothetical "left-wing 'Hitlerian putsch'" that was caused by "the depredations of the country's morally debauched civilian leaders." Among those "depredations," in his words, was the "insertion of homosexuality into the military."
As the Post reported, his paper shows "disgust for anyone who doesn't hold his view that homosexuality is a form of 'aberrant sexual conduct.'"
The paper is posted on an official Defense Department website and lists Mastriano as the author at a time when he said he received a master's degree from the school.
Two decades before he was Republican nominee for Pennsylvania governor, Doug Mastriano warned in a master's thesis that morally debauched political leaders weren't fit to oversee the U.S. military. https://t.co/NHOnijBng7

— The Washington Post (@washingtonpost) May 20, 2022
This is not the only instance of Mastriano professing anti-LGBTQ beliefs.
In 2018, he stated his belief that LGBTQ couples should not be allowed to adopt a child. During an interview with 103.7 FM, when asked "should LGBTQ couples, i.e. two moms or two dads, be allowed to adopt?" Mastriano answered, "No." [This takes place at the 16:00 mark.]
NBC News interviewed David La Torre, a Republican and former adviser to fellow gubernatorial candidate Jake Corman.
"As far as what a Pennsylvania government would look like with Mastriano in charge, quite frankly, it's just not something I'm ready to think about at this point," La Torre said, adding that while there are many unknowns, the dynamic between Mastriano and the state General Assembly, currently controlled by Republicans, would be one to watch.
"All I know is this — he will govern as governor like he campaigned," he said. "He would govern with a sledgehammer and expect Republicans to fall in line. And it would be one of the more fascinating tugs of war we've seen in Harrisburg."
Dave Ball, chairman of the Washington County GOP, told NBC News that Mastriano's victory was "a shame" for the party, the product of "a phenomenon that I truly don't understand." But any misgivings won't stop Ball from working toward the ultimate goal: taking back the governor's mansion, saying it's a must-win race. (The two-term incumbent, Tom Wolf, a Democrat, is term-limited.)
As if telegraphing the battles to come should he take the governor's chair, Politico reported: "Our biggest problem," said Mastriano on Steve Bannon's "War Room: Pandemic" podcast on Tuesday, "is going to be these feckless RINO-type Republicans here that will not allow us to have a fighter as governor. But we're going to beat them and they're going to lose power, and they're going to be put to shame."
Mastriano lists agenda as governor during Pa. GOP nominee victory speech: