TV: Something old, something new
'Development' not so arrested, 'Psycho' gets reboot and interesting reality participants sign on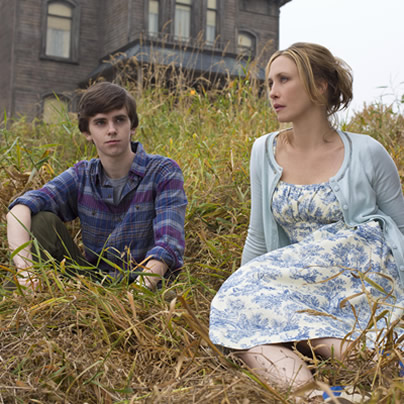 The 22nd season of CBS's "The Amazing Race" is in full swing. Contestants include a team of YouTube hosts, Joey Graceffa and Meghan Camarena. Episodes air Sundays at 8 p.m., and the season will run until May 5.
After seven years off the air, "Arrested Development" fans will rejoice when the show returns for a fourth season in May on Netflix. Portia de Rossi, Jason Bateman and the rest of the Bluth family are reuniting along with some of the series' famous recurring stars, including Liza Minnelli. Kristin Wiig will join the cast, playing a young Lucille Bluth.
In addition to his time as a Bluth, Tony Hale returns to "Veep," starring Julia Louis-Dreyfus as Vice President Selina Meyer. The new season premieres April 14 on HBO.
"Celebrity Apprentice" returns to NBC with its first All Star edition on Sunday at 9 p.m. Celebrities returning to the competition include Penn Jillette, LaToya Jackson and Lisa Rinna. Omarosa will compete in the show for the third time. Past winners Joan Rivers and Piers Morgan will appear as guest judges.
CBS's "How I Met Your Mother," starring Neil Patrick Harris, continues to air Mondays at 8 p.m. This season saw the return of Rachel Bilson as Ted's lesbian ex-girlfriend and the latest installment in the Robin Sparkles opus. The season finale is on May 13.
A new web series, "The 3 Bits," launches soon. Promoted as "a queer show about sex, love, booze, drugs, friendship, family and amazing acts of stupidity," the show stars Cole Escola who tries to navigate issues like online dating, STDs and foot fetishism. A preview for the upcoming series can be found on the3bits.com.
A&E premieres "Bates Motel" on March 18 at 10 p.m. The series depicts the early life of Norman Bates, a character immortalized by late gay actor Anthony Perkins in "Psycho." The show stars Freddie Highmore as Norman Bates and Vera Farmiga as his mother Norma.
"Happy Endings," starring Adam Pally and Casey Wilson, returns from its hiatus on March 29 at 8 p.m. on ABC with back-to-back episodes. RuPaul will make a guest appearance this season, as will Abby Elliot, reuniting with fellow SNL alum Casey Wilson. With the show's move to the "Friday night death slot," the future of the GLAAD Media Award-nominated sitcom is uncertain.
Bravo debuts a new reality show called "Dukes of Melrose" on March 6 at 10:30 p.m. The series will follow Christos Garkinos and Cameron Silver, owners of the couture store Decades. It follows the season premiere of "It's a Brad, Brad World" at 10 p.m.
"Ke$ha: My Crazy Beautiful Life" airs on MTV on April 23 at 11 p.m. The documentary covers the drama in Ke$ha's personal and professional life over the past two years and the making of her album "Warrior."
Courtney Cox will join fellow "Friends" alum Matthew Perry in an April episode of NBC's struggling sitcom "Go On." This will be Cox and Perry's first television appearance together since playing married couple Chandler and Monica. The series airs on Tuesdays at 9 p.m.
Sarah Chalke stars in ABC's "How to Live with Your Parents (For the Rest of Your Life)." Chalke plays a recently divorced mother forced to move back home with her parents. Elizabeth Perkins plays her vulgar mom with a rich sexual past. The show premieres April 3 at 9:30 p.m.
http://www.youtube.com/watch?v=5vWkCY_NQJg
Just because the Oscars have passed doesn't mean awards season is over. Rebel Wilson hosts the MTV Movie Awards on April 14 at 9 p.m., and Blake Shelton and Luke Bryan will host the Academy of Country Music Awards on April 7 at 8 p.m. on CBS. Taylor Swift is nominated to win her third consecutive Entertainer of the Year at the ACMs.
"Shameless" continues its third season on Showtime on Sundays at 9 p.m. Fiona tries to keep the Gallagher family together despite issues with her alcoholic father, a run-in with child protective services, and Ian's affair with Jimmy's dad Lloyd. "The West Wing" alum Bradley Whitford will appear on the show in a multi-episode arc, playing a sophisticated gay man and political activist. The season finale airs April 7.
A new season of HBO's "True Blood" starts June 9 at 9 p.m. It picks up where season five left off: Bill turned evil and empowered himself with Lilith's blood, Sookie and the gang are trying to escape the Authority, Andy was forced to raise four fairy babies and the mystery surrounding the vampire Warlow began unfolding.
"Game of Thrones" returns to HBO March 31 at 10 p.m. Winter is coming to Westeros as Arya Stark continues her quest to reunite with her family, Sansa tries to escape from King Joffrey, Daenerys uses her dragons to reclaim her family's throne and a swarm of White Walkers descends on the Night's Watch camp.
PHOTOS: Not Another Drag Show
'Blackout Edition' celebrates musical artists of the 1990s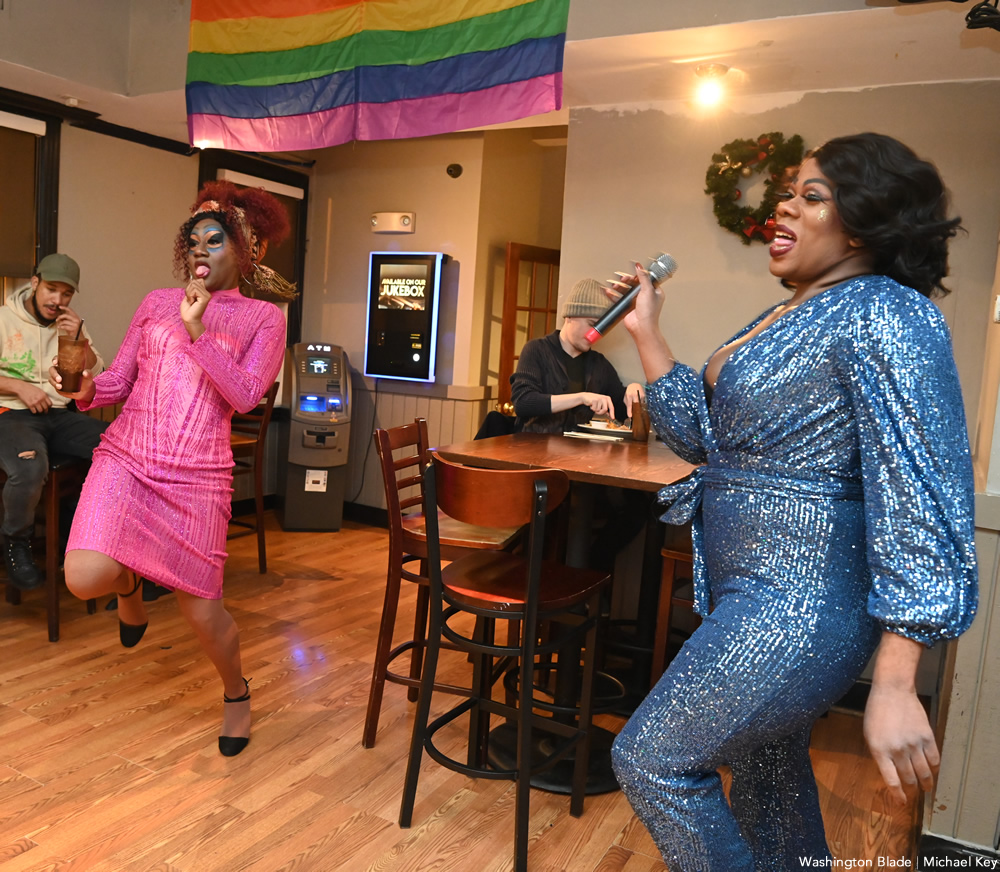 Drag performer Tiffany D. Carter hosted "Not Another Drag Show: Blackout Edition" at Dupont Italian Kitchen Bar on Monday. Performers included Carter, Nubia Love-Jackson, Uju Betta and Echinacea. The show featured the songs of Black artists popular in the 1990s.
(Washington Blade photos by Michael Key)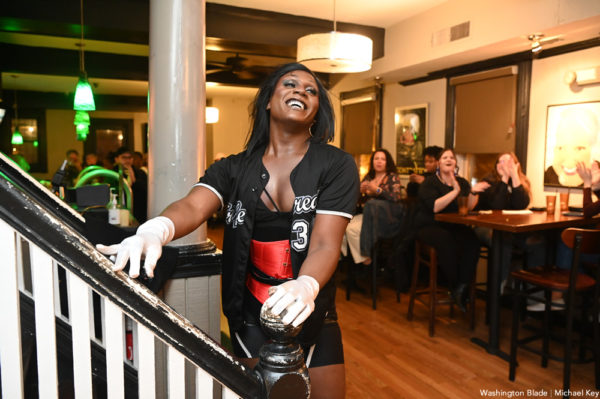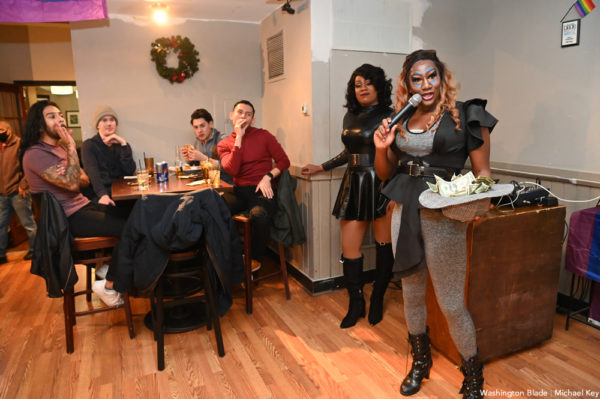 Janet Jackson doc premieres this weekend
Remembering 10 times iconic singer was there for LGBTQ community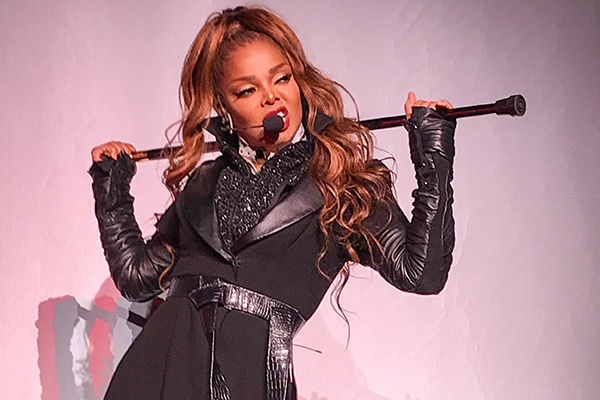 Iconic singer Janet Jackson, a longtime LGBTQ ally, unveils her long-awaited documentary simply titled "Janet" on Friday, Jan. 28. It concludes the following night; each installment is two hours long.
Jackson has said she spent five years compiling footage and creating the documentary, which airs at 8 p.m. both nights on A&E and Lifetime networks. It was produced by Jackson and her brother Randy Jackson and it's timed to commemorate the 40th anniversary of her 1982 debut album.
An extended trailer for the film reveals Jackson will talk candidly about her brother Michael and the 2004 Super Bowl incident, including the news that Justin Timberlake reached out and asked her to join him during his widely panned 2018 Super Bowl return performance.
Prior to the pandemic, Jackson announced a new studio album and tour titled "Black Diamond," but both were postponed due to COVID. No official word about the status of either, but speculation is rampant that she will finally release the new album once the documentary airs.
"Musically, what I've done, like doing 'Rhythm Nation' or doing 'New Agenda' or doing 'Skin Game,' creating those bodies of work with Jimmy and Terry, I feel like I've laid a certain foundation," Jackson tells Allure magazine in a new cover story this month. "I would hope that I'd be able to continue if I choose to. You know what I mean? But only time will tell."
As Jackson's legion of queer fans awaits this weekend's premiere, the Blade takes a look back at 10 times Janet was there for the LGBTQ community.
1. "The Velvet Rope" project. In 1997, Jackson released her critically acclaimed sixth studio album "The Velvet Rope," an introspective and deeply personal collection of songs that touched on her depression, but also tackled LGBTQ issues. On the track "Free Xone," she spoke out forcefully against anti-LGBT bias. She also covered Rod Stewart's "Tonight's the Night," without changing the pronouns in the love song, prompting speculation about her sexual orientation. But it was her international No. 1 hit "Together Again" that continues to resonate with LGBTQ fans. An upbeat, joyful dance song, it was conceived as a tribute to Jackson's friends who died of AIDS.
2. GLAAD award. In 2008, Ellen DeGeneres presented Jackson with the Vanguard Award at the 19th annual GLAAD Media Awards. GLAAD's president said, "We are delighted to honor Janet Jackson at the 19th annual GLAAD Media Awards in Los Angeles as such a visible, welcoming and inclusive ally of the lesbian, gay, bisexual and transgender community. Ms. Jackson has a tremendous following inside the LGBT community and out, and having her stand with us against the defamation that LGBT people still face in our country is extremely significant."
3. Ebony magazine interview about her sexuality. In 2001, Jackson gave an interview to Ebony magazine in which she was asked about her sexual orientation. "I don't mind people thinking that I'm gay or calling me gay," she said. "People are going to believe whatever they want. Yes, I hang out at gay clubs … I go where the music is good. I love people regardless of sexual preference, regardless of race. No, I am not bisexual. I have been linked with dancers in our group because we are so close. I grew up in a big family. I love being affectionate. I love intimacy and I am not afraid to show it."
4. Video support for It Gets Better, Trevor Project. In 2010, Jackson recorded a video for the Trevor Project and later appeared on CNN's "Larry King Live" to promote awareness of youth suicide. "If you're LGBT you're probably thinking you're all alone, but you're not," she said in the video. "I can relate because I was one of those kids who internalized everything."
5. "State of the World Tour." Jackson's LGBTQ support continued in 2017. Her tour's opening sequence highlighted a range of problems facing the world, from famine and war to police brutality and included a call for justice and for LGBTQ rights.
6. "The Kids." Jackson has always employed a diverse crew of professional dancers for her videos and tours. Some of her closest friends and collaborators over the years have been prominent out gay and lesbian choreographers, singers, dancers, makeup artists and designers. She lovingly refers to her backup dancers as "the Kids."
7. NYC Pride performance. In 2004, Jackson performed for a packed audience at Pride Dance NYC at Pier 54.
8. "Will & Grace" cameo. In 2004, Jackson made a memorable cameo on "Will & Grace," judging a dance-off between Jack and another dancer.
9. HRC, AIDS Project Los Angeles awards. In 2005, Jackson was honored by both the Human Rights Campaign and AIDS Project Los Angeles for her work raising money for AIDS charities.
10. Janet's Blade interview. In 2006, Jackson granted an exclusive interview to the Washington Blade. It was one of the rare times she touched on the Super Bowl controversy and her brother Michael's acquittal on child molestation charges, telling Blade Editor Kevin Naff, "I got all of that out of my system, that's not what I'm feeling right now. I wrote about [those controversies] but I didn't choose to put it out there on the album." In the interview, Jackson also reiterated her support for marriage equality, said she'd never had a sexual relationship with a woman and revealed that she'd never met Madonna.
International Women Club set for Jan. 24
Event at National Harbor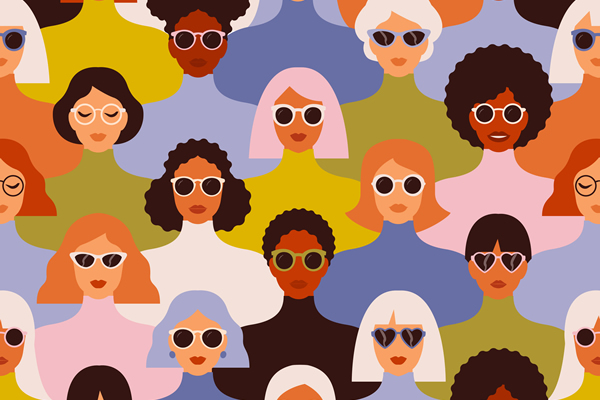 International Women United Organizer will host "Multicultural International Women Club" on Monday, Jan. 24 at 7 p.m. at National Harbor.
The goal of this event is to bring together women from different countries and cultures for friendship, support and community. Guests will get to share interesting facts about their country, talk about their culture, values, styles, and differences with others while learning from others and making friends from all over the globe. Those who speak English as a second language are welcome to attend.
This event is free and more details are available on Eventbrite.