Conclave chooses next pope
Cardinals on Wednesday elected Buenos Aires Archbishop Jorge Bergoglio as the church's next pope
The College of Cardinals on Wednesday elected Buenos Aires Archbishop Jorge Bergoglio as the Catholic Church's next pope.
His election as the first Latin American pontiff took place less than two days after the papal conclave to choose Pope Benedict XVI's successor began. The white smoke that symbolized Bergoglio's election rose from a chimney on top of the Sistine Chapel shortly after 7 p.m. in Rome after the cardinals chose him on the fifth ballot.
Bergoglio, who took the name Francis I, was born in Buenos Aires to an Italian immigrant father in 1936.
He became archbishop of the Argentine capital in 1998.
Bergoglio, a Jesuit who was elected cardinal in 2001, was reportedly the runner-up in 2005 when the College of Cardinals elected Benedict to succeed Pope John Paul II. He is also among those who led the opposition to Argentina's same-sex marriage law that President Cristina Fernández de Kirchner signed in 2010.
"We are not talking about a mere bill, but rather a machination of the Father of Lies that seeks to confuse and deceive the children of God," he said before Argentine lawmakers passed it. "Here also is the envy of the devil through which sin entered the world, which deviously seeks to destroy the image of God, man and woman who have received the mandate to grow, reproduce and dominate the Earth."
Esteban Paulon, president of the Lesbian, Gay, Bisexual and Trans Federation of Argentina, highlighted these statements against nuptials for gays and lesbians as he spoke about Bergoglio's election from his home in Rosario.
"At least in terms of LGBT rights it was a clear signal that the church was radicalizing the discourse," he told the Blade.
Fernández also criticized the now pope's position on that issue–and his claim that adoption rights for gays and lesbians constitutes discrimination against children.
A human rights lawyer in 2005 accused Bergoglio, who has also described abortion as the "death penalty," of conspiring with the country's military junta to kidnap two Jesuit priests in 1976.
In spite of the aforementioned controversies, he has reached out to people with HIV/AIDS.
The National Catholic Reporter reported he kissed and washed the feet of 12 AIDS patients during a 2001 visit to a hospice.
"As a cardinal, this man who is now Pope Francis has said some pretty harsh things in the past," Marianne Duddy-Burke, executive director of Dignity USA, a group for LGBT Catholics, told the Washington Blade. "We would hope that he recognizes that he is a pope for a church that includes lots of LGBT people and our families and that he would take the time to listen to us, to our experiences, to the experiences of kids who've been raised by same-sex parents before he starts making papal pronouncements on these issues and risks alienating even more people."
Francis DiBernardo, executive director of New Ways Ministry in Mount Rainier, Md., echoed Duddy-Burke.
"As he begins his papacy, we request that Pope Francis make one of his top priorities the re-evaluation of the Catholic hierarchy's approach to lesbian, gay, bisexual, and transgender (LGBT) issues," he said, referring to Francis' statements against same-sex marriage and adoption rights for gays and lesbians. "We hope that in his new office, he will have the wisdom to hear all sides of these complex issues and that he will inject pastoral messages into his statements."
Ryan Fecteau, a gay student at the Catholic University of America in D.C., also reacted to the new pope's election.
"Though Pope Francis has expressed anti-gay sentiment in the past, he comes from a country that has legalized marriage for same-sex couples," he told the Blade. "We must have optimism in knowing that the first Jesuit pope has witnessed the power of love without exception. And we must hope it has changed his views for the better."
National Organization for Marriage President Brian Brown is among those who welcome the pontiff's opposition to marriage rights for same-sex couples.
"Cardinal Jorge Bergoglio will follow in the steps of Pope Benedict XVI and provide a consistent and strong voice in support of marriage and children," he said in a statement. "Our prayers go out to Pope Francis as he leads the world's over 1 billion Catholics in the weeks, months, and years ahead."
Benedict on Feb. 11 became the first pope to resign since 1415.
Italian newspapers reported in the days after Benedict's surprise announcement that he announced his resignation on the same day he learned male prostitutes are blackmailing gay Vatican priests. La Repubblica said report also detailed an underground network of gay priests.
Vatican officials denounced the reports as "unverified, unverifiable or completely false news stories."
Argentines react to the new pope
Fernández congratulated Francis in a statement she issued shortly after the College of Cardinals elected him.
"It is our desire that you have, assuming the helm and guidance of the church… successfully carry out your extremely important pastoral charge in pursuit of justice, equality, fraternity and peace for mankind," she said.
Paulon again highlighted to the Blade the role Francis played in the campaign against Argentina's same-sex marriage law.
He also noted a sense of pride among Argentinians over his election.
"Of course in Argentina there is a sense of joy among a good part of the population for the pope," he said.
Duddy-Burke further acknowledged the church's center continues to shift away from Europe.
"It's a time of transition and prayer for all Catholics," she said. "We join in praying for the pope and his ministry."
Gay man who live-streamed anti-government protests in Cuba detained
Yoan de la Cruz taken into custody on July 23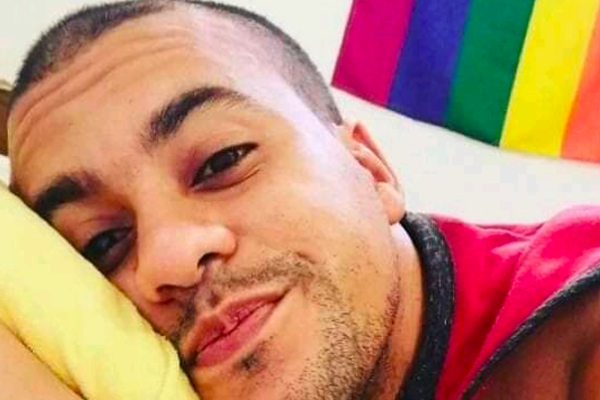 A gay man who live-streamed the first anti-government protest that took place in Cuba on July 11 has been detained.
Luis Ángel Adán Roble, a gay man who was once a member of Cuba's National Assembly, in a July 28 tweet wrote Yoan de la Cruz used Facebook Live to livestream a protest in San Antonio de los Baños, a municipality in Artemisa province that is just outside of Havana.
The San Antonio de los Baños protest was the first of dozens of anti-government demonstrations against mounting food shortages, the government's response to the pandemic, a worsening economic crisis and human rights that took place across Cuba on July 11. Many of those who participated in the protests chanted "libertad" or "freedom."
Cubalex, a U.S.-based Cuban human rights organization, confirms authorities detained De La Cruz on July 23. The Blade has not been able to confirm De La Cruz's current whereabouts.
"Yoan is the man who live-streamed the July 11 protests from San Antonio, nothing else," tweeted Adán. "They took him from his house a few days ago and he is being accused of 'incitement of the masses.' Free Yoan, he did not commit any crime!"
Yoan es un chico que transmitió en vivo las protestas del día #11J de San Antonio, solo eso. Hace unos días se lo llevaron de su casa y esta siendo acusado de "incitación de las masas". Liberen a Yoan, no cometió delito alguno!!!#LGBT #Cuba pic.twitter.com/sWyH5iAM8f

— Luis Angel Adán Roble (@angelDr_adan) July 29, 2021
The Washington Blade has confirmed De La Cruz is gay.
Vida Bohemia, a drag queen who is De La Cruz's friend, also demanded de la Cruz's release.
"If he didn't throw a stone, (if) he didn't break glass, (if) he didn't hit anyone, (if) nobody yelled down below, please let him go," Bohemia told 14ymedio, a website founded by Yoani Sánchez, a journalist who is a vocal critic of the Cuban government. "He has a mother, a grandmother, a family and thousands of friends suffering."
Maykel González Vivero, editor of Tremenda Nota, the Blade's media partner in Cuba, is among the hundreds of people who were arrested during the July 11 protests. The New York Times reports that De La Cruz is among the estimated 700 people who remain in custody.
Thousands Cuban Americans gathered in front of the White House on July 26 to demand the Biden administration do more to support the protesters on the island. They later marched to the Cuban Embassy.
The White House under the Global Magnitsky Act has sanctioned Cuba's National Revolutionary Police (PNR), the Interior Ministry Special Brigade, Defense Minister Álvaro López Miera, PNR Director Oscar Callejas Valcarce and PNR Deputy Director Eddie Sierra Arias for their role in the government's crackdown on the July 11 protests. Yotuel Romero, a Cuban singer who co-wrote "Patria y vida!", a song that has become an anthem for anti-government protesters, is among those who met with President Biden at the White House on July 30.
New Zealand seeks to ban conversion therapy
Justice Minister Kris Faafoi introduced bill on Friday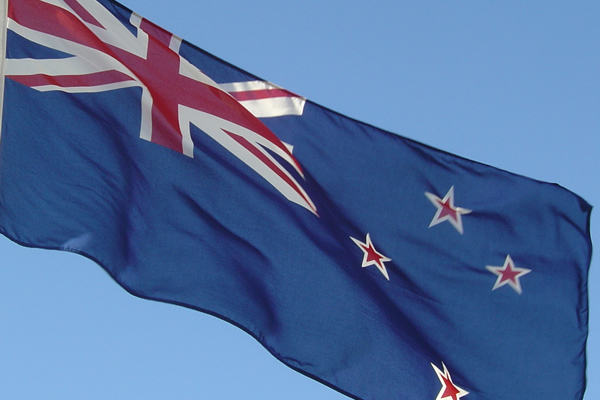 A New Zealand lawmaker has introduced a bill that would ban so-called conversion therapy in the country.
Justice Minister Kris Faafoi, who is a member of Prime Minister Jacinda Ardern's Labor Party, on Friday introduced the Conversion Practices Prohibition Legislation Bill.
"Conversion practices have no place in modern New Zealand," said Faafoi in a statement that announced the bill's introduction. "They are based on the false belief that any person's sexual orientation, gender identity or gender expression is broken and in need of fixing."
"Health professionals, religious leaders and human rights advocates here and overseas have spoken out against these practices as harmful and having the potential to perpetuate prejudice, discrimination and abuse towards members of rainbow communities," added Faafoi.
The bill would make it an "offense to perform conversion practices on anyone — irrespective of age — where the practices have caused serious harm, and would carry up to five years imprisonment." The bill would also make it "an offense to perform conversion practices on a child or young person aged under 18, or on someone with impaired decision-making capacity" and anyone who practices them could face up to three years in prison.
Conversion therapy survivors could also file complaints with New Zealand's Human Rights Commission and Human Rights Review Tribunal.
Rainbow Youth, an LGBTQ rights group in New Zealand, welcomed the bill.
"We're excited about this step to safeguard LBGTIQA+ people around Aotearoa," said the group in a tweet, referring to the country by its Maori name.
Ardern told Express, an LGBTQ newspaper in New Zealand, during a 2020 interview that she and her party support the bill.
"We support it," she said. "I support it."
New Zealand would join Malta and a handful of other countries that ban conversion therapy if the bill becomes law.
The Canadian House of Commons in June approved a measure that would ban conversion therapy in the country. The Canadian Senate is expected to debate the bill later this year.
German lawmakers last year approved a bill that banned conversion therapy for minors in the country. Virginia, Maryland, D.C. and California are among the U.S. jurisdictions that also prohibit the practice.
US urges Central America governments to protect LGBTQ rights
Effort part of strategy to address migration 'root causes'
Editor's note: International News Editor Michael K. Lavers was on assignment for the Washington Blade in El Salvador, Honduras and Mexico from July 11-25.
A State Department spokesperson says the U.S. will continue to urge the governments of Guatemala, El Salvador and Honduras to protect LGBTQ rights as part of its efforts to address the "root causes" of migration from the three countries.
"Human rights, including those of LGBTQI+ persons, is one of the central pillars of our engagement with leaders from Guatemala, Honduras and El Salvador," said the spokesperson in response to a series of written questions from the Washington Blade.
"The United States raises concerns about violence, discrimination, abuse, harassment and stigma targeting LGBTQI+ (people) across northern Central America with various stakeholders," added the spokesperson. "We work to engage on these issues across multilateral fora, such as the United Nations, the Equal Rights Coalition and the Organization of American States."
Guatemala, El Salvador and Honduras form what is known as Central America's Northern Triangle.
Vice President Kamala Harris, who met with Guatemalan President Alejandro Giammattei last month during her trip to Guatemala City, has said on numerous occasions that violence based on sexual orientation and gender identity is one of the factors behind migration from the region. Harris and other administration officials have also told migrants not to travel to the U.S.-Mexico border because it remains closed to them due to the pandemic.
LGBTQ Hondurans with whom the Blade recently spoke acknowledged violence has forced them to flee their homes.
Leonela Barralaga and Jerlín Martel are a same-sex couple who are raising an 11-year-old daughter in La Ceiba, Honduras.
They told the Blade on July 20 during an interview at the offices of Organización Pro Unión Ceibeña, a local human rights group, that they have fled Honduras twice. Barralaga and Martel said they returned to the country once because they did not want their daughter to further endure the squalid conditions in which they were living in Tapachula, Mexico, a city in the country's Chiapas state that borders Guatemala.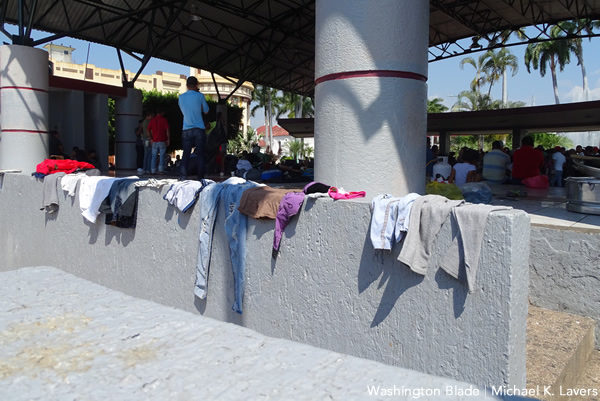 Marvin Obdulio, a gay man from Honduras who plans to ask for asylum in the U.S., currently lives at Jardín de las Mariposas, a shelter for LGBTQ asylum seekers in the Mexican border city of Tijuana.
Obdulio during a July 12 interview with the Blade at Jardín de las Mariposas spoke about his brother, who was murdered earlier this year in Honduras. Obdulio was sobbing when Jaime Marín, who runs the shelter with his mother, Yolanda Rocha, showed this reporter a picture of his brother's mutilated body in the morgue in San Pedro Sula, Honduras' second-largest city.
A court in the Salvadoran capital of San Salvador last August sentenced three police officers to 20 years in prison for the 2017 murder of Camila Díaz Córdova, a trans woman who the U.S. deported. The Inter-American Court of Human Rights last month found Honduras responsible for the murder of Vicky Hernández, a trans woman who was killed hours after the 2009 coup that ousted then-President Manuel Zelaya.
Alexa Euceda, a trans woman who receives services at Organización Pro Unión Ceibeña, told the Blade during an emotional interview that she was raped in prison while serving a sentence for a stabbing she claims was an act of self-defense. Eucada also said guards forcibly cut her hair.
The Blade the day before witnessed a man stop his car on a street in San Pedro Sula, which is about three hours west of La Ceiba, and solicit for sex work two trans women with Colectivo Unidad Color Rosa, a local LGBTQ rights group. The U.S. granted asylum to Claudia Spellman, a trans woman who co-founded Colectivo Unidad Color Rosa, after death threats forced her to flee Honduras.
"The United States is committed to fighting for the human rights of LGBTQI+ persons at home and abroad," the State Department spokesperson told the Blade. "LGBTQI+ persons are among the most vulnerable to forced displacement in and from El Salvador, Guatemala and Honduras."
"Promoting and advancing these human rights is a foreign policy priority," added the spokesperson. "As such, we endeavor to combat the violence and abuse, criminalization, discrimination and stigma targeting LGBTQI+ persons around the world, including in these three countries."
Two members of Guatemalan civil society who work with LGBTQ people and people with HIV/AIDS — Visibles Executive Director Daniel Villatoro and Ingrid Gamboa of the Association of Garifuna Women Living with HIV/AIDS — are among those who participated in a round table with Harris in Guatemala City.
Samantha Power, administrator of the U.S. Agency for International Development, and U.S. Ambassador to Guatemala William Popp on June 17 visited the Guatemala City headquarters of Organización Trans Reina de las Noche, a trans advocacy group. The visit took place less than a week after Andrea González, the organization's executive director who previously participated in the State Department's International Visitors Leadership Program, was murdered near her Guatemala City home.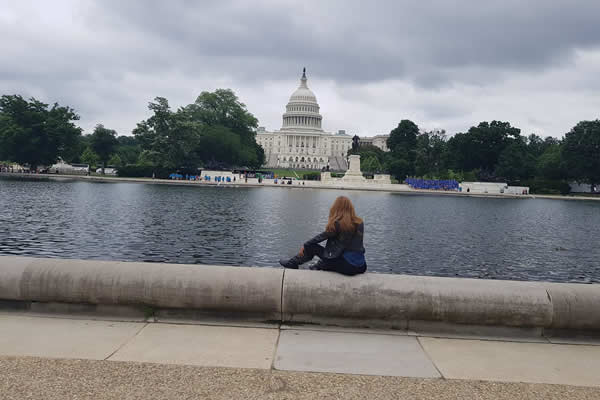 Sasha Rodríguez, a trans woman who works for Organización Pro Unión Ceibeña, is also an IVLP alum.
Bianka Rodríguez, executive director of COMCAVIS TRANS, a trans Salvadoran rights group, is among those who participated in what a USAID spokesperson described to the Blade as a "youth leaders lunch roundtable that we organized" with Power in San Salvador last month. The USAID spokesperson noted "they exchanged important points of view regarding USAID support (past and present) and the challenges of the LGBTIQ+ community in the country."
"USAID human rights projects based in El Salvador support anti-discrimination efforts against the LGBTQI+ community," said the State Department spokesperson. "They also support a regional effort that engages private sector companies in inclusive strategies to open labor opportunities for the LGBTQI+ community."
"Projects also do research on hate crimes against the LGTBQI+ community and provides to the justice sector to investigate such crimes," they added. "The majority of activities are led by local or regional LGBTQI+ groups."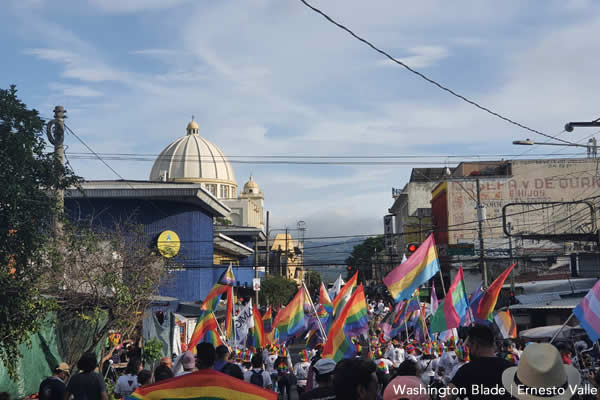 The State Department spokesperson noted "discussions between civil society leaders" and the U.S. Embassy in Honduras, "as well as USAID-led forums on LGBTQI+ migration push factors, help us learn more about the root causes and ways we can better support this community." They also pointed out that USAID's Unidos por la Justicia project "has supported the LGBTQI+ community to develop an anti-discrimination law and the law of gender identity" in the country.
USAID and Unidos por la Justicia in 2019 officially recognized Unidad Colectivo Color Rosa for its work. The Blade on July 19 saw a plaque with the two organizations' logos on it hanging inside their San Pedro Sula office.
"USAID in Honduras has done extensive work with the LGBTQI+ population who lack access to formal education and workforce development services by supporting training that included self-esteem and human rights to prevent stigma and discrimination, and promote respect for diversity," said the State Department spokesperson. "Through private sector engagement, businesses have agreed to interview members of the LGBTQI+ community, which is the foundation to valuing diversity in the workplace."
USAID also works with Asociación PASMO, an organization that conducts HIV testing in San Pedro Sula.
The State Department spokesperson told the Blade that Honduran LGBTQ activists have attended workshops that focused on their participation in the country's political process. They said USAID for the project's next phase "will work with local higher education institutions to certify community members to participate as candidates in elections."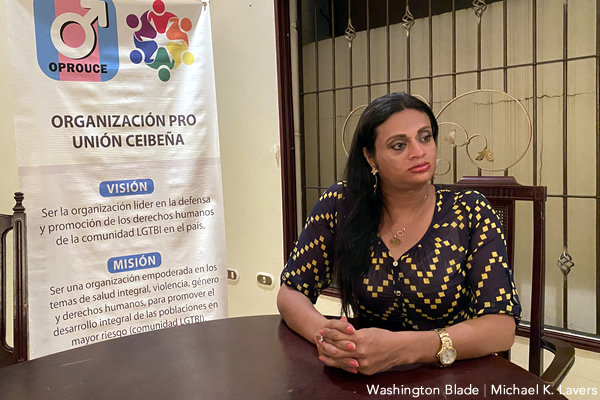 Honduras' national elections are scheduled to take place on Nov. 28.
A federal judge in New York in March sentenced Honduran President Juan Orlando Hernández's brother, former Honduran Congressman Juan Antonio "Tony" Hernández, to life in prison after a jury convicted him of trafficking tons of cocaine into the U.S.
The Biden administration on July 20 banned former Honduran President Porfirio "Pepe" Lobo Sosa, his wife and their children from traveling to the U.S. because of "their involvement in significant corruption." Salvadoran prosecutors last week charged former President Salvador Sánchez Cerén and nine other members of former President Mauricio Funes' administration with the misuse of more than $300 million in government funds.
Juan Francisco Sandoval, a leading anti-corruption prosecutor in Guatemala, fled to El Salvador on July 24 after Guatemalan Attorney General Consuelo Porras fired him. The Biden administration this week announced it has stopped working with Porras' office.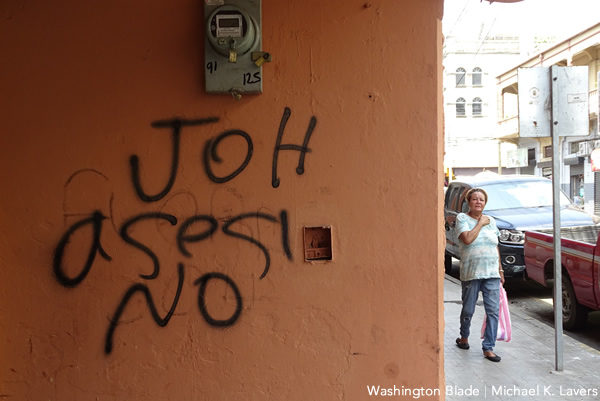 Corruption is one of the myriad issues that activists in the region have raised with the Blade. They also remain highly critical of their respective governments over the lack of LGBTQ rights.
"The United States is concerned with the protection governments extend to LGBTQI+ persons throughout the region," said the State Department spokesperson. "While we have seen some positive developments; we will continue to raise the importance of protections for LGBTQI+ persons whenever appropriate, as well as the importance of holding accountable perpetrators of discrimination and violence."
The State Department spokesperson also responded to the Blade's question about what the Biden administration can do to ensure the Guatemalan, Honduran and Salvadoran governments adequately address anti-LGBTQ discrimination and violence in their respective countries.
"The U.S. government monitors and reports on the state of human rights across the world, including protections for the LGBTQI+ community," said the State Department spokesperson. "Our efforts to draw attention to abuses of the human rights of LGBTQI+ persons create transparency and promote accountability for such abuses. The U.S. government also has sanctions and visa restriction authorities it can apply to perpetrators to promote accountability for human rights violations and abuses."
Abdiel Echevarría-Caban and Dunia Orellana of Reportar sin Miedo contributed to this story.