Vatican denounces reports of gay sex scandal
Allegations of blackmail, prostitution as pope steps down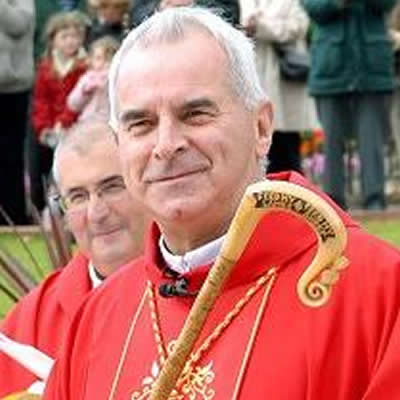 Vatican officials this week denounced reports in the Italian press that an underground network of gay priests assigned to the Vatican organized meetings for sex and may have been subjected to blackmail.
Criticism of the press reports by a high-level Vatican spokesperson came less than a week before yet another gay-related scandal hit the Catholic Church – this time in Scotland.
British Cardinal Keith O'Brien, who has called same-sex marriage "grotesque," announced he decided to step down a month ahead of previously announced retirement plans after allegations surfaced on Feb. 23 that he engaged in "intimate" acts with priests in the 1980s.
O'Brien denied the allegations but said on Monday he cancelled his trip to Rome this week, where he was expected to participate in the selection of a new pope. He said he didn't want the allegations against him to overshadow the conclave of cardinals set to convene within the next week.
The Vatican immediately accepted his decision to step down from his church duties, which it viewed as a resignation.
News of the alleged network of gay priests at the Vatican surfaced last week when the Italian newspaper La Repubblica and the Italian news magazine Panorama reported that Pope Benedict XVI announced his resignation on the same day he learned of the allegations.
In a development that created an uproar at the Vatican, La Repubblica reported it received detailed information about a 300-page Vatican report prepared by three cardinals who uncovered the network of gay priests during a nine-month internal Vatican investigation.
Among other things, the report says the investigation discovered a "faction" within the Vatican "united by sexual orientation," according to La Repubblica.
The newspaper said it had no confirmation that Benedict based his decision to resign solely on the explosive findings of the investigation. But it reported sources as saying Benedict planned to keep the findings confidential and decided to leave it up to his successor to determine how to address the matter.
"It was on that day, with those papers on his desk, that Benedict XVI took the decision he had mulled over for so long," La Repubblica reported in its Feb. 21 edition while discussing Benedict's resignation.
Vatican officials have since confirmed that the investigation took place but have refused to comment on its findings. Vatican spokesperson Rev. Federico Lombardi acknowledged the reports by La Repubblica and Panorama that the investigation was launched last May after one of the pope's butlers was arrested for allegedly stealing papal correspondence and leaking it to the media.
La Repubblica reported several other findings of the investigation, including problems associated with the Vatican bank. Vatican observers in Italy speculated that various rival factions of cardinals and other Vatican officials were likely responsible for leaked information about the investigative report.
Efforts to portray rivals in a negative light are "part of the great game of the conclave, whose tools include political attacks and efforts to condition consensus," Vatican observer and author Alberto Melloni of Bologna, Italy, told the New York Times.
Other observers have said intrigue and infighting that sometimes takes place in the process of selecting a Pope appears to be occurring at a greater intensity this time, as conservative and more progressive factions of cardinals line up behind different candidates under consideration for the papacy.
The Vatican's Secretariat of State, its highest office, issued a statement on Feb. 23 denouncing the press accounts of the contents of the investigative report or "dossier" as "unverified, unverifiable or completely false news stories."
In a separate statement, the Vatican said Benedict dissolved the three-cardinal investigative committee on Monday and expressed "satisfaction for the results of this investigation," according to a report by the Washington Post.
"The Holy Father has decided that the acts of this investigation, known only to himself, remain solely at the disposition of the new Pope," the Post quoted the statement as saying.
La Repubblica reported that the investigation uncovered an underground network of gays working at the Vatican who organized "sexual meetings" in several locations, including a sauna in Rome, a private villa just outside Rome, and a beauty salon inside the Vatican.
The newspaper also reported the investigation found some of the gay priests may have been subjected to blackmail by men not associated with the Vatican with whom they had "worldly" relations.
"When you have this culture of secrecy and guilt and repression you have conditions which foster the potential for blackmail and for manipulation," said gay British journalist and former priest Mark Dowd in an interview with CNN.
The cardinals who headed the Vatican investigation have been identified as Julian Herranz of Spain; Jozef Tomko of Slovakia; and Salvatore De Giorgi, the former archbishop of Palermo.
The British newspaper The Guardian broke the story about Cardinal O'Brien's alleged "gay" scandal in a story in its Feb. 23 edition.
According to The Guardian, three priests and a former priest, all from Scotland, filed a complaint against O'Brien with the Vatican's ambassador to Britain one week before Benedict announced his resignation.
One of the complainants, The Guardian reports, charges that O'Brien "developed an inappropriate relationship with him, resulting in a need for long-term psychological counseling."
Another, identified only as "Priest A," described being visited by O'Brien and "inappropriate contact between the two took place," the newspaper reported. "Priest B" claims he was invited to spend a week at the then archbishop's residence, where he encountered "unwanted behavior by the cardinal after a late-night drinking session."
The Guardian said "Priest C" had been seeing O'Brien for counseling over personal problems and alleges that O'Brien "used night prayers as an excuse for inappropriate contact."
The four who filed the complaint called on the Vatican ambassador to take steps to prevent O'Brien from going to Rome to participate in the conclave to select a new pope, saying the papal selection process would be tainted if the cardinal was part of it.
O'Brien, who announced he had cancelled his trip to Rome the day after The Observer published its story, said he would obtain legal counsel to fight the allegations, which his accusers say took place in the 1980s.
The press reports about the alleged network of gay priests at the Vatican reportedly involved consenting adults, and the allegations against O'Brien involved adult victims. But the revelations of these developments prompted news media outlets in the U.S. and Europe to bring up longstanding allegations of the sexual abuse of children by pedophile priests that have plagued the Catholic Church for more than two decades.
Organizations representing victims of sexual abuse by priests have called on the Vatican to bar cardinals in the U.S. and elsewhere from participating in the selection of a new pope if they knew about priests that sexually abused juveniles but did not act to stop the abuse.
Francis DeBernardo, executive director of New Ways Ministry, a Maryland-based group that advocates for LGBT equality within the Catholic Church, told the Blade the unfolding gay sex scandal, if true, is due in part to the Vatican's harsh position on homosexuality.
"They have created a situation where people can't express their sexuality in healthy ways," he said. "They can't even deal with their sexuality in the open. So it creates a climate of suspicion and a climate of fear."
Jeannine Gramick is a Roman Catholic nun who co-founded New Ways Ministry and serves as national coordinator for the National Coalition of American Nuns. She told the Blade she is hopeful that the scandal would nudge the church into adopting a more tolerant position on gays.
"I think the impact it should have is to point out the hypocrisy of having a very negative stance about homosexual activity between loving persons and the private secret condoning of activity that is not in the context of a committed relationship," she said.
"So my hope is that it will bring about a re-examination of the church's approach to sexuality to become more realistic and honest," Gramick said.
WNBA players back petition for White House to 'prioritize' Brittney Griner's release
Phoenix Mercury center detained in Russia in February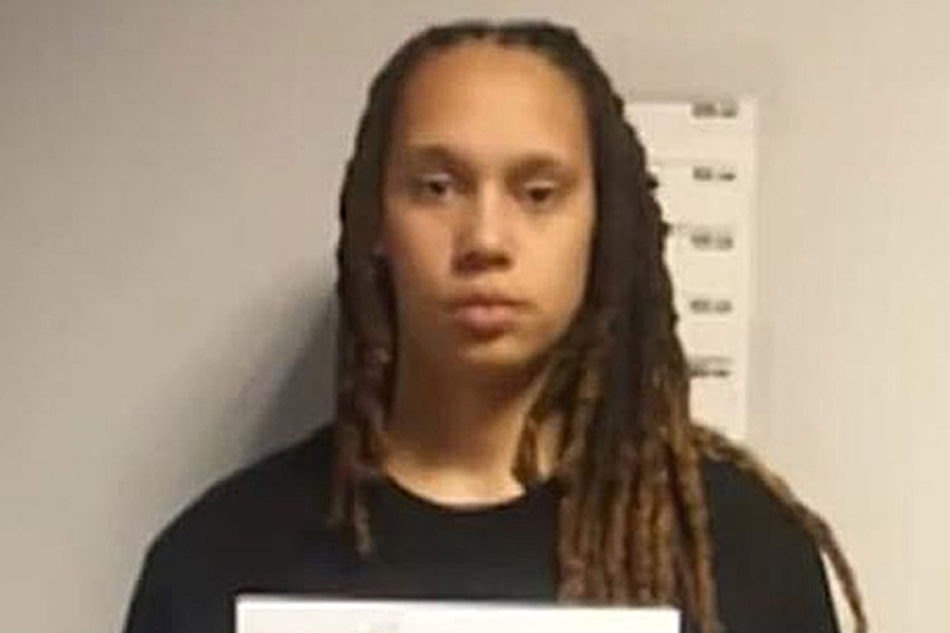 The Women's National Basketball Players Association has endorsed a petition that urges the Biden administration to "prioritize" WNBA star Brittney Griner's release.
"It is imperative that the U.S. government immediately address this human rights issue and do whatever is necessary to return Brittney home quickly and safely," reads the Change.org petition that Tamryn Spruill, a freelance journalist and author, created.
"The WNBPA and its members proudly join Tamryn Spruill, the creator of this petition, in demanding that lawmakers prioritize Griner's return," it continues. "White House and Biden adminsitration, we ask that you take action today—doing whatever is necessary—to bring Brittney Griner home swiftly and safely."
More than 135,000 people have signed the petition.
Spruill on Saturday in a tweet said the WNBPA, a union that represents WNBA players, partnered with them and Change.org "in demanding that our elected officials work urgently to gain BG's swift and safe release."
A new phase in the Brittney Griner/Change.org petition is underway! @TheWNBPA has partnered with me and @Change in demanding that our elected officials work urgently to gain BG's swift and safe release.

Details here:https://t.co/AHtb1DYcSI#WeAreBG

— Tamryn Spruill (@tamrynspruill) May 14, 2022
Griner — a center for the Phoenix Mercury and a two-time Olympic gold medalist who is a lesbian and married to her wife — was taken into custody at Moscow's Sheremetyevo Airport in February. Russian officials said customs inspectors found hashish oil in her luggage.
The State Department earlier this month determined Russia "wrongfully detained" Griner. A Russian court on Friday extended her detention for another month.
"The Russian system wrongfully detained Ms. Griner," then-White House Press Secretary Jen Psaki told reporters on Friday during her last White House briefing. "We take our responsibility to assist U.S. citizens seriously. And we will continue to press for fair and transparent treatment for all U.S. citizens when they are subject to legal processes overseas."

"Now, because the State Department recategorized her as wrongfully detained, it means that our Special Presidential Envoy for Hostage Affairs — it's quite a title but a well-deserved one — is going to be overseeing this case and leading the effort," added Psaki. "Because it's a deliberative process and we know from experience of bringing other Americans home, we're just not going to detail what those efforts look like at this point in time."
Griner faces up to 10 years in prison.
GOP Sen. Cynthia Lummis issues 'apology' after transphobic comments during graduation speech
"My reference to the existence of two sexes was intended to highlight the times- times in which the metric of biological sex is under debate"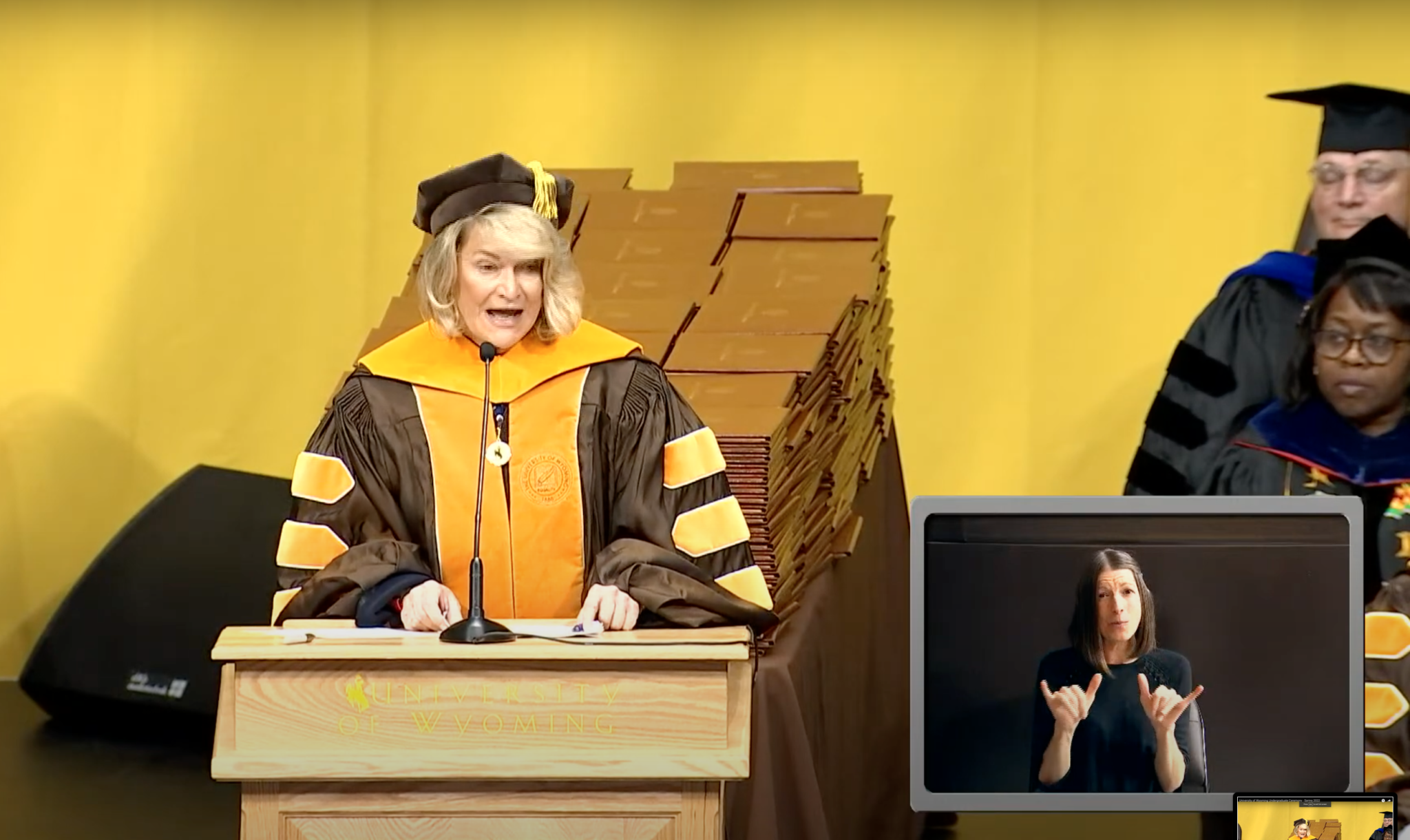 During her speech delivered to the University of Wyoming's College of Arts and Sciences and the College of Education commencement Saturday afternoon, Republican U.S. Senator Cynthia Lummis told graduates that "the existence of two sexes, male and female" was a "fundamental scientific truth."
The audience's immediate reaction to her transphobic remarks were loud expressions of disapproval including jeering, boos, and demands she leave the podium.
The senator's remarks came in the latter third of her twenty-minute address which had primarily focused on the critical need for teachers and in the fields of agriculture and other endeavors she noted were Wyoming hallmarks.
In a statement released by her office Sunday, a spokesperson noted that Lummis was apologizing to those who felt "un-welcomed or disrespected" by the comments.
"My reference to the existence of two sexes was intended to highlight the times in which we find ourselves, times in which the metric of biological sex is under debate with potential implications for the shared Wyoming value of equality," the statement read.
"I share the fundamental belief that women and men are equal, but also acknowledge that there are biological differences and circumstances in which these differences need to be recognized. That being said, it was never my intention to make anyone feel un-welcomed or disrespected, and for that I apologize. I have appreciated hearing from members of the University of Wyoming community on this issue, and I look forward to continuing this dialogue."
An Assistant Professor in the University of Wyoming's Sociology Program in the College of Arts and Sciences tweeted pointing out the graduate's reactions along with the fact that the UW campus community had recently lost a Trans student to suicide, making the senator's remarks more hurtful.
The university's president also issued a statement Sunday expressing support for all members of the UW campus and community:
May 15, 2022
To the UW community:
On Saturday, the university celebrated spring 2022 commencement with a series of events that showcased the best of what makes us special: our students, our staff, our faculty and our ability to openly embrace and debate complex issues. One of our speakers made remarks regarding biological sex that many on campus take issue with. While we respect the right of all to express their views, from students to elected officials, we unequivocally state that UW is an institution that supports and celebrates its diverse communities that collectively make us the wonderful place that we are.
Thank you to the many students and families who celebrated with us this weekend. We welcome the incredible individuality and intellect of all our dynamic and diverse students and never want you to feel otherwise.
Sincerely,
Ed Seidel, President
Being overtly anti-trans at graduation in the same year we lost a trans student to suicide (even if she was oblivious) is beyond cruel.

— Jenni Tabler, PhD (@jenni_tabler) May 14, 2022
Hi 👋. If you are interested in the response of our university. There is a lot of reflection required to support students and the broader state. But we are also people. I'm just a person who lost a student this year. I want all my students to feel seen and to live and thrive. pic.twitter.com/otSXPcc0WE

— Jenni Tabler, PhD (@jenni_tabler) May 16, 2022
Senator Cynthia Lummis' remarks are at the 50:11 time mark:
Task Force targets five battleground states in 'Queer the Vote'
LGBTQ rights organization raises over $15,000 at D.C. event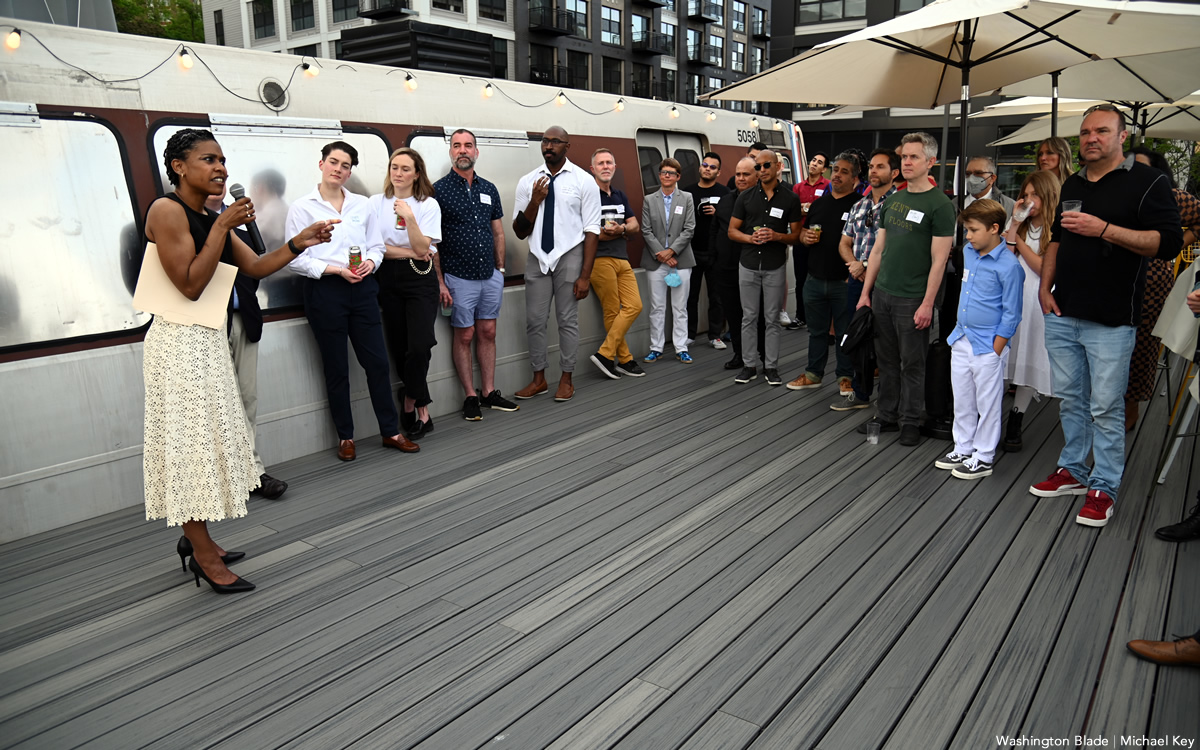 Nearly 50 people attended the National LGBTQ Task Force's Reunited and Resilient fundraiser at Metrobar on Friday, May 13.
Task Force board member Peter Chandler announced at the first in-person D.C. gathering of the organization since the start of the COVID-19 pandemic, "we all are thirsty and hungry for community right now."
Following remarks by Task Force Executive Director Kierra Johnson and Deputy Executive Director Mayra Hidalgo Salazar, the organization raised more than $15,000 in pledges of donations from guests.
"I think a lot of us are seeing this bill pop up," Salazar said, referring to Florida's "Don't Say Gay" law. "And some of us can feel hopelessness, but I'm really thrilled to share with you that the Task Force is super determined to make sure that we are driving the political power of the LGBT movement through our 'Queer the Vote' work in Florida."
Johnson elaborated on the Task Force's "Queer the Vote" initiative. "As we look to the 2022 midterms, the Task Force is moving our resources into civic engagement across five states: North Carolina, Texas, Florida, Ohio and Michigan," said Johnson.
"That's not by accident: that's intentional," continued Johnson. "These are battleground states. These are states where we are seeing not only attacks on LGBTQ issues, we're seeing attacks on abortion, we're seeing attacks on voting rights, we're seeing attacks on immigrants. We're seeing multi-front attacks on our people, and that's exactly where the Task Force wants to be: at those intersections of social justice issues and LGBTQ liberation."
"The states that we are going to — we could change the impact on elections. In some places the margin is one percent; it is a one percent margin of whether we win or lose. And the majority of states in this country are 10% LGBTQ voters. That plus BIPOC [Black, Indigenous, and people of color] voters, we have the power to impact elections and make real change."