Same-sex marriage supporters, opponents gather outside Supreme Court
Advocates on both sides of the issue held rallies in D.C.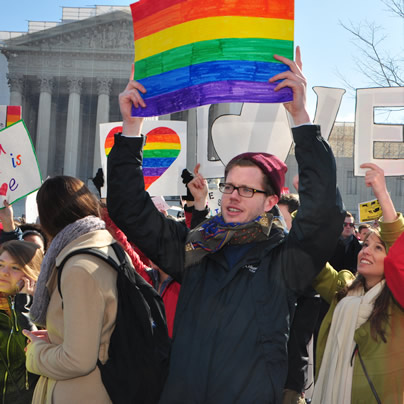 Supporters and opponents of marriage rights for same-sex couples gathered outside the U.S. Supreme Court on Tuesday as the justices heard oral arguments in a case that challenges California's Proposition 8.
Baltimore Ravens linebacker Brendon Ayanbadejo, OutServe-SLDN Executive Director Allyson Robinson, National Organization for Women President Terry O'Neill and gay retired New Hampshire Bishop V. Gene Robinson and his daughter Ella are among those who spoke at a rally in support of nuptials for gays and lesbians that drew a few thousand people.
Robinson also joined Rev. Dennis Wiley of Covenant Baptist Church of Christ in Southwest Washington, Rev. Abena McCray of Unity Fellowship Church in D.C., Sister Jeannine Gramick of New Ways Ministry in Mount Rainier, Md., Washington National Cathedral Dean Gary Hall and others at an interfaith service at the Lutheran Church of the Reformation near the Supreme Court earlier in the day.
"We all know that something special is happening here today," Republican strategist Margaret Hoover said. "That's why we are here in love to demonstrate that all Americans have the constitutional right and the freedom to marry the person they love."
D.C. Congressional Del. Eleanor Holmes Norton pointed out nine states and the nation's capital allow same-sex couples to marry.
"There are no second class citizens in America," Norton said. "There are no second class marriages in America.
Jo-Ann Shain and Mary Jo Kennedy of Brooklyn, N.Y., and their daughter Aliya Shain held a poster with a picture of Edie Windsor outside the Supreme Court, Windsor is the New York City widow who challenged the Defense of Marriage Act after she paid $363,000 in estate taxes in 2009 when her partner of more than 40 years passed away. The couple, who has been together for 31 years, in 2004 challenged the Empire State's same-sex marriage ban.
New York State Supreme Court Justice Doris Ling-Cohan in 2005 ruled the law was unconstitutional.
"This is a watershed moment for our community," Jo-Ann Shain told the Washington Blade before she, her wife whom she married in New York in 2011 after the state's same-sex marriage law took effect and their daughter held up their signs to shield members of the Westboro Baptist Church who had gathered on the sidewalk. "This is history in the making and we wouldn't miss it."
Baltimore resident Lucas McCahill, who is an organizer with the American Humanist Association, said the claim the United States is "a free country" is "actually a blatant lie." She told the Blade outside the Supreme Court the justices ruling in favor of marriage rights for same-sex couples would change that reality.
"It's just a part of my basic values to uphold equality for everybody, no matter who you are, what you look like," McCahill said.
David Pérez, president of the Latino GLBT History Project Board of Directors, agreed.
"We're really excited to be out here to support marriage equality," he said, noting his organization is among those that supported last year's campaign in support of referenda on Maryland's same-sex marriage law and DREAM Act that both passed. "We definitely want the justices to know the American people support marriage equality."
Same-sex marriage opponents march to Supreme Court
As same-sex marriage supporters spoke outside the Supreme Court, an estimated 2,000 opponents of nuptials for gays and lesbians marched onto First Street, N.E. Some held a large banner that read "Let the people decide," while others waved signs that said "Vote for holy matrimony" and "Children do better with a mom and a dad!" in Spanish.
Backers of nuptials for gays and lesbians gathered adjacent to the marchers and shouted slogans in support of the issue. Several of them held American, gay Pride and Human Rights Campaign flags as they squared off against the protesters.
"We're here in order to defend civil society from one of the greatest assaults that it's experienced in its history," Father Johannes Smith of New York told the Blade outside the Supreme Court. "The whole idea of homosexual marriage is an assault on the foundations of a sound society."
Christina Hughes, who traveled to D.C. from Miami to march against nuptials for gays and lesbians, said she feels marriage is "defined by God between a man and a woman."
"Who are we to try and change that," she said. "God is our creator and we should go by God's laws."
Roughly 1,000 same-sex marriage opponents attended a rally on the National Mall after they marched to the U.S. Supreme Court.
National Organization for Marriage President Brian Brown; Archbishop Salvatore Cordileone of the U.S. Conference of Catholic Bishops; Concerned Women for America President Penny Nance; Ruth Institute President Jennifer Roback Morse; American Values President Gary Bauer; New York State Sen. Ruben Diaz, Sr.; and Tami Fitzgerald, executive director of the North Carolina Values Coalition, are among those who spoke.
The Family Leader CEO Bob Vander Plaats noted Rev. Billy Graham and newly elected Pope Francis' opposition to same-sex marriage. He also spoke about the 2010 recall of the three Iowa Supreme Court justices who ruled a year earlier the Hawkeye State's ban on nuptials for gays and lesbians was unconstitutional.
"We saw what happened when a court usurps the obvious will of the people," Vander Plaats said. "What happened there is the people of Iowa listened and they responded and they responded with the historic ouster of all the judges in the 2010 election."
Bishop Harry Jackson of Hope Christian Church of Beltsville, Md., claimed marriage between a man and woman reduces poverty and rates of youth incarceration, domestic violence and sexual abuse.
"When a man and a woman are in the house, there is health, there is healing, there is peace, there is joy, there's security," he said. "There is the rule and reign of God in the house. One man, one woman is God's architectural plan so the desert places of urban America will bloom and blossom like a rose."
An ABC News/Washington Post poll released last week shows 58 percent of Americans support marriage rights for same-sex couples. The survey further indicates 52 percent of Republican and GOP-leaning independents between 18-49 back nuptials for gays and lesbians.
Brown and other same-sex marriage opponents sought to discredit polls that continue to show a majority of Americans now support the issue.
NOM Cultural Director Thomas Peters highlighted to the Blade a recent poll he did not identify that he said showed 60 percent of Americans "believe in the proposition that" marriage is between one man and one woman.
"In free and fair votes of the people in 31 states, we've won by over 60 percent," he said. "Even in states like Rhode Island we are arguing for a public vote. Proponents of gay marriage don't want the people to vote on it. I don't think that gay marriage advocates even believe their own polls because even in deep blue states they don't want to take the issue to the people."
Jo-Ann Shain said she feels public opinion is one of the factors the justices should consider as they weigh the issue.
"Although we're married in our state, we're not whole unless the feds recognize our marriages," she said.
U.S. Army considers allowing LGBTQ troops to transfer from hostile states
Proposed guidance remains in draft form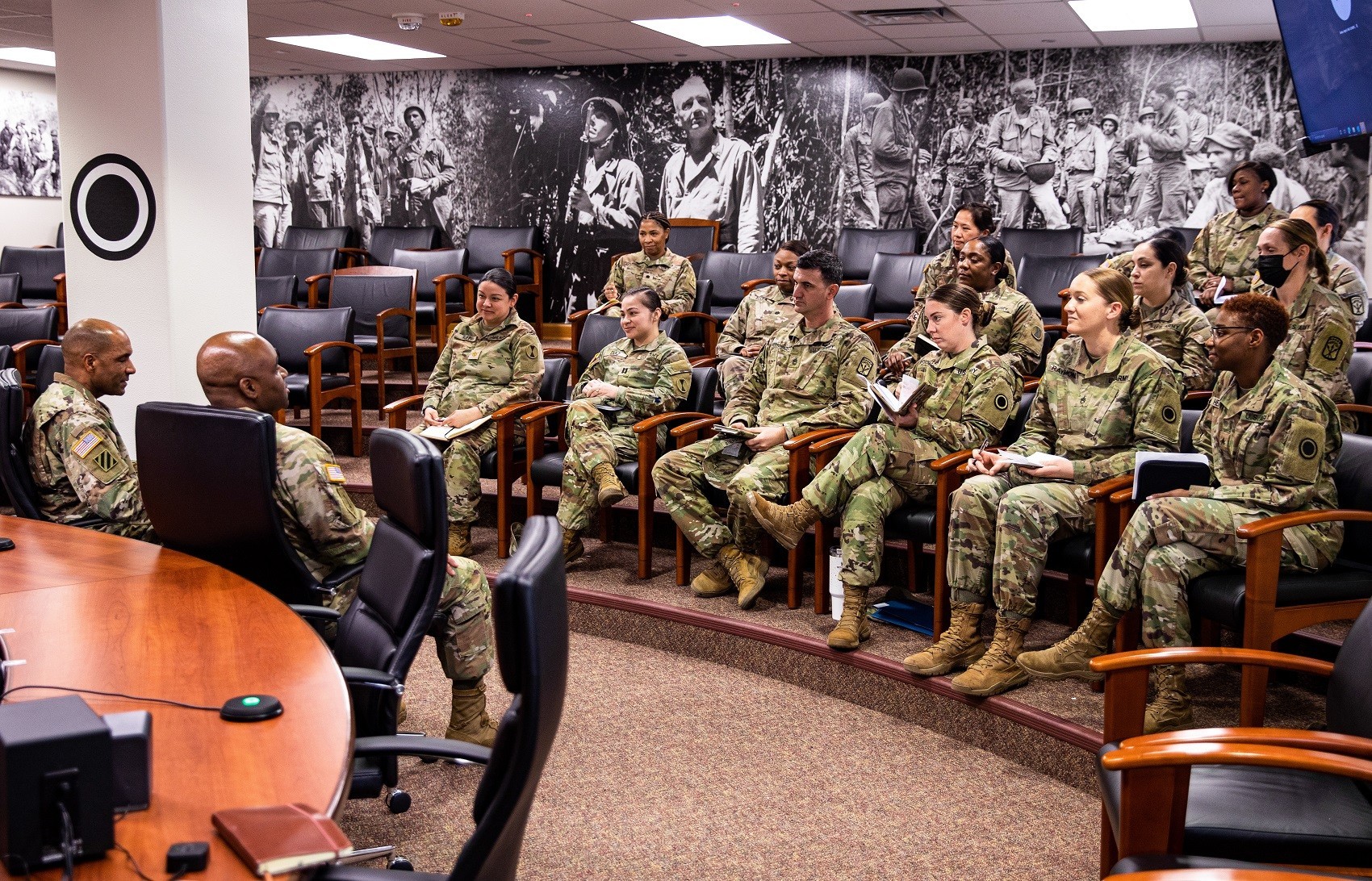 A draft policy is circulating among top officials of the U.S. Army that would allow soldiers to be able to request a transfer if they feel state or local laws discriminate against them based on gender, sex, religion, race or pregnancy.
Steve Beynon writing for Military.com reported last week the guidance, which would update a vague service policy to add specific language on discrimination, is far from final and would need approval from Army Secretary Christine Wormuth. But if enacted, it could be one of the most progressive policies for the Army amid a growing wave of local anti-LGBTQ and restrictive contraception laws in conservative-leaning states, where the Army has a majority of its bases and major commands.
"Some states are becoming untenable to live in; there's a rise in hate crimes and rise in LGBT discrimination," Lindsay Church, executive director of Minority Veterans of America, an advocacy group, told Military.com. "In order to serve this country, people need to be able to do their job and know their families are safe. All of these states get billions for bases but barely tolerate a lot of the service members."
This policy tweak to the existing Army regulations pertaining to compassionate reassignment would clarify the current standard rules, which are oft times fairly vague.
A source in the Army told Beynon the new guidance has not yet been fully worked out through the policy planning process or briefed to senior leaders including the Army secretary or the office of Defense Secretary Lloyd Austin.
"The Army does not comment on leaked, draft documents," Angel Tomko, a service spokesperson, told Military.com in an emailed statement. "AR 600-100 and 600-200 establish the criteria for which soldiers may request for a compassionate reassignment. The chain of command is responsible for ensuring soldiers and families' needs are supported and maintain a high quality of life."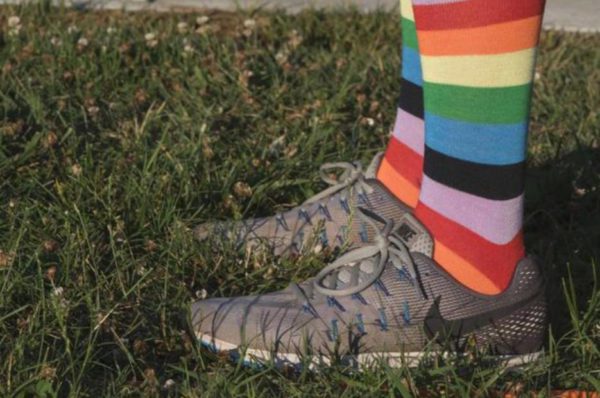 The Crystal City-based RAND Corporation had published a study on sexual orientation, gender identity and health among active duty servicemembers in 2015 that listed approximate six percent of LGBTQ troops are gay or bisexual and one percent are trans or nonbinary.
A senior analyst for RAND told the Washington Blade on background those numbers are likely much lower than in actuality as 2015 was less than four years after the repeal of 'Don't Ask, Don't Tell' and prior to when the Trump administration enacted the trans servicemember ban in 2017, which has had a chilling effect on open service.
The Biden administration repealed the Trump ban.
Another factor is that the current 18-24 year old troops colloquially referred to as "Gen Z" are much more inclined to embrace an LGBTQ identity and that would cause the numbers to be higher than reported.
Also factored in is uncertainty in the tweaking of policy in light of the recent leak of the draft U.S. Supreme Court decision that would effectively repeal Roe v. Wade.
According to Military.com it's unclear whether the Army's inclusion of pregnancy on the list would protect reproductive care for soldiers if Roe v. Wade is overturned. That language could be intended to protect pregnant service members or their families from employment or other discrimination, but could also be a means for some to argue for transfers based on broader reproductive rights.
One advocacy group pointed out that the current wave of anti-LGBTQ legislation will negatively impact the moral of service members:
"What we're seeing across the board is a small group of elected officials who are trying to politicize and weaponize LGBTQ identities in despicable ways. They're not only doing that to our youth, but the collateral damage is hurting our service members," Jacob Thomas, communications director for Common Defense, a progressive advocacy organization, told Military.com. "[Troops] can't be forced to live in places where they aren't seen as fully human."
How a pro-transgender memo sneaked through the Trump administration
2020 memo an outlier amid otherwise hostile policy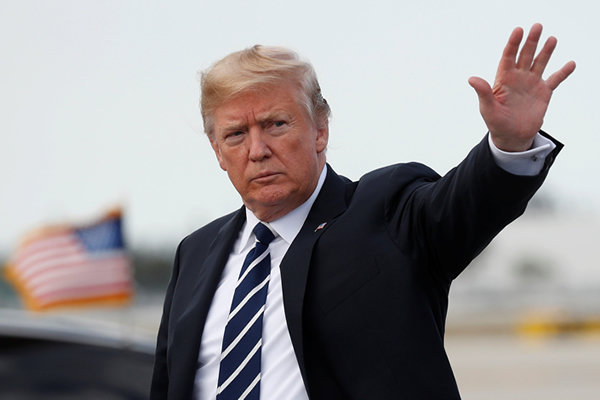 By the time the Trump administration ended, it had solidified a reputation for being hostile to transgender people — barring them from military service and reversing regulations aimed at ensuring non-discrimination protections regardless of gender identity — but one minor policy decision managed to sneak through affirming the acceptance of employees going through gender transition.
Top officials at the Defense Intelligence Agency, a company support agency for the U.S. government, outlined in a memo dated June 15, 2020 the process for employees and supervisors to "navigate transitioning while employed at the DIA." The document, which was not previously made available to the public, was obtained earlier this month by the Washington Blade through an appeal of a request under the Freedom of Information Act.
"Transitioning in the workplace is a personal decision," the memo says. "DIA encourages transitioning employees to openly communicate during the transitioning process; discuss plans for workplace transition with their supervisor or manager; and, as appropriate, include any steps that will prompt workplace changes (e.g., transitioning employees may begin using a different name or pronoun)."
Because the fundamental nature of a memo outlining steps to help employees in the workplace transition is contrary to the overwhelming anti-transgender outlook of the Trump administration, the DIA memo appears to have been an internal effort shielded from the White House at the time as opposed to a government-wide initiative.
The DIA guidance for transgender employees runs contrary to other sweeping Trump administration policies that sought to enable discrimination against transgender people, including the military policy former President Trump issued via Twitter in 2017 outright banning them from service "in any capacity."
Other anti-trans actions include the Department of Health & Human Services rescinding an Obama-era regulation that barred health care providers and insurers from discriminating against transgender patients, including the denial of transition-related care, which was orchestrated by then-director of Office of Civil Rights Roger Severino and came just days before the DIA memo.
Both the military ban and the health care rollback have since been reversed under the Biden administration.
Another Trump-era policy at a comparable scope to the DIA memo to employees, however, was the U.S. Office of Personal Management deleting on a page on its website outlining the guidance for accommodating federal workers going through the transition process. The DIA memo, which facilitates those transitions within that one agency, contradicts the message sent by the deletion of the OPM resource.
Although two sources familiar with the document told the Washington Blade it was timed for Pride month (which would be consistent with the June publication date), it would also be consistent with the U.S. Supreme Court's decision in Bostock v. Clayton County, which determined anti-LGBTQ discrimination is a form of illegal sex discrimination. After all, the Bostock decision came out on the same day as the date on the DIA memo.
A defense insider familiar with the DIA memo, who spoke on condition of anonymity, was among those who said the memo went out in recognition of Pride month and said it was intended to ensure there was guidance for transition at the agency.
"We had a number of different individuals who were going through the transition process and management needed to understand what the policy as they dealt with the individuals who were going through transition," the insider said.
The insider said production of the memo "wasn't part of any government wide effort" and completely within DIA. The memo, the insider said, wasn't creating any new policy for the agency, but "looking at existing policy, and then providing our manager and our workforce clear guidance."
Asked whether there was any backlash to the memo, the insider said, "No, I would say absolutely not." Once the guidance went out, the insider said, he "didn't hear anything from outside the organization" about it.
In response to a follow-up question on whether the White House or Pentagon under Trump expressed any objections to the guidance, the insider denied that was the case: "No one said anything to me about it."
Other highlights of the memo include options for diversity training to better understand transition-related issues; instructions to refer to employees by the name and pronoun of their choice; a reminder the Defense Intelligence Agency has no dress code, therefore employees are allowed to wear attire in the manner they choose; and a guarantee employees shall have access to restrooms consistent with their gender identity. Employees may transition without prior coordination, the memo says, or may do so while creating a transition plan that includes the date the transition will begin, whether time off is needed and how to discuss the situation with colleagues.
"Employees can use the restroom and other facilities that best align with their gender identity and are not restricted to use of a single-user restroom," the memo says. "Employees are not required to undergo or provide proof of any medical procedures to use restroom facilities designed for use by a specific gender."
Additionally, the document outlines the process for administrative record updates, including making a request for a gender marker changer through human resources, updating personnel files, and changing DIA and intelligence community badges and identification cards.
A DIA spokesperson, in response to email inquiries from the Washington Blade on the document, confirmed the memo was issued to coincide with Pride month and remains in effect to this day.
"Released jointly to the DIA civilian workforce by the DIA Chief of Staff, Equal Opportunity and Diversity Office, and Office of Human Resources, the memo titled 'Gender Transition in the Workplace for Civilian Employees' serves to notify DIA civilian employees of the Agency's position on supporting Lesbian, Gay, Bisexual, Transgender, Queer (LGBTQ) employees, including those taking steps to align themselves more fully with their gender identities," the DIA spokesperson said. "The memo was released in June 2020 to coincide with Pride Month and serves as active guidance."
In many cases, regulations and guidance would have to go through the White House Office of Management & Budget or Office of Information and Regulatory Affairs, but not necessarily, especially an internal memo to supervisors and employees to reinforce policy that purportedly was already in place.
A Trump White House official said he was unaware of the document until the Blade brought it to his attention and said it would not have come to the White House because it was never published in the Federal Register. The Office of Management & Budget didn't respond to the Blade's request to comment on whether it ever was brought to the attention of the White House at the time of its publication in 2020.
While regulations within U.S. agencies go to the White House for review and consultations, government agencies as well as businesses often consult transgender groups for assistance in developing guidance for transitioning in the workforce, such as the National Center for Transgender Equality.
Mara Keisling, a transgender advocate who served as executive director of the advocacy group during the Trump administration, said she was completely unaware of the memo until the Blade brought it to her attention, although DIA would have been "required by law" to have such a policy for transgender workers after the Supreme Court's decision in Bostock.
"We would have been happy to see it, but this was not the Trump administration doing something good," Keisling said. "This was HR bureaucrats, I don't mean bureaucrat in a bad way at all. This is HR bureaucrats following the law, and it clearly didn't rise to the level of the White House."
Keisling said she was unaware of any similar guidance for gender transition coming from a U.S. agency during the Trump administration. However, she disclosed her organization was able to work with federal workers to get "a couple of sneaky things done the White House didn't know about" consistent with the DIA memo, although she didn't elaborate.
"And super importantly, it's the intelligence community and defense and intelligence, which Defense Intelligence Agency obviously is both," Keisling said. "They have a little more autonomy than others anyway, so … if you told me there was something surprising from somewhere on a personnel issue, I would have guessed that it was somewhere in the intelligence report or Foreign Service community."
Texas to resume abuse investigations into families with trans children
"To be clear the Supreme Court has not directed Commissioner Masters & DFPS to continue investigating parents of trans youth for child abuse"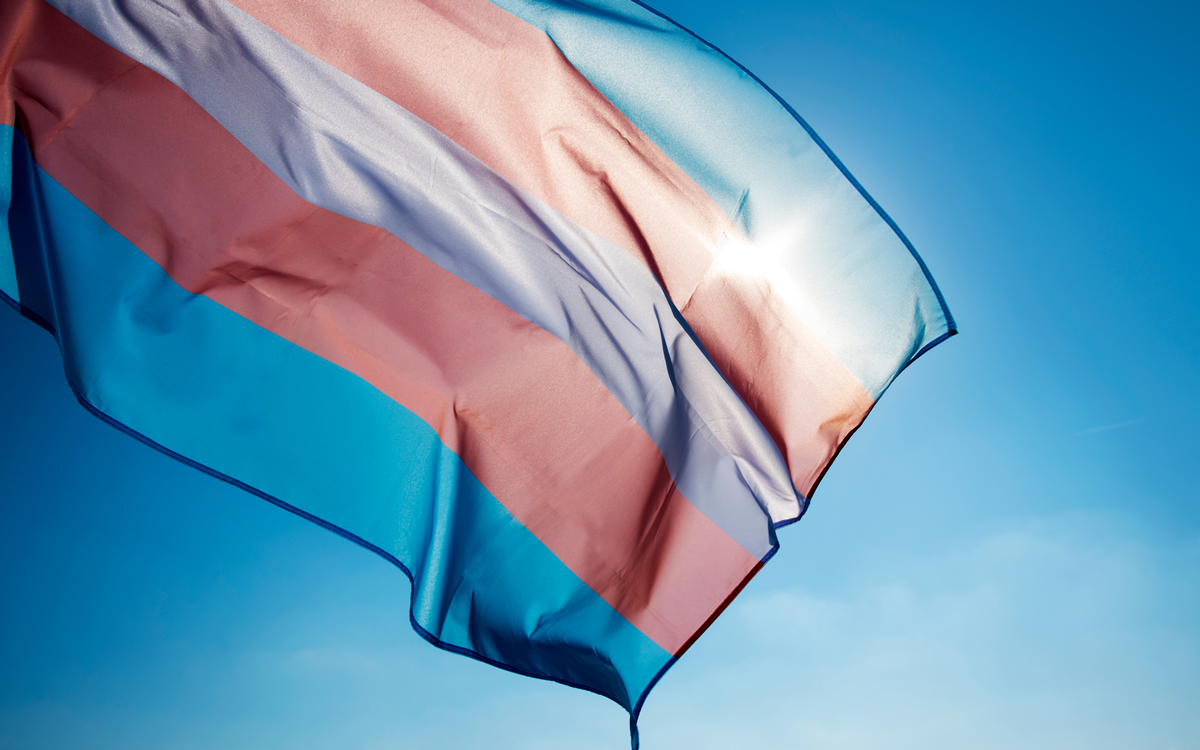 In a statement issued Thursday, the Texas Department of Family and Protective Services (DFPS) agency announced that it will resume abuse investigations into families with transgender kids.
"DFPS treats all reports of abuse, neglect, and exploitation seriously and will continue to investigate each to the full extent of the law," the statement read.
The Dallas Morning News reported that the DFPS statement, while not addressing the investigations into medical treatments for trans youth, indirectly indicated that these probes will now continue.
Current state law does not explicitly define gender affirming medical treatments, such as puberty blockers and hormone therapy as child abuse. A DFPS spokesman did not comment when asked if the agency plans to continue investigating such treatments as child abuse, the Dallas Morning News noted.
The Texas Supreme Court ruled last week that DFPS can continue to investigate families in the state who provide medically necessary care for their Trans children, excluding the parties in the litigation that brought the matter forward in a lawsuit filed in March.
In its decision, the court emphasized that neither Attorney General Paxton nor Governor Abbott has the power or authority to direct DFPS to investigate the provision of medically necessary lifesaving health care for transgender youth as child abuse. But the court limited the order blocking all investigations to the specific plaintiffs who filed suit.
Trans activist Landon Richie who has been deeply involved in the efforts to mitigate the anti-trans actions by Texas lawmakers and has led protests against the transphobic actions by Texas Governor Greg Abbott and Attorney General Ken Paxton told the Blade:
"To be clear, the Texas Supreme Court has not directed Commissioner Masters and DFPS to continue investigating parents of trans youth for child abuse. While the decision means now only the named plaintiffs in the lawsuit have protection, it reiterates that Attorney General Paxton's opinion and Governor Abbott's letter are not binding and not enforceable, meaning DFPS's actions moving forward are at the discretion of Commissioner Masters only and not the state leadership's directives. The Texas Supreme Court allowing for the district court to provide a temporary injunction is a good sign for people's protection.
It bears reminding families in Texas and around the country that today's decision (and yesterday's regarding gender-affirming care at UT Southwestern and Texas Children's) reaffirms what we already know: opinions are only opinions and the people in power cannot abuse that power to abuse trans people. We know decisions can change at a moment's notice and that this fight will take years, but to our families and communities under attack, please remain strong and take a moment to breathe. We're in this together. "
An employee of DFPS who was a litigant in the lawsuit is represented by the ACLU of Texas.
Brian Klosterboer, an attorney with the ACLU of Texas who is on the team representing that unnamed employee, said the state's decision to reopen the cases is unfortunate and unlawful. He said his team believes that the high court's decision removes any responsibility for Texans to report trans youth getting treatments, the Dallas Morning News reported.
"We are going to be closely monitoring what the agency does. We would encourage families that have any reason to believe that they have an investigation to seek legal help," Klosterboer said.
"Abbott's letter and Paxton's opinion did not change Texas law," he added. "Gender affirming health care is still legal in all 50 states."