Around the world, May 17 recognized as 'gay day'
LGBT activists from Albania to Uganda prepare to mark day against bias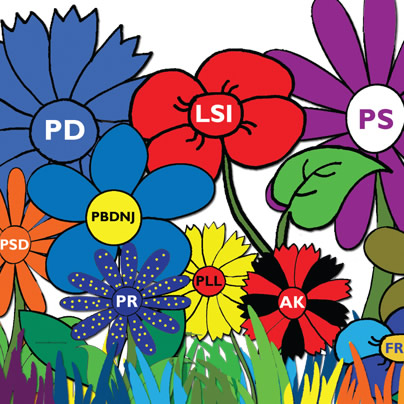 LGBT rights advocates in more than 100 countries around the world will commemorate the International Day Against Homophobia on May 17 with a series of marches, workshops, performances and other events.
Identoba, an LGBT advocacy group in Georgia, is planning a flash mob in front of the country's old Parliament building in the country's capital, Tbilisi, on May 17 during which participants will make a rainbow flag with their T-shirts. Botswanan playwright and activist Kalvin K. Kol-Kes is staging his play "BUTCHered" inspired by Mart Crowley's "Boys in the Band" that focuses on a group of friends who are predominantly lesbian.
Cuba's National Center for Sexual Education (CENESEX) has scheduled a series of events across Cuba to commemorate IDAHO. Nicaraguan advocacy groups will march through the streets of Managua, the country's capital, on May 17 to demand respect and what organizers describe as "dignified treatment" for LGBT people.
Washington National Cathedral in D.C. on May 17 will host a screening of the film "God Loves Uganda" and a panel discussion on the state of LGBT rights in the East African country. Thousands of people are expected to take part in a march for LGBT rights in San Juan, Puerto Rico, on the same day.
Zaque, an LGBT youth group in the Australian city of Ballarat in the country's Victoria state will hold a number of events to commemorate IDAHO. These include the launch of a new iPhone app.
"For the young people of Zaque, IDAHO is important because it is a day for them to stand up and be proud and say that homophobia is not OK," Ballarat City Councilor Belinda Coates told the Washington Blade. "It's a celebration of who they are and allows them to be leaders and educators within the community."
The Albanian LGBT advocacy group PINK Embassy will hold its second annual diversity festival in Tirana, the country's capital that will feature exhibits with messages and posters the group's general manager, Amarildo Fecanji, described to the Blade as a "short resume of what has been achieved so far."
Fecanji's group will also host panels that will examine media coverage of LGBT-specific issues and how they factor into Albanian politics and gay youth. Pink Embassy and other human rights organizations will also stage a diversity fair in the center of Tirana.
"Slowly but steadily May 17 is coming to be recognized as the gay day," Fecanji told the Blade when asked how he feels IDAHO bolsters his group's advocacy efforts in the southeastern European country. "That for people is an opportunity for society to sort of come together."
IDAHO first took place on May 17, 2005, to commemorate the World Health Organization's decision to declassify homosexuality as a mental disorder. Organizers have subsequently added transphobia and biphobia to their mission.
This year's IDAHO takes place against the backdrop of the recent extension of marriage rights to same-sex couples in France, New Zealand, Uruguay and several Brazilian states that include Rio de Janeiro. Gays and lesbians can also now legally tie the knot in nine U.S. states and D.C. and will soon be able to do so in Delaware and Rhode Island.
Canadian and Dutch lawmakers earlier this year approved a transgender rights bills, but anti-LGBT discrimination and violence remain pervasive throughout the world.
A report by the Latin American and Caribbean Network of Transgender Women (REDLACTRANS) released earlier this year notes 61 trans women in Colombia have been reported murdered between 2005-2011. Honduran advocate José Pepe Palacios told the Blade in February while he was in the United States that at least 89 LGBT people in the Central American country have been murdered since the 2009 coup that ousted José Manuel Zelaya.
The State Department in recent years has also spoken out against anti-LGBT violence in Jamaica, Uganda, Zimbabwe and other countries.
Identoba founder Irakli Vacharadze told the Blade violence against LGBT Georgians remains a serious concern. His group's flash mob will last only 20 minutes because he said "it's hard to guarantee" the security of those who will take part.
A group of men last week attacked a handful of people who protested the release of a video that showed men having sex with other men.
"This is the discourse in Georgia right now," Vacharadze told the Blade from Tbilisi. "It's so, so ugly that you can't rationally, reasonably argue with that. It's basically a fist coming in your face when you're displaying your belongingness to the community."
Vacharadze and other activists feel IDAHO only strengthens their advocacy efforts in spite of the threats they continue to face.
"I'm very happy with a day like May 17," Kol-Kes told the Blade last Friday from the Botswanan capital of Gaborone. "It gives you a point when you can actively state something."
Pedro Julio Serrano of the National Gay and Lesbian Task Force noted the march in the Puerto Rican capital on May 17 will coincide with the debate over three bills that would extend adoption rights to gays and lesbians; add sexual orientation and gender identity and expression to the island's domestic violence laws and ban anti-LGBT discrimination in employment, housing and public accommodations.
A hearing on the adoption bill is scheduled to take place in the Puerto Rico Senate hours before the march.
"We are in a historic moment and this day will help in the education of our people about the need achieve equality," Serrano said.
Two LGBTQ people named to Chilean president-elect's Cabinet
Gabriel Boric and his government takes office on March 11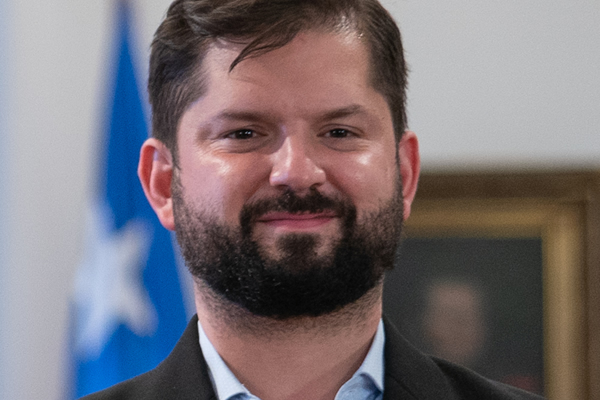 Chilean President-elect Gabriel Boric on Friday named two openly LGBTQ people to his Cabinet.
Marco Antonio Ávila, who is a gay man, will be the country's education minister. Alexandra Benado, who is a lesbian, will be Chile's sports minister.
Javiera Zúñiga, a spokesperson for Movilh (Movimiento de Integración y Liberación Homosexual), a Chilean LGBTQ rights group, applauded Boric for naming Ávila and Benado to his Cabinet.
"The visibility of sexual orientation and gender identity is no longer an impediment to access any position in Chile," said Zúñiga in a press release. "Sexual orientation and gender identity are irrelevant for the positions, whether they are public or private. Capability is the only thing that matters."
Boric and his government will take office on March 11. Chile's marriage equality law goes into effect the day before.
Lesbian couple murdered, dismembered in Mexico border city
Julissa Ramírez and Nohemí Medina Martínez killed in Ciudad Juárez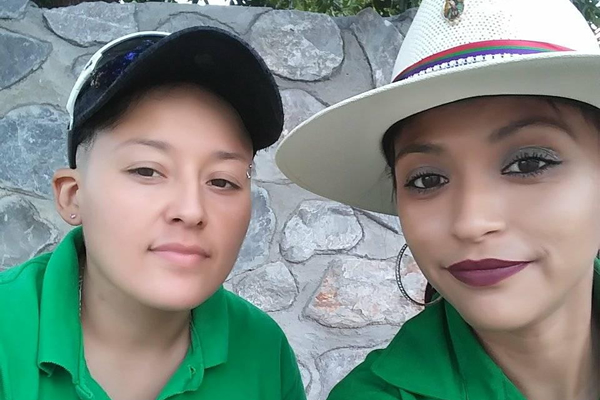 Authorities in the Mexican border city of Ciudad Juárez on Sunday found the dismembered bodies of a lesbian couple along a local highway.
The dismembered body parts of Julissa Ramírez and Nohemí Medina Martínez were found in plastic bags that had been placed along the Juárez-El Porvenir Highway.
El Diario, a Mexican newspaper, reported the married women lived in El Paso, Texas, which is across the Rio Grande from Ciudad Juárez. Authorities said relatives last spoke with Ramírez and Medina on Saturday afternoon.
A source in Ciudad Juárez with whom the Washington Blade spoke on Thursday confirmed Ramírez and Medina "were lesbian women" and their murder was "very violent."
Members of Comité de la Diversidad Sexual de Chihuahua, an LGBTQ rights group in the state of Chihuahua in which Ciudad Juárez is located, and Chihuahua Gov. María Eugenia Campos Galván are among those who have expressed outrage over the women's murders. Comité de la Diversidad Sexual de Chihuahua on Wednesday also urged local and state authorities to investigate whether the murder was a hate crime.
"People of sexual diversity are questioned, including their existence through heteronormative discourse," said the group in a statement. "They have the right to a life free of violence in which they exercise all their rights, in addition to living without fear or fear of rejection and aggressions that can unfortunately escalate to hate crimes."
EXHORTA SECRETARÍA DE GOBERNACIÓN A @MaruCampos_G A ACABAR CON LESBOFOBIA@SEGOB_mx a través de @CONAPRED y @CONAVIM_MX pidió al Gob del Estado que esclarezca el asesinato de Yulizsa y Nohemí…#JusticiaParaYulizsaYNohemi (1/3) pic.twitter.com/kLC7UNIoV2

— Comité de la Diversidad Sexual de Chihuahua (@DiversidadChih) January 19, 2022
El Diario reported Ramírez and Medina are two of the nine women who have been reported killed in Ciudad Juárez since the beginning of the year.
Personas de las Diversidades Afectivo Sexuales, an LGBTQ rights group in Ciudad Juárez, and feminist organizations on Thursday organized a protest during which participants demanded local, state and federal authorities do more to end to violence against women in the city. The press release that announced the demonstration specifically cited Ramírez and Medina.
"We seek justice and clarification in the murder of Nohemí and Yulissa, a lesbian couple who was found in Juárez-Porvenir Highway," it reads.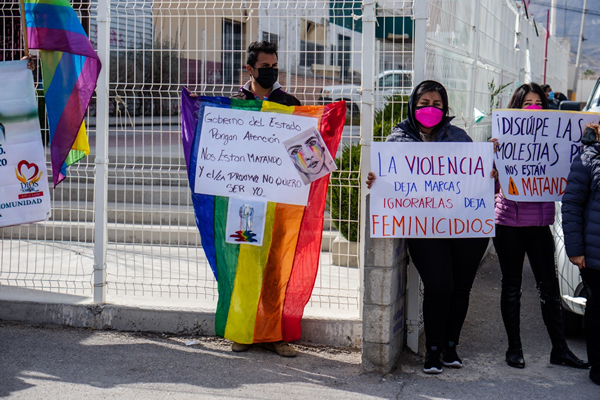 Transgender Mexicans receive amended birth certificates at country's consulates
New policy announced Wednesday in Mexico City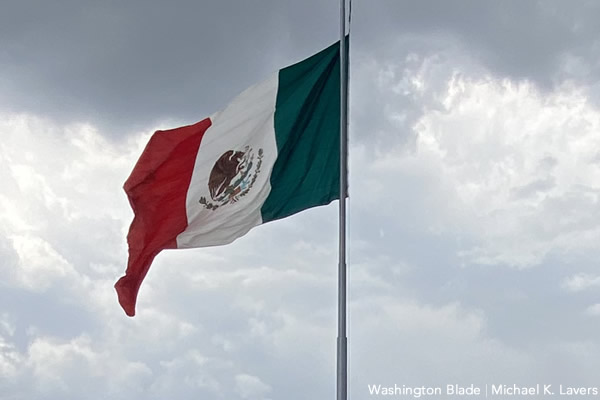 Mexico's Foreign Affairs Ministry on Wednesday announced transgender people who were born in Mexico can receive an amended birth certificate at any of the country's consulates.
Foreign Affairs Secretary Marcelo Ebrard is among those who spoke at a ceremony at the Foreign Affairs Ministry in Mexico City where he and other officials detailed the policy. Trans Congresswomen Salma Luévano and María Clemente García attended alongside Sen. Malú Micher, trans activist Jessica Marjane, Global Equality Caucus Deputy Director Aron Le Fevre and Amicus Director Juan Pablo Delgado are among those who attended.
Amicus, an advocacy group that is based in the state of Guanajuato, represented two trans Mexicans who brought legal action after consulates in the U.S. denied their request for birth certificates that correspond with their gender identity.
Victory Institute International Programs Manager Mateo de la Torre in 2019 sought legal recourse, known as an "amparo" in the Mexican judicial system, after the Mexican Consulate in D.C. said it could not change the sex on his birth certificate.
Delgado earlier this week told the Washington Blade during a telephone interview from Guanajuato that one judge asked De La Torre to file his "amparo" in person in Tijuana because his signature did not correspond with the one on his Mexican ID. Delgado said a trans woman from Guanajuato filed her own "amparo" in 2021 after the Mexican Consulate in Houston said it could not issue her an amended birth certificate.
Trans Mexicans who want to receive an amended birth certificate need to provide their original document, but Delgado told the Blade that consulates can access them through a data base. De La Torre on Wednesday received an amended birth certificate at the Mexican Consulate in D.C.
"This birth certificate comes after a decade of living in my truth as a transgender man and after years of advocating for my right to be recognized as such," De La Torre told the Blade. "In Mexico and abroad, many trans people face discrimination, violence and endless bureaucratic hurdles in their fight for legal recognition, and after all this time I am most grateful for the ability to vote in my country's elections."
"This new process has the possibility of being life saving for many of our most vulnerable community members, and I will continue to advocate for the day that all trans people living in Mexico are also afforded the right to a process that is free of discrimination and based on self-attestation," added De La Torre.
Delgado described the new policy as "a great advancement towards the recognition of gender identity" in Mexico.
"It's a super important advancement," said Delgado.
Delgado noted Mexico City and 18 of Mexico's 32 states currently allow trans people to receive birth certificates that correspond to their gender identity.
The Mexican Senate has passed a bill that would codify the Foreign Affairs Ministry policy into law. The measure is now before the Mexican Chamber of Deputies, which is the lower house of the country's Congress.