Jamaican LGBT advocates condemn murder of cross-dressing teenager
17-year-old reportedly stabbed to death during party near Montego Bay
Jamaican LGBT rights advocates have expressed outrage over the reported murder of a cross-dressing teenager near the resort city of Montego Bay.
The radio station Irie FM reported the 17-year-old was dancing with a man at a party on July 21 while dressed as a woman when someone realized the teen was cross-dressing. A second man reportedly discovered the teenager was actually male.
Irie FM said a group of party-goers stabbed the 17-year-old to death either late on July 21 or early Monday morning before dumping the teen's body in bushes on the side of a road.
The Jamaica-Gleaner reported earlier today that police officers found the teen, whom they identified as Dwayne Jones, with what it described as "multiple stab wounds and a gunshot wound."
"We send our sincere condolences to the family and friends of the teenager who was slain," the Jamaica Forum for Lesbians All-Sexuals and Gays (J-FLAG,) a Jamaican LGBT rights group, said in a statement it issued on Tuesday. "We call for a thorough investigation into the murder of the teenager in Montego Bay and hope that the family and loved ones of the slained teen will find the justice they deserve."
Jones' murder comes against the backdrop of pervasive anti-LGBT violence in the Caribbean nation.
A J-FLAG report said the organization knows of at least 30 gay men who have been murdered in Jamaica between 1997 and 2004.
A man stabbed J-FLAG co-founder Brian Williamson to death inside his home in Kingston, the country's capital in 2004. Former J-FLAG executive director Gareth Henry sought asylum in Canada in 2008 after he received death threats.
Authorities found honorary British consul John Terry strangled to death inside his home near Montego Bay in 2009. They found a note left next to his body that referred to him as "batty boy," a derogatory term used against gay men in Jamaica.
Maurice Tomlinson, a Jamaican lawyer with the group AIDS-Free World who fled his homeland in 2012 after he received death threats after local media reported he had married a Canadian man, told the Washington Blade from his home in upstate New York that there have been nine reported anti-gay murders on the island so far this year. He added there has been a 400 percent increase in the number of reported attacks against LGBT Jamaicans since 2009.
Tomlinson said this spike in the number of reported incidents could be the result of the work advocates have done to document human rights abuses against LGBT Jamaicans.
The Jamaica Supreme Court last month heard a lawsuit that challenges the island's anti-sodomy law under which those who are convicted face up to 10 years in prison with hard labor.
"The rhetoric is getting much more toxic," Tomlinson said, noting brutal attacks against gay Jamaicans has become more common. He said they are no longer confined to just Kingston and a handful of other areas. "We're not sure if the increase in attacks is a function of that or the reporting."
The State Department, Amnesty International and other groups have criticized the Jamaican government for not doing enough to curb anti-LGBT violence in the country.
AIDS-Free world has challenged Jamaica's anti-sodomy law before the Inter-American Commission on Human Rights in D.C. It has also asked the group that is housed within the Organization for American States to formally respond to the ongoing persecution that homeless men who have sex with men and other vulnerable groups of gay Jamaicans face.
Tomlinson's group also plans to ask the United Nations High Commissioner for Human Rights to formally condemn discrimination and violence against LGBT Jamaicans.
The Organization of American States, of which Jamaica is a member, last month adopted an anti-discrimination resolution that includes sexual orientation and gender identity and expression during its annual meeting that took place in Guatemala. Jamaica declined to accept the protocol's LGBT-specific recommendations.
Tomlinson, who appeared on the National Public Radio program "Tell Me More" with Michel Martin on Monday to discuss the documentary "The Abominable Crime" that examines anti-LGBT violence in Jamaica, told the Blade the government has been "absolutely silent" on the issue.
Former J-FLAG staffer Nico Tyndale's cousin was murdered in Jamaica earlier this year because his assailants thought he was gay.
Tyndale told the Blade earlier on Tuesday that many people continue argue the country is not homophobic – and gay Jamaicans are actually "the ones killing ourselves."
"We can't even be who we are," Tyndale said. "Being who we are only leads to a mob and a slaughter."
Over 100 LGBTQ-themed books in a Florida school district labeled with advisory warning
They warn: "this book has been identified by some community members as unsuitable for students."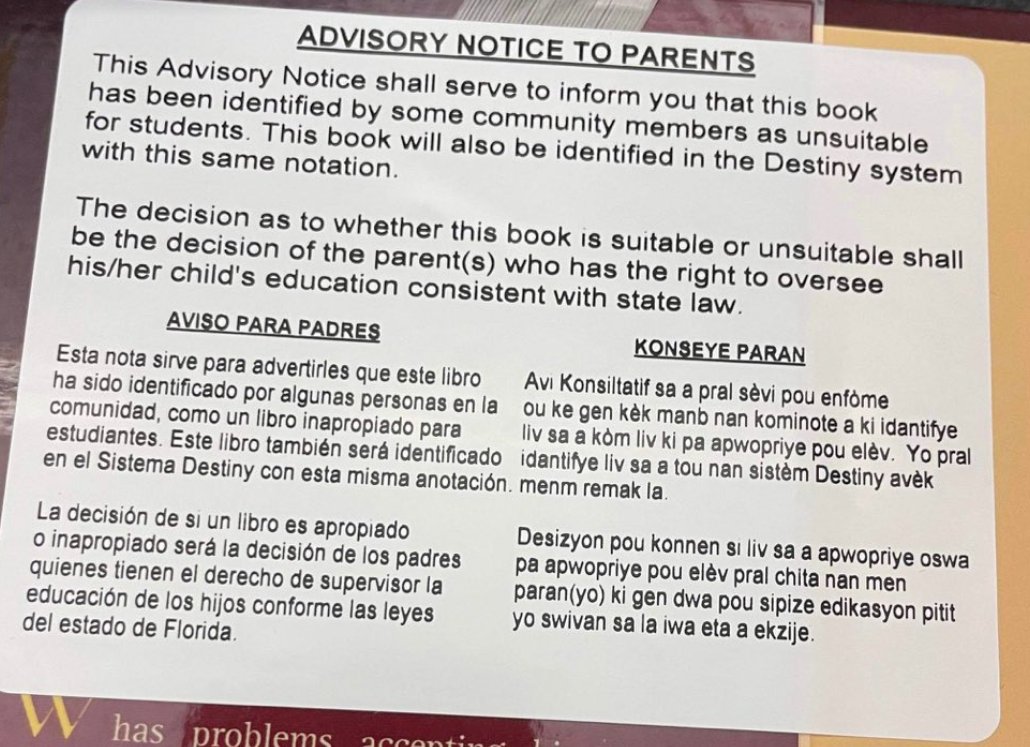 A southwest Florida district put parental "advisory notice" on over 100 books, many of which are race or LGBTQ-themed. 
A great number of books in Collier County Public Schools, either digital or physical, now have warning labels writing "Advisory notice to parents," according to an NBC report,
The label, tweeted by nonprofit free-speech-promoting group PEN American, states, "This Advisory Notice shall serve to inform you that this book has been identified by some community members as unsuitable for students. This book will also be identified in the Destiny system with the same notation. The decision as to whether this book is suitable or unsuitable shall be the decision of the parent(s) who has the right to oversee his/her child's education consistent with state law." 
The labels appear digitally in the library records & physically on the books. They warn: "this book has been identified by some community members as unsuitable for students." Apparently, a lot is 'unsuitable'. Even Everywhere Babies by Susan Meyers & illustrated by @MarlaFrazee. pic.twitter.com/wA5fT5fjLr

— PEN America (@PENamerica) August 5, 2022
Stephana Ferrell, co-founder of the Florida Freedom to Read Project, which means to fight book banning, told NBC that she had a call from Elizabeth Alves, the associate superintendent of teaching and learning for Collier County Public Schools. In the call, Alves told her that the district added the labels starting in February. 
These measures, which Alves described as a "compromise," happened after the district's legal representative talked with the Florida Citizens Alliance, a conservative group which initiated a "Porn in Schools Report" project last year. The report included a list of books that "promote gender self-identification and same-sex marriage" as well as titles that include "indecent and offensive material," as the group explained.
Chad Oliver, the Collier County Public Schools spokesperson, on the other hand offered a different story.
Oliver sent an email to NBC News and said, "Based upon advice from the General Counsel, we placed advisory notices on books about which parents and community members had expressed concern and in accordance with the recently passed Parents' Bill of Rights Law (HB 241)."
The law referred by Oliver is also known as the "Don't Say Gay" law.
According to PEN America, there are 110 labeled books in total, and the list greatly overlaps with the one Florida Citizens Alliance inquired about with Collier County Public Schools. 
Rep. Sean Patrick Maloney introduces bill to make monkeypox testing free
Health insurers would be required to cover costs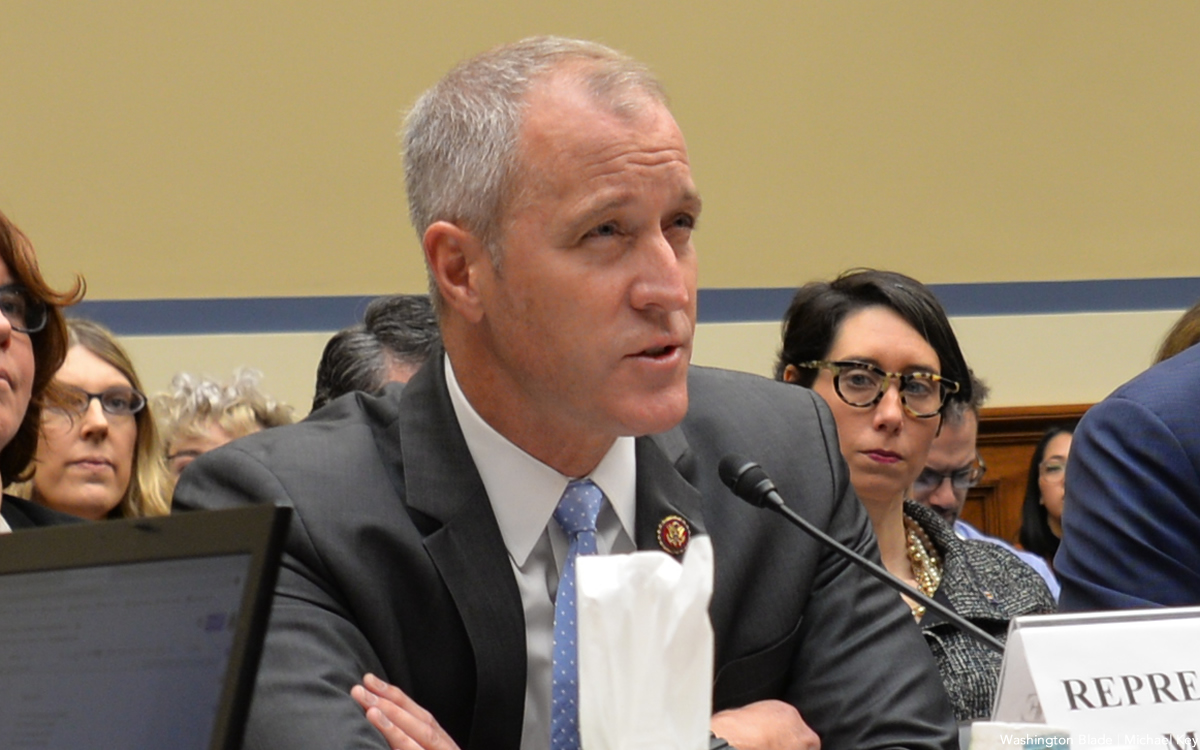 Rep. Sean Patrick Maloney (D-N.Y.), amid the ongoing monkeypox affecting gay and bisexual men, has introduced legislation in the U.S. House seeking to make testing for disease free to the public.
Maloney, one of seven openly gay members of Congress and chair of the Democratic Congressional Campaign Committee, said in a statement the measure, called the No Cost for Monkeypox Testing Act, would testing amid the monkeypox outbreak would be accessible to all.
"It is critical that we eliminate cost as a barrier to testing for monkeypox to ensure we can identify cases and prevent further spread," Maloney said. "This legislation takes the lessons we learned from past public health emergencies and protects those at risk of contracting monkeypox by making tests accessible to everyone."
The legislation would require private health insurers as well as Medicare and Medicaid to cover the costs of monkeypox testing at no expense to the patients, either through deductibles, co-payments, and co-insurance.
The bill introduction comes the week after the Biden administration declared the monkeypox outbreak a public health emergency and the same it has issued new guidance to enhance to the accessing of existing vaccines doses amid criticism federal officials were too slow in distributing shots.
The Washington Blade has placed a request in with the Centers for Disease Control seeking comment on the legislation. Secretary of Health & Human Services Xavier Becerra said Tuesday the federal government has the capacity to conduct an estimated 80,000 tests each week.
Maloney has been representing New York's 18th congressional district, but after redistricting is now seeking re-election in the 17th district. Amid controversy over a potential showdown between Maloney and Rep. Mondaire Jones (D-N.Y.), who's Black, another openly gay member of Congress and the current representative of that district, Jones has since opted to run for re-election in the New York's 10th congressional district. Maloney is now running unopposed in the 17th.
Out Vermont state senator wins Democratic primary race
Tuesday's victory makes her likely to become the first woman and openly LGBTQ+ person to represent the heavily Democratic state in Congress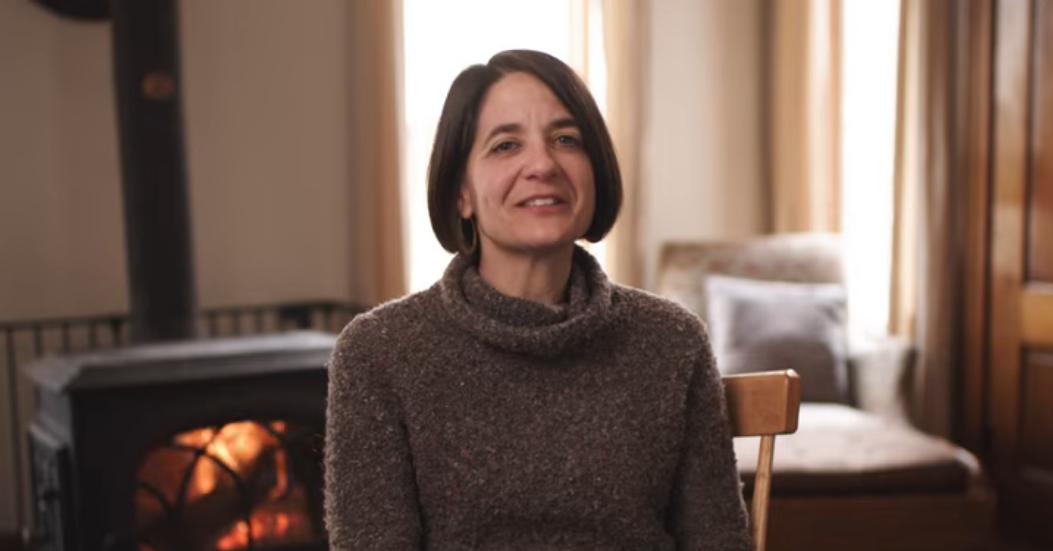 The Green Mountain State's state Senate president pro tempore has won the Democratic nomination for the state's at-large congressional seat, the state's lone seat in the U.S. House of Representatives.
Becca Balin is running to succeed U.S. Rep. Peter Welch and Tuesday's victory makes her likely to become the first woman and openly LGBTQ+ person to represent the heavily Democratic state in Congress if elected in November. Vermont is the only state that has never had a female member of its congressional delegation.
The VTDigger, a statewide news website, reported; "Balint, 53, is the first openly gay woman elected to the Vermont Senate and the first woman to serve as its president. The former middle school teacher and stay-at-home mother won her first political contest in a race for her southeastern Vermont Senate seat in 2014.
She rose quickly through the ranks of the Democrat-controlled chamber, becoming majority leader in 2017, at the start of her second term. Four years later, in 2021, she was elected pro tem — the top position in the Senate."
Becca Balint, the president pro tempore of the Vermont Senate, has won the Democratic primary for the state's open congressional seat. She could become the first woman and the first openly gay person to represent the state in Congress. https://t.co/RaAgwmtQJD

— The Associated Press (@AP) August 10, 2022