Russia boycott calls divide LGBT activists
Group protested country's gay rights record outside Russian embassy in D.C.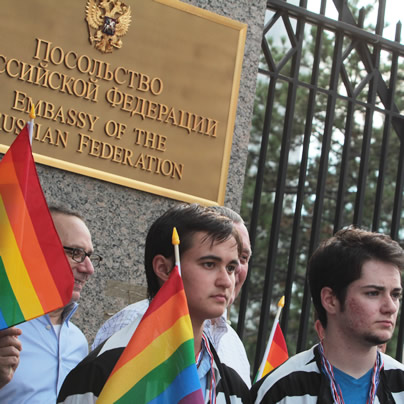 LGBT rights advocates remain divided over calls to boycott the 2014 Winter Olympics in Russia and Russian vodka in response to the country's gay rights record.
Author Dan Savage, LGBT rights advocate Cleve Jones and the group Queer Nation last week launched the "Dump Russian Vodka" campaign that calls for a boycott of Stoli, Russian Standard and other Russian vodka brands. The campaign also urges the U.S. and other countries to boycott the 2014 Winter Olympics that will take place in Sochi, Russia, in February.
"Do not drink Russian vodka," Savage said in an op-ed in the Stranger, a weekly newspaper in Seattle, published on July 24. "Do not buy Russian vodka. Ask your bartender at your favorite bar — gay or otherwise — to DUMP STOLI and DUMP RUSSIAN VODKA."
Russian President Vladimir Putin in recent weeks signed a broadly worded law that bans the promotion of so-called gay propaganda to minors and a statute that bans foreign same-sex couples and any couple from a country in which gays and lesbians can legally marry from adopting Russian children. LGBT rights groups are among those that face fines under a law that requires non-governmental organizations that receive funding from outside Russia to register as a "foreign agent."
About a dozen LGBT rights advocates gathered in front of the Russian embassy in Northwest D.C. to protest the country's anti-LGBT rights record on Wednesday.
Larry Poltavtsev of Spectrum Human Rights was among those who attended.
"We're here today to protest LGBT human rights violations in Russia," he said.
The anti-gay laws have come into effect against the backdrop of increasing anti-LGBT discrimination and violence in Russia.
Two men in the southern Russia city of Volgograd and on the Kamchatka Peninsula in the country's Far East have been killed in recent months during what local authorities have described as anti-gay attacks.
Police in St. Petersburg on June 29 arrested 40 LGBT activists and a handful of nationalists who confronted them during a gay rights rally. Authorities in the Russian capital in May arrested 30 LGBT rights advocates who tried to stage a Pride celebration outside Moscow City Hall.
Authorities in the city of Murmansk on July 21 took into custody four Dutch LGBT rights advocates who were filming a documentary about gay life in Russia. A St. Petersburg appellate court on July 25 overturned a lower court's ruling that fined Coming Out, a local LGBT advocacy group, 500,000 rubles or slightly more than $15,202 for violating the "foreign agent" law.
Russian advocate: Boycott will have no effect
Gay bars in Seattle, Chicago, London and other cities have already begun to remove Stoli and other Russian products from their shelves. Gay City News reported a handful of ACT UP members protested a Stoli event at a gay bar in New York City on Tuesday night.
Gay bars in D.C. have thus far not indicated they will participate in the boycott.
Cobalt had been scheduled to host a Stoli-sponsored event for the website GayCities on Thursday, but the company postponed it.
The company did not return the Blade's request for comment.
Val Mendeleev, CEO of SPI Group, Stoli's parent company, said in a July 25 statement from Luxembourg the Russian government does not own the brand. He acknowledged the vodka contains Russian ingredients, but it is distilled in a factory in neighboring Latvia.
Mendeleev further pointed out SPI Group has supported a number of pro-LGBT groups and initiatives. These include Pride celebrations in South Africa and Austria and its "Most Original Stoli Guy" partnership with Gaycities.com.
"Stoli firmly opposes such attitude and actions," Mendeleev said in response to growing concerns over Russia's gay rights record. "As a company that encourages transparency and fairness, we are upset and angry."
Nikolai Alekseev of Gay Russia, an LGBT advocacy group, told the Washington Blade from Moscow on Tuesday he feels a boycott of Russian vodka will "not have an effect."
"The real target of this protest should be the politicians who are behind these initiatives," he said.
Actor and playwright Harvey Fierstein called for a Sochi boycott in an op-ed the New York Times published on July 21.
Gay Olympic diver Greg Louganis, who was unable to compete in the 1980 Summer Olympics in Moscow because then-President Jimmy Carter boycotted them over the Soviet Union's invasion of Afghanistan the year before, told Frank Bruni of the New York Times on July 28 that he feels athletes should have the opportunity to compete in Sochi in spite of Russia's LGBT rights record. Retired tennis champion Martina Navratilova; the LGBT advocacy groups All Out and Athlete Ally and Cyd Zeigler, Jr., co-founder of OutSports, are among those who also oppose a boycott of the Sochi games.
"We want to encourage and support athletics, particularly the Olympics, and feel that a boycott would only hurt the athletes," Hudson Taylor, executive director of Athlete Ally, told the Blade on Tuesday. "We understand the rationale behind a boycott, but are also cognizant that our call for a boycott could result in negative ramifications and backlash for regional LGBT and ally organizations in Russia."
State Department spokesperson Jen Psaki on July 26 said the U.S. does not support calls to boycott the Sochi Olympics.
"That's certainly not what we're calling for," she told reporters during her daily briefing in response to the Blade's question about Russia's LGBT rights record.
Gay athlete to wear rainbow pin in Sochi
Blake Skjellerup, a gay short track speed skater from New Zealand who plans to compete in Sochi in spite of the calls to boycott the games, last week announced he will wear a gay Pride pin during the Olympics.
He stressed to the Blade his decision is "not about defiance."
"Wearing a Pride pin is about humanity and unity," Skjellerup said. "It's about representing something that is very important to me, and standing up for those who cannot stand up or help themselves."
The Human Rights Campaign said in a July 24 letter to NBC Universal that the network has "a unique opportunity — and a responsibility — to expose" what it described as the "inhumane and unjust" anti-gay propaganda law during its coverage of the Sochi games. Mark Lazarus, chair of NBC's sports group, deflected questions about his network's potential coverage of Russia's LGBT rights record during a presentation at the Television Critics Association gathering in New York City over the weekend.
The International Olympic Committee has assured gay athletes and others who travel to Sochi that authorities will not arrest them under the Russia's anti-gay propaganda law. Vitaly Milonov, a St. Petersburg lawmaker behind the city's gay propaganda to minors ban that took effect in 2012, told the Interfax news agency on Tuesday he has not heard of any plans to suspend the national statute during the games.
"If a law has been approved by the federal legislature and signed by the president, then the government has no right to suspend it," Milonov said, according to Gay Star News. "It doesn't have the authority."
Officials urged to ban Russian lawmakers from U.S.
Alekseev and other Russian LGBT rights advocates have launched a petition on the White House's website that urges the U.S. to ban Milonov and Elena Mizulina, a Russian Parliamentarian who co-sponsored the national gay propaganda ban, from entering the country. It has received 4,775 signatures as of late on July 30.
"This is the way forward because these people are the real people behind the homophobic legislation," Alekseev told the Blade.
Jamaica man attacked after using gay dating app
Victim's penis partially severed before he was set on fire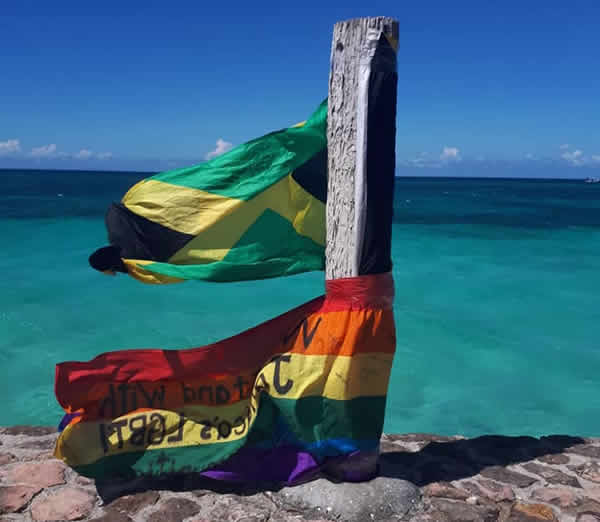 An 18-year-old man in Jamaica remains hospitalized in critical condition after he was targeted on a gay dating app.
The Jamaica Gleaner reports the victim on Oct. 11 went to a neighborhood in Montego Bay, a resort city that is the capital of Jamaica's St. James Parish, to meet the man with whom he was speaking.
The newspaper reports the man and two other men abducted the victim, robbed him and partially severed his penis before they set him on fire. Officials said the three men took his cell phone and used his bank card to withdraw money from his account.
"He is a very lucky young man because although they left him in a critical condition, he managed to make his way to a security checkpoint in the community where they assisted him to the hospital, where he was admitted in critical condition," a local police officer told the Jamaica Gleaner.
The Jamaica Gleaner reported a 43-year-old man in St. James Parish disappeared in January 2020 after he went to meet someone with whom he had spoken on a gay dating website. Authorities later found the man's body, and two men have been charged with his murder.
Violence against LGBTQ Jamaicans remains commonplace. Consensual same-sex sexual relations also remain criminalized in the country.
J-FLAG, a Jamaican LGBTQ rights group, has condemned the latest attack.
"Like all well-thinking Jamaicans at this time, JFLAG is outraged at the recent attack on an 18-year-old man in St. James," tweeted J-FLAG on Sunday. "His attackers must be brought to justice."
‼️TRIGGER WARNING‼️

This is not the time for victim-blaming nor slut-shaming. Justice is our only focus at this time. We appeal to community members, allies and every other Jamaican who may have information to make a report to the police. pic.twitter.com/Lmz6lYAY5s

— Equality Jamaica (@EqualityJa) October 17, 2021
Colin Powell, leaving mixed legacy on 'Don't Ask, Don't Tell,' dies at 84
Key figure once opposed gays in military, then backed review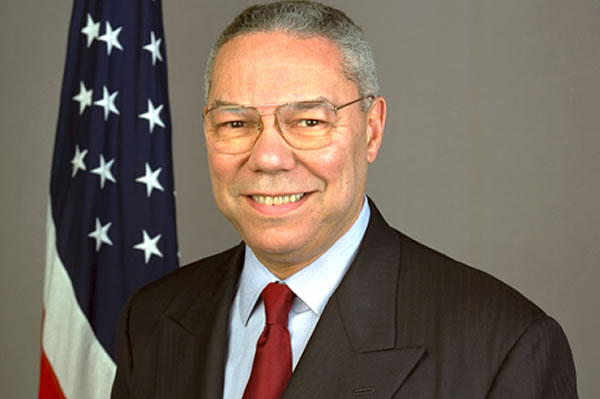 Colin Powell, the first ever Black secretary of state who served in top diplomatic and military roles in U.S. administrations, died Monday of coronavirus at age 84, leaving behind a mixed record on "Don't Ask, Don't Tell."
The world continues to grapple with the pandemic and the public grows increasingly frustrated with its persistence as many remain unvaccinated despite the wide availability of vaccines. Powell was fully vaccinated, according to a statement released upon his death. Powell reportedly suffered from multiple myeloma, a condition that hampers an individual's ability to combat blood infections.
Rising to the top of the military as chair of the Joint Chiefs of Staff, Powell supported in 1993 Congress moving forward with "Don't Ask, Don't Tell," a law that barred openly gay people from serving in the U.S. military.
During a key moment congressional testimony, Powell and other top military officials were asked whether or not allowing gay people in the military would be compatible with military readiness. Each official, including Powell," responded "incompatible." Congress would enact "Don't Ask, Don't Tell" that year.
Things changed when President Obama took office 15 years later and advocates for repeal of "Don't Ask, Don't Tell" were eager to claim Powell's voice among their ranks. After all, Powell was highly respected as a bipartisan voice after having served as secretary of state in the administration of George W. Bush and endorsing Obama in the 2008 election.
After the Obama administration in 2010 announced it would conduct a review of the idea of allowing gay people to serve openly in the military, Powell came out in support of that process. Advocates of repeal called that a declaration of reversal, although the statement fell short of a full support for gay people serving openly in the military.
"In the almost 17 years since the 'Don't Ask, Don't Tell' legislation was passed, attitudes and circumstances have changed," General Powell said in a statement issued by his office, adding, "I fully support the new approach presented to the Senate Armed Services Committee this week by Secretary of Defense Gates and Admiral Mullen."
Congress acted to repeal "Don't Ask, Don't Tell" and the policy was lifted in 2011. At the time, Powell was widely considered a supporter of ending "Don't Ask, Don't Tell" and publicly counted among supporters of repeal, although the Blade couldn't immediately find any statements from him to that effect.
In 2012, Powell had similar vaguely supportive words on same-sex marriage, saying he had "no problem with it" when asked about the issue.
"As I've thought about gay marriage, I know a lot of friends who are individually gay but are in partnerships with loved ones, and they are as stable a family as my family is, and they raise children," Powell said. "And so I don't see any reason not to say that they should be able to get married."
The Blade also couldn't immediately find any statement from Powell on transgender people serving in the military. After the Obama administration in 2016 lifted decades-old regulations against transgender service, former President Trump issued a ban by tweet the following year. President Biden reversed that ban and allowed transgender people to serve and enlist in the military in his first year in office.
Botswana attorney general seeks to recriminalize homosexuality
High Court heard case on Oct. 12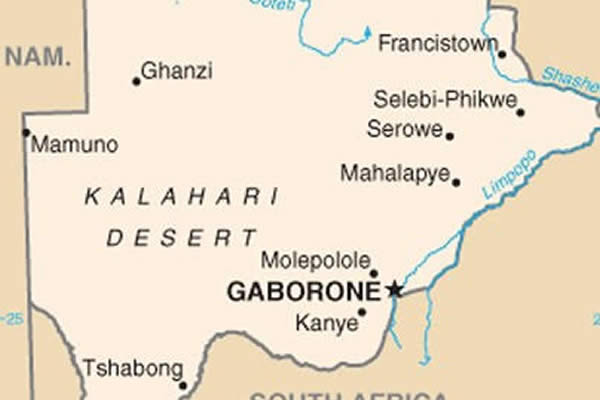 GABORONE, Botswana — On June 11, 2019, Botswana moved toward being a state that no longer held some of its citizens (and, by extension, visitors) as criminals if they identified within the LGBTQ spectrum. However, the government didn't take too long before it declared its intention to appeal the High Court judgment that asserted that consensual same-sex sexual activity in private was not to be a criminal act.
The appeal hearing took place on Oct. 12.
There are some key things to understand about what the High Court did for people in Botswana. The judgment, written and delivered by Justice Leburu, not only put a clear delineation between the state's powers to intrude in people's private sexual lives, but it also stated that laws that served no purpose in the governance of the people they oversaw were most likely worthy of "a museum peg" more than being active laws of the land.
In the hearing on Oct. 9, a full bench of five judges of the Court of Appeal was treated to the government's case—as presented by advocate Sydney Pilane of the Attorney General's Chambers—along with hearing the rebuttals from the legal counsel representing Letsweletse Motshidiemang, who brought the original case against the government, and LEGABIBO, an NGO admitted as amicus curiae, a friend of the court. The appeal, two years in the making, would have been expected to be based on facts rather than opinions of what could and could not be accepted by hypothetical Batswana. Pilane even went so far as to contest that President Mokgweetsi Masisi's utterances about how people in same-sex relationships were "suffering in silence" were taken out of context as he was talking about gender-based violence and not endorsing their relationships.
The 2019 ruling of the High Court, the most supreme court of incidence in the country, not only declared people who were or had interest in engaging in consensual same-sex sexual activity not criminals, but it also allowed non-queer people to engage in sex acts that would otherwise be considered "against the order of nature" freely. The latter clause had often been interpreted as being solely about non-heterosexuals but on greater interrogation one realizes that any sex act that doesn't result in the creation of a child was considered against this 'order of nature' and that nullified much of heterosexual sexual exploration—further painting these clauses as out of touch with contemporary Botswana as Leburu expressed.
In some of his appeal arguments, Pilane stated that Batswana "do not have a problem with gay people", yet he based his contention on the fact that Batswana "respect the courts' decisions;" as such they would not take up arms at the court's decision to decriminalize consensual same-sex sexual activity. Pilane maintained that the decision to decriminalize should be left to the Parliament on the recommendation of the courts. The bench was swift to query whether a body of politicians elected by a majority would be the best representatives of a minority that was oppressed by laws that the very politicians benefitted from.
Botswana's legal system allows for the High Court ruling to remain the law of the land until such a point as it's struck down. The Court of Appeal ruling in favor of Batswana's sexual liberties will be a nail in the proverbial coffin of residual colonial sex-related laws plaguing Botswana. This will not be the end by any means though. Where the attorney general can form a case stating that decriminalizing consensual same-sex relations could be likened to people locking themselves in their houses with animals and having their way with them, we know that mindset changes need to be prioritized to ensure that all Batswana understand their constitutionally protected rights to privacy, expression, and freedom of association as relates to their personal and sexual lives.
The 2010 Employment Act of Botswana already protects people from being discriminated against based on their sex or gender identity. The nation's sexual violence laws were made gender neutral, thus covering non-consensual sex (rape) in all its possibilities. In upholding the ruling of the High Court, the Court of Appeal will allow the LGBTQ and SOGIESC (sexual orientation, gender identity and expression and sex characteristics) movements in Botswana some respite as attention is then channeled toward other pressing matters such as name changes, access to healthcare, and other culturally pertinent issues.
The Court of Appeal is expected to hand down a judgement following their deliberations in 4-6 weeks (mid to late November), however, this remains at their discretion. As it stands, since the High Court ruling in 2019, Botswana has experienced increased social accommodation for LGBTQ matters and figures—however, this is not to say there have not been any negative instances. With the continued sensitization, the expectation is that the courts, the government and NGO players will all contribute to a broad, national, culturing of LGBTQ rights in Botswana devoid of colonial residues.