Fed'l benefits issues linger post-DOMA for gay couples
Questions remain on Social Security, taxes, veterans benefits and family leave
Following the Supreme Court's decision striking down the Defense of Marriage Act, the extent to which many federal benefits — taxes, Social Security, veterans benefits and family leave — will flow to married same-sex couples remains in question.
The Obama administration has extended certain benefits to married same-sex couples regardless of whether they live in the United States, but other benefits are still in limbo because of law, regulation or policy that determines whether a couple should be considered legally married.
Here's a breakdown of these benefit categories and where they stand in terms of what's obstructing their flow to married same-sex couples and what LGBT advocates see as the way forward:
1. SOCIAL SECURITY
Last week, the Social Security Administration announced for the first time it was starting to process retirement claims for married same-sex couples who apply for them in aftermath of the court decision on DOMA. But the extension of these benefits is limited.
On Friday, the agency published guidance indicating these benefits will flow to same-sex married couples living in states that recognize their unions, but couples that apply for these benefits in non-marriage equality states for the time being will have their requests placed on hold.
"Bill (the claimant) and Bob (the NH) marry in MA after MA recognizes same-sex marriage, but are domiciled Texas (TX)," the guidance says. "Bill files for husband's benefits on Bob's record. They meet all other factors of entitlement. Hold the claim."
William "BJ" Jarrett, a Social Security spokesperson, confirmed on Monday the agency is processing some Social Security retirement spouse claims when the individual was married in a state that permits same-sex marriage and lives in a marriage-equality state at the time of application — or while the claim is pending a final determination. Still, he acknowledged other retirement claims are on hold.
"For all other claims, including Social Security survivors benefits, we continue to work with the Department of Justice on the development and implementation of policy and processing instructions," Jarrett said. "We do, however, encourage individuals who believe they may be eligible for Social Security benefits to apply now to protect against the loss of any potential benefits."
The reasoning for placing these claims on holds is statutory. Social Security law looks to the state of residence when a couple applies for benefits to determine if they're married instead of looking to the place of celebration.
Even so, LGBT advocates say it's possible for the Obama administration to interpret the Supreme Court ruling against DOMA in a broad way that allows them to offer Social Security benefits to a greater number of couples.
Michael Cole-Schwartz, a Human Rights Campaign spokesperson, indicated that no final decision has been with the assessment of these benefits as he encouraged the Obama administration to expand the benefits to additional couples.
"We are glad to see some couples getting benefits and that the door is still open for those couples living in non-marriage equality states," Cole-Schwartz said. "We urge them to take the broadest interpretation to ensure the maximum numbers of same sex couples have access to benefits."
Susan Sommer, a senior counsel at Lambda Legal, said her organization also believes gay couples in civil unions or domestic partnerships should also be eligible for Social Security benefits.
"We think that the laws reads for sure to includes those people who live in those states that have a civil union or domestic partnership, but waiting to hear from the Obama administration for confirmation on that point," Sommer said.
But a statutory change may be necessary. In that event, Rep. Linda Sanchez (D-Calif.) has introduced Social Security Equality Act, which would enable gay couples to receive Social Security no matter where they live — even if their union isn't a marriage, but a civil union or a domestic partnership.
"It is time for our government to stop telling gay and lesbian couples that they are second class citizens," Sanchez said last week in a statement. "Same-sex couples pay into Social Security over the course of their working lives just like other Americans. They should receive the full benefits they have earned."
2. TAXES
Another question is whether legally married same-sex couples throughout the country will be eligible for tax benefits — such as the exemption from the estate tax, the ability to jointly file and exemption from taxes on employer-provided spousal health benefits — in the wake of the DOMA decision. These couples are currently not receiving benefits if they live in states that haven't legalized marriage equality.
That means if DOMA-lawsuit plaintiff Edith Windsor had moved to a non-marriage equality state like Alabama with Thea Spyer after marrying in Canada, she wouldn't have been eligible for exemption from the estate tax as a result of her own lawsuit.
But what's different about these benefits is that neither law nor regulation keeps these benefits from flowing to married same-sex couples that live in marriage equality states. It's simply the policy of the Internal Revenue Service to look to the state of residence as opposed to the state of celebration in determining whether a couple is married.
Lambda's Sommer pointed out that only policy is keeping the IRS from allowing these couples in non-marriage equality states to receive tax benefits entitled to other married couples.
"We are aware of no statute or even a regulation that prescribes a choice of law rule for determining the marital status for tax purposes," Sommer said. "There's no legal impediment to having the administration follow a place of celebration standard. It could so in addition to, say a place of domicile standard, which has been articulated in some tax court rulings, but still, in some circumstances, as a place of celebration rule."
An IRS spokesperson referred to the statement currently on the agency's website posted at the time of the Supreme Court in response to inquiry on whether IRS would implement tax benefits for married same-sex couples on the nationwide basis, regardless of their states of residence.
"We are reviewing the important June 26 Supreme Court decision on the Defense of Marriage Act," the statement says. "We will be working with the Department of Treasury and Department of Justice, and we will move swiftly to provide revised guidance in the near future."
3. VETERANS BENEFITS
Defense Secretary Chuck Hagel announced on the day the U.S. Supreme Court struck down DOMA that the Pentagon would comply the law to implement benefits for service members with same-sex spouses. But the question of whether veterans will be included as part of the package remains to be seen.
In U.S. Code, the Pentagon was previously unable to provide gay troops spousals benefits under Titles 10 and 32, which govern rights for service members, because of the Defense of Marriage Act. Now that the Supreme Court has struck down Section 3 of DOMA, those benefits should begin to flow.
However, the benefits under Title 38, which governs benefits for veterans, define spouse independently of DOMA in opposite-sex terms. Some of the benefits allocated under this law are disability benefits, survivor benefits and joint burial at a veteran's cemetery. It's unclear whether these benefits will begin to flow along with these other benefits because of the wording within the law.
Multiple media outlets are reporting that the Pentagon intends to have the benefits issue wrapped up by Aug. 31 along with the extension of benefits that were available under DOMA, such as military IDs, that were announced in February. Additionally, the U.S. Justice Department is required to file in McLaughlin v. Hagel, an ongoing DOMA lawsuit, to provide a status report by Sept. 9 on benefits afforded to gay troops addressing the Title 38 issue. An informed source told the Washington Blade the issue may be resolved as soon as this week.
Alex Nicholson, who's gay and legislative director for Iraq & Afghanistan Veterans of America, said his organization has spoken about the issue with the administration and believes it has a "justifiable mandate" to afford these benefits to the legal spouses gay veterans.
"It's not surprising that they're taking their time to figure this out and do it right, but I think the mandate from the Supreme Court was clear enough that they could definitely move a little faster," Nicholson said.
Lambda's Sommer said the issue for gay veterans isn't so much Title 38 because Title 1 of the U.S. Code should allow for a gender-neutral construction of this law. Still, she said other portions of the law related to veterans benefits could impact gay veterans seeking claims.
"In the veterans benefits area, there is also a statute kind of like what's seen in the Social Security context that looks to the place of domicile at the time of celebration or when the right to the benefit has accrued," Sommer said. "We'll have to await guidance for how the administration will treat veterans who resided at the time of their marriage, and continue to live, in states that don't respect their marriages."
Lt. Cmdr. Nathan Christensen, a Pentagon spokesperson, said the Defense Department is working on the issue, but unable to provide additional information.
"The Department of Defense is working alongside the Department of Justice to implement the Court's decision as quickly as possible," Christensen said. "At this time no decisions have been made."
In a statement provided to the Blade, the Department of Veterans Affairs similarly said the department was working to implement the benefits without providing anything conclusive on the extent to which they would flow.
"Our commitment to our Veterans and their families will continue to be our focus as we work to comply with recent Supreme Court decisions," the statement says. "We are working closely with the Department of Justice to review relevant statutes and policies to implement any necessary changes to Federal benefits and obligations swiftly and smoothly in order to deliver the best services to all our nation's Veterans."
Here a change in the law may be required as well. The Charlie Morgan Act, introduced by Sen. Jeanne Shaheen (D-N.H.), would enable spousal benefits to flow to gay veterans. It was reported out of the Senate Committee on Veterans' Affairs just prior to August recess.
4. FAMILY AND MEDICAL LEAVE
Yet another issue that related to family leave still persists a few days after the Labor Department issued guidance stating the Family & Medical Leave Act will apply to married same-sex couples in the wake of the Supreme Court decision against DOMA: Will the change apply to married same-sex couples in non-marriage equality states?
On Friday, Labor Secretary Thomas Perez issued guidance to department staff notifying them the Wage & Hour Division made the change as the result of the work with the Justice Department and calling the Supreme Court ruling against DOMA "a historic step toward equality for all American families."
"As part of this process, the Department of Labor updated several guidance documents today to remove references to DOMA and to affirm the availability of spousal leave based on same-sex marriages under the Family and Medical Leave Act (FMLA)," Perez said. "This is one of many steps the Department will be taking over the coming months to implement the Supreme Court's decision."
The Family & Medical Leave Act entitles employees to take unpaid, job-protected leave for family and medical reasons with continuation of group health insurance coverage under the same terms and conditions as if the employee had not taken leave. Eligible employees are entitled to 12 work weeks of leave in a year-long period for the birth of a child or to care for spouse and up to 26 work weeks of leave to care for a service member with a serious injury.
But under current policy, this post-DOMA application of the Family & Medical Leave Act won't apply to married same-sex couples if they place of residence doesn't recognize same-sex marriage. A Labor Department official said the Wage & Hour Division's Family & Medical Leave Act regulations define "spouse" for purposes of marriage as recognized under the state law where an employee resides. All that would be required for to change this policy is a change in regulation.
Tico Almeida, president of Freedom to Work, called on the Labor Department to update the regulations so same-sex marriages are recognized by the state of celebration for family and medical leave purposes.
"The couple that lives in Alabama, flies to New York City for the weekend to get married and returns to Alabama deserves to have the same FMLA rights as the gay and lesbian couples that live in New York City," Almeida said. "We want a 50-state solution, and that means recognizing same-sex marriages by the state of celebration, even though current FMLA regulations recognize marriage by the state of residency."
WNBA star Brittney Griner released
Olympic Gold medalist detained in Moscow in February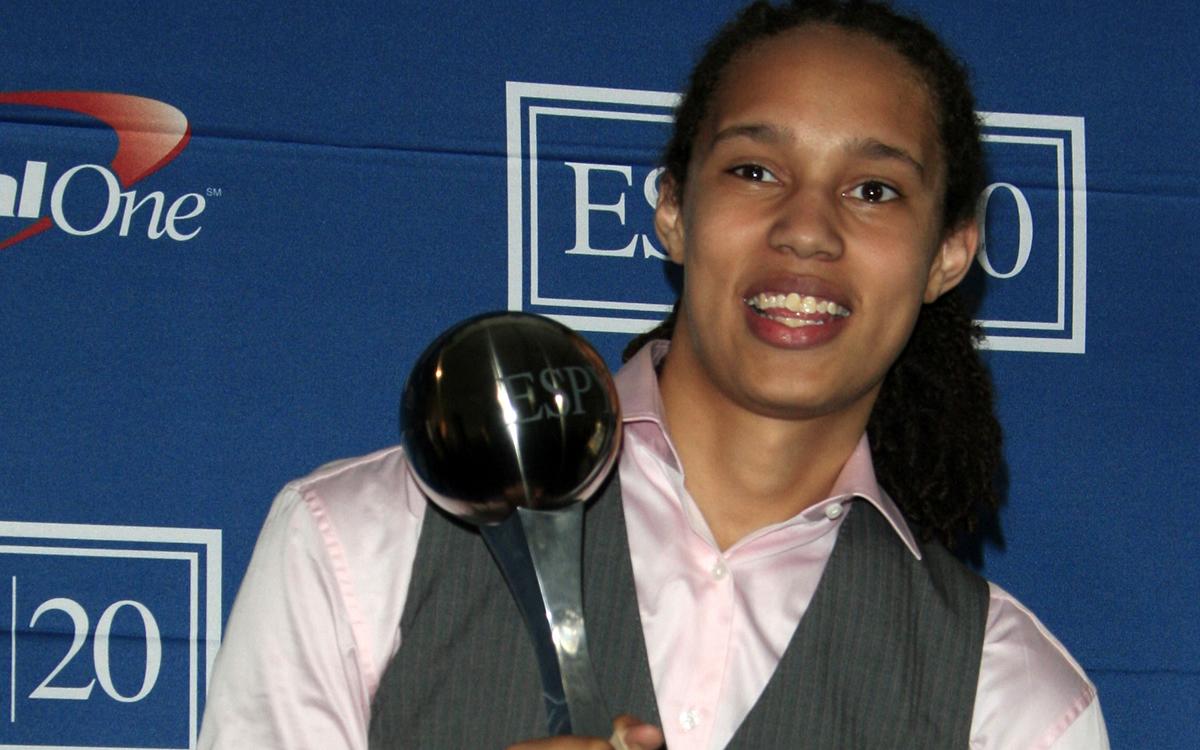 Russian authorities have released WNBA star Brittney Griner.
Griner was released in exchange for Viktor Bout, a Russian arms dealer who was serving a 25-year prison sentence in the U.S. The exchange took place in Abu Dhabi in the United Arab Emirates.
Griner is serving a nine-year prison sentence after a Russian court convicted her on the importation of illegal drugs after Russian customs officials found vape canisters containing cannabis oil in her luggage at Moscow's Sheremetyevo Airport. Griner had been incarcerated in a penal colony before her release.
President Biden said he has spoken with Griner. The White House tweeted a picture of Biden in the Oval Office with Griner's wife, Cherelle Griner, Vice President Kamala Harris and Secretary of State Antony Blinken.
"She is safe," tweeted Biden. "She is on a plane. She is on her way home."
Cherelle Griner was standing alongside Biden, Harris and Blinken at the White House when the president spoke about Brittney Griner's release.
"It's just a happy day for me and my family," said Cherelle Griner.
Cherelle Griner added she and her wife remain "committed to the work of getting every American home, including Paul" Whelan, a former U.S. Marine who is serving a 16-year prison sentence in Russia for spying.
"Today is just a happy day for me and my family."

Watch Cherelle Griner's full remarks on the release of her wife Brittney Griner from Russia in a high-level prisoner exchange. https://t.co/H0w8BNpEvR pic.twitter.com/CSW2oIRUoz

— The Associated Press (@AP) December 8, 2022
Blinken issued a lengthy statement after Griner's release.
"This morning, I joined President Biden, Vice President Harris, National Security Advisor Sullivan and Cherelle Griner in the Oval Office as Cherelle spoke to her wife Brittney, who is now on her way back to the United States and to her wife's loving embrace," said Blinken. "I am grateful to the State Department team and to our colleagues across the government who worked tirelessly to secure her release. I especially commend Special Presidential Envoy for Hostage Affairs Roger Carstens, who is accompanying Brittney back to the United States, as well as his entire team. We also extend deep appreciation to our many partners who helped achieve this outcome, including our Emirati friends, who assisted in the transfer today."
"While we celebrate Brittney's release, Paul Whelan and his family continue to suffer needlessly," added Blinken. "Despite our ceaseless efforts, the Russian Government has not yet been willing to bring a long overdue end to his wrongful detention. I wholeheartedly wish we could have brought Paul home today on the same plane with Brittney. Nevertheless, we will not relent in our efforts to bring Paul and all other U.S. nationals held hostage or wrongfully detained abroad home to their loved ones where they belong."  
LGBTQ rights groups applauded Brittney Griner's release.
"Britney Griner's long awaited release is a relief for her wife, teammates, fans and all in the LGBTQ community who recognized the extreme danger she faced as an out gay Black woman detained in Putin's Russia," said GLAAD President Sarah Kate Ellis in a statement. "Britney's wife Cherelle never gave up fighting for her safe return, and President Biden and the State Department never wavered in their commitment to the Griners and the LGBTQ community on Britney's behalf. We can't wait to welcome Britney home."
"The wait is over. Brittney Griner is coming home, and not a moment too soon," added Human Rights Campaign President Kelley Robinson. "Brittney is so much more than a WNBA superstar and Olympian, she is an American hero who had undergone unfathomable hardship. After being wrongfully held for 294 days away from her home, her friends, and most importantly her family, we celebrate her release. The HRC family is grateful for the State Department's efforts to free her — and to any member of our community facing hate and extremism — your community will never stop fighting for you, just like we never stopped fighting for Brittney."
The Washington Blade will update this story.
DC Center, Capital Pride sign joint lease for new offices
LGBTQ groups to operate in historic Shaw neighborhood building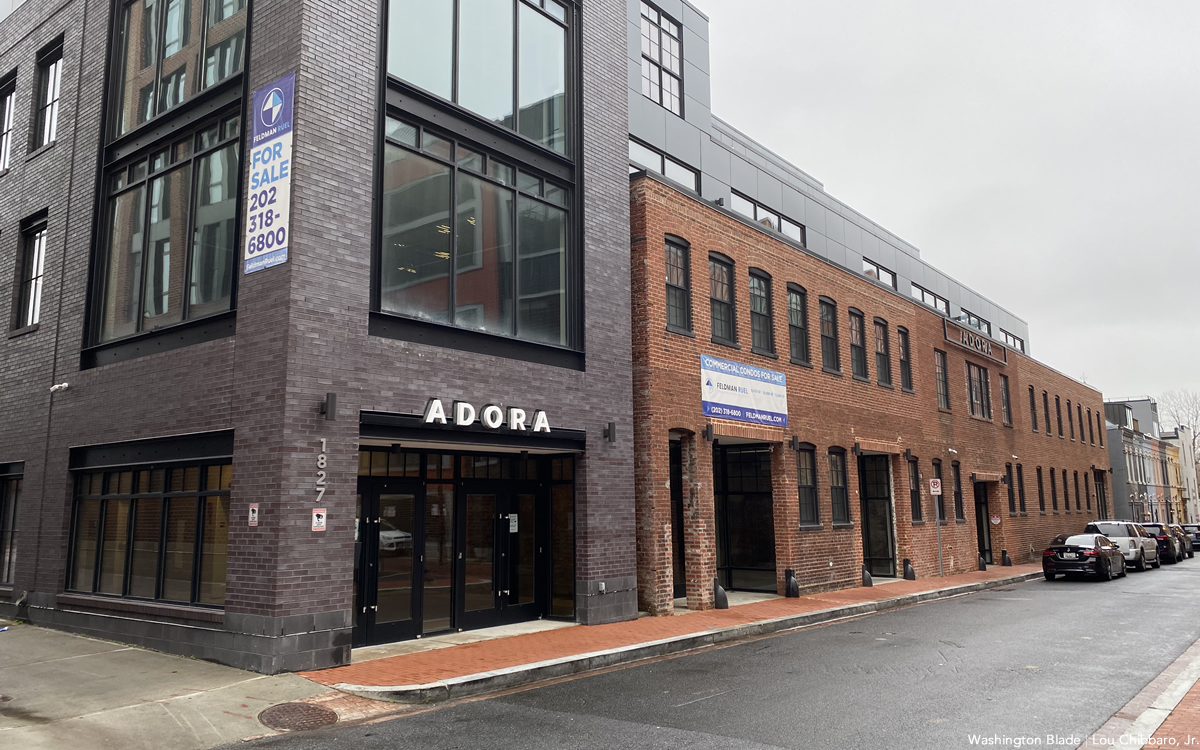 The DC Center for the LGBT Community and the Capital Pride Alliance, which organizes D.C.'s annual LGBTQ Pride events, announced on Wednesday that they have signed a joint lease to move their operations into a renovated warehouse building in the city's Shaw neighborhood.
In a Dec. 7 statement, the two organizations said the lease is for a 6,671-square-foot space on the entire first floor of a five-story building at 1827 Wiltberger St., N.W. called The Adora. The building is located steps away from the Howard Theatre and a little over a block from the Shaw-Howard University Metro station.
The new space is more than double the 2,400-square-foot offices the D.C. Center and Capital Pride currently occupy in the city's Reeves Center municipal building at 2000 14th St., N.W. The Reeves building is slated to be demolished as part of a new development project that will require all its tenants, including the D.C. Center, to move.
The sprawling building, which takes up about half of the narrow, one-block long Wiltberger Street, was built in 1891 as the home of the Holzbeierlein Bakery, according to the online publication Commercial Observer.
Online real estate listings show it was redeveloped about two years ago with an extension and now includes commercial condominium space on the second and third floors and nine luxury residential condominium units on the fourth and fifth floors.
The statement released by the D.C. Center and Capital Pride Alliance says the first-floor space in the building that the two groups leased currently is un-renovated warehouse space. The statement says the space is being designed for a build out renovation by an architectural firm "with the D.C. Center's specific needs in mind." It will include 10 offices and multiple workstations, the statement says.
According to the statement, the renovation is being funded in part by a $1 million grant approved by D.C. Mayor Muriel Bowser through the Office of the Deputy Mayor for Planning and Economic Development and the Mayor's Office of LGBTQ Affairs.
Rehana Mohammed, who serves as vice chair of the D.C. Center's Board of Directors, told the Washington Blade the renovation work was scheduled to be completed by mid-2023. She said D.C. Center officials were hopeful that the Center and Capital Pride would be able to move into the new space in June or early July.
The statement says the new, larger space will enable the D.C. Center to expand its services to include "dedicated therapy rooms, a larger food pantry for the community food distribution program, and dedicated wellness spaces for meditation, yoga, and counseling."
It says there will also be an expanded state-of-the-art cyber lounge, a larger Community Closet program, which provides free apparel, and that will incorporate a designated dressing area, and individual lockers providing temporary storage for "unhoused/displaced community members."
"This is an extraordinary opportunity for the D.C. Center to more fully expand our support offerings and provide vital and integral wraparound care to and for our LGBTQIA2s+ siblings," D.C. Center Executive Director Kimberley Bush said in the statement.
"When community members come to this new space, they'll see a broader range of support being offered and an enhanced experience for increasing their health, wellness, and personal security," Bush said.
"We are very excited to support this opportunity and come together in a new space with fellow nonprofits," said Ryan Bos, the Capital Pride Alliance executive director. "Collectively and collaboratively, we will better serve the LGBTQ+ community and combine resources to provide a much-needed safe space to gather," Bos said in the statement.
The statement by the two groups says the new larger space will also allow the D.C. Center to sublease office and desk space to other LGBTQ+ nonprofit organizations. As of this week, the Wanda Alston Foundation, Rainbow Families and G3 Associates, an organization operated by local gay activist George Kerr, have confirmed arrangements to sublease space in the new building, the statement says.
"We are proud to reaffirm our support for D.C.'s LGBTQ+ community," said Mayor Bowser in a statement referring to her office's awarding a $1 million grant to help fund the D.C. Center's build out in the new space. "This investment is a reflection of our D.C. values," the mayor said.
"We know that when we foster community, and when we support organizations that invest in the community, D.C. is stronger and our residents have more and better opportunities to reach their full potential and live happy, healthy lives," the mayor said.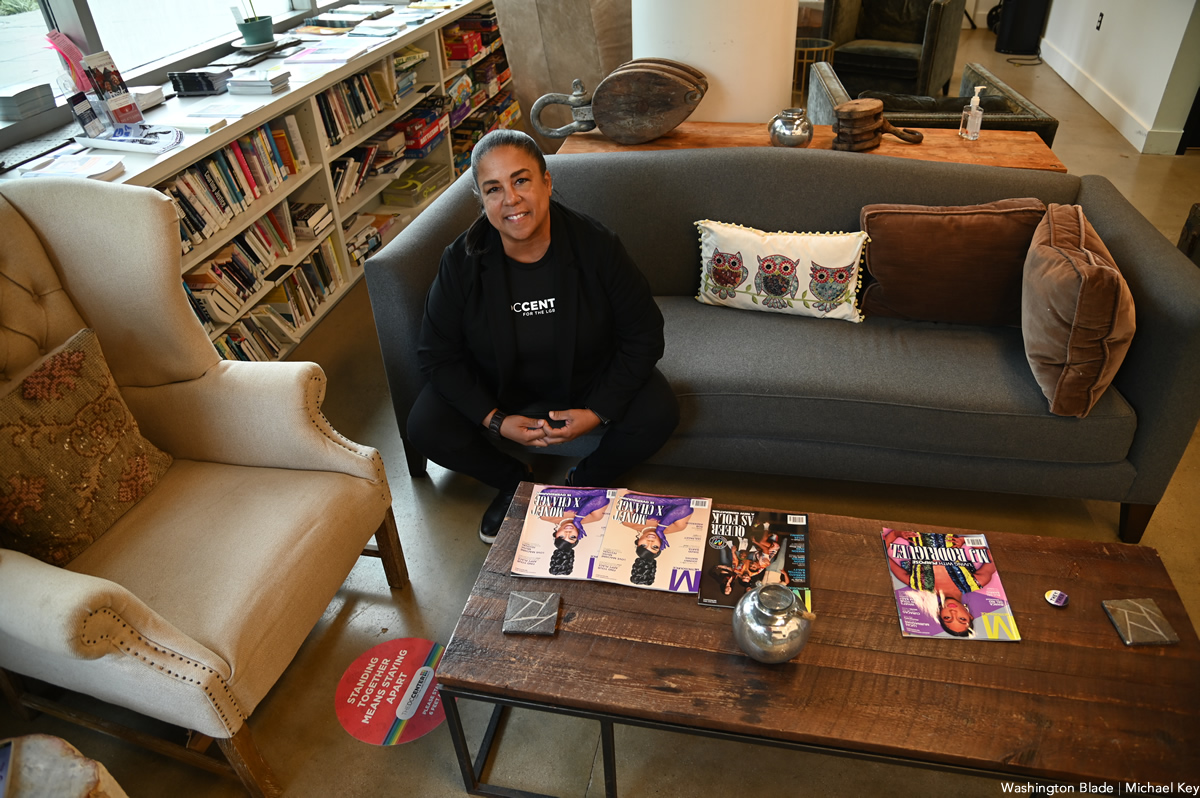 Takano: Asian Development Bank LGBTQ, intersex safeguards are an 'opportunity'
'It's not a radical thing'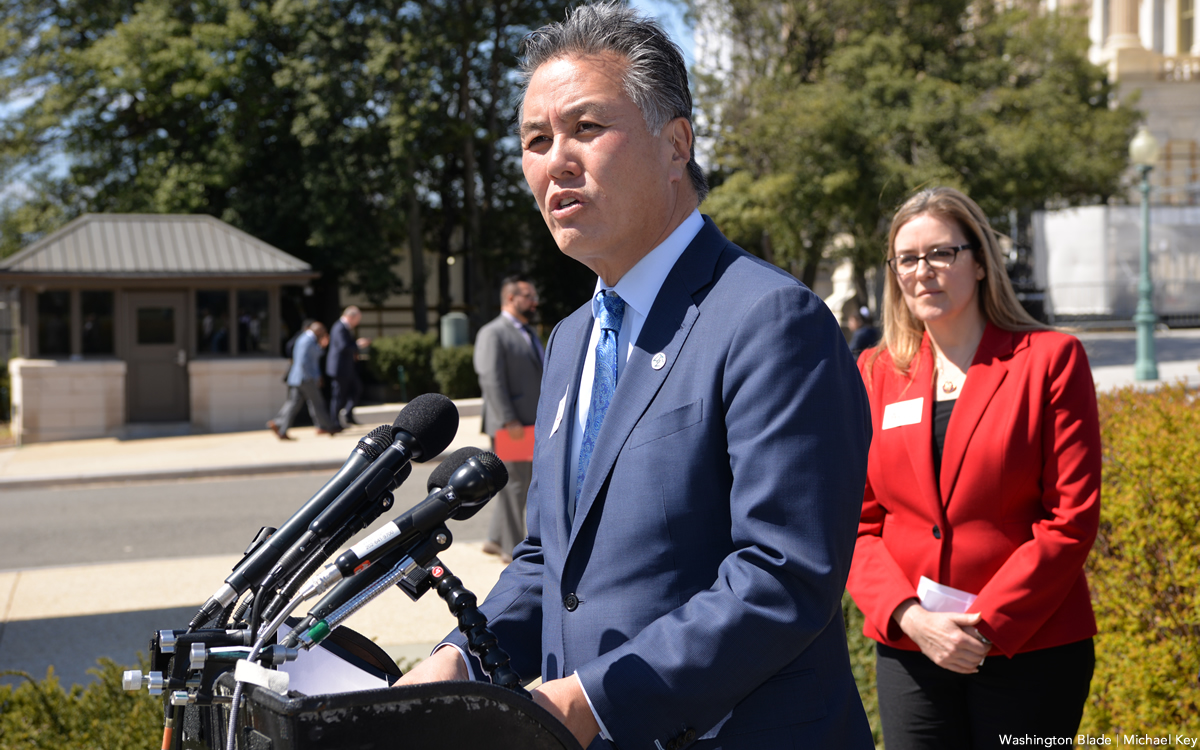 California Congressman Mark Takano on Dec. 2 told the Washington Blade he is hopeful the Asian Development Bank will add sexual orientation and gender identity to the institution's safeguards.
"I am optimistic that something like this can be done," said Takano during a Zoom interview. "It's not a radical thing. It's very modest."
The ADB, which is based in the Philippines, seeks to promote economic and social development through the Asia-Pacific Region.
Ambassador Chantale Wong, who is the ADB's U.S. director, is the first openly lesbian American ambassador. Takano, a Democrat who will represent California's 39th Congressional District in the next Congress, is openly gay.
The Treasury Department has endorsed the safeguard that Takano said he expects "to come to a head" in the spring of 2023. Takano and other members of the Congressional Asian Pacific American Caucus and the Congressional LGBT+ Equality Caucus — U.S. Reps. Judy Chu (D-Calif.), Ro Khanna (D-Calif.), Raja Krishnamoorthi (D-Ill.), Grace Meng (D-N.Y.), Pramila Jayapal (D-Wash.), Andy Kim (D-N.J.) and Ted Liu (D-Calif.) — in an Oct. 14 letter to ADB President Masatsugu Asakawa expressed their "strong support for the creation of a standalone gender and sexual orientation, gender identity and expression and sex characteristics (SOGIESC) safeguard in the Asian Development Bank (ADB)'s updated Safeguard Policy Statement."
"The inclusion of such a safeguard presents an opportunity for the ADB to lead by example among multilateral development banks (MDBs) in a region of the world where civil society has been at the fore of pushing positive change for sexual minorities," reads the letter.
"The explicit inclusion and protections for sexual and gender minorities in this proposed safeguard are not only beneficial for the economic and social development of the region, but would also open further opportunities for investment," it adds.
Takano noted the ADB would be the first multilateral development bank to add sexual orientation and gender identity to its safeguards.
"This is an opportunity for the ADB to be a leader among MDBs globally," reads the letter. "As Asian Americans and advocates for the LGBTQI+ population here in the United States, we are eager to see the ADB spearhead the establishment of necessary protections for the international LGBTQI+ community that will allow them to participate in civic life more fully."
President Joe Biden in 2021 issued a memo that committed the U.S. to promoting LGBTQ and intersex rights abroad as part of his administration's overall foreign policy.
Wong and Takano were both at the American Chamber of Commerce in Singapore on Aug. 1 when U.S. House Speaker Nancy Pelosi (D-Calif.) spoke in support of LGBTQ and intersex rights.
The speech coincided with a Congressional delegation to Singapore, Malaysia, Taiwan, South Korea and Japan that Pelosi led. Singapore Prime Minister Lee Hsien Loong on Aug. 21 announced his country will decriminalize consensual same-sex sexual relations. Lawmakers in the Southeast Asian city-state late last month repealed the colonial-era sodomy law, and approved a constitutional amendment that defines marriage as between a man and a woman.
Same-sex couples have been able to legally marry in Taiwan since 2019. Lawmakers in Indonesia on Tuesday approved a new Criminal Code that would, among other things, criminalize sex outside of marriage.
Qatar, which is hosting the 2022 World Cup, is among the countries in which consensual same-sex sexual relations remain punishable by death. 
Takano over the Thanksgiving holiday led a Congressional delegation to Jordan, Kuwait, Iraq and Lebanon. The Council for Global Equality notes homosexuality is still criminalized in Kuwait and Lebanon. Discrimination and persecution based on sexual orientation and gender identity remains commonplace in all four of the Middle Eastern countries that Takano visited.
"Different parts of Asia are showing signs of huge progress in terms of governance and recognizing LGBTQIA+ minorities and recognizing their humanity," Takano told the Blade, while noting 60 percent of the world's population lives in Asia. "Being able to embed safeguards into Asian Development Bank standards and how they approve projects and implement projects could be a huge leap forward in terms of achieving new standards in all these countries with regards to LGBTQ people in Asian nations."
"This is very exciting," he added.
Takano also specifically praised the Biden administration, American diplomats and Wong herself for their efforts to advance LGBTQ and intersex rights
"(U.S. foreign missions) find ways to create safe spaces for LGBTQ people in those countries to be able to come together, to talk," said Takano. "To have someone like Ambassador Wong lead that is very important and that the administration supports the efforts of Ambassador Wong is not surprising."
"What a difference it makes to have President Biden and Vice President Harris, but not only have they with their words said they support our community, they've also appointed people like Amb. Wong, who is actually taking actions," he added. "She's using the levers and dials of her office to take a step forward."
GOP support for Respect for Marriage Act 'an unexpected turn'
Takano spoke with the Blade two days after the Respect for Marriage Act passed in the U.S. Senate by a 61-36 vote margin, with 12 Republicans supporting it.
More than 40 Republicans in the U.S. House of Representatives voted for the Respect for Marriage Act in July. A final vote could take place in the chamber as early as Thursday.
"We were reeling from that Supreme Court decision on Roe and the comments in Justice Thomas' concurring opinion," said Takano. "Boy oh boy did we in Congress say that we need to protect what we can. The Respect for Marriage Act is making sure we protect same-sex marriages, but also protect interracial marriages."
Takano conceded Republican support for the bill "is kind of an unexpected turn in this Congress," even though a majority of GOP lawmakers opposed it. Takano also acknowledged public opinion has shifted significantly in support of marriage equality over the last decade.
"This court has shown it's pretty radical," he said. "I'm happy that we have a way to make sure that existing marriages are protected."