Fed'l benefits issues linger post-DOMA for gay couples
Questions remain on Social Security, taxes, veterans benefits and family leave
Following the Supreme Court's decision striking down the Defense of Marriage Act, the extent to which many federal benefits — taxes, Social Security, veterans benefits and family leave — will flow to married same-sex couples remains in question.
The Obama administration has extended certain benefits to married same-sex couples regardless of whether they live in the United States, but other benefits are still in limbo because of law, regulation or policy that determines whether a couple should be considered legally married.
Here's a breakdown of these benefit categories and where they stand in terms of what's obstructing their flow to married same-sex couples and what LGBT advocates see as the way forward:
1. SOCIAL SECURITY
Last week, the Social Security Administration announced for the first time it was starting to process retirement claims for married same-sex couples who apply for them in aftermath of the court decision on DOMA. But the extension of these benefits is limited.
On Friday, the agency published guidance indicating these benefits will flow to same-sex married couples living in states that recognize their unions, but couples that apply for these benefits in non-marriage equality states for the time being will have their requests placed on hold.
"Bill (the claimant) and Bob (the NH) marry in MA after MA recognizes same-sex marriage, but are domiciled Texas (TX)," the guidance says. "Bill files for husband's benefits on Bob's record. They meet all other factors of entitlement. Hold the claim."
William "BJ" Jarrett, a Social Security spokesperson, confirmed on Monday the agency is processing some Social Security retirement spouse claims when the individual was married in a state that permits same-sex marriage and lives in a marriage-equality state at the time of application — or while the claim is pending a final determination. Still, he acknowledged other retirement claims are on hold.
"For all other claims, including Social Security survivors benefits, we continue to work with the Department of Justice on the development and implementation of policy and processing instructions," Jarrett said. "We do, however, encourage individuals who believe they may be eligible for Social Security benefits to apply now to protect against the loss of any potential benefits."
The reasoning for placing these claims on holds is statutory. Social Security law looks to the state of residence when a couple applies for benefits to determine if they're married instead of looking to the place of celebration.
Even so, LGBT advocates say it's possible for the Obama administration to interpret the Supreme Court ruling against DOMA in a broad way that allows them to offer Social Security benefits to a greater number of couples.
Michael Cole-Schwartz, a Human Rights Campaign spokesperson, indicated that no final decision has been with the assessment of these benefits as he encouraged the Obama administration to expand the benefits to additional couples.
"We are glad to see some couples getting benefits and that the door is still open for those couples living in non-marriage equality states," Cole-Schwartz said. "We urge them to take the broadest interpretation to ensure the maximum numbers of same sex couples have access to benefits."
Susan Sommer, a senior counsel at Lambda Legal, said her organization also believes gay couples in civil unions or domestic partnerships should also be eligible for Social Security benefits.
"We think that the laws reads for sure to includes those people who live in those states that have a civil union or domestic partnership, but waiting to hear from the Obama administration for confirmation on that point," Sommer said.
But a statutory change may be necessary. In that event, Rep. Linda Sanchez (D-Calif.) has introduced Social Security Equality Act, which would enable gay couples to receive Social Security no matter where they live — even if their union isn't a marriage, but a civil union or a domestic partnership.
"It is time for our government to stop telling gay and lesbian couples that they are second class citizens," Sanchez said last week in a statement. "Same-sex couples pay into Social Security over the course of their working lives just like other Americans. They should receive the full benefits they have earned."
2. TAXES
Another question is whether legally married same-sex couples throughout the country will be eligible for tax benefits — such as the exemption from the estate tax, the ability to jointly file and exemption from taxes on employer-provided spousal health benefits — in the wake of the DOMA decision. These couples are currently not receiving benefits if they live in states that haven't legalized marriage equality.
That means if DOMA-lawsuit plaintiff Edith Windsor had moved to a non-marriage equality state like Alabama with Thea Spyer after marrying in Canada, she wouldn't have been eligible for exemption from the estate tax as a result of her own lawsuit.
But what's different about these benefits is that neither law nor regulation keeps these benefits from flowing to married same-sex couples that live in marriage equality states. It's simply the policy of the Internal Revenue Service to look to the state of residence as opposed to the state of celebration in determining whether a couple is married.
Lambda's Sommer pointed out that only policy is keeping the IRS from allowing these couples in non-marriage equality states to receive tax benefits entitled to other married couples.
"We are aware of no statute or even a regulation that prescribes a choice of law rule for determining the marital status for tax purposes," Sommer said. "There's no legal impediment to having the administration follow a place of celebration standard. It could so in addition to, say a place of domicile standard, which has been articulated in some tax court rulings, but still, in some circumstances, as a place of celebration rule."
An IRS spokesperson referred to the statement currently on the agency's website posted at the time of the Supreme Court in response to inquiry on whether IRS would implement tax benefits for married same-sex couples on the nationwide basis, regardless of their states of residence.
"We are reviewing the important June 26 Supreme Court decision on the Defense of Marriage Act," the statement says. "We will be working with the Department of Treasury and Department of Justice, and we will move swiftly to provide revised guidance in the near future."
3. VETERANS BENEFITS
Defense Secretary Chuck Hagel announced on the day the U.S. Supreme Court struck down DOMA that the Pentagon would comply the law to implement benefits for service members with same-sex spouses. But the question of whether veterans will be included as part of the package remains to be seen.
In U.S. Code, the Pentagon was previously unable to provide gay troops spousals benefits under Titles 10 and 32, which govern rights for service members, because of the Defense of Marriage Act. Now that the Supreme Court has struck down Section 3 of DOMA, those benefits should begin to flow.
However, the benefits under Title 38, which governs benefits for veterans, define spouse independently of DOMA in opposite-sex terms. Some of the benefits allocated under this law are disability benefits, survivor benefits and joint burial at a veteran's cemetery. It's unclear whether these benefits will begin to flow along with these other benefits because of the wording within the law.
Multiple media outlets are reporting that the Pentagon intends to have the benefits issue wrapped up by Aug. 31 along with the extension of benefits that were available under DOMA, such as military IDs, that were announced in February. Additionally, the U.S. Justice Department is required to file in McLaughlin v. Hagel, an ongoing DOMA lawsuit, to provide a status report by Sept. 9 on benefits afforded to gay troops addressing the Title 38 issue. An informed source told the Washington Blade the issue may be resolved as soon as this week.
Alex Nicholson, who's gay and legislative director for Iraq & Afghanistan Veterans of America, said his organization has spoken about the issue with the administration and believes it has a "justifiable mandate" to afford these benefits to the legal spouses gay veterans.
"It's not surprising that they're taking their time to figure this out and do it right, but I think the mandate from the Supreme Court was clear enough that they could definitely move a little faster," Nicholson said.
Lambda's Sommer said the issue for gay veterans isn't so much Title 38 because Title 1 of the U.S. Code should allow for a gender-neutral construction of this law. Still, she said other portions of the law related to veterans benefits could impact gay veterans seeking claims.
"In the veterans benefits area, there is also a statute kind of like what's seen in the Social Security context that looks to the place of domicile at the time of celebration or when the right to the benefit has accrued," Sommer said. "We'll have to await guidance for how the administration will treat veterans who resided at the time of their marriage, and continue to live, in states that don't respect their marriages."
Lt. Cmdr. Nathan Christensen, a Pentagon spokesperson, said the Defense Department is working on the issue, but unable to provide additional information.
"The Department of Defense is working alongside the Department of Justice to implement the Court's decision as quickly as possible," Christensen said. "At this time no decisions have been made."
In a statement provided to the Blade, the Department of Veterans Affairs similarly said the department was working to implement the benefits without providing anything conclusive on the extent to which they would flow.
"Our commitment to our Veterans and their families will continue to be our focus as we work to comply with recent Supreme Court decisions," the statement says. "We are working closely with the Department of Justice to review relevant statutes and policies to implement any necessary changes to Federal benefits and obligations swiftly and smoothly in order to deliver the best services to all our nation's Veterans."
Here a change in the law may be required as well. The Charlie Morgan Act, introduced by Sen. Jeanne Shaheen (D-N.H.), would enable spousal benefits to flow to gay veterans. It was reported out of the Senate Committee on Veterans' Affairs just prior to August recess.
4. FAMILY AND MEDICAL LEAVE
Yet another issue that related to family leave still persists a few days after the Labor Department issued guidance stating the Family & Medical Leave Act will apply to married same-sex couples in the wake of the Supreme Court decision against DOMA: Will the change apply to married same-sex couples in non-marriage equality states?
On Friday, Labor Secretary Thomas Perez issued guidance to department staff notifying them the Wage & Hour Division made the change as the result of the work with the Justice Department and calling the Supreme Court ruling against DOMA "a historic step toward equality for all American families."
"As part of this process, the Department of Labor updated several guidance documents today to remove references to DOMA and to affirm the availability of spousal leave based on same-sex marriages under the Family and Medical Leave Act (FMLA)," Perez said. "This is one of many steps the Department will be taking over the coming months to implement the Supreme Court's decision."
The Family & Medical Leave Act entitles employees to take unpaid, job-protected leave for family and medical reasons with continuation of group health insurance coverage under the same terms and conditions as if the employee had not taken leave. Eligible employees are entitled to 12 work weeks of leave in a year-long period for the birth of a child or to care for spouse and up to 26 work weeks of leave to care for a service member with a serious injury.
But under current policy, this post-DOMA application of the Family & Medical Leave Act won't apply to married same-sex couples if they place of residence doesn't recognize same-sex marriage. A Labor Department official said the Wage & Hour Division's Family & Medical Leave Act regulations define "spouse" for purposes of marriage as recognized under the state law where an employee resides. All that would be required for to change this policy is a change in regulation.
Tico Almeida, president of Freedom to Work, called on the Labor Department to update the regulations so same-sex marriages are recognized by the state of celebration for family and medical leave purposes.
"The couple that lives in Alabama, flies to New York City for the weekend to get married and returns to Alabama deserves to have the same FMLA rights as the gay and lesbian couples that live in New York City," Almeida said. "We want a 50-state solution, and that means recognizing same-sex marriages by the state of celebration, even though current FMLA regulations recognize marriage by the state of residency."
Federal judge blocks White House from ending Title 42
Advocacy groups say policy further endangered LGBTQ asylum seekers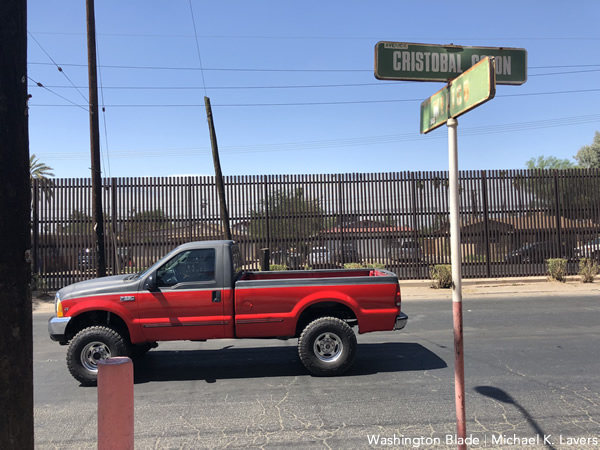 A Centers for Disease Control and Prevention rule that closed the Southern border to most asylum seekers and migrants because of the pandemic was to have ended Monday, but it remains in place after a federal judge blocked the Biden administration's plans to end it.
The White House last month announced it would terminate Title 42, a policy the previous administration implemented in March 2020.
U.S. District Judge Robert Summerhays in Louisiana on May 20 issued a ruling that prevented the Biden administration from terminating the Trump-era policy. White House Press Secretary Karine Jean-Pierre in a statement announced the Justice Department will appeal the decision, while adding the administration "will continue to enforce the CDC's 2020 Title 42 public health authority pending the appeal."
"This means that migrants who attempt to enter the United States unlawfully will be subject to expulsion under Title 42, as well as immigration consequences such as removal under Title 8 (of the U.S. Code)," said Jean-Pierre.
Advocacy groups and members of Congress with whom the Washington Blade has spoken since Title 42 took effect say it continues to place LGBTQ asylum seekers and other vulnerable groups who seek refuge in the U.S. at even more risk.
Oluchi Omeoga, co-director of the Black LGBTQIA+ Migrant Project, last month described Title 42 as a "racist and harmful policy." ORAM (Organization of Refuge, Asylum and Migration) Executive Director Steve Roth said Title 42 "put asylum seekers in harm's way in border towns and prevented them from seeking safety in the United States."
Title 42 was to have ended less than a month after five members of Congress from California visited two LGBTQ shelters for asylum seekers in the Mexican border city of Tijuana.
The Council for Global Equality, which organized the trip, in a tweet after Summerhays issued his ruling described Title 42 as a "catastrophe."
"The Biden administration cannot breathe a sign of relief until it's a matter of the past," said the Council for Global Equality on Saturday. "We remain committed to end Title 42."
#Title42 is a catastrophe — and the Biden administration cannot breathe a sigh of relief until it's a matter of the past. We remain committed to #EndTitle42. https://t.co/9EKJTiJzoV

— The Council for Global Equality (@Global_Equality) May 20, 2022
U.S. official meets with Brittney Griner
Consular visit took place on May 19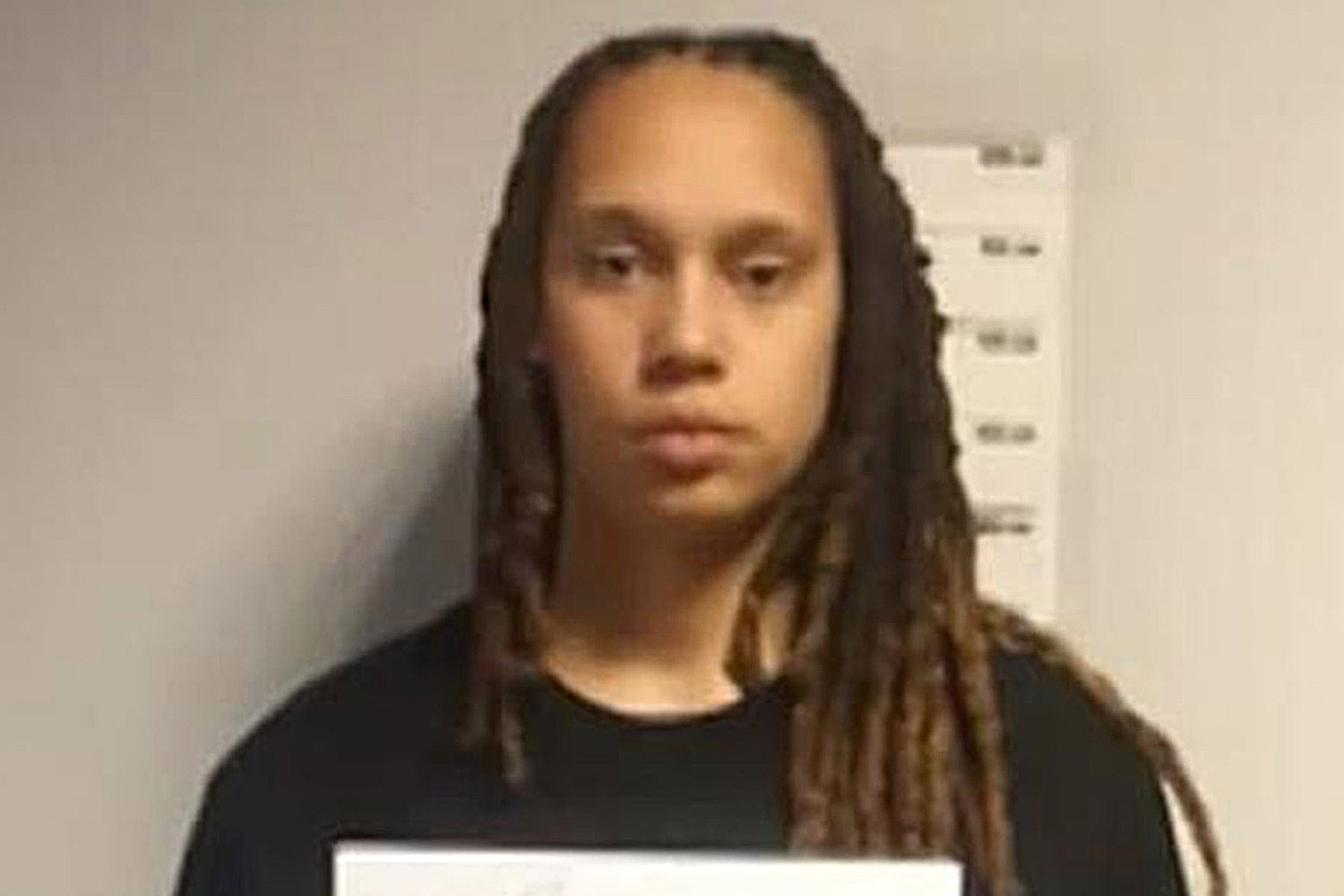 A U.S. consular official on May 19 visited detained WNBA star Brittney Griner in Russia.
State Department spokesperson Ned Price on Friday told reporters during a virtual briefing the officer "found her continuing to do as well as could be expected under these exceedingly challenging circumstances." The officer met with Griner two days after U.S. Ambassador to Russia John Sullivan said Russian officials had denied consular visits with her three times this month.
"Our message is a clear and simple one," said Price. "We continue to insist that Russia allow consistent and timely consular access to all U.S. citizen detainees. One-off visits are not sufficient, and we will continue to call on Moscow to uphold its commitments under the Vienna Convention for consistent and timely access as well."
Griner — a center for the Phoenix Mercury and a two-time Olympic gold medalist who is a lesbian and married to her wife — was taken into custody at Moscow's Sheremetyevo Airport in February. Russian officials said customs inspectors found hashish oil in her luggage.
The State Department has determined Russia "wrongfully detained" Griner.
A Russian court on May 13 extended her detention for another month. The Women's National Basketball Players Association, a union that represents WNBA players, has endorsed a petition that urges the Biden administration to "prioritize" Griner's release.
Secretary of State Antony Blinken spoke with Griner's wife, Cherelle Griner, on May 14.
U.S. announces more funding to fight HIV/AIDS in Latin America
Jill Biden made announcement on Saturday in Panama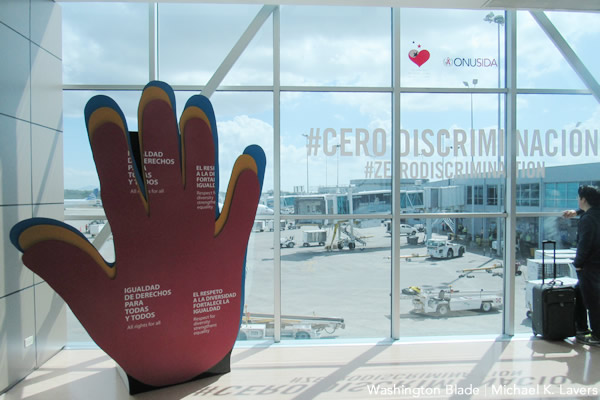 First lady Jill Biden on Saturday announced the U.S. will provide an additional $80.9 million to the fight against HIV/AIDS in Latin America.
Biden during a visit to Casa Hogar el Buen Samaritano, a shelter for people with HIV/AIDS in Panama City, said the State Department will earmark an additional $80.9 million for President's Emergency Plan for AIDS Relief-funded work in Latin America. A Panamanian activist with whom the Washington Blade spoke said LGBTQ people were among those who met with the first lady during her visit.
Pope Francis visited the shelter in 2019.
"I'm glad we have the opportunity to talk about how the United States and Panama can work together to combat HIV," said the first lady.
Michael LaRosa, the first lady's spokesperson, noted Panama will receive $12.2 million of the $80.9 million in PEPFAR funding.
"This funding, pending Congressional notification, will support expanded HIV/AIDS services and treatment," said LaRosa.
UNAIDS statistics indicate an estimated 31,000 Panamanians were living with HIV/AIDS in 2020. The first lady's office notes the country in 2020 had the highest number of "newly notificated cases of HIV/AIDS" in Central America.
The first lady visited Panama as part of a trip that included stops in Ecuador and Costa Rica.
The Summit of the Americas will take place next month in Los Angeles. The U.S. Agency for International Development and PEPFAR in April announced they delivered more than 18 million doses of antiretroviral drugs for Ukrainians with HIV/AIDS.