Russia to enforce anti-gay law during Olympics
Vladimir Putin signed gay propaganda ban in June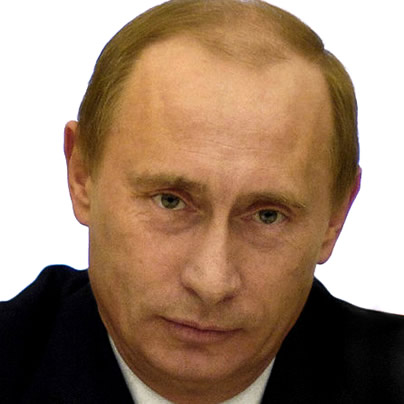 "The Interior Ministry of Russia during the Olympic games, as well as at any other time, will operate under Russian law in general and in particular on the law protecting children from the promotion of non-traditional sexual relations," the Russian Interior Ministry said in a statement posted to its website in Russian. "Law enforcement measures will be applied in accordance to Russian law to people carrying out such activities."
The statement comes nearly two weeks after the International Olympic Committee said it had "received assurances" from the highest levels of the Russian government that the broadly worded law that President Vladimir Putin signed in June would not impact athletes who plan to compete in the games and those who will travel to Sochi for them.
Russian Sports Minister Vitaly Mutko told a Russian sports website earlier this month the gay propaganda law would apply to those who travel to the Olympics. He told reporters during a Moscow press conference on August 8 that those who continue to criticize the statute need to "calm down."
Outrage over Russia's LGBT rights record continues to grow amid calls to boycott the Sochi games.
Gay New Zealand speed skater Blake Skjellerup last month announced he will wear a Pride pin during the Olympics. Figure skater Johnny Weir, whose husband is of Russian descent, told CBS News in an interview posted to its website on August 9 that he is "not afraid of being arrested" while in Sochi.
"If it takes me getting arrested for people to pay attention and for people to lobby against this law, then I'm willing to take it," Weir said.
President Obama told Jay Leno during an appearance on "The Tonight Show" on August 6 that he has "no patience" for countries in which anti-LGBT laws remain on the books. The White House the following day cited Russia's LGBT rights record as among the reasons that prompted Obama to cancel a meeting with Putin that had been scheduled to take place in Moscow before next month's G-20 summit in St. Petersburg.
"One of the things I'm really looking forward to is maybe some gay and lesbian athletes bringing home the gold or silver or bronze, which I think would go a long way in rejecting the kind of attitudes that we're seeing there," Obama said during a White House press conference on August 9. "If Russia doesn't have gay or lesbian athletes, then that would probably make their team weaker."
The Russian Interior Ministry stressed in its statement that those who do not violate the gay propaganda law will be able to "take part in the Olympics peacefully" as the Russian news agency RIA Novosti reported on its website. It also took issue with those who continue to criticize Russia over its LGBT rights record.
"The criticisms concerning the violation of the rights of gay [people,] preventing them from taking part in the Olympics, discrimination [against] athletes and Olympic guests on the grounds of sexual orientation are completely baseless and far-fetched," the Russian Interior Ministry said. "We consider them only as an attempt to undermine the credibility of the upcoming Olympic games in Sochi."
The Russian government on Monday said authorities will enforce the country's gay propaganda ban during the 2014 Winter Olympics in Sochi, Russia.
USCIS expands citizenship eligibility for children of same-sex couples born abroad
New policy announced on Thursday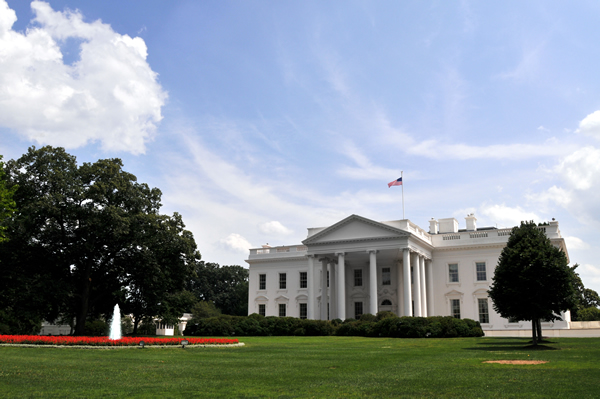 The Biden administration on Thursday announced children of same-sex couples who are born overseas via surrogate or another form of assisted reproductive technology are now eligible for U.S. citizenship.
A U.S. Citizenship and Immigration Services press release notes it "will allow a non-genetic, non-gestational legal parent of a child to transmit U.S. citizenship to the child if the parent is married to the child's genetic or gestational parent at the time of the child's birth, and the relevant jurisdiction recognizes both parents as the child's legal parents." CBS News first reported on the new policy.
"USCIS is taking a crucial step towards ensuring fair access and support for all families and their loved ones," said USCIS Director Ur Jaddou in the press release. "We are committed to removing unnecessary barriers promoting policies for all people as they embark on their journey to citizenship and beyond."
A number same-sex couples in recent years have filed federal lawsuits after the U.S. refused to recognize the American citizenship of their children who were born abroad.
The State Department in May announced it will recognize the U.S. citizenship of a married couple's child who is born outside the country if one of their parents is an American citizen. Advocacy groups applauded the new policy.
Los refugios para solicitantes de asilo LGBTQ en la frontera entre México y EEUU están 'desbordados'
Casi 50 personas viven en el Jardín de las Mariposas en Tijuana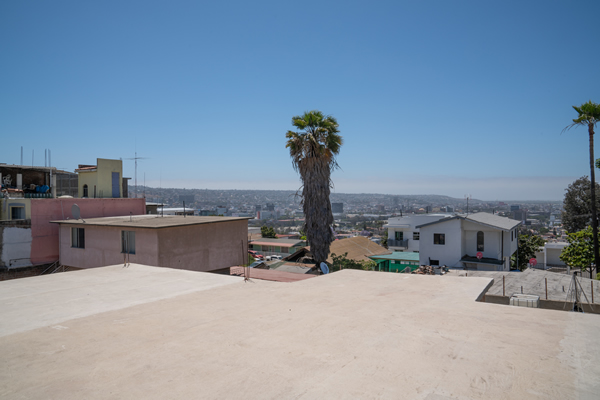 El Washington Blade el miércoles publicó una versión de esta nota en inglés. Reportar sin Miedo, el socio mediático del Blade en Honduras, la tradujo.
TIJUANA, México — Marvin es un hombre gay de 23 años de Dulce Nombre, un municipio del departamento de Copán en Honduras.
Salió de Honduras con una caravana de migrantes el 13 de enero de 2020 para escapar de la discriminación que, según él, habría sufrido si su familia y sus vecinos supieran que es gay. Marvin pasó ocho meses bajo la custodia de los funcionarios de inmigración mexicanos hasta que lo liberaron el pasado noviembre.
Estaba en la ciudad fronteriza mexicana de Tijuana en abril cuando un primo le dijo que su hermano menor había sido asesinado. Marvin, que actualmente vive en el Jardín de las Mariposas, un refugio para solicitantes de asilo LGBTQ en Tijuana, comenzó a sollozar cuando el Blade vio una foto del cuerpo de su hermano en la morgue de San Pedro Sula, la segunda ciudad más grande de Honduras.
"Él no se metía con nadie", dijo Marvin.
Marvin es una de las 47 personas que vivían en el Jardín de las Mariposas cuando el Blade lo visitó el 12 de julio. La capacidad máxima del refugio es de 40 personas.
Una mujer lesbiana que pidió al Blade que no publicara su nombre dijo que huyó de El Salvador en enero después de que miembros de la pandilla MS-13 la amenazaran con matarla porque no podía pagarles el dinero que le exigían. Dijo que miembros de la 18, otra pandilla, atacaron a su hijo después de que este se negara a vender drogas.
"Le pegaron muy fuerte; muy, muy fuerte", dijo la mujer lesbiana al Blade en el Jardín de las Mariposas, hablando entre lágrimas.
Olvin, un hombre gay de 22 años de El Progreso, una ciudad del departamento de Yoro, en Honduras, abandonó el país en enero.
Dijo que él y su pareja de tres años vivieron juntos en Tapachula, una ciudad del estado mexicano de Chiapas que está cerca de la frontera del país con Guatemala, durante varios meses. Olvin dijo que los pandilleros los amenazaron y sufrieron discriminación por su orientación sexual.
Olvin declaró al Blade que una noche rescató a su pareja de un edificio de apartamentos después de que se negara a vender drogas, y corrieron a un parque cercano. Olvin, que estaba llorando cuando habló con el Blade en el Jardín de las Mariposas, dijo que se fue de Tapachula unos días después sin su pareja.
Olvin llegó al refugio unas horas antes de la visita del Blade. Dijo que quiere pedir asilo en Estados Unidos.
"Quiero vivir en un lugar seguro", dijo Olvin.
Kelly West es una mujer transgénero que huyó de la discriminación y la persecución que dijo haber sufrido en Jamaica.
Voló a Ciudad de Panamá y luego a la ciudad mexicana de Guadalajara antes de llegar a Tijuana el 16 de junio. West dijo que ella y un grupo de otros ocho solicitantes de asilo LGBTQ intentaron "pasar la línea de la frontera" entre México y Estados Unidos, pero la policía mexicana los detuvo.
"Tuvimos que correr por nuestras vidas", dijo West al Blade en el Jardín de las Mariposas. "Incluso corrí sin mis zapatos. Salté por un puente".
Dijo que ella y tres de los otros solicitantes de asilo con los que trató de entrar en EE.UU. fueron a otro refugio para solicitantes de asilo LGBTQ en Tijuana, pero estaba lleno. West dijo que el refugio les remitió al Jardín de las Mariposas.
"Me gusta mucho estar aquí", dijo al Blade. "Aquí puedo ser quien quiera, puedo vestirme como quiera. Puedo llevar mis tacones, puedo llevar mi pelo. Puedo ser femenina todos los días".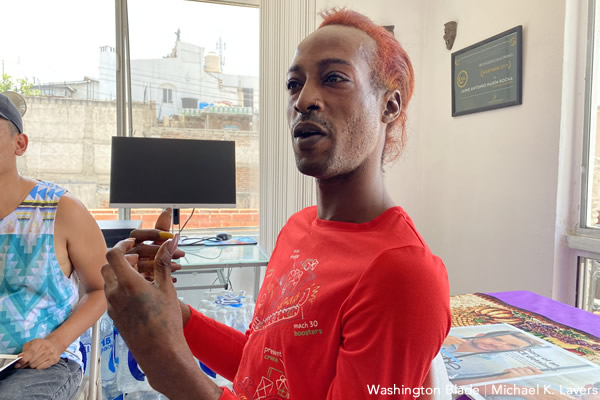 Jaime Marín, que dirige Jardín de las Mariposas con su madre, Yolanda Rocha, señaló que algunos residentes estaban durmiendo en una tienda de campaña en el patio trasero porque el refugio está por encima de su capacidad.
"Estamos sobrepoblados con muchos residentes", dijo Marín al Blade.
El Título 42, una norma de los Centros para el Control y la Prevención de Enfermedades que cerró la frontera sur a la mayoría de los solicitantes de asilo y migrantes debido a la pandemia de coronavirus, sigue vigente.
La vicepresidenta Kamala Harris y otros funcionarios de la administración han reconocido públicamente que la violencia basada en la orientación sexual y la identidad de género es una de las "causas fundamentales" de la migración desde Honduras, El Salvador y Guatemala. La Casa Blanca ha dicho a los migrantes que no viajen a la frontera entre Estados Unidos y México, pero Marín dijo que el número de personas que han viajado a Tijuana desde que el presidente Biden asumió el cargo ha aumentado drásticamente.
La anterior Casa Blanca obligó a decenas de miles de solicitantes de asilo a tramitar sus casos en México bajo su programa de Protocolos de Protección al Migrante. El 1 de junio, el gobierno de Biden puso fin oficialmente al MPP.
"El proceso ha sido más fácil, lo que significa que ya no se quedan meses o años", dijo Marín al Blade. "Presentan su solicitud, digamos hoy, y reciben una respuesta para una fecha en dos semanas. Básicamente están en Estados Unidos en un mes".
Marvin espera utilizar la foto del cuerpo de su hermano en la morgue y los artículos de los periódicos hondureños sobre su asesinato como pruebas para apoyar su caso de asilo. Sin embargo, Marvin aún tiene que encontrar a alguien que lo patrocine.
"Mi objetivo… es ir a Estados Unidos", dijo.
Marín dijo al Blade que los otros dos refugios para solicitantes de asilo LGBTQ en Tijuana también están al máximo de su capacidad. Marín dijo que los funcionarios de inmigración de Estados Unidos también están "abrumados" con nuevas solicitudes de asilo.
"Podría tomar un poco más de un mes debido a la cantidad de personas que básicamente están llegando y sólo tenemos que aumentar el trabajo que hacemos porque estamos recibiendo mucho más trabajo también", dijo al Blade. "Además estamos desbordados".
Un incendio destruyó un albergue para migrantes administrado por lesbianas en Mexicali el 9 de julio
El Centro Comunitario de Bienestar Social (Cobina) de Mexicali, ciudad fronteriza situada a unas dos horas y media al este de Tijuana, es un grupo que atiende a personas LGBTQ y a otros grupos vulnerables.
Dirige tres refugios para migrantes en la ciudad, que limita con Calexico, California, en el Valle Imperial de California. Un incendio eléctrico que destruyó el Refugio del Migrante de Cobina el 9 de julio desplazó a los 152 migrantes de Guatemala, El Salvador, Honduras y otros países que vivían allí.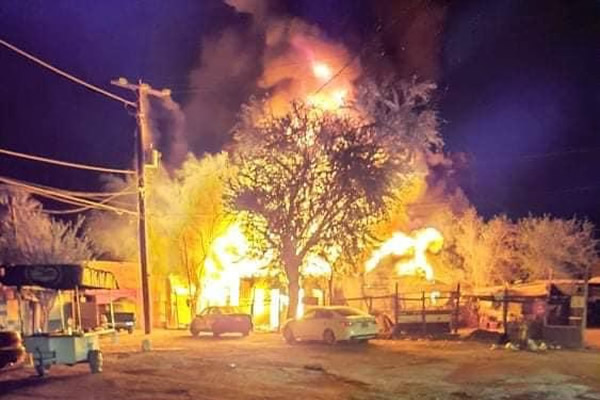 Algunos de los residentes del refugio estaban viviendo en las oficinas de Cobina cuando Blade los visitó el 12 de julio.
"Necesitamos recursos para reconstruir el refugio, para comprar madera, para comprar todo lo que se necesita", dijo al Blade la presidenta de Cobina, Altagracia Tamayo.
La Organización para el Refugio, el Asilo y la Migración ha recaudado 2,600 dólares para que el Cobina los utilice con el fin de comprar ropa, alimentos y pañales para los migrantes desplazados y sus hijos. Los fondos de la ORAM también permitirán al Cobina adquirir unidades de aire acondicionado portátiles. (La temperatura en Mexicali era de 108 grados cuando el Blade informó desde allí).
Tamayo dijo al Blade que el Cobina ha estado trabajando con la Agencia de la ONU para los Refugiados y la Organización Internacional para las Migraciones para ayudar a los migrantes desplazados.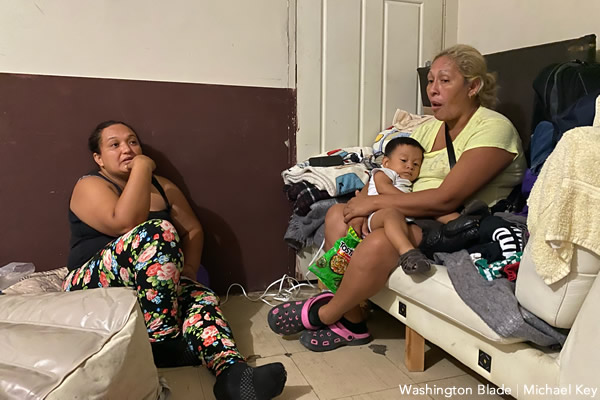 El Jardín de las Mariposas se mudó a una nueva casa en mayo. Está a menos de cuatro millas de El Chaparral, el principal puerto de entrada entre Tijuana y San Diego.
Alight, antes conocida como la Agencia Americana para los Refugiados, colaboró recientemente con la ORAM en la instalación de cámaras de seguridad y en la compra de nuevos muebles para el Jardín de las Mariposas. También pintaron el refugio y un mural, instalaron calentadores solares en el techo, sembraron plantas y renovaron el patio trasero.
Este trabajo forma parte de la iniciativa "Un pedacito de hogar" de Alight, que trabaja para mejorar los albergues para migrantes y refugiados en la frontera.
"Esto es bonito porque nos están ayudando y no nos están dejando tirados", dijo Marín al Blade. "Básicamente nos están dando esperanza para continuar esta lucha que tenemos".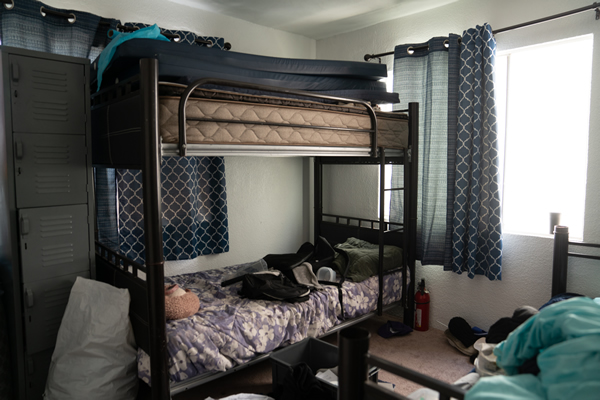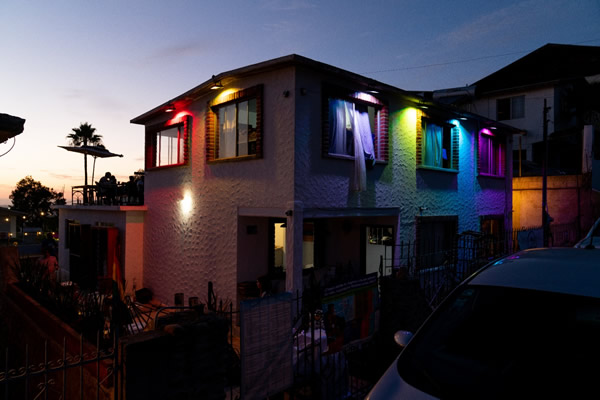 West Virginia's capital bans conversion therapy for LGBTQ kids
Conversion therapy is widely opposed by prominent professional medical associations including the American Medical Association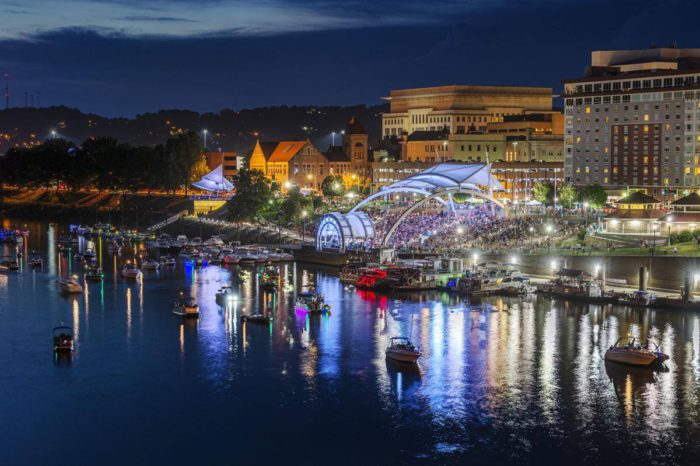 CHARLESTON, W.Va. – The City Council of West Virginia's capital city became the first municipality in the state to enact an ordinance banning the widely discredited practise of conversion therapy. In a 14-to-9 vote, the council passed the ordinance Monday to protect LGBTQ youth from the practise.
Conversion therapy is widely opposed by prominent professional medical associations including the American Medical Association, the American Psychological Association, and the American Academy of Pediatrics. The proposed ordinance carries a fine of up to $1,000 for violations.
"All of Charleston's children deserve love and respect for who they are, and no one should be in the business of trying to shame or humiliate teenagers out of being LGBTQ," said Andrew Schneider, executive director of Fairness West Virginia. "Our city's medical and faith communities came out strongly in support of this bill to ban the dangerous and discredited practice of conversion therapy, and I congratulate members of city council for bravely approving it."
"The Trevor Project is thrilled to see historic action being taken in West Virginia to protect LGBTQ youth from the dangers of conversion therapy. This discredited practice is not therapy at all — it's been debunked by every major medical organization and shown to increase suicide risk," said Troy Stevenson, Senior Advocacy Campaign Manager for The Trevor Project. "We are hopeful that this victory will help catalyze the passage of state-wide protections in the Mountain State, ensuring that no young person in West Virginia is subjected to this fraud at the hands of mental health providers."
A total of 20 states, as well as the District of Columbia, the Commonwealth of Puerto Rico, and 94 municipalities (mostly located in Florida, Ohio, Pennsylvania, Wisconsin, Michigan, and Minnesota), have banned the practice of conversion therapy on minor clients. Minnesota and Michigan's Governors earlier this year signed executive orders that prohibit state funds being expended on the practise.
Research Findings:
According to The Trevor Project's 2021 National Survey on LGBTQ Youth Mental Health, 13% of LGBTQ youth reported being subjected to conversion therapy, with 83% reporting it occurred when they were under age 18. LGBTQ youth who were subjected to conversion therapy reported more than twice the rate of attempting suicide in the past year compared to those who were not.
According to a peer-reviewed study by The Trevor Project published in the American Journal of Public Health, LGBTQ youth who underwent conversion therapy were more than twice as likely to report having attempted suicide and more than 2.5 times as likely to report multiple suicide attempts in the past year.