Obama, civil rights advocates commemorate March on Washington
Several speakers on steps of Lincoln Memorial referenced LGBT issues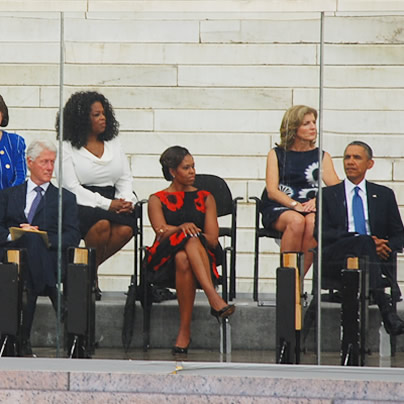 More than 100,000 people on Wednesday gathered on on the National Mall to commemorate the 50th anniversary of the 1963 March on Washington.
President Obama, former Presidents Bill Clinton and Jimmy Carter, Oprah Winfrey, Georgia Congressman John Lewis, U.S. Sen. Angus King (I-Maine,) U.S. Reps. Donna Edwards (D-Md.) and Joaquín Castro (D-Texas,) Revs. Al Sharpton and Joseph Lowery, Myrlie Evers Williams, NAACP President Benjamin Jealous, Bahamian Prime Minister Perry Christie and Dolores Huerta who co-founded what became known as the United Farm Workers are among those who spoke on the steps of the Lincoln Memorial. Two of Rev. Martin Luther King, Jr.,'s children – Martin Luther King, III, and Rev. Bernice King – and the slain civil rights leader's sister, Christine King Farris, also addressed the crowd.
"Because they marched, America became more free and more fair — not just for African Americans, but for women and Latinos, Asians and Native Americans; for Catholics, Jews and Muslims; for gays, for Americans with a disability," Obama said. "America changed for you and for me, and the entire world drew strength from that example."
The president said the 1963 March on Washington during which Martin Luther King, Jr., delivered his famous "I Have a Dream" speech "teaches us that we are not trapped by the mistakes of history; that we are masters of our fate." Obama stressed unity, while saying Americans will have to "reignite the embers of empathy and fellow feeling, the coalition of conscience" he said participants of the historic 1963 gathering expressed 50 years ago.
"That spirit is there," Obama said. "I see it when a white mother recognizes her own daughter in the face of a poor black child. I see it when the black youth thinks of his own grandfather in the dignified steps of an elderly white man. It's there when the native-born recognizing that striving spirit of the new immigrant; when the interracial couple connects the pain of a gay couple who are discriminated against and understands it as their own."
LGBT speakers who spoke during the 1963 March on Washington commemoration on Wednesday included Gay, Lesbian and Straight Education Network (GLSEN) Executive Director Eliza Byard, American Federation of Teachers President Randi Weingarten and Service Employees International Union (SEIU) President Mary Kay Henry. Alan van Capelle, the former executive director of the New York LGBT group Empire State Pride Agenda who is now the CEO of Bend the Arc, a Jewish social justice organization, also addressed the crowd.
"We may be closer to full legal equality; but we are far, far far from justice," van Capelle said as he spoke out against a number of issues that include the New York Police Department's controversial stop-and-frisk policy and anti-LGBT employment discrimination. "We are far from justice when a gay, lesbian or transgender person can be fired from their job simply because of who they are."
A number of other speakers included LGBT-specific remarks in their speeches.
Mee Moua, president of Asian Americans Advancing Justice, said the slain civil rights leader's vision for the country is "inclusive of all America."
"His call to action invites each America: Asian America, black America, Hispano/Latino America, Native America, GLBTQ America, white America and men and women of America to take inspiration from our own circumstances," Moua said. "And to know the price of freedom is the commitment to ensuring the security of liberty and justice for all."
Maryland Gov. Martin O'Malley noted his support of gay nuptials in his remarks.
Bernice King, who opposes marriage rights for same-sex couples, said the country has seen "great strides towards freedom for all" regardless of sexual orientation and other factors since the 1963 March on Washington and the passage of the Civil Rights Act of 1964 and other landmark civil rights measures.
"It doesn't matter whether you're black or white, Latino, Asian America or Native American, whether you're gay or straight," Lewis, who is the last living speaker from the original March on Washington, said. "We're one people, we're one family. We all live in the same house—not just the American house; the world house."
The commemoration of the 1963 March on Washington took place four days after Martin Luther King, III, U.S. Attorney General Eric Holder, House Minority Leader Nancy Pelosi (D-Calif.) and others linked LGBT equality to the broader civil rights movement during a separate gathering on the steps of the Lincoln Memorial that marked the landmark event.
Speakers honor Bayard Rustin
Byard is among those who paid tribute to Bayard Rustin, the gay man who organized the 1963 March on Washington, during their remarks at the Lincoln Memorial.
"A movement spoke through him, but the world would not yet embrace him as a gay man," Byard said. "Today, LGBT voices are welcomed to this stage."
Kristin Stoneking, executive director of the Fellowship of Reconciliation, noted Rustin was also a Quaker and a pacifist.
"He refused to accept war by denying society's expectation that he be straight," she said.
Jealous noted to the Washington Blade during an interview after he spoke at the Lincoln Memorial the slain civil rights leaders backed Rustin in the years leading up to the original March on Washington and during the event itself.
"He made sure that Bayard, who was as out as anyone in 1963, was visible," Jealous said. "Those small acts of courage magnify overtime and become transformative and set benchmarks and bars for the rest of us in our own lives and ultimately in our own politics."
Van Capelle also discussed Rustin's legacy with the Blade before he traveled to D.C. to speak at the March on Washington commemoration.
"I'll be thinking as much about Bayard Rustin as I'll be thinking about King, and how happy Bayard Rustin would probably be 50 years later to know that this country is embracing the civil rights of LGBT Americans," van Capelle said.
DOJ urged to investigate threats against providers of transition-related care
Boston-area hospital forced to evacuate in August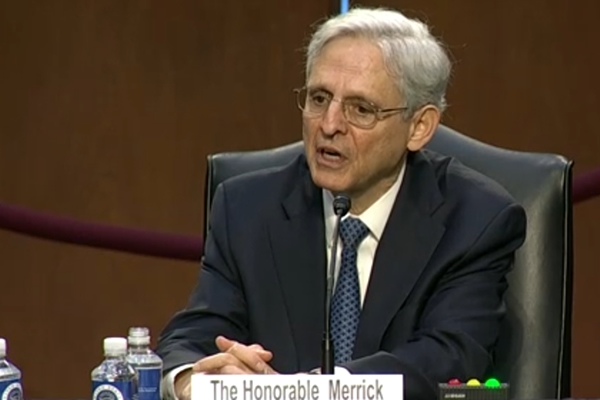 A coalition of major health organizations are calling on U.S. Attorney General Merrick Garland to investigation threats against providers of gender transition-related medical care for youth, asserting ongoing hostility, including bomb threats and threats of personal violence.
The letter, dated Oct. 3, says medical providers are facing threats for providing "evidence-based health care" to youth, which has meant care for gender transitions, such as hormones, puberty blockers and gender reassignment surgery. The targets of these threats, the letter says, are children's hospitals, academic health systems and physicians across the country.
"These coordinated attacks threaten federally protected rights to health care for patients and their families," the letter says. "The attacks are rooted in an intentional campaign of disinformation, where a few high-profile users on social media share false and misleading information targeting individual physicians and hospitals, resulting in a rapid escalation of threats, harassment and disruption of care across multiple jurisdictions."
The letter has an organizational signature from American Academy of Pediatrics, American Medical Association and Children's Hospital Association, listing no names as representatives. According to the letter, the group represent 270,000 physicians and medical students and CHA represents more than 220 children's hospitals across the country.
Major health organizations call on the U.S. Justice Department to take action weeks after Boston Children's Hospital was forced to evacuate over a bomb threat. Authorities later arrested a woman charged with making the after she reportedly phoned in the threat and called the staff "sickos."
The threats, the letter says, have had significant impact on providers and services to patients, including a new mother being prevented from being with her preterm infant because of a bomb threat; the need for increased security at children's hospitals; and staffers facing "increased threats via social media – including to their personal accounts."
A statement from organizations accompanying the letter urges social media companies — including Twitter, TikTok and Meta, which owns Facebook and Instagram — to "do more to prevent coordinated campaigns of disinformation."
Jack Resneck, president of the American Medical Association, said in a statement accompanying the letter "individuals in all workplaces have the right to a safe environment, out of harm's way and free of intimidation or reprisal."
"As physicians, we condemn groups that promote hate-motivated intolerance and toxic misinformation that can lead to grave real-world violence and extremism and jeopardize patients' health outcomes," Resneck said.
The Washington Blade has placed a call in with the Justice Department seeking comment on the letter and the American Medical Association seeking comment on why the letter has organizational signatures as opposed to signatures from any of their representatives.
Youngkin makes additional appointments to Va. LGBTQ+ Advisory Board
Governor plans to revise transgender, nonbinary student guidelines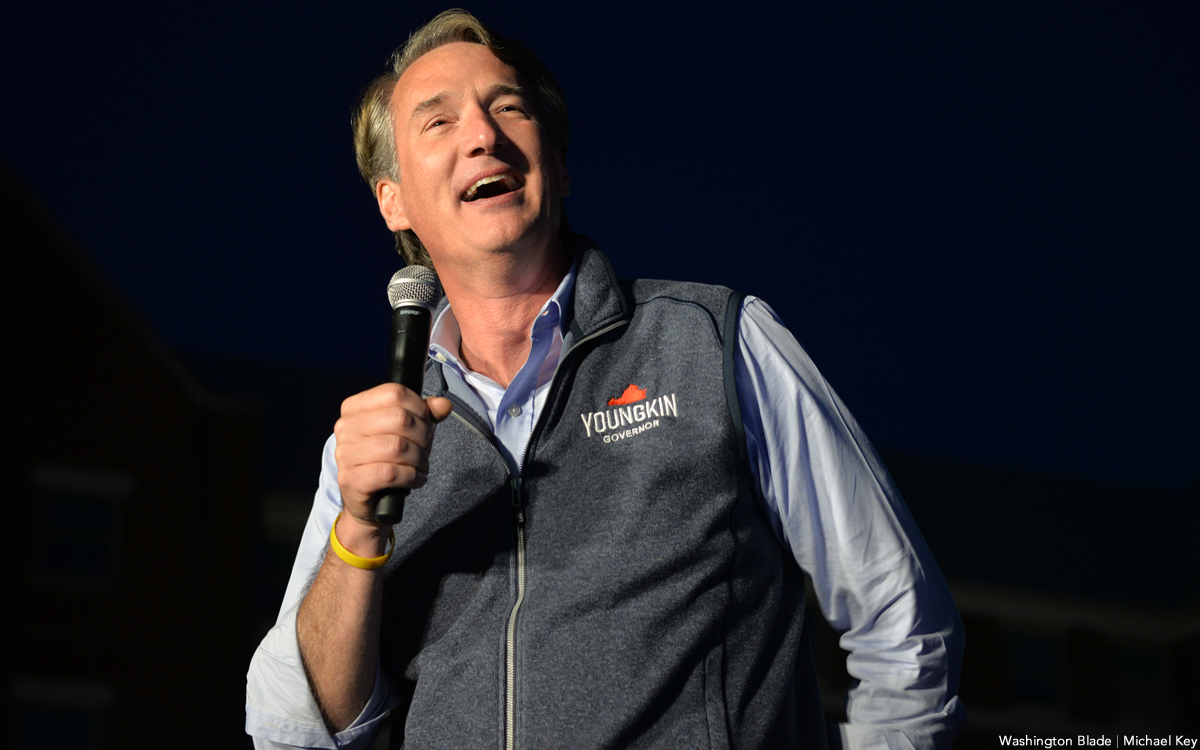 Republican Virginia Gov. Glenn Youngkin on Friday announced the appointment of three people to the Virginia LGBTQ+ Advisory Board.
Youngkin named Kerry Flynn, Jason Geske and Collin J. Hite to the board.
Casey Flores, the president of Log Cabin Republicans of Richmond, in July resigned from the board before his tenure was to begin. The resignation came amid growing criticism over a series of anti-LGBTQ and misogynist comments he made against Vice President Kamala Harris and U.S. Rep. Ted Lieu (D-Calif.), among others.
Youngkin last month announced he plans to revise the Virginia Department of Education's guidelines for transgender and nonbinary students. Thousands of high school students across Virginia on Sept. 27 walked out of class in protest of the planned revision.
Survey shows 72% of Utah residents back same-sex marriage
Troy Williams, executive director of Equality Utah said he's not surprised to see that a majority of Utahns now support marriage equality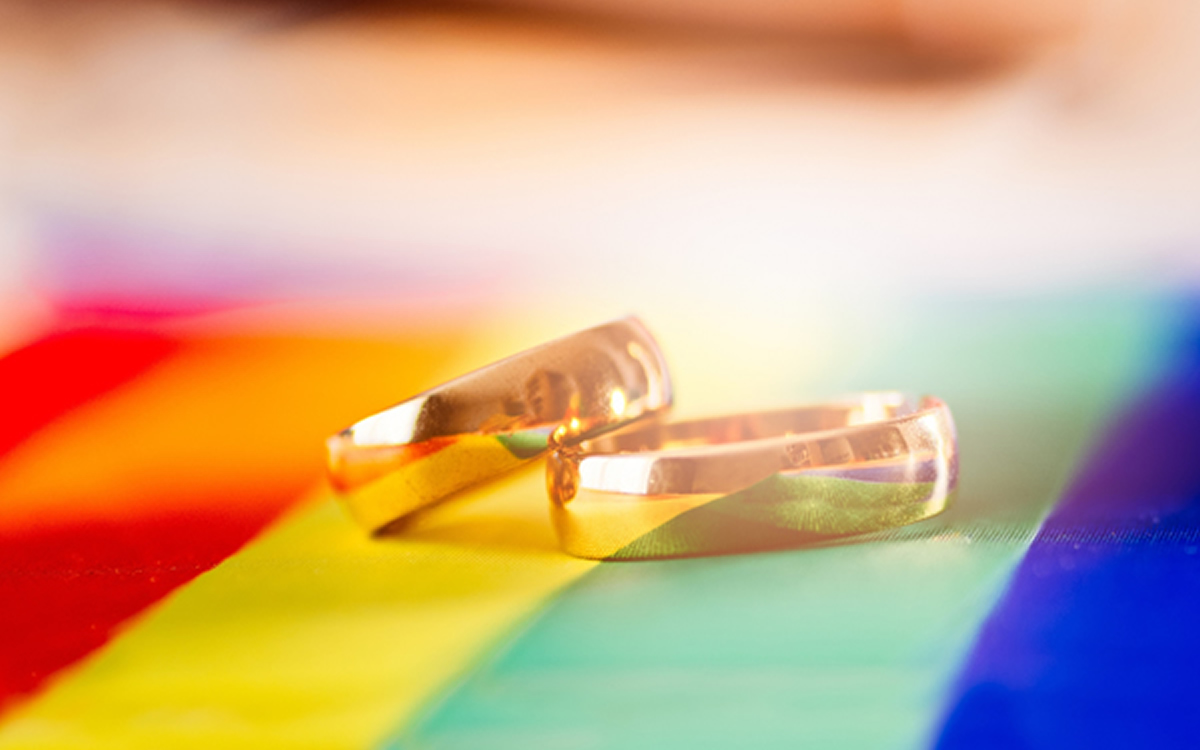 The results of a poll run by the Hinckley Institute of Politics and the Desert News found 72% of Utah's residents agree that marriages between same-sex couples should be recognized by law as valid, with the same rights as cis-gender marriages.
"For a state that less than 20 years ago passed laws and a constitutional amendment prohibiting same-sex marriage, there has been a seismic shift in opinion," said Jason Perry, director of the Hinckley Institute of Politics at the University of Utah.
The Deseret News/Hinckley Institute of Politics survey also found that 23% of those surveyed disagreed, while 5% expressed that they don't know.
The poll shows Utahns are aligned with the nation as a whole on the issue. A Gallup poll in May found 71% of Americans say they support legal same-sex marriage, a new high.
Troy Williams, executive director of Equality Utah, told the Desert News that he's not surprised to see that a majority of Utahns now support marriage equality.
"Utah is a pro-family state, and we recognize that families come in all shapes and sizes. When we see loving, committed couples joining in matrimony, our natural impulse is to support and encourage that love. This gives me great hope for the future," he said.
A new poll shows nearly three-fourths of Utahns support legal same-sex marriage. | By @dennisromboy #utpolhttps://t.co/DBJHHNgmnJ

— Deseret News (@Deseret) September 30, 2022