Despite shutdown, activists continue to engage on ENDA
Advocates say they're meeting with lawmakers on LGBT bill during budget crisis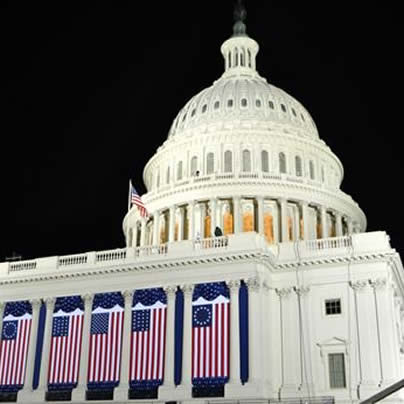 Despite the ongoing stalemate in Congress in the second week of a government shutdown, advocates say they're undaunted in their efforts to pass pro-LGBT legislation.
LGBT rights supporters say they remain engaged on a high-priority bill, the Employment Non-Discrimination Act, and assert plans for a vote in the Senate this fall remain unchanged.
Christian Berle, legislative director for Freedom to Work, said he doesn't expect the shutdown to have any impact on the timing of an ENDA vote.
"We've always believed the most likely window for a Senate vote on ENDA was between the last week of October and Thanksgiving, and we think we're still on track for that timing," Berle said.
Even as Congress focuses on finding an agreement to restore funds to keep the government in operation and raise the nation's debt limit, advocates say they met last week with lawmakers to build support for ENDA.
Rea Carey, executive director of the National Gay & Lesbian Task Force, said the shutdown "will not shut us up" on issues like ENDA as well as immigration reform.
"It's always the right time for rights and protections: that's why we were on the Hill last week pushing for ENDA with the members and their staff who remain at their desks during the shutdown," Carey said. "Just because some members of Congress don't want to do their jobs, doesn't mean that we should stop doing ours."
Similarly, Berle said last week Freedom to Work "had a very productive discussion" with an undeclared Republican senator who was eager to learn about the bill.
"While senators are focused, on both sides of the aisle, on resolving the government shutdown, they can walk and chew gum at the same time," Berle said. "We have been actively engaging with our allies on the Hill, while continuing to lobby the swing votes."
Berle declined to name the undeclared senator with whom he spoke, but said the lawmaker is "actively considering" support for the bill.
Although LGBT advocates are saying the trajectory for ENDA is unchanged, lawmakers close to ENDA are silent during the government shutdown.
Emails to the offices of Senate Majority Leader Harry Reid (D-Nev.); Sen. Jeff Merkley (D-Ore), ENDA's chief sponsor; and Senate Health, Education, Labor & Pensions Committee Chair Tom Harkin (D-Iowa) were returned with automatic replies that the offices were closed.
A Senate senior Democratic aide, who spoke on condition of anonymity, said he hasn't heard about ENDA discussions and "everything's on hold" besides budget and debt negotiations. Still, he didn't dispute that advocates are engaged on the legislation.
"That's probably credible, but they also have to put on airs, or put up a face like they're still doing the work on it," the aide said. "But, honestly, we're not going to get to anything until the week of Halloween. We won't get to anything other than debt ceiling and government funding until Halloween week, so everything is on hold until we address those two things."
Americans for Workplace Opportunity, the $2 million campaign whose steering committee consists of 11 groups seeking to pass ENDA, didn't respond to multiple requests for comment on the status of its ENDA lobbying during the government shutdown. The campaign was scheduled to have a citizens lobby day on Capitol Hill to push for ENDA passage on Oct. 3.
As gridlock continues, it's reasonable to question whether legislation that would prohibit discrimination against LGBT workers could reach the president's desk during the current Congress.
Berle insisted the situation is different for ENDA when asked if the current impasse reflects poorly on the chances for passage of the LGBT bill.
"ENDA is not a partisan issue, unlike the budget and government funding, senators on both sides of the aisle are in ongoing discussion about the need for employment protections," Berle said. "We are confident that ENDA will have the 60 votes necessary for cloture. We're ready to pass these fundamental workplace protections."
Berle added that there is time to push for ENDA in the House, where passage will be more difficult.
"Fortunately there are still 15 months in the current Congress to pass ENDA," Berle said. "Freedom to Work is actively engaging not only with Senate offices, but are picking up Republican supporters in the House to help press the case for consideration and building a majority in the House of Representatives to make federal workplace protections for LGBT workers a reality."
A shutdown for marriage equality lawsuits?
The shutdown could also have an impact on another route LGBT advocates are using to pursue LGBT rights: the federal judiciary. The website for the U.S. courts, as reported by ThinkProgress, at the time of the shutdown said the court would remain open for about 10 business days, but on or around Oct. 15, the judiciary will reassess the situation.
Jon Davidson, legal director for Lambda Legal, said it's unclear at this time whether the shutdown will lead to a nationwide closure or impact the 35 marriage equality cases he counts pending before the judiciary.
"Federal courts will be operating at least until mid-October and thereafter, it will vary by courthouse, as each federal district and circuit makes its own independent budget decisions," Davidson said. "Furloughs of nonessential federal judicial staff is likely to lead to postponements of pending hearings in many parts of the country, but I have not heard of any of the immediately upcoming hearings in marriage cases being delayed."
The case for which a closure of the federal judiciary could have the most immediate impact is DeBoer v. Snyder, the federal lawsuit seeking marriage equality in Michigan. Oral arguments are set for Oct. 16, just about the time the federal judiciary will make a reassessment.
Rod Hansen, a spokesperson for the U.S. District Court for the Eastern District of Michigan, said he doesn't expect oral arguments in the case will be affected by the shutdown.
"There is no way of being sure, but I doubt very much that it will be postponed," Hansen said.
But Davidson said the shutdown is already having an effect on other parts of the federal court system that are important to LGBT people.
"Immigration courts have postponed hearings in matters not involving someone in detention, meaning delays for many individuals seeking asylum or binational married couples seeking green cards for the foreign spouse," Davidson said. "Discrimination proceedings before the EEOC are being postponed, which is having a negative impact on several cases we are currently handling on behalf of LGBT and HIV-positive workers."
House-passed NIH bill would fund AIDS research
As Congress hashes out the way forward, the House continues to pass bills to fund the government through a piecemeal approach without approving legislation that would restore operations to the government as a whole.
Among these bills is a measure to continue funds for the National Institutes for Health. As the Blade reported last week, the lack of funds for this agency has implications for HIV/AIDS because the shutdown put a freeze on new medical research related to the disease.
The White House has threatened to veto the legislation, saying a piecemeal approach to fund the government isn't appropriate, and Reid indicated a lack of interest in bringing up the bill in the Senate, saying, "What right do they have to pick and choose what parts of government can be funded?"
Laura Durso, director of LGBT research at the Center for American Progress, rejected the idea of funding the government through a piecemeal approach and said her organization doesn't support the bill.
"While this piecemeal approach to funding the government is not a sensible strategy, restoring funding to the National Institutes of Health will mean that coordination and execution of life-saving research will continue under agencies such as the Office of AIDS Research and the National Institute of Allergy & Infectious Diseases," Durso said.
Chris Collins, director of policy for amfAR, said the government shutdown magnifies a larger problem of inadequate government funds for AIDS research and is keeping American scientists away from an international HIV vaccine conference taking place this week in Barcelona, Spain.
"The government shutdown is frustrating AIDS research in multiple ways," Collins said. "It has already kept scores of U.S. government scientists away from an HIV vaccine conference this week. This, on top of a continued loss of purchasing power of NIH funding over the years, will slow down new discoveries in the fight against AIDS and other diseases."
Meanwhile, LGBT people are among the estimated hundreds of thousands of federal workers who remain on furlough during the shutdown.
Just like during the shutdown 17 years ago, these workers seem headed to receiving compensation for the time they've been unable to work. On Saturday, the House passed a measure to restore their pay, but only after the funding for the government as a whole is restored.
President Obama endorsed the idea of providing these workers with pay for the time they were furloughed, saying, "That's how we've always done it."
On Monday, Defense Secretary Chuck Hagel recalled most civilian Pentagon furloughed employees back to work on the basis of Obama signing the Pay Our Military Act to continue funding for the armed services.
Capt. Valerie Palacios, spokesperson for the LGBT employee affinity group at the Pentagon known as DOD Pride, said her fellow LGBT employees look forward to getting back to their jobs.
"DOD civilians, LGBT or otherwise, are proud to go back to work to support the military, but we, along with military personnel and the defense industrial base, remain severely hampered in our ability to do work critical to National Security by the lack of funding to support key programs," Palacios said. "We all look forward to the day when we can get back to this critical work. Our nation's safety depends on it."
17th Street High Heel Race draws large crowd
D.C. Mayor, three Council members, police chief mingle with drag queens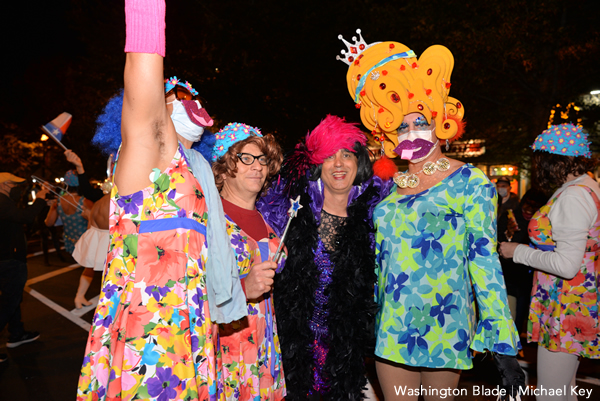 Close to 1,000 spectators turned out Tuesday night to watch D.C.'s 34th Annual 17th Street High Heel Race in which several dozen men dressed in drag and wearing colorful high heel shoes raced along a three-block stretch of 17th Street near Dupont Circle.
As she has in past years, D.C. Mayor Muriel Bowser, whose office organizes the annual event, gave the official signal for the runners to start the race from a stage at the intersection of 17th and R streets, N.W.
Joining the mayor on the stage was Japer Bowles, who Bowser recently named as director of the Mayor's Office of LGBTQ Affairs, which plays the lead role in organizing the High Heel Race.
Also appearing on stage after being introduced by Bowser were D.C. Council Chair Phil Mendelson (D-At-Large) and Council members Robert White (D-At-Large) and Brooke Pinto (D-Ward 2).
Bowser, who along with the three Council members delivered brief remarks before the start of the race, said the event highlights the city's diversity and resilience coming after over a year of coping with the COVID-19 pandemic.
"What we want the world to know – that even in a pandemic, even when we had to trim the budget, we stayed focused on how we can make life better for our LGBTQ community," Bowser told the crowd. "And we're going to keep on doing it," she said. "We're investing in making sure everybody in our community is accepted and safe."
D.C. Police Chief Robert Contee, who walked along the three-block section of 17th Street before the race began, was greeted warmly by bystanders, some of whom called out his name to welcome him to what has become the city's largest Halloween celebration.
"This is a great event," Contee told the Washington Blade. "I enjoy coming out to be among D.C. residents and all who find our D.C. culture," he said. "It's just a great evening, so we're happy to be out here supporting our community."
Members of the D.C. police LGBT Liaison Unit were among the police contingent on duty at the event and overseeing the closing of the streets surrounding 17th Street.
Like past years, many of the race participants and dozens of others dressed in Halloween costumes paraded up and down 17th Street beginning at 6:30 p.m., more than two hours before the start of the race, which was scheduled to begin at 9 p.m.
However, the mayor this year gave the signal to start the race at about 8:35 p.m. Although a large number of drag runners participated in the race, some who planned to join the race didn't make it to the starting line in time because they expected the race to begin at 9 p.m. as advertised, according to people in the crowd who knew those who missed the race.
To ensure that everyone had an opportunity to participate, Bowles and others from the mayor's office agreed to hold a second race about a half hour after the first one. The number of participants in the second race appeared to be about the same as those who joined the first race, indicating many of the drag participants ran twice.
"This is a special treat," said one bystander. "We got to see two races instead of one."
The High Heel Race was cancelled last year due to restrictions related to the COVID pandemic. Many in the crowd watching the race on Tuesday night said they were delighted the city decided to go ahead with the event this year at a time when other large events continue to be canceled or postponed.
Also similar to past years when the High Heel Race took place, the restaurants and bars that line 17th Street were filled on Tuesday night, including the gay bars JR.'s and Windows as well as the longtime LGBTQ-friendly Annie's Paramount Steakhouse.
Prior to the mayor's arrival, gay local radio and TV personality Jimmy Alexander of DCW 50 TV served as host to a drag show and costume contest on the stage. DCW 50 also set up and hosted a separate stage on the sidewalk next to JR.'s bar in which race participants and others dressed in costumes were invited to have their pictures taken and provided with copies of the photos of themselves.
"I think it's amazing," Bowser told the Blade after the completion of the first race. "It's good to be back. It was tough missing a year of activities," she said referring to the business shutdowns brought about by the pandemic. "We had a lot of great, beautiful racers. And so, I'm really excited about it."
To see more photos from this event, click here.
Meet the new LGBTQ liaison for the Democratic National Committee
Sam Alleman joins DNC after work in abortion rights movement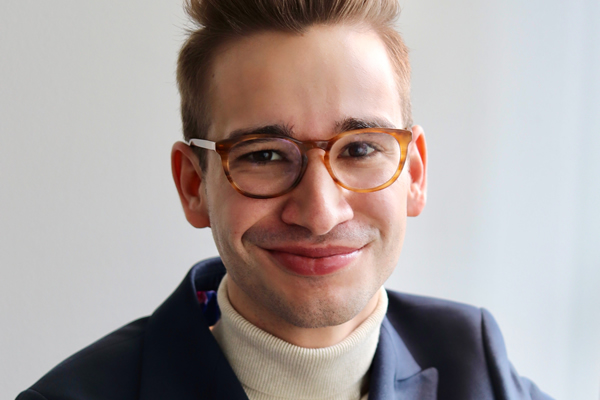 The new LGBTQ liaison for the Democratic National Committee comes from a background not in LGBTQ advocacy, but in the abortion rights movement, and sees the two as working "hand in hand" for a common cause.
Sam Alleman, who started Monday as LGBTQ coalitions director for the DNC, said in an interview with the Washington Blade that his previous job as political outreach manager for five years at the Planned Parenthood Action Fund will inform his LGBTQ work going forward.
"The reproductive rights movement goes hand in hand with what we've been fighting for in the LGBTQ equality and equity movement as well," Alleman said. "There is no being LGBTQ without your ability to have bodily autonomy and to make those same choices."
The relationship between the LGBTQ movement and abortion rights may be more pronounced in the coming months: A national battle is taking place over a Texas law banning abortion in the state for any woman pregnant for more than six weeks as the U.S. Supreme Court will consider litigation with the potential to overturn Roe v. Wade. LGBTQ legal advocates, faced with a term at the Supreme Court with no major cases specific to LGBTQ rights, are already turning their focus to the abortion cases.
"I think that the gender equity lens here, as we move toward building out that permanent infrastructure that really brings all of those things together through more of a social justice lens, will be absolutely critical to being successful, particularly speaking to our younger demographics, to making sure trans and queer people feel included in a way that's actually equitable and just," Alleman said.
Alleman identified two key priorities for him in his new role at the DNC — turning out LGBTQ voters for Democratic candidates and building an internal infrastructure for the LGBTQ community — and said his previous work at Planned Parenthood Action Fund working with candidates and coalition groups will help him reach that goal.
"I really plan to use a lot of the lessons that I learned there in building out to making an inclusive campaign, both in programs and in voter contact infrastructure, within the party itself as well," Alleman said.
Alleman, reiterating he was still in the first days of his job, said the process for building out the LGBTQ community infrastructure at the DNC is still in its initial phases. Alleman said his vision would be not only turning out LGBTQ voters, but finding a way that "allows them to plug in as volunteers and leaders within the party to do the voter contact to hold the events on the ground, to work with our state party partners, and making sure that their voices are represented."
Key to building out that infrastructure, Alleman said, would be making sure all voices within the LGBTQ community are heard. Alleman made a special point to say queer and transgender people "who have been our partners for so long and deserve a seat at the table" will be an essential part of the infrastructure.
The voice of LGBTQ people, Alleman said, will be increasingly important in elections as the numbers of voters who identify as LGBTQ increase. Pointing to 2020 exit polls showing 7 percent of the electorate identified as LGBTQ, Alleman said more LGBTQ people than ever turned out in the presidential election and overwhelmingly backed Biden by 61 percent. (Republicans were also able to claim a small victory, having doubled their share of LGBTQ voters from 14 percent to 28 percent who voted for Donald Trump after the previous election.)
"We know that that demographic is only growing," Alleman said. "Within under 18 year olds, approximately 16 percent of folks identify as LGBTQ in this country. So really my priorities are building out an infrastructure here at the DNC, that will turn out LGBTQ voters for Democratic candidates as they become a larger and larger subsection of our voting population."
Alleman joins the Democratic National Committee days before a Virginia gubernatorial election observers see as a national bellwether for upcoming congressional midterm elections. Terry McAuliffe, a Democratic former governor who said in a interview with the Blade his opponent is the "most homophobic, anti-choice" candidate in Virginia history, is running against Glenn Youngkin, who said recently he continues to oppose same-sex marriage but "will support" the law.
Polls show an exceedingly close race in a state President Biden won handily in the presidential election. An Emerson College/Nexstar Media poll found the race is a dead heat and McAuliffe and Youngkin are tied with 48-48 percent each. The election is Tuesday.
Asked what he sees as his role in the closing days of the Virginia election, Alleman reiterated he was still on Day One of his role at the DNC, but believes Democrats are "doing everything possible to turn out different constituency groups for Terry McAuliffe and Democrats, up and down the ballot in Virginia."
"My role as I start to step in here is really working to make sure that our national partner organizations are doing everything possible to turn out that book as we head into GOTV, and be a partner to them as they drive their supporters out to make sure that we're not leaving anything on the table come next Tuesday when we elect Terry McAuliffe governor of Virginia again," Alleman said.
Lucas Acosta, a spokesperson for the DNC who joined in on the interview with Alleman, said the DNC is working with groups such as the Human Rights Campaign (his former employer) to highlight the records of both Virginia candidates.
"I think what happened last week — Youngkin's comments on same-sex marriage — are concerning," Acosta said. "That's definitely something that we are going to continue to highlight in the closing days of the campaign. That obviously is just a further example why Youngkin is not the moderate he purports to be, but rather a Trump acolyte, who is going to turn back time on rights for a litany of Virginians, including LGBTQ folks."
Democrats have enjoyed an advantage as a result of the sea change in support in favor of LGBTQ rights. But things may be beginning to shift as LGBTQ issues change and move away from same-sex marriage to other battlegrounds, such as transgender people participating in school sports consistent with their gender identity.
Washington Post columnist James Hohmann reported this week on new data from the National Republican Senatorial Committee finding gender and race issues play out in favor of Republicans among suburban voters, if they're on terms like critical race theory or concepts like "genderism." According to the data, 65 percent said "allowing biological males to compete against women in high school and college sports is hugely unfair and will erase many of the gains women have made in athletics over the last 50 years."
Just this week, Texas Gov. Greg Abbott signed into law House Bill 25, which effectively bars transgender girls from participating in school sports consistent with their gender identity, making the Lone Star State the latest state to enact such a measure in defiance of federal laws against discrimination based on sex.
Alleman, asked whether the DNC would change the way it approaches these issues, said he wasn't aware of the data and questioned whether the conclusion of the data "really makes much sense."
"I think we'll at least continue to push forward the message of what we've done as Democrats which is fight for these individuals to be treated just the same as everyone else," Alleman said.
State Department to issue passports with 'X' gender marker
Special LGBTQ rights envoy celebrates 'significant step'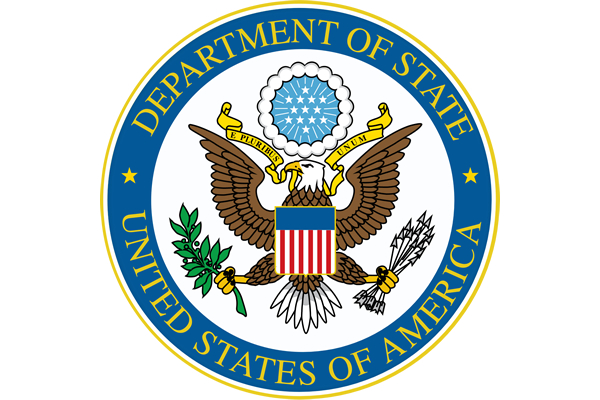 The State Department on Wednesday is expected to issue the first U.S. passport with an "X" gender marker.
Jessica Stern, the special U.S. envoy for the promotion of LGBTQ rights abroad, on Tuesday told the Washington Blade and the Associated Press during a conference call the State Department will initially issue a gender-neutral passport to one person.
Stern said the State Department will begin "offering the 'X' gender marker option to routine passport applicants" in early 2022. A State Department official said the delay is necessary because the U.S. Office of Management and Budget needs to approve "the required form updates."
Secretary of State Antony Blinken in June announced the State Department will allow passport applicants to "self-select their gender as 'M' or 'F'"
People who identify as intersex, non-binary or gender non-conforming can choose a gender-neutral gender marker for their passports and Consular Report of Birth Abroad, a document that confirms an American who was born overseas is a U.S. citizen. The new policy that Blinken announced in June no longer requires "medical certification if an applicant's self-selected gender does not match the gender on their other citizenship or identity documents."
"Offering a third gender marker is a significant step towards ensuring that our administrative systems account for the diversity of gender identity, gender expression and sex characteristics," said Stern during the conference call. "Because people do not always fit within a male or a female designation, it doesn't benefit anyone to have inconsistencies between people and systems."
Stern added passports with an "X" gender marker will "reflect the true gender of the passport holder and make people safer, hopefully by reducing the likelihood of dehumanizing harassment and mistreatment that so often happens at border crossings when a person's legal documentation does not correspond with their gender expression."
"When a person obtains identity documents that reflect their true identity, they live with greater dignity and respect," said Stern.
The State Department's announcement comes a day after it publicly acknowledged Intersex Awareness Day, which commemorates the world's first-ever intersex rights protect that took place in Boston in 1996.
Dana Zzyym, an intersex U.S. Navy veteran who identifies as non-binary, in 2015 filed a federal lawsuit against the State Department after it denied their application for a passport with an "X" gender marker. The State Department official with whom the Blade spoke on Tuesday declined to say whether Zzyym is the first person who will receive a gender-neutral passport in the U.S.
"The department does not generally comment on individual passport applications due to privacy considerations," said the official.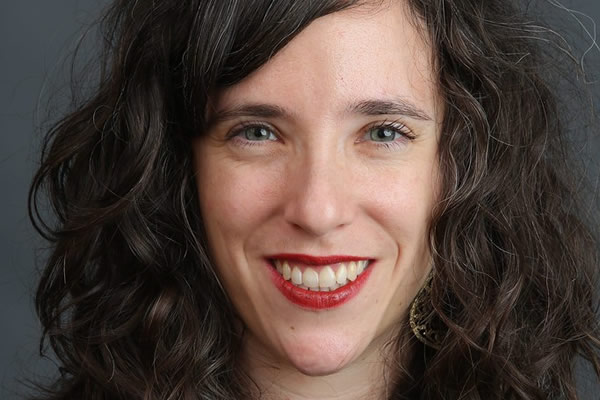 President Biden in February signed a memorandum that committed the U.S. to promoting LGBTQ rights abroad.
The White House in June named Stern, who had previously been the executive director of OutRight Action International, a global LGBTQ advocacy group, to her position. Stern said the issuance of passports with "X" gender markers demonstrates the Biden administration's commitment to LGBTQ rights.
"I am proud that the United States seeks to protect and promote the human rights of LGBTQI+ persons globally and this is an excellent example of leading by example," said Stern.
Canada, Australia, New Zealand and Argentina are among the handful of other countries that issue gender-neutral passports.
The State Department official said their colleagues have "been coordinating with Canada and New Zealand on best practices as we work towards this goal, based on their experiences." They said the State Department has also "coordinated with several LGBTQI+ organizations, both directly and through the White House Domestic Policy Council, throughout this process."