Happy hour hangout
Nellie's Sports bar de facto headquarters for many area LGBT sports leagues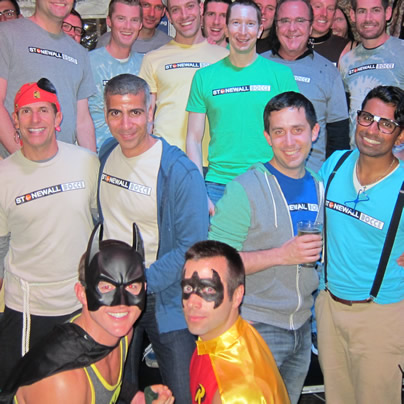 After spending several years in New York City and Chicago where the bar scene tends to have a neighborhood vibe, Doug Schantz came to D.C. hoping to recreate that neighborhood feeling when he launched Nellie's Sports Bar in 2007.
"The original premise of Nellies was to create a neighborhood hangout for people to watch professional sports," Schantz says. "I wanted to establish a friendly and approachable atmosphere where patrons would want to bring their friends."
In a roundabout way of reaching the community, Schantz decided to focus some attention on the local LGBT sports teams. He began sponsoring leagues and tournaments and encouraging LGBT sports clubs to have happy hours at Nellie's.
"Without any compromise, we sponsor any league that comes to us," Schantz says. "We do it without any doubts." The sponsorships turned out to be an incredibly good marketing strategy as almost all the LGBT sports athletes of D.C. live within a 3-5-mile radius of Nellie's.
Another thing that Nellie's has brought to the LGBT sports community is crossover in the sports teams. The teams are holding mixers together and it has resulted in athletes participating in multiple sports.
"The growth and awareness of LGBT sports in Washington D.C. can be credited in large part to Doug Schantz," says JJ Johnson, a D.C. Gay Flag Football League board member. "He has given the LGBT sports leagues seed money, support and a place to go."
If you happen to stop into Nellie's on a Thursday night during the fall season, you'll be surrounded by upwards of 80 people running around in T-shirts with Stonewall Bocce on the front and Nellie's Sports bar on the back.
"Nellie's Sports Bar and Doug have been amazing partners for us," says Brien Bell, commissioner of the Stonewall Bocce League. "Years ago when we started Stonewall Bocce, Doug welcomed us to his home (Nellie's) and was genuinely excited about partnering with us. He took a risk when others would not, because he believed in the value of sports like bocce and the importance of supporting our community. Five years later, he continues to support, motivate and inspire us. Stonewall Bocce would not be what we are today without Nellie's."
That kind of worship for Nellie's is common among the leaders of the D.C. gay sports community. Who else has a bar that is crafted to their needs? Today, Nellie's has evolved beyond professional and LGBT sports.
"Watching college sports has become a big portion of our business," Schantz says. "I also predict that within five years, straight sports teams will begin coming to us for sponsorship."
Following is a partial list of the LGBT sports clubs that meet at Nellie's:
Every Saturday is CAPS Softball League (eight teams) beginning at 1 p.m.
Every Sunday is DCGFFL Flag Football (20 teams) beginning at 3 p.m.
Every third Tuesday is D.C. Rollergirls happy hour from 5-7 p.m.
Every second Tuesday is D.C. Singles Volleyball happy hour from 5-7 p.m.
Every first Friday (winter) is Ski Bums happy hour from 5-7 p.m.
Every other month, D.C. Strokes has a happy hour from 5-7 p.m. (dates vary).
Every other month (spring/summer) CTA Tennis has a happy hour from 5-7 p.m. (dates vary).
Every first Tuesday is D.C. Furies Women's Rugby happy hour from 5-7 p.m.
Every Thursday is Stonewall Bocce Night beginning at 6:30 p.m.
Every first Wednesday is Team D.C. Velo (cycling) from 5-8 p.m.
Every second Thursday is Washington Wetskins (Water Polo) night from 5-8 p.m.
Every third Friday is Lambda Divers (Scuba) happy hour from 5-7 p.m.
Every fourth Tuesday is Ping Pong Madness Night beginning at 7:30 p.m.
Every fourth Thursday is Capital Splats Racquetball Club happy hour from 5-8 p.m.
Every fourth Wednesday (winter) is Washington Wolves Ice Hockey Club happy hour from 5-7 p.m.
Busboys and Poets to focus on peace in 2022
Special guests include Angela Davis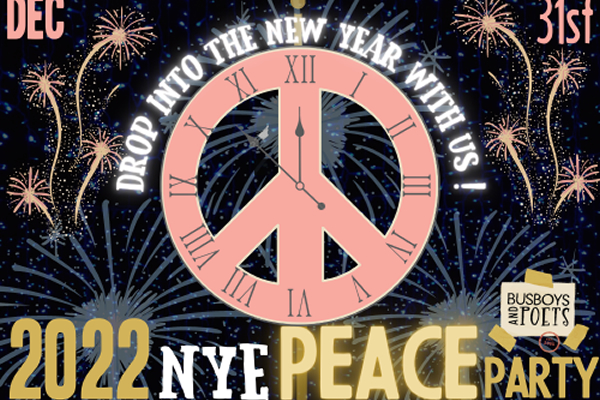 Busboys and Poets will host "The 2022 NYE Peace Party" on Friday, Dec. 31 at 9 p.m. at Busboys and Poets in Columbia.
The event will feature peace activists and literary powerhouses such as political activist, philosopher, academic, scholar and author Angela Davis, activist, scholar and educator Gina Dent, and renowned writer, poet, playwright and activist Sonia Sanchez, among others.
There will also be live music, food, party favors, champagne toast and free parking. Tickets are available on Eventbrite.
PHOTOS: GMCW Holiday Show
Chorus performs at Lincoln Theatre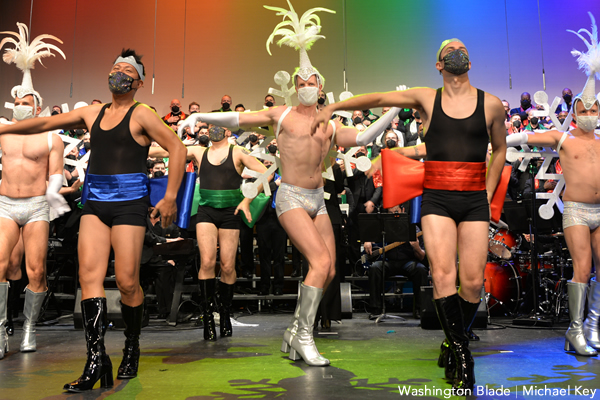 The Gay Men's Chorus of Washington performed its "Holiday Show" at Lincoln Theatre on Saturday. The Chorus has performances on Dec. 11 and 12. For tickets and showtimes, visit gmcw.org.
(Washington Blade photos by Michael Key)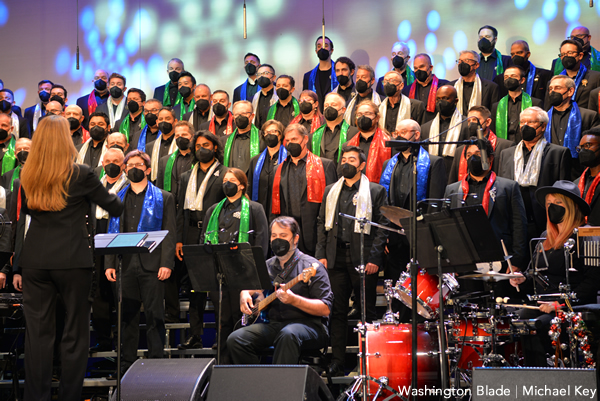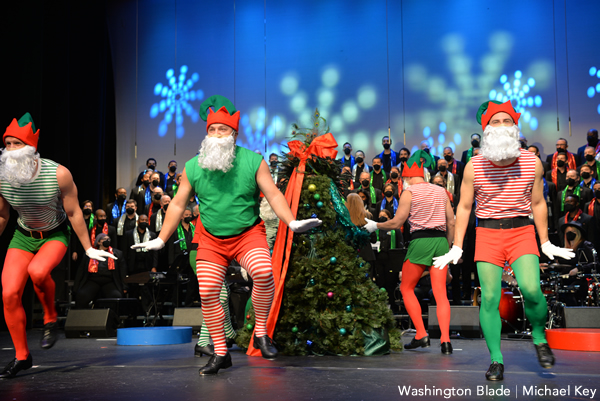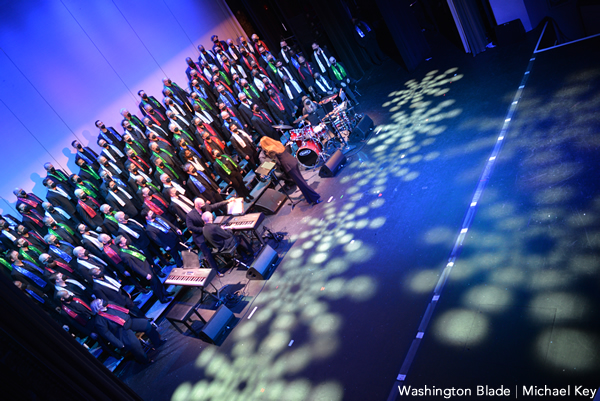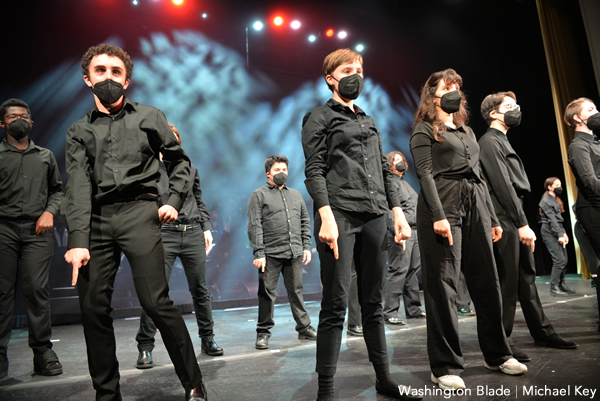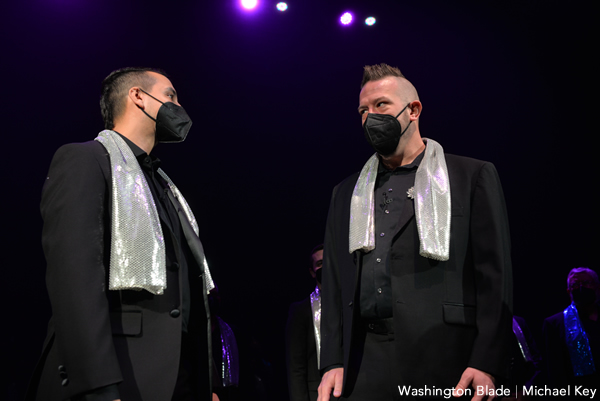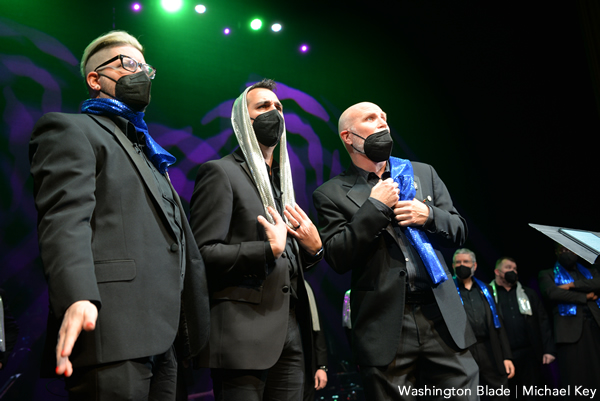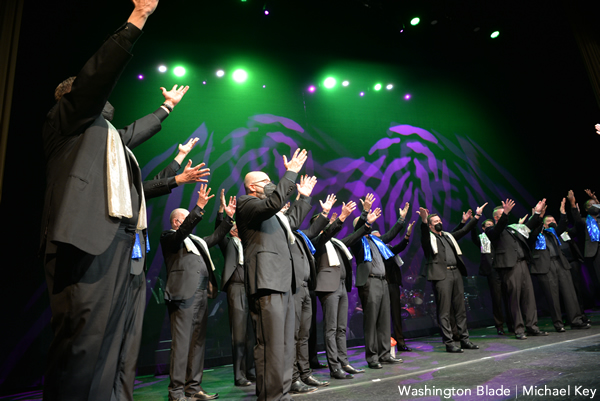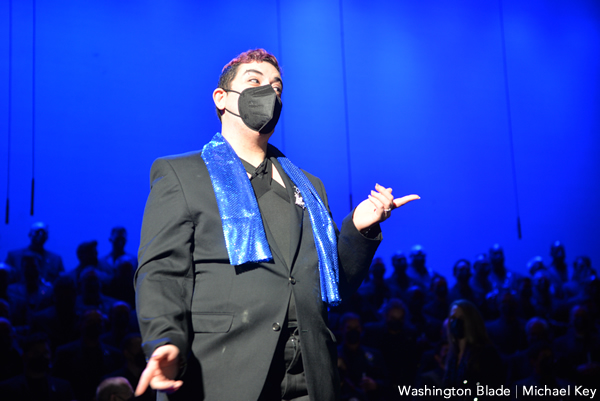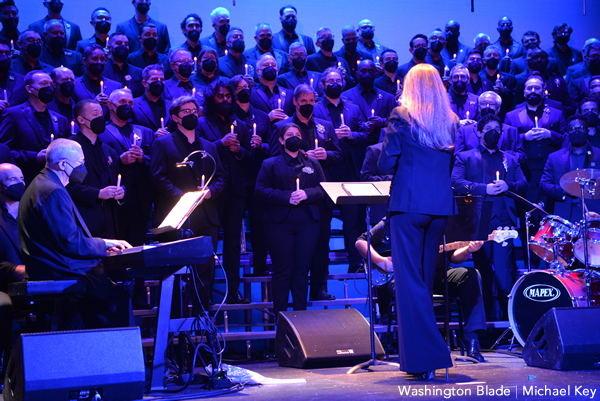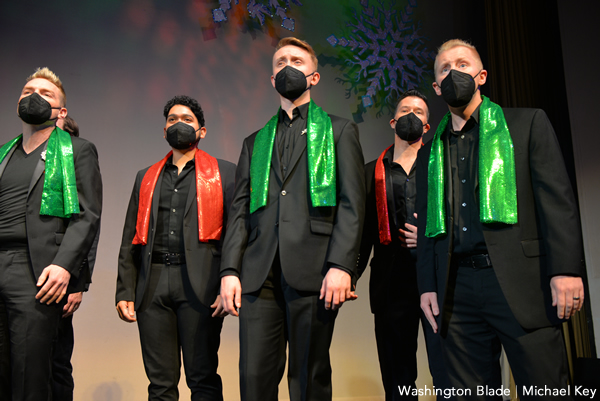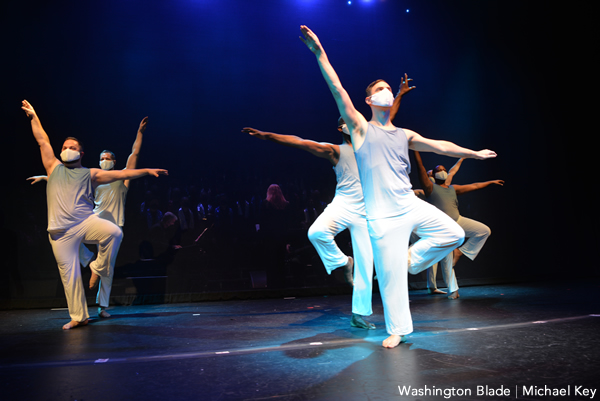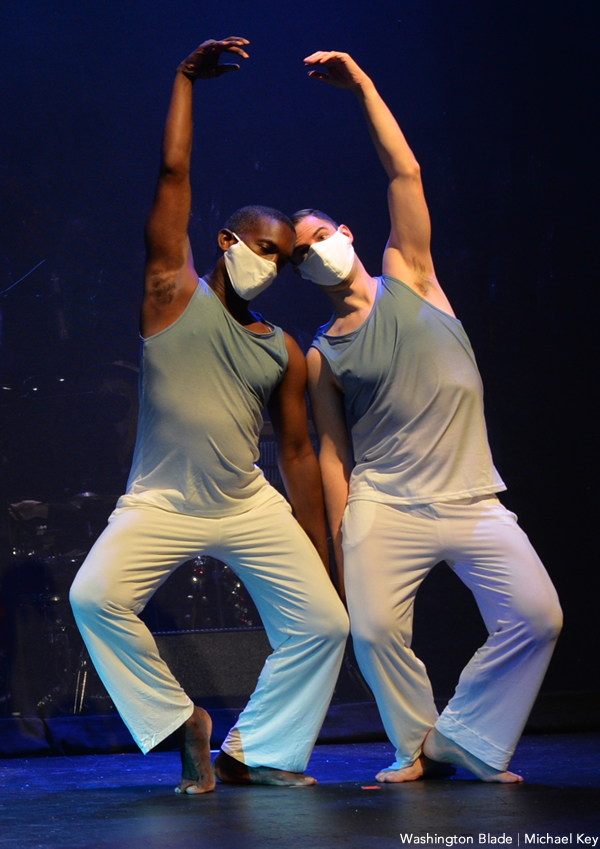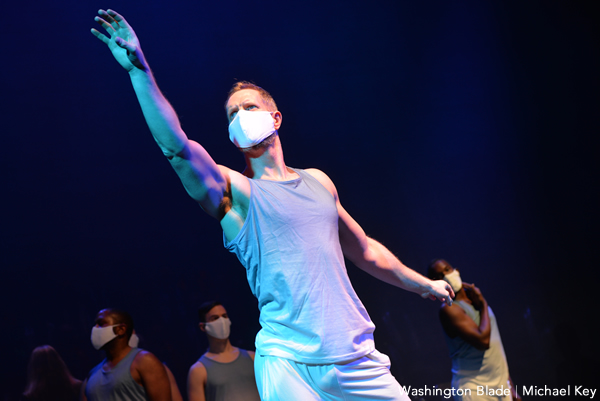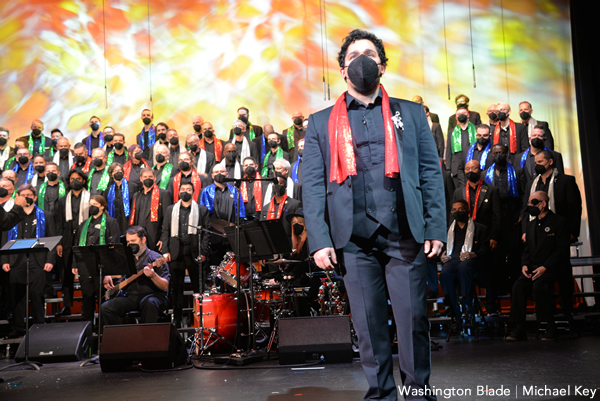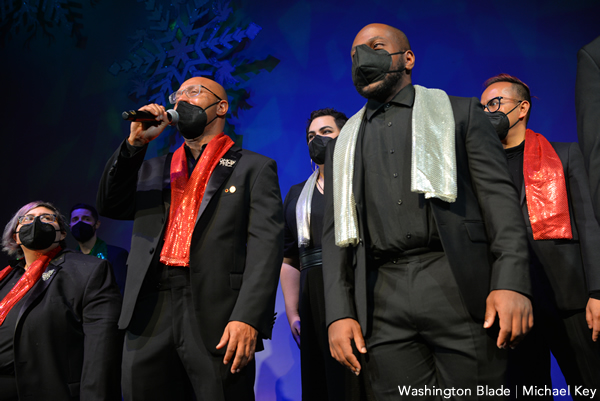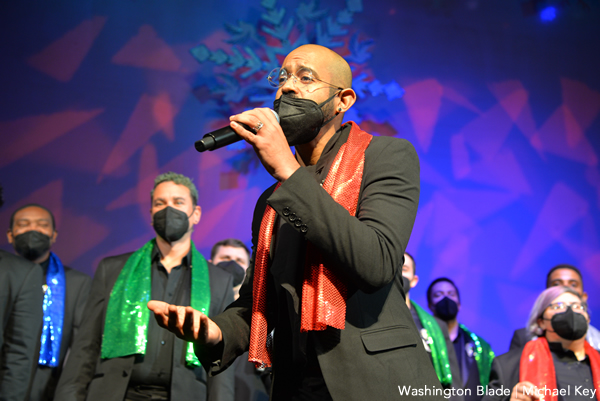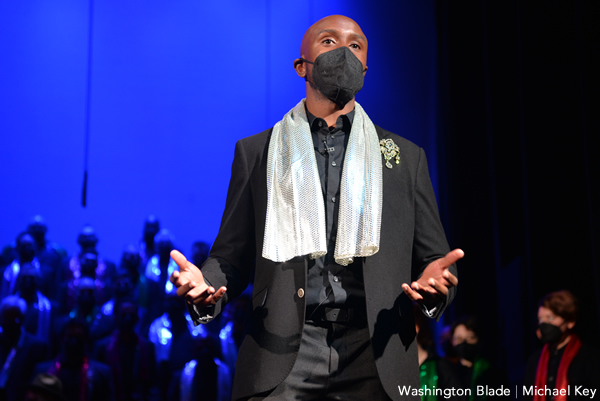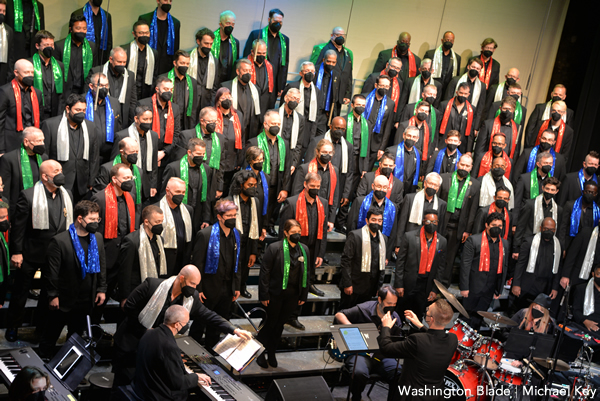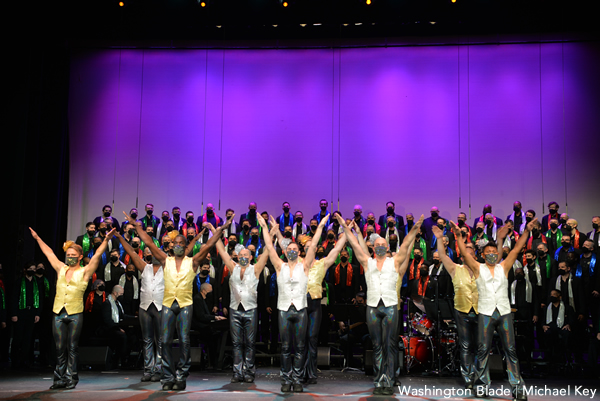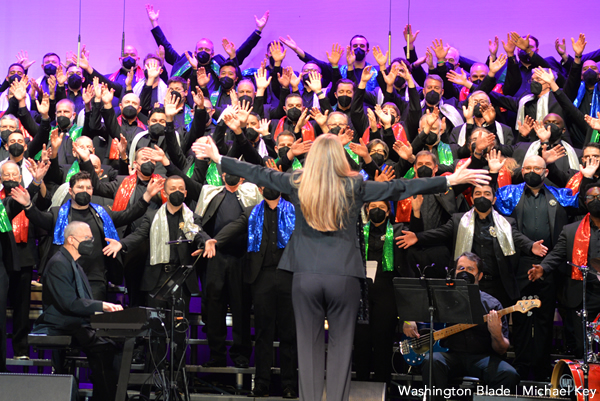 PHOTOS: International LGBTQ Leaders Conference opening reception
Politicians and activists from around the world met and mingled at the JW Marriott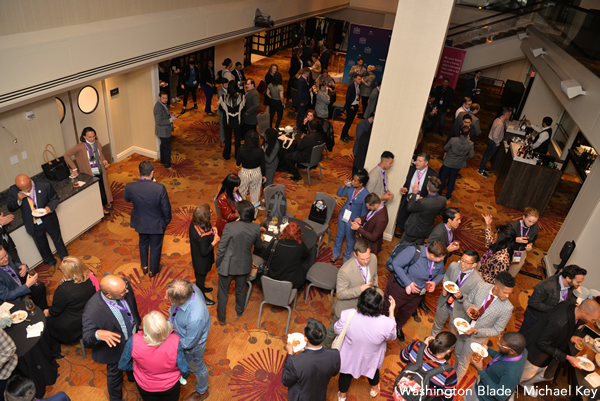 The LGBTQ Victory Institute held an opening reception for the 2021 International LGBTQ Leaders Conference at the JW Marriott on Thursday.
(Washington Blade photos by Michael Key)