Georgia Nat'l Guard to process same-sex benefits
Mississippi now only state not complying with Hagel edict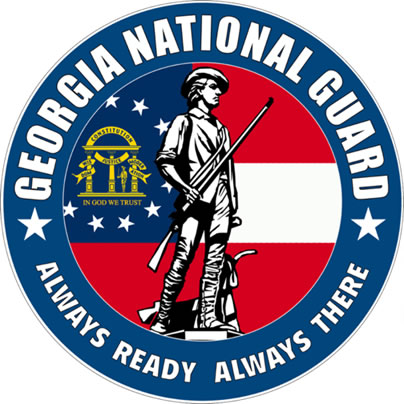 The Georgia National Guard has become the latest state to agree to process spousal benefit applications for troops in same-sex marriages, according to two sources familiar with the decision.
Maj. Jon Craig, a National Guard Bureau spokesperson, said Georgia had agreed to process applications to grant same-sex spouses military IDs last week in a decision along the lines of Texas and Louisiana.
"With Georgia, what it came down to was the authorization to put some state employees on temporary federal status," Craig said.
Georgia had been one of two remaining states that had refused to enroll the spouses of gay troops into the benefit system in the aftermath of an edict for Defense Secretary Chuck Hagel saying military spousal benefits should be available to troops in same-sex marriages nationwide. These states had cited state constitutional amendments barring same-sex marriage as the reasons why they couldn't comply.
In the past weeks, Texas and Louisiana, which had previously refused to process same-sex benefits, said they had come to agreement to comply with the edict by processing applications through federal funds, personnel and systems.
Lt. Col. Thomas Lesnieski, a Georgia National Guard spokesperson, acknowledged changes were made, but declined to comment further until the guard issued an official statement later on Monday.
Chris Rowzee, a spokesperson for the American Military Partners Association, commended Georgia's decision, but questioned what exactly had changed because her understanding is federal resources were already being used to process benefits applications at National Guard facilities.
"Certainly, we are pleased that they have changed course and are now providing the federal benefits to which these military members are entitled," Rowzee said. "We still have questions regarding what has actually changed since all of the personnel processing those benefits were federal employees to begin with."
A defense official, speaking on condition of anonymity, also said Georgia had agreed to comply and the Pentagon views the decision as "welcome news."
The official added the decision leaves Mississippi as the only state that isn't conforming to federal policy, saying National Guard Chief Gen. Frank Grass continues work on the issue.
"The Secretary has directed General Grass to resolve this issue with the TAGs," the official said. "Gen. Grass, and the National Guard Bureau are continuing the dialogue with Mississippi — the only remaining state to comply with DOD Policy."
A Mississippi National Guard spokesperson deferred comment on whether the state would come into compliance Mississippi Gov. Phil Bryant's office, which didn't respond to multiple requests to comment.
Vienna Ávila, la abogada transfeminista de Honduras que revoluciona Libre
Fue candidata a diputada en las elecciones del 2017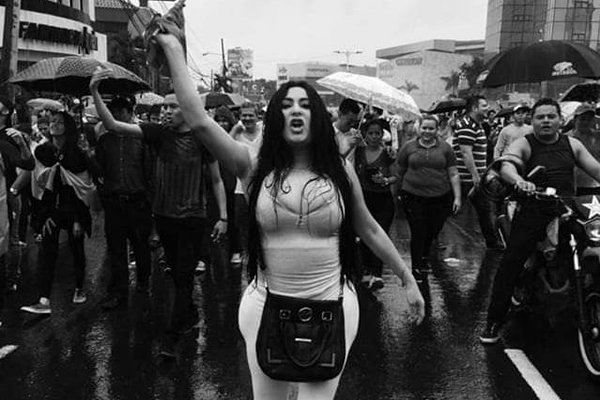 Reportar sin Miedo es el socio mediático del Washington Blade en Honduras. Esta nota salió en su sitio web el 7 de julio.
TEGUCIGALPA, Honduras — Como una oportunidad de reivindicar y dar visibilidad a la mujer: así considera su elección como secretaria de la Diversidad Sexual por el movimiento Fuerza de Refundación Popular (FRP) del partido Libertad y Refundación (Libre) la activista trans y abogada Vienna Ávila.
El coordinador nacional de Libre y expresidente de Honduras, Manuel Zelaya Rosales, se reunió en Tegucigalpa con el coordinador de campaña del FRP, Juan Barahona, y destacadxs aspirantes políticxs y representantes de la diversidad sexual.
Durante el encuentro, los líderes y lideresas de Libre decidieron darle el puesto a la directora de la Asociación Feminista Trans (AFET), de 36 años, quien fue juramentada el 28 de junio.
De ese modo, Libre reconoce la amplia trayectoria de Ávila, quien el año pasado recibió amenazas contra su integridad física debido a su trabajo en defensa de las poblaciones de la diversidad sexual hondureña, y especialmente de los grupos LGBTIQ+ de la ciudad de San Pedro Sula, en la costa norte del país.
La líder de AFET toma el puesto en el principal partido de oposición en Honduras después de una larga carrera al frente de las luchas reivindicativas de la diversidad sexual hondureña.
Su labor en favor de los derechos LGBTIQ+ del país ha puesto y sigue poniendo su vida en peligro. Sin embargo, las amenazas no la hacen echarse para atrás en su objetivo de dar voz a las poblaciones que orgullosamente representa.
Un puesto que da más visibilidad LGBTIQ+
Con su importante nombramiento en Libre, Vienna Ávila consolida aún más su imagen pública, la cual impulsó en 2017 al obtener la candidatura a una diputación por la corriente Fuerza y Esperanza. Además, el protagonismo de la abogada Ávila en Libre aumenta la representación de las poblaciones LGBTIQ+ en las instituciones políticas de oposición.
En su cargo como secretaria de la Diversidad Sexual, Ávila, nacida en San Nicolás, Santa Bárbara, en el occidente hondureño, será la responsable de hacer cumplir los estatutos de Libre.
En especial, Ávila se encargará de promover el respeto y la aplicación de la política de género del destacado instituto político hondureño liderado, entre otros, por el expresidente Zelaya, quien fuera derrocado en el golpe de Estado de 2009 que instauró el gobierno de facto del dueño de autobuses Roberto Micheletti.
La abogada Vienna Ávila es miembra de uno de los partidos hondureños más inclusivos. Los estatutos de Libre no solamente abarcan objetivos como refundar Honduras, sino también "garantizar la equidad e igualdad de género; así como el respeto a la diversidad sexual, desarraigando la cultura patriarcal en todos los ámbitos de la sociedad".
En su artículo 101, los estatutos de Libertad y Refundación señalan que las atribuciones de la Secretaría de la Diversidad Sexual, encabezada desde el mes pasado por Vienna Ávila, consisten en "elaborar y ejecutar la estrategia de defensa de los derechos de la diversidad sexual".
Con su liderazgo en Libre, la directora de AFET amplía su compromiso con las poblaciones LGBTIQ+ en Honduras, las cuales siguen siendo invisibilizadas en un país dominado por el tradicional machismo, el odio, la persecución y la discriminación.
Libre permite que se le unan ciudadanos y ciudadanas de sectores tradicionalmente olvidados y maltratados por las políticas del bipartidismo hondureño, incluyendo a lxs miembrxs de la diversidad sexual. En las filas del partido hay maestrxs, obrerxs, campesinxs, pueblos originarios y afrodescendientes y otras poblaciones no beneficiadas por los gobiernos tradicionales.
"Total respaldo del coordinador general a que la secretaría quede bien nombrada", escribió Ana Armijo en Facebook. "La pelota está en la cancha de la coordinación FRP y esperamos que sea respetuosa de la diversidad sexual".
Una mujer trans revoluciona Libre
El nombramiento de la abogada Vienna Ávila vuelve a poner al frente de esa secretaría de la FRP a una miembra de las poblaciones LGBTIQ+.
Para Ávila, era necesario que una mujer trans ocupara este cargo en Libre. "Somos invisibilizadas y necesitamos este tipo de apoyo, más cuando la primera persona que ocupó este cargo fue una persona trans. Necesitamos estos espacios", dijo la nueva secretaria de la Diversidad Sexual. El puesto había sido ocupado antes por personas LGBTIQ+ como Erick Martínez y Claudia Spellman.
En su trabajo al frente de la Secretaría de Diversidad Sexual de Libre, Vienna Ávila busca cuidar, "según los estatutos, los derechos de las personas LGTBI+, presentar el plan de trabajo para las personas trans", velando por "la inclusión y participación segura dentro de los partidos políticos".
La intención de la abogada es hacer que Libre sea un partido "totalmente inclusivo".
La política en un país violento
Un motivo de "temor" es también, para Ávila, el nuevo puesto en Libre debido a la "visibilidad de las personas trans lideresas y defensoras de derechos humanos por el riesgo que corren porque no hay protección a la participación política LGTB por parte del Estado".
Y es un temor justificado, si tomamos en cuenta que Honduras es un país donde ser LGBTIQ+ es un riesgo constante. El peligro aumenta cuando se trata de mujeres trans y es aún mayor cuando son mujeres trans visibles como Ávila.
Al menos 119 mujeres trans han sido asesinadas en Honduras desde 2009, año del golpe de Estado que depuso al entonces presidente hondureño y hoy coordinador nacional de Libre, Manuel Zelaya.
De hecho, un exsecretario de la Diversidad Sexual de Libre, Erick Martínez, fue asesinado en 2012 en Tegucigalpa. El periodista, defensor de los derechos humanos y candidato a diputado fue hallado muerto en la carretera a Olancho.
Las muertes violentas de mujeres trans son un problema que preocupa a la abogada Vienna Ávila. En el mes de mayo dos personas fueron asesinadas, una en La Lima y otra en Tegucigalpa. Hasta la fecha 388 personas LGBTI han muerto de forma violenta según registra el Observatorio de la Red Lésbica Cattrachas.
"A las personas trans las asesinan por el odio a la identidad de género", dice Ávila. "La mora judicial existe bastante para este sector vulnerado".
La nueva secretaria de la Diversidad Sexual de Libre lamenta que el Estado hondureño siga en deuda con las personas LGBTIQ+. Esa preocupación empuja "a la migración y el desplazamiento forzado de todas nuestras compañeras", agrega.
More Americans personally know someone who's transgender, non-binary: survey
42% know a trans person, 26% know someone using gender-neutral pronouns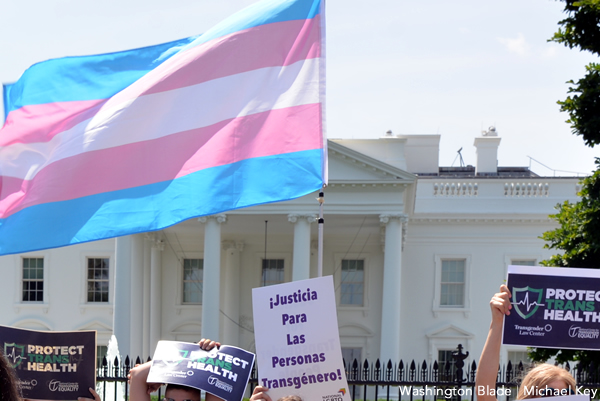 More Americans personally know a transgender person or someone who goes by gender-neutral pronouns, according to new data from the non-partisan Pew Research Center.
A survey found 42 percent of Americans know someone who's transgender, who is up from 37 percent who said so in 2017. Although most Americans, 57 percent, still say they don't know anyone who's transgender, that's down from 63 percent five years ago.
Similarly, 26 percent of Americans say they know someone who uses non-binary gender pronouns compared to the 18 percent in 2018 who said they knew someone uses pronouns such as "they" as opposed to "he" or "she."
At the same time, comfort levels with using gender-neutral pronouns – as well as their opinions on whether someone's gender can differ from the sex they were assigned at birth – has remained about the same. Half of Americans say they would be either very or somewhat comfortable using a gender-neutral pronoun to refer to someone if asked to do so, compared to 48 percent who say they would not be comfortable. The numbers, according to Pew Research, are basically unchanged since 2018.
The survey found profound differences by age, party, and education in knowing a transgender person or someone who goes by gender-neutral pronouns, although in both parties growing shares of Americans report knowing a person who's transgender.
For Americans under age 30, some 53 percent say they know a transgender person, which is up from 44 percent in 2017. In the same age group, 46 percent of younger U.S. adults know someone who goes by gender-neutral pronouns, compared to 32 percent in 2018.
The Pew Research Center conducted the survey of 10,606 U.S. adults between June 14 and June 17. The survey is weighted to reflect the U.S. adult population in terms of gender, race, ethnicity, partisan affiliation, education, and other categories, according to Pew Research.
D.C. police seek help in finding missing gay man
Rick Woods last seen in Georgetown on July 14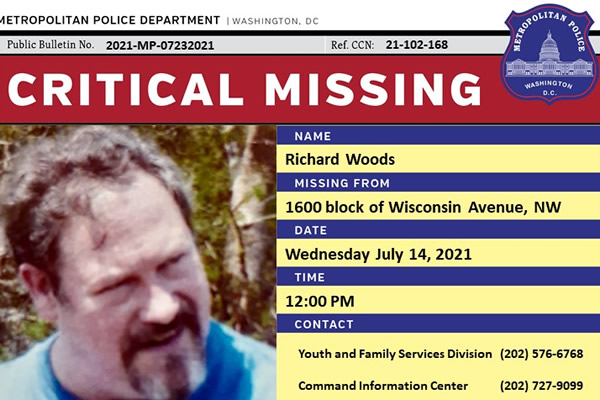 D.C. police have issued an announcement asking the public for help in finding Richard G. 'Rick' Woods, 65, who was last seen in the 1600 block of Wisconsin Avenue, N.W., in Georgetown on July 14.
Friends who know Woods, who is gay, say he has operated for many years an antique wood furniture restoration business at various locations in D.C. The most recent location of his business, according to an online listing, has been at 1408 Wisconsin Ave., N.W., a short distance from where he was last seen.
The police announcement says Woods was reported missing to police on Friday, July 23, but the announcement doesn't identify the person who reported him missing.
"Richard G. Woods is described as a white male, 6'O" tall, 210 pounds, with brown and gray hair and brown eyes," the police announcement says. "His clothing description is unknown," according to the announcement.
The announcement says the case is being investigated by the department's Youth and Family Services Division. Anyone with information about Woods' whereabouts is asked to call the division at 202-576-6768 or to call the police Command Center at 202-727-9099.
"Rick is known by many in our community," said John Fanning, a Logan Circle Advisory Neighborhood Commissioner and longtime local LGBTQ rights advocate. "He's owned an antique wood restoration business for years," according to Fanning, who said he and others who know Woods are hopeful that he will be found soon and unharmed.
A D.C. police spokesperson said the police incident report for the Woods missing person case wasn't immediately available.