Mississippi school faces lawsuit over bullied lesbian student
SPLC takes action for 17-year-old called an 'in-between it' by teacher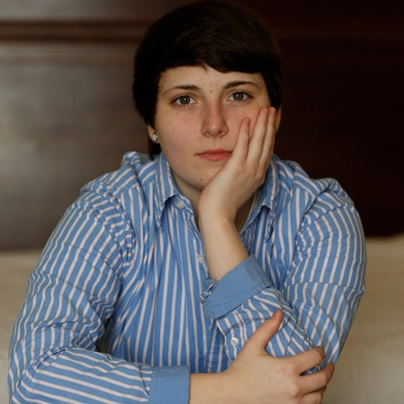 A lesbian student at a Mississippi high school is taking action against her school district over harassment and discrimination she says she's faced from students and administrators over her sexual orientation and appearance.
The Southern Poverty Law Center on Tuesday filed a lawsuit on behalf of Destin Holmes, a 17-year-old student at Moss Point High School, seeking a resolution to put in place a new policy to protect gender nonconforming students like her from bullying and discrimination.
During a conference call with reporters on Tuesday, Holmes said she endured harsh torments over her sexual orientation and preference to wear a baseball cap over more traditionally female attire.
"When I was in middle school, the teachers and students called me an 'it,'" Holmes said. "I'm not an 'it.' I am a person, a teenager, a human being. Just because I prefer to date the same gender, wear hats or non-girly … clothes doesn't mean I should be isolated and made fun of because of it."
Anjali Nair, staff attorney with the Southern Poverty Law Center, said the harassment against Destin was pervasive from both students and administrators at the school, where she heard insults as many as 20 times a day and one teacher denied her access to the girl's restroom.
"Another teacher even refused to allow her to participate in a classroom activity where teams were divided by gender because Destin, according to the teacher, was an 'in-between it,'" Nair said.
Nair said Destin was eventually driven out of Magnolia Junior High after the then-principle called her a "pathetic fool" and told Destin, "I don't want a dyke in this school."
"At a time when families and communities across the country are trying to teach children the consequences of bullying, it is tragic that the Moss Point school district chooses to ignore those lessons," Nair said.
Nair said her organization attempted to reach a resolution with the school district in March, writing a demand letter to the school seeking change through administrative means, but those efforts were unsuccessful.
Also on the conference call with reporters was Jennifer Holmes, Destin's grandmother, who also lives in Moss Point and said the school has been reluctant to make changes after requests from her and Destin's father.
"For the past two years, we've tried everything we could with the school, but they did little or nothing," Holmes said. "In some ways, administrators made the situation worse for Destin. We had to pull her out of school eventually, despite having numerous meetings and conversations with the administrators."
The 21-page complaint sues the Moss Point School District on the basis of  Title IX of the Education Amendment of 1972, which prohibits schools from discriminating on the basis of gender, and the Equal Protection Clause of the 14th Amendment of the U.S. Constitution.
The complaint seeks damages for Destin, an injunction barring the school from allowing discrimination against Destin and other students like her and the implementation of new polices to foster a more inclusive environment.
Although SPLC is asking the U.S. District Court for the Southern District of Mississippi to take action, Nair said the school on its own can still take "concrete action" to rectify the situation.
"This can stem from trainings that are provided to school students, district and staff to address the rights of LGBT students and the rights of students to be free from discrimination on the basis of their gender," Nair said. "This can include policies and practices that are implemented within the district so that district administrators know the proper steps to take in investigating and responding to reports of harassment."
In a joint statement provided on Tuesday to the Washington Blade, Moss Point School Board President Clifton Magee and Superintendent Maggie Griffin said the district hasn't been served yet with the lawsuit and cannot speak to the claims because they're a matter of litigation.
"Protecting our students from acts of bullying, harassment, intimidation and threats by any individual is our highest priority," Magee and Griffin said. "The district has in place policies and procedures to ensure that our students are free from discrimination and bullying. We, as most districts across the nation, try to ensure that students in our schools are safe and secure."
For Destin, the goal of achieving a resolution with her school district is about ensuring a safe place to learn for herself and others facing discrimination because of gender non-conformity.
"I wish I could go to school without being afraid to be who I am," Destin said. "I'm a human being and I should be treated that way. I'm here to take a stand and speak up for myself and for others who are not in a position to do so. I don't want anyone to go through what I've been through."
How a pro-transgender memo sneaked through the Trump administration
2020 memo an outlier amid otherwise hostile policy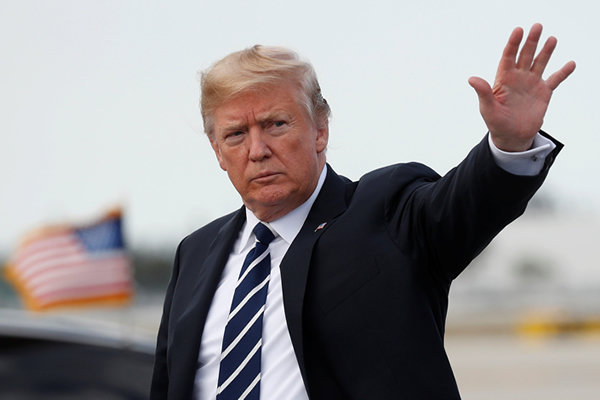 By the time the Trump administration ended, it had solidified a reputation for being hostile to transgender people — barring them from military service and reversing regulations aimed at ensuring non-discrimination protections regardless of gender identity — but one minor policy decision managed to sneak through affirming the acceptance of employees going through gender transition.
Top officials at the Defense Intelligence Agency, a company support agency for the U.S. government, outlined in a memo dated June 15, 2020 the process for employees and supervisors to "navigate transitioning while employed at the DIA." The document, which was not previously made available to the public, was obtained earlier this month by the Washington Blade through an appeal of a request under the Freedom of Information Act.
"Transitioning in the workplace is a personal decision," the memo says. "DIA encourages transitioning employees to openly communicate during the transitioning process; discuss plans for workplace transition with their supervisor or manager; and, as appropriate, include any steps that will prompt workplace changes (e.g., transitioning employees may begin using a different name or pronoun)."
Because the fundamental nature of a memo outlining steps to help employees in the workplace transition is contrary to the overwhelming anti-transgender outlook of the Trump administration, the DIA memo appears to have been an internal effort shielded from the White House at the time as opposed to a government-wide initiative.
The DIA guidance for transgender employees runs contrary to other sweeping Trump administration policies that sought to enable discrimination against transgender people, including the military policy former President Trump issued via Twitter in 2017 outright banning them from service "in any capacity."
Other anti-trans actions include the Department of Health & Human Services rescinding an Obama-era regulation that barred health care providers and insurers from discriminating against transgender patients, including the denial of transition-related care, which was orchestrated by then-director of Office of Civil Rights Roger Severino and came just days before the DIA memo.
Both the military ban and the health care rollback have since been reversed under the Biden administration.
Another Trump-era policy at a comparable scope to the DIA memo to employees, however, was the U.S. Office of Personal Management deleting on a page on its website outlining the guidance for accommodating federal workers going through the transition process. The DIA memo, which facilitates those transitions within that one agency, contradicts the message sent by the deletion of the OPM resource.
Although two sources familiar with the document told the Washington Blade it was timed for Pride month (which would be consistent with the June publication date), it would also be consistent with the U.S. Supreme Court's decision in Bostock v. Clayton County, which determined anti-LGBTQ discrimination is a form of illegal sex discrimination. After all, the Bostock decision came out on the same day as the date on the DIA memo.
A defense insider familiar with the DIA memo, who spoke on condition of anonymity, was among those who said the memo went out in recognition of Pride month and said it was intended to ensure there was guidance for transition at the agency.
"We had a number of different individuals who were going through the transition process and management needed to understand what the policy as they dealt with the individuals who were going through transition," the insider said.
The insider said production of the memo "wasn't part of any government wide effort" and completely within DIA. The memo, the insider said, wasn't creating any new policy for the agency, but "looking at existing policy, and then providing our manager and our workforce clear guidance."
Asked whether there was any backlash to the memo, the insider said, "No, I would say absolutely not." Once the guidance went out, the insider said, he "didn't hear anything from outside the organization" about it.
In response to a follow-up question on whether the White House or Pentagon under Trump expressed any objections to the guidance, the insider denied that was the case: "No one said anything to me about it."
Other highlights of the memo include options for diversity training to better understand transition-related issues; instructions to refer to employees by the name and pronoun of their choice; a reminder the Defense Intelligence Agency has no dress code, therefore employees are allowed to wear attire in the manner they choose; and a guarantee employees shall have access to restrooms consistent with their gender identity. Employees may transition without prior coordination, the memo says, or may do so while creating a transition plan that includes the date the transition will begin, whether time off is needed and how to discuss the situation with colleagues.
"Employees can use the restroom and other facilities that best align with their gender identity and are not restricted to use of a single-user restroom," the memo says. "Employees are not required to undergo or provide proof of any medical procedures to use restroom facilities designed for use by a specific gender."
Additionally, the document outlines the process for administrative record updates, including making a request for a gender marker changer through human resources, updating personnel files, and changing DIA and intelligence community badges and identification cards.
A DIA spokesperson, in response to email inquiries from the Washington Blade on the document, confirmed the memo was issued to coincide with Pride month and remains in effect to this day.
"Released jointly to the DIA civilian workforce by the DIA Chief of Staff, Equal Opportunity and Diversity Office, and Office of Human Resources, the memo titled 'Gender Transition in the Workplace for Civilian Employees' serves to notify DIA civilian employees of the Agency's position on supporting Lesbian, Gay, Bisexual, Transgender, Queer (LGBTQ) employees, including those taking steps to align themselves more fully with their gender identities," the DIA spokesperson said. "The memo was released in June 2020 to coincide with Pride Month and serves as active guidance."
In many cases, regulations and guidance would have to go through the White House Office of Management & Budget or Office of Information and Regulatory Affairs, but not necessarily, especially an internal memo to supervisors and employees to reinforce policy that purportedly was already in place.
A Trump White House official said he was unaware of the document until the Blade brought it to his attention and said it would not have come to the White House because it was never published in the Federal Register. The Office of Management & Budget didn't respond to the Blade's request to comment on whether it ever was brought to the attention of the White House at the time of its publication in 2020.
While regulations within U.S. agencies go to the White House for review and consultations, government agencies as well as businesses often consult transgender groups for assistance in developing guidance for transitioning in the workforce, such as the National Center for Transgender Equality.
Mara Keisling, a transgender advocate who served as executive director of the advocacy group during the Trump administration, said she was completely unaware of the memo until the Blade brought it to her attention, although DIA would have been "required by law" to have such a policy for transgender workers after the Supreme Court's decision in Bostock.
"We would have been happy to see it, but this was not the Trump administration doing something good," Keisling said. "This was HR bureaucrats, I don't mean bureaucrat in a bad way at all. This is HR bureaucrats following the law, and it clearly didn't rise to the level of the White House."
Keisling said she was unaware of any similar guidance for gender transition coming from a U.S. agency during the Trump administration. However, she disclosed her organization was able to work with federal workers to get "a couple of sneaky things done the White House didn't know about" consistent with the DIA memo, although she didn't elaborate.
"And super importantly, it's the intelligence community and defense and intelligence, which Defense Intelligence Agency obviously is both," Keisling said. "They have a little more autonomy than others anyway, so … if you told me there was something surprising from somewhere on a personnel issue, I would have guessed that it was somewhere in the intelligence report or Foreign Service community."
Brazil LGBTQ activists, HIV/AIDS service providers fear Bolsonaro reelection
Presidential election to take place in October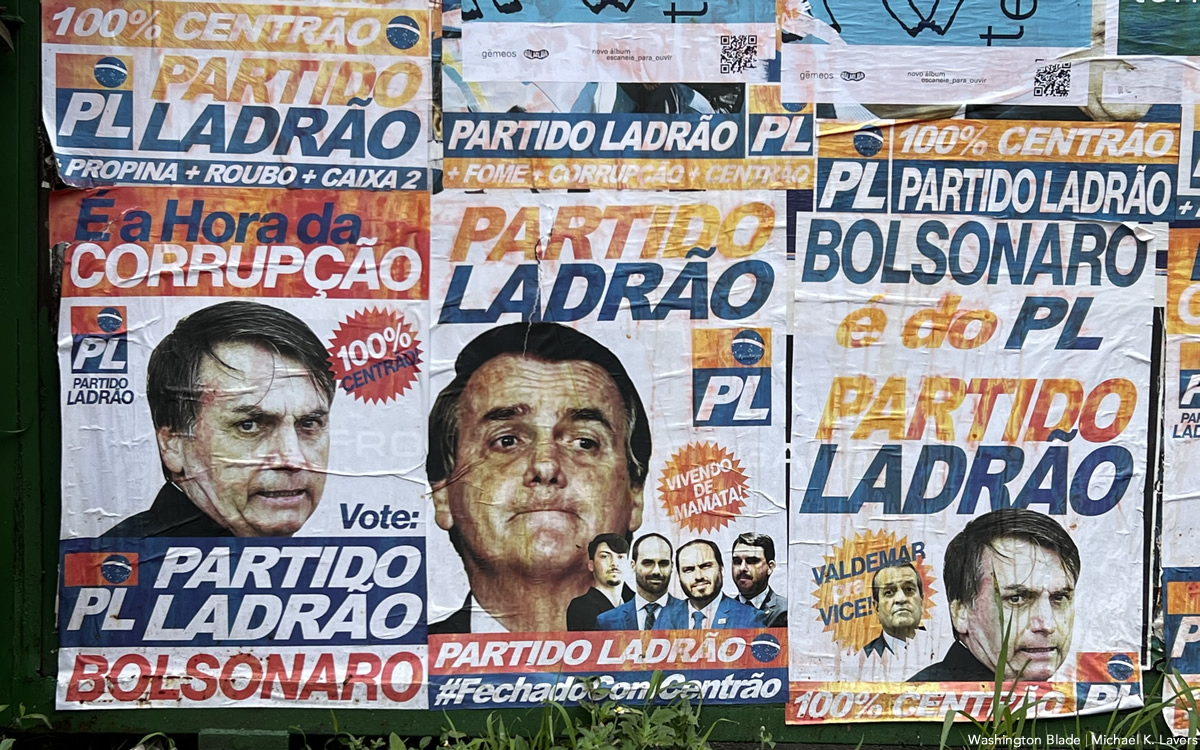 SALVADOR, Brazil — Fernanda Fonseca was the coordinator of the Brazilian Health Ministry's program to prevent mother-to-child transmission of HIV, syphilis and viral hepatitis B in 2019 when she attended the International AIDS Society's Conference on HIV Science in Mexico City.
Fonseca, who attended the conference in her personal capacity, made a presentation that focused on the issue. Her husband, who at the time coordinated the Brazilian Health Ministry's viral hepatitis program, also traveled to Mexico City.
One of Brazilian President Jair Bolsonaro's sons soon posted to Twitter a picture of a doctored presentation "about trans community rights, and LGBT community rights" that an unnamed "couple" had made at the conference. The "couple" who Bolsonaro's son targeted was Fonseca and her husband.
"He was like, this is what the government is standing for," Fonseca told the Washington Blade on March 16 during an interview at a coffee shop in Salvador, a city in northeastern Brazil that is the capital of Bahia state.
Bolsonaro took office as Brazil's president on Jan. 1, 2019, after he defeated then-São Paulo Mayor Fernando Haddad in the second round of the country's presidential election that took place the previous October.
Fonseca noted one of the first things Bolsonaro did as president was to remove HIV from the name of the Health Ministry department that specifically fights HIV/AIDS in Brazil.
It was previously the Department of Vigilance, Prevention and Control of Sexually Transmitted Infections, HIV/AIDS and Viral Hepatitis. It is now called the Department of Chronic Conditions and Sexually Transmitted Infections.
Bolsonaro fired the department's director, Adele Benzaken, after he took office. Fonseca said her position was also eliminated without her knowledge while she was on maternity leave.
Fonseca eventually resigned. She now works for AIDS Healthcare Foundation Brazil as its country medical program director.
"They destroyed my department," she said. "When I came back (from maternity leave), no one was answering my calls."
Fonseca is one of the many HIV/AIDS service providers and LGBTQ activists with whom the Blade spoke in Brazil — Salvador, São Paulo and Rio de Janeiro — from March 12-21. They all sharply criticized Bolsonaro and expressed concern over what may happen in Brazil if he wins re-election later this year.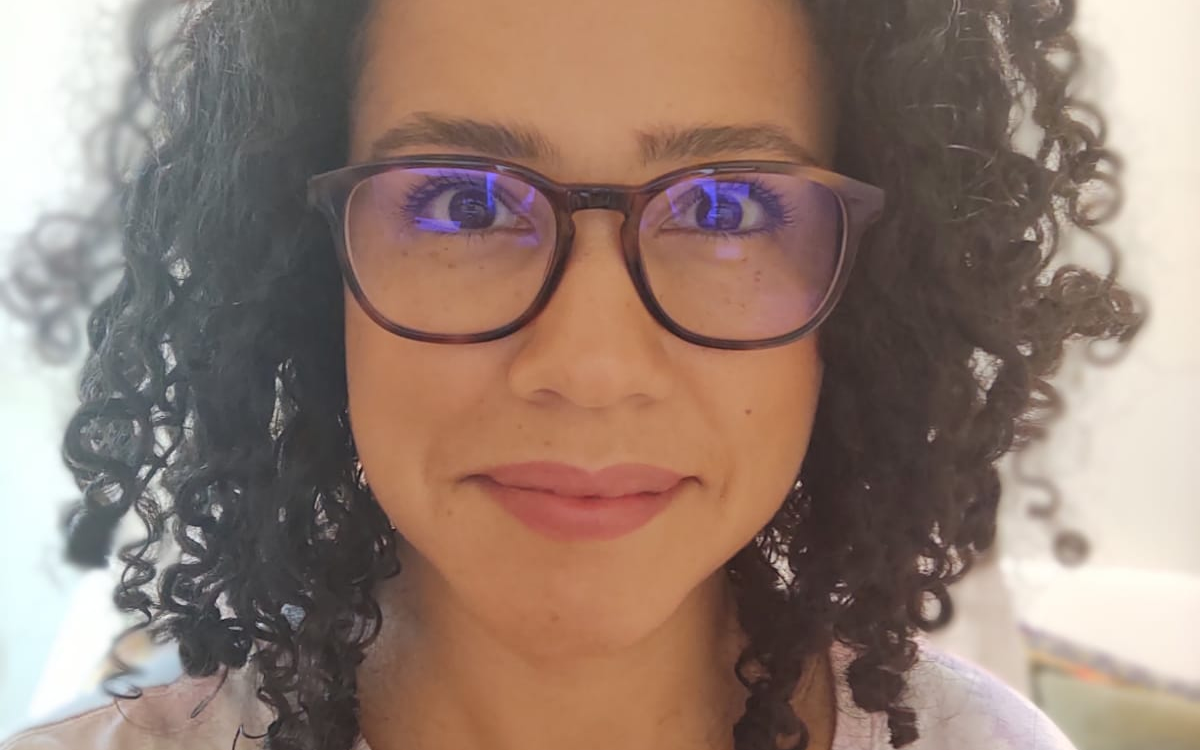 Bolsonaro is a former Brazilian Army captain who represented Rio de Janeiro in the country's Congress from 1991-2018.
Fonseca told the Blade that Bolsonaro has banned the Health Ministry from buying lubricants, while adding he "wanted to shut down everything related to HIV."
"It's very specific. It's very homophobic," she said. "I don't know who informs him."
AIDS Healthcare Foundation Brazil Program Manager Beto de Jesus during a March 14 interview at his office near São Paulo's Praça da Republica noted Bolsonaro has suggested COVID-19 vaccines can cause AIDS.
"To him, the question of AIDS is connected to faggots," said De Jesus.
São Paulo's Municipal Health Secretary distributes free condoms on the city's subway system. The Brazilian Health Ministry has donated to AIDS Healthcare Foundation antitretroviral drugs that it provides to Venezuelan migrants who receive care at their clinics in Colombia.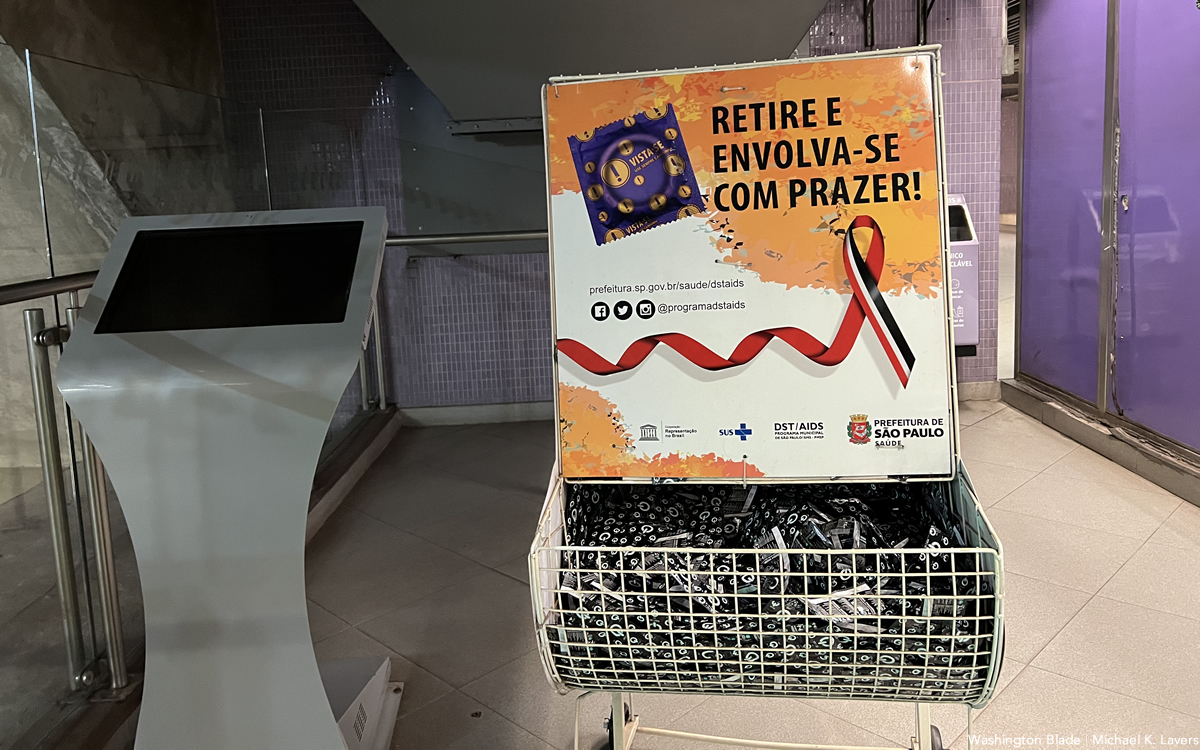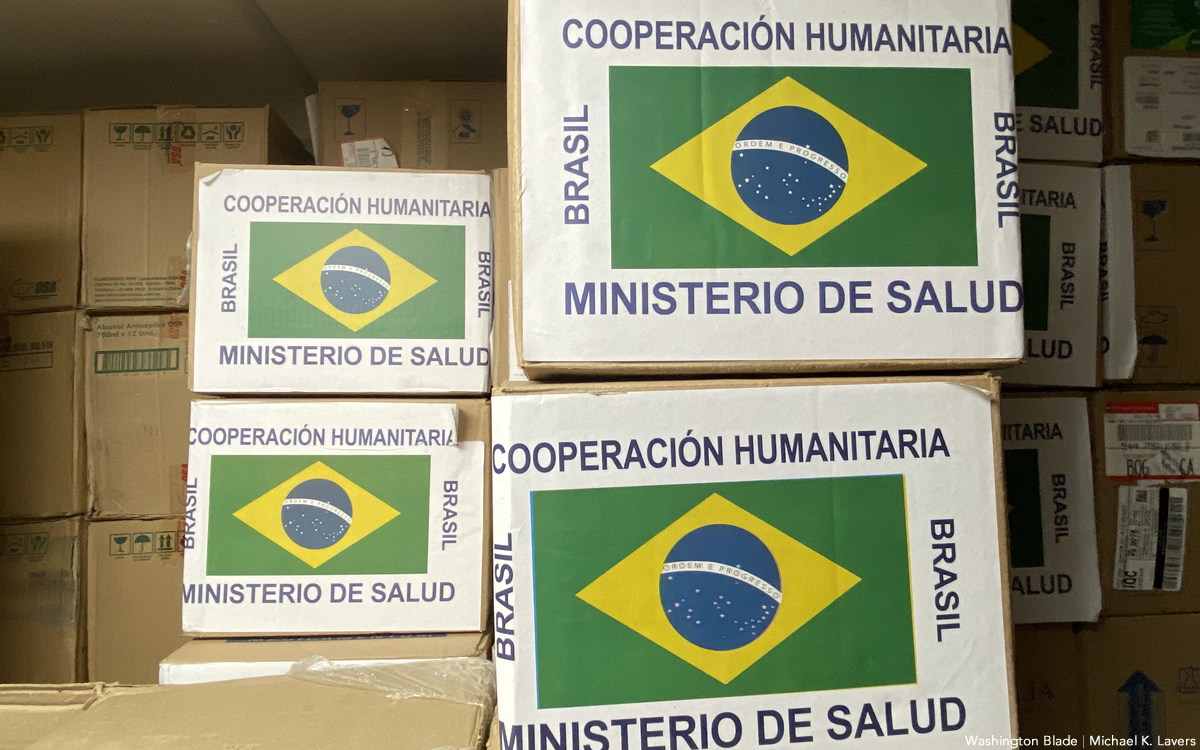 Bolsonaro, among many things, has encouraged fathers to beat their sons if they think they are gay. (His son, Rio Municipal Councilman Carlos Bolsonaro, is reportedly gay.)
Jair Bolsonaro in March 2019 during a press conference with then-President Trump in the White House Rose Garden stressed his "respect of traditional family values" — he's twice divorced and married his third wife, Michelle Bolsonaro, in 2017 — and opposition to "gender ideology."
A report that Human Rights Watch released earlier this month notes Bolsonaro "has a long history of mischaracterizing and vocally opposing gender and sexuality education, including on the grounds that it constitutes 'early sexualization'." Bolsonaro has supported legislation that would limit LGBTQ-specific curricula in the country's schools, even after the Brazilian Supreme Court struck down local and state laws on the issue.
Jair Bolsonaro was not president when Rio Municipal Councilwoman Marielle Franco, a bisexual woman of African descent, and her driver, Anderson Gomes, were murdered in Rio's Lapa neighborhood on March 14, 2018.
Ronnie Lessa, one of the two former police officers who has been arrested in connection with the murders, lived in the same large condominium in Rio's exclusive Barra da Tijuca neighborhood in which Jair Bolsonaro lives. Franco's widow, Rio Municipal Councilwoman Mônica Benício, on March 19 said this fact is "just a coincidence."
Benício during the interview that took place at a coffee shop in downtown Rio stressed Jair Bolsonaro's rhetoric against LGBTQ Brazilians, women and other groups was "known" before he became president. Benício also acknowledged it resonates with a segment of Brazilian society.
"It is an absolutely despicable posture and incompatible with a posture of the president of the republic," said Benício.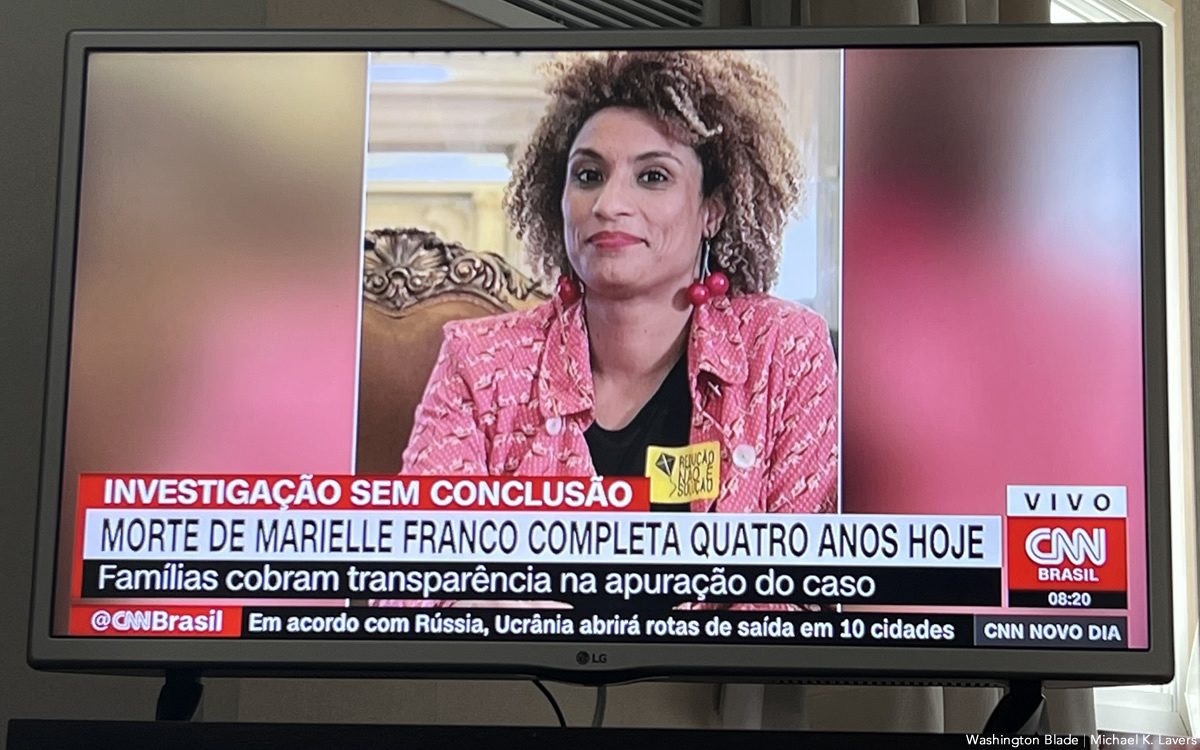 Two Brazilian LGBTQ rights groups — Aliança Nacional LGBTI and Grupo Gay da Bahia — in a report they released on May 10 notes 300 LGBTQ Brazilians "suffered violent deaths" because they were murdered or died by suicide. The organizations specifically note Salvador is the most dangerous state capital for LGBTQ people.
The report notes 28 percent of the murder victims were killed with knives, machetes, scissors, hoes and other weapons. One of them was stabbed 95 times.
"The cruelty of how many of these executions were committed demonstrates the extreme hatred of the criminals, who are not content with killing, disfigure the victim washing their murderous homophobia in the spilled blood," said Aliança Nacional LGBTI President Toni Reis in the report's introduction.
Grupo Gay da Bahia President Marcelo Cerqueira on March 15 told the Blade during an interview in Salvador that race, poverty, class, machismo and family structures all contribute to the area's high rate of violence against LGBTQ people.
"There are many relationships with asymmetrical power dynamics," he noted.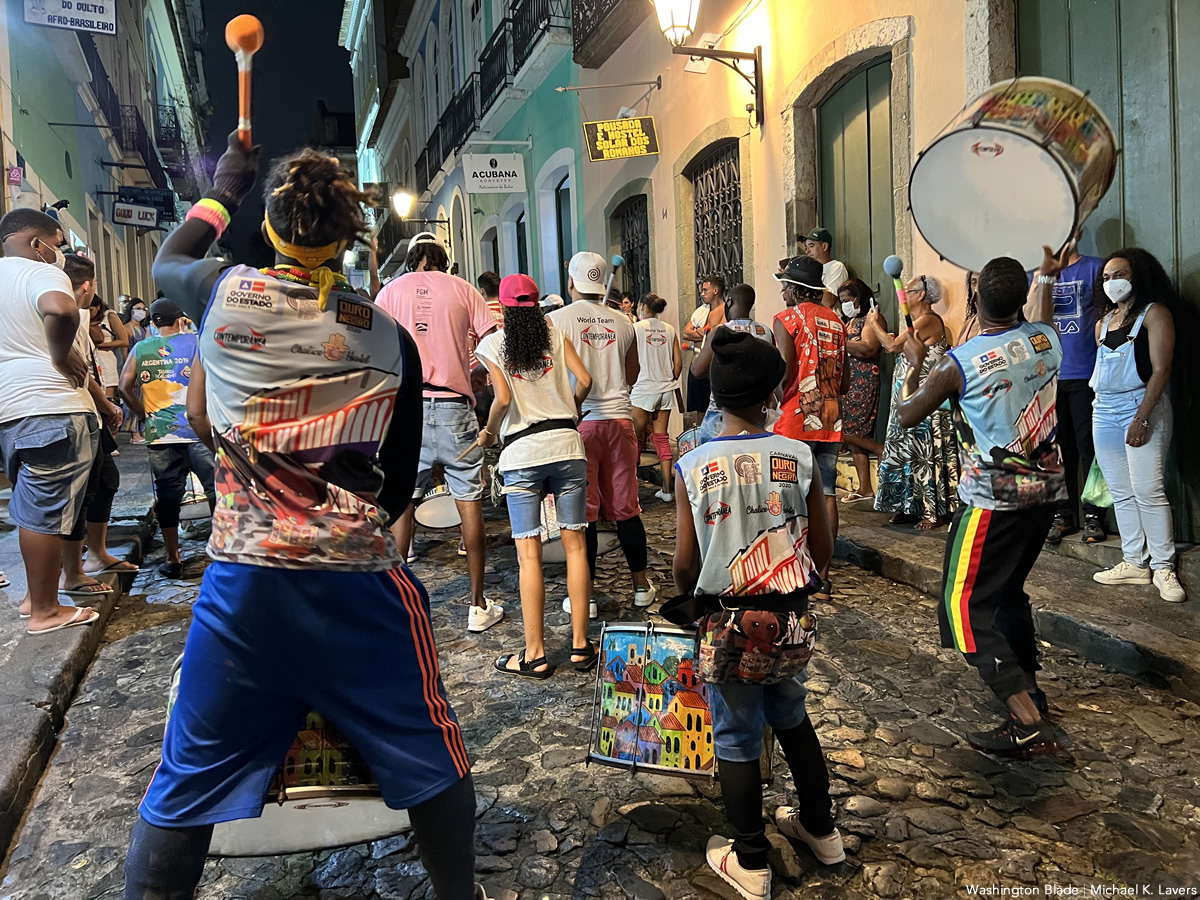 Keila Simpson is the president of Associaçao Nacional de Travestis e Transexuais (National Association of Travestis and Transsexuals), a Brazilian transgender rights group known by the acronym ANTRA.
She noted to the Blade on March 16 during an interview at her office in Salvador's Pelourinho neighborhood that the Supreme Court in 2018 ruled trans Brazilians can legally change their name and gender without medical intervention or a judicial order. Simpson said trans Brazilians nevertheless continue to suffer from discrimination, a lack of formal employment and educational opportunities and police violence because of their gender identity. She also added efforts to combat violence against LGBTQ Brazilians have become even more difficult because Bolsonaro is "propagating violence against LGBTQ people every day."
"It increases the possibility of people who are already violent by nature to continue committing violence," said Simpson.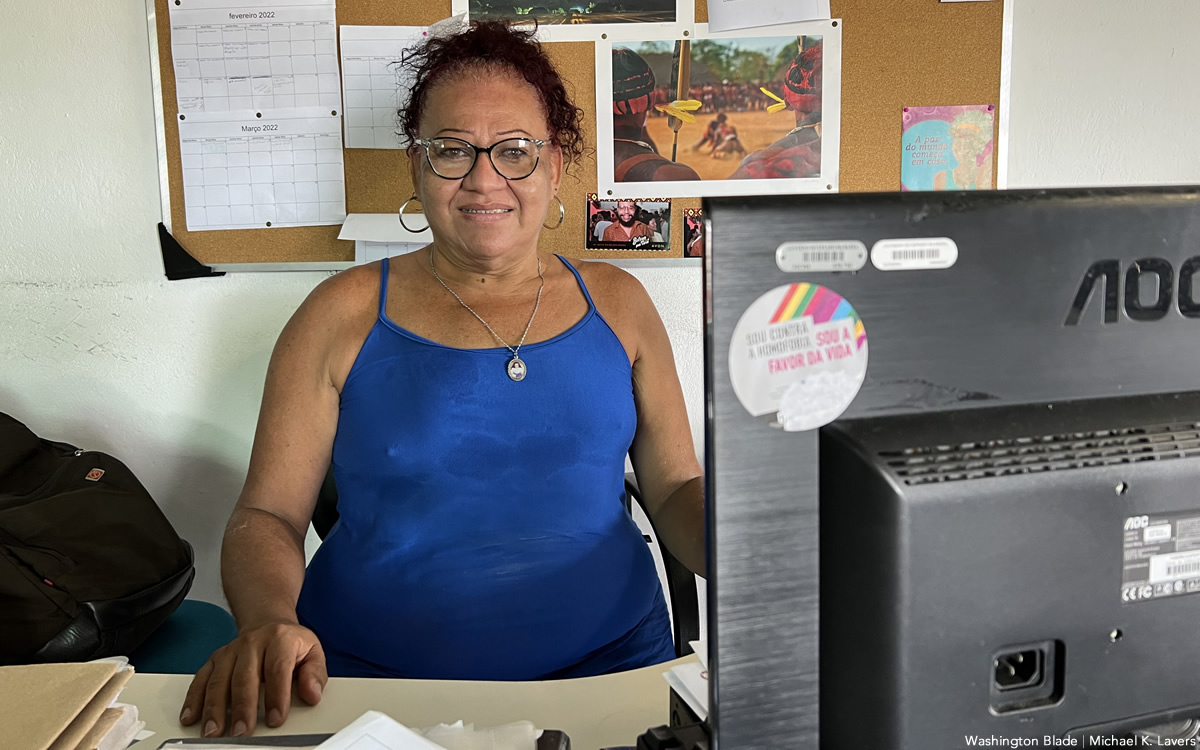 Mariah Rafaela Silva, a trans woman of indigenous descent who works with the Washington-based International Institute on Race, Equality and Human Rights, agreed when she and her colleague, Isaac Porto, spoke with the Blade at a restaurant in Rio's Ipanema neighborhood on March 21.
"If I would choose a word to define Bolsonaro it would be danger," said Silva. "He represents a danger to the environment. He represents a danger to diversity. He represents a danger to Black people. He represents a danger to indigenous people."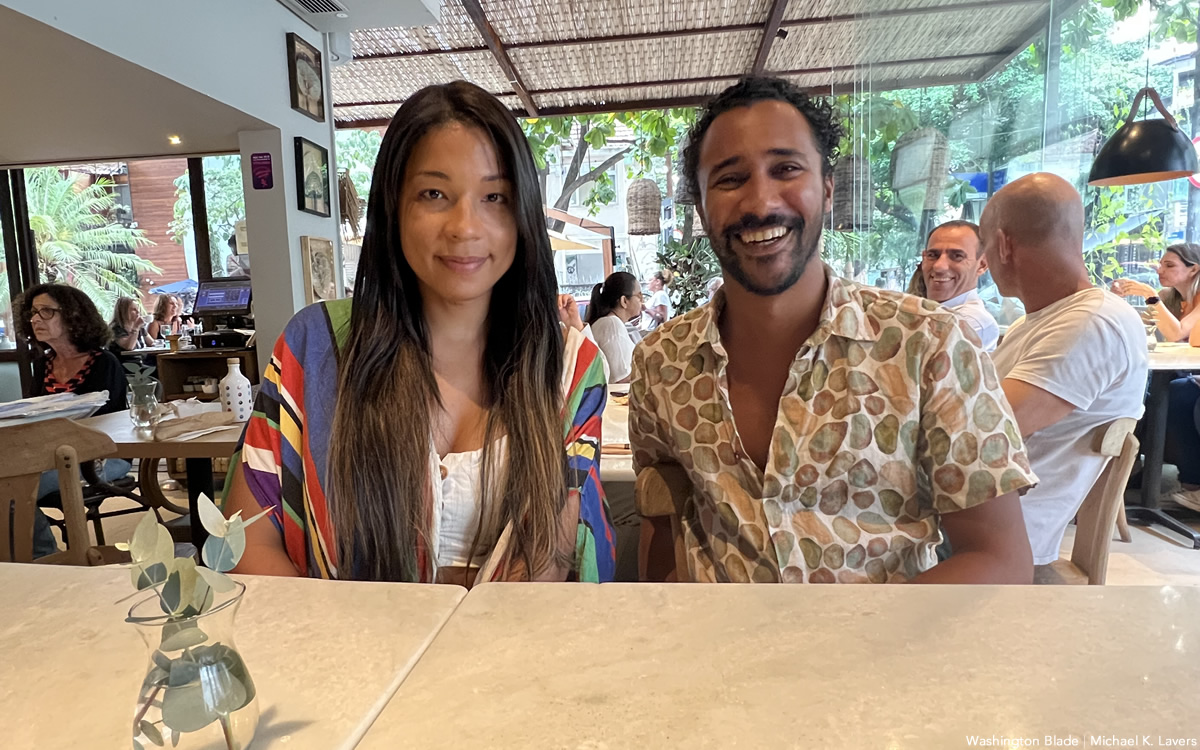 Rio de Janeiro (State) Legislative Assemblywoman Renata Souza is a Black feminist who grew up with Franco in Maré, a favela that is close to Rio's Galeão International Airport, and worked with her for 12 years.
Souza in March traveled to D.C. and met with Serra Sippel, chief global advocacy officer for Fòs Feminista, a global women's rights group, White House Gender Policy Council Senior Advisor Rachel Vogelstein and other officials and women's rights activists. Souza on Tuesday noted to the Blade that she also denounced Franco's murder, the "escalation of police violence and Black genocide in Brazil's peripheries and favelas" and called for international observers in the country for the presidential election when she spoke at the Organization of American States and to members of Congress.
"President Bolsonaro is the expression of a capitalist political project that serves private national and international interests related to the military-industrial complex, religious fundamentalism, agribusiness and the predatory exploitation of natural resources," said Souza. "This project's social base comes from the formation of an ideal of barbarism through the use of violence as language and hate as a fuel that spreads a misogynist, racist and fundamentalist culture, discriminatory customs and policies that predatory to nature and to being human."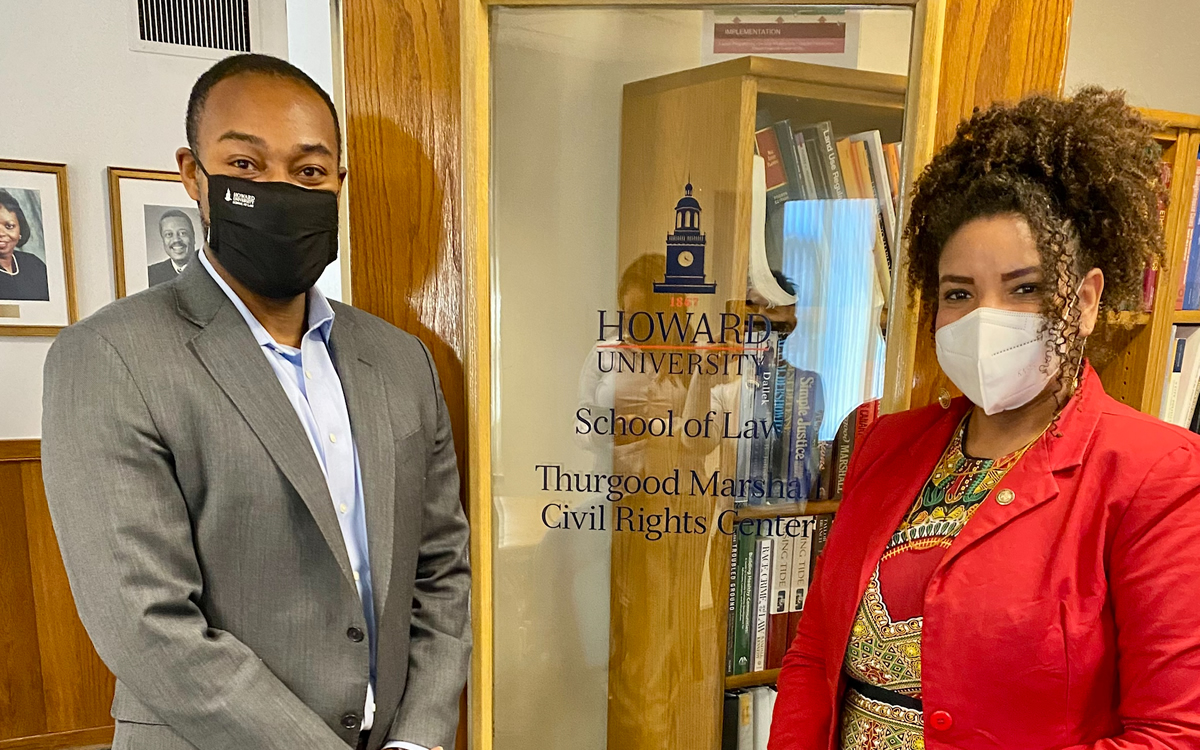 The first round of Brazil's presidential election will take place on Oct. 2.
Polls indicate Bolsonaro is trailing former President Luiz Inácio Lula da Silva. Bolsonaro has already sought to discredit the country's electoral system, even though a group of more than 20 would-be hackers who gathered in the Brazilian capital of Brasília last week failed to infiltrate it.
Da Silva, who was Brazil's president from 2003-2010, is a member of the country's Workers' Party.
Sergio Moro, a judge who Jair Bolsonaro later tapped as his government's Justice and Public Security Minister, in 2017 sentenced Da Silva to 9 1/2 years in prison after his conviction on money laundering and corruption charges that stemmed from Operation Car Wash. The Supreme Court in November 2019 ordered Da Silva's release.
Marina Reidel, a trans woman who is the director of the country's Women, Family and Human Rights Department, on Monday told the Blade to email a request for comment on Jair Bolsonaro's anti-LGBTQ record to a spokesperson. The Blade has yet to receive a response.
Julian Rodrigues, who was the coordinator of the Workers' Party's National Working Group from 2006-2012, on Tuesday from São Paulo noted Da Silva in 2004 created the Health Ministry's "Brazil without Homophobia" campaign that he described as a "pioneering program for LGBT rights." Rodrigues also highlighted Da Silva created the Culture Ministry's Diversity Secretariat that, among other things, funded community centers and sought to make police officers and other law enforcement officials more LGBTQ-friendly.
Simpson noted the Health Ministry when Da Silva and President Dilma Rousseff were in office funded projects that specifically helped sex workers and other vulnerable groups.
Rousseff was in office in 2013 when the Supreme Court extended marriage rights to same-sex couples across the country. Michel Temer was Brazil's president in 2018 when the Supreme Court issued its trans rights decision.
The Supreme Court on May 24, 2019, issued a ruling that criminalized homophobia and transphobia. Bolsonaro, who took office less than five months earlier, condemned the decision.
The Supreme Court in May 2020 struck down the country's ban on men who have sex with men from donating blood. Brazil in 1999 became the first country in the world to ban so-called conversion therapy.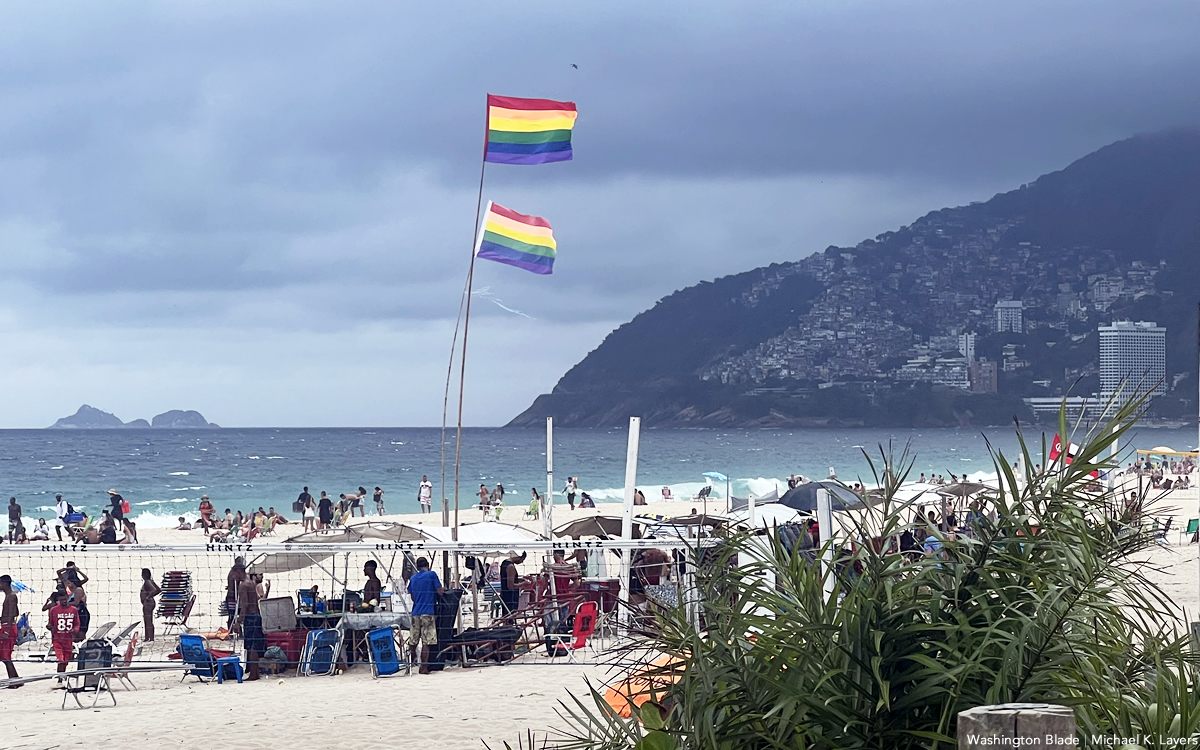 Rodrigues described Bolsonaro and his administration as "an extreme right-wing, authoritarian and fascist government that uses racial prejudice, gender prejudice and prejudice against LGBTs as engines to mobilize its conservative and reactionary social base."
"It is a very dangerous government for Brazil's democratic freedoms," Rodrigues told the Blade. "The entire Brazilian LGBT movement is fighting ardently to defeat the Bolsonaro government and elect Lula, a progressive president who is committed to the rights of LGBTQ people and all Brazilian people."
A gay man who was on Rio's Ipanema Beach with his husband on March 20 told the Blade they support Jair Bolsonaro because they feel he has fought corruption in Brazil. They did, however, add that Jair Bolsonaro "should keep his mouth shut."
Fonseca said her father voted for Bolsonaro in 2018 because he "hated" Da Silva.
"We don't live in a democratic state anymore," said Fonseca, who noted the Supreme Court eventually absolved Da Silva. "We can't trust the police force. We can't trust the legal system."
"People who think like him now they believe they can say that, they have the right to say homophobic things, racist things. They can because our president says them, so it's ok," added Fonseca. "We need to remember that it's not ok. I don't think they are the majority, So I think when we have a leader again that is strong, we are going back on track."
Cerqueira echoed Fonseca.
"(Bolsonaro) managed to energize prejudiced people who were not vocal before," Cerqueira told the Blade on March 15 during an interview in Salvador. "People were afraid to say that I was racist, that I was homophobic, that I was prejudiced. Nowadays everybody wants to be homophobic."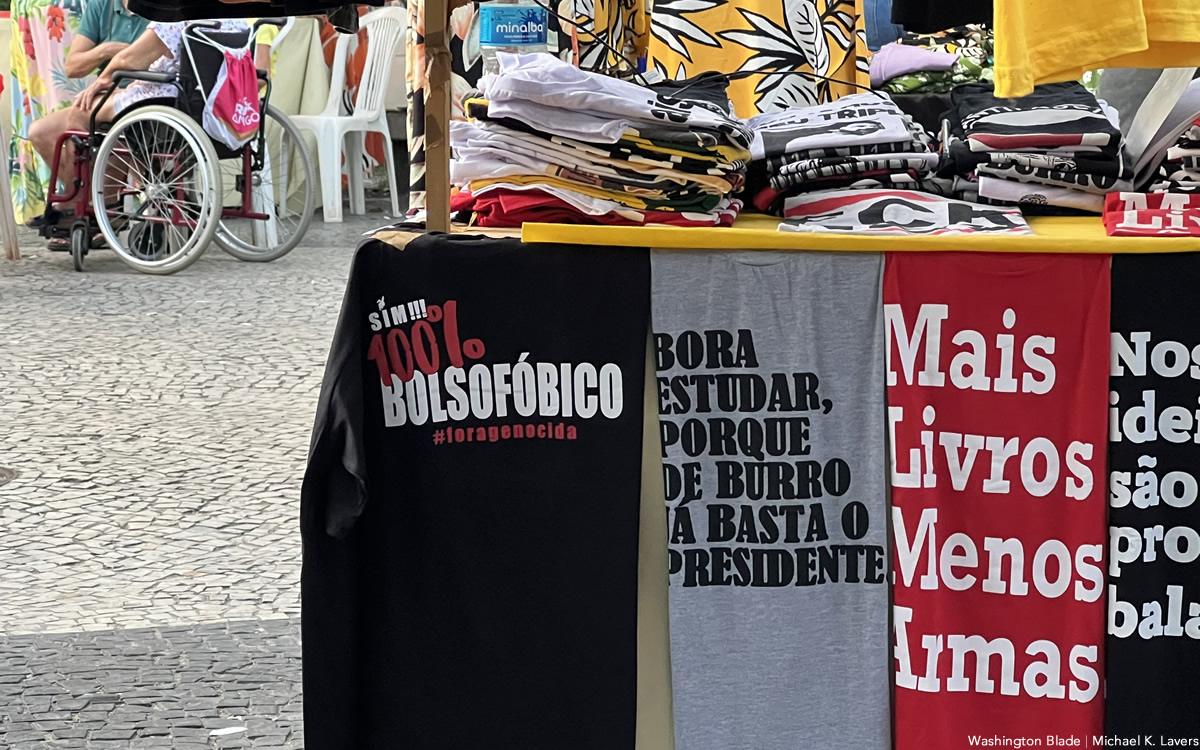 Porto noted conservatives continue to dominate the country's Congress and Brazilians who are Black and/or LGBTQ lack political power. He told the Blade the situation in a post-Bolsonaro Brazil is "going to be complicated"
"Brazilian society has not changed," said Porto. "There is a movement of people who are organized and recognize themselves as equal."
"There's a lot of damage that we have to repair," added Silva.
Texas to resume abuse investigations into families with trans children
"To be clear the Supreme Court has not directed Commissioner Masters & DFPS to continue investigating parents of trans youth for child abuse"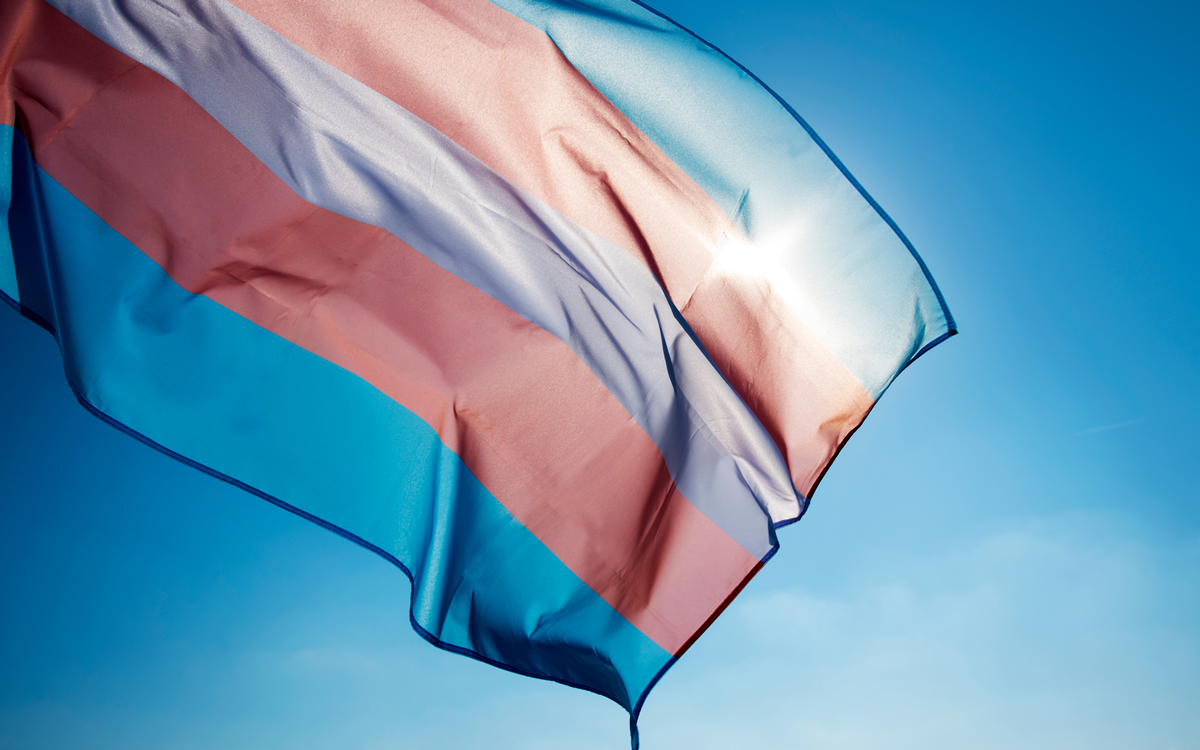 In a statement issued Thursday, the Texas Department of Family and Protective Services (DFPS) agency announced that it will resume abuse investigations into families with transgender kids.
"DFPS treats all reports of abuse, neglect, and exploitation seriously and will continue to investigate each to the full extent of the law," the statement read.
The Dallas Morning News reported that the DFPS statement, while not addressing the investigations into medical treatments for trans youth, indirectly indicated that these probes will now continue.
Current state law does not explicitly define gender affirming medical treatments, such as puberty blockers and hormone therapy as child abuse. A DFPS spokesman did not comment when asked if the agency plans to continue investigating such treatments as child abuse, the Dallas Morning News noted.
The Texas Supreme Court ruled last week that DFPS can continue to investigate families in the state who provide medically necessary care for their Trans children, excluding the parties in the litigation that brought the matter forward in a lawsuit filed in March.
In its decision, the court emphasized that neither Attorney General Paxton nor Governor Abbott has the power or authority to direct DFPS to investigate the provision of medically necessary lifesaving health care for transgender youth as child abuse. But the court limited the order blocking all investigations to the specific plaintiffs who filed suit.
Trans activist Landon Richie who has been deeply involved in the efforts to mitigate the anti-trans actions by Texas lawmakers and has led protests against the transphobic actions by Texas Governor Greg Abbott and Attorney General Ken Paxton told the Blade:
"To be clear, the Texas Supreme Court has not directed Commissioner Masters and DFPS to continue investigating parents of trans youth for child abuse. While the decision means now only the named plaintiffs in the lawsuit have protection, it reiterates that Attorney General Paxton's opinion and Governor Abbott's letter are not binding and not enforceable, meaning DFPS's actions moving forward are at the discretion of Commissioner Masters only and not the state leadership's directives. The Texas Supreme Court allowing for the district court to provide a temporary injunction is a good sign for people's protection.
It bears reminding families in Texas and around the country that today's decision (and yesterday's regarding gender-affirming care at UT Southwestern and Texas Children's) reaffirms what we already know: opinions are only opinions and the people in power cannot abuse that power to abuse trans people. We know decisions can change at a moment's notice and that this fight will take years, but to our families and communities under attack, please remain strong and take a moment to breathe. We're in this together. "
An employee of DFPS who was a litigant in the lawsuit is represented by the ACLU of Texas.
Brian Klosterboer, an attorney with the ACLU of Texas who is on the team representing that unnamed employee, said the state's decision to reopen the cases is unfortunate and unlawful. He said his team believes that the high court's decision removes any responsibility for Texans to report trans youth getting treatments, the Dallas Morning News reported.
"We are going to be closely monitoring what the agency does. We would encourage families that have any reason to believe that they have an investigation to seek legal help," Klosterboer said.
"Abbott's letter and Paxton's opinion did not change Texas law," he added. "Gender affirming health care is still legal in all 50 states."