2013: The year in quotes
A look back at who said what last year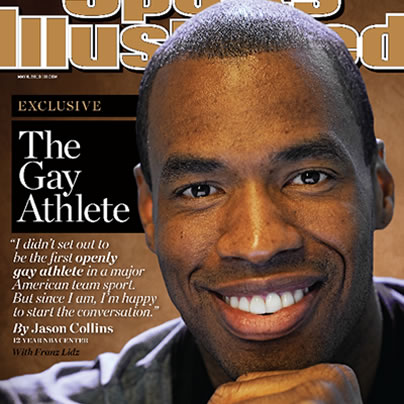 "The gay community is my 'person of the year' and I look forward to continuing to fight for equal rights and educate the public about our lives alongside my gay brothers and sisters and our allies … Thea would be thrilled, proud and so happy to see what we have all accomplished together." Edith Windsor, the plaintiff in the Supreme Court case that overturned the Defense of Marriage Act, reacting to be named one of the Top 3 individuals for "Person of the Year." (Joe.My.God, Dec. 11)
"There is no way I could ever stand here without acknowledging one of the deepest loves of my life, my heroic co-parent, my ex-partner in love but righteous soul sister in life. My confessor, ski buddy, consigliere, most-beloved BFF of 20 years, Cydney Bernard. "
Jodie Foster during her Jan. 13 acceptance speech for the Cecil B. Demille Award during the 70th annual Golden Globe Awards (ABC News, Jan. 14)
"Well, it didn't take me long to realize that the root of my hatred did not lie with gays but with myself. It was my problem. A problem I dealt with by ceasing to tolerate gays and instead seeking to embrace them."
Newark, N.J., Mayor Corey Booker in a 1992 op-ed where he wrote about coming to terms with his negative feelings toward homosexuals. (Stanford Daily, Jan. 9)
"Just letting you know… that using 'your gay' as a way to put someone down ain't ok! #notcool delete that out ur vocab"
NBA star Kobe Bryant of the Los Angeles Lakers, responding via Twitter to someone using "you're gay" as an insult. In 2011, Bryant was fined $100,000 for calling an NBA official a fag. (CBS Sports, Feb. 11)
"I don't think it's very controversial to suggest that a candidate who favors gay marriage and free contraception might have more appeal to a younger demographic. Does anyone want to argue … that there are more gay rights organizations on college campuses than in VFW halls?
— Stuart Stevens, Mitt Romney's lead presidential campaign strategist, in an op-ed about what caused Romney to lose to President Obama. (Washington Post, Feb. 24)
"As the president who signed the act into law, I have come to believe that DOMA is … incompatible with our Constitution."
Former President Bill Clinton, in a column against the Defense of Marriage Act, which he signed in 1996. The law, which the Supreme Court will take up on March 27, denies federal recognition to same-sex marriages and allows states to ignore same-sex marriages from other states. (Washington Post, March 7)
"Bob is 15 years old, and the only openly gay Scout in a Boy Scout troop. Is it acceptable or unacceptable for the troop leader to allow Bob to tent with a heterosexual boy on an overnight camping trip?"
One of several scenarios included in a Boy Scouts of America survey sent to members and their parents as the BSA considers whether to relax its ban on gay Scouts, volunteers and leaders. The BSA board may consider the policy in May. (Dallas Voice, March 11)
"If you feel, respectfully, that you can get a higher return than the 38 percent you got last year, it's a free country. You can sell your shares of Starbucks and buy shares in another company. Thank you very much."
Starbucks CEO Howard Schultz, responding at the company's annual shareholder meeting to a stock owner who questioned whether the coffee chain was being hurt by its support for same-sex marriage. (NPR.org, March 20)
"Life is life and love is love, and I'm just trying to be a better me, you know what I'm saying?"
Rapper Snoop Lion, asked by paparazzi his stand on gay marriage. "I don't have a problem with gay people. I got some gay homies," he also said. (TMZ.com, April 7)
"I think this is going to be good for a lot of black young people who want to come out. E.J. is going to be that symbol — a symbol of hope that they can now come and tell their parents, tell their friends."
Basketball legend Magic Johnson, who came out as HIV-positive in 1992, on his support for his son, Ervin "E.J." Johnson III, coming out as gay after being photographed by TMZ holding hands with his boyfriend. (Denver Post, April 7)
"I'm a 34-year-old NBA center. I'm black. And I'm gay. … If I had my way, someone else would have already done this. Nobody has, which is why I'm raising my hand."
NBA veteran Jason Collins of the Washington Wizards, coming out in the May 6 issue of Sports Illustrated. Collins becomes the first gay athlete in major U.S. men's professional sports to come out during his career. (Sports Illustrated, released online April 29)
"In making the film, the socio-political aspect of it was not really in my mind but I was focused on … trying to make this relationship as believable and realistic as we could. When this issue comes up, of equal rights for gays, I am hoping 50 years from now we will look back on this and wonder why this was even a debate and why it took so long."
Director Steven Soderbergh discussing his latest film, Liberace biopic "Behind the Candlebra," which made its Cannes debut May 21 (Reuters, May 21)
"I've been on this huge journey to figure out my life, and now I am back here I think where I am supposed to be."
Professional soccer player Robbie Rogers in a May 26 post-game press conference after his debut with the LA Galaxy made him the first openly gay athlete to compete in U.S. men's professional team sports. Rogers, a former national team player, came out in April and announced his retirement. (YouTube, May 27)
"Our community has been targets of bigotry, bias, profiling and violence. We have experienced the heart-breaking despair of young people targeted for who they are, who they are presumed to be, or who they love … Every person, regardless of race, religion, sexual orientation or gender identity, must be able to walk the streets without fear for their safety."
Open letter from national LGBT organizations supporting a federal investigation into Trayvon Martin's death after his accused killer was found not guilty. (Press release, July 15)
"We welcome all individuals regardless of sexual orientation into our ballparks, along with those of different races, religions, genders and national origins. Both on the field and away from it, Major League Baseball has a zero-tolerance policy for harassment and discrimination based on sexual orientation."
MLB Commissioner Bud Selig, announcing new code of conduct that will be distributed individually to professional baseball players at every level of the game. (New York Attorney General's Office press release, July 16)
"If someone is gay and he searches for the Lord and has good will, who am I to judge?"
Pope Francis, head of the Roman Catholic Church, telling reporters that he would not judge priests for their sexual orientation. The former pope, Benedict XVI, had said gay men should not be priests. (New York Times, July 29)
"If you take men and lock them in a house for five years and tell them to come up with two children and they fail to do that, then we will chop off their heads."
Zimbabwe President Robert Mugabe, stating at a rally that homosexuality "seeks to destroy our lineage" and Zimbabwe will not "accept the homosexuality practice" even if it costs the country U.S. aid. (News Day, July 25)
"As an openly gay African American, Mr. Rustin stood at the intersection of several of the fights for equal rights."
White House press release announcing that Bayard Rustin, who helped organize the 1963 March on Washington, will be posthumously awarded the Presidential Medal of Freedom. Sally Ride, the first female American astronaut in space, will also receive the Medal of Freedom; she became known publicly as gay when her obituary listed her longtime partner. (Aug. 8)
"I was excited to hear today that more states legalized gay marriage. I, however, am not currently getting married, but it is great to know I can now, should I wish to."
Actress Raven-Symone, who gained fame as a child on "The Cosby Show," coming out in a statement after tweeting, "I can finally get married! Yay government! So proud of you." (Washington Times, Aug. 4)
"Dude, lesbians love me. I'm tall, I have a deep voice, I'm like, 'Hello, catnip!' Now that this show's out I'm curious what happens from here because whenever I go out lesbians try to, y'know, turn me."
Actress Laura Prepon, discussing playing lesbian drug dealer Alex Vaus on "Orange is the New Black." (Canada.com, Aug. 1)
"Putin, end your war on Russian gays!" a shout by an unidentified man at the Metropolitan Opera's opening night of Tchaikovsky's "Eugene Onegin." Gay activists protested the opera to bring awareness to Russia's law banning "propaganda on nontraditional sexual relationships" that President Vladimir Putin signed into law in June. (Sept. 23, The New York Times)
"I am usually a very strong and confident person, but I have my moments too. Although there was positive feedback, there was a lot of negative too, and the negative affected me more than it ever has before. I recorded this because I didn't know how else to vent, I didn't want to talk to anybody." – Cassidy Lynn Campbell, a transgender teen who was named Huntington Beach high school homecoming queen, in a YouTube post where she was visibly upset by negative reactions. (Sept. 23, Los Angeles Times)
"Liz — this isn't just an issue on which we disagree you're just wrong — and on the wrong side of history." Mary Cheney responding on Facebook on Nov. 17 to her sister's response on "Fox New Sunday" saying she opposed same-sex marriage and that was an area where she and her sister disagreed. Liz Cheney is running for U.S. Senate in Wyoming.
Compiled by Georgia Voice
Biden, Harris, deliver remarks for White House Office of Gun Violence Prevention
Pulse survivor Brandon Wolf among those who spoke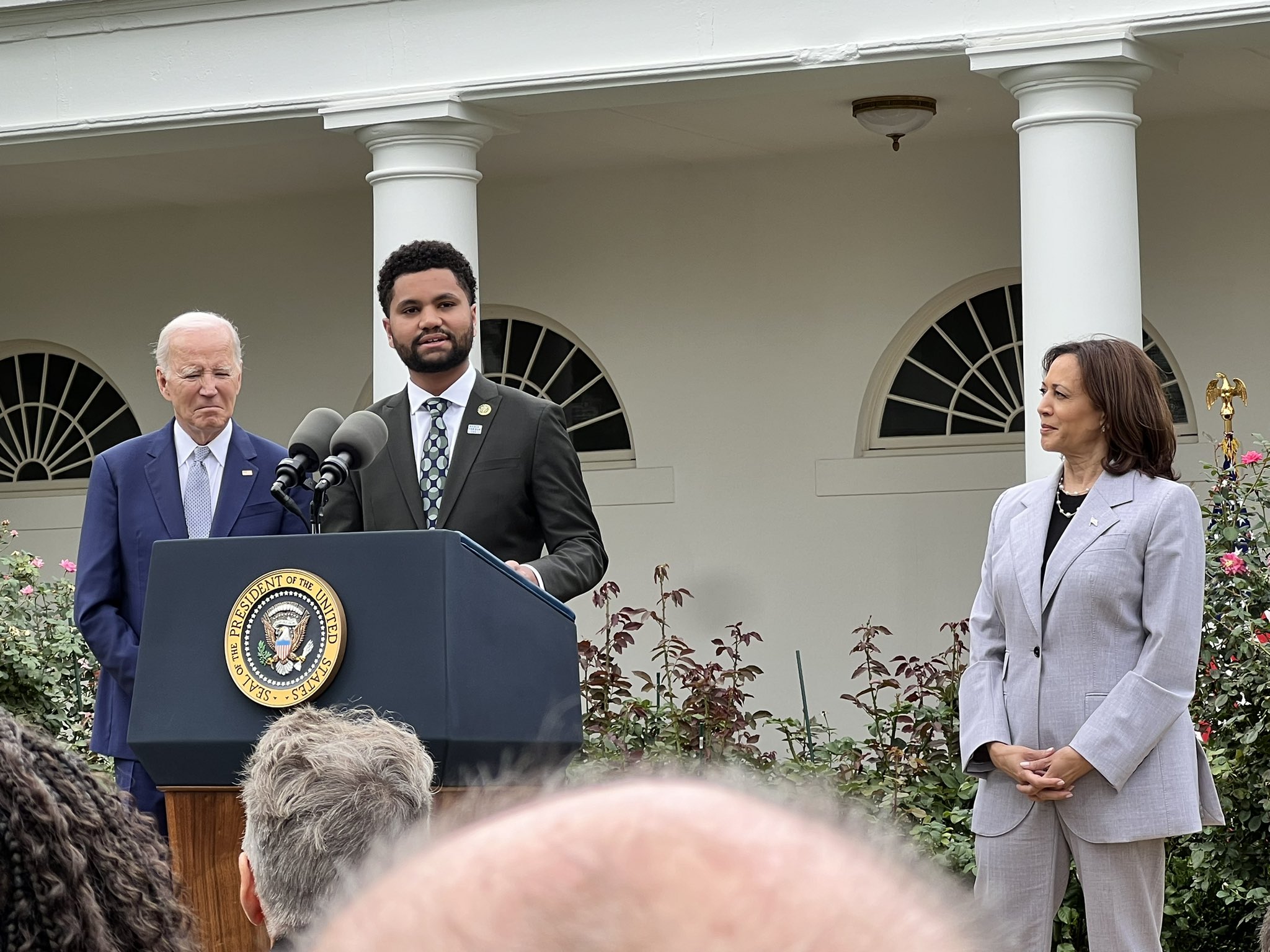 President Joe Biden, Vice President Kamala Harris, and U.S. Rep. Maxwell Frost (D-Fla.) addressed an audience from the Rose Garden of the White House on Friday to honor the establishment of a first-ever White House Office of Gun Violence Prevention.
In a press release Thursday announcing the move, the administration said its aim is to implement and expand the provisions of last year's Bipartisan Safer Communities Act along with those contained in the president's executive orders targeting issues of gun violence.
Additionally, Biden explained in his remarks, the office will coordinate more support for survivors, families and communities, including mental health services and financial aid; identify new avenues for executive action; and "expand our coalition of partners in states and cities across America" given the need for legislative solutions on the local and state level.
Harris, who will oversee the office, pledged to "use the full power of the federal government to strengthen the coalition of survivors and advocates and students and teachers and elected leaders to save lives and fight for the right of all people to be safe from fear and to be able to live a life where they understand that they are supported in that desire and that right."
The vice president noted her close experiences with the devastating consequences of gun violence in her work as a federal prosecutor, San Francisco district attorney, California attorney general and in her current role.
Biden's comments also included highlights of his administration's accomplishments combatting gun violence and a call to action for Congress to do more. "It's time again to ban assault weapons and high capacity magazines," he told lawmakers.
The president also credited the the work of advocates including those who were gathered at the White House on Friday: "all of you here today, all across the country, survivors, families, advocates — especially young people who demand our nation do better to protect all; who protested, organized, voted, and ran for office, and, yes, marched for their lives."
Taking the stage before introducing Biden, Frost noted that "Right before I was elected to Congress, I served as the national organizing director for March for Our Lives, a movement that inspired young people across the nation to demand safe communities."
"The president understands that this issue especially for young people, especially for marginalized communities, is a matter of survival," the congressman said. And the formation of this office, "comes from Pulse to Parkland," he said, adding, "we fight because we love."
Human Rights Campaign National Press Secretary Brandon Wolf, a survivor of the 2016 Pulse nightclub shooting, which was America's second deadliest mass shooting and the deadliest against the LGBTQ community, shared a comment with the Washington Blade after Friday's ceremony:
"Seven years ago, when my best friends and 47 others were murdered at our safe place — Pulse Nightclub — we promised to honor them with action. This is what that looks like. This deep investment in the fight to end gun violence matters, and I cannot wait to see Vice President Harris lead these efforts. We can blaze the path toward a future free of gun violence. And today marked an important step in that direction."
Federal judge: drag is 'vulgar and lewd,' 'sexualized conduct'
Ruling 'bristles with hostility toward LGBTQ people'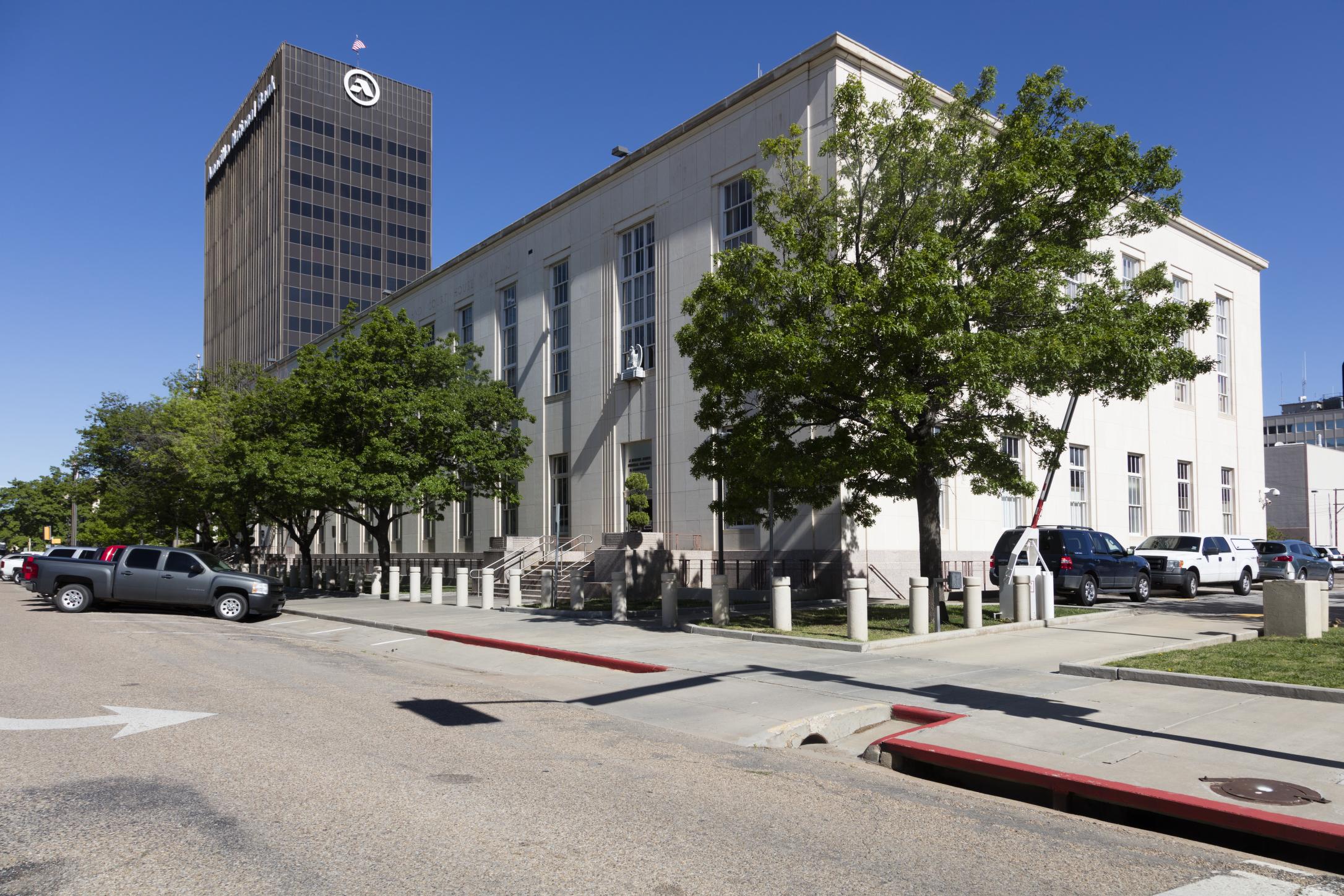 Judge Matthew Kacsmaryk of the U.S. District Court for the Northern District of Texas issued a ruling Thursday denying relief to a group of university students who sought to host a drag show over the objections of their school's president.
A Trump appointed jurist with deep ties to anti-LGBTQ and anti-abortion conservative legal activists, Kacsmaryk argued that drag performances probably do not constitute speech protected by the First Amendment.
As Slate Senior Writer Mark Joseph Stern wrote on X, this conclusion "conflicts with decisions from Texas, Florida, Tennessee and Montana which held that drag is constitutionally protected expression."
"It also bristles with undisguised hostility toward LGBTQ people," he added.
Kacsmaryk's 26-page decision describes drag performances as lewd and licentious, obscene and sexually prurient, despite arguments the plaintiffs had presented about the social, political, and artistic merit of this art form.
Judge Matthew Kacsmaryk refuses to grant relief to Texas college students who may be punished for hosting a drag show.

His condemns drag as "vulgar and lewd" "sexualized conduct" that harms children and is likely unprotected by the First Amendment. https://t.co/UPeolMfGON

— Mark Joseph Stern (@mjs_DC) September 22, 2023
As the Human Rights Campaign recently wrote, "drag artists and the spaces that host their performances have long served as a communal environment for queer expression."
The group added, "It is a form of art and entertainment, but, historically, the performances haven't only served to entertain, but also to truly advance the empowerment and visibility of LGBTQ+ people."
Nevertheless, anti-LGBTQ conservative activists and organizations have perpetuated conspiracy theories about members of the community targeting children for sexual abuse including by bringing them to drag performances.
Among these is a group with ties to the Proud Boys that was cited by Kacsmaryk in his ruling: Gays Against Groomers, an anti-LGBTQ and anti-transgender extremist group, according to the Anti-Defamation League and Southern Poverty Law Center.
Harris to oversee White House Office of Gun Violence Prevention
Goal is to implement and expand upon legislation, executive actions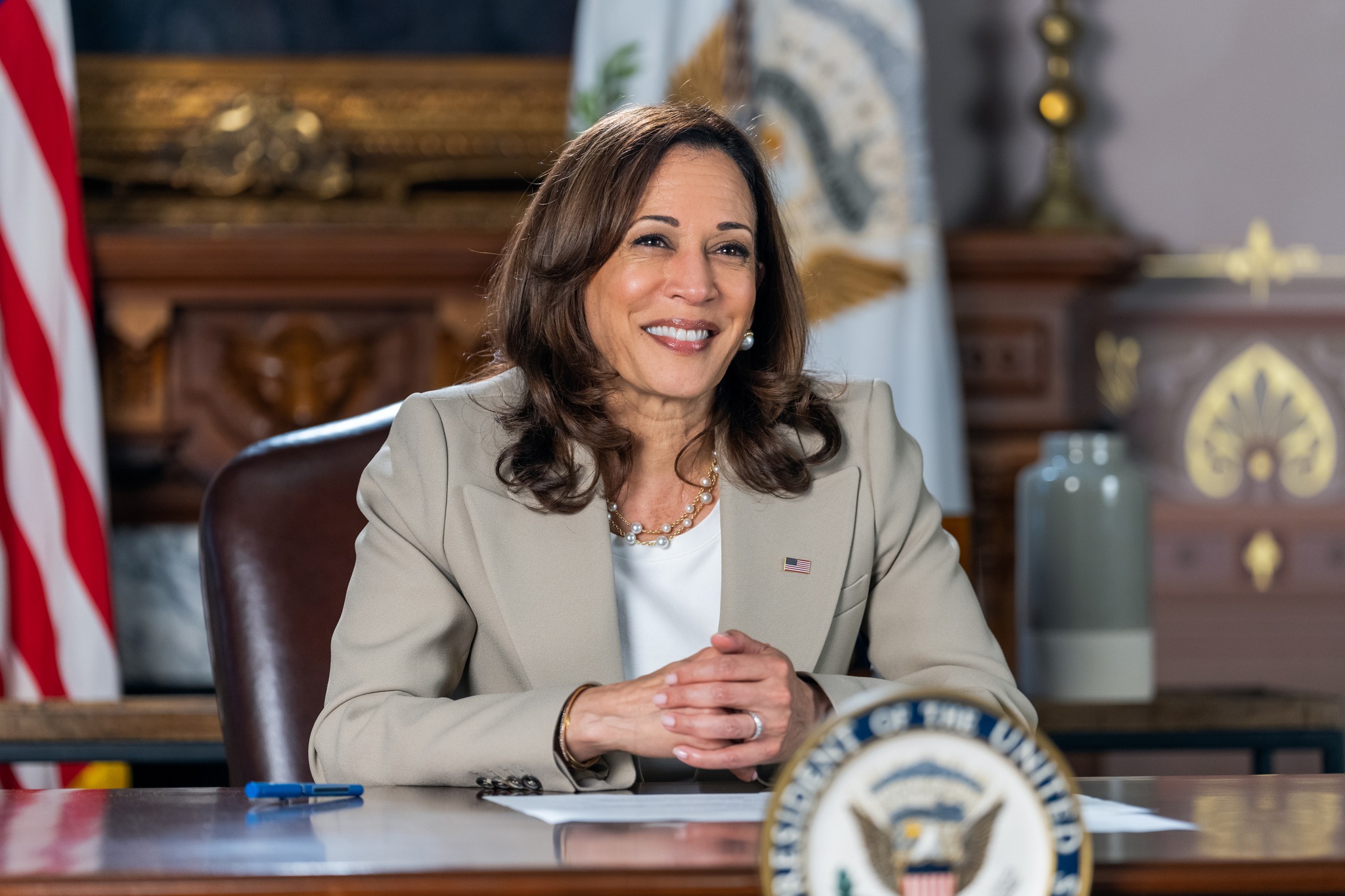 The White House announced Thursday evening that President Joe Biden on Friday will establish the first-ever White House Office of Gun Violence Prevention, to be overseen by Vice President Kamala Harris.
The office will focus on implementing and expanding upon executive and legislative actions, including the Bipartisan Safer Communities Act, "to reduce gun violence, which has ravaged communities across the country."
Serving under Harris will be Stefanie Feldman, "a longtime policy advisor to President Biden on gun violence prevention," and "leading gun violence prevention advocates Greg Jackson and Rob Wilcox."
"Every time I've met with families impacted by gun violence as they mourn their loved ones, and I've met with so many throughout the country, they all have the same message for their elected officials: 'do something,'" Biden said in a statement.
The president noted his signing of last year's bipartisan gun violence prevention law, a flagship legislative accomplishment for the administration, along with his issuance of more executive actions than any president in history to address this problem.
Calling these "just the first steps," Biden said the establishment of the White House Office on Gun Violence Prevention will "build upon these measures and keep Americans safe."
He also urged Congress to do more by passing legislation requiring universal background checks, and baning assault weapons and high capacity magazines.
In a statement, Harris said, "This epidemic of gun violence requires urgent leadership to end the fear and trauma that Americans experience every day."
"The new Office of Gun Violence Prevention will play a critical role in implementing President Biden's and my efforts to reduce violence to the fullest extent under the law," she said, "while also engaging and encouraging Congressional leaders, state and local leaders, and advocates to come together to build upon the meaningful progress that we have made to save lives."
"Our promise to the American people is this: we will not stop working to end the epidemic of gun violence in every community, because we do not have a moment, nor a life to spare," the vice president said.