Mexican Supreme Court rules on gay partner benefits
Man sought social security for same-sex spouse
El Economista, a Mexican newspaper, reported the justices in a 3-2 ruling said the Mexican Social Security Institute – Instituto Mexicano del Seguro Social in Spanish – must extend the same benefits that married heterosexual couples receive to gays and lesbians who have either tied the knot or entered into civil unions.
José Alberto Gómez Barroso, who married his partner in Mexico City in 2012, sought legal recourse through the Mexican judicial system after officials denied his request to add his spouse as a beneficiary under the country's social security system. A lower court last year dismissed Gómez's case after he passed away.
"The court's ruling without a doubt is cause for celebration," Alex Alí Méndez Díaz, a lawyer who filed lawsuits in 2011 and 2012 on behalf of three same-sex couples who tried to apply for marriage licenses in Oaxaca, told the Washington Blade. "The Supreme Court has been at the forefront of taking up decisions in relation to the rights of the LGBT community in Mexico."
The ruling comes against the backdrop of the movement in support of marriage rights for same-sex couples in Mexico that continues to gain momentum.
The Mexican Supreme Court last February ruled the Oaxacan law that bans same-sex marriage is unconstitutional. States must also recognize gay nuptials that have taken place in Mexico City since the Mexican capital's same-sex marriage law took effect in 2010.
A lesbian couple last month exchanged vows in Guadalajara in Jalisco. Gays and lesbians have also married in Colima, Chihuahua and in Quintana Roo and Yucatán on the Yucatán Peninsula on which the resort city of Cancún is located.
Same-sex couples in Baja California del Norte in which Tijuana is located and other states have sought marriage rights through the Mexican legal system. Coahuila currently extends property and inheritance rights and other limited legal protections to gays and lesbians.
"Since the legalization of same-sex marriage in Mexico City, the Mexican Social Security Institute has been one of the toughest organizations to lobby, one of the most stubborn institutions when it comes to amending their rules and giving equal treatment to its affiliates who have same-sex couples," Enrique Torre Molina, an LGBT rights advocate and blogger in Mexico City, told the Blade on Thursday as he discussed the Mexican Social Security Institute ruling. "This is another step towards equality for gay and lesbian couples."
Méndez stressed gay and lesbian Mexicans continue to suffer discrimination as long as they are unable to secure marriage rights.
"The court responded within the extent of its authority, but the result is insufficient," he told the Blade. "The respect of human rights should be the general rule and its violation is an exception that must be addressed."
The Mexican Supreme Court on Wednesday ruled the same-sex spouses of those who receive benefits under the country's social security system must receive the same benefits as their heterosexual counterparts.
In first, gay Democrat and gay Republican face off in congressional race
GOP candidate was present at Stop the Steal rally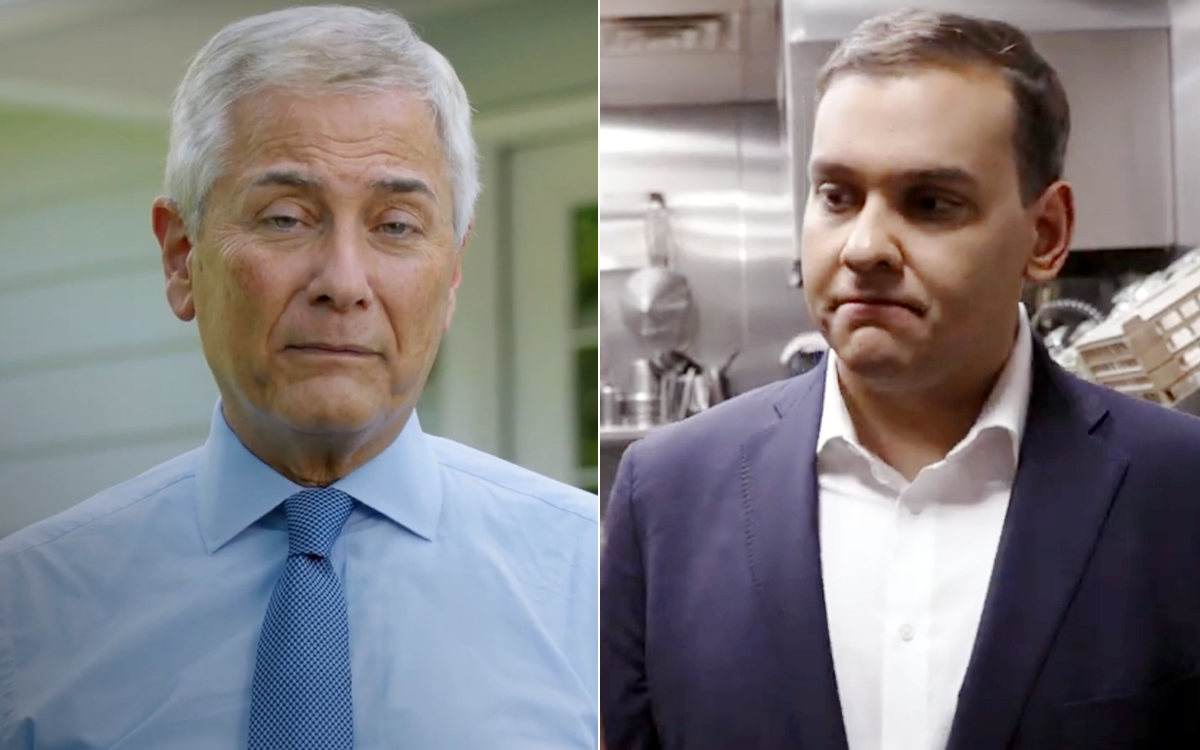 The race in New York's 3rd congressional district is seen as critical in the mid-term elections as Republicans are poised to retake the House and Democrats are trying to preserve their razor-thin majority. But the New York race holds another important distinction as the two candidates — Robert Zimmerman and George Santos — are openly gay, marking the first time out gay candidates from the two major parties have squared off in a House race.
In separate interviews with the Washington Blade, the candidates had markedly different takes on the nature of the historic first, with one saying his sexual orientation influenced his approach to politics and the other utterly rejecting its importance.
Zimmerman, a progressive Democrat and communications official who supports causes like LGBTQ rights, abortion rights, and gun reform, said being gay and closeted in his youth living on Long Island in the 1970s shaped his view of politics.
"I went to speak to an educator I trusted, and he suggested to me I try a doctor to make me better, because in those days, that was the path, conversion therapy," Zimmerman said. "And I certainly didn't do that, but it just reflects how isolating that period was, but I guess out of that period, that sense of isolation, it helped me to look at the world around me and see a lot of other folks who felt unseen and unheard, and it helped me find my voice that brought me to protest lines, brought me into political activism."
The first protest for Zimmerman, he said, was in front of the Democratic Party's headquarters. He's now a member of the Democratic National Committee in New York. Zimmerman said his political activism also brought him to the office of his member of Congress, where he became a congressional intern and later a member of his senior staff.
Santos, a conservative Republican, downplayed the importance of being a gay congressional candidate and said he doesn't make it an issue in his campaign, although he conceded,"it feels awesome that the opportunities are equal for everybody in this country."
"It's great to see that opportunities are equal to all in this country," Santos said. "It's always been that way. … So I don't make it a campaign issue as far as I don't campaign on that issue. It's not a campaign issue for me. I think it's a distraction, really about the real issues plaguing our country right now. I'd rather talk about that stuff all day long than talk about my sexual preference."
Key issues for Santos, he said, were many of the same issues Republicans are running on as part of the 2022 mid-term elections, such as inflation, the cost of energy, and crime, which he said are issues that affect every American to varying degrees regardless of their socioeconomic status.
Although he downplays the significance of his sexual orientation, Santos would have the distinction if elected as the first openly gay Republican in Congress since the departure of former Rep. Jim Kolbe in 2009. Santos would also have the distinction of being the first openly gay non-incumbent Republican candidate elected to Congress.
Not exactly fitting the mold of gay members of Congress seen in the past, Santos has aligned himself with a conservative ideology. He has called abortion rights "barbaric," and spoken favorably about the Florida "Don't Say Gay" bill signed into law by Florida Gov. Ron DeSantis. Footage exists of Santos saying he was at the Ellipse for the rally with former President Trump that preceded the Jan. 6 insurrection at the U.S. Capitol.
Santos didn't deny that he was present at the "Stop the Steal" rally, but said he "did not go" to the U.S. Capitol building on Jan . 6 and downplayed the significance of his presence at the rally.
"I just don't see how that's relevant to this interview, and to what we're doing in 2022," Santos said. "I just really think the American people deserve journalists to really focus on the future. I really liked this interview to be about proposals and what I'm going to present in Congress come 2023 instead of looking at two years ago, and really reminiscing on that."
Amid news stories of Republican candidates continuing to deny the outcome of the 2020 election, Santos indicated he wasn't among them. Asked whether President Biden won the 2020 election, Santos replied, "He's the president of the United States, I never contested that." Asked whether Biden is president because he won the election, Santos replied, "Of course."
Albert Fujii, spokesperson for the LGBTQ Victory Fund, said the records of both candidates made it easy for the organization, which endorses openly LGBTQ people running for public office, to decide whom to support.
"Victory Fund proudly endorsed Robert Zimmerman because of his life-long LGBTQ advocacy, commitment to public service and fierce pro-equality and pro-choice vision for America," Fujii said. "We believe abortion rights are LGBTQ rights and since our inception have always required candidates be pro-equality and pro-choice to receive our endorsement."
Fujii added Santos never approached the Victory Fund to seek an endorsement. Gay Republicans have sometimes criticized the organization as being a partisan tool of Democrats.
Political outsiders have rated New York's 3rd congressional district as "leaning Democratic." Although some initial polling was favorable to Santos as Republicans had an advantage with inflation and gas prices being a major issue, the tide appears to have turned nationwide after the Supreme Court ruling against Roe v. Wade served as a wakeup call to the Democratic base.
Zimmerman said the ruling in the Dobbs case has stirred a high level of activism, predicting LGBTQ rights would be next on the chopping block due to the concurrence of U.S. Associate Justice Clarence Thomas, who called for revisiting the decision in favor of same-sex marriage.
"You're seeing a level of energy and activism as a result of the Dobbs decision," Zimmerman said. "That is truly unprecedented for a midterm election When you take away 50 years of protection for women, and people also understand that's just the opening bid. They're coming after our rights of the LGBTQ+ community next, and they're coming after our rights in so many other areas. You've seen a level of engagement, coalition building, and activism that is really unprecedented."
Santos, presenting a different take on the Dobbs decision, said he thought the ruling "was great" and "gave the states back its power of the Tenth Amendment."
"I don't think it affects us here in New York," Santos said. "I do understand that there's other states with different decisions, but that's precisely what the Tenth Amendment does — it gives the rights back to the state so that on a more hyperlocal concentrated issue, the people's constituency, get to pick what they think is best for them."
Thomas's concurring opinion in the Dobbs decision is also not a threat, Santos said, although he criticized it as an "unfortunate moment."
"He had an unfortunate moment in a dissenting opinion that the majority did not sign on," Santos said. "Clearly, that's why it has no legal value. It's nothing more than a legal essay. A legal essay written by a Supreme Court justice with — I'm just going to go out on a limb and say not the brightest moment in his career."
One of the consequences of the Dobbs decision was the introduction in Congress of legislation knowns as the Respect for Marriage Act, which would seek to codify same-sex marriage into law regardless of whether or not the Supreme Court decides to revisit it.
Santos, asked whether he's in favor of the bill, replied, "If the bill is put through committee properly? Yes." Santos went on to say he had calls from Republicans about the legislation and told them it's the law of the land and a matter of "if you feel comfortable supporting my right to marry my spouse of my choosing."
"My only hang up with it is I really wish to give it more legitimacy and not leave any questions open for pundits on both sides of the aisle … let's just get it passed," Santos said. "I mean, I have no issue. Of course I'd vote for it."
When the Blade pointed out he appeared to be leaving the door open to vote "no" based on objections of not going through the regular order of the committee process, Santos denied that was the case: "I didn't say that. I just said I want it to be that way, so there's no questions about it. I never in any instance suggested to you I would say 'no.'"
Rep. Mondaire Jones makes video of getting second monkeypox vaccine
Outbreak now disproportionately affecting Black men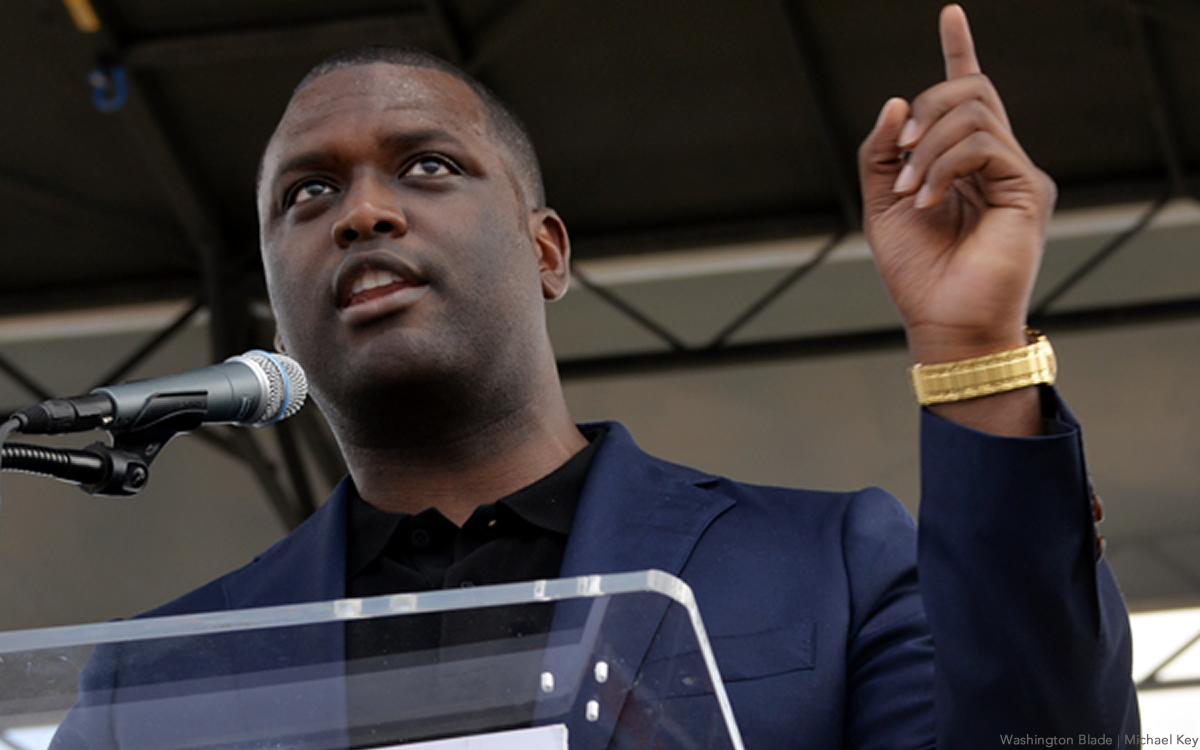 Rep. Mondaire Jones (D-N.Y.), at a time when racial disparities in the monkeypox outbreak are becoming more pronounced, took a visible role Tuesday in embracing efforts to contain the disease, putting out a video of him obtaining a vaccine.
Jones, who is one of two openly gay Black members of Congress, is shown in the video outside of Westchester Medical Center's drive-through clinic in Westchester County, N.Y., saying he just received his second dose of the monkeypox vaccine.
"Monkeypox is hitting LGBTQ+ communities of color particularly hard," Jones said in a tweet. "The most effective way to stop the spread is to get vaccinated and to talk about it — to overcome stigma and misinformation. I did my part and got vaccinated. You should, too."
The video comes out as racial disparities persist in the monkeypox outbreak, even though the number of new cases overall is beginning to decline. In the week of Sept. 4, Black people represented 41 percent of the cases and Latinos represented 27 percent, while 26 percent were white and three percent were Asian, according to data from the Centers for Disease Control.
Jones, who had represented New York's 17th congressional district, was unable to obtain the Democratic nomination to run again for Congress after redistricting in New York and is set to leave at the end of his term.
Blinken speaks at U.N. LGBTI Core Group event
Gathering took place on eve of U.N. General Assembly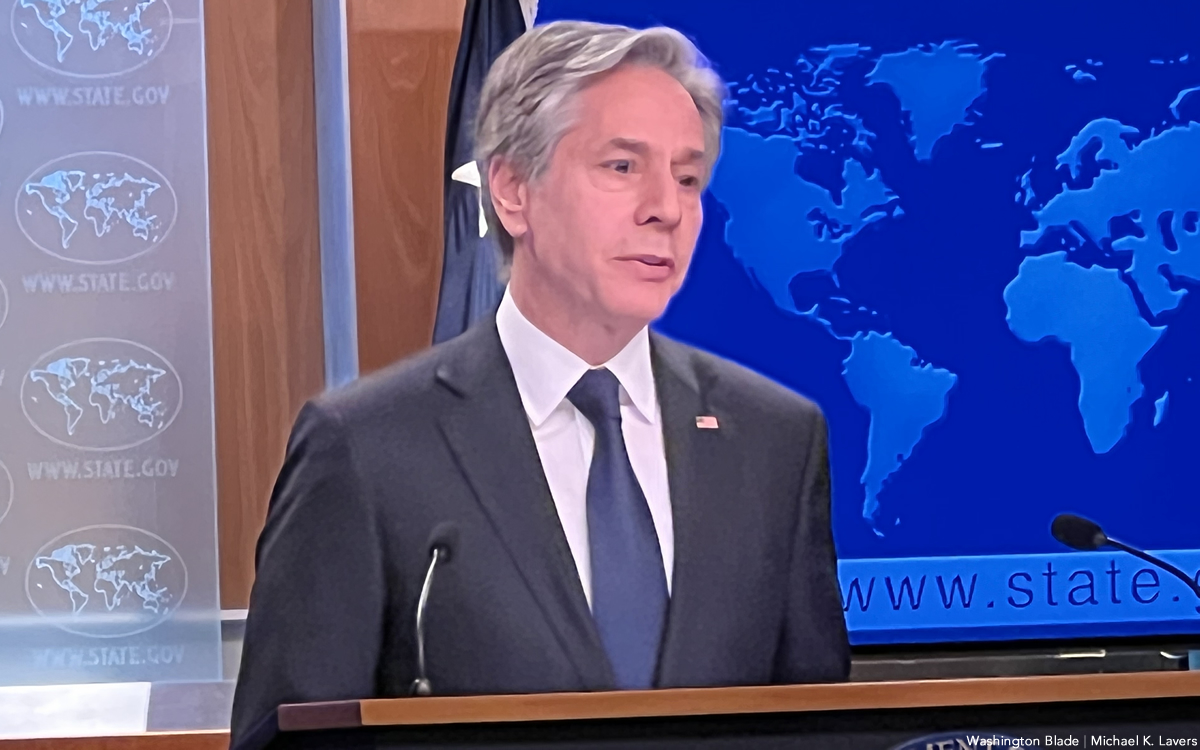 Secretary of State Antony Blinken on Monday spoke at an LGBTQ and intersex rights event that took place on the eve of the U.N. General Assembly.
Blinken in his remarks at the LGBTI Core Group, a group of U.N. countries that have pledged to support LGBTQ and intersex rights, noted the meeting took place at "a time when the movement for equality is showing some encouraging momentum."
He pointed to the decriminalization of consensual same-sex sexual acts over the summer in St. Kitts and Nevis and Antigua and Barbuda. Blinken also noted the Vietnamese Health Ministry's announcement last month that it no longer considers LGBTQ people to be sick.
"At the same time, for that progress, which is real and which is worth underscoring, we know that people worldwide continue to experience alarming levels of violence, discrimination, isolation," said Blinken. "Risks are the highest for people with disabilities, people of color, refugees and LGBTQI+ women. Transgender people are often denied access to legal identity documents that reflect their names and gender markers. Intersex people, including minors, continue to be subjected to unnecessary surgeries without their consent."
Blinken further stressed that members of the U.N. LGBTI Core Group and countries around the world "have work to do to ensure that LGBTQI+ people have the same rights, the same protections as all other people."
"Defending these rights is central to the health of our democracies," he said. "Any system where some groups are treated as 'less than' simply because of who they are is fundamentally flawed."
President Joe Biden in February 2021 signed a memo that committed the U.S. to promoting LGBTQ and intersex rights abroad as part of his administration's overall foreign policy. The White House four months later appointed Jessica Stern as its special envoy for the promotion of LGBTQ and intersex rights overseas.
The State Department in April began to issue passports with "X" gender markers. The White House's efforts in support of LGBTQ and intersex rights abroad now includes marriage equality in countries where activists say such a thing is possible through legislation or the judicial process.
Blinken in his speech noted Biden in June issued a sweeping executive order that, among other things, prohibits the use of federal funds to support so-called conversion therapy. The ceremony, which occurred during the White House's annual Pride reception, took place against the backdrop of the passage of Florida's "Don't Say Gay" law and efforts in several other states across the country to curtail the rights of transgender students.
"Standing up for LGBTQI+ people is a top priority for our administration," said Blinken.
Blinken also referenced the 1969 Stonewall riots.
"Everything we're doing builds on the work of literally generations of advocates who have — and still are — risking so much to put LGBTQI+ people and their rights on the map," he said. "And I have to say, as I read the history, learn the history, hear of experiences, I'm quite in awe of generations of advocates who have done so much to put us where we are today. The work we're doing is only possible because of the work they did — but not only the work they did, the courage that they showed."
"The 1969 protest at the Stonewall Inn marked a turning point in our nation's struggle for LGBTQI+ rights and helped galvanize the global movement," added Blinken. "This is something that is seared into the memories, seared into the consciousness of so many of us. And particularly for me as a native New Yorker, it's something that I have seen and been inspired by for many, many years."
Blinken further noted "Stonewall is also a stark reminder of all the places worldwide where people are still subject to abuse simply for being themselves."
State Department spokesperson Ned Price, Icelandic Prime Minister Katrín Jakobsdóttir; Permanent Brazilian Representative to the U.N. João Genésio de Almeida Filho, Peruvian Foreign Minister Cesar Landa Arroyo, Norwegian Foreign Minister Anniken Huitfeldt and OutRight Action International Executive Director Maria Sjödin are among those who attended the event alongside Stern and Victor Madrigal-Borloz, the independent U.N. expert on LGBTQ and intersex issues.