Court rules gay couples can marry now in Chicago area
LGBT advocates say ruling should apply statewide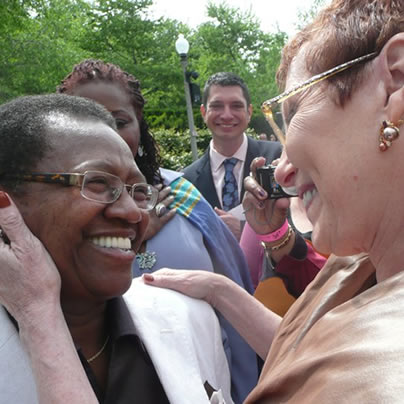 A federal court in Illinois ruled on Friday gay couples can marry immediately in the Chicago-area Cook County without waiting for the marriage equality law to take effect in June.
Meanwhile, LGBT advocates behind the lawsuit are interpreting the decision to mean clerks across the state should begin granting marriage licenses to same-sex couples.
In a brief four-page order, U.S. District Judge Sharon Johnson Coleman, an Obama appointee, says Cook County can no longer prohibit gay couples from marrying because the marriage ban violates the Fourteenth Amendment to the U.S. Constitution.
"There is no reason to delay further when no opposition has been presented to this Court and committed gay and lesbian couples have already suffered from the denial of their fundamental right to marry," Coleman writes.
As Coleman notes, "there is no opposition" to the ruling because Cook County Clerk David Orr and Illinois Attorney General Lisa Madigan weren't defending the marriage law in court. Both Orr and Madigan filed briefs in support of the plaintiff same-sex couples in the case.
Although Gov. Pat Quinn signed into law a bill legalizing same-sex marriage in Illinois, the measure won't take effect until June.
The class-action lawsuit, Lee v. Orr, was filed by Lambda Legal and ACLU of Illinois of behalf of same-sex couples seeking to wed before that time in Cook County. The named plaintiffs in the lawsuit — Elvie Jordan and Challis Gibbs as well as Ronald Dorfman and Ken Ilio — are facing terminal illness.
In her ruling, Coleman invokes the legacy of civil rights leader Martin Luther King, Jr., to explain her decision to allow gay couples in Cook County to wed immediately.
"Since the parties agree that marriage is a fundamental right available to all individuals and should not be denied, the focus in this case shifts from the 'we can't wait for the terminally ill individuals to 'why should we wait' for all gay and lesbian couples who want to marry," Coleman writes. "To paraphrase Dr. Martin Luther King, Jr., the time is always ripe to do right."
Bernard Cherkasov, CEO of Equality Illinois, praised Coleman for a ruling that he said would bring justice to thousands of same-sex couples.
"Tens of thousands of Illinois couples have been waiting for a long time, some for decades, for their love, commitment and marriage to be recognized," Cherkasov said. "This day – and the opportunity to finally get married – could not have come sooner. We congratulate all of the couples and their families, and the people of Illinois on this significant day."
Orr said in a statement the Bureau of Vital Records would be open an extra two hours on Friday until 7 p.m. to accommodate couples seeking to wed in the wake of the court order.
"I'm thrilled same-sex couples who want to get married won't have to wait any longer," Orr said. "We are very excited to celebrate this historic milestone with every loving couple from today onward."
According to Cook County, marriage licenses are valid from the day after issuance and for 60 days, so couples that obtain a marriage license on March 1 may get married between March 2 and April 30.
Moreover, the $60 license fee will be waived for couples already in a civil union. Couples that wish to convert their prior civil union date to a marriage will have to wait until June 1 because it was not addressed in Coleman's order.
There are differing accounts about the scope of the opinion. Coleman writes her ruling only applies to Cook County because of the nature of the lawsuit.
"Although this court finds that the marriage ban for same-sex couples violates the Fourteenth Amendment Equal Protection Clause on its face, this finding can only apply to Cook County based on the posture of the lawsuit," Coleman said.
But LGBT advocates are interpreting the ruling differently and say clerks across Illinois should start affording marriage licenses to same-sex couples.
Erik Roldon, a Lambda spokesperson, said no clerk in Illinois has authority to enforce the marriage ban in the aftermath of the decision.
"The law was declared facially unconstitutional," Roldan said. "That means there are no circumstances under which it can be enforced – in Cook or elsewhere."
Edwin Yohnka, a spokesperson for the ACLU of Illinois, shared that assessment of the ruling.
"The court found the current marriage ban to be unconstituional," Yohnka said. "We would hope that all clerks would read that decision. If they do, we believe that they would not want to be in the position of enforcing a law that has been found unconstitutional."
Gay couples that marry as a result of the court decision would not be the first to do so in Illinois. Vernita Gray and Patricia Ewert married in Cook County in November as a result of a federal court saying they should be afforded a marriage license immediately because Gray has been diagnosed with terminal breast cancer.
Lo que trae el Código de las Familias de Cuba
Tendría matrimonio igualitario y 'multiparentalidad'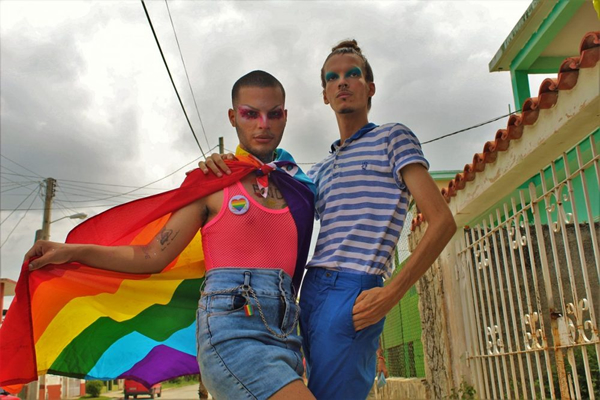 Tremenda Nota es el socio mediático del Washington Blade en Cuba. Esta nota salió en su sitio web el 15 de septiembre.
El anteproyecto del Código de las Familias fue publicado este miércoles por el Ministerio de Justicia (Minjus). Como estaba previsto, la propuesta incluye el matrimonio LGBTIQ+ entre otros conceptos nuevos para la legislación cubana.
"El matrimonio es la unión voluntariamente concertada de dos personas con aptitud legal para ello, a fin de hacer vida en común, sobre la base del afecto y el amor", dice el artículo 61 del anteproyecto.
Esta es la versión número 22 del Código de las Familias, declaró el gobierno hace una semana cuando la comisión redactora se reunió con el presidente Miguel Díaz-Canel y otros funcionarios.
Según el ministro de Justicia Oscar Silvera Martínez, el gobierno decidió publicar la última versión para «captar opiniones» de la ciudadanía. La publicación se hizo efectiva este miércoles.
El Minjus, en su presentación del anteproyecto de ley, compartió el correo electrónico [email protected] para recibir sugerencias y comunicó que «del resultado de estos análisis se elaborará una nueva versión del anteproyecto que será sometida a aprobación de las diputadas y diputados de la Asamblea Nacional del Poder Popular, en diciembre de este año».
Posteriormente, ya convertido en proyecto de ley, el Código será sometido a consulta popular en 2022.
¿Qué dice el anteproyecto?
El matrimonio entre personas LGBTIQ+ provocó grandes discusiones en 2018, durante el debate del proyecto de Constitución que finalmente se aprobó en 2019. El gobierno tuvo que desistir del artículo 68, que definía matrimonio como «la unión de dos personas», y adoptar una fórmula más amplia.
El camino quedaba abierto, a pesar de los reclamos del activismo LGBTIQ+, que alcanzaron su tono máximo en la marcha del 11 de mayo de 2019, un mes después de promulgada la Constitución.
Un plazo de dos años quedó abierto en Cuba, por una de las disposiciones transitorias de la Constitución, para discutir sobre los alcances del matrimonio. La epidemia de covid-19 complicó el cumplimiento de los plazos. Finalmente, el anteproyecto de ley se hizo público este 15 de septiembre.
A pesar de la falta de transparencia para constituir la comisión redactora, criticada también por la ausencia de personas abiertamente LGBTIQ+, el anteproyecto trajo algunas sorpresas.
En Cuba, si se aprueba este anteproyecto, será posible tener más de dos filiaciones. Aunque se aclara que será "excepcionalmente", la ley reconocerá la maternidad/paternidad de más de 2 personas.
El artículo dedicado a la "multiparentalidad" dice que "una persona puede tener más de dos vínculos filiatorios" y cita como ejemplos "los casos de filiación asistida donde no existe anonimato de la persona dadora o gestante" y "las adopciones por integración". Este último caso es el de quienes adoptan a la hija o al hijo de su pareja.
Según el anteproyecto, este vínculo será válido sin que importe "el lazo biológico o el componente genético de las personas implicadas". "La determinación de los apellidos y el orden de estos, si la hija o hijo es menor de edad, se toma en cuenta lo que resulte más beneficioso, conforme con su interés superior y el respeto a su identidad", establece el anteproyecto.
La "gestación solidaria" también será posible en Cuba siempre que no tenga fines de lucro.
"La gestación solidaria se autoriza judicialmente cuando en la misma intervengan personas unidas por vínculos familiares, en beneficio de mujeres con alguna patología médica que les impida la gestación o de personas que presenten esterilidad o de hombres solos o parejas de hombres", dice uno de los artículos del anteproyecto.
Con respecto a la adopción, buena parte de los procedimientos se hacen más sencillos. En la ley vigente, para adoptar hay que contar con autorización judicial. Con el nuevo Código aparece la opción de ceder un bebé voluntariamente "sin que de este acto sea exigible responsabilidad penal alguna". Ofrece la posibilidad de hacerlo incluso con una simple escritura notarial.
El anteproyecto introduce el concepto de "comaternidad" para referirse a las parejas de lesbianas con descendencia y establece tácitamente la "filiación asistida" como un derecho, en vez de una opción para tratar la infertilidad según había sido considerada hasta ahora.
La noción tradicional de "patria potestad", de origen romano y raíz machista, fue sustituida por la de "responsabilidad parental". En esa línea, el anteproyecto prohíbe el castigo físico de los hijos, que está permitido "moderadamente" en la ley vigente.
Sobre la responsabilidad doméstica atribuida culturalmente a las mujeres, el nuevo Código expresa que "la división tradicional de roles de género y funciones durante la convivencia de los cónyuges no puede dar lugar a consecuencias económicas perjudiciales para ninguno de ellos" y establece por último que "el trabajo en el hogar es computable como contribución a las cargas".
El anteproyecto se ocupa ampliamente de la violencia familiar con un adecuado enfoque de género. Los adultos mayores son otro foco de interés que no tiene tanta atención en la ley vigente. El nuevo Código también reconoció los derechos sexuales de las personas "en situación de discapacidad".
A pesar de estos avances, en algunos casos extraordinarios, el anteproyecto no se refiere nunca a las personas trans y no binarias. El respeto a la identidad de género de menores trans por parte de sus familias, y en particular de quienes tienen la "responsabilidad parental", es una significativa ausencia.
De ser aprobada la versión publicada hoy, el Código de las Familias sustituirá una ley de 1975 considerada un hito jurídico de la Revolución Cubana, pero sobre todo trascenderá por inaugurar el matrimonio LGBTIQ+ y por consagrar el derecho de esas familias a tener descendencia.
Indyra Mendoza y Claudia Spellmant, de Honduras, entre las 100 personas más influyentes del mundo, según Time
Dos activistas están en la lista luminosa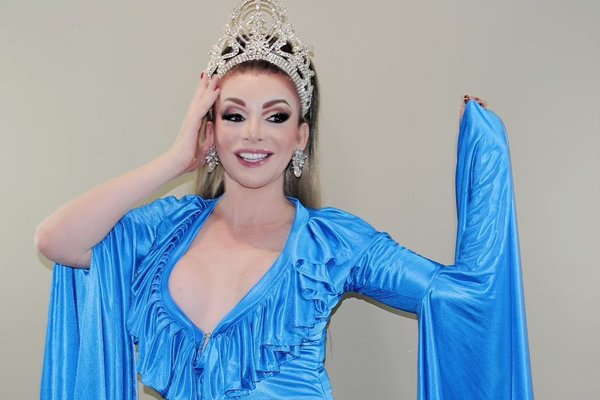 Reportar sin Miedo es el socio mediático del Washington Blade en Honduras. Esta nota salió en su sitio web el 15 de septiembre.
Dos de las personas más influyentes del planeta en 2021: así considera la reconocida revista estadounidense Time a la coordinadora de la Red Lésbica Cattrachas, Indyra Mendoza, y a la activista trans Claudia Spellmant.
La publicación incluyó este 14 de septiembre a Mendoza y Spellmant en su esperada lista de las 100 personas más influyentes del mundo.
Es la primera vez en la historia que dos personas originarias de Honduras aparecen en la nómina de Time.
La lista de Time es una de las más esperadas del planeta. Las celebridades y las personalidades más importantes de la política y la sociedad en Estados Unidos y el resto del mundo se afanan por aparecer en esta nómina que Time publica cada año.
Por lo general, la lista aparece en mayo, pero se retrasó debido a la pandemia y fue publicada hasta septiembre, es decir, cinco meses después.
'Una supersorpresa'
A Indyra la tomó por sorpresa su inclusión en la lista de Time.
"Fue una supersorpresa", dijo Mendoza en exclusiva para Reportar sin Miedo. "Cuando Time me entrevistó, yo no sabía que era para esto".
Mendoza contestó audios con otros audios para dar la entrevista, ya que en ese momento tenía un leve problema de salud.
"Yo no me había dado cuenta de que era la revista Time", relata Mendoza. "Estamos supercontentas".
Al recibir la noticia, Mendoza se hallaba en La Ceiba, donde celebró los 100 años del barrio Independencia, donde ella se crió.
Claudia Spellmant reacciona desde el exilio 
"Para mí es el mejor premio del mundo. Me siento tan contenta", dijo Spellmant en entrevista exclusiva para Reportar sin Miedo. "Esto significa mucho en mi vida y tengo tantas respuestas".
La presidenta de la organización pro derechos humanos Robert F. Kennedy Human Rights, Kerry Kennedy, dedicó un conmovedor artículo para hablar sobre la lucha que Mendoza y Spellmant emprendieron en busca de justicia en el caso de Vicky Hernández.
La activista trans fue asesinada durante el golpe de Estado de 2009 y su caso permaneció impune 12 años, hasta que un equipo de abogadas impulsado por Mendoza logró que declararan culpable al Estado hondureño en junio de 2021 por la muerte de Vicky. Spellmant, quien se encuentra asilada en Estados Unidos, fue decisiva en esa sentencia al dar su testimonio.
"Mendoza y Spellmant, como activistas y mujeres LGBTQ+, pasaron años trabajando para exigir justicia para Vicky, oponiéndose con valentía a una sociedad discriminatoria que ha puesto sus vidas en peligro en repetidas ocasiones", escribe Kennedy.
Sin embargo, para Kennedy, "la lucha no ha terminado. El mundo debe seguir su ejemplo".
Claudia Spellmant manifestó que se siente contenta de representar a la comunidad LGBTIQ+ hondureña, «pero al mismo tiempo un poco nostálgica porque no puedo disfrutar en Honduras de este logro por las dificultades».
Spellmant huyó de la violencia en Honduras para radicarse en Nueva York, Estados Unidos, donde recibió asilo político tras una serie de amenazas y atentados en contra de su vida.
En Honduras desde el 2009 hasta el 2021 han sido asesinadas 389 personas LGBTI de las cuales en este año han sido asesinadas 10 gays, tres trans y tres lesbianas, según el monitoreo de muertes violentas que mantiene la Red Lésbica Cattrachas.
"Me siento muy feliz porque este reconocimiento no solo es para las mujeres trans de Honduras, sino también para toda la comunidad LGBTIQ+. Me siento muy honrada de estar a la par de Indyra porque y ser referentes de las poblaciones LGBTIQ+ de Honduras y del mundo. Ya es hora que hora que nos comiencen a respetar por nuestra identidad, expresión y orientación sexual".
Entre lxs pionerxs
Mendoza, originaria de La Ceiba, en la costa norte hondureña, y Spellmant, nacida en el oriente de Honduras, en Danlí, se unen por medio de la publicación de Time a una nómina de pioneras y pioneros que han cambiado la historia mundial. 
En la lista de Time, Mendoza y Spellmant aparecen junto a importantes personalidades como el cubano Luis Manuel Otero Alcántara, artista de performance y disidente cubano, conocido por sus actuaciones públicas que critican abiertamente al gobierno cubano y sus políticas totalitarias.​​
Además, Time incluye en su lista al príncipe Harry y Meghan, al duque y la duquesa de Sussex, a Britney Spears, Dolly Parton, la cantante Billie Eilish y el presidente salvadoreño Nayib Bukele.
Gay Guatemala congressman 'scared' for his life
Aldo Dávila a vocal critic of country's president, corruption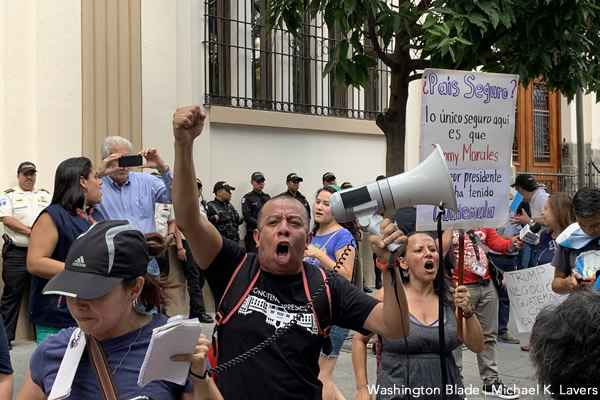 GUATEMALA CITY — A gay Guatemalan congressman who is a vocal critic of his country's president and corruption says he is afraid for his life.
"I am scared of what may happen with so much persecution against me," Aldo Dávila told the Washington Blade on Sept. 10 during an interview at a Guatemala City hotel. "I am scared for my life, for my partner, for my family and for my team."
Dávila — a member of the Winaq movement, a leftist party founded by Rigoberta Menchú, an indigenous human rights activist and Nobel Peace Prize winner — in 2019 became the first openly gay man elected to Guatemala's congress. Dávila, who also lives with HIV, had previously been the executive director of Asociación Gente Positiva, a Guatemala City-based HIV/AIDS service organization.
Three men on April 19 approached his vehicle while it was stopped at a traffic light near Guatemala's National Library and tried to rob him.
One of Dávila's bodyguards who was driving shot one of the men. The other two men fled the scene before passersby and police officers arrived.
Dávila was not injured, but he later said in a Facebook post that he is "thankful for life." Dávila told the Blade that Guatemalan authorities have not thoroughly investigated the attack.
"I requested an armored car after the attack, but I have not received it yet," said Dávila, who arrived at the hotel with two female police officers who sat in the lobby while he spoke with the Blade. "This has not been resolved, even though it was in April. It is very complicated."
Dávila said Culture Minister Felipe Aguilar, Congress President Allan Rodríguez and other supporters of President Alejandro Giammattei have lodged nine formal complaints against him after he publicly criticized the government over a variety of issues that include its response to the pandemic.
"It has been a systematic attack against me," said Dávila.
Dávila told the Blade that he and his partner installed cameras in their apartment after someone killed their dog. Dávila also said he continues to receive death threats online and at his home.
"We are going to kill you, we are going to shut you up," said Dávila, referring to the type of threats he says he receives.
"They send me little messages, I am clearly making those who are corrupt very uncomfortable," added Dávila.
Prominent transgender activist murdered in June
Discrimination and violence based on sexual orientation and gender identity remains commonplace in Guatemala.
Dávila told the Blade that 21 LGBTQ people have been reported killed in Guatemala so far in 2021, including one person who was stoned to death.
Andrea González, executive director of Organización Trans Reinas de la Noche, a trans advocacy group, was shot to death in Guatemala City on June 11, days after Vice President Kamala Harris visited the country. The U.S. Embassy in Guatemala and U.S. Agency for International Development Administrator Samantha Power both condemned González's murder, but Dávila told the Blade there has been "no investigation."
"It's one more case about which to forget, unfortunately," said Dávila.
Dávila also noted he has met with officials who include representatives of the National Civil Police, the Public Ministry and the National Institute for Forensic Sciences "to ask what they are doing" to combat anti-LGBTQ violence in the country.
"This is serious," he said.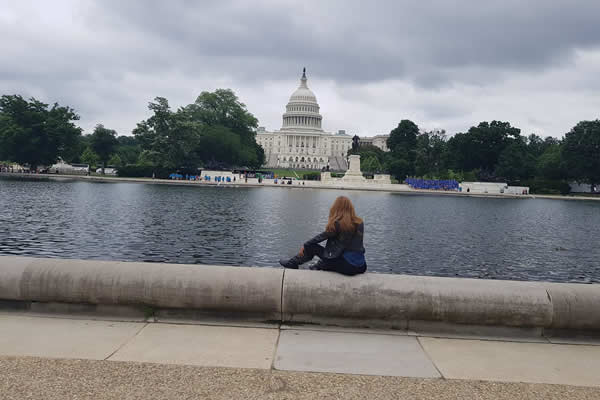 'People don't migrate because they want to'
Menchú, Visibles Executive Director Daniel Villatoro and Ingrid Gamboa of the Association of Garifuna Women Living with HIV/AIDS are among the 18 members of Guatemalan civil society who participated in the roundtable with Harris while she was in the country. The U.S. vice president met with Giammattei before the event.
Harris has previously acknowledged that violence based on sexual orientation and gender identity is among the "root causes" of migration from Guatemala and other Central American countries. Harris and other Biden administration officials have also told migrants not to travel to the U.S.-Mexico border.
"People migrate because states don't have the capacity to respond to the most basic needs," said Dávila. "People don't migrate because they want to. People don't migrate because (they say) today I am going to go to the United States because I have nothing to do. They don't go on vacation. They go in search of health, work, security and economic resources to be able to sustain themselves."
"Guatemala has not had the capacity to retain Guatemalans because it doesn't offer them the minimum to be able to live," he added.
Dávila described Harris' visit to Guatemala as "important."
He said Guatemalans are "eternally grateful for the" COVID-19 vaccines the U.S. has donated to the country. Dávila added he would like Washington to "take a look at the human rights violations that are happening in" the country and further sanction those who are responsible for them.
Giammattei earlier this year named his chief of staff to Guatemala's Constitutional Court.
The U.S. has granted asylum to former Attorney General Thelma Aldana, who the Constitutional Court refused to allow to run for president in 2019 after prosecutors alleged she embezzled money from a building purchase. The Biden administration in July stopped working with current Attorney General Consuelo Porras' office after it fired Juan Francisco Sandoval, a leading anti-corruption prosecutor who subsequently fled the country.
The U.S. has imposed travel bans on a number of Guatemalan officials, but Dávila said these sanctions are not effective.
"We want clearer, more drastic sanctions," he said. "The U.S. has been a historical ally for Guatemala, not just since yesterday, not from five years ago … it has been economically and financially supporting this country for a long time. The United States can impose more drastic sanctions against the government so the government stops being corrupt, so the government does not fight against migration."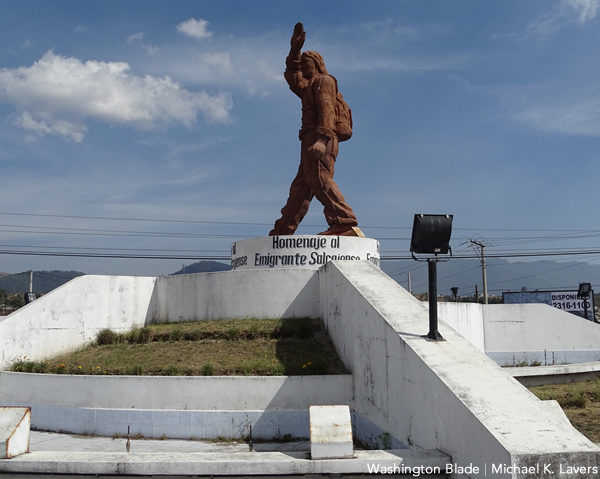 Dávila told the Blade he has not decided whether he will run for a second term in 2023.
Dávila said he has had "some problems" with the Winaq movement over funding for hospitals during the pandemic, but he remains a member. Dávila told the Blade he has received invitations to join other political parties.
"I am thinking about it and evaluating all the scenarios," he said.
Dávila added he remains "very proud to be part of the opposition in the history of this country."