Uproar after arrest of trans woman in D.C.
Activist Corado says aggressive police traumatized passengers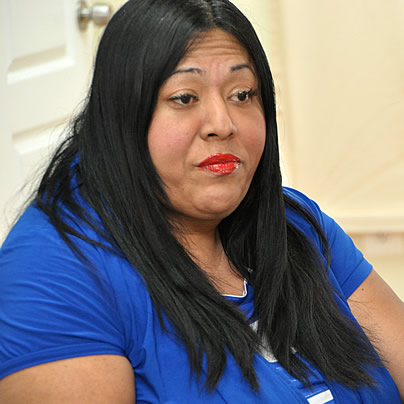 Local LGBT activists on Facebook were in an uproar over the weekend when transgender advocate Ruby Corado posted a message claiming hostile D.C. police officers traumatized a group of young transgender and gay passengers in her SUV on Feb. 28 when they handcuffed and arrested a transgender woman for driving the vehicle without a valid license.
"I sat in my car as a passenger as we are driving my clients home after a support group when a police officer stopped us and in three minutes I witness a D.C. police officer turn into a very homo-transphobic cop," Corado wrote in her Facebook posting.
Activists commenting on the incident noted it took place less than a week after Police Chief Cathy Lanier released a report conducted by an independent task force that found shortcomings in the department's dealings with the transgender community.
Sgt. Matthew Mahl, supervisor of the department's Gay and Lesbian Liaison Unit, told the Blade he looked into the matter after speaking with Corado and reading her Facebook comments. Mahl said that aside from one of the officers referring to the arrested woman by an incorrect pronoun and gender in a police report, he could not immediately identify any improper action by the officers on the scene.
"Anyone involved is welcome to file a formal complaint, which would enable us to look into this further," he said.
Corado told the Blade she asked Patrice Williams, 51, a volunteer at Casa Ruby, the LGBT community center that Corado heads, to help her drive home three trans women and two young gay men who attended a support group meeting there last Friday night.
Saying she was too tired to drive, Corado said Williams, with Corado sitting in the front passenger seat, was driving north along the 5200 block of 13th Street, N.W. when a police car flashed its lights, prompting Williams to pull over and stop the vehicle.
Officer Ramon I. Moe states in a police report that he conducted a "traffic stop" after observing that two people were sitting in the vehicle's cargo area "not occupying a seat without a seatbelt restraint." He stated in the report that he requested an I.D. check for Williams by radio to the Fourth District dispatcher and discovered that Williams did not have a valid driver's license.
"Suspect 1 [Williams] was placed under arrest for No Permit and transported to the Fourth District Station for processing," Moe wrote in the report.
According to Corado, the transporting of Williams to the police station came after an ordeal in which the arresting officer and at least one other officer spoke to both Williams and Corado in a hostile manner. She said as many as three or four police cars arrived on the scene.
"I understand that they were going to arrest her for not having a license," Corado told the Blade. "But my concern is the way they treated her."
Corado and Williams, who also spoke with the Blade, said the officer's attitude appeared to change after he saw that Williams' identification document identified her as a male. Mahl said a more detailed police report not available to the public says Williams handed the officer her auto insurance card rather than a driver's license.
"When the officer stopped us, I told him it was my car," said Corado. "I said I am so sorry. I'm the director of an agency and I made the decision to seat the people in the back. I said we just got out of a meeting and it was freezing outside and I wanted to give my clients a ride home rather than have them wait for a bus."
In her Facebook posting, Corado said, "Looking at his facial expressions, listening to his demanding voice, watching his intimidating body language as he questions and quickly arrests my black trans sister make my advocate persona come out and start questioning why my black sister is being arrested."
Williams told the Blade the officer asked her if she was white. She said that when she told him she's black, he appeared to be surprised.
She said she was sitting in the vehicle talking to the male officer who first approached her.
"All of a sudden hands grabbed me, the door swung open and a female officer pulled me out of the car," Williams said. "They threw me up against the back of the car" and searched her, she said.
"It was verbal abuse and it was physical abuse," she said of the officers' conduct toward her.
Corado said the officers' action and demeanor toward her and Williams caused a lot of stress for the three transgender women and the two gay men as they sat in the vehicle watching.
One of the passengers, Claudia Martinez, told the Blade she suffered an anxiety attack and Corado took her to the Washington Hospital Center for treatment after Corado drove the others home on the night of the incident.
"It just got to me," Martinez said. "We were in the car for an hour or more."
Added Corado: "Maybe I caused some of the hostility. I said I have people in the car who are very vulnerable. We were coming from a support group session. Could you be a little nicer?"
That's when at least of one the officers appeared to become even more hostile toward her, she said.
She said it was then that she called Mahl of the GLLU and asked him to send a GLLU officer to the scene. Mahl said he immediately contacted GLLU Officer Juanita Foreman and asked her to respond to the scene. He said Foreman called him about 15 minutes later to confirm she had arrived on the scene, but she told him she did not see Corado and assumed that Corado left the scene.
Corado told the Blade she didn't leave the scene until after police drove Williams to the Fourth District station. She said she assumes that Foreman missed seeing her and talked to Williams.
"If she talked to Kaprice, that's good," said Corado. "She didn't need to talk to me."
Corado and several of the dozens of people who added comments to her Facebook posting expressed concern that the officer stopped the vehicle as part of a "profiling" policy that singles out transgender women for special scrutiny.
Mahl, however, noted that the SUV was stopped about 10:10 p.m. on a dark street and he doubts the officer could have determined the gender of the passengers before getting out of his squad car and walking up to the SUV to question the driver.
When asked about the officer's description of Williams as a "male" on the police report, Mahl said doing that violated a police department general order that requires officers to ask transgender people or anyone whose gender may not be obvious which gender they prefer to be identified as.
"The order says we must ask the person what is your preferred gender and preferred name," Mahl said. "They did put down 'Kaprice' as an aka," he said. "We are always required to report the legal name of a person being arrested."
Mahl said he would suggest that police officials treat this mistake as a "teachable moment" to make sure the officers involved in the arrest know about the general order for dealing with transgender citizens.
The police report identifies Williams by her birth name of Howard Williams.
Mahl said a longstanding police policy gives motorists a 90-day grace period after their driver's license expires in which no penalty is given if they are stopped for a driving infraction. He said Williams had not had a valid, current license for more than a year.
"She was not treated any different than anyone else," he said, whose license elapsed for more than 90 days.
Court records show that Williams was arrested in August 2013 on an identical charge of driving with "no permit." The records show that case is still pending and Williams is scheduled to return to court for a status hearing on April 8.
She told the Blade on Monday that she currently has a valid learner's permit and is in the process of arranging for a road test needed to obtain a new license. She said she meant to show the learner's permit to the arresting officer during the incident last Friday but, while nervous and reaching into her purse, pulled out her insurance card instead.
Court records also show that Williams successfully applied for and was granted a legal change of her name to Kaprice Williams on July 2, 2013. She said she's hopeful that the legal name change will protect her from future situations where her identity is questioned.
Corado said LGBT activists plan to raise the issue of police handling of Williams' Feb. 28 arrest at a news conference being planned later this month to discuss a report released last week that assessed D.C. police handling of anti-LGBT hate crimes and the police relations with the LGBT community.
The report, prepared at the request of Police Chief Cathy Lanier by an independent task force, offers recommendations for improving LGBT-police relations and ways to improve police response to hate crimes.
Anacostia group honors LGBTQ advocate Pannell for 30 years of service
Oct. 5 celebration set for Ward 8 Sycamore & Oak retail village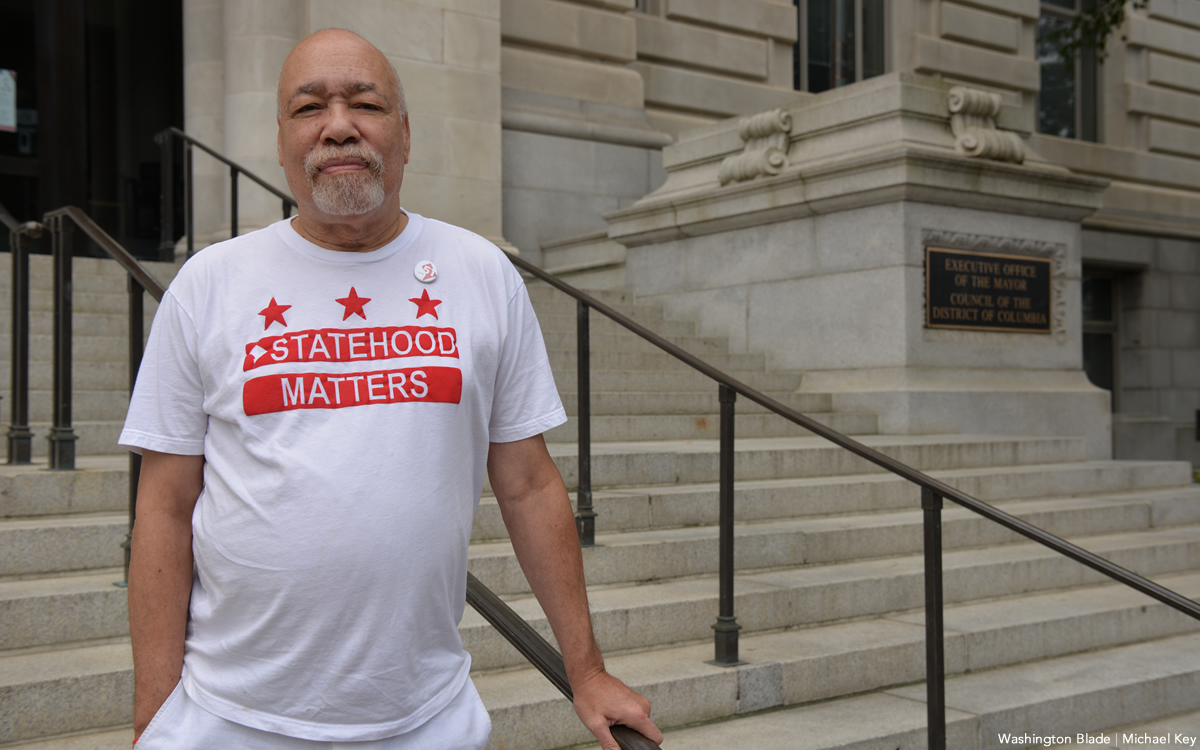 The Anacostia Coordinating Council (ACC), an advocacy organization for D.C.'s Anacostia neighborhood and surrounding areas east of the Anacostia River, is holding a celebration honoring LGBTQ rights and Anacostia community activist Phillip Pannell for his 30 years of service with the ACC.
The event was scheduled to take place from 6-8 p.m. on Thursday, Oct. 5, at the recently opened Sycamore & Oak retail village mall on the St. Elizabeth's East Campus in Southeast D.C.
Pannell, 73, serves as the ACC executive director, a position he has held since 1995. He has been a member of the Anacostia-based nonprofit organization's staff since 1993.
A longtime advocate for LGBTQ rights, Pannell has been credited with persuading many of D.C.'s LGBTQ organizations to reach out to LGBTQ residents who live in Wards 7 and 8 east of the Anacostia River.
He has also been credited with persuading African-American organizations, including organizers of the annual Martin Luther King Jr. memorial celebrations, to include and welcome LGBTQ people to their events.
"Join us for an evening of food, fun, and surprises," an announcement of the event released by the ACC says.
ACC spokesperson Lamont Mitchell told the Washington Blade several community leaders and public officials who have known Pannell during his many years of D.C. community involvement were expected to speak at the Oct. 5 celebration. Among the expected speakers, Mitchell said, was former D.C. Mayor Sharon Pratt.
According to the announcement, the event is free and open to the public, but organizers requested that people register in advance at tinyurl.com/Pannell35.
The ACC event honoring Pannell was to take place about a month after the D.C. newspaper Washington Informer published a detailed article profiling Pannell's career as a community activist and advocate for several important local causes and issues, including D.C. statehood.
"D.C. statehood is not just a political issue, it is also a civil and human rights issue because if D.C. were a state, we would be a state with the highest percentage of African Americans, basically a majority, minority state," the Informer quoted Pannell as saying. "That's one of the reasons a lot of right-wing Republicans don't want to see D.C. become a state because we are going to elect progressive, Black Democratic senators," Pannell told the Informer.
A statement on the ACC's website says Pannell has received more than 100 awards during his nearly four decades of work in D.C., including the 2011 U.S. President's Call to Service Award and the 2012 D.C. Federation of Civic Associations award for Outstanding President of a Member Association.
Elected officials turn out for annual Equality NoVa Ice Cream Social
Northern Virginia LGBTQ group stresses 'political awareness, education'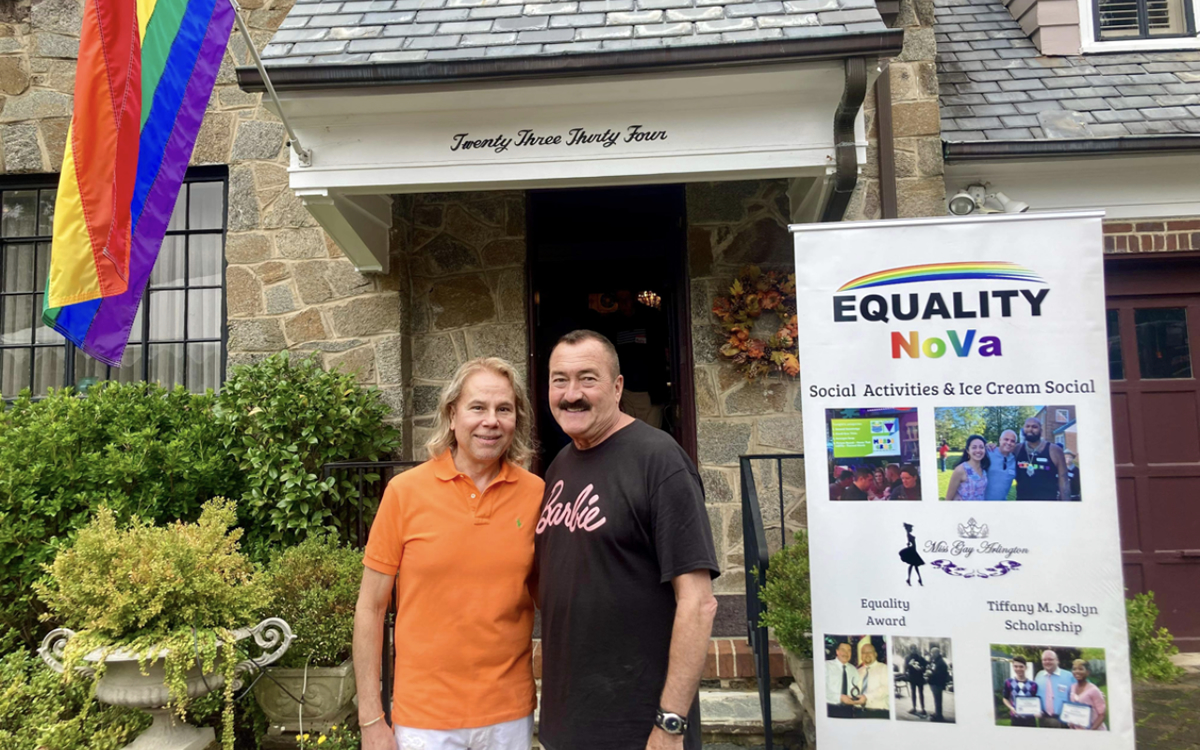 Four LGBTQ supportive members of the Virginia General Assembly and two candidates running for seats on the Arlington County Board were among more than 100 people who turned out on Sunday, Sept. 24, for the LGBTQ organization Equality NoVa's annual Ice Cream Social.
The event was held at the Arlington, Va. home of Freddie Lutz, owner of the Arlington gay bar and restaurant Freddie's Beach Bar, and Lutz's husband, Johnny Cervantes.
Daniel Hays, president of Equality NoVa, told those attending the event in introductory remarks that Equality NoVa, which recently changed its name from the Arlington Gay and Lesbian Alliance (AGLA), was founded in 1981 and is the oldest continuously operating LGBTQ organization in Virginia.
In an announcement in April the group said the name change came after it had taken on for some time the activities and representation of the now-defunct LGBTQ groups in Alexandria and Fairfax counties and had expanded its operations to cover most if not all the regions known as Northern Virginia.
Hays noted that the group is a nonpartisan organization that doesn't endorse candidates for public office but organizes educational and political awareness events and awareness campaigns on issues impacting LGBTQ people related to statewide and local government agencies and officials.
The elected officials attending the event were Virginia House of Delegates members Charniele Herring (D-Alexandria & Fairfax), Elizabeth Bennett-Parker (D-Alexandria & Arlington), and Vivian Watts (D-Fairfax).
Also attending was Virginia State Sen. Barbara Favola, a Democrat whose district includes parts of Arlington, Fairfax, and Loudoun Counties.
Joining the state lawmakers attending the Equality NoVa social were Arlington County Board candidates Maureen Coffey and Susan Cunningham and Arlington County School Board candidate Miranda Turner.
Many of those attending the event said they were rooting for the re-election of Herring, Bennett-Parker, Watts, and Favola in the upcoming Virginia elections in November. All members and candidates for the General Assembly will be on the ballot in an election that political observers say could decide which party controls both houses of the state legislature.
Currently, Democrats control the 40-member Virginia Senate by a margin of 22-18 seats. Republicans currently control the House of Delegates by a margin of 51 to 46 seats, with three vacancies in the 100-member House.
With Virginia Gov. Glenn Youngkin (R) putting in place through executive action public school policies that LGBTQ activists consider hostile and discriminatory for transgender students, LGBTQ activists are hopeful that a Democratic takeover of the House of Delegates would result in a reversal of Youngkin's school policy.
Some of the activists attending the Equality NoVa event said they were fearful that a Republican takeover of the state Senate and if Republicans retain control of the House of Delegates could result in the General Assembly approving the type of anti-LGBTQ legislation passed in Florida and other states.
Anti-transgender heckler interrupts Danica Roem during debate
Trans lawmaker is running for the Va. state Senate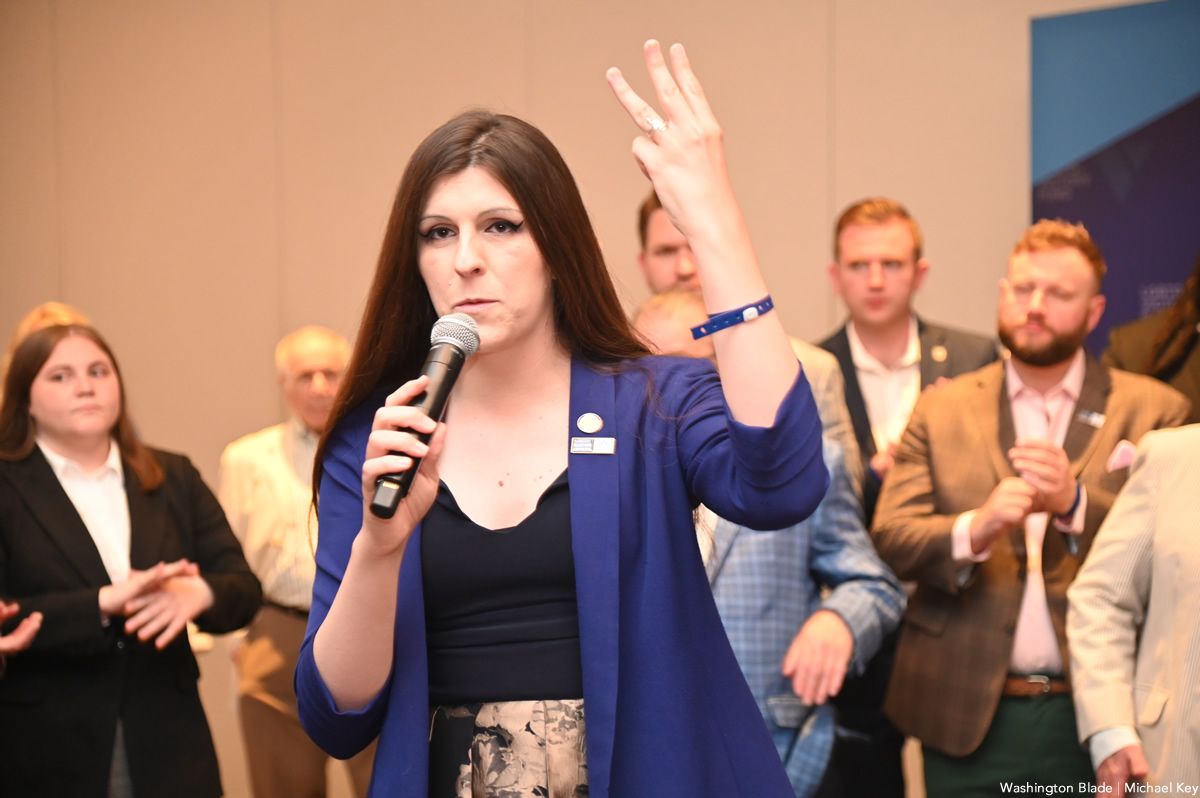 An anti-transgender heckler interrupted Virginia state Del. Danica Roem (D-Manassas) on Sept. 28 during a debate with her Republican opponent for the state Senate.
The woman heckled Roem during the Prince William Committee of 100-organized debate between her and Bill Woolf that took place at Metz Middle School in Manassas. 
"Thank you for reminding me why I won three elections in this district in Prince William County, which is the most diverse county in all of Virginia and the 10th most nationally where we welcome everyone because of who they are, not despite it, no matter what you look like, where you come from how you worship, if you do, or who you love because you should be able to thrive here because of who you are, never despite it," said Roem.
Audience members applauded Roem after she responded to the heckler who was eventually removed from the auditorium.
Roem in 2017 defeated then-state Del. Bob Marshall, a vocal LGBTQ rights opponent who co-wrote Virginia's constitutional amendment defining marriage as between a man and a woman that voters approved 11 years earlier. Roem subsequently became the first openly transgender person seated in a state legislature in the U.S.
Roem in 2019 became the first out trans state legislator to win re-election. Roem in May 2022 announced she is running to represent the newly redistricted Senate District 30, which includes western Prince William County and the cities of Manassas and Manassas Park.
Woolf during the Sept. 28 debate did not say whether he would support the repeal of the marriage amendment. Woolf also reiterated his support of a bill that would require school personnel to out trans students to their parents.