Uproar after arrest of trans woman in D.C.
Activist Corado says aggressive police traumatized passengers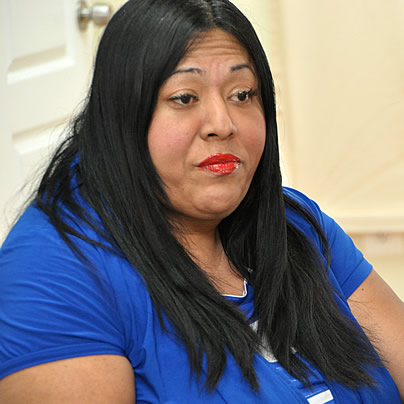 Local LGBT activists on Facebook were in an uproar over the weekend when transgender advocate Ruby Corado posted a message claiming hostile D.C. police officers traumatized a group of young transgender and gay passengers in her SUV on Feb. 28 when they handcuffed and arrested a transgender woman for driving the vehicle without a valid license.
"I sat in my car as a passenger as we are driving my clients home after a support group when a police officer stopped us and in three minutes I witness a D.C. police officer turn into a very homo-transphobic cop," Corado wrote in her Facebook posting.
Activists commenting on the incident noted it took place less than a week after Police Chief Cathy Lanier released a report conducted by an independent task force that found shortcomings in the department's dealings with the transgender community.
Sgt. Matthew Mahl, supervisor of the department's Gay and Lesbian Liaison Unit, told the Blade he looked into the matter after speaking with Corado and reading her Facebook comments. Mahl said that aside from one of the officers referring to the arrested woman by an incorrect pronoun and gender in a police report, he could not immediately identify any improper action by the officers on the scene.
"Anyone involved is welcome to file a formal complaint, which would enable us to look into this further," he said.
Corado told the Blade she asked Patrice Williams, 51, a volunteer at Casa Ruby, the LGBT community center that Corado heads, to help her drive home three trans women and two young gay men who attended a support group meeting there last Friday night.
Saying she was too tired to drive, Corado said Williams, with Corado sitting in the front passenger seat, was driving north along the 5200 block of 13th Street, N.W. when a police car flashed its lights, prompting Williams to pull over and stop the vehicle.
Officer Ramon I. Moe states in a police report that he conducted a "traffic stop" after observing that two people were sitting in the vehicle's cargo area "not occupying a seat without a seatbelt restraint." He stated in the report that he requested an I.D. check for Williams by radio to the Fourth District dispatcher and discovered that Williams did not have a valid driver's license.
"Suspect 1 [Williams] was placed under arrest for No Permit and transported to the Fourth District Station for processing," Moe wrote in the report.
According to Corado, the transporting of Williams to the police station came after an ordeal in which the arresting officer and at least one other officer spoke to both Williams and Corado in a hostile manner. She said as many as three or four police cars arrived on the scene.
"I understand that they were going to arrest her for not having a license," Corado told the Blade. "But my concern is the way they treated her."
Corado and Williams, who also spoke with the Blade, said the officer's attitude appeared to change after he saw that Williams' identification document identified her as a male. Mahl said a more detailed police report not available to the public says Williams handed the officer her auto insurance card rather than a driver's license.
"When the officer stopped us, I told him it was my car," said Corado. "I said I am so sorry. I'm the director of an agency and I made the decision to seat the people in the back. I said we just got out of a meeting and it was freezing outside and I wanted to give my clients a ride home rather than have them wait for a bus."
In her Facebook posting, Corado said, "Looking at his facial expressions, listening to his demanding voice, watching his intimidating body language as he questions and quickly arrests my black trans sister make my advocate persona come out and start questioning why my black sister is being arrested."
Williams told the Blade the officer asked her if she was white. She said that when she told him she's black, he appeared to be surprised.
She said she was sitting in the vehicle talking to the male officer who first approached her.
"All of a sudden hands grabbed me, the door swung open and a female officer pulled me out of the car," Williams said. "They threw me up against the back of the car" and searched her, she said.
"It was verbal abuse and it was physical abuse," she said of the officers' conduct toward her.
Corado said the officers' action and demeanor toward her and Williams caused a lot of stress for the three transgender women and the two gay men as they sat in the vehicle watching.
One of the passengers, Claudia Martinez, told the Blade she suffered an anxiety attack and Corado took her to the Washington Hospital Center for treatment after Corado drove the others home on the night of the incident.
"It just got to me," Martinez said. "We were in the car for an hour or more."
Added Corado: "Maybe I caused some of the hostility. I said I have people in the car who are very vulnerable. We were coming from a support group session. Could you be a little nicer?"
That's when at least of one the officers appeared to become even more hostile toward her, she said.
She said it was then that she called Mahl of the GLLU and asked him to send a GLLU officer to the scene. Mahl said he immediately contacted GLLU Officer Juanita Foreman and asked her to respond to the scene. He said Foreman called him about 15 minutes later to confirm she had arrived on the scene, but she told him she did not see Corado and assumed that Corado left the scene.
Corado told the Blade she didn't leave the scene until after police drove Williams to the Fourth District station. She said she assumes that Foreman missed seeing her and talked to Williams.
"If she talked to Kaprice, that's good," said Corado. "She didn't need to talk to me."
Corado and several of the dozens of people who added comments to her Facebook posting expressed concern that the officer stopped the vehicle as part of a "profiling" policy that singles out transgender women for special scrutiny.
Mahl, however, noted that the SUV was stopped about 10:10 p.m. on a dark street and he doubts the officer could have determined the gender of the passengers before getting out of his squad car and walking up to the SUV to question the driver.
When asked about the officer's description of Williams as a "male" on the police report, Mahl said doing that violated a police department general order that requires officers to ask transgender people or anyone whose gender may not be obvious which gender they prefer to be identified as.
"The order says we must ask the person what is your preferred gender and preferred name," Mahl said. "They did put down 'Kaprice' as an aka," he said. "We are always required to report the legal name of a person being arrested."
Mahl said he would suggest that police officials treat this mistake as a "teachable moment" to make sure the officers involved in the arrest know about the general order for dealing with transgender citizens.
The police report identifies Williams by her birth name of Howard Williams.
Mahl said a longstanding police policy gives motorists a 90-day grace period after their driver's license expires in which no penalty is given if they are stopped for a driving infraction. He said Williams had not had a valid, current license for more than a year.
"She was not treated any different than anyone else," he said, whose license elapsed for more than 90 days.
Court records show that Williams was arrested in August 2013 on an identical charge of driving with "no permit." The records show that case is still pending and Williams is scheduled to return to court for a status hearing on April 8.
She told the Blade on Monday that she currently has a valid learner's permit and is in the process of arranging for a road test needed to obtain a new license. She said she meant to show the learner's permit to the arresting officer during the incident last Friday but, while nervous and reaching into her purse, pulled out her insurance card instead.
Court records also show that Williams successfully applied for and was granted a legal change of her name to Kaprice Williams on July 2, 2013. She said she's hopeful that the legal name change will protect her from future situations where her identity is questioned.
Corado said LGBT activists plan to raise the issue of police handling of Williams' Feb. 28 arrest at a news conference being planned later this month to discuss a report released last week that assessed D.C. police handling of anti-LGBT hate crimes and the police relations with the LGBT community.
The report, prepared at the request of Police Chief Cathy Lanier by an independent task force, offers recommendations for improving LGBT-police relations and ways to improve police response to hate crimes.
Nellie's fires security firm after woman dragged down stairs
Pride weekend incident triggers protests, investigation by liquor agency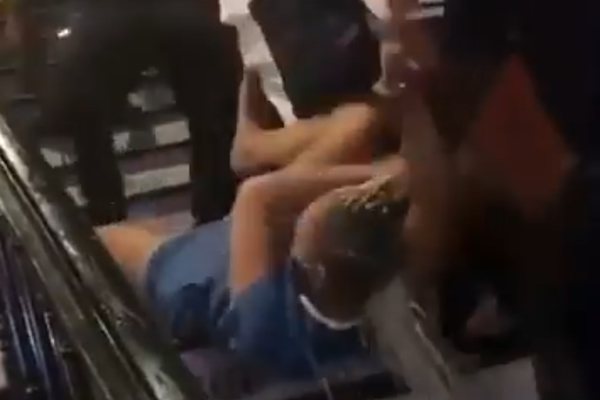 Nellie's Sports Bar, a gay bar in the city's U Street commercial district, announced on Monday that it has dismissed a security company whose employee was captured on video dragging a Black woman down a flight of stairs inside the bar during the city's Capital Pride celebration last Saturday.
The video of the male security employee dragging Nellie's customer Keisha Young down the staircase and the brawl that erupted when other customers intervened has triggered expressions of concern by city officials and LGBTQ activists, including the local Black Lives Matter group that organized a protest outside Nellie's on Sunday.
Young, who said she was injured during the incident, has said the security staffer mistakenly thought she was part of a group of customers who brought into the bar their own alcoholic beverages, which Nellie's does not allow.
"Nellie's Sports Bar has terminated, with immediate effect, the independent security vendor hired to protect our guests during Pride Week," Nellie's said in a statement released to the media.
"Our investigation into the matter is ongoing, and we will cooperate with any law enforcement investigation, however we do not need to wait for the investigation's conclusion before we take decisive action," the statement says. "We offer a heartfelt apology to all who witnessed the horrific events of this past weekend," it says. "No matter what behavior occurred prior, nothing warrants mistreating and disrespecting one of our guests."
The statement adds that Nellie's will be closed this week "as we evaluate this regrettable situation." It says all non-security staff will continue to be paid their regular wages during the temporary shutdown.
"In the interim, we will use this time to listen and understand what more we can do to create the safe and friendly atmosphere our guests have come to expect from Nellie's Sports Bar over the past 14 years," the statement says.
Brandon Burrell, an attorney representing Young, told D.C.'s Fox 5 News that Nellie's had yet to offer an apology directly to Young. Fox 5 News reported on Monday that Young was considering filing a police report over the incident and a possible lawsuit against Nellie's depending on how Nellie's responds to Young's concerns.
A D.C. police spokesperson told the Washington Blade that Young had not contacted police to file a report about the incident as of early Monday.
The D.C. Alcoholic Beverage Regulation Administration, which issues liquor licenses to bars and restaurants, has opened an investigation into the Nellie's incident, the agency confirmed to Fox 5 News.
The Capital Pride Alliance, the local group that organizes D.C.'s LGBTQ Pride events, including Saturday's Pride Walk and Pridemobile Parade, issued a statement on Monday expressing concern over the Nellie's incident.
"The Capital Pride Alliance condemns the reprehensible actions taken by Nellie's staff over the weekend," the statement says. "The incident resulted in Keisha Young being dragged by the hair down the stairs, which was a violent response to the trivial action of allegedly bringing into the bar a bottle of liquor," the statement says.
"Capital Pride Alliance is committed to creating safe spaces for all," says the statement. "We expect Nellie's to take immediate, remedial action in response to this incident. Their response will impact the future of CPA's relationship with Nellie's."
Nellie's owner Doug Schantz couldn't immediately be reached for comment.
D.C. Mayor Muriel Bowser also expressed concern about the Nellie's incident when asked about it by reporters at an event on Monday.
"Obviously, entrepreneurs enforce rules in their restaurants, but they're not allowed to assault anybody," the mayor said. "If that's a matter for the Metropolitan Police Department, we'll take it up."
New gay bar 'Central' to open in Baltimore this summer
Just a few blocks from where Grand Central closed last year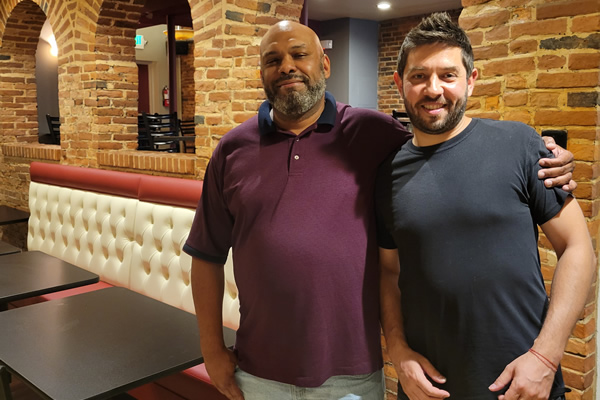 Fans of the old Grand Central club in Baltimore will get a new place to patronize this summer, and it has a familiar name and operator.
Central is the name of a gay bar and restaurant that's expected to open in August, just a few blocks from where Grand Central closed last September. One of its owners is the former general manager of Grand Central, Marc Hayes.
Baltimore's liquor board last week approved a request to transfer an existing Beer, Wine and Liquor license to Hayes, from Baltimore, and business partner Ivan Yordanov, from Alexandria, Va.
The location is a three-building complex at 885-889 N. Howard Street, part of a block called Antique Row on the western edge of Mount Vernon, the city's traditional "gayborhood." Over the years, the Howard Street buildings have housed a series of clubs and lounges, most recently Bentley's jazz club.
Grand Central closed after original owner Don Davis sold the property at 1001-1003 N. Charles Street to a developer, Landmark Partners, that's now constructing an eight-story office building in its place. Its last day was Sept. 3.
Started in 1991 as Central Station at 1001 N. Charles St. and renamed when Davis bought the old Stagecoach Bar at 1003 N. Charles St., Grand Central was one of Baltimore's largest gay-friendly clubs and remained busy on weekends even after Landmark acquired the property. Patrons called it 'Central' for short. It was required to close temporarily during the first months of the COVID-19 pandemic but did offer outdoor and carryout service when permitted.
Hayes, the last general manager of Grand Central for both Davis and Landmark, had indicated before it closed that he wanted to find another place for patrons to go once construction of the office building began.
He said the Howard Street business is not a relocation of Grand Central because Landmark isn't involved and Landmark owns the rights to the name and other intellectual property associated with Grand Central.
"We're not Grand Central," he said. "This is going to be Central. This is going to be an LGBTQIA-friendly place, but not using the Grand Central intellectual property."
Hayes said he and Yordanov chose the name Central because the Howard Street buildings are centrally located between Leon's and The Drinkery, two other gay bars in Mount Vernon.
"We are central," he said. "We're in a triangle."
Even if it doesn't have a legal connection with Grand Central, Hayes said, he will welcome its former patrons, as well as people who have never been to Grand Central. And while he's billing it as a gay bar, he said, "I don't see gender or race in anybody." He describes himself as gender fluid and Yordanov as an ally of the gay community.
The three buildings date from around 1900 and are connected internally. Together, they contain more than 6,200 square feet of space on two levels – large but less than half the 15,000 square feet of space inside the two buildings that made up Grand Central.
Hayes and Yordanov are leasing the property and received a letter of support for the liquor license transfer from the Mount Vernon Belvedere Association. They still need to pass inspections required by the liquor board and intend to hire a staff of about 20. They plan to have a dance floor and DJs, Sunday brunch, drag shows and other live entertainment as well as a full-service kitchen.
The interior has a long wooden bar that's reminiscent of Grand Central's, a series of lounges and dining areas, and some exposed-brick walls with arches that impart an air of history and allow views from one area to another. The main dance floor will be on the second floor, including one space where the walls are covered with mirrors.
Hayes said the building doesn't need much in the way of renovations and since it's actually three addresses, there's already a separate entrance for carryout orders. He said he considered other locations but liked the ambiance, layout and location of this property. "I've always liked this building," he said. "Grand stairwell. Wrought iron…It's gorgeous. Look at the arches."
The bar will be open from 4 p.m. to 1:45 a.m. Monday through Saturday and from 10 a.m. to 1:45 p.m. on Sundays, when Central will serve brunch. The carryout will open daily starting at 11 a.m. Central will have a cover charge when there are shows.
While many gay bars have closed around the country during the pandemic, Hayes said he believes there's a market for a new one in Baltimore. He notes that Central will be different from the Baltimore Eagle, which caters to the leather community; the tavern-style bars without live entertainment, and The Manor, an "ultralounge" in a meticulously restored townhouse on Charles Street.
"We're not The Manor, obviously. They've got a fantastic chef and fantastic food and we're going to be doing bar food" with a relaxed atmosphere and DJs. But Central will offer more in the way of food service and entertainment than the tavern-style bars around the city.
That's another reason the name they chose makes sense. Given the other options in town, Hayes said, "We're kind of right in the middle."
Delaware prepares to celebrate Pride month
Parade moved to October, but smattering of local events planned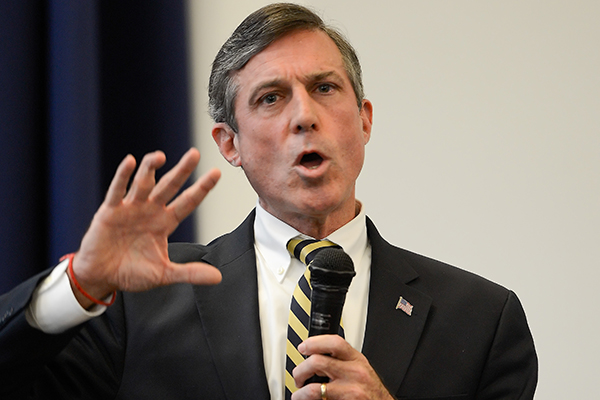 As state coronavirus restrictions continue to lift, organizations throughout Delaware are gearing up for Pride month with events planned during June.
Dogfish Head Craft Brewery dedicated its June Beer and Benevolence philanthropic effort to benefit CAMP Rehoboth, an LGBTQ+ non-profit community center in Rehoboth. The fundraising began last weekend at Chesapeake and Maine and the organization will receive 10 percent of proceeds from 4 to 6 p.m.
The Delaware Pride Parade is scheduled for Oct. 2 from 10 a.m. to 4 p.m.
June 19: Delaware Pride Bowling at Bowlerama
The Delaware Pride Bowling event is June 19 from 7-10 p.m. The New Castle Avenue Bowlerama will charge $15 per bowler and free shoes for the two hour time slot.
June 18: Stand-up Comedy by Julia Scotti
Trans comedian and America's Got Talent quarterfinalist Julia Scotti will perform standup comedy at the Milton Theater. Admission is $17.
June 20: From Stonewall To Now – Presented By Mona Lotts
Milton Theater will host "From Stonewall To Now," a celebration of the art of drag hosted by Mona Lotts. Admission is $20 and will feature performances from several drag queens from the state.