Louganis: Russian Open Games marred by disruptions
Threats, smoke bomb, police target LGBT event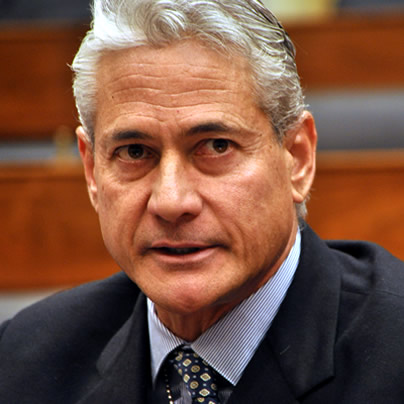 Retired Olympic diver Greg Louganis is among those who participated in the Russian Open Games that ended in Moscow on Sunday.
Louganis, who competed in a table tennis tournament during the five-day event that drew more than 300 LGBT athletes from Russia and other countries that include the U.S. and Sweden, arrived in the Russian capital early last week after he received a last-minute visa.
He left Moscow on Feb. 28.
The gay retired Olympian who won two gold medals during the 1998 Summer Olympics in Seoul and in the 1984 Summer Olympics in Los Angeles participated in a Feb. 27 press conference at a Moscow gay nightclub that opened the Russian Open Games. A bomb threat forced him and organizers to speak with reporters outside in the building's parking lot.
The Washington Post reported the U.S. Embassy hosted a basketball game between participants and diplomats on Sunday after a smoke bomb disrupted a tournament two days earlier.
Louganis, who learned he was living with HIV six months before competing in Seoul, told the Blade police escorted him and more than 30 other Russian Open Games participants out of an ice rink on Feb. 27 after someone reported a group of "strange people" had arrived. He said they had simply gone to the rink for what he described as a "group workshop" about "teaching us some skating skills."
"They made it clear we were not welcome," said Louganis. "Just the looks of disdain as we were escorted off the premises was just really concerning."
Louganis told the Blade he was sending e-mails from a coffee shop across the street from the building where the Russian LGBT Network was holding a panel after the ice rink incident when Konstantin Yablotskiy of the Russian LGBT Sport Federation, which organized the Russian Open Games, said the event had been interrupted. He said Yablotskiy told him somebody suddenly turned off the lights and told them the venue would have to close if they didn't leave.
Louganis said Yablotskiy and Elvina Yuvakaeva of the Russian LGBT Sport Federation told only one person about venues they had secured for various competitions – and this person escorted participants to them after they met at a Metro station. Louganis told the Blade that Yablotskiy told him to take precautions that included not saying anything specific during telephone conversations because he was sure "others were listening."
"It was a very interesting environment," said Louganis, noting he had last been to Moscow more than a decade before the 1991 collapse of the Soviet Union. "It kind of reminded me of that; that everything was watched, was observed, scrutinized."
The Russian Open Games took place a few days after the 2014 Winter Olympics in Sochi ended.
The Kremlin's LGBT rights record that includes a 2013 law banning gay propaganda to minors overshadowed the Sochi games. Organizers of the Russian Open Games did not allow anyone under 18 to participate – they also included a disclaimer on its website that read "the information on this site is intended only for the use of those aged 18 and over."
St. Petersburg Legislative Assemblyman Vitaly Milonov, who spearheaded his city's gay propaganda ban that inspired the law Russian President Vladimir Putin signed last June, denounced the Russian Open Games. The lawmaker also urged Moscow Mayor Sergei Sobyanin to cancel the event.
Yuvakaeva last week said four venues that had initially agreed to host the games abruptly cancelled their agreements. The hotel where the Russian LGBT Network had planned to hold its forum also cancelled the scheduled event.
Louganis told the Blade he had not heard about the 10 LGBT rights advocates who were arrested near Moscow's Red Square on Feb. 7 as they tried to sing the Russian national anthem while holding rainbow flags before the Sochi opening ceremony. He said a gay couple he met in the Russian capital told him about the arrests – and the officers who reportedly beat and threatened to sexually assault the activists while inside a local police station.
St. Petersburg police on Feb. 7 arrested Anastasia Smirnova and three other LGBT rights advocates as they tried to march with a banner in support of the campaign to add sexual orientation to the Olympic charter's non-discrimination clause.
"I really wanted to be a participant [in the Russian Open Games] just to get an objective view rather than the propagandized vision of what it was in Sochi," Louganis told the Blade, discussing Russia's LGBT rights record. "Sochi I heard was wonderful and everybody was bragging and the media was over-reacting and all of this. You don't know until you're there."
Louganis was also in Moscow as Russian troops prepared to take control of Ukraine's Crimea region amid outrage from the U.S. and Europe.
The Kremlin on Monday reportedly issued an ultimatum that demanded the surrender of the crews of two Ukrainian warships on the predominantly Russian-speaking peninsula where Russia's Black Sea Fleet is based. Secretary of State John Kerry is scheduled to arrive in the Ukrainian capital on Tuesday as tension between Washington and Moscow continues to escalate after the country's Kremlin-backed president went into hiding following the deaths of dozens of anti-government protesters in Kiev.
"We were aware of what was going on with the borders being enforced," said Louganis. "There was talk of invasion. There was this thing going on, but we were just focused on the event… with every turn we had to adjust and adjust and adjust. We were constantly trying to adjust to the immediate present and trying to make the Open Games as successful as we possibly could."
Louganis added he was repeatedly impressed with the games' organizers' resilience against efforts to disrupt events.
"It was very impressive," he told the Blade. "It was also very eye-opening for me from my personal experience."
Glenn Youngkin sworn in as Va. governor
Republican backed teacher who opposed trans student guidelines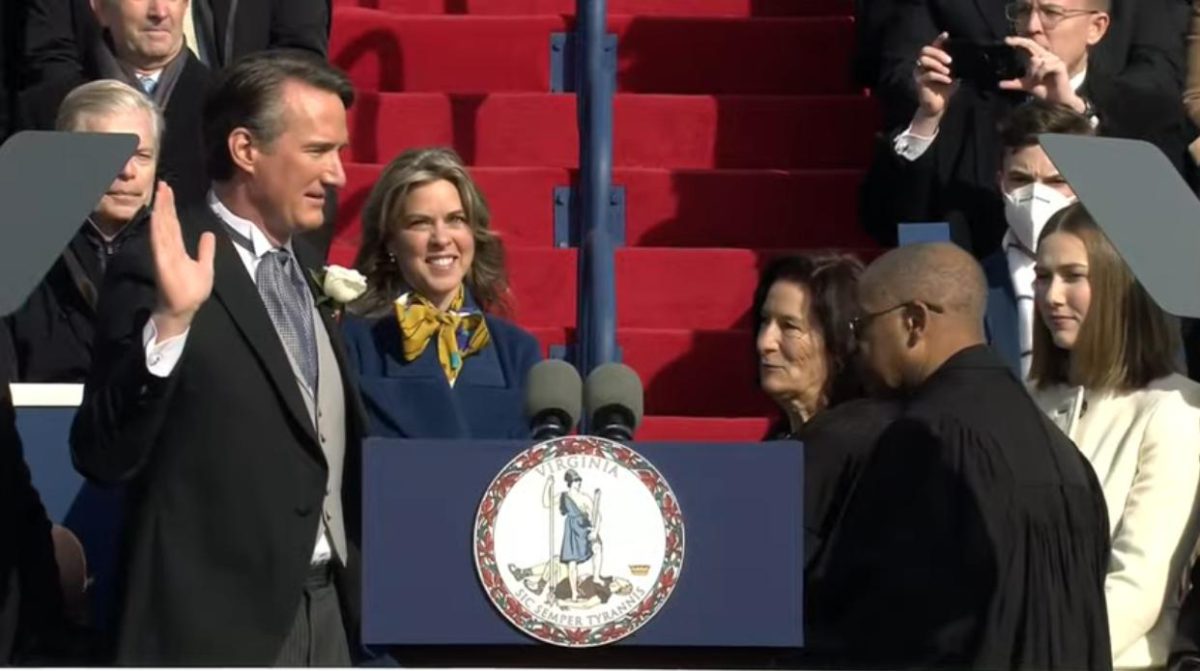 Republican Virginia Gov. Glenn Youngkin took office on Saturday amid concerns that he will seek to curtail LGBTQ rights in the state.
"Today we gather not as individuals, not as Republicans and Democrats," said Youngkin after his swearing in. "Today we gather as Virginians."
Former Gov. Ralph Northam and U.S. Sen. Tim Kaine (D-Va.) are among those who attended the ceremony that took place at the State Capitol. Terry McAuliffe, who Youngkin defeated in the general election, did not attend because of a COVID-19 scare.
Youngkin during his campaign against McAuliffe expressed support for Tanner Cross, a gym teacher at a Leesburg elementary school who was suspended from his job after he spoke out against Virginia Department of Education guidelines that are designed to protect transgender and non-binary students. Youngkin has also said he does not support allowing trans children to play on sports teams that are consistent with their gender identity.
Youngkin on Thursday named Elizabeth Schultz, an anti-LGBTQ former member of the Fairfax County School Board, to his administration.
"We will remove politics from the classroom and focus on the essentials," said Youngkin in his inaugural speech, without specifically mentioning LGBTQ students.
He added "parents should have a say in what is taught in schools."
Youngkin has also expressed his opposition to marriage equality, but stressed it is "legally acceptable" in Virginia and would "support that" as governor.
Lieutenant Gov. Winsome Sears and Attorney General Jason Miyares also took office on Saturday.
Winsome, a former member of the Virginia House of Delegates, is the first woman and first female of color elected lieutenant governor. Miyares, a former House member whose mother was born in Cuba, is Virginia's first Latino attorney general.
Youngkin in his inaugural speech noted "the people of Virginia just elected the most diverse leadership" in the state's history. Youngkin's first executive order ends "the use of" so-called "critical race theory" (which is not taught in Virginia schools) and other "divisive concepts" in Virginia's public schools.
The General Assembly's 2022 legislative session began on Wednesday.
Republicans control the House by a 52-48 margin. Democrats have a 21-19 edge in the Virginia Senate.
Murdered Honduran transgender activist buried
Thalía Rodríguez shot outside her home on Monday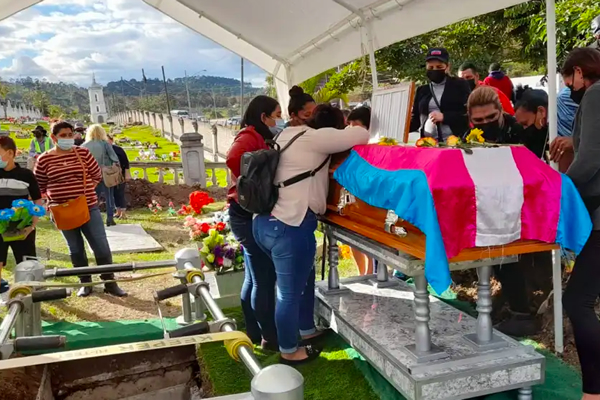 The Washington Blade on Thursday published a Spanish-language version of this story from Reportar sin Miedo, the Blade's media partner in Honduras.
A prominent transgender activist in Honduras who was murdered on Monday has been buried.
Reportar sin Miedo reported activists are among those who attended Thalía Rodríguez's funeral that took place in Tegucigalpa, the country's capital, on Tuesday.
Rodríguez led Asociación Cozumel Trans, a Honduran trans rights group.
The U.S. Embassy in Honduras, the Office of the U.N. High Commissioner for Human Rights in Honduras and the U.N. Refugee Agency have all condemned Rodríguez's murder. U.S. Agency for International Development Administrator Samantha Power in a tweet said she was "horrified" by the murders of Rodríguez and Pablo Hernández, a leader in Honduras' indigenous Lenca community who was killed on Sunday near San Marcos de Caiquín, a municipality in the country's Lempira department, while he was on his way to church.
I'm horrified by the murders of prominent human rights defenders in Honduras: LGBTQI+ advocate Thalía Rodríguez & Lenca indigenous leader Pablo Hernández. We call for prompt and impartial justice. For the benefit of all Hondurans, these attacks on activists must end. pic.twitter.com/F14wloALBA

— Samantha Power (@PowerUSAID) January 11, 2022
Va. school board names new chair who called for burning books
Kirk Twigg backed torching of materials with "sexually explicit" content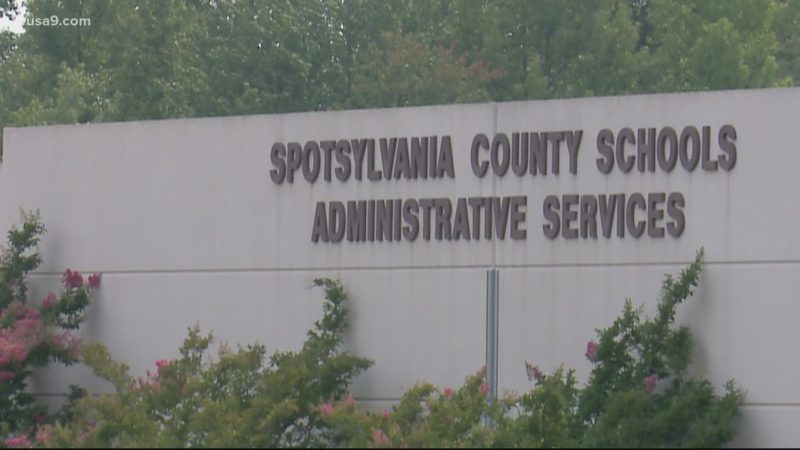 The Spotsylvania County School Board voted Monday to name Kirk Twigg, who advocated for burning books he deemed "sexually explicit" in November, as its new chair. 
His win gives conservatives the majority on the board as Republicans across the country continue an effort to ban books dealing with LGBTQ issues and racism from schools.
Spotsylvania County has been involved in the controversy from the beginning, voting last year to remove books containing "sexually explicit" materials — only to rescind the order a week later.  
Monday's board meeting, Twigg's first as chair, would prove to be disorganized and, at times, unruly.
Twigg's first order of business was to call an unscheduled, closed-door session, which may have violated Virginia's open meeting requirements. According to Virginia Code, a closed meeting cannot be called without a public body approving a motion that states the subject matter and the purpose of the meeting, as well as an applicable exemption from open meeting requirements.
After the board returned from the closed-door session, Twigg said well-regarded Superintendent Dr. Scott Baker would be fired without cause. Baker had already announced he would be resigning at the end of the school year in December.
After Baker decided to resign, a longtime Spotsylvania resident penned a letter in the Free Lance-Star, calling him "the finest superintendent, by far."
"Dr. Baker is trusted and respected by parents, students and employees of Spotsylvania Schools; and he never lost sight of his mission for good reason," it read. "He did so despite the noise and disruption from those few board members dedicated to bringing political disruption and dissidence into our public educational system. Shame on the few."
As Twigg made the announcement, another member of the board interrupted him, saying: "Um, Mr. Twigg, no he is not. You need to make a motion — there needs to be a motion and a vote."
Board members continued to speak over each other as conservative members attempted a vote. But Board Member Nicole Cole told the chairman she had comments.
"I believe that the board members who have lodged this termination owe our citizens and our students of Spotsylvania County a justification for firing Dr. Baker," said Cole. "You have not stated any justification or ability to fill the position. How is this good for the students, the children of Spotsylvania? How does this make sense?"
In a rebuke of the chaotic meeting, she added that Twigg "couldn't even properly chair a meeting."
After approximately 7 minutes of heated discussion where members from both sides got noticeably frustrated, the board voted 4-3 to fire Baker.
Twigg, Lisa Phelps, April Gillespie and Rabih Abuismail, who also advocated for burning books, voted in favor.
The Free Lance-Star reported that Baker was escorted from the building before the board returned from the second closed-door meeting.
An emergency meeting has been scheduled for Friday to name an interim superintendent.
"It's just very sad to hear that a superintendent who has been fully engaged in this community for 10 years is just let go with no rhyme or reason," said Board Member Dawn Shelley, while noting Baker's accomplishments.