Why doesn't outrage over Arizona translate to ENDA support?
Outcry over vetoed anti-gay bill not inspiring calls for Congress to act
Within one week, national outrage over anti-LGBT discrimination was able to kill a controversial "turn away the gay" bill in Arizona, but almost 40 years after an early version of the Employment Non-Discrimination Act was introduced in Congress, the bill still hasn't become law.
The unprecedented firestorm of opposition leading to Arizona Gov. Jan Brewer's veto of SB 1062 raises questions about why that energy can't be harnessed to institute federal protections against the discrimination the legislation would have enabled.
The outcry among LGBT advocates, Republican lawmakers, faith groups and the media against the Arizona bill was widespread. The legislation would have allowed any person — which under the bill could be an individual, a religious assembly or business — to deny services based on a religious belief.
Among Republicans, Sens. John McCain (R-Ariz.) and Jeff Flake (R-Ariz.) urged a veto of the measure. They were followed by surprise calls to reject the measure from former Republican presidential contenders generally known for their opposition to LGBT rights: former Massachusetts Gov. Mitt Romney and former U.S. House Speaker Newt Gingrich.
On the business side, the Arizona Chamber of Commerce opposed the legislation as well as corporate tech giants Apple and Intel. Major companies based in Arizona — U.S. Airways and retailer PetSmart — also called on Brewer to veto the bill. The National Football League even weighed in and, according to a report in Sports Illustrated, reportedly considered moving next year's Super Bowl XLIX out of Phoenix if the measure became law.
Scott Wooledge, a gay New York-based netroots advocate who sought to get major U.S. companies on the record against SB 1062, said he thinks the "broad and vague" language of the bill is what triggered the massive outcry among businesses.
"Individuals could assert under Arizona law that they have the right to fire their gay subordinate," Wooledge said. "They could say you hired me and I have this gay executive assistant, and I'm firing him because he offends my religious liberty. What would Intel do under this situation because that would be a violation of their company policy, and their own employees would have the force of law behind them?"
But other religious exemption bills that would enable anti-LGBT discrimination have advanced without as much outcry. In Kansas, the state House approved a measure specifically aimed at allowing businesses to refuse services for weddings. Despite media reports that the measure is dead, at least one advocate on the ground has said he expects action soon in the Senate.
In Mississippi, the Senate passed legislation, SB 2681, which would give businesses a license to discriminate against customers based on personal religious beliefs that is under consideration in the House. Although LGBT advocates have spoken out against these measures, the level of outcry isn't the same as in Arizona.
A number of observers who spoke to the Washington Blade pointed out an obvious distinction: SB 1062 managed to reach the governor's desk while others haven't made it that far.
Lanae Erickson Hatalsky, director of social policy and politics for the Third Way, also said Arizona has a special distinction because it has a reputation for passing controversial bills, such as SB 1070, which allowed law enforcement to ask individuals perceived as being immigrants for registration documents before the measure was struck down by the U.S. Supreme Court.
"Folks in Arizona are particularly sensitive about their state getting a bad rap and losing business after the anti-immigrant legislation caused such an uproar," Erickson Hatalsky said. "This bill was similarly poorly written and would've allowed a parade of horribles that made it easy to convince businesses and the public that it was a bad idea, especially on top of that current sensitivity about the state's reputation."
But the situation in Arizona was striking not just for the outcry over the legislation, but the wall-to-wall coverage from national mainstream media on the bill on networks like MSNBC and CNN.
As Media Matters notes, even Fox News, which has a reputation of shilling for conservatives, aired commentary from conservative analysts in opposition to the bill. Andrea Tantaros, co-host of "The Five," compared the bill to the racist Jim Crow laws in the South and said she doesn't know why "you would want to bring Jim Crow laws back to the forefront for homosexuals."
Cathy Renna, a New York-based public affairs specialist, said the media coverage of the Arizona bill is part of a trend of growing attention to LGBT rights amid rulings from the U.S. Supreme Court on marriage equality.
"We obviously cannot turn on the TV or look at any website, or if people still flip through newspapers, not seeing a story about this," Renna said. "It's almost impossible, and it's creating a whole new level of conversation about the issue of discrimination, and I think it's really showing how we have a ton of momentum that's come a long way, but we still have a lot that we need to do."
Turning Arizona outrage to ENDA
But if a bill that would have enabled discrimination against LGBT people inspired so much angst, why isn't that same energy helping to advance measures that would protect against this kind of discrimination, at least in employment, at the federal level?
John Aravosis, editor of AMERICAblog, said the distinction is the Arizona bill was a negative anti-gay measure that could have been enacted by Brewer's signature within a week, and it's harder to muster the energy to pass a positive law that can be constantly delayed.
"If the president had a week to decide and then ENDA would be dead forever, people might be a little more engaged, and there might be a little more pressure on him," Aravosis said. "But the negative is always better reality in playing to the grassroots than the positive. It shouldn't be, but it is."
Not helping matters is a misconception that federal protections against LGBT people in the workplace are already in place. According to a YouGov/Huffington Post poll made public in October, 69 percent of Americans incorrectly believe firing someone for being gay or lesbian is illegal.
It's that kind of false understanding that Erickson Hatalsky said makes people satisfied with the status quo and unwilling to make changes to law as other issues surrounding LGBT rights move quickly.
"If they don't see a huge problem happening in front of them, they say, 'Whatever the law is, it must be working,'" Erickson Hatalsky said. "So that really plays to our benefit when it's an overly broad religious liberty attack like the one in Arizona. It does exactly the opposite when we're trying to pass affirmative non-discrimination."
Amid the national outcry over the Arizona bill, President Obama has remained unwilling to sign an executive order barring LGBT discrimination among federal contractors.
White House Press Secretary Jay Carney instead touted the importance of ENDA when asked last week for an update on the directive in the aftermath of the Arizona veto, saying the legislative approach "would be far more comprehensive in its effect." Still, Carney acknowledged the broad opposition to the Arizona bill.
"And it was gratifying to see Americans from all walks of life, including business leaders, faith leaders, regardless of party, speak out against this measure — and it's further evidence that the American people fundamentally believe in equality, and it's time to get on the right side of history," Carney said.
But Congress has shown no signs of moving forward. Months after the Senate approved ENDA by a bipartisan 64-32 vote, U.S. House Speaker John Boehner held a meeting with the LGBT Equality Caucus and threw cold water on the bill, either saying there's "no way" ENDA would come this session or it's "highly unlikely." Still, those in attendance see an opportunity for a bill to come up after Election Day during the lame duck session of Congress.
Seeking discharge petition, Paul Ryan's help
The effort to link the discrimination that would have been allowed under the Arizona bill to the need to pass ENDA is daunting, but something observers say can happen.
Wooledge said the situation over the Arizona bill was different than the effort to enact federal workplace protections because there was a singular focus, a veto, and a singular target, Brewer. If supporters settled on a discharge petition as the method to pass ENDA in the House, Wooledge said, the results would be similar.
"I have full confidence that the progressive coalition that coalesced around SB 1062 would do a very similar campaign to persuade legislators both Democratic and Republican to sign the discharge petition, but they don't want to do that," Wooledge said. "Human Rights Campaign has never called for a discharge petition, never has the [National] Gay & Lesbian Task Force, so if our own 800-pound gorillas of advocacy don't want a discharge petition, then Nancy Pelosi is not going to want a discharge petition."
For Erickson Hatalsky, Arizona demonstrated the importance of having Republican, business and faith leaders on board with an LGBT measure, and said those efforts should continue with ENDA. One way, she said, is getting  Republican star Rep. Paul Ryan (R-Wis.), who voted for ENDA in 2007, to vocalize renewed support.
"I think we've only had Jeff Flake and John McCain and those other Republican senators on ENDA for a few months," Erickson Hatalsky said. "That was a huge step that we've taken in the past year, so we just have to keep building on it and make the case to John Boehner that it's in his best interest to get on board."
Instead of the Arizona bill, Aravosis said supporters of federal non-discrimination protections should look to the path that led to repeal of "Don't Ask, Don't Tell," when gay discharged troops brought their stories to the media.
"With ENDA, if we had stories coming out every day, gays in the military…been screwed again today, we'd probably be more successful," Aravosis said. "That's the battle to compare it to because we had stories almost every day of these nice people losing their jobs. The folks getting paid to do ENDA are not putting out those stories every day."
The extent to which national LGBT organizations will draw on the controversy to advance ENDA isn't yet clear. Freedom to Work didn't immediately respond to the Washington Blade's request for comment.
Dan Rafter, spokesperson for the Human Rights Campaign, said his organization intends to carry the outrage over the Arizona bill to the table in engagement over ENDA.
"Bills like SB 1062 illustrate how vulnerable LGBT people remain when it comes to facing discrimination – be it in their workplace or their communities," Rafter said. "But the backlash to the bill, including from Republicans and big business, illustrates the incredibly broad support for workplace protections. We are absolutely going to continue elevating that message as we work to build support for ENDA in the House by continuing our engagement with members all across the country."
Rea Carey, executive director of the National Gay & Lesbian Task Force, said in a statement to the Blade the veto of the Arizona bill itself demonstrates the time has come for Congress to act on ENDA.
"America is against discrimination but the public thinks protections are already in the law," Carey said. "The effort to successfully reject Arizona¹s SB 1062 spotlights the lack of federal LGBT anti-discrimination legislation, sends a clear  message that extremism is totally unacceptable to people of all political persuasions, and highlights the urgent need for the House to take up and pass ENDA."
Activists across South America mark Pride Month
Demonstration in Chilean capital drew more than 100,000 people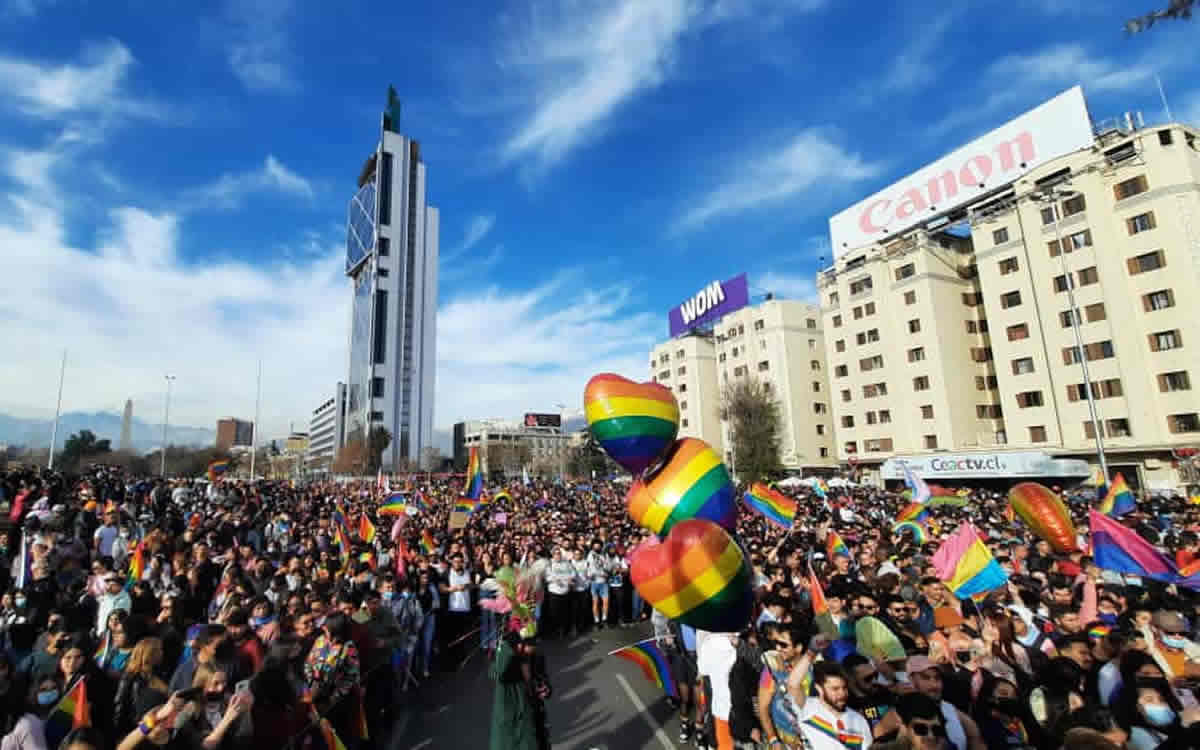 Activists in Chile and across Latin America on June 25 took to the streets to celebrate Pride Month.
The Movement for Homosexual Integration and Liberation (Movilh) and Fundación Iguales in Chile organized a demonstration in Santiago, the country's capital, in which more than 100,000 people participated. March organizers demanded the repeal of Article 365 of the Chilean Penal Code that criminalizes same-sex couples.
Chile's marriage equality law took effect on March 10, the day before President Gabriel Boric took office.
New Colombia president a sign of hope for LGBTQ, intersex activists
LGBTQ and intersex activists in Colombia are looking forward to what will be a new political era after former Bogotá Mayor Gustavo Petro won the second round of the country's presidential elections on June 19. Petro, along with his running mate, Vice President-elect Francia Márquez, who will be the country's first vice president of African descent, will be the first leftist executives in Colombian history.
A source in Bogotá, the Colombian capital, told the Washington Blade that Petro during the campaign pledged to fight violence and discrimination based on sexual orientation and gender identity and to implement policies "for the reaffirmation of gender identities and sexual orientation without barriers for all non-binary people and transgender people in Colombia."
Manuel Velandia, a long-time Colombian LGBTQ and intersex activist who organized the country's first demonstration in support of queer rights 39 years ago, told the Blade that authorities sent a contingent of 100 police officers and "we — 29 gay men, two lesbian women and a transsexual woman — marched."
"The march could take place because in Colombia it was a crime to be homosexual and we achieved the decriminalization of homosexuality in the Penal Code," said Velandia.
Thousands of people took to the streets of Bogotá on June 25 to demand a nationwide LGBTQ and intersex strategy "as a measure to guarantee the rights of this population, combat discrimination based on sexual orientation, gender identity and expression, and sexual characteristics (OSIEGCS), and eliminate the barriers that persist for the materialization of the rights acquired by judicial means, according to national and international human rights standards."
Velandia explained to the Blade that activists are "writing a document of what we expect from the next government from president's inauguration and during the first 100 days."
"We now are focusing on the most priority issues," said Velandia. "We think that a law that comes out of a ministry is not as important as a national law passed by Congress."
Additional Pride marches will take place in Bogotá in the coming days.
Peruvian activists hold country's largest-ever Pride march
The largest Pride march in Peru's history took place on June 25 in Lima, the country's capital.
"It has been the largest march in the 20 years of history of this massive activity," activist Jorge Apolaya told the Blade. "[It was a] joyful rebellion, as we call it."
Apoyala pointed out activists took to the streets because "it is necessary" for Peru and President Pedro Castillo's government to act on "the demands of the LGBT population, the gender identity law, the equal marriage law that are pending before respective committees in the Congress of the Republic and generate the necessary discussions so that they can be debated."
According to the activist, "the country continues to remain at the back door with respect to respect for LGBT human rights in the world, but not even in the world, but at the Latin American level."
Protests prompt cancellation of many Ecuador Pride events
Protests that have taken place across Ecuador for more than two weeks prompted activists to suspend most activists and demonstrations in favor of LGBTQ and intersex rights that had been scheduled to take place this month.
"There are seven Prides that have already been suspended out of those that were scheduled," Diane Rodríguez, a prominent Ecuadorian activist, told the Blade.
Rodríguez noted two marches in the cities of Santo Domingo and Loja were able to take place on Saturday.
Mixed views among U.S. adults on trans issues: Pew
Most back non-discrimination, but divided on other issues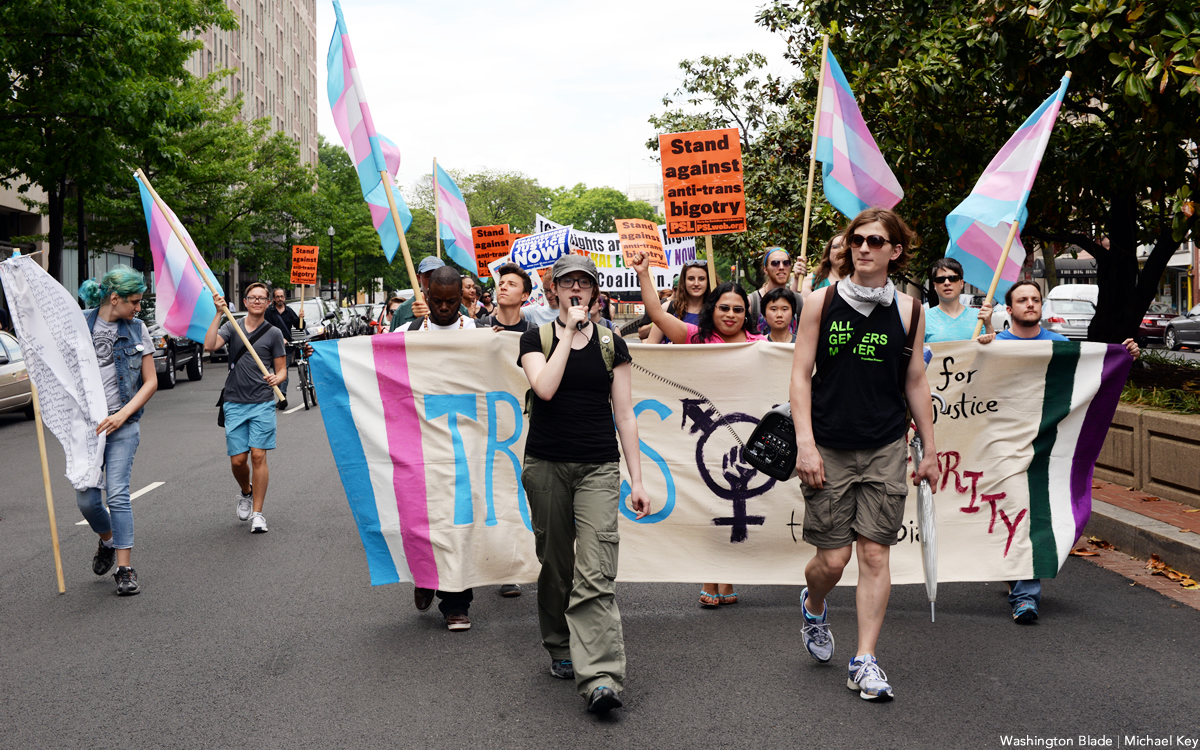 A new survey from a leading non-partisan research center reveals Americans have mixed views on transgender issues at a time when states are moving forward with measures against transgender youth, with strong majorities favoring non-discrimination protections but weaker support for access to transition-related care among minors and participation in school sports.
The Pew Research Center issued the findings on Tuesday as part of the results of its ongoing study to better understand Americans' views about gender identity and people who are transgender or non-binary. The findings are based on a survey of 10,188 U.S. adults from data collected as part of a larger survey conducted May 16-22.
A majority of respondents by wide margins favor non-discrimination protections for transgender people. A full 64 percent back laws or policies that would protect transgender people from discrimination in jobs, housing, and public spaces, while roughly 8-in-10 acknowledge transgender people face at least some discrimination in our society.
Additionally, nearly one half of Americans say it's extremely important to use a transgender person's new name after they undergo a transition, while an additional 22 percent say that is somewhat important. A smaller percentage, 34 percent, say using a transgender person's pronouns is extremely important, and 21 percent say it is somewhat important.
But other findings were less supportive:
60 percent say a person's gender is determined by sex assigned at birth, reflecting an increase from 56 percent in 2021 and 54 percent in 2017, compared to 38 percent who say gender can be different from sex assigned at birth.
54 percent say society has either gone too far or been about right in terms of acceptance, underscoring an ambivalence around transgender issues even among those who see at least some discrimination against transgender people.
About six-in-ten adults, or 58 precent, favor proposals that would require transgender athletes to compete on teams that match the sex they were assigned at birth as opposed to teams consistent with their gender identity, compared to 17 percent who oppose that and 24 percent neither favor nor oppose it.
46 percent favor making it illegal for health care professionals to provide transition-related care, such as hormones or gender reassignment surgery, to someone younger than 18, compared to 31 percent who oppose it.
Americans are more evenly split when it comes to making it illegal for public school districts to teach about gender identity in elementary schools (which is favored by 41 percent, and opposed by 38 percent) and investigating parents for child abuse if they help someone younger than 18 obtain transition-related care (37 percent are in favor and 36 percent oppose it).
Young adults took the lead in terms of supporting change and acceptance. Half of adults ages 18 to 29 say someone can be a man or a woman even if that differs from the sex they were assigned at birth, compared to about four-in-10 of those ages 30 to 49 and about one-third of respondents 50 and older.
Predictably, stark differences could be found along party lines. Democrats by 59 precent say society hasn't gone far enough in accepting people who are transgender, while 15 percent say it has gone too far and 24 percent say it's been about right. For Republicans, 10 percent say society hasn't gone far enough, while 66 percent say it's gone too far and 22 percent say it's been about right.
Read the full report here.
D.C. officials vow to fight any GOP effort to ban abortion in nation's capital
Without statehood, District vulnerable to congressional interference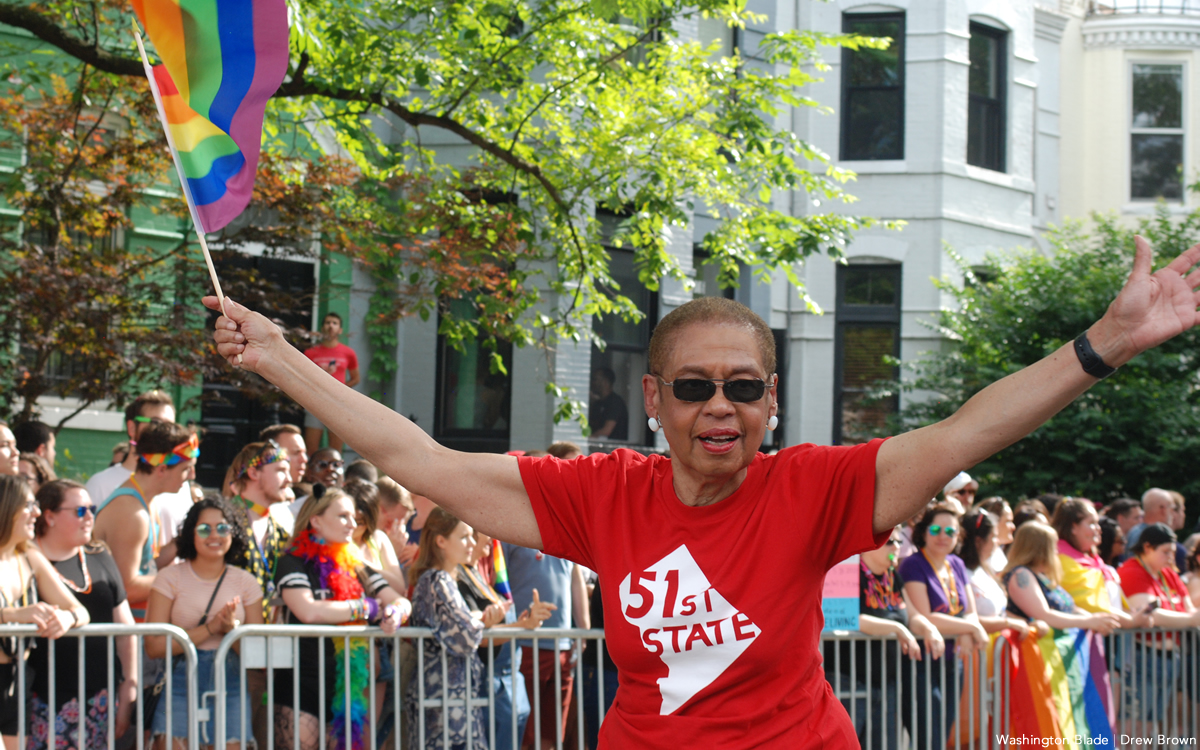 D.C. Mayor Muriel Bowser, D.C. Congressional Del. Eleanor Holmes Norton, and six members of the D.C. Council said they were united in fighting an attempt by Congress to ban abortions in the nation's capital following the Supreme Court's decision to overturn Roe v. Wade.
At a press conference on the day the Supreme Court handed down its controversial decision, the D.C. officials pointed out that unlike any of the states, D.C. is vulnerable to the authority Congress has over the city under its limited Home Rule Charter, including the authority by Congress to pass a law to ban abortions in the city.
The press conference was held at the headquarters in Northeast D.C. of Planned Parenthood of Metropolitan Washington, D.C., whose leaders said they would continue to provide abortion services in the District at the present time.
At this time, "Nothing has changed in Washington, D.C.," Bowser said at the press conference. "Abortion remains legal, and women and girls we know, however, are worried," the mayor said. "We are worried because we know we are vulnerable as a jurisdiction because of our lack of statehood."
Norton told news media representatives and others attending the press conference that she expects at least some congressional Republicans to introduce legislation to ban abortions in D.C. now that the Supreme Court has given them the authority to do that.
"We are subservient still to the House and Senate," she said. "I'm calling on the Congress to immediately codify the right to an abortion in federal law," Norton said. "That is the very least the District needs to save this city from what will surely be an attempt by Republicans in Congress to move first on the District of Columbia to make sure that abortions are not available for women in our city."
Norton added, "We always have more work cut out for us than other jurisdictions. But I assure you I am up to the task. There is a lot to fight for here, and I'm ready for that fight."
Norton and Bowser also pointed out that Congress over a decade ago added a permanent provision to D.C.'s annual budget that prohibits the city from using any of its funds to pay for abortions either directly or through the funding of private organizations like Planned Parenthood that provide abortion related services.
With the prospect that Republicans might regain control of the House or Senate or both in the November congressional elections, D.C. officials said they were especially concerned about an attempt to ban or greatly restrict abortions in the city.
D.C. Council Chair Phil Mendelson said he was hopeful that such an attempt would be blocked by a Democratic-led filibuster in the Senate as well as by a presidential veto if President Biden or another Democrat continues to occupy the White House.
Bowser, Mendelson, and D.C. Councilmember Mary Cheh (D-Ward 3) also pointed out that the legal reasoning used by the justices to overturn Roe v. Wade, especially the rationale given by Justice Clarence Thomas, could be used in future cases to overturn previous court rulings establishing a constitutional right to same-sex marriage and the right to intimate sexual acts between same-sex couples.
"We are about to enter into decades of darkness with this court that we have," Cheh said at the press conference. "And don't be fooled. We're told, OK, it's just abortion," she said. "Don't you believe it. The very reasoning of the case – and I spend a lot of time teaching constitutional law – means that many other liberties will be in jeopardy."
LGBTQ rights advocates have pointed to the concurring opinion handed down by Justice Thomas on the day the court overturned Roe v. Wade that specifically calls on the high court to "reconsider" the 2003 ruling of Lawrence v. Texas, which overturned state laws banning sodomy between consenting adults, both gay and straight. Thomas's concurring opinion also called for reconsidering the high court's 2015 Obergefell ruling, which legalized same-sex marriage nationwide.
Others speaking at the June 24 press conference included Laura Meyers, president of Planned Parenthood of the D.C. area, and D.C. Council members Elissa Silverman (I-At-Large), Christina Henderson (I-At-Large), and Brooke Pinto (D-Ward 2).