DNC treasurer says lack of ENDA directive 'frustrating and perplexing'
Speculation mounts that president will act after Biden address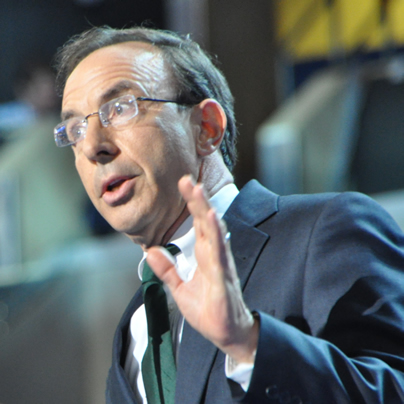 Democratic National Committee Treasurer Andrew Tobias has joined those expressing concern over why President Obama hasn't signed an executive order barring LGBT discrimination among federal contractors, saying it should be signed and its absence is "frustrating and perplexing."
Amid renewed questions over why Obama hasn't signed the order following a speech from Vice President Joseph Biden in which he called the lack of LGBT protections "close to barbaric," Tobias articulated his own concerns as he maintained that fighting for Democratic control of Congress is of utmost importance.
The DNC treasurer made the comments in an off-the-record listserv for LGBT donors via an email that was leaked to the Washington Blade.
"I agree 100% with those who say it should be signed, 100% with those who believe we should keep pressing, and 100% with those who say it's frustrating and perplexing," Tobias wrote. "But I think we would be crazy to let it diminish our efforts to hold the Senate, get Nancy her gavel back, and lay the groundwork for a huge LGBT supporter to win the White House in 2016. (All our plausible 2016 nominees are huge LGBT supporters.)"
Tobias, who's gay, confirmed to the Washington Blade the email indeed came from him as did other individuals on the listserv, who said the message came from his email account on Wednesday. Notably, these individuals said Tobias told LGBT donors in his email that listserv members should feel free to quote him as expressing those views. Tobias also told the Blade to quote him as such.
The remarks are noteworthy for Tobias, who has a reputation for tamping down criticism and concern over the Obama administration and the DNC for not doing enough on LGBT rights. It has particular significance because it comes at a time when the DNC is busy raising money to hold onto the Senate during the congressional midterms.
Last year in another email to the listserv following concerns at that time over the executive order, Tobias maintained everyone within the administration supports it, but that a "process" is holding it up.
Tobias' latest remarks follow continued frustration with Obama over why he continues to withhold the executive order, which LGBT advocates maintain is a 2008 campaign promise of his, after the No. 2 person in his administration called the lack of federal prohibition on LGBT workplace discrimination "close to barbaric."
Biden made the remarks while calling on Congress to pass the Employment Non-Discrimination Act, legislation that would bar anti-LGBT workplace discrimination, while speaking to about 1,000 attendees at the Human Rights Campaign annual dinner in Los Angeles.
"If you think about it, it's outrageous we're even debating this subject," Biden said. "I really mean it. I mean it's almost beyond belief that today, in 2014, I could say to you, as your employee in so many states, you're fired, because of who you love."
The vice president never mentioned the much sought executive order in his speech, but LGBT advocates questioned why Obama hasn't acted on the directive if the lack of protections is so barbaric. Some advocates also projected a scenario in which Obama would sign the order as a result in the days ahead.
After all, Biden's endorsement of marriage equality on "Meet the Press" in 2012 preceded Obama's own endorsement of marriage equality by just three days and was seen as a trigger for the president's announcement.
Darlene Nipper, deputy executive director of the National Gay & Lesbian Task Force, was among those envisioning the executive order coming shortly from Obama as a result of the Biden address.
"As we saw with marriage equality, Vice President Biden is sometimes the person who will preview a presidential decision," Nipper said. "So let's hope his recent comments means that a non-discrimination executive order is imminent from President Obama."
The White House didn't respond to a request for comment about any updates on the possible executive order. Last week, White House Press Secretary Jay Carney reiterated the administration's preference for legislation to bar LGBT workplace discrimination when asked by the Washington Blade about a letter signed by more than 200 Democrats calling for the directive.
"There is no question, I think, in anyone's mind that the passage of legislation, the Employment Non-Discrimination Act, would provide those protections broadly in a way the EO would not," Carney said. "And as I've said before, opposition to that legislation is contrary to the tide of history and those lawmakers who oppose this will find, in the not too distant future, that they made a grave mistake and that they will regret it."
But Biden's description of the lack of LGBT workplace non-discrimination rules as "close to barbaric" and the continued absence of an executive order that would institute them riled members of the LGBT donor listserv, who pestered Tobias with emails over why it hasn't been done.
In another email earlier in the week, the DNC treasurer said the best approach to the situation is highlighting stories of people harmed by the lack of the directive as well as studies showing the scale of the problem — in addition to working for Democratic electoral gains in 2014 and 2016.
Heather Cronk, managing director of the LGBT grassroots group GetEQUAL, said Biden's use of "barbaric" to describe anti-LGBT workplace discrimination should be the driving force prompting Obama to take executive action.
"In fact, Biden's remarks are exactly where the rest of the country is — given that 90 percent of Americans think there is already a federal law in place, one would think that this comment from Biden would kick start a commitment by the Obama administration to lead on this issue and to sign this executive order without delay," Cronk said. "Anything less is simply dangling equality in front of our noses, hoping that we'll show up for midterms — which is, indeed, barbaric."
For its part, the White House continues to advocate for ENDA as pressure builds on Obama to sign the executive order.
Shin Inouye, a White House spokesperson, referenced the idea of ENDA supporters starting a discharge petition in the House to bring the bill up for a vote. A successful discharge petition requires 218 names, the same number of individuals needed to pass legislation on the House floor.
"The President continues to believe that the House should join the Senate and pass ENDA so he can sign it into law," Inouye said. "We would welcome efforts to bring this legislation to the floor for a vote."
LGBT advocates have told the Blade that a discharge petition should be considered a last resort to pass ENDA because the tactic is viewed as a criticism of leadership for not advancing a bill. Senate Majority Leader Harry Reid dismissed the idea of the petition when speaking with reporters late last year, saying Republican leadership would discourage members from signing it before it reached 218 names.
Meanwhile, LGBT advocates have amped up their efforts to encourage U.S. House Speaker John Boehner to bring up ENDA for a vote in the House. The coalition known as Americans for Workplace Opportunity, which helped guide the Senate to pass ENDA on a bipartisan basis in September, is putting up more than $2 million to pass ENDA in the chamber. Much of the money is coming from Republican superdonors Paul Singer and Seth Klarman, who each donated $375,000.
Fred Sainz, vice president of the Human Rights Campaign, said even with the push for ENDA, Obama has "absolutely no reason" to delay in signing an executive order on behalf of LGBT workers.
"This easily has to be the most studied and mulled-over executive order in history," Sainz said. "The leadership of this president and his entire administration on issues important to LGBT equality has been absolutely tremendous. The decision to apply nondiscrimination protections to the workers of federal contractors will fit in nicely with his historic legacy on LGBT equality."
White House hosts roundtable with transgender youth
Friday was International Transgender Day of Visibility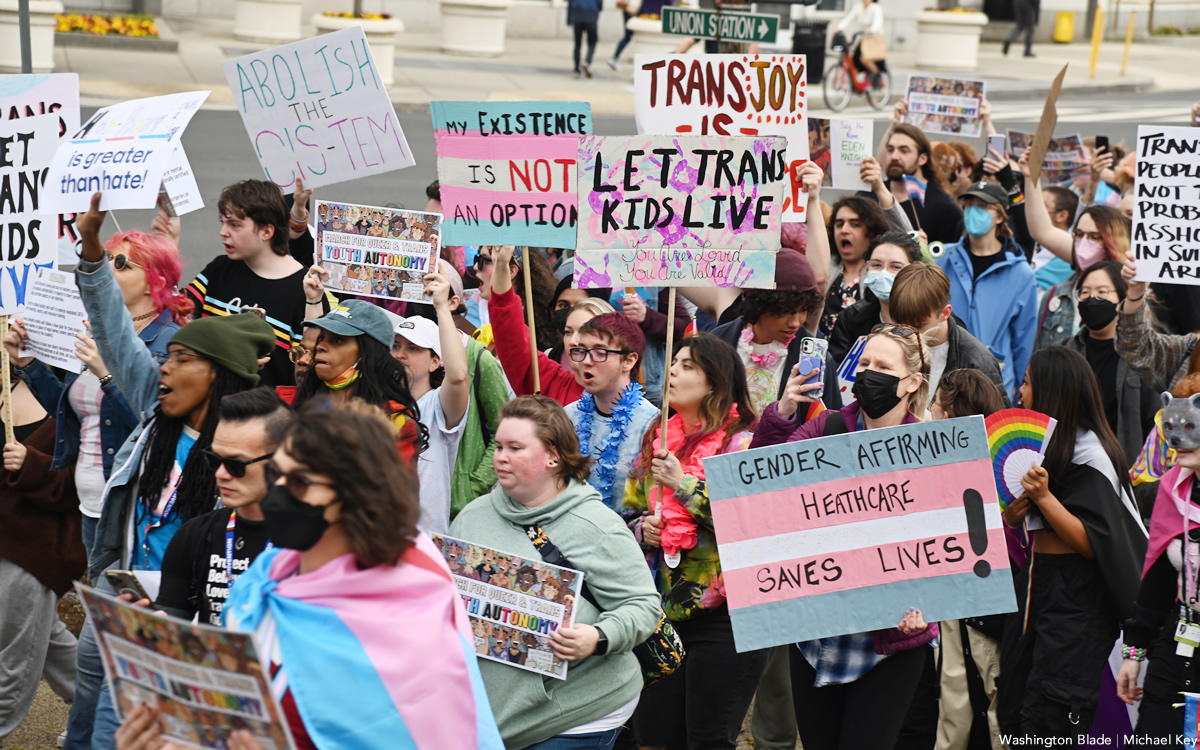 The White House said in a statement released Saturday said Presidential Domestic Policy Advisor Susan Rice and U.S. Surgeon General Vivek Murthy "hosted a roundtable at the White House Friday about the joys, hopes and challenges that transgender children are experiencing."
The roundtable took place on International Transgender Day of Visibility, an annual event occurring on March 31 dedicated to celebrating trans people and raising awareness of discrimination faced by trans people worldwide, as well as a celebration of their contributions to society.
This year's Transgender Day of Visibility was one of the largest in years.
Huge crowds gathered in cities across the U.S. in celebrations of visibility and protest as over 450 bills that target queer and trans youth are under consideration or have been passed by state legislatures.
"Transgender kids and their parents traveled to the White House from states that have attacked the rights of transgender kids, including Arizona, Texas and Virginia, and shared the devastating effects these political attacks are having on their mental health and wellbeing," reads a White House readout of the roundtable. 
"As one round table participant shared, it feels scary when the politicians elected to represent you don't care about your wellbeing. Families participating in today's roundtable also highlighted that transgender kids can thrive when parents love and affirm their transgender children, and when transgender kids have access to the support they need at school and in their communities," it notes. "Ambassador Rice and Dr. Murthy reiterated the Biden-Harris administration's commitment to standing up for the rights of transgender kids and their parents, and to challenging state laws that harm transgender kids. They also thanked the families for their unwavering advocacy and bravery in challenging these discriminatory laws."
Fla. lawmakers pass bill to expand 'Don't Say Gay' law
Hundreds of students protested in Tallahassee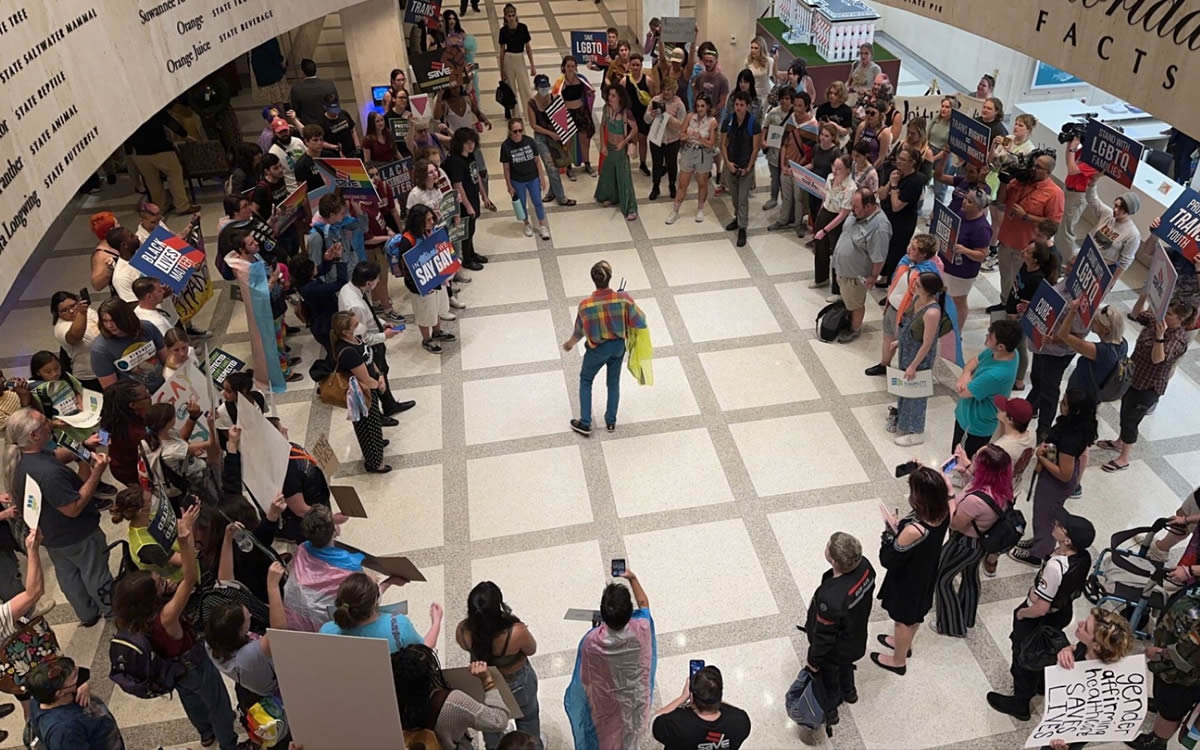 On International Transgender Day of Visibility, hundreds of students from across Florida descended on the Capitol to protest the legislature's fast-tracking of Gov. Ron DeSantis' agenda of book banning and classroom censorship and assaults on academic and medical freedom.
Buses arrived from Central and South Florida in a collaboration between high school, college and university students called the Student Unity Coalition.
Today, the FL House will vote on a bill to expand Don't Say LGBTQ, ban parents from telling schools how their child should be addressed, & allow anyone anywhere to challenge a book in FL's schools.

Outside, hundreds of students from across the state are arriving to protest. pic.twitter.com/G8wSwgjhDd

— Equality Florida (@equalityfl) March 31, 2023
Organizers marched the coalition from Florida State University campus into the halls of the Capitol building just as the House of Representatives voted 77-35 in favor of House Bill 1069, which would expand the "Don't Say Gay" law's censorship provisions through 8th grade, ban parents from requiring the school system use their child's correct pronouns, and escalating book bans, allowing one person from anywhere in the nation to challenge a book in a Florida school, prompting its immediate removal pending a lengthy review.
This legislative session (and DeSantis regime) in a nutshell: students chanting so loudly in the halls to demand equitable, safe schools that they briefly interrupt a floor rant from Rep. @RalphMassullo about kids identifying as cats and being provided litter boxes in class (?). https://t.co/3ym0DgkD62

— Brandon Wolf (@bjoewolf) March 31, 2023
"The students who mobilized in the hundreds today sent a clear message about the Florida they want to grow up in," said Equality Florida Senior Political Director Joe Saunders. "They want a Florida that values freedom — real freedom. Free states don't ban books. Free states don't censor LGBTQ people from society or strip parents of their right to ensure their child is respected in school. Students and families across Florida are fed up with this governor's agenda that has put a target on the backs of LGBTQ people. Shame on DeSantis' legislative cronies for peddling more anti-LGBTQ lies on the House floor today and ramming through an expansion of the censorship policies that have emptied bookshelves across the state and wreaked havoc on our schools. Shame on them for ignoring the voices outside demanding a state that respects all families and protects all students."
House passage of HB 1069 comes as last year's "Don't Say Gay" law wreaks havoc on Florida's schools and drives educators and families from the state. DeSantis' Florida has become synonymous with the sweeping book bans that are targeting books with LBGTQ characters or Black history themes, including "The Life of Rosa Parks" and "And Tango Makes Three." Students' graduation speeches have been censored.
Rainbow Safe Space stickers have been peeled from classroom windows. Districts have canceled long standing after school events and refused to recognize LGBTQ History Month.
The rampant right wing censorship has exacerbated Florida's exodus of educators, with vacant teacher positions ballooning to more than 8,000, and, according to a recent survey from the Williams Institute, has led a majority of LGBTQ parents in the state to consider leaving Florida altogether.
Students react to hearing the news of the bill's passage. pic.twitter.com/30aWe9SsUh

— Equality Florida (@equalityfl) March 31, 2023
On Thursday, parents and educators held a joint press conference outside the House chamber to decry this legislation and other proposals that would strip them, their students, and their families of the rights to academic and medical freedom.
That same day, Republicans lawmakers rejected numerous reasonable amendments to House Bill 1069, including a Parental Rights amendment by state Rep. Rita Harris that would have allowed parents to write a letter instructing schools on what pronouns their child should be addressed with, a clarifying amendment from state Rep. Ashley Gantt that would have finally defined the term "classroom instruction," which bill sponsor state Rep. Stan McClain acknowledged has been left undefined and vague, and a marriage equality amendment by state Rep. Michele Rayner-Goolsby that would have struck outdated and bigoted sex education language that mandates instruction on the benefits of "monogamous, heterosexual marriage."
The more than 150 high school and college students who rallied in Tallahassee filled the Capitol rotunda just before 1 p.m. ET, with their chants of "this is what democracy looks like" temporarily interrupting a disinformation-filled rant by GOP Representative, and sponsor of the bill to criminalize medical care for transgender youth, Ralph Massullo.
The "Don't Say Gay" expansion bill's Senate version, Senate Bill 1320, will move next to its final committee, Fiscal Policy.
Justice Department appeals federal judge's ACA ruling
Decision impacts PrEP, other preventative health services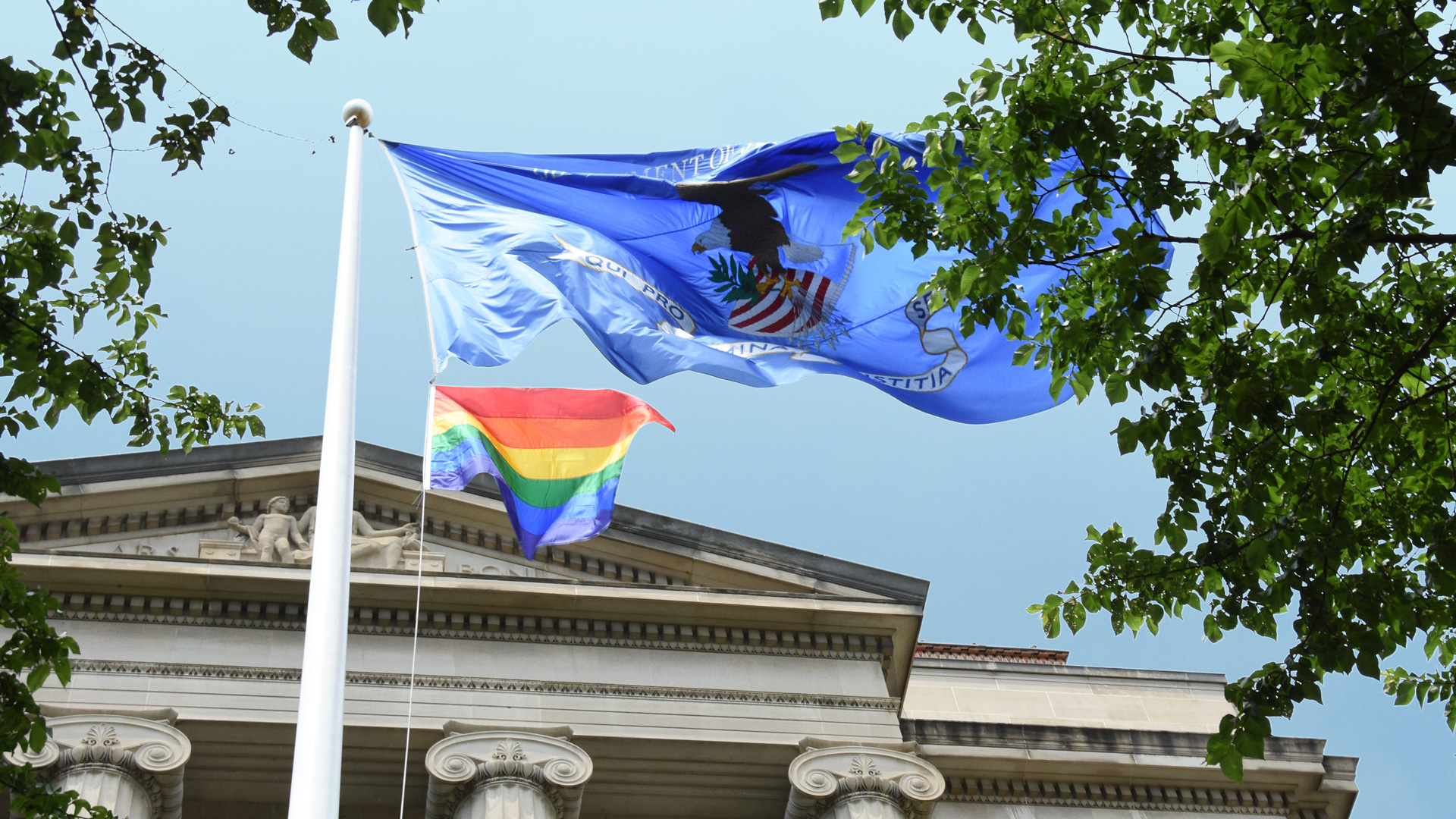 Justice Department attorneys filed a notice of appeal Friday with the 5th U.S. Circuit Court of Appeals on behalf of the Department of Health and Human Services after U.S. District Judge Reed O'Connor ruled that employers cannot be forced to cover specified preventive health care services under the Affordable Care Act.
Thursday's ruling means that more than 150 million Americans on employer-sponsored health plans will lose some cost-free coverage for immunizations, contraception, cancer screenings and PrEP.
O'Connor's ruling struck down the recommendations that have been issued by the U.S. Preventive Services Task Force regarding the preventive care treatments provisions required by the ACA directing insurers provide at no cost to the patient.
White House Press Secretary Karine Jean-Pierre released a statement on the Justice Department decision to appeal:
"The president is glad to see the Department of Justice is appealing the judge's decision, which blocks a key provision of the Affordable Care Act that has ensured free access to preventive health care for 150 million Americans. This case is yet another attack on the Affordable Care Act, which has been the law of the land for 13 years and survived three challenges before the Supreme Court.
 
Preventive care saves lives, saves families money, and protects and improves our health. Because of the ACA, millions of Americans have access to free cancer and heart disease screenings. This decision threatens to jeopardize critical care.
 
The administration will continue to fight to improve health care and make it more affordable for hard-working families, even in the face of attacks from special interests."
AIDS Healthcare Foundation President Michael Weinstein decried O'Connor's ruling saying:
"Stripping away access to preventive care will hurt tens of millions of Americans. These services are essential, and eliminating them will have dangerous consequences. While we expect this unconstitutional ruling ultimately will fail, the decision creates uncertainty and is a threat to public health.
"With this devastating ruling, a Trump-appointed judge placed the health of millions of Americans in extreme danger, based on an extremist political agenda. Undermining screenings and treatment for cancer, blood pressure, pregnancy, and mental health doesn't just hurt individuals — it damages the health of the entire country," California state Sen. Scott Wiener said.
"The effect of this decision on HIV prevention will be disastrous. In recent years, we've made incredible progress reducing the number of new HIV infections, largely because hundreds of thousands of people are now taking PrEP, an HIV prevention drug proven to be essentially 100 percent effective. This decision reverses that progress by allowing health plans to charge patients through the nose for this life-saving medication, raising barriers to access for the communities of LGBTQ people and people of color most at risk. Judge O'Connor will soon have thousands of new HIV cases on his conscience," Wiener added.
Equality California, the nation's largest statewide LGBTQ civil rights organization, released the following statement from Executive Director Tony Hoang in response to a ruling from O'Connor:
"Judge Reed O'Connor, already having attempted to invalidate the Affordable Care Act as a whole in 2018, has once again issued a ruling that puts the lives of Americans in danger. Preventive care is essential in helping to screen for potential severe health conditions and attempt to mitigate them — this ruling affects screenings for cancer, diabetes, STDs, cardiovascular disease, and so much more.
More than 150 million Americans currently have private insurance with coverage for preventive care under the ACA, yet a partisan judge in Texas is attempting to single handedly rollback access to these basic health care services. Equality California is committed to ensuring that these critical preventive services remain in place for the health of all Americans. We expect an appeal of this decision immediately. 
Thankfully, most health plans in California are unaffected by today's ruling because existing state law already requires health plans regulated in California to cover preventive services without cost sharing. Today's ruling may affect a small subset of employer-sponsored health plans that are not regulated by the state.
Equality California is proud to be sponsoring legislation with Assemblymember Rick Chavez Zbur and Insurance Commissioner Ricardo Lara, AB (Assembly Bill) 1645, which will strengthen existing law and go even further to ensure that Californians have access to essential preventive services, including STD screening and PrEP for HIV prevention. While right-wing judges and politicians are attempting to roll back our rights and inflict harm on LGBTQ+ people, California will continue doubling down to protect the health and safety of our communities."
Read the notice of appeal here: