March 27, 2014 at 1:00 pm EDT | by Kathi Wolfe
SPECIAL REPORT In their own words: elders facing poverty, ageism
Editor's note: This is the second of a two-part look at how poverty affects elder members of the LGBT community and part of a yearlong Blade focus on poverty. To share your ideas or personal story, visit us on Facebook or email knaff@washblade.com. Click here to read previous installments.
Today — and every day for the next 16 years — 10,000 baby boomers, members of the generation born between 1946 and 1964, will turn 65, according to the Pew Research Center. About 1.5 million gay, lesbian and bisexual elders in the United States are gay. By 2030, that number is expected to increase to nearly 3 million, according to a report by Services and Advocacy for GLBT Elders (SAGE), the Movement Advancement Project and Center for American Progress.
One in six Americans over 65 lives in poverty, according to the Congressional Research Service.
"For LGBT older adults, a lifetime of employment discrimination, among other factors, contribute to disproportionately high poverty rates," the SAGE website states.
LGBT elders living in or near poverty aren't just statistics. The Blade interviewed several LGBT elders, aged 50 and older, from St. Louis to Chicago to New York City to Washington, D.C. Here are their stories:
A little peanut butter, maybe some pizza or Ramen noodles is a typical meal for Robyn Sullivan, a 57-year-old transgender woman living in New York City, who struggles to pull together $25 a week for food. In the past, she's lived in homeless shelters. Now, she lives in a cockroach infested third floor walk-up with four gender non-conforming struggling artists.
"This is the hardest place in the country to live if you don't make tons of money," said Sullivan, who suffers from clinical depression and arthritis. "They wanted me to work one day a week for eight hours at a construction site with my limitations to qualify for $190 of food stamps. Working there would be too dangerous."
Her plight is common among transgender people, Sullivan said. "Dealing with transphobia is nothing I can win at."
In the 1990s, Sullivan was a skilled software project manager. "I used to make six figures," she said. "When I was living as a white male professional, I was getting privilege far beyond what any human being deserves. Then I needed to transition and there was the downturn in Silicon Valley."
After a couple of years, her savings were gone.
"As you go along into poverty, there are things that make people avoid you," said Sullivan, who now works part-time as a receptionist for SAGE. "I wasn't hired for a job around the corner from here. They said I wasn't trustworthy because I lived in a homeless shelter," she said.
Sullivan encounters not only transphobia but ageism. "When you're past 50, no company with a retirement plan will hire you," Sullivan said.
Even with all that she endures, Sullivan says she doesn't harbor regrets. "When I came out as a trans woman, I felt like I was the woman I was," she said. "I chose to stop living a lie.  Knowing what I know now, I doubt I would have done anything differently."
It's not always been as good for him as it is now, 70-year-old Roger Beyers of Chicago told the Blade. But "nobody ever said, life's going to be a bed of roses," he said.
Beyers, who retired at 66 after working for 40 years for Jewel, a Chicago area grocer, is HIV positive.
"My income is less than $12,000 per year," he said. "My housing is subsidized by Chicago House. Before I was admitted to Chicago House, I was on the verge of homelessness. I'm on Medicare and Medicaid."
Medicaid pays for his HIV medication, Beyers said. "If I had to pay for it, it would cost $18,000. I couldn't afford it," he said. "If it were to collapse, I'd be in a fragile position."
Though he struggles with issues of economic insecurity, he feels that he's overcoming some of them, Beyers said. He recently started a part-time internship with the Center on Halsted in Chicago.
"My financial situation has dramatically changed," Beyers said. "There's a world of difference between living on Social Security and having money left over at the end of the month."
For one day a week at the Center, he assists with an HIV counseling hotline. "I love it," Beyers said. "I can say to an HIV-positive person: 'I've been there, done that and survived it all.'"
He finds strength and joy from his boyfriend Eduardo. "A shout-out for my boyfriend! I may end up marrying this man," he said.
Mary Paradise, 62, a Capital Pride board member and Washington, D.C. resident, has been looking for work for more than a year. She worked as a nurse for 42 years. Paradise, while working as a health marketing consultant, was laid off due to downsizing. Throughout her job search, she's often encountered ageism, Paradise said.
"They never say 'you're too old.' They say, 'we want someone who graduated more recently' or 'you're over qualified,'" she said. "I say to them, 'you must want someone who's younger.'"
It gets discouraging, Paradise said. She's used up her savings and in three months her unemployment benefits will run out, unless Congress extends the benefits. "It gets scary," Paradise said, "it's a humbling experience. I've worked all my life. For Congress to think I'm lazy is insulting."
But Paradise is optimistic. She volunteers at her church. "My faith is such that I believe I will be taken care of if I just keep moving forward," she said. "I have friends who are wonderfully supportive. I have some job leads. Something will come my way that's a perfect fit."
Like many baby boomers, Barbara Woodruff, 64, of St. Louis thought that she had plenty of money put away for retirement. But like far too many people, especially lesbians, she found herself with no savings when she reached retirement age, Woodruff said. She gets by on her monthly $633 Social Security check. Fortunately, Woodruff says, she has Medicare and Medicaid.
"Thank God, that paid for my medication when my thyroid went haywire," she said. "I'm fortunate. I pay $202 in rent for a nice one-bedroom apartment. It's HUD-subsidized through the Cardinal Ritter Senior Services housing program."
Woodruff's partner of 20 years died in a boating accident in 1988. "When she passed, I lost the house. It was in her name. We didn't think about those things then," she said.
Over the years, Woodruff has done everything from working in a nursing recruitment office to running, with a business partner, an event designing business to clerking at a convenience store. "You do what you have to do to put food on the table," she said.
For several years, Woodruff stopped working to take care of her now deceased mother.  "Her Social Security was very little. But I'd do it again," she said.
Because of her low income, Woodruff doesn't go out to eat much. "The LGBT community is very supportive here. There's a great lesbian hangout. I like to see my friends there. I can't afford to go there now," she said. "I eat less meat and a lot more fresh fruit and veggies for my health — meat's expensive."
Without the social safety net of health insurance and her housing subsidy, she doesn't know if she'd be alive, Woodruff said.
"I wouldn't do myself in," she said. "My friends would make sure I'd have a place to live. I'd be grateful to have a room in their house. But it wouldn't be my home."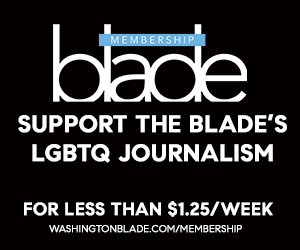 Sign Up for Blade eBlasts