January 28, 2015 at 12:51 pm EST | by Richard J. Rosendall
One Man's Pastry Is Another Man's Poison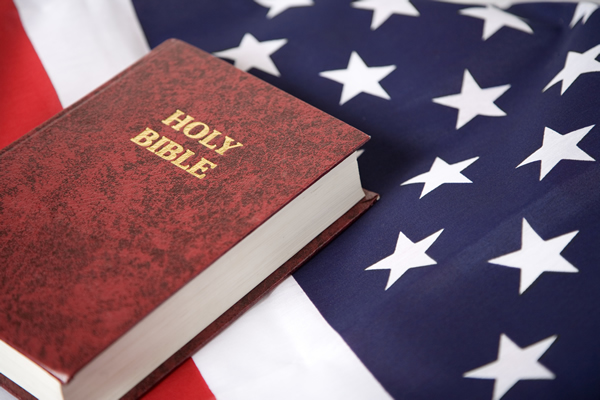 The religious right was generous with its insights into the U.S. Constitution last week. In Alabama, House Speaker Mike Hubbard responded to a court ruling overturning the state's gay marriage ban by saying, "It is outrageous when a single unelected and unaccountable federal judge can overturn the will of millions of Alabamians who stand in firm support of the Sanctity of Marriage Act." In fact, according to Wikipedia, the 2006 ballot measure got 697,591 votes.
Republican presidential wannabe Mike Huckabee, anticipating The Big One on marriage equality, claimed that states can ignore U.S. Supreme Court rulings they dislike. He is perhaps unfamiliar with the Supremacy Clause. To be fair, Huck's home state of Arkansas was part of the Confederacy; perhaps he is just marking the sesquicentennial of the Civil War's end. My own observance of the anniversary is to urge America to let the South leave next time without a fight.
Lest I tire you with constitutional analysis, let us turn to other ways in which our Christianist friends display their firm grip on reality. First up is Sandy Rios of the American Family Association, who is convinced that President Obama is a secret Muslim. As proof, she pointed out that he used the word "pillar" in his State of the Union speech. You see, there are five pillars of Islam. So anyone who says "pillar" is a secret Muslim, unless your name is Romney, Bush, or Reagan, in which case it's just, you know, a word.
The Right Wing Watch blog at People For the American Way is like crack for collectors of religious lunacy. RWW reports that Tony Perkins of the Family Research Council stands by the false story (for which Fox News has apologized) about European "no-go zones" governed by Sharia law. Perkins also claims that Dearborn, Michigan is such a zone. He shares his European fantasy with Louisiana Gov. Bobby Jindal, who also joins Sen. Ted Cruz in calling to amend the Constitution to bar judges from overturning gay marriage bans.
Meanwhile, in a Middle East that America has done much to destabilize, the Islamic State's beheadings and defenestrations pay tacit homage to traditional Christian devices like the rack and thumbscrew. As IS pursues the caliphate it claims as its manifest destiny, I await its declaration of Islamic Exceptionalism.
Back home at the Iowa Freedom Summit, Dr. Ben Carson joked to reporters about a baker putting poison in a gay couple's wedding cake. (Is the GOP running a contest to find the most deranged person who thinks he or she can be president?) In related news, a man filed a complaint with the Colorado Civil Rights Division last year against the Azucar Bakery in Denver for refusing to write "God hates gays" on a cake. This is the new religious freedom: muddling the difference between denying service to a minority and refusing to assist expressions of intolerance. Perhaps we should train shop owners to distinguish real customers from trolls.
Cardinal Raymond Burke, whose demotion by Pope Francis has not shut him up, recently discussed what he called the Church's "man crisis" and blamed "radical feminists" for priests raping boys. Seriously. Eminence, if we get you another fabulous set of embroidered vestments, could you stuff an altar cloth in your mouth for the rest of the year?
Reading about Burke led me into a vast online world of manly faith. There is something called stealth evangelization, for which you will want your Church Militant Combat Rosary. The New Emangelization blog marked the 42nd anniversary of Roe v. Wade with a piece asking, "Would Jesus abort a child?" (My answer: unless Jesus himself was pregnant or a doctor, it would be none of his business.) There is also Brother-to-Brother Ministries, which is totally not gay but involves a mentor who will work with you one-on-one to help you "develop a deeper personal relationship with Jesus." (Paging Eric Cartman.)
However foolish, corrupt, or hypocritical, you are free to pray as you like so long as you leave me out of it. Alas, godly zealots of every stripe reject that bargain. So we battle on.
Richard J. Rosendall is a writer and activist. He can be reached at rrosendall@starpower.net.
Copyright © 2015 by Richard J. Rosendall. All rights reserved.