Meet the trans athletes
From golf to dodgeball, out competitors helping to change the rules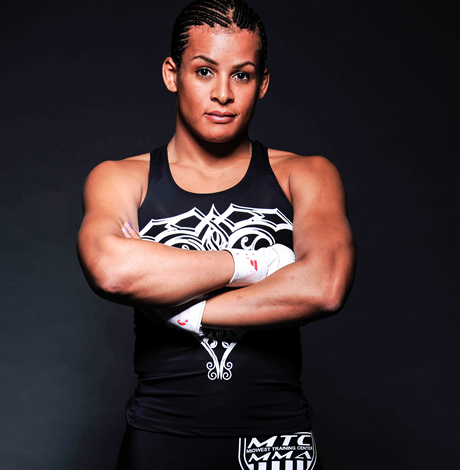 The United States has an estimated transgender population of 700,000 people, according to UCLA's Williams Institute.
What this means for the sports community is that the standards and rules that have been put in place by the many different sports need to include provisions enabling transgender people to participate according to their proper gender identity.
Organizations such as the National Collegiate Athletic Association (NCAA), the International Olympic Committee, the Ladies Professional Golf Association and the United States Soccer Federation have all adopted such policies.
Many of the policies adopted by the governing sports bodies require surgical or hormonal treatment verification prior to competitions. This creates economic barriers for the athletes due to high surgical costs, which are rarely covered by insurance carriers.
Interscholastic athletics are governed by state athletic associations and each of the 50 organizations must put in place their own polices. To date, several have adopted a wide range of policies, not all of which are as inclusive as they should be.
What we have been seeing too often is that the rules are not being followed and the trans athletes are being subjected to discrimination.
Below is a list of just a few of the trans athletes who are competing openly and that have received the permission required from their sports' governing bodies.
Schuylar Bailar. While he was in high school in McLean, Va., Bailar was recruited by the Harvard women's swim team. Now 19, he took a year off to transition and subsequently received an invitation to swim on the Harvard men's team this fall. The governing body for Harvard sports is the NCAA, which has a recommended policy, but each individual school adopts its own policy.
Fallon Fox. After some initial struggles with licensing and discrimination, Fox is competing in mixed martial arts (MMA). Originally from Toledo, Ohio, her last match was the Prize Fighting Championship 10 in Denver on Aug. 14. Licensing is state-run and she has been promoted in the past by the Championship Fighting Alliance.
Chris Mosier. Mosier is from Chicago and is the executive director of GO! Athletes. He is also the founder of transathlete.com. He recently qualified to represent Team USA at the 2016 Duathlon World Championships in Spain in the men's 35-39 category. The governing bodies are USA Triathlon and the International Triathlon Union.
Gabrielle Ludwig. In 2012, in the middle of a debate over transgender legislation in California, Ludwig returned to the sport of basketball at age 51 by joining the Mission College of Santa Clara team where she played for two years. The 6'6" Ludwig grew up in Wyoming and New York and is a Desert Storm veteran. Assembly Bill 1266 went into effect on Jan. 1, 2014 and requires that California schools respect the gender identity of all students and allow them to participate in all activities, including sports.
Ryland Whittington. Whittington is from San Diego and was diagnosed as deaf at 13 months old in 2009. After receiving his cochlear implants at 19 months, he began communicating to his parents that he identified as a boy. Because he lives in California, he will be allowed to play soccer with no barriers. The sport's governing body is the California Interscholastic Federation.
Savannah Burton. Burton is originally from Corner Brook, Newfoundland and Labrador in Canada and rowed with another trans teammate in the Canadian Sculling Marathon in 2014. This year she was one of eight women selected to compete for the Canadian national team for the World Dodgeball Championships that were just held Aug. 15-16 in Las Vegas. Her impact has affected multiple sports bodies, including Team Canada, the Canadian Dodgeball Association and the World Dodgeball Federation.
Jazz Jennings. Florida-born Jennings is a 14-year-old YouTube celebrity, spokesperson, LGBTQ activist and athlete. She and her family fought for more than two years for her to be allowed to play on the local girls' soccer team. The United States Soccer Federation stepped in and created a trans-inclusive policy for youth and adult recreation soccer players of all ages that required the Florida soccer league to allow Jennings to play.
Shane Ortega. Ortega is active duty Army and competed in his first physique competition in Honolulu in June where he qualified for junior nationals. At his second competition this September, the Paradise Cup, the 28-year-old will attempt to qualify for nationals. Ortega is stationed in Hawaii and grew up on military bases around the country as well as with family while his mother was deployed. His participation was approved by the National Physique Committee.
Dr. Bobbi Lancaster. Hailing from Chatham, Ontario and residing in the Phoenix area, Lancaster is pursuing a spot on the Ladies Professional Golf Association (LPGA) tour. At age 64, she is currently playing on the Cactus Tour, which serves as a gateway to the LPGA. In 2011, the LPGA's membership voted to join other sports bodies, including the International Olympic Committee and USA Track and Field, in eliminating the "female at birth" clause from its constitution.
Matt Dawkins. Dawkins, 17, will be a senior at Cherokee High School this fall in Marlton, N.J. He competed in his first meet on the boys' track team in April and won his heat in the 100. His time was sixth best among 19 Cherokee boys. He is protected by the New Jersey State Interscholastic Athletic Association's transgender policy.
Pat Griffin contributed to this report. A list of transgender athlete inclusion policies can be found at transathlete.com.
Olympic champion Tom Daley 'furious' about bans on trans athletes
"Anyone that's told that they can't compete or can't do something they love just because of who they are, it's not ok"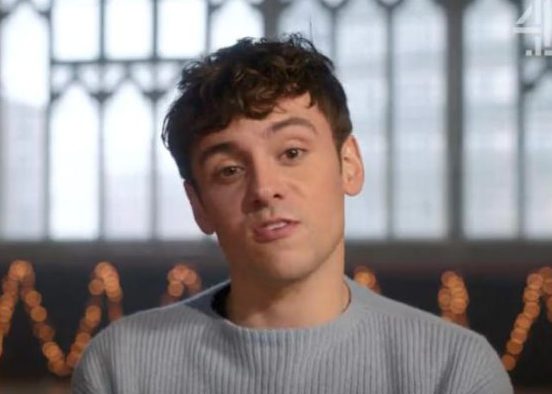 Olympic diving champion Tom Daley said he is "furious" about FINA, the world swimming body, banning some transgender athletes from women's swimming, diving, and other competitions. 
"Anyone that's told that they can't compete or can't do something they love just because of who they are, it's not OK," Daley said to iNews at a press conference. "It's something I feel really strongly about. Giving trans people the chance to share their side."
Earlier this month, FINA released the new policy on eligibility, banning athletes who have experienced male puberty from women's competitions.
FINA President Husain Al-Musallam said the new policy intended to protect athletes' right to compete but also ensure competition fairness.
FINA intends to create an open category for athletes whose birth sex is different from their gender identity.
"This has not been done before, so FINA will need to lead the way. I want all athletes to feel included in being able to develop ideas during this process." Al-Musallam said.
The new policy was condemned by the Human Rights Campaign, which said that requiring athletes to transition before age 12 was unrealistic and unlikely. States such as Alabama regulate young people's access to age-appropriate gender-affirming care.
"This sudden and discriminatory decision is a blatant attack on transgender athletes who have worked to comply with longstanding policies that have allowed them to participate for years without issue," said Joni Madison, HRC's Interim President, "This policy is an example of swimming organizations caving to the avalanche of ill-informed, prejudiced attacks targeted at one particular transgender swimmer."
The new policy will impact the career of trans swimmer Lia Thomas, the first trans woman to win a NCAA Division I Women's Swimming Championship, and may prevent her from participating and competing in the female category.
DC Aquatics Club swimmers reflect on world title win
Team took 125 gold medals en route to breaking 72 DCAC records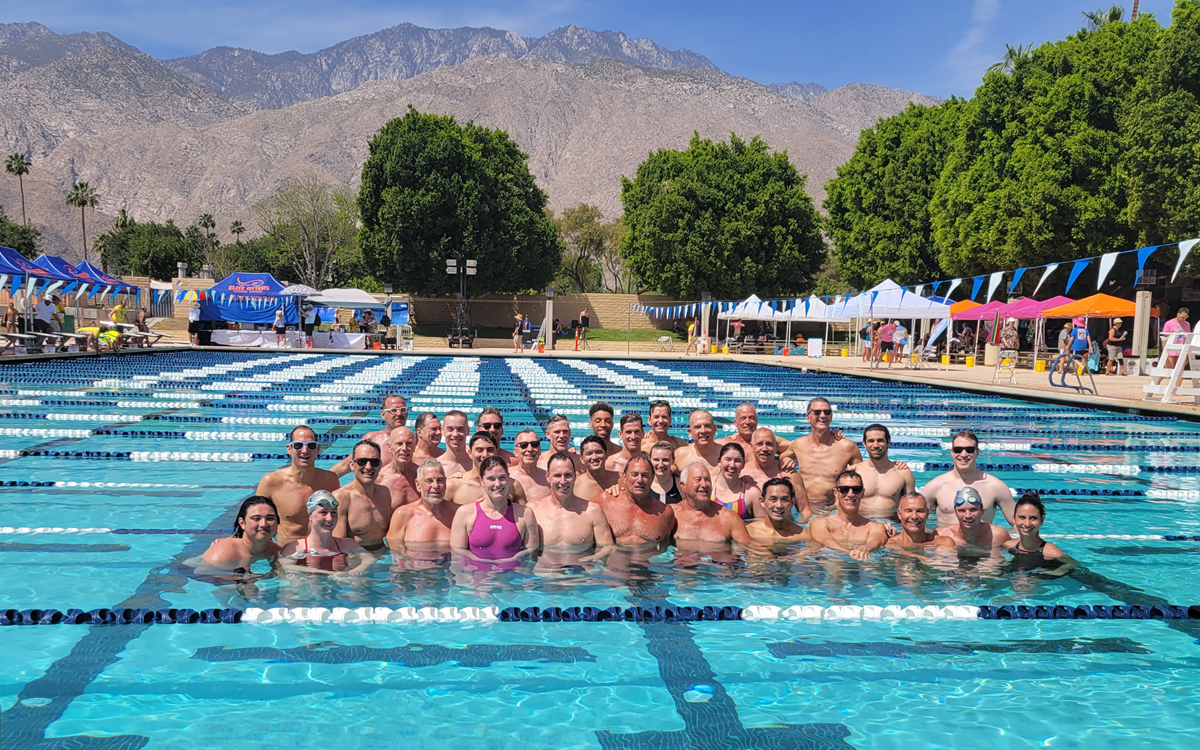 The District of Columbia Aquatics Club sent 42 swimmers to the International Gay & Lesbian Aquatics (IGLA) world championships in Palm Springs, Calif., in April on a mission to capture their first world title since 2013.
It was a long road back to international competition for the DCAC swimmers after the disruption of training and travel brought on by the worldwide pandemic.
When the team returned from IGLA in Melbourne, Australia in March of 2020, their training pools were closed, and all competitions were canceled.
By May they had established a training site in the South River in Annapolis where they swam until November of that year. Eventually, pools began to reopen, and the team was faced with battling for training time in COVID-restricted pools.
Following the postponement of the 2022 Gay Games in Hong Kong, the IGLA community scrambled to put together a competition in Palm Springs that would be hosted in tandem by West Hollywood Aquatics and the Long Beach Grunions.
DCAC's swimmers in Palm Springs consisted of a mix of veterans and rookies ranging in age from 22 to 76 years old. Each swimmer was eligible to enter five individual events and three relay events.
With 67 teams in attendance, DCAC jumped out to an early lead on day one in the large team category with West Hollywood Aquatics and San Francisco Tsunami in close pursuit.
Despite the disqualifications of two of their winning relays for early takeoffs, DCAC held on to their lead over the remaining three days to claim their first world title in nine years.
Three DCAC swimmers, Grant Casey, Carmen Robb and Jerry Frentsos, won gold in all five of their individual events. In total, the team won 125 gold, 66 silver and 35 bronze medals en route to breaking 72 DCAC team records.
Addison Winger was a first time IGLA swimmer and hadn't competed in 12 years. He had heard the tales from past IGLAs and wanted to join in on the fun.
"It was a great experience to compete for DCAC at an international competition. I had never been in a championship meet before where you go through the process of tapering, shaving, and suiting up in tech gear," says Winger. "The relays were amazing, and I enjoyed taking advice and feedback from our coaches to incorporate into future races. It was also great spending quality team with my teammates outside of the pool."
Olivia Kisker had competed with DCAC at IGLA Melbourne in 2020 and was looking forward to traveling with her team again.
"Even though the days were long at the pool, we still had time for Joshua Tree, the gondolas and all that Palm Springs has to offer," Kisker says. "I love traveling and doing it with your teammates provides a setting for bonding and getting to know people better. I also enjoyed competing against my teammate Sarah. It's like a friendship and a rivalry."
Craig Franz restarted his post-COVID competitive swimming at IGLA Palm Springs and went on to a training camp and open water race in Hawaii this past month.
"The whole thing about this team is relationships and sharing swimming as a common denominator. The swim competitions legitimize building relationships and supporting each other in healthy ways," say Franz. "Palm Springs felt like a more relaxed setting, and we needed this meet to rebuild the team. It provided a nutritional base for what we are about – swimming and friendships."
Sarah Padrutt had not competed since 2019 and all the talk about past IGLAs prompted her to attend for the first time.
"I had so much fun, and it was cool having people cheering and being supported by teammates," Padrutt says. "It was also a nice wakeup call, a reminder of how much I like competing. I like the pressure of racing and being on relays with my team. It was a very positive experience."
Charles Cockrell has been a Masters swimmer for decades and is the chair of the Legislation Committee for United States Masters Swimming. He came out in 2019 and these championships marked his first time competing at IGLA.
"I wanted to compete at a swim meet that was a combination of the LGBTQ community and the sport of swimming. It was a fun, accepting and engaging environment," says Cockrell. "The takeaway was that everyone was enjoying themselves and it was nice to be gathered together in a queer space. There was an atmosphere of camaraderie, and it was great being attached to a big team like DCAC."
Coming up next for DCAC is the United States Masters Swimming Nationals in Richmond in August. Next year, the team will travel to London for the 2023 IGLA world championships to be held in the London Olympic Pool.
Caitlyn Jenner celebrates FINA ban on Trans swimmers on Twitter
"[…] what's fair is fair! If you go through male puberty you should not be able to take medals away from females. Period," Jenner tweeted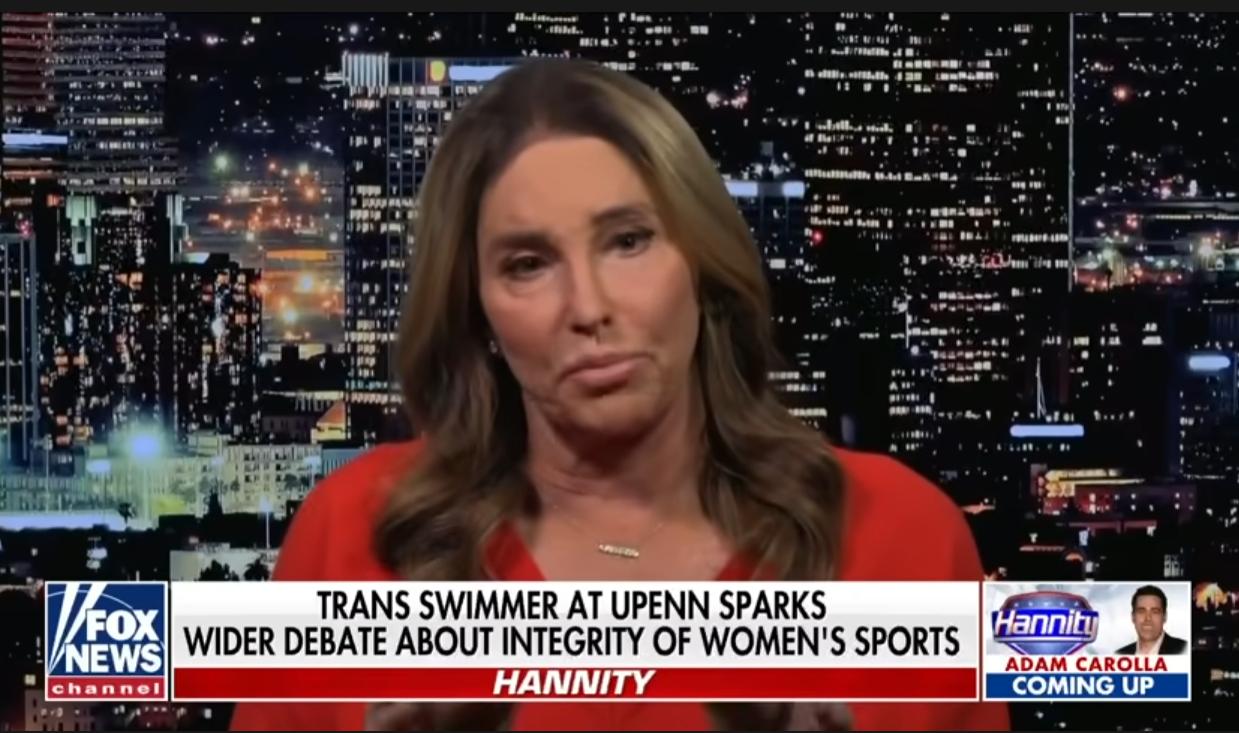 Former Olympian and one-time California Republican gubernatorial candidate Caitlyn Jenner enraged Trans activists Monday after she tweeted her approval of the FINA vote Sunday that essentially bans Trans women from participating and competing as collegiate swimmers.
"It worked! I took a lot of heat – but what's fair is fair! If you go through male puberty you should not be able to take medals away from females. Period," Jenner tweeted Sunday after the international athletic organization announced its vote to ban trans athletes.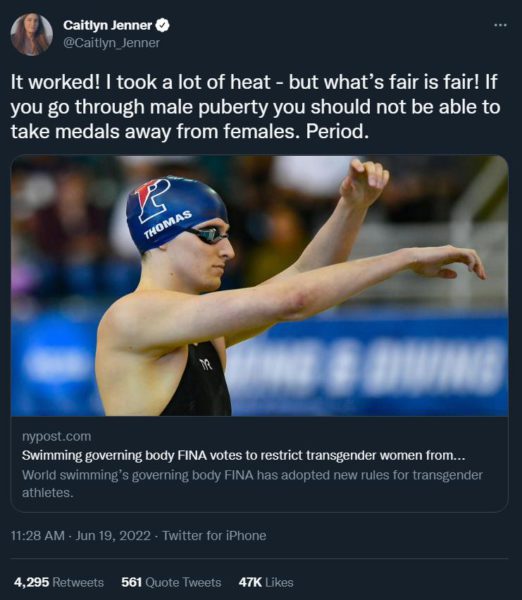 The Swimming's world governing body voted to restrict transgender athletes from elite women's competitions. The final vote tally of the representatives was 71.5% approval for the new policy which requires transgender athletes show that "they have not experienced any part of male puberty beyond Tanner Stage 2 or before age 12, whichever is later."
"We have to protect the rights of our athletes to compete, but we also have to protect competitive fairness at our events, especially the women's category at FINA competitions," FINA's president, Husain Al-Musallam, said in a statement.
The organisation is maintaining that it was necessary to use sex and sex-linked traits to determine eligibility criteria because of the "performance gap" that appears between males and females during puberty.
Jenner's appearances on the Fox News Network over the past six months have been unrelenting attacks on Trans athletes, especially University of Pennsylvania Women's Team swimmer Lia Thomas. Jenner also appeared on the network to defend her attacks on Trans athletes.
"We must protect women's sports. We cannot bow down to the radical left wing woke world and the radical politically charged agenda of identity politics," Jenner tweeted. In another tweet she said;
"Thank you @seanhannity and @HeyTammyBruce for having a conversation grounded in common sense. All we want to do is protect women's and girls sports! It's that simple. And calling out the libelous, defamatory lies of @PinkNews and @emilychudy@benjamincohen"
Jenner has been asked about her position on the multiple pieces of anti-Trans youth sports legislation across the United States. She responded that she saw it as a question of fairness saying that she opposed biological boys who are Trans- competing in girls' sports in school.
"It just isn't fair," Jenner said adding, "and we have to protect girls' sports in our school."
In April the Fox network hired Jenner as on-air contributor role with her first appearance on Hannity.